2014 PSU spotlight: CB Troy Vincent
May, 13, 2013
5/13/13
9:00
AM ET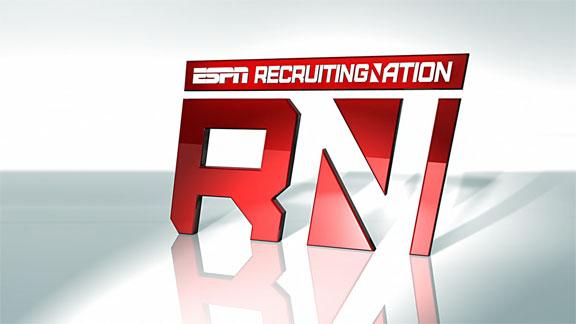 Heading into summer, NittanyNation will look closer at the 2014 recruits who claim offers from Penn State. Today we examine athlete Troy Vincent, who should announce his decision very soon.
Vitals:
CB Troy Vincent, Balitmore (Md.) Gilman, 5-foot-9, 189 pounds
To continue reading this article you must be an Insider
Insider
Ohio State Fights And Scratches Way To Victory
Todd Blackledge and Brad Nessler recap No. 13 Ohio State's 31-24 double-overtime victory over Penn State.
Ohio State Fights And Scratches Way To Victory
VIDEO PLAYLIST
PSU FB RECRUITING SCORECARD
TLdlevarse

Derek Levarse


WATCH: Sam Ficken sends Ohio State to overtime: https://t.co/YQeG8AwXym
22 minutes ago

GoPSUJeff

Jeff Nelson


WR DaeSean Hamilton broke #PennState single-game reception record with 14 vs. OSU. Freddie Scott had 13 vs. Wisconsin in 1995.
22 minutes ago

psufootball

Penn State football


Penn State leaves it all on the field in a 2OT rally that falls just short: Flounders http://t.co/NTecIPxU2X
26 minutes ago

TLdlevarse

Derek Levarse


WATCH: An emotional James Franklin discusses the Lions' near miss against Ohio State: https://t.co/Rs09fJKhdO
31 minutes ago

GoPSUTony

Tony Mancuso


VIDEO: James Franklin post-game press conference highlights following the Ohio State game: http://t.co/b0OBkBMPur
32 minutes ago

Ben_Jones88

Ben Jones


Full pool reporter Q&A with referee and replay official for the Penn State/Ohio State game: http://t.co/AjrQf3LeFz
54 minutes ago

GoPSUsports

Penn State Athletics


Just announced- the @PennStateFball game vs. Maryland on Nov. 1 will kick-off at noon on ESPN2.
about an hour ago

psufootball

Penn State football


Despite clownish refs, 17-point hole and Ohio State's superior talent, Penn State forces OT before falling http://t.co/z7fwIa7QO3
about an hour ago

ESPNJoshMoyer

Josh Moyer


Officials' explanation on the missed calls in the first half: http://t.co/n79riVhfPx
about an hour ago

Adam_Shell

Adam Shellenbarger


The Big Ten should fire John O'Neill and Dave Witvoet as refs but rehire them in a buddy-comedy sitcom about aloof refs on @BigTenNetwork.
about an hour ago

MarkWogenrich

Mark Wogenrich


Full officials' transcript, per #PennState pool reporter: http://t.co/s1ZF6A1Wly
about an hour ago

OnwardState

Onward State


Win or lose, we are and always will be. (Photo: @theZachBerger) http://t.co/BoaAL9QfzH
about an hour ago

ESPNJoshMoyer

Josh Moyer


Officials' explanation on the missed calls in the first half: http://t.co/n79riVhfPx
about an hour ago

GoPSUsports1

Penn State Athletics


Just announced- the @PennStateFball game vs. Maryland on Nov. 1 will kick-off at noon on ESPN2.
about an hour ago

Ben_Jones88

Ben Jones


Referee response to the reviewed interception. http://t.co/FVXwJPoKSL
about an hour ago

ESPN_BigTen

ESPN BigTen


Video: Ohio State coach Urban Meyer http://t.co/HV47k6MHsM
about an hour ago

ESPN_BigTen

ESPN BigTen


Video: Ohio State quarterback J.T. Barrett http://t.co/jonCO8VqFv
about an hour ago

BSDtweet

BSD


PSU just sent out quotes from the referees about the officiating. http://t.co/TG0Vrf4M7s
about an hour ago

ESPN_BigTen

ESPN BigTen


What we learned in the Big Ten: Week 9 http://t.co/0dWBwWzqL2
about an hour ago

ESPN_BigTen

ESPN BigTen


Instant analysis: No. 12 Ohio State 31, Penn State 24 (2 OTs) http://t.co/NFUzEvo50X
about an hour ago

Ben_Jones88

Ben Jones


The random spiked ball by Hackenberg on first down had to do with communication/wrong play called in.
about an hour ago

RivalsSnyder

Ryan Snyder


#PennState - #Maryland will kick off at NOON next Saturday. ESPN2
about an hour ago

BWISnyder

Ryan Snyder


#PennState - #Maryland will kick off at NOON next Saturday. ESPN2
about an hour ago

psufootball

Penn State football


Ohio State 31, Penn State 24 (2 OT): 5 things we learned from Saturday night's game http://t.co/I0xbTbJj35
about an hour ago

ESPNJoshMoyer

Josh Moyer


Franklin said he doesn't want to get fined by talking about the officiating. Not too hard to read between the lines there ...
about an hour ago

TLdlevarse

Derek Levarse


Franklin asked if he'd submit calls to B1G: "I know you'd love me to give you a soundbite and get me a big fine, but I'm not gonna do it."
about an hour ago

ESPNJoshMoyer

Josh Moyer


Franklin on Penn State LB Mike Hull: "I think he should be on every award list. ... I've got a man-crush on that guy." Had 19 tackles, 1 INT
about an hour ago

BWISnyder

Ryan Snyder


Franklin won't say it publicly, but he's making it very clear that he's annoyed with the refereeing tonight.
about an hour ago

TLdlevarse

Derek Levarse


Franklin: "I was pleased with Akeel. He's decisive. He's able to get downhill. ... It was a shame to see Zach (Zwinak) go down."
about an hour ago

BSDtweet

BSD


Kinda waiting for @coachjfranklin to RT this when he gets home. https://t.co/FDkVe6Z59F
about an hour ago

TLdlevarse

Derek Levarse


Franklin said they "something freaky happened in practice" to Keiser, who wasn't able to play. Wasn't disciplinary that he missed the game.
about an hour ago

DLeeMG8

Darron Lee


Ok Exhale everybody
about an hour ago

TLdlevarse

Derek Levarse


Franklin: "I would love to come in here on a weekly basis and tell you exactly what I think. But I'm not able to do that."
about an hour ago

IntelligentCFB

Tim Hyland


RT @CoryGiger: Franklin on blown calls: "All that equals 10 points, right?"
about an hour ago

OnwardStSports

Onward Sports


Franklin, on officiating: I would love to come in here and tell you exactly what I think. And it goes against everything I am [to refrain].
about an hour ago

ESPNJoshMoyer

Josh Moyer


Franklin asked about refs: "I would love to come in here on a weekly basis and tell you exactly what I think...but I'm not able to do that."
about an hour ago

TLdlevarse

Derek Levarse


Franklin on INT that wasn't and missed delay of game on OSU FG: "All that equals 10 points right? Yeah."
about an hour ago

OnwardStSports

Onward Sports


Franklin: There are no moral victories at Penn State. There never will be. But I'm proud of how they fought tonight.
about an hour ago

Ben_Jones88

Ben Jones


Pretty sure that's unrelated RT @agreer11: hahaha another buckeye loss bro!!!! #karma #joepalied #jerrysandusky
about an hour ago

DougLesmerises

Doug Lesmerises


Urban Meyer not happy with second half offense but mentioned J.T. Barrett knee sprain late in first half, seemed part of issue
about an hour ago

TLdlevarse

Derek Levarse


Franklin: "I'd love to come in here and tell you what I really think. But that would not be appropriate." Almost certainly means officiating
about an hour ago

GregPickel

Greg Pickel


James Franklin is choked up in the Beaver Stadium media room as he talks about Penn State's 31-24 loss to No. 13 Ohio State.
about an hour ago

ESPNJoshMoyer

Josh Moyer


Franklin: "There are no moral victories, but I love these kids."
about an hour ago

TLdlevarse

Derek Levarse


"We're that close," said an emotional James Frankin. Needed 10-12 seconds to compose himself to start press conference.
about an hour ago

ESPNJoshMoyer

Josh Moyer


JF: "We're that close. We really are. And I truly believe with a little patience .. we'll get where we want to go."
about an hour ago

OnwardStSports

Onward Sports


Franklin: I'd love to come in here and tell you what I really think. But that wouldn't be appropriate.
about an hour ago

Ben_Jones88

Ben Jones


Mike Hull finished with 19 tackles and 1 INT.
about an hour ago

BSDtweet

BSD


Programming note: There will be no Jordan Lucas Poopfart Hour presented by @GayHooters, tonight. Sorry to disappoint.
about an hour ago

Ben_Jones88

Ben Jones


Franklin says he doesn't want to say what he really thinks about "other things that went on"
about an hour ago

ESPNJoshMoyer

Josh Moyer


James Franklin: "I'd love to come in here and tell you what I really think. But that would not be appropriate."
about an hour ago

OnwardStSports

Onward Sports


Franklin is on the podium. He starts with "I want to thank the fans... when we come together as a family, we do special things."
about an hour ago

Ben_Jones88

Ben Jones


James Franklin red in the eyes and took a moment to compose himself. Still struggling through his opening statement.
about an hour ago

ESPNJoshMoyer

Josh Moyer


Franklin thanks everyone for being here and pauses for what seems like 5-10 seconds. Getting choked up. Thanks fans for the environment
about an hour ago

QuipBoy

Gad Fly


Penn State's excited crowd looks like hydrogen peroxide poured on an open wound.
about an hour ago

MattBrownCFB

Matt Brown


Urban says JT Barrett sprained knee at end of first half
about an hour ago

blerms

Ben Lerman


I'm so proud of our team. So unbelievably proud.
about an hour ago

BSDtweet

BSD


Penn State didn't beat Ohio State tonight. But the fact that they came so damn close is victory enough. http://t.co/oPmC9UYhOB
about an hour ago

Ben_Jones88

Ben Jones


I think there is a pool reporter waiting for the referees right now but I'm not 100% on that.
about an hour ago

TLdlevarse

Derek Levarse


Nineteen tackles for Mike Hull on the night. What a game.
about an hour ago

EditorEdge

Brett Edgerton


Ohio State's first multi-OT win away from home since ... the Fiesta Bowl/Nat'l Championship Game vs Miami 12 years ago.
about an hour ago

map408psu

Mark P.


Win or lose, we still sing our @penn_state Alma Mater proudly. Heads held high, team. #PSUnrivaled
about an hour ago

brittanyhorn

Brittany Horn


No matter how much that ending sucks, the Penn State team we just saw is one to be contended with. Better game than anyone ever expected.
about an hour ago

PennStateFball

Penn State Football


Final Score: 31-24, Ohio State. We will see everyone back next Saturday for Maryland. #WeAre http://t.co/xcY0MQZKNj
about an hour ago

ESPNJoshMoyer

Josh Moyer


That ended up as one heckuva game. Final score: Ohio State 31, Penn State 24 in 2OT. Getting a standing O from crowd http://t.co/Wl1CBQOtzr
about an hour ago

nittanyrich

Richard Scarcella


DaeSean Hamilton has set #PennState record with 14 catches tonight.
about 2 hours ago

TLdlevarse

Derek Levarse


Terrific game. Plenty of credit to both sides. And PSU's Frankenstein O-line for giving the Lions a shot at the end of the game.
about 2 hours ago

BSDtweet

BSD


Penn State 24, Ohio State 21, refs 10.
about 2 hours ago

Ben_Jones88

Ben Jones


Big "We Are" chant as Penn State leaves the field. Can't fault the effort.
about 2 hours ago

TLdlevarse

Derek Levarse


Just got back from field level. Brain still vibrating in my skull after Ohio State pulls out a 31-24 double-overtime victory.
about 2 hours ago

ESPNJoshMoyer

Josh Moyer


That ended up as one heckuva game. Final score: Ohio State 31, Penn State 24 in 2OT. Getting a standing O from crowd http://t.co/Wl1CBQOtzr
about 2 hours ago

penn_state

Penn State


Incredible effort by @PennStateFball but Lions fall in 2OT, 31-24
about 2 hours ago

Ben_Jones88

Ben Jones


Hack pretty gimpy after that last sack but seems to be ok.
about 2 hours ago

BSDtweet

BSD


But man, what can you say about a group that fought through as much as Penn State did tonight.
about 2 hours ago

GregPickel

Greg Pickel


#PennState's comeback bid has fallen short. No. 13 Ohio State wins 31-24 in OT, as Hackenberg is sacked.
about 2 hours ago

BSDtweet

BSD


Akeel Lynch sacks Hackenberg, and Penn State's upset bid falls juuuuuust short.
about 2 hours ago

BSDtweet

BSD


One play left for Penn State, as Hack's pass to Hamilton sails. Come on, boys.
about 2 hours ago

GregPickel

Greg Pickel


Penn State's third down pass intended for Hamilton but incomplete. 4th and 5 for Penn State at the OSU 20.
about 2 hours ago

GregPickel

Greg Pickel


Quick completion from Hackenberg to James for about 8. 3rd and short coming up.
about 2 hours ago

GregPickel

Greg Pickel


Ohio State XP is good.Penn State will need a touchdown to force a third overtime. DaeSean Hamilton's 14 receptions is PSU single-game record
about 2 hours ago

Ben_Jones88

Ben Jones


Something to wonder, if Penn State scores does Franklin just take the gamble and go for 2?
about 2 hours ago

PennStateFball

Penn State Football


Penn State now trails #OSU, 31-24, after a #PSU TD and pair of OSU TDs. #PSUvsOSU
about 2 hours ago

Lions247

Lions247


DaeSean Hamilton sets Penn State record with 14 catches.
about 2 hours ago

BSDtweet

BSD


Extra point is good. Aided by a questionable penalty, Ohio State takes a 7-point lead.
about 2 hours ago

Lions247

Lions247


Barrett's 4-yard TD run gives Ohio State a 31-24 lead in 2nd OT.
about 2 hours ago

GregPickel

Greg Pickel


And the TD will be reviewed.
about 2 hours ago

GregPickel

Greg Pickel


Touchdown Ohio State, as Barrett runs in from 4 yards out. Ohio State 30, Penn State 24.
about 2 hours ago

Ben_Jones88

Ben Jones


The yards after contact has got to be something incredible for Ohio State tonight.
about 2 hours ago

BSDtweet

BSD


Barrett fights his way into the end zone. Penn State will need to score a touchdown.
about 2 hours ago

GregPickel

Greg Pickel


I need a replay of that penalty. Blocking a kick implies you are leaping. Only explanation is running off a player's back.
about 2 hours ago

BSDtweet

BSD


3rd and short coming up for Ohio State. Penn State's been great these all day.
about 2 hours ago

GregPickel

Greg Pickel


OSU gets the ball to start this series on the PSU 12.
about 2 hours ago

rodger_sherman

Rodger Sherman


A reminder that Penn State had two very wrong calls that led to points go against them: http://t.co/8omVgHLeHQ http://t.co/vmyVfV9YEz
about 2 hours ago

PaulMyerberg

Paul Myerberg


Refs at PSU/OSU had to reinsert themselves into the mix because we hadn't heard from them in 5 minutes.
about 2 hours ago

BSDtweet

BSD


Hull's penalty came from jumping on top of a defensive lineman. And it's enforced on the PSU D--OSU starts from the 12.5.
about 2 hours ago

BSDtweet

BSD


A horrible penalty will force Penn State to start at their 40 when they get it back. Defense has got to hold OSU to 3 in OT2.
about 2 hours ago

GregPickel

Greg Pickel


The extra point is good. There was a late flag in the Penn State secondary, as well.
about 2 hours ago

BSDtweet

BSD


Who's ready to play 3 more?
about 2 hours ago

Lions247

Lions247


Barrett takes it from five yards out. Buckeyes tie it at 24-24.
about 2 hours ago

BSDtweet

BSD


Another read option, and Barrett runs it in. Urban will opt to go for the tie.
about 2 hours ago

GregPickel

Greg Pickel


Tremendous play call from Ohio State, who fooled everyone with a J.T. Barrett play fake that goes for a long gain.
about 2 hours ago
BLOG ARCHIVE:
CATEGORIES: