PSU visit impresses 2015 CB Whitehead
April, 8, 2013
4/08/13
1:00
PM ET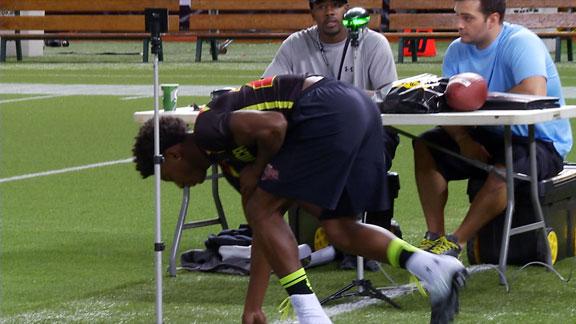 Class of 2015 cornerback
Jordan Whitehead
(Monaca, Pa./Central Valley) hesitated two weeks ago when asked about his interest in Penn State.
He hemmed and hawed whether he really liked the Nittany Lions. He'd need to first visit the campus this spring, he explained -- and he ended up doing that Friday. So, he didn't hesitate when asked again Sunday afternoon about his interest level.
To continue reading this article you must be an Insider
Insider
College Football Top Plays Week 4
Check out the top plays from Week 4 of college football.
College Football Top Plays Week 4
VIDEO PLAYLIST
PSU FB RECRUITING SCORECARD
YahooForde

Pat Forde


Arizona wins on Hail Mary, scored 36 points in fourth quarter, scored 19 points in final 3:30. Come ON.
about 2 hours ago

Ben_Jones88

Ben Jones


Somebody is getting locked in a closet. #WashingtonState
about 3 hours ago

Ben_Jones88

Ben Jones


Love you Mike Leach.
about 3 hours ago

Ben_Jones88

Ben Jones


Man there has got to be a line between PI and everybody messed that play up.
about 3 hours ago

Ben_Jones88

Ben Jones


"You had one job" RT @ArashMarkazi: The photo of the day goes to @photovman. #KiffinFace http://t.co/C29rzlZVVu
about 3 hours ago

ESPN_BigTen

ESPN BigTen


What we learned in the Big Ten: Week 4 http://t.co/py4ER6uLar
about 4 hours ago

BWISnyder

Ryan Snyder


Good work @GregPickel "@Rotoworld_BB: Cashner dominates the Giants over 8+ in win - Andrew Cashner | SD http://t.co/KjHvJFcwnL"
about 4 hours ago

BWISnyder

Ryan Snyder


Lol "@GarrettChiado6: Outchea choppin"
about 4 hours ago

ESPN_BigTen

ESPN BigTen


Video: Nebraska RB Ameer Abdullah http://t.co/FiGrU7nvDm
about 4 hours ago

TLdlevarse

Derek Levarse


Didn't think this could possibly be true, but apparently Michigan didn't reach the red zone once in losses to Notre Dame and Utah.
about 4 hours ago

ESPN_BigTen

ESPN BigTen


Nebraska 41, Miami 31 http://t.co/71ugOcfk2b
about 4 hours ago

BWISnyder

Ryan Snyder


Lol "@Jake_Brown: Adversity: The most overused/misused word in sports media."
about 4 hours ago

Ben_Jones88

Ben Jones


Jimbo Fisher nearly short-circuited trying to talk about Winston.
about 4 hours ago

Ben_Jones88

Ben Jones


Clemson loses thanks to that old "Run towards to the unblocked defender" play.
about 4 hours ago

BWISnyder

Ryan Snyder


Thats totally on Dabo. #Clemson should be upset.
about 4 hours ago

BWISnyder

Ryan Snyder


Thats what you came up with after a timeout? Really Dabo?
about 4 hours ago

Ben_Jones88

Ben Jones


"You know nothing Jon Snow" RT @SBNation This Clemson player is excited for overtime: http://t.co/KfbHYncI7O
about 4 hours ago

Ben_Jones88

Ben Jones


Texas wants to kick to start overtime.
about 4 hours ago

Ben_Jones88

Ben Jones


If Florida State put Winston in for overtime I would never stop laughing.
about 4 hours ago

Ben_Jones88

Ben Jones


50 Shades of Backups.
about 4 hours ago

Ben_Jones88

Ben Jones


Man he threw that ball ages before the defender fell.
about 5 hours ago

Ben_Jones88

Ben Jones


CLEMSON
about 5 hours ago

ESPN_BigTen

ESPN BigTen


Stormy night clouds Michigan's future http://t.co/N95QtGpPZO
about 5 hours ago

Ben_Jones88

Ben Jones


Never forget http://t.co/D58CWVmgbA
about 5 hours ago

BWISnyder

Ryan Snyder


If Im a Fla State fan I wouldnt get worked up over this.
about 5 hours ago

BWISnyder

Ryan Snyder


Im callin this ahead of time. Even if Fla State loses this theyll still be in playoff. The no Jameis theme will be talkin point all year
about 5 hours ago

Ben_Jones88

Ben Jones


Jimbo Fisher looks like a guy who deserves a raise for this week alone.
about 5 hours ago

TLdlevarse

Derek Levarse


So, who predicted the Big Ten would go 12-1 today, with Michigan at the Big House as the only loss?
about 5 hours ago

ESPN_BigTen

ESPN BigTen


Abdullah breaks through for a 10-yard TD to all but ice it for Nebraska. Huskers lead 41-24 with 4:13 to play. #MIAvsNEB
about 5 hours ago

ESPNJoshMoyer

Josh Moyer


I've seen targeting/ejection calls a lot less violent than whatever-you-want-to-call what just happened to Abdullah.
about 5 hours ago

ESPN_BigTen

ESPN BigTen


Tyriq McCord tackles Abdullah by the head. Another 15-yard flag. #MIAvsNEB
about 5 hours ago

Ben_Jones88

Ben Jones


The Big Ten is still the SEC of special teams.
about 5 hours ago

Landgrant33

Land-Grant Holy Land


Big win for future Michigan coach Dan Mullen.
about 5 hours ago

Ben_Jones88

Ben Jones


Jameis Winston claps like Brendan Fraser.
about 5 hours ago

PennStateFball

Penn State Football


To: The best fans in #CFBFrom: @coachjfranklinGet ready for #PSUFBReunion #3 next week. http://t.co/xZIxP74jwW
about 5 hours ago

psufootball

Penn State football


Penn State 48, UMass 7: My day at Beaver Stadium from start to finish http://t.co/hE95zQLRli
about 5 hours ago

GoPSUTony

Tony Mancuso


VIDEO: Penn State post-game player interviews following the win over UMass… http://t.co/AS1n1IcNti http://t.co/Ul0RiwQQiM
about 5 hours ago

Ben_Jones88

Ben Jones


Also think Cole Chiappialle has a claim to get meaningful carries. Doesn't seem terribly interested in getting tackled after first contact.
about 5 hours ago

Ben_Jones88

Ben Jones


James Franklin's answers about Akeel Lynch continue to be odd. http://t.co/BON2SdQ7xZ
about 5 hours ago

ESPN_BigTen

ESPN BigTen


Canes back to 31-24 on 34-yard field goal. As much as Nebraska has controlled play since mid-second quarter, this is very much still a game.
about 5 hours ago

Lions247

Lions247


Five things we've learned from Penn State Football win over UMass http://t.co/2djSJM645A
about 5 hours ago

JoeHermitt

Joe Hermitt


#PennState blows out UMass, 48-7. Photo Gallery http://t.co/0taWOKJkVK @PennLive @_JLucas9 http://t.co/4C9ggCRg0T
about 5 hours ago

BobbyFlo7

Bob Flounders


Penn State 48, UMass 7: My day at Beaver Stadium from start to finish: Lions roll to 4-0 behind a dominant eff... http://t.co/bi2vtjTd2q
about 6 hours ago

ESPN_BigTen

ESPN BigTen


If Miami goes in to score here, that roughing-the-passer penalty on Nebraska is officially a game-changing play. #MIAvsNEB
about 6 hours ago

Ben_Jones88

Ben Jones


The Florida State chant is sort of insufferable after four quarters. That being said I'd love to be there to see it in person at least once
about 6 hours ago

Lions247

Lions247


What we learned from #PennState's lopsided win over UMass: http://t.co/0KWPeu3WSH
about 6 hours ago

Ben_Jones88

Ben Jones


Dabo counting(dot)GIF
about 6 hours ago

ESPN_BigTen

ESPN BigTen


Randy Gregory is slow to get up for Nebraska after that Kaaya completion. Bad sign for Nebraska. #MIAvsNEB
about 6 hours ago

TLdlevarse

Derek Levarse


REPORT CARD: Nittany Lions trample UMass to improve to 4-0 on the season → http://t.co/20YnF6oRrb http://t.co/OQvE4SQTfN
about 6 hours ago

psufootball

Penn State football


Fast and Furious: Penn State's defense makes another statement in 48-7 win over UMass http://t.co/A3BP1W5Dl8
about 6 hours ago

ESPN_BigTen

ESPN BigTen


Kaaya to Malcolm Lewis for a 9-yard score. Miami answers in a big way. Nebraska leads 24-21. #MIAvsNEB
about 6 hours ago

ESPN_BigTen

ESPN BigTen


Miami's defense badly needs its offense to do something right now. #MIAvsNEB
about 6 hours ago

ESPN_BigTen

ESPN BigTen


Video: Illinois 42, Texas State 35 http://t.co/PW4FqusjZs
about 6 hours ago

RKaipustOWH

Rich Kaipust


Nebraska has run 33 of the last 36 offensive snaps in this game. Unreal. #Huskers
about 6 hours ago

ESPN_BigTen

ESPN BigTen


Nebraska has started the second half with the same kind of physical play that put it ahead. Good sign for Huskers. #MIAvsNEB
about 6 hours ago

ESPN_BigTen

ESPN BigTen


Utah 26, Michigan 10 http://t.co/SjZTMs1Fp5
about 6 hours ago

TLdlevarse

Derek Levarse


What was the biggest benefit to Saturday's blowout win? James Franklin tells us. https://t.co/6ycTpAMaue
about 6 hours ago

psufootball

Penn State football


Penn State Football: Crook takes full advantage of playing time in blowout win http://t.co/Q8pQucf989
about 6 hours ago

TLdlevarse

Derek Levarse


Bill Belton said he's learned a lot about decisive running from Zach Zwinak. https://t.co/bcIu8Cze6g
about 6 hours ago

TLdlevarse

Derek Levarse


And here's Lewis talking about yet another acrobatic catch in Saturday's win over UMass. https://t.co/H89Wqgz9Sr
about 6 hours ago

TLdlevarse

Derek Levarse


For you WVC football fans out there, here's Eugene Lewis celebrating Valley West's big win over Berwick Friday. https://t.co/FGHvZN9Clu
about 6 hours ago

juicebucket21

dougie crook


Dreams come true
about 6 hours ago

ESPN_BigTen

ESPN BigTen


Nebraska leads 17-14 at the half. Huskers owned final several minutes of second quarter to overcome 7-point deficit. #MIAvsNEB
about 7 hours ago

Ben_Jones88

Ben Jones


For Penn State's defense, it takes 11 to reach 198: http://t.co/TrQqaMMfI3
about 7 hours ago

ESPN_BigTen

ESPN BigTen


Video: Indiana coach Kevin Wilson http://t.co/dgv3upEaD1
about 7 hours ago

GoPSUJeff

Jeff Nelson


#LinebackerU's Mike Hull led team in tackles for 4th straight game and forced a fumble at UMass 27 that led to a TD.
about 7 hours ago

ESPN_BigTen

ESPN BigTen


Powerful showing by Nebraska up front on the past couple possessions. Need to cash in with points here to take halftime lead. #MIAvsNEB
about 7 hours ago

psufootball

Penn State football


Hard to Handle: Frohnapfel beat Penn State's defense later than he could have, and later than it matter http://t.co/6Nr6nivMeO
about 7 hours ago

BSDtweet

BSD


We're talking running game to start off the post-game show. Watch and listen here: http://t.co/ewteMnZTzj
about 7 hours ago

ESPN_BigTen

ESPN BigTen


Utah finishes off its 26-10 victory over Michigan. Wolverines drop to 2-2 this season.
about 7 hours ago

GoPSUTony

Tony Mancuso


OT Andrew Nelson: "We are definitely going to build on this game. We know what time of team we can be. Now, we get ready for Northwestern."
about 7 hours ago

Ben_Jones88

Ben Jones


If that is something you really care lots about, Boise State needs to give up 52 yards on the ground for Penn State to move to No. 2
about 7 hours ago

GoPSUTony

Tony Mancuso


Austin Johnson: "We just try to set the tone up front by running to the ball…Everybody wants to get there first to make the tackle."
about 7 hours ago

Ben_Jones88

Ben Jones


Depending on what Boise State's defense does tonight, Penn State could end today with No. 2 ranked rush defense. Baylor new No. 1 b/c of bye
about 7 hours ago

GoPSUTony

Tony Mancuso


Akeel Lynch: "It's good to win on the road, but when you get to come home and do it in front of your own fans, it is great."
about 7 hours ago

ESPN_BigTen

ESPN BigTen


A 14-play TD drive is Nebraska's longest of the season, capped by Abdullah 3-yard catch. Tied at 14 in Lincoln. #MIAvsNEB
about 7 hours ago

GoPSUTony

Tony Mancuso


Christian Hackenberg: "We played great complementary football. The defense gave us great opportunities to score with a short field."
about 7 hours ago

GoPSUTony

Tony Mancuso


RB Bill Belton: "It was great. The running backs had a big day…Everyone had fun today in the RB group, and we got the win."
about 7 hours ago

ESPN_BigTen

ESPN BigTen


A fourth Michigan turnover pretty much kills any chance of a miracle comeback. Utah leading 26-10 with the ball and 2:10 remaining.
about 7 hours ago

GoPSUTony

Tony Mancuso


VIDEO: Post-game interview with Coach Franklin following Saturday's 48-7 win over UMass. http://t.co/Al6yLuRfcj http://t.co/kF0197RSuX
about 7 hours ago

chackenberg1

Christian Hackenberg


4... #WEARE
about 7 hours ago

GoPSUJeff

Jeff Nelson


UMass became #PennState's 154th different opponent. The #NittanyLions are 113-33-8 in first meetings with opponents.
about 7 hours ago

ESPN_BigTen

ESPN BigTen


Michigan and Utah back in action after a 144-minute delay.
about 7 hours ago

ESPN_BigTen

ESPN BigTen


Brad Kaaya is not playing like a freshman tonight. So far, 11 of 15 for 166 yards, 1 TD, 1 INT. #MIAvsNEB
about 7 hours ago

MarkWogenrich

Mark Wogenrich


#PennState's defense held UMass to 3 yards on 28 carries. That's 1.2 inches per attempt.
about 7 hours ago

Lions247

Lions247


Ground game shines in Nittany Lions dominating win over UMass. http://t.co/i4lzeiHfTP
about 7 hours ago

BSDtweet

BSD


Join @djvecellio, @bflip33 and @TheRealNPolak for musings on today's big win over UMass starting at 9pm ET. http://t.co/7sn8Nhg4Xy
about 7 hours ago

psufootball

Penn State football


Rapid Replay: Penn State 48, UMass 7 (Beaver Stadium) http://t.co/tgpJ9RVX1T
about 7 hours ago

Ben_Jones88

Ben Jones


The Big And Vacant House RT @KyleBogie This is just surreal http://t.co/goJ3Zd0Xuk
about 7 hours ago

ESPN_BigTen

ESPN BigTen


LB David Santos with a timely interception for the Huskers, who take over at their own 5. #MIAvsNEB
about 8 hours ago

Ben_Jones88

Ben Jones


Penn State's defense is giving up an average of 12.37 rushing yards a quarter this season.
about 8 hours ago

GoPSUJeff

Jeff Nelson


The 3 rushing yards by UMass (28 att) were the fewest allowed by #PennState since Notre Dame had 0 yds in 2007
about 8 hours ago

Ben_Jones88

Ben Jones


I couldn't possibly watch this Vine too many times https://t.co/Vk8wYW6OHw
about 8 hours ago

ESPN_BigTen

ESPN BigTen


A deflating first drive for the Nebraska defense and 90,000-plus at Memorial Stadium. MIami leads 7-0. #MIAvsNEB
about 8 hours ago

ESPN_BigTen

ESPN BigTen


Indiana 31, No. 18 Missouri 27 http://t.co/cs7vv1dpfb
about 8 hours ago

ESPN_BigTen

ESPN BigTen


Very impressive drive by Miami to start. Hurricanes in the red zone. #MIAvsNEB
about 8 hours ago

GoPSUJeff

Jeff Nelson


Bill Belton meets with media after scoring twice, rushing for 76 yards on 7 carries in #PennState 48-7 win. http://t.co/sIAdFry05U
about 8 hours ago

BSDtweet

BSD


To clarify an earlier tweet: Franklin's the first new coach to star a season 4-0 since 1915. Kindly direct your hate mail to @TheREALNPolak.
about 8 hours ago

BSDtweet

BSD


Apologies to the Twitter police. We meant to say that James Franklin was the first to start 4-0 in his first season since 1915.
about 8 hours ago

audsnyder4

Audrey Snyder


JF: "I have a man crush on him I really do," on RB Cole Chiappialle.
about 8 hours ago
BLOG ARCHIVE:
CATEGORIES: