5 three-star PSU commits to watch
February, 12, 2013
2/12/13
11:00
AM ET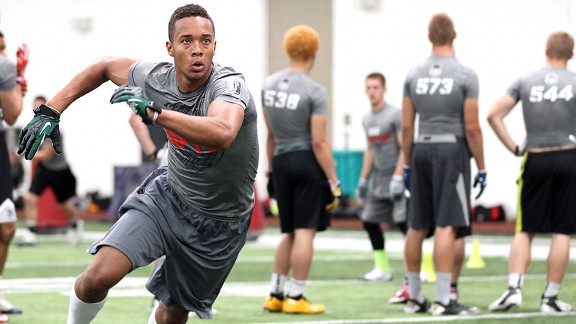 Tom Hauck/ESPNHSZayd Issah is a local product who could do a lot in his career at Penn State.
STATE COLLEGE, Pa. -- Some of the Nittany Lions' top players right now were three-star recruits who flew just under the radar:
Deion Barnes
,
Adrian Amos
,
Mike Hull
,
Kyle Carter
. And the list goes on.
The Class of 2013 looks to continue that trend. NittanyNation decided to take a closer look at some three-star players in this class whom fans should keep an eye on.
To continue reading this article you must be an Insider
Insider
Instant Awesome: Franklin's Daughter Dominates
Penn State football coach James Franklin posted a video of his daughter taking on the sleds and yelling, "We are Penn State!"
Instant Awesome: Franklin's Daughter Dominates
VIDEO PLAYLIST
PSU FB RECRUITING SCORECARD
bigtenconf

Big Ten Conference


RT @B1Gfootball: FINAL: @RFootball defeats Washington St. in Seattle, 41-38, in 1st game as member of #B1G.
46 minutes ago

ESPN_BigTen

ESPN BigTen


And that's it. In Rutgers' first game as a member of the B1G, it comes away with the upset win. Definitely earned some respect there ...
47 minutes ago

BSDtweet

BSD


With a game against Howard next week, Rutgers will probably be 2-0 when they face Penn State on Sept. 13.
47 minutes ago

TLdlevarse

Derek Levarse


And Rutgers will almost certainly enter Big Ten opener vs. PSU at 2-0. Just knocked off Wazzu on the road. Host Howard next week in Jersey.
48 minutes ago

BSDtweet

BSD


The #B1G starts the season 2-0 as Minnesota beats up on Eastern Illinois and BIG TEN POWERHOUSE RUTGERS beats Wazzu in Seattle by three.
48 minutes ago

ESPN_BigTen

ESPN BigTen


4th-and-13 -- and Rutgers knocks the ball loose. Great play; should've been a catch and 1st down. RU just has to run the clock out now
49 minutes ago

TLdlevarse

Derek Levarse


If you're still awake (or just up in Ireland) and perhaps alarmed to see "James Franklin" trending: Temple 34, Vanderbilt 7 is your answer.
54 minutes ago

ESPN_BigTen

ESPN BigTen


Rutgers has to feel good posting up 41 points ... but, with 3:24 left in the game, there's plenty of time for WSU to make a comeback.
about an hour ago

ESPNJoshMoyer

Josh Moyer


Worth mentioning: Rutgers was 1-of-5 on third downs in the first half. So far in the second, the Knights are 4-of-7.
about an hour ago

ESPN_BigTen

ESPN BigTen


Veteran DB Lorenzo Waters couldn't wrap up the WSU receiver there, and it leads to a third-down TD. Lead's changed 3 times the last 20 mins
about an hour ago

TLdlevarse

Derek Levarse


Penn State grad Matt Rhule is handling James Franklin's "previous institution." Temple leads Vanderbilt 24-7 in the 3rd quarter in Nashville
about an hour ago

ESPN_BigTen

ESPN BigTen


A lot to be happy about with Rutgers' O so far. Nova rebounding, OL doing well & James establishing himself. But D needs to tighten up
about an hour ago

ESPNJoshMoyer

Josh Moyer


That was ALMOST an interception and ALMOST an #SCtop10 play. Instead it's incomplete, and RU settles for a FG. Trailing 31-27
about an hour ago

ESPNJoshMoyer

Josh Moyer


Temple morale is at an all-time high right now. Also at an all-time high? Vandy fans' hatred of everything Penn State.
about an hour ago

ESPN_BigTen

ESPN BigTen


When we look back on this game, that might just end up being THE key play. WSU 3rd-and-goal from the 14, and it's another Halliday TD.
about an hour ago

ESPNJoshMoyer

Josh Moyer


Halliday has now completed 15 of his last 17 passes. Would've been 16 if his intended receiver didn't commit a bad drop on the last play
about an hour ago

ESPN_BigTen

ESPN BigTen


Stop me if you've heard this before: "Completion over the middle." Doesn't seem like RU's defense is adjusting much here ...
about an hour ago

ESPN_BigTen

ESPN BigTen


This is the first time all game that Rutgers is playing from behind. Have to keep running the ball. After the first play, Nova's been shaky
about 2 hours ago

ESPN_BigTen

ESPN BigTen


This is the first time all game that Rutgers is playing from behind... Have to keep running the ball. Nova's been shaky since the 1st play
about 2 hours ago

BruceFeldmanCFB

Bruce Feldman


Petros to Wannstedt: You recruited Gary Nova, right? Wanny: "Uh, well, yeah that's why I'm sitting here with you."
about 2 hours ago

BWISnyder

Ryan Snyder


Wow, I feel bad for anyone that bet #Tulane tonight. #Tulas just stole that.
about 2 hours ago

ESPNJoshMoyer

Josh Moyer


I hate to say this - since @ESPNRittenberg has him on his fantasy team - but it sure looks like the smart move would be to run James more...
about 2 hours ago

ESPN_BigTen

ESPN BigTen


Could've been a costly 15-yard penalty for RU -- but WSU misses the last-second FG anyway. RU up 21-17 at the half. We have ourselves a game
about 2 hours ago

ESPNJoshMoyer

Josh Moyer


After Nova's first pass (which went for a 78-yard TD), he's gone 4-of-9 for 29 yards and 1 INT. RB Paul James has really been the constant.
about 2 hours ago

ESPNJoshMoyer

Josh Moyer


After Nova's first pass (which went for a 78-yard TD), he's gone 4-of-9 for 29 yards and 1 INT. RB Paul James has really been the constant.
about 2 hours ago

ESPN_BigTen

ESPN BigTen


Heading into this game, we wondered if Rutgers could keep up with Washington State. Now the question is whether WSU can keep up with Rutgers
about 2 hours ago

ESPNJoshMoyer

Josh Moyer


Yes... RT @AWardESPN: So, did we all underrate Rutgers or give too much credit to Mike Leach? This is impressive stuff from Scarlet Knights.
about 2 hours ago

ESPN_BigTen

ESPN BigTen


13 carries, 110 yards RT @ESPNRittenberg: . @BennettESPN talked up Paul James this offseason. Seeing why. If he can stay healthy, look out.
about 2 hours ago

ESPN_BigTen

ESPN BigTen


Rutgers *was* off to a fast start, but you can't sleep on WSU's fast-paced offense. Anybody's game; RU's OL looking pretty good, too.
about 3 hours ago

BWISnyder

Ryan Snyder


James Franklin will be able to catch the end of this #Vandy game when he wakes up in Ireland. Latest kickoff ever
about 3 hours ago

GopherFootball

Minnesota Football


Final from @TCFBankStadium: #Gophers 42, #Panthers 20. #BrickByBrick http://t.co/1jIUmWz73t
about 3 hours ago

ESPNJoshMoyer

Josh Moyer


Bill O'Brien approves of this move, Rutgers ...
about 3 hours ago

ESPNJoshMoyer

Josh Moyer


Interesting stat line for RU QB Gary Nova so far ...1-for-5, 1 TD, 1 INT, 78 yards.
about 3 hours ago

ESPNJoshMoyer

Josh Moyer


Interesting stat line for RU QB Gary Nova so far ...1-for-5, 1 TD, 1 INT, 78 yards.
about 3 hours ago

ESPN_BigTen

ESPN BigTen


Rutgers defense hanging tough vs. WSU. Keep that up, Steve Longa, and you might have a helmet sticker in your future ...
about 3 hours ago

ESPNJoshMoyer

Josh Moyer


Have to say I wasn't sure what to make of Longa because of the conference he played in last season. But he definitely appears to be for real
about 3 hours ago

BWISnyder

Ryan Snyder


Man, how does Wazzu not score a TD after the gift?
about 3 hours ago

bigtenconf

Big Ten Conference


RT @B1Gfootball: FINAL: @GopherFootball defeats Eastern Illinois, 42-20.
about 3 hours ago

BWISnyder

Ryan Snyder


Oh, btw, #OleMiss just had another false start. lol
about 3 hours ago

ESPNRittenberg

Adam Rittenberg


Punting from the plus 36-yard line. I knew Rutgers would fit right in. #B1G
about 3 hours ago

ESPNJoshMoyer

Josh Moyer


Uh-oh...might not impact stuff but sure won't help RT @breakingweather: BREAKING: Icelandic volcano begins to erupt: http://t.co/rS8CSYotyG
about 4 hours ago

ESPN_BigTen

ESPN BigTen


Minn's Berkley Edwards was supposed to be a home-run threat - but didn't really get the opportunity until just now. 42-yard TD. Name to know
about 4 hours ago

ESPN_BigTen

ESPN BigTen


First offensive drive for Rutgers: 78-yard TD. First defensive drive for Rutgers: Interception.Can't really ask for a better start ...
about 4 hours ago

OTB_SBNation

On the Banks


@BSDtweet Hat tip to you.
about 4 hours ago

TLdlevarse

Derek Levarse


Geez. First play from scrimmage as a member of the Big Ten goes for a 78-yard TD. PSU would prefer QB Nova doesn't build any confidence here
about 4 hours ago

ESPNJoshMoyer

Josh Moyer


And the crowd of 300 falls silent ... great way to start your season, though. RU is an 8-point underdog here and is now up 7-0. 16 ***** in
about 4 hours ago

BWISnyder

Ryan Snyder


Wow, #Rutgers isn't messing around. That was nice.
about 4 hours ago

BSDtweet

BSD


78-yard touchdown pass on Big Ten Powerhouse Rutgers' first #B1G possession. Worth a golf clap.
about 4 hours ago

ESPN_BigTen

ESPN BigTen


Welcome to the Big Ten, Rutgers. Quite a start! Nova to Carroo for a 78-yard TD on its first-ever play as a member of the B1G.
about 4 hours ago

ESPNJoshMoyer

Josh Moyer


RU-WSU ... Yikes RT @DDuggan21: If @StevePoliti wants a seat in section 306, I think we can squeeze you in: http://t.co/AF8YBGXAaH
about 4 hours ago

ESPNJoshMoyer

Josh Moyer


RU-WSU ... Yikes RT @DDuggan21: If @StevePoliti wants a seat in section 306, I think we can squeeze you in: http://t.co/AF8YBGXAaH
about 4 hours ago

TLdlevarse

Derek Levarse


PSU fans who need a break from Simpsons marathons: Rutgers about to kickoff against Wazzu on FS1. Lions play at Rutgers in just two weeks.
about 4 hours ago

BSDtweet

BSD


Now making their 2014 debut… /squints through glassesBig Ten Powerhouse Rutgers.¯\_(ツ)_/¯
about 4 hours ago

Ben_Jones88

Ben Jones


This is probably the first time Minnesota has won a game on some random opening weekend time slot without blowing the lead.
about 4 hours ago

ESPN_BigTen

ESPN BigTen


Eastern Illinois LB Kamu Grugier-Hill is DQ'd and leaves the game after ... umm ... semingly giving Minnesota's OL an unwanted cup check.
about 4 hours ago

bflip33

Bill


We're so close to Big Ten Powerhouse Rutgers™ football
about 4 hours ago

Ben_Jones88

Ben Jones


Nobody in Ireland is interested in Kevin Sumlin and they just haven't heard the truth yet.
about 4 hours ago

ESPN_BigTen

ESPN BigTen


Another forced turnover by the Minnesota defense. This game hasn't always been pretty, but 3 turnovers and a blocked punt isn't too shabby.
about 4 hours ago

BSDtweet

BSD


YOU GUYS! RT @supportPSU: its ok, we lava you too
about 5 hours ago

BSDtweet

BSD


Is the PSU/UCF game gonna get canceled? (volca)NO! We're sorry please don't unfollow us we love you.
about 5 hours ago

BuzzFeedStorm

BuzzFeed Storm


Live video of new volcanic eruption underway in Iceland http://t.co/Gz9TN9rxQf http://t.co/TWZT86X06A
about 5 hours ago

ESPN_BigTen

ESPN BigTen


And Whitlow smacks a 3-yard punt. Maybe the QB will get some tips from Hackenberg the next time he tries a kick ... That was ugly.
about 5 hours ago

BSDtweet

BSD


WELP. RT @BuzzFeedStorm: Icelandic Meteorological Office warns a volcanic "fissure eruption has started north of Dynjujökull"
about 5 hours ago

WxDeFlitch

Jacob DeFlitch


Beautiful evening for a @SCSpikes game at @penn_state! http://t.co/bVYpV5CNjj
about 5 hours ago

ESPN_BigTen

ESPN BigTen


Well ... nevermind ... a punt block for a TD works just as well anyway. Certainly starting the 2nd half off on the right foot. Gophers 21-0
about 5 hours ago

BSDtweet

BSD


We're gonna be watching Penn State football in 36 hours, you guys. WE'RE GONNA BE WATCHING PENN STATE FOOTBALL IN 36 HOURS, YOU GUYS.
about 5 hours ago

ESPN_BigTen

ESPN BigTen


Can someone explain to me how that call stands? Sure seems like it should be Minnesota's ball ...
about 5 hours ago

ESPNJoshMoyer

Josh Moyer


Last drive was definitely a good one for the Gophers, but they have to keep that up. All the other drives weren't nearly as assuring ...
about 5 hours ago

ESPNJoshMoyer

Josh Moyer


OK, so Minnesota's up 14-0 late in the 2nd. That's fine and all ... but E. Illinois had the No. 53 D in the FCS last year. I'm not impressed
about 5 hours ago

ESPN_BigTen

ESPN BigTen


Initially thought that was an INT- but worked out just fine for the Gophers. 90-yard TD drive should be a good boost after a sluggish start
about 5 hours ago

psufootball

Penn State football


Ireland rain shower interrupts #PennState-UCF 150-spectator-strong Dublin pep rally http://t.co/UOhZBtgnJy
about 6 hours ago

ESPN_BigTen

ESPN BigTen


TE Maxx Williams gets his first touch of the game - which took waay too long - and makes sure its highlight-worthy. Nice hurdle over the D
about 6 hours ago

GoPSUJeff

Jeff Nelson


Great to hear #PennState national champion QB @Todd_Blackledge on the call for 1st FBS @ESPNCFB game of season
about 6 hours ago

bigtenconf

Big Ten Conference


Keep an eye out for the recently unveiled #B1G PSA & share your favorite part with B1G fans everywhere #B1GFootball
about 6 hours ago

ESPN_BigTen

ESPN BigTen


Gophers up 7-0 after the first quarter, but they haven't showed much so far. Actually gotten a few good breaks. Let's see if that changes...
about 6 hours ago

Ben_Jones88

Ben Jones


Me @GregPickel @MarkXBrennan @djoneshoop and @BobbyFlo7 are talking the A&M score in Dublin and nobody cares
about 6 hours ago

ESPNJoshMoyer

Josh Moyer


Ha. I'll take it ...
about 6 hours ago

ESPNJoshMoyer

Josh Moyer


Leidner should sneak the ball in for a TD here ... and I'm totally not saying that because he's on my B1G fantasy team. Maybe.
about 6 hours ago

GophersNow

Marcus R. Fuller


Starting defensive tackle Scott Ekpe could be done for the game with a right knee injury, per @jgkfan
about 6 hours ago

ESPNJoshMoyer

Josh Moyer


Being on the positive end of the turnover battle so many times is what won Minnesota so many games last year. Must capitalize on this fumble
about 6 hours ago

ESPN_BigTen

ESPN BigTen


3 offensive drives for Minnesota; 1 first down. And that came on the first play, an 11-yard run.Reminder: Minn. is playing an FCS team
about 6 hours ago

ESPN_BigTen

ESPN BigTen


This game is not going how Minn. envisioned. It's VERY early, but the first two offensive drives were pretty poor. Leidner needs to rebound
about 6 hours ago

psufootball

Penn State football


A Jimmy Buffett-themed #PennState-UCF prediction plus Big Ten against-the-spread picks http://t.co/bxmEgkMrth
about 7 hours ago

ESPNJoshMoyer

Josh Moyer


Big break for Minnesota there. Fumbled snap -- and accompanying 17-yard loss -- helps stall Eastern Illinois' drive. Moving ball w/ ease.
about 7 hours ago

ESPN_BigTen

ESPN BigTen


First drive of the season doesn't quite go as planned for the Gophers: 11-yard run, dropped pass, bad throw, sniffed-out run.
about 7 hours ago

bigtenconf

Big Ten Conference


RT @B1Gfootball: And the #B1Gfootball season is officially underway. @GopherFootball takes the opening kickoff on @BigTenNetwork.
about 7 hours ago

ESPNJoshMoyer

Josh Moyer


And here comes the kickoff to open the Big Ten season ... #AboutTime
about 7 hours ago

TLdlevarse

Derek Levarse


Let's give it a shot: Got questions about PSU or the opener vs. UCF?Ask them here in our live chat → http://t.co/w2QU5LOaMP
about 7 hours ago

GoPSUTony

Tony Mancuso


Day II coverage of the Nittany Lions in Ireland. Practice update from Coach Franklin, Gaelic sports tutorial & more: http://t.co/3FCh4kb3ak
about 7 hours ago

GoPSUJeff

Jeff Nelson


Watching @BTNLive in Ireland on #BTN2Go. Great to see former #PennState DT @Tyknowsfootball in studio tonight.
about 8 hours ago

BWISnyder

Ryan Snyder


I hate when they review these kinds of plays. I get it, he was down at the one, but still. They score 99% of the time.
about 8 hours ago

ESPNJoshMoyer

Josh Moyer


Field, hotel, Guinness, hurling, etc. RT @ESPN_BigTen: Twitter: PSU sights & scenes from Ireland http://t.co/NUYe8b8RWh
about 8 hours ago

BWISnyder

Ryan Snyder


23 weeks of football. Gotta love it
about 8 hours ago

ESPNPennState

ESPN Penn State


PSU sights & scenes from Ireland http://t.co/UkaGJExN4T
about 8 hours ago

ESPN_BigTen

ESPN BigTen


Twitter: PSU sights & scenes from Ireland http://t.co/fCVcU9LX8U
about 8 hours ago

bigtenconf

Big Ten Conference


Just 1 hour until #B1Gfootball returns - #Gophers host Eastern Illinois at 7 ET/6 CT on @BigTenNetwork.
about 8 hours ago

psufootball

Penn State football


What will the Nittany Lions' final record be this season? #PennState #PSUIreland http://t.co/8I1DmN66b3
about 8 hours ago

TLdlevarse

Derek Levarse


Franklin, Huff aiming to completely overhaul PSU's mentality on special teams this season → http://t.co/e4XZJGrRUS http://t.co/VpTJPtgX8z
about 8 hours ago

BWISnyder

Ryan Snyder


Man, I'm getting pumped watching pre-game on ESPN2 right now. #GameCocks #TexasAM
about 9 hours ago

GoPSUJeff

Jeff Nelson


Tremendous season debut edition of UNRIVALED: The @PennStateFball Story debuts on @masnsports (10:30 pm) & @CSNPhilly (11 pm)
about 9 hours ago
BIG TEN SCOREBOARD
Thursday, 8/28
Friday, 8/29
Saturday, 8/30
BLOG ARCHIVE:
CATEGORIES: