ESPN 150 Matchup: Anzalone vs. Williams
December, 10, 2012
12/10/12
8:00
AM ET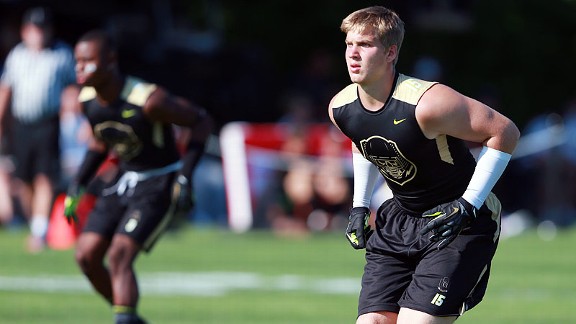 Tom Hauck for ESPN.comAlex Anzalone (above) faced off against David Williams on Saturday.
GERMANTOWN, Pa. -- Pennsylvania's top running back squared off against the state's top linebacker Saturday, and NittanyNation was there to watch the matchup.
Linebacker
Alex Anzalone
(Wyomissing, Pa./Wyomissing) remains committed to Notre Dame, but
David Williams
(Philadelphia/Imhotep Charter) is still looking around. Penn State didn't make his top 3, but that doesn't mean the Nittany Lions will shut down their recruitment with him. He appears to remain a target.
To continue reading this article you must be an Insider
Insider
College Football Top Plays: Week 13
Check out the top plays from Week 13 of college football.
College Football Top Plays: Week 13
VIDEO PLAYLIST
PSU FB RECRUITING SCORECARD
Ben_Jones88

Ben Jones


That's as clean of a block as you'll get, but credit to the refs for not calling a foul preemptively.
about an hour ago

11W

Eleven Warriors


DAMN RT @WorldofIsaac You won't see a better block in college basketball this year. https://t.co/x3t3DAqHcw
about an hour ago

Ben_Jones88

Ben Jones


It appears that Rutgers basketball might have a hard time in the Big Ten this year.
about an hour ago

BSDtweet

Black Shoe Diaries


Penn State vs. Akron Final Score: Lions Storm Past Zips in Second Half, Move to 5-1 http://t.co/nKis7agxN5
about 2 hours ago

Ben_Jones88

Ben Jones


For those of you who didn't see DJ Newbill slice through an entire defense, you should: http://t.co/1SGGbxUtoe
about 2 hours ago

Ben_Jones88

Ben Jones


Who just mistakenly said "squeeze the balls" during a press conference? This guy.
about 2 hours ago

BSDtweet

Black Shoe Diaries


D.J. Newbill will shake everyone: https://t.co/5csu3r6C1k
about 2 hours ago

GoPSUTony

Tony Mancuso


Running Blog from tonight's @PennStateMBB win over Akron & some post-game quotes. Big 2nd half from the Lions: http://t.co/qbWuRmS0Og
about 3 hours ago

Ben_Jones88

Ben Jones


Pat Chambers says that Johnson "injury" was dehydration related. Has been sick past few days.
about 3 hours ago

Ben_Jones88

Ben Jones


DJ Newbill's last four games for Penn State: 35,26,22 and now 29 points.
about 3 hours ago

Ben_Jones88

Ben Jones


In other news Penn State shot 63.3% from the field in the second half.
about 3 hours ago

GoPSUTony

Tony Mancuso


Penn State shot 64 percent in the second half.
about 3 hours ago

Ben_Jones88

Ben Jones


Sounds like Johnson turned an ankle during the postgame celebration.
about 3 hours ago

GoPSUTony

Tony Mancuso


Penn State's defense was tremendous in the second half. Akron shot 60% in the first half. Akron was 7-for-33 in the final half.
about 3 hours ago

PennStateMBB

Penn State Hoops


#PSUMBB improves to 5-1 on season with 78-72 win over Akron after trailing by as many as 14. Return to action Fri @ Bucknell. #relentless
about 3 hours ago

BSDtweet

Black Shoe Diaries


D.J. Newbill had 29-5-5 on 8-12 shooting. Hello @B1GMBBall, are you listening now?
about 3 hours ago

BSD_Eric

Eric Gibson


DJ Newbill with 29 points on 12 shots (7-9 from 2PA), 5 rebounds, 5 assists.
about 3 hours ago

Ben_Jones88

Ben Jones


Not sure what happened but John Johnson getting helped off the court. http://t.co/nbEM3e82TY
about 3 hours ago

GoPSUJeff

Jeff Nelson


Entertaining game in BJC as @PennStateMBB (5-1) clamps down in 2nd half, erases 13-point halftime deficit to beat Akron, 78-72.
about 3 hours ago

BSDtweet

Black Shoe Diaries


Taylor blocks Robotham and John Johnson seals it with a layup. Final score: Penn State 78, Akron 72. PSU overcame a 13-point halftime lead.
about 3 hours ago

GoPSUJeff

Jeff Nelson


Entering game in BJC as @PennStateMBB (5-1) clamps down in 2nd half, erases 13-point halftime deficit to beat Akron, 78-72.
about 3 hours ago

psufootball

Penn State football


With Commonwealth Court trial looming, parties in Penn State sanctions case will try again for a "diplomatic… http://t.co/YejcjF4PV7
about 3 hours ago

GoPSUTony

Tony Mancuso


FINAL: @PennStateMBB knocks off Akron, 78-72. Superb second half from PSU on both ends. Newbill had 29 & was clutch at the line late.
about 3 hours ago

Lions247

Lions247


#PennState defeats Akron 78-72 in Bryce Jordan Center to improve to 5-1.
about 3 hours ago

BSDtweet

Black Shoe Diaries


Newbill makes both free throws to give Penn State a 76-72 lead. 15 seconds left.
about 3 hours ago

Ben_Jones88

Ben Jones


DJ Newbill's last four games for Penn State: 35,26,22 and now 28 points.
about 3 hours ago

BSDtweet

Black Shoe Diaries


Never easy, is it?
about 3 hours ago

Ben_Jones88

Ben Jones


To their credit, a usually unconscious Jordan Center crowd is into the action tonight.
about 3 hours ago

GoPSUTony

Tony Mancuso


46 seconds to go. Penn State holding a 73-70 lead over Akron. PSU ball out of bounds.
about 3 hours ago

BSDtweet

Black Shoe Diaries


Akron hits a three to make it 70-65 with 1:40 left to play. Big free throws coming down the stretch for Penn State.
about 3 hours ago

BSDtweet

Black Shoe Diaries


D.J. Newbill just shook Akron out of every shoe they've ever owned. He's got 26. cc: @B1GMBBall
about 3 hours ago

Ben_Jones88

Ben Jones


DJ Newbill just mixtaped an entire defense and then John Johnson euro-stepped for a bucket. Penn State up 8
about 3 hours ago

BSDtweet

Black Shoe Diaries


Akron's press giving PSU some issues but a blocking foul bails the Lions out. Newbill sinks both free throws to make it 66-62, 4:19 left.
about 3 hours ago

BSDtweet

Black Shoe Diaries


Akron hanging in with 5 minutes left. 64-60, both teams in the bonus.
about 3 hours ago

Ben_Jones88

Ben Jones


After giving up 45 points in the first half, Penn State has held Akron to 3 made field goals in the second half with 5 minutes to play.
about 3 hours ago

Ben_Jones88

Ben Jones


Jordan Dickerson with 4 blocks tonight in 16 minutes of play. Working hard even on plays where he isn't directly involved.
about 3 hours ago

BSDtweet

Black Shoe Diaries


Jordan Dickerson's fourth block of the night leads to a pull-up three from D.J. to give Penn State a 63-56 lead.
about 4 hours ago

GoPSUTony

Tony Mancuso


Complete turn of events offensively for both teams this half. Akron 3-20 this half (17-29 in the 1st). PSU is 11-17 (12-35 in the 1st).
about 4 hours ago

nfl

NFL


Ranking the Rookie WR Class (via @CoachBillick)10. @Thee_AR159. @ThaBestUNOFULL: http://t.co/gQwaUnJ7iu http://t.co/Blu9zsDjMB
about 4 hours ago

maddyyypryor

Maddy Pryor


Oh and Donovon Jack did this. http://t.co/WQ3wb6awnS
about 4 hours ago

BSDtweet

Black Shoe Diaries


Time for the yearly PSA: it's spelled "Donovon," not "Donovan."
about 4 hours ago

BSDtweet

Black Shoe Diaries


Donovon Jack has those volleyball hops. Throws it down two-handed from the block to give PSU their largest lead of the night, 58-54.
about 4 hours ago

Ben_Jones88

Ben Jones


Penn State on a 26-9 run but only up 4. See first half for explanation.
about 4 hours ago

GoPSUTony

Tony Mancuso


Great spin-move feed and a flush from Donovon Jack hands @PennStateMBB its largest lead of the night, 58-54 with 8:26 to go. 26-9 run.
about 4 hours ago

GoPSUTony

Tony Mancuso


Very entertaining 2nd half in the BJC. PSU opened on a 16-0 run (Led by 3). Akron answered with a 7-0 surge. 11:35 to go - Akron 52, PSU 48.
about 4 hours ago

BSDtweet

Black Shoe Diaries


Aww, Akron scored. Two quick buckets and the Zips regain the lead 50-48. 12:50 to play.
about 4 hours ago

ESPNRadio1450

State College\'s ESPN


Akron finally stops the 16-0 run and we are all tied up with 13 minutes left to play.
about 4 hours ago

BSD_Eric

Eric Gibson


Dickerson has absolutely negated Akron's 2-point dominance here in the first 6 minutes of the first half. He's been the difference.
about 4 hours ago

Ben_Jones88

Ben Jones


Penn State goes on a 16-0 run to open the second half.
about 4 hours ago

BSDtweet

Black Shoe Diaries


[refusing to tweet about Akron's scoreless half]
about 4 hours ago

GoPSUTony

Tony Mancuso


Penn State much more active on the defensive end to start the half. Akron 0-6 from the floor this half after shooting 60% in the first.
about 4 hours ago

Ben_Jones88

Ben Jones


Jordan Dickerson is confidence and consistency away from being a good 7-foot asset for Penn State.
about 4 hours ago

BSDtweet

Black Shoe Diaries


A 9-0 run to start the second half cuts Penn State's deficit to four! This team is going to drive you insane all season long.
about 4 hours ago

Ben_Jones88

Ben Jones


Penn State opens the second half with 9-0 run.
about 4 hours ago

GoPSUTony

Tony Mancuso


Fantastic start for the Lions out of the break. 9-0 run in the opening 1:53 to trim Akron's lead down to 45-41. 18:07 to play.
about 4 hours ago

BSDtweet

Black Shoe Diaries


brb calling a social worker http://t.co/Unaa768ypD
about 4 hours ago

BWISnyder

Ryan Snyder


I got Wings Over tonight for the first time in a couple years. What was I thinking waiting that long??? Smh.
about 4 hours ago

Ben_Jones88

Ben Jones


Akron shooting almost 60% from the floor. That will need to change if Penn State is going to win the basketball game
about 4 hours ago

PancakeCatapult

Toyota Jackson


[smacks Penn State basketball across the nose with a rolled-up newspaper]
about 4 hours ago

BSDtweet

Black Shoe Diaries


[shivers down the spine] RT @BSD_Eric: Akron scored 1.33 PPP that half. That's Bucknell-esque. 67.2% eFG%
about 4 hours ago

BSDtweet

Black Shoe Diaries


Penn State down 13 at half to Akron, 45-32. But hey, at least we're not Rutgers!
about 4 hours ago

GoPSUTony

Tony Mancuso


Halftime in the BJC: Akron 45, Penn State 32. Superb half from the Zips offensively (59% shooting). Newbill had 14 pts, Taylor had 8.
about 4 hours ago

BSDtweet

Black Shoe Diaries


It's 36-26 Akron with three minutes to play in the first half. http://t.co/OerH5grKZk
about 4 hours ago

Ben_Jones88

Ben Jones


Akron's Kwan Cheatham is very good at shooting the basketball as a large human.
about 4 hours ago

TLdlevarse

Derek Levarse


Ouch // RT @slmandel Ohio State announced that suspended DE Noah Spence has been declared permanently ineligible by the Big Ten.
about 5 hours ago

BSDtweet

Black Shoe Diaries


Uh, hello there. Penn State is involved in a basketball game right now, but it's probably best we don't talk about it.
about 5 hours ago

GoPSUTony

Tony Mancuso


D.J. Newbill well on his way to an efficient night…12 pts on 4-7 from the field and 4-5 from the foul line. Akron up 28-18.
about 5 hours ago

Ben_Jones88

Ben Jones


Nobody knows why or what exactly happened but everyone got a technical and both teams made their free throws. So life goes on.
about 5 hours ago

sficken1

Sam Ficken


Couldn't be more excited to have this guy back with us for senior day #keiser #thatsmybrother http://t.co/6pRH2IwFW1
about 5 hours ago

PennStateFball

Penn State Football


The Nittany Lion Class of 2014 brought superlatives back to senior year! Stay tuned this week for the results. http://t.co/6ouIO6z786
about 5 hours ago

Ben_Jones88

Ben Jones


Ask @SPianovich points out, Akron coach Keith Dambrot coached LeBron in high school. LeBron is not in or near the game tonight.
about 5 hours ago

PennStateFball

Penn State Football


The Nittany Lion Class of 2014 brought superlatives back to senior year! Stay tuned this week for the results. http://t.co/6ouIO6z786
about 5 hours ago

Ben_Jones88

Ben Jones


Jordan Dickerson with a block and rebound. Gets a big cheer from the crowd. Penn State needs him to make those plays.
about 5 hours ago

bigtenconf

Big Ten Conference


Coach Jerry Kill on #Gophers playing for a chance to represent the West in #B1GFCG. For more: http://t.co/2yqLFTxVQ9. http://t.co/QQrw5d0hKh
about 5 hours ago

ESPN_BigTen

ESPN BigTen


Big Ten bowl projections: Week 13 http://t.co/ELuWTMmtZi
about 5 hours ago

Ben_Jones88

Ben Jones


Akron players don't seem to have agreed on which uniform they're wearing tonight. http://t.co/rmSbNejVqr
about 5 hours ago

BSDtweet

Black Shoe Diaries


YAY HOOPS: Penn State vs. Akron Open Thread http://t.co/z4y8M7jwGS http://t.co/xA1BYsD7dU
about 5 hours ago

ESPN_BigTen

ESPN BigTen


Playoff breakdown: If the games were today http://t.co/LtwktZo0cz
about 5 hours ago

Ben_Jones88

Ben Jones


Still just waiting for an 8 team playoff.
about 5 hours ago

slmandel

Stewart Mandel


Long specifics that they consider a "bad" loss as one to a sub-.500 team. Said doesn't necessarily agree with Ohio St-Va Tech as an example.
about 5 hours ago

penn_state

Penn State


.@JordanCenter lit up for tonight's @PennStateMBB game. Tip off at 8: http://t.co/8bTZfqodxl http://t.co/9N7jzzDmSo
about 6 hours ago

Ben_Jones88

Ben Jones


At the BJC for Penn State/Akron. Tip set for 8:02. Zips pretty solid squad.
about 6 hours ago

GoPSUTony

Tony Mancuso


Less than 30 minutes from @PennStateMBB - Akron in the BJC. Tip at 8:02. LIVE BLOG: http://t.co/qbWuRmS0Og
about 6 hours ago

psufootball

Penn State football


Penn State faces in the crowd from Illinois, November 22, 2014 http://t.co/YvFoPLITkg
about 6 hours ago

247Sports

247Sports


Latest College Football Playoff Top 25 released http://t.co/oRsjdhCBvs http://t.co/dlXZUS885J
about 6 hours ago

Lions247

Lions247


College Football Playoff Top 25 1. Alabama 2. Oregon 3. FSUMore: http://t.co/1rFUnWQQZ0 http://t.co/MCtZH3gmSu
about 6 hours ago

ESPNU

ESPNU


Here is how the @CFBPlayoff bracket looks now http://t.co/wni69XjRbM
about 6 hours ago

BruceFeldmanCFB

Bruce Feldman


New CFB Playoff Rankings: 1. #Bama 2. #Oregon 3. #FSU 4. #MissSt. 5. #TCU 6. #OhioSt 7. #Baylor 8. #UCLA 9. #UGA 10. #MIchSt
about 6 hours ago

TLdlevarse

Derek Levarse


Franklin on Prep's Joe Holmes: "He's 5-foot-9, 265 pounds. But I tell you what — his attitude, his approach has earned everyone's respect."
about 6 hours ago

TLdlevarse

Derek Levarse


Franklin gives some praise to Scranton Prep freshman walk-on Joe Holmes for his work on scout team: "He's done an unbelievable job for us."
about 6 hours ago

TLdlevarse

Derek Levarse


Tuned in late but Franklin on radio, raves about redshirting RB: "Johnathan Thomas is a house right now. Guys don't want to tackle him."
about 6 hours ago

GoPSUJeff

Jeff Nelson


James Franklin previews Senior Day clash vs. No. 10/8 Michigan State:http://t.co/gZua1V5UiI
about 7 hours ago

PennStateFball

Penn State Football


Tune in for the Penn State Football Radio Show tonight at 6 - @coachjfranklin will be live from Damon's Restaurant. http://t.co/aznRjAvXqY
about 7 hours ago

bigtenconf

Big Ten Conference


We're on Snapchat, are you? Don't miss out on any snaps this season & add us at bigtenconf. http://t.co/vcaRNuq0AP
about 7 hours ago

PennStateFball

Penn State Football


Tune in for the Penn State Football Radio Show tonight at 6 - @coachjfranklin will be live from Damon's Restaurant. http://t.co/aznRjAvXqY
about 7 hours ago

GoPSUTony

Tony Mancuso


Not too late to get to the BJC. @PennStateWBB / @PennStateMBB doubleheader begins at 5:30. $5 tickets.
about 8 hours ago

GoPSUJeff

Jeff Nelson


James Franklin on senior DE C.J. Olaniyan: "He's not afraid to speak his mind, which I respect and appreciate."
about 8 hours ago

BSD_Eric

Eric Gibson


Oak Hill Academy, featuring PSU commits Josh Reaves and Joe Hampton, will be on ESPN on 1/10 and ESPNU 1/19.
about 8 hours ago

BWISnyder

Ryan Snyder


CITTTEEHHHHH!!!! hahaha. Good for them. They needed that big time. That'll make the group more interesting too. #ChampionsLeague
about 9 hours ago

PennStateFball

Penn State Football


There's still time to submit questions for @coachjfranklin ahead of today's radio show at Damon's Restaurant (6pm) http://t.co/9uxAFuVJGj
about 9 hours ago
BIG TEN SCOREBOARD
Friday, 11/28
Saturday, 11/29
BLOG ARCHIVE:
CATEGORIES: