September, 9, 2014
Sep 9
12:15
AM ET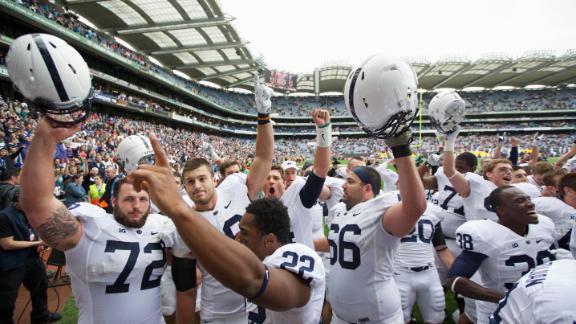 STATE COLLEGE, Pa. -- Happy Valley lived up to its name Monday night, as thousands of Penn State students converged to celebrate the football team's newfound bowl eligibility and the return of its scholarships.
Students first gathered at the lawn of Old Main, the central administrative building, before running in droves to Beaver Stadium. From there, they marched downtown to Beaver Avenue -- where the crowd grew even larger.
For more than four hours Monday night, fans celebrated as if the Nittany Lions had just knocked off the top-ranked team in the nation.
Chants of "We are ... Penn State" rang out in the night sky, songs like "Sweet Caroline" and "Zombie Nation" were staples for the duration, and cries of "Joe Paterno" and "Where's the statue?" were frequently hit upon.
It was a relatively calm night, considering the size of the crowd. One fan attempted to scale a street light outside Beaver Stadium but was politely chided by a police officer and instantly climbed down. Another reporter saw the crowd disperse for a trapped taxi cab.
"We consider this a peaceful crowd," State College Police Chief Tom King told Onward State. "As long as no extensive damage is being done, we have no problem with it."
At least two players briefly joined in the celebration at Beaver Stadium before thinking better of it once TV cameras showed up. During the downtown celebration, some fans crowd-surfed on mattresses while many just stood around to take photos or take part in the chants.
The crowd gradually dissipated as the night wore on, and most left around 12:30 a.m. ET Tuesday. The NCAA's announcement was made around 2:30 p.m. Monday.
September, 8, 2014
Sep 8
11:00
PM ET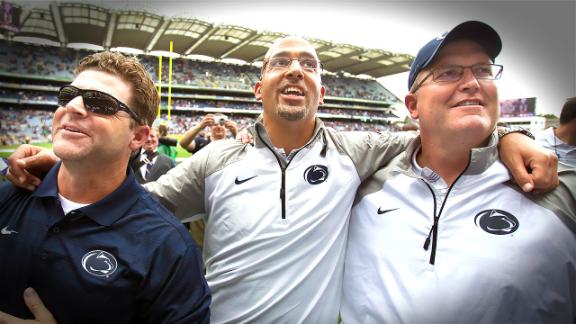 The Early Offer is RecruitingNation's regular feature, giving you a daily dose of recruiting news across the country. Today's offerings: James Franklin and Penn State was already building one of the best classes in the country, and Monday's news that the Nittany Lions were eligible for postseason play will help them build an even better class. Plus, recruits across the country agreed with the NFL and the Ravens' decision to distance themselves from
Ray Rice
, and we continue our tour of the top recruiting happenings on social media.
September, 8, 2014
Sep 8
6:30
PM ET
September, 8, 2014
Sep 8
6:15
PM ET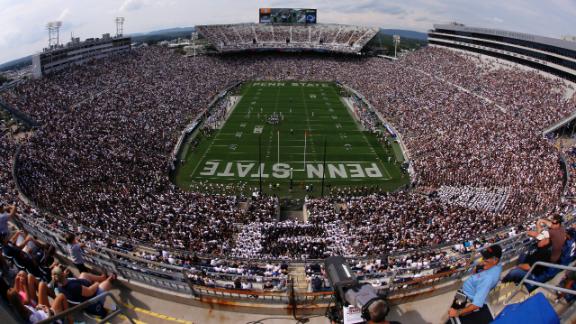 The NCAA announced Penn State will
immediately be bowl eligible
and the football program will be restored to 85 scholarships in the 2015-16 season. That is huge news for the recruiting efforts of the Nittany Lions as it eases pressure off of the coaching staff.
Penn State previously had the sanctions reduced to 80 total scholarships for the 2015 season, which means five more spots are now opened up.
With the No. 5 ranked class in 2015, the Penn State coaching staff obviously wasn't having any trouble overcoming the sanctions, but this gives the staff a little breathing room.
To continue reading this article you must be an Insider
September, 8, 2014
Sep 8
5:37
PM ET
STATE COLLEGE, Pa. -- This is the moment that former and current
Penn State
players have waited for over the past two seasons.
The worst of the sanctions is over. The
Nittany Lions can be bowl eligible
, and their scholarships will be restored completely in time for next season. Penn State has survived a fate worse than the "death penalty" -- and former players who endured all this couldn't be happier.
"It's happened, it's over with, and we just need to be thankful with all that's happened the last two years: our teams, coach Bill O'Brien, James Franklin, this Penn State community, everyone," former cornerback Stephon Morris told ESPN.com. "We are all one. I'm just very, very excited. I was jumping up and everything when I heard it; that's no lie."
Alumni began texting feverishly as soon as the news hit. First came former Sen. George Mitchell's recommendation that the sanctions be all but eliminated, and on its heels came the NCAA's official announcement.
Center Matt Stankiewitch, a senior when the sanctions hit, can still remember the scene in the players' lounge when NCAA president Mark Emmert appeared on TV and hammered the program. For eight minutes, he decried everything wrong with Penn State. And Stankiewitch's teammates just stared at one another, gutted. At the nearby student union building, dubbed the HUB, some students gasped or openly wept.
"This is the total opposite of that feeling," Stankiewitch said Monday afternoon. "It's uplifting, it's gratifying, it's a great feeling to have. It's totally different. It's two different worlds."
These players -- in addition to several others -- may no longer be on the team, but they say Monday's news caused them as much, or more, happiness than the current players. Penn State is a community, a family, they said, and if that weren't the case, then they never would have made it this far.
"I never had a doubt in my mind about Penn State getting through the sanctions," said wideout
Allen Robinson
, now a second-round draft pick with the Jacksonville Jaguars. "Penn State wasn't just about a bowl game. It was about football and being with some of my best friends and having the opportunity to play with those guys like John Urschel.
"Playing at Penn State isn't just about bowl games. There's no place like Beaver Stadium; there's no place like Penn State. We lost the first two games my sophomore year, and we still had like 100,000 fans the next game. I don't think that happens everywhere."
Within an hour of the news, Morris had already contacted several former teammates -- such as LB
Michael Mauti
and DT Jordan Hill -- to share in that joy. No one, outside of these Nittany Lions, gave them much of a shot at first to make it through these sanctions.
Monday's announcement all but made that official. So, Morris said, the players he contacted are spreading the word: No matter what bowl Penn State makes it into, the recent alumni -- the ones who kept a team together through the university's darkest time -- plan to be there. In droves.
"We got to go to a bowl game and represent," Morris said. "We travel great already, but whatever bowl we go to, we're going to completely dominate that area. This is big for all of us, for all the former players, for all the guys. This feels awesome."
Morris received a few texts about PSU's eligibility but didn't wholly believe them until he saw the ESPN ticker scroll along the bottom of his television. First, he called his mother. Shortly thereafter, he called former teammate and safety Stephen Obeng-Agyapong.
And Obeng-Agyapong told ESPN.com that one word came to him while he watched Monday's events unfold: validation.
"We stuck together through Penn State's toughest time," he said. "So for that ban to be lifted, it validates us sticking together because we stuck together for a reason. We knew what the NCAA was doing was wrong, and we weren't going to let them get the best of us."
The NCAA allowed players to transfer without impunity that first year. Only nine players initially took the offer. A lot of critics wrote off these Nittany Lions, but the former players said they never had a doubt.
Monday was a celebration, they said, and it's one that should stick with them awhile.
"With another school, maybe this is the end for them," Morris said. "With Penn State, we were disappointed, but we never held our heads down. We always thought we were going to make something good out of that equation. We always wanted more."
September, 8, 2014
Sep 8
5:00
PM ET
That was a rough weekend for the Big Ten. Let's check out the damage and move on to the mailbag:
Anthony from New York, N.Y., writes:
Who had the worst weekend, Michigan State, Ohio State, or Michigan?
Josh Moyer:
That's a tough one, but I have to go with Michigan. The Buckeyes had a freshman signal-caller up against a strong defense, while the Spartans played arguably the best team in the nation. To me, those outcomes weren't nearly as surprising as with the Wolverines. This was the final contest in the series against Notre Dame, and the entire game was an absolute embarrassment as U-M failed to score a point and lost 31-0. At least MSU led in the second half, and OSU kept the game close. This was the first time Michigan was shut out in 365 games – that's 30 years – and it was the most lopsided victory for Notre Dame in a series that dates back to 1887. Michigan State and Ohio State didn't help themselves with those losses, but those games weren't historically bad. Michigan's was.
---
@ESPNJoshMoyer so, OSU line showed reason 4 concern. Any chance Warriner can get them right this season? D was bad, but O lost that game

— Matt Pacholski (@Mpachol) September 8, 2014
Josh Moyer: I was more down on Ohio State after its Navy win than most people, so maybe this answer will surprise you: Yes. Sure, this offensive line still has a ways to go. But it showed improvement in the second half of the Navy game - and the unit didn't perform as badly as the Virginia Tech game indicated. On 43 of J.T. Barrett's dropbacks, the Hokies brought five or more pass-rushers on 34 of them. Frank Beamer blitzed mercilessly all night, and Ohio State just didn't have an answer. Any offensive line would've struggled under that kind of pressure. As Barrett matures and Urban Meyer opens the playbook, they'll be able to make teams pay with that kind of aggressive scheme. But it's just not in the cards right now. This line will get better, and Ed Warinner will get them "right." But it's going to take time.
---
Cal from Minneapolis writes:
How do you really see Penn State-Rutgers playing out? A lot of buildup for this one, but Penn State beat Akron 21-3, Akron beat Howard 41-0, and Rutgers beat Howard 38-25. Is the game really going to go down to the wire?
Josh Moyer: Careful about comparing scores like that, Cal. Those don't mean much. And my view of Rutgers has changed quite a bit since the preseason. The Knights have proved they're far from a pushover. Paul James belongs with the group of B1G backs who sit a notch below the elite ones. Gary Nova has looked good, and Leonte Carroo provides a speedy threat at receiver. So I'd be surprised if Penn State plowed right through this team. I still think the Lions will - and should - be favored, but I do expect a close one. Sure, on paper, the Howard game looked tighter than it should've been - but it was 31-7 at halftime, and Howard scored only when the game didn't matter anymore. (It was 21-0 at Akron-Howard halftime, if you're curious.) Penn State has a better defense than Rutgers' first two opponents, but Rutgers should provide the biggest offensive test for PSU since UCF's Pete DiNovo struggled in the opener. Rutgers will need to force turnovers in this one, while Christian Hackenberg needs to remain calm and not force the ball. It should be a good one.
---
@ESPNJoshMoyer What should B1G fans do now? I am thinking about learning a foreign language or something.

— John Babri (@JohnBabri) September 8, 2014
Josh Moyer: I hear knitting's a relaxing hobby. Or maybe B1G fans could adopt an NFL team or take to watching hockey? No doubt, it's difficult to be a Big Ten fan right now. I wish I could tell you that better times are ahead, but ... ummm ... it can't get any worse? That's the best I can do right now. It's basically impossible for this conference to prove itself the rest of the regular season. It missed its big chance. So the hope has to be this conference can regroup, solidify those weak points (e.g. Wisconsin - QB, Penn State/OSU - OL) and have a strong bowl season. That's quite a while away, but what more can I tell you? In the words of Jeremy Fowler, the whole Big Ten had an "Urban-Meyer-eating-pizza-outside-the-locker-room kind of day." And it won't get any better until the conference can change minds by beating better nonconference opponents, an opportunity that really won't present itself until bowl season. A team like Michigan State needs to win out, gain a playoff spot and put up a solid showing for outsiders' minds to change about the conference.
September, 8, 2014
Sep 8
4:37
PM ET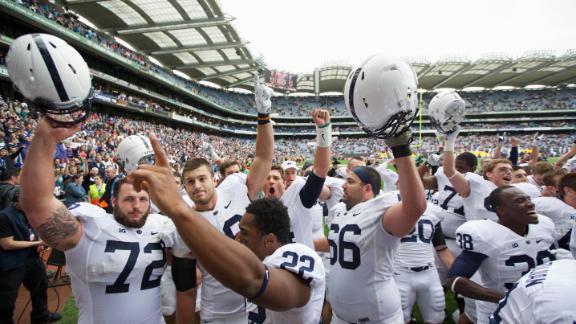 No one could argue that the Penn State football program did not pay a severe price for the Jerry Sandusky child-abuse scandal.
Sure, there were people who believed then and perhaps now that the Nittany Lions deserved the death penalty for the school's role in the former assistant coach's horrific crimes, and there are valid, moral reasons for that opinion. But Penn State has served a two-year bowl ban, surrendered dozens of scholarships, paid a $60 million fine, surrendered millions more in Big Ten bowl revenues, and dealt with an immeasurable stain on its reputation.
[+] Enlarge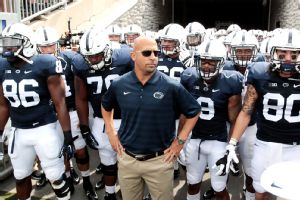 Matthew O'Haren-USA TODAY SportsNow on a level playing field, James Franklin could make Penn State a conference or national power again soon.
That's why the NCAA executive committee's
decision on Monday to restore bowl eligibility immediately
and bring the team back to the full 85 scholarships next season was the right call. Enough was enough.
Forget for a moment the unprecedented lengths NCAA president Mark Emmert traveled in order to punish Penn State for what was a criminal matter, not an NCAA rules violation. Discard the notion that those penalties and the ongoing oversight reports by former U.S. Sen. George Mitchell were mostly a public relations show. It simply never made sense to hold accountable current players and coaches who had no association whatsoever to Sandusky.
All who were actually involved are gone. Former Penn State president Graham Spanier, ex-athletic director Tim Curley and former administrator Gary Schultz lost their jobs and are awaiting trial. Former coach Joe Paterno is dead, and his legacy has been carefully scrubbed from all official proceedings. The school is on its second president (Eric Barron) since Spanier was deposed and recently hired its second athletic director (Sandy Barbour) since the scandal broke. James Franklin is the second coach since Paterno, and neither he nor predecessor Bill O'Brien had any direct ties to the school.
This is a new Penn State today, one that Mitchell noted has cooperated with 115 of the 119 recommendations made by the controversial Freeh report. Yet despite Mitchell's glowing remarks about the school's "commitment to integrity," anyone who has ever proudly yelled "We Are" knew deep down that the Nittany Lions didn't really have a "culture problem" -- at least not conventionally so.
Far from some rogue program, Penn State always ranked near the top of the NCAA graduation rates and never had to worry about knowing the names of infractions committee members. Sandusky was able to roam and prey in large part because Penn State was such a close-knit and closed-off community that provided too little oversight of its ingrained leadership. How banning the current football team from playing in a bowl game reflected or changed any of that never really computed.
The university must continue to make sure that checks and balances exist, and Monday's news should help provide more closure to the school's most difficult era. The divide between those who believe Paterno did no wrong and those who disagree may remain too large to bridge in the near future, however.
What the entire Penn State community can rally behind, even more so than it already has, is this season's football team. Freed from the NCAA shackles, the Nittany Lions can make a legitimate run at a postseason game this fall, and the turnout for a bowl should be huge if they get to one. Just about everything Franklin has touched since arriving in State College has turned to gold. He has hit all the right notes with fans, reeled in top recruits despite the restrictions, and won his opener on a last-second field goal. Heck, even his former team, Vanderbilt, has gone up in flames in its first two games since he left.
Unleashing Franklin onto an even playing field should make Penn State a Big Ten and national force again in the very near future, though there will be roster ramifications from the initial scholarship reductions still to overcome. The fact that the Nittany Lions didn't completely collapse under the weight of the sanctions -- they managed to avoid having a losing season, kept a player exodus to a minimum and still drew large crowds to Beaver Stadium -- are a testament to O'Brien and 2012 captains like Michael Mauti, along with the unyielding devotion that Pennsylvanians have for the Blue and White.
Some might still contend that Penn State should have stopped playing football altogether as penance for what Sandusky did under their noses. But the Nittany Lions are still here, and there's no reason to keep punishing current and future players. A steep price has already been paid.
September, 8, 2014
Sep 8
3:57
PM ET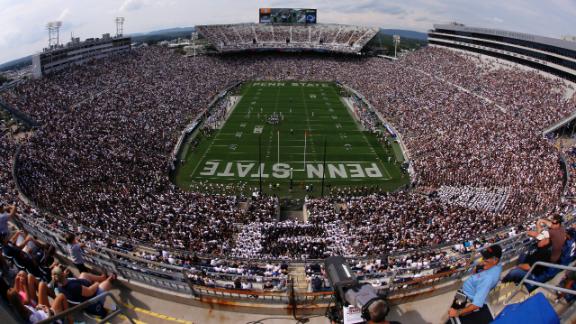 Penn State football has paid its penance
, and the NCAA's executive committee on Monday lifted a bowl ban on the program and will return the full complement of 85 scholarships by 2015-16.
So what does it all mean? Read on.
Penn State is relevant again: It's not as if the Lions' accomplishments the past two seasons went unnoticed, but when a team is ineligible to win its league or compete in a bowl game, it naturally falls off the national radar. Penn State is still in the building stages under first-year coach James Franklin, but Lions players now can eye a championship in a league that, as we saw Saturday, looks very vulnerable. Michigan State remains the Big Ten's most complete team, but Penn State hosts both the Spartans and Ohio State. Depth remains a concern but Penn State should get better as the year goes along. A bowl appearance seems extremely likely, and don't be surprised if the Lions are a factor in the East Division race.

[+] Enlarge

AP Photo/Gene J. PuskarBeing able to participate in postseason play will only help James Franklin's recruiting efforts.

Franklin's recruiting pitch is even stronger: Although there had been rumblings about the bowl ban being lifted as early as last summer, Penn State had to operate as if it would be sidelined for two more postseasons. Franklin doesn't need much help in landing top recruits, but now he can sell the opportunity to reach bowl games and compete for championships right away. That's especially important as Penn State also has opportunities for recruits to contribute immediately.

Roster depth isn't a long-term problem: When the sanctions came down in 2012, many pointed to the scholarship penalties as the most damaging, more than the four-year bowl ban. It was hard to argue. But the restoration of the 85 scholarships by 2015-16 should make depth less of a concern going forward. Penn State won't have the truncated roster USC used for years and years. The Lions will be a young team for a while, but they'll have the scholarship players.

The Big Ten gets a boost: After a disastrous Saturday that some think removed the league from the College Football Playoff picture, the Big Ten needed some good news. Penn State returning to eligibility both for the league title game and the postseason provides some. The Lions haven't looked like world-beaters the first two weeks, but they're 2-0 and boast a ton of talented young players who will be energized by this news. Plus, they're a flagship program working toward restoring elite status. After Michigan's repeated flops and Nebraska's shakiness, the Big Ten needs Penn State to be Penn State.

The PSU community will be more united: Total harmony might not be possible because of the emotion that still surrounds Joe Paterno, whose family will continue to pursue its lawsuit against the NCAA and Penn State. But a larger portion of the Penn State community will be able to move forward. The lingering penalties for players who had nothing to do with the Jerry Sandusky scandal brewed bitterness toward the PSU administration, the NCAA, the former board of trustees and others, but the mood should change a bit in State College.

The East Division steals more of the spotlight: The concern when the Big Ten realigned its divisions was that the East would garner most of the attention. Penn State's restoration to bowl eligibility thickens the plot in a division that already includes Michigan State and Ohio State. The West Division has looked relatively weak so far, as Minnesota has been the only team without a scare in its first two games.

Franklin's life gets even better: What hasn't gone right for Franklin since he arrived at Penn State in January? Monday's announcement brings even more news for the lead Lion. His contract includes a $200,000 bonus for making a bowl game and bonuses for both making the Big Ten title game ($250,000) and winning it ($350,000). Franklin doesn't need much to get energized about coaching Penn State, but he'll be even peppier now.

Bill O'Brien becomes a vital figure in program history: There are some PSU fans still bitter about O'Brien's departure to the NFL after two seasons. Three words: Get. Over. It. Remember the doom-and-gloom predictions for Penn State when the sanctions came down in July 2012? How the program wouldn't be stable until 2020 or beyond? Thank O'Brien for stabilizing things masterfully, and thank an exceptional 2012 senior class that included linebacker Michael Mauti, quarterback Matt McGloin and other standouts.
September, 8, 2014
Sep 8
2:53
PM ET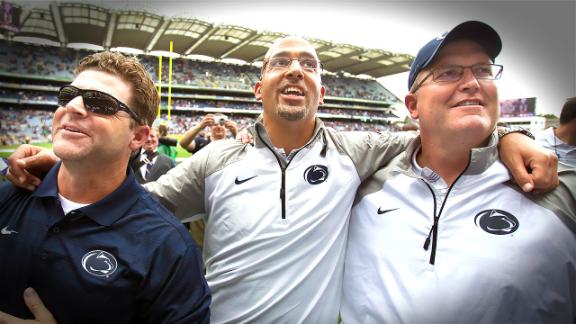 STATE COLLEGE, Pa. -- Penn State will be eligible for the postseason this year and will have all its scholarships returned next year, after the NCAA agreed Monday afternoon to again reduce sanctions stemming from the Jerry Sandusky child sex abuse scandal.
Penn State's athletics integrity monitor, former Sen. George Mitchell, recommended both actions in his second annual report that gauges progress made by the university. Minutes after the report was announced, the NCAA said it would follow both recommendations immediately.
"Penn State has made remarkable progress over the past year," said South Carolina president Harris Pastides, a member of the NCAA's board of directors. "The board members and I believe the executive committee's decision is the right one. It allows both the university and the association to continue to move toward a common goal of ensuring that educating, nurturing and protecting young people is a top priority."
The school still must pay a $60 million fine, 111 wins under Joe Paterno -- and one win under interim coach Tom Bradley -- remain forfeited, and the program will remain under monitoring.
Scott Paterno, a son of Paterno's and a spokesman for the family, said a lawsuit brought against the NCAA and Penn State will continue despite the most recent reduction in sanctions.
"Finding out the full truth is the first priority and focus," Paterno said. "I am also hopeful and certain that at some time his victories will be restored."
The reduction comes one season after the NCAA scaled back the scholarships penalty following a glowing review by Mitchell in his first annual report. Originally, Penn State would have been able to field only 65 scholarship players this season; now that number is at 75.
September, 8, 2014
Sep 8
12:46
PM ET
Associated Press
[+] Enlarge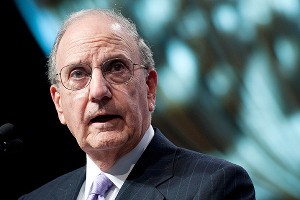 AP Photo/Cliff OwenFormer U.S. Sen. George Mitchell's second annual Penn State report is due soon.
HARRISBURG, Pa. -- College sports' governing body said in a new court filing that it is willing to let Pennsylvania control the $60 million fine Penn State is paying over its handling of the Jerry Sandusky molestation scandal.
The NCAA on Friday asked Commonwealth Court Judge Anne Covey to dismiss the lawsuit filed by Sen. Jake Corman and Treasurer Rob McCord. If Covey agrees, the NCAA said it also will move to end a federal lawsuit against McCord, Gov. Tom Corbett and others that challenges a 2013 state law requiring the money remain within Pennsylvania.
Penn State accepted the fine as part of a 2012 consent decree with the NCAA that also imposed a four-year ban on postseason play, a temporary loss of some football scholarships and the elimination of 112 wins from the later years of former coach Joe Paterno's tenure.
Corman and McCord told Covey they still want to litigate the overall consent decree but acknowledged in court papers that it may not be feasible under state law.
"I would like to have aired out the consent decree," Corman said. "Unfortunately it was clear the NCAA did not -- that's why they gave up on this case."
Spokeswomen for the NCAA did not respond to messages seeking comment.
Corman said that it appears the money will soon be available to help victims of child sexual abuse. He said his lawsuit was aimed to show the NCAA, despite being a member organization, may not simply do what it wants.
September, 8, 2014
Sep 8
11:45
AM ET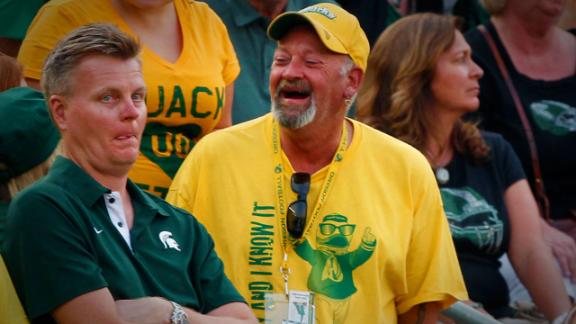 When the Big Ten suffers through a Saturday like this past one, it's only natural to extrapolate about the state of the league. Because this isn't just an isolated incident.
Mama clearly was talking about the Big Ten when she said there'd be days like this.
Remember
Week 2 in 2012
, when the league went 6-6 and 1-6 against Power 5 teams and Notre Dame? Saturday felt like a flashback. While the league's Week 2 record this season was better (8-5), it ended on a stinkier note with three double-digit losses in national showcase prime-time games. No one can forget New Year's Day in 2011, when the Big Ten played a record five bowl games and
lost them all
.
When is the last time the Big Ten actually had a great day? Midway through the Michigan State-Oregon game, a colleague in Eugene, thinking about possible story angles, asked about the Big Ten's biggest wins since 2007. The two Rose Bowl wins (Ohio State in 2010, Michigan State in 2014) jumped out along with Iowa's Orange Bowl win, Michigan's Sugar Bowl win and Ohio State's since-vacated Sugar Bowl win. But I had a hard time identifying a truly significant regular-season nonconference victory, one that resonated nationally. The colleague ended up writing about Oregon.
There's a pattern here. Anyone who thinks it's just ESPN spin or a cyclical low point is in denial. Saturday was a bad day, but it's part of a bad decade. There's no other way to present it.
"I look at the big picture, in part," Big Ten commissioner Jim Delany told me Sunday. "I recognize we haven't won a championship since '02. I look at it in that way. I see the narrative, and if we had two or three [big games], we'd be feeling better.
"We're not feeling very good, but the facts are the facts."
Some Big Ten fans attach the league's shortcomings to Delany, which I don't understand. They say he chases the money more than trying to improve the football product. How do record revenues and unprecedented TV exposure hurt football? It doesn't unless schools fail to use those resources correctly. You might not like Maryland and Rutgers, but Big Ten teams should like the recruiting areas surrounding their campuses.
[+] Enlarge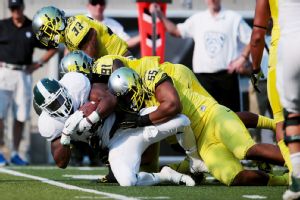 Scott Olmos/USA TODAY SportsMichigan State wasn't the only Big Ten team to take a hard tumble and big loss in Week 2.
After Saturdays like this past one, though, it's natural to wonder whether the league could do more. Does the Big Ten need a fresher approach in branding, recruiting or scheduling? Should the league push football as a bigger priority rather than sticking to its broad-based philosophy? Maybe it's time Delany assembles the football coaches and athletic directors, admits there's a problem and begins solving it.
Then again, perhaps that's not Delany's role.
"I do what I can do, which is do my job," Delany said. "Each athletic director does his or hers, and each coach does his. We talk a little bit about what's a good TV approach, what's a good bowl approach. People develop stadiums. They recruit based on academic standards and where they believe they're strong.
"I'm comfortable with how we're doing it. I would just like to have more success. I don't have a magic wand or a special idea."
Mike Slive is a very good commissioner, but he's not the driving force behind the SEC's football success. The schools are. He doesn't tell SEC programs how to coach, recruit or invest. Pac-12 commissioner Larry Scott is a dynamic, innovative thinker, but he's a former pro tennis player. He's not telling Mark Helfrich and David Shaw how to run their programs.
"You talk about bowls and you talk about schedules and playing good opponents, but it's really not about building a football team," Delany said. "That's done locally. The conference provides certain structure for discussion, not whether you're in the spread [offense] or you're recruiting Florida or California. We don't do that in any of our sports.
"I doubt very much whether Alabama and Florida talk about it, or UCLA and Stanford. These institutions are naturally competitive, and how they build their programs is naturally competitive."
I get that, but it might be time that Big Ten schools acknowledge their collective problem -- always the first step -- and try to find collective solutions, especially in recruiting. Coaches have diverse backgrounds and observe the national landscape. Some Big Ten programs will be developmental in nature, but it doesn't mean recruiting strategies can't change a little. Would a group discussion about where you recruit, whom you recruit, certain positions and, gasp, academic standards be so bad?
I've always admired the Big Ten's approach to revenue sharing. The idea is to get all ships to rise. Perhaps it's time to extend that philosophy to football. Because days like Saturday drag down the entire league and devalue the league race, which could hurt come playoff selection time.
Delany might lack a magic wand, but if the Big Ten comes together and brainstorms how to fix football, its tired act on the field could start to change.
September, 8, 2014
Sep 8
8:00
AM ET
All summer, we looked forward to the three Big Ten night games in Week 2 as the league's best opportunity to make a statement. Unfortunately for the conference, it proved the worst kind of statement possible, as all three league teams lost by double digits.
If you were so inclined, you could make excuses for Michigan State, as hardly anybody could beat Oregon on the road, and to a lesser extent Ohio State, which is a very young team playing without Braxton Miller.
But Michigan? That 31-0 loss at Notre Dame was inexcusably bad. And it was sadly indicative of a troubling trend for the Wolverines under Brady Hoke.
The curb-stomping in South Bend dropped Hoke to 0-5 in road games against chief rivals Notre Dame, Michigan State and Ohio State. Things appear to be getting worse, too, Michigan has dropped its last two rivalry road games by a combined 55 points.
Hoke was asked Saturday night what the biggest factor was in reversing that trend. His answer? "Winning." OK, then.
The Notre Dame game was
a complete disaster for Michigan
, Jeff Seidel writes. The Wolverines
seem even farther from success
than before, Nick Baumgardner writes. There's only one silver lining for the Maize and Blue: They still get to play in a weak Big Ten.
Quarterback questions
Keep an eye on a couple of quarterback situations this week.
Minnesota might have to turn to redshirt freshman Chris Streveler at TCU this week if Mitch Leidner can't go. Leidner hurt his knee late against Middle Tennessee State and
has a strained MCL
, Marcus Fuller reports. It's not like the the Gophers'
passing game was doing much
, anyway.
Purdue coach Darrell Hazell will get questions this week about his quarterbacks, as he pulled Danny Etling in the second half for Austin Appleby during the loss to Central Michigan. Appleby looked slightly more effective than Etling, but will it matter who's under center when the Boilers take on a surging Notre Dame in Indianapolis?
C.J. Brown is in no real danger of losing his job at Maryland, but he needs to start playing better. Brown has completed just 53.8 percent of his passes through two games, and he tossed two interceptions against South Florida on Saturday. With the talent the Terrapins have at receiver, those numbers need to improve.
West Division
East Division
College Football Minute: Sept. 16