December, 2, 2014
Dec 2
10:00
AM ET
December, 2, 2014
Dec 2
8:00
AM ET
Good morning, Big Ten fans. Looks as if we might be in store for an interesting day ...
1. Writing on the wall for Brady Hoke?:
It sure seems that way. Our Dan Murphy reported that
Hoke will meet with the athletic director
at 2 p.m. Tuesday, which just so happens to come before a 3 p.m. meeting with the players. It'd definitely be odd if no decision was made to keep or fire Hoke by then. But, then again, stranger things have happened -- like a 5-7 season by Michigan, for instance. Stay tuned ... we could have an answer soon.
2. And the Big Ten Coach of the Year is ...:
The conference will announce the winner of the McClain/Hayes-Schembechler Trophy on Tuesday night, and it's really the only award up for debate. I picked Urban Meyer in the preseason -- really, the only good preseason pick I made -- and I think he deserves to win over Jerry Kill. The Buckeyes didn't have 2013's leading quarterback, running back or wideout, but their offense was still arguably the best in the conference. If Meyer doesn't get the trophy this year, then Buckeyes fans are right: An Ohio State coach is never getting this award.
3. Wideout questions on the All-B1G team:
Both the coaches and the media agreed
Tony Lippett
belonged on the first team -- that was a total no-brainer -- but there was no common ground to be found with the other picks here. The coaches liked
Kenny Bell
on the first team, with
Stefon Diggs
and
Devin Funchess
on the second team. The media preferred
Leonte Carroo
on the first, with
Mike Dudek
and
DaeSean Hamilton
on the second. Count me among the camp that especially thinks Carroo was snubbed by the coaches; the Rutgers wideout was second in B1G receiving yards (1,043) and second in receiving TDs (10). Surely, he deserved at least a second-team nod by the coaches. Give me Lippett and Carroo on the first team, Dudek on the second ... and I'll let Diggs and Hamilton fight it out for the last spot.
Now, on to the links ...
Big Ten championship
East Division
West Division
December, 1, 2014
Dec 1
7:54
PM ET
Associated Press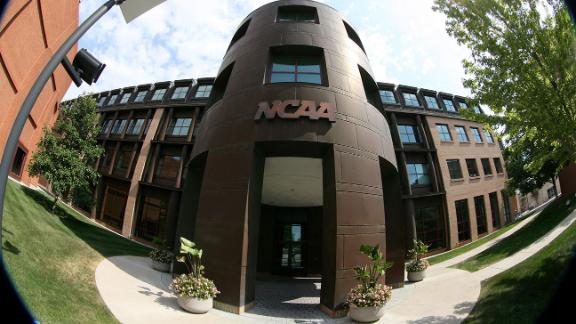 HARRISBURG, Pa. -- Nine Penn State trustees elected by alumni are getting access to documents used to create a 2012 report about how top university administrators handled sex abuse complaints against former assistant football coach Jerry Sandusky.
Penn State board chairman Keith Masser said in a letter to trustees Monday that he has directed a Philadelphia lawyer to make available a database and interview materials used to produce the report by former FBI director Louis Freeh.
Masser said trustees who want to review the large set of documents will have to sign an agreement designed to protect confidentiality agreements made when people provided "sensitive and private information."
"I note that the alumni-elected trustees have requested access to millions of pages and so, obviously, there are both legal and practical issues to be considered," Masser wrote. "I will leave those details to be worked out with legal counsel."
Alumni-elected trustee Anthony Lubrano called Masser's letter "a good start," saying he and the others will probably have some ideas about the logistics.
"I'm sure we'll have some thoughts as to how we'd like to modify that process," Lubrano said. "To the extent that they make available the records we've asked for, I think in the end that's very positive. It'll allow us to do what we're supposed to do as fiduciaries."
The nine alumni-elected trustees have been critical of the report, which concluded there were serious shortcomings in how officials at the highest positions in university leadership responded to complaints about Sandusky.
The nine wrote Masser last Wednesday to argue the materials were property of the board and to say they needed access to "fully and independently evaluate the findings and conclusions" in the Freeh report.
Sandusky was convicted of 45 counts of child sexual abuse in 2012 and is serving a lengthy sentence in state prison.
December, 1, 2014
Dec 1
5:00
PM ET
Lots of news this week, so let's hit the mailbag ...
@ESPNJoshMoyer what's the rumor mill for Nebraska? Who coaches their bowl game?

— Kitrick (@kitrick22) December 1, 2014
Josh Moyer: Associate head coach Barney Cotton -- the run-game coordinator who coaches the tight ends and helps out with the offensive line -- was named the interim guy, so he will coach the bowl game. Now for the $10,000 question: Who will be the next head coach? Well, since there will be no search firm, that decision is almost entirely up to athletic director Shawn Eichorst -- which makes it a bit more difficult to project. So all sorts of names have popped up, even Jim Tressel. (For the record, I'd find that incredibly surprising considering he is still under a show-cause penalty.) But one name that Eichorst will almost certainly consider is Oregon offensive coordinator Scott Frost, the former Nebraska quarterback. If Eichorst wants an offensive mind with Nebraska connections, Frost is the right fit. (He's also currently the Bovada favorite at 5/2.) If Eichorst wants more experience? Greg Schiano, Memphis' Justin Fuente, Colorado State's Jim McElwain or Oklahoma State's Mike Gundy could all potentially fit the bill. If Eichorst wants a little more experience and those university connections? A darkhorse candidate might just be Wyoming's Craig Bohl, who was born in Lincoln and graduated from Nebraska. There are still interviews to conduct and coaches to contact but, at this point, those are six names outside the Big Ten to keep an eye on.
@ESPN_BigTen @ESPNJoshMoyer what craziness needs to happen to get Wisconsin (and maybe MSU) into the playoff?

— Timmer Shay (@TimShay17) December 1, 2014
Josh Moyer: A lot of craziness; unprecedented craziness. It's not going to happen, but I received this question so much I feel obligated to answer. Michigan State is out of it because it's not getting ranked ahead of the Big Ten champion -- and it's literally impossible for two Big Ten teams to make the playoff at this point. As for Wisconsin, even if it beats Ohio State, think about the domino effect you would need here. If Oregon loses to Arizona, how would Arizona not stay ahead of Wisconsin? The Ducks are ranked higher than Ohio State, and Arizona's currently ranked higher than Wisconsin. If Baylor loses to Kansas State, how would Kansas State not stay ahead of Wisconsin? Kansas State's only losses came against No. 15 Auburn and No. 5 TCU, while Wisconsin fell to unranked LSU and nuranked Northwestern. One SEC team should make the playoff, so that leaves just one spot after the Pac-12 and Big 12 teams from above. For Wisconsin to stand any kind of chance then, TCU would have to lose to 32-point underdog Iowa State and Georgia Tech would have to knock off Florida State ... while still somehow not jumping Wisconsin. In other words, Big Ten fans will just have to settle for a spot or two in the New Year's Six.
---
Jared Amundson writes:
As much as it pains me to ask, would Wisconsin be sitting in position to make the playoffs going into this game against OSU if they had beat Northwestern? I still have nightmares about how Wisconsin lost to Northwestern!
Josh Moyer:
Well, Jared, you might want to close your eyes instead of reading this answer then -- because the Badgers would definitely be in great position if it weren't for that Northwestern game. I could see Wisconsin and Ohio State right next to each other at the 5-6 spots, right behind TCU. And chances are a quality win in the Big Ten title game would have nudged Wisconsin (or Ohio State) over the Big 12 champ. We're talking about a lot of "what ifs," of course, and it's not an exact science. But if that Northwestern game would have gone differently? The Badgers would be set up nicely at this point in the season, and their higher ranking could have helped Ohio State more, too.
@ESPNJoshMoyer what bowl game do u see PSU going to?

— Dennis Kochis (@denk40) December 1, 2014
Josh Moyer: I hope you like New York because It's probably going to be the Pinstripe Bowl. We've projected that for quite a few weeks now. (Yes, even last week.) It's just a matter of whom Penn State's going to play. It looks as if Pitt is out of the equation because the ACC defines the Pinstripe as a Tier 1 bowl, and Pitt is in Tier II since it has six wins. Penn State's opponent in the Pinstripe could be any one of the following then: Boston College, Clemson, Duke, Louisville, N.C. State or Notre Dame. And the Irish just played in the Pinstripe last season, so it's not the likeliest opponent either.
---
Isaac from Steven's Point, Wis., writes:
Let's say, hypothetically, that Michigan State was a member of the West Division. Who would be playing Ohio State for the championship?
Josh Moyer:
Basically, what you're asking is, "Who's better: Wisconsin or Michigan State?" It's close, very close, but I'm still going with Michigan State. It's not just me, either. We Big Ten bloggers
collectively ranked MSU ahead
of Wisconsin in the conference power rankings, and ESPN did the same in the
national power rankings
. The Badgers boast the better defense, but Michigan State has the better overall offense and averages nearly six points more a game.
Melvin Gordon
might just be the best player in the nation, but Michigan State's trio of
Connor Cook
,
Jeremy Langford
and
Tony Lippett
also means you can't focus on just one guy. It's nearly a toss-up, but give me the Spartans.
.
December, 1, 2014
Dec 1
8:00
AM ET
Barely an hour removed from a huge rivalry victory, the mixed emotions were playing out on the faces of Ohio State players as they streamed in to meet the media.
A teammate, a beloved brother, was only missing at that point, but it seemed difficult for some Buckeyes to smile too much or bask in the victory too long knowing that Kosta Karageorge still had not been found. His body was discovered on Sunday, but his
tragic loss
will only bring a different set of emotions for the Buckeyes to deal with in the coming days.
Perhaps nobody summed up the matter better than junior Taylor Decker, a friend of Karageorge's before the latter joined Ohio State as a walk-defensive lineman. And while his message that life and death matters are "a lot bigger than football" is simple, it's yet another reminder of the importance of maintaining perspective when it comes to the games we all love and the athletes that play them.
So before diving into championship week and the coaching carousel, the Big Ten reporters send their deepest condolences to the Karageorge family and all his friends.
***
1. Pelini's fond farewell?
In the end, maybe Bo Pelini got exactly what he wanted after essentially daring Nebraska to fire him on multiple occasions. Confident in his record with the program over the last seven years and with all those nine-win seasons to point to when other jobs open up around the country, Pelini always seemed to know there would be options for him if the Huskers became too disenchanted with the consistency he was providing them -- even if it was coming up just short of being elite or winning championships. There has been obvious unease between the two parties over the last couple seasons, so while the discussion about who Shawn Eichorst will hire will justifiably dominate the conversation in the coming days, Pelini's next move could be equally interesting to follow. To be clear, he is anything but a failed coach, even if he was just fired. And as he appears to have believed all along, there will be another opportunity for him soon.
2. Next domino:
Whether or not the Nebraska move came as a surprise, the fact that it acted first in the coaching silly season definitely was a shocker. That probably doesn't mean Michigan is having second thoughts about parting ways with Brady Hoke, though, especially after rival Ohio State had the pleasure of putting the finishing touches on a 5-7 season that was seemingly as much of a disaster off the field as on it. Making the announcement on Sunday as Nebraska did or perhaps pulling the trigger today won't make that much difference since the Wolverines have almost certainly been reaching out to candidates behind the scenes for weeks to prepare for the inevitable, but it should be their turn to step in front of the cameras and microphones and pick apart Hoke's tenure and look to the future soon.
3. On the field:
There is still a game to be played in the Big Ten, of course, and it's a pretty critical one even if it's currently being somewhat overshadowed by coaching changes -- or the lack thereof at Illinois. The fractured ankle suffered by Ohio State quarterback J.T. Barrett takes a little of the shine off a matchup that was going to prominently feature the league's two best offensive players in a primetime showdown with both conference and national-title implications, but both coaches were quick to offer reminders during Sunday's teleconference that the game was always going to be decided by more than Barrett and Melvin Gordon. That might be easier for Gary Andersen to say right now since the Badgers still have their star, but Urban Meyer is already working to build a convincing case that the Buckeyes will be fine with Cardale Jones taking the snaps. The biggest reason: Jones will be walking into a much more experienced huddle than Barrett did to start the season, and that supporting cast should ease his transition. Obviously it's his job to instill confidence in his team and make sure that Jones and the rest of the Buckeyes are ready to go regardless of the circumstances, but his message does make sense with the likes of Jalin Marshall, Ezekiel Elliott, Michael Thomas and more all proven playmakers at this stage of the season.
East Division
West Division
November, 30, 2014
Nov 30
2:00
PM ET
November, 30, 2014
Nov 30
9:35
AM ET
Rivalry week did not disappoint this season throughout college football and the Big Ten. Michigan and Ohio State played in "The Game" and Minnesota battled Wisconsin for a spot in the Big Ten championship game, while plenty of recruits took in the exciting matchups.
In the 2015 class, UCLA offensive line commit
Andre James
took his official visit to Ohio State to see what all the hype was about.
UCLA OL commit Andre James on his Ohio State visit today pic.twitter.com/HHTo2h61fP

— Tom VanHaaren (@TomVH) November 29, 2014
Ole Miss offensive line commit
Drew Richmond
was also supposed to make the trip but ended up canceling the visit.
The Ohio State commits were also on hand to help recruit during the big game as well.
Justin Hilliard
,
Matt Burrell
and
Jashon Cornell
spent some time with ESPN 300 defensive lineman
Neville Gallimore
and four-star receiver
Lawrence Cager
.
#SQUAD U=L @LC1era_ @JayRock_9 @HeaftyLefty @Path2Greatwork @Lchopfallen pic.twitter.com/cCmPq60tgp

— Justin Hilliard (@JHilliard47) November 29, 2014
Gallimore came all the way from Canada for the official visit, and the Buckeyes could be in good shape after the trip.
pic.twitter.com/2OEweS2bTa Ohio State OV with the posy.

— Neville G (@Path2Greatwork) November 29, 2014
The Buckeyes also hosted some 2016 targets, including ESPN Junior 300 offensive lineman
Michael Onwenu
from Detroit.
A few pics of the view at Ohio State from Detroit Cass Tech ESPN Jr. 300 OL Michael Onwenu pic.twitter.com/ypllAWUW56

— Tom VanHaaren (@TomVH) November 29, 2014
Onwenu was joined by some of his Cass Tech teammates, including ESPN Junior 300 defensive back
Lavert Hill
and 2017 receiver
Donovan Peoples-Jones
, among others.
ESPN Junior 300 quarterback
Jarrett Guarantano
was also on hand for the game and got to meet former Buckeyes receiver Cris Carter before the game.
Told me to toss a picture up with him ! =U @criscarter80 pic.twitter.com/FMyqv3I2zz

— Jarrett Guarantano1Ń (@Guarantano18) November 29, 2014
Robert Washington
, an ESPN Junior 300 running back, made the trip up from North Carolina with his father and took to twitter to show off his view.
Me and my father at The Ohio State vs Michigan game today pic.twitter.com/DOuN2c3ihu

— Robert Washington (@RDubb_5) November 30, 2014
The Buckeyes weren't the only B1G team with big prospects on campus, though. Penn State also had a ton of recruits in attendance for its game against Michigan State. The Nittany Lions didn't win the game, but they did get some good news when ESPN Junior 300 quarterback
Jake Zembiec
committed on Saturday.
Yes!!! #WeAre Committed =»=1 pic.twitter.com/m0EBAPn5pb

— Just Watch... (@Shizzeee_) November 29, 2014
Zembiec got a chance to hang out with some of the other Penn State commits on hand and build some friendships for the future.
Jarvis Miller, Daiquan Kelly, Sterling Jenkins, Jake Zembiec, Shane Simmons, Steven Gonzalez at Penn State today pic.twitter.com/7sRQmvFVip

— Tom VanHaaren (@TomVH) November 29, 2014
ESPN Junior 300 offensive lineman
E.J. Price
and 2016 defensive end
Tommon Fox
drove up to Happy Valley from Georgia, and the trip was worthwhile as both prospects were offered scholarships.
#ESPNJr300 EJ Price (left) and 2016 DE Tomon Fox on their visit to Penn State today. Both offered pic.twitter.com/F37SgTLmzH

— Tom VanHaaren (@TomVH) November 30, 2014
Wisconsin had a big game as well, playing Minnesota for a spot in the Big Ten championship game. With that type of game, it's only natural recruits would want to see it in person.
Linebacker target
Christian Folau
was one of those prospects and got a chance to snap a picture with Wisconsin running back
Melvin Gordon
after the Badgers' win against the Gophers.
Future Heisman Melvin Gordon! Great win today #Badgers ! #OnWisconsin Beat #OSU ! pic.twitter.com/fXf8myDS0V

— Christian Folau (@1_LBEAST) November 30, 2014
The Badgers also hosted ESPN Junior 300 running back
Antonio Williams
this weekend.
#OnWisconsin #OnWisconsin #OnWisconsin #OnWisconsin =4¬=P=4¬=P=4¬=P pic.twitter.com/set9EPQdT7

— Antonio Williams« (@A_B_Williams34) November 29, 2014
This visit is likely a big one for Wisconsin because Williams is slated to announce his decision Dec. 4. The Badgers are seemingly the leader, and with the win on Saturday it looks as though it will be very tough to beat Wisconsin for this talented back.
November, 30, 2014
Nov 30
12:42
AM ET
Associated Press
STATE COLLEGE, Pa. -- Nine Penn State trustees elected by alumni have demanded access to documents used to create the Freeh report on the school's handling of child sex abuse complaints against former assistant coach Jerry Sandusky.
The group said the board has a responsibility to review the materials and verify the sources of Freeh's criticisms in the 2012 report.
The Associated Press obtained a letter the alumni-elected faction sent to board Chairman Keith Masser on Wednesday to ask for access to the supporting documents. They said the materials are the property of the board.
"Louis Freeh and his report greatly damaged the reputation of Penn State," trustee Albert Lord, who joined the board this year, said in a statement. "As fiduciaries of Penn State, we have both a legal as well as a moral obligation to ask questions about such an inherently incomplete work product."
Masser said Saturday through university spokesman Lawrence Lokman that the request is under review.
Penn State President Eric Barron vowed earlier this month to review both the report and the source material, given the acrimony that has developed over the report by former FBI director Louis Freeh. The school had hired Freeh to lead an investigation.
Then-president Graham Spanier, former athletic director Tim Curley and former vice president Gary Schultz are criminally charged with covering up complaints about Sandusky, a retired defensive football coach. Sandusky was convicted in 2012 of sexually abusing 10 children, sometimes on campus, and is serving 30 to 60 years in prison.
Freeh's report was issued shortly before a consent decree between Penn State and the NCAA resulted in a four-year bowl ban, a $60 million fine and a temporary loss of football scholarships. The NCAA recently ended the bowl ban and restored the scholarships.
November, 29, 2014
Nov 29
7:48
PM ET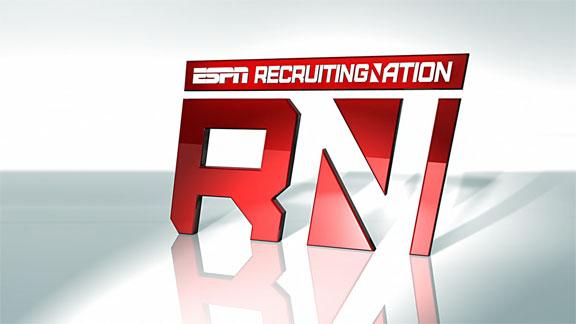 While Penn State has limped home to the finish line in 2014, the Nittany Lions continue to prove that their future has the ability to be bright under James Franklin. On Saturday, the Nittany Lions picked up a third ESPN Junior 300 commitment, and this time, it's quarterback
Jake Zembiec
. That follows the pledges of No. 21
Shane Simmons
and No. 134
Miles Sanders
.
To continue reading this article you must be an Insider
November, 29, 2014
Nov 29
7:05
PM ET
Associated Press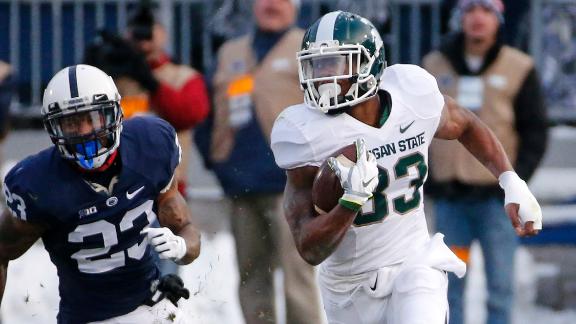 STATE COLLEGE, Pa. -- R.J. Shelton returned the opening kickoff 90 yards for a touchdown and Jeremy Langford ran for 118 yards and two scores to help No. 10 Michigan beat Penn State 34-10 on Saturday night.
The Spartans (10-2, 7-1 Big Ten) won their third straight game and hit the double-digit win mark for the fourth time in the last five seasons under coach Mark Dantonio. The Spartans have four of their six 10-plus win seasons in school history under Dantonio.
Shelton doused the enthusiasm of the emotional senior day festivities at Beaver Stadium when he used all of 14 seconds to dart through defenders for the score.
From there, the Spartans never really dazzled against the Nittany Lions (6-6, 2-6). Connor Cook threw a 10-yard TD pass and Langford chipped in with a 3-yard score in the third quarter to methodically put it away.
The Nittany Lions honored the 17 seniors who weathered four coaches, the Jerry Sandusky child sex abuse scandal and the resulting NCAA sanctions. The NCAA lifted the bowl ban this season and the Nittany Lions await their destination.
Penn State Lands ESPN 300 CB Taylor
BIG TEN SCOREBOARD
Monday, 12/22
Saturday, 12/20
Tuesday, 12/23
Wednesday, 12/24
Friday, 12/26
Saturday, 12/27
Monday, 12/29
Tuesday, 12/30
Wednesday, 12/31
Thursday, 1/1
Friday, 1/2
Saturday, 1/3
Sunday, 1/4
Monday, 1/12