September, 10, 2014
Sep 10
8:00
AM ET
News, notes and observations coming right at you:
1. The hits keep on coming for Northwestern: First, it lost its star running back due to transfer. Then its top two wideouts came down with injuries, as Christian Jones is out for the season. Now? Quarterback Trevor Siemian is coming off
a "minor" leg injury
, and DT C.J. Robbins will miss the next game
after the Big Ten suspended him
for throwing a punch Saturday. He'll only miss the Western Illinois contest, so the Wildcats shouldn't be affected much. But, every week, it seems as if there's more bad news for Pat Fitzgerald's squad. Northwestern continues to make the kinds of headlines it wants to avoid, and it keeps getting harder for the Cats to stop this downward spiral. Maybe that finally ends next week?
2. RU should remove Ray Rice's art from campus -- and be open about it: Yes, Rutgers has been asked about whether it plans to scrub Rice's photos completely. No, it's declined to come out and say
exactly
what it plans to do, although you can probably read between the lines when a spokesman says the university
plans to change
"all the art around our program." Here's an idea: Let's just be transparent and direct about this. It's difficult to celebrate Rice's on-field feats at Rutgers after watching that video. And it would be a huge misstep if Rice's photos remained at the football building through all this. Although, as it's been pointed out, at least Rutgers announced such photos would not be at the football stadium ... several hours after it wouldn't say for sure.
3. Oh say, did you see Maryland's jerseys? I don't care how you feel about the Terps, you have to admit
these
are pretty cool. The new uniforms, which were inspired by the 200th anniversary of the Battle of Baltimore and the writing of the Star-Spangled Banner, are now the most patriotic in all of sports. The helmet and jersey even feature the words to Francis Scott Key's "Defense of Fort McHenry," a poem that was transformed into the national anthem. That's the best part, in my opinion. These jerseys would look incredibly out of place at, say, Michigan or Penn State ... or, really, just about any other team in the Big Ten. But at Maryland? It's obviously a perfect fit.
Now, onto the links ...
East Division
West Division
Extra point
September, 9, 2014
Sep 9
4:00
PM ET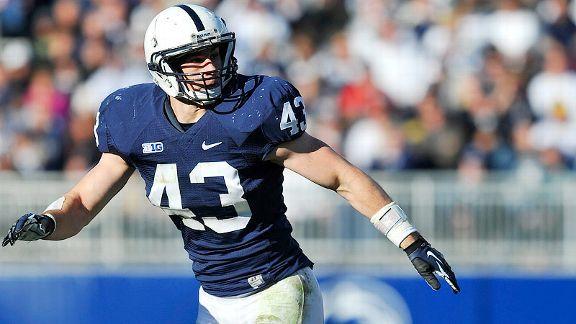 STATE COLLEGE, Pa. -- Linebacker
Mike Hull
finished up his spicy chicken sandwich at an off-campus fast-food joint while chatting and joking around with his roommates. They didn't have the slightest idea on Monday that they were moments away from an announcement they had waited for two seasons to hear.
Sure, they knew the Mitchell Report was set to be released. And, yes, they were even aware of rumors -- first started by
a clothing store blog
-- that Penn State might gain bowl eligibility
or
its missing scholarships. But they didn't expect it all to
come down that afternoon
; they just expected to sit at their small table, use their BOGO discount and enjoy their day off from football.
Then defensive back
Jesse Della Valle
checked his cell phone and told the group, wide-eyed, about what he saw. They didn't believe him – until they checked.
Due to Penn State's progress in ensuring athletics dept functions with integrity, NCAA immediately restores football postseason eligibility. - NCAA (@NCAA) September 8, 2014
Moments later, the four teammates received a mass group text for an instant team meeting. It was happening. And, even while recalling it all Tuesday afternoon, Hull seemed like he still couldn't quite believe it.
"I was smiling ear to ear and a lot of the other guys were just ... we couldn't believe everything turned around like that," Hull said. "We were expecting the worst when those were handed down."
Coach James Franklin opened his news conference on Tuesday with a big smile and by performing a little jig while jazz music played from the nearby phone line. He seemed reluctant at first to touch on the NCAA's decision, in part because it took him more than eight minutes to take questions from the media, but he couldn't stop the flood of that topic.
He wanted to focus on Rutgers, talk about Rutgers, but Penn State's newfound potential for a bowl drove the conversation. He pledged the team wouldn't look back to Monday's celebratory news and let it interfere with Saturday's game. But he also said he knew how important this was for players -- some of whom cried and most of whom looked dejected -- following the sanctions announcement in July 2012.
"This is great, now there's nothing being held back from them in terms of opportunities," Franklin said. "They have the ability to chase their dreams. But, we're going to go back to our same approach: One game at a time."
These players, especially these seniors,
didn't want to talk about this possibility
two months ago. They didn't want to think about it. At Big Ten media days in Chicago, Hull said as much. His teammate, the normally softspoken
Bill Belton
, snapped at a reporter who asked what a bowl game would mean to them.
"How would you react if you were on a bowl ban?" an agitated Belton asked, before some mild back and forth. "I'm just saying, like, if you were a kid in a program and you were in a bowl ban, it would be exciting. That's what I'm saying."
A lot of the players on this team had already resigned themselves to the NCAA's fate. Their hopes were dashed in July 2012 and, perhaps, the only thing worse would have been to get them up once more -- only to see them dashed again.
But then Monday came.
"A lot of times, you don't realize how much you miss something until you don't have it," senior safety
Ryan Keiser
said. "And we're thankful we're eligible again."
The 49 remaining players who stuck through Penn State's sanctions were called up to the front of the team meeting Monday afternoon. Their teammates showered them with a standing ovation; a smile was fixed to nearly everyone's face.
It wasn't just the seniors who were commended, it was everyone -- such as redshirt sophomore
Geno Lewis
, who was part of Penn State's 2012 recruiting class. He lived on campus for just weeks when the sanctions came down. But he chose to stay.
Lewis lingered outside Beaver Stadium on Tuesday afternoon. He knew, back as an 18-year-old, he might wind up graduating without ever going to a bowl. So when asked Tuesday if he ever thought, ever dreamt, of experiencing back-to-back winning seasons and
then
going to a bowl, he stopped walking for a moment and just paused.
"I was surprised about the bowl, but I always had faith," he said. "That's really all you can do. I'm just very happy and humbled."
Added Hull: "It's really worked out the best it possibly could."
September, 9, 2014
Sep 9
3:15
PM ET
Despite all the prompting on the heels of last weekend's disasters around the league, the Big Ten coaches predictably kept their focus on the future instead of looking back at the past.
There were injuries to discuss, the repeal of the NCAA sanctions at Penn State and much, much more during the two-hour whip around the conference. Get caught up on the highlights right here, right now.
"Obviously we got some great news yesterday, and we're ready to move forward." -- James Franklin only briefly mentioning the sanctions.

— Austin Ward (@AWardESPN) September 9, 2014
Kirk Ferentz said Brandon Scherff is day-to-day. Doesn't mention surgery. Says Drew Ott will be ready to go.

— Brian Bennett (@BennettESPN) September 9, 2014
Hoke on reduced PSU sanctions: "Is it good for the Big Ten? Yes it is." Said you hate to see kids get punished for things they didn't do.

— Josh Moyer (@ESPNJoshMoyer) September 9, 2014
Tim Beckman says every win for Illinois is a signature win. But mentions that only four Illini teams in last 25 years have started 3-0.

— Brian Bennett (@BennettESPN) September 9, 2014
Kyle Flood: First impressions in life matter. And this is our opportunity to make a first impression in the Big Ten

— Brian Bennett (@BennettESPN) September 9, 2014
Fitzgerald said Wildcats will rest quarterback Trevor Siemian but they expect him to practice next week and be ready for W. Illinois.

— Austin Ward (@AWardESPN) September 9, 2014
Jerry Kill joking that he didn't want to play his friend Gary Patterson and TCU. "But I'm not the boss, I'm the football coach."

— Austin Ward (@AWardESPN) September 9, 2014
September, 9, 2014
Sep 9
3:12
PM ET
Associated Press
STATE COLLEGE, Pa. -- At Penn State, bowl games and packed stadiums under Joe Paterno yielded to scandal, suffering and sanctions at the abuses of Jerry Sandusky.
But the Happy Valley faithful and its resolute players who stuck with the program though its bleakest era can finally start to feel whole again.
The Penn State fans who lock arms and bellow "We Are" can finish the slogan: Bowl eligible. Back on track. Competing for a Big 10 title.
Not quite catchy, but good enough for devotees in a town where "Honor Joe" signs still dot windows throughout downtown in reverence to the legendary coach.
The NCAA levied the blistering sanctions two years ago, including a four-year postseason ban. It softened that Monday, taking Penn State a step farther away from the fallout from Sandusky, a former assistant coach convicted of sexual abuse of 10 boys, including acts at university facilities.
Tom Kline, a lawyer who negotiated a settlement with Penn State for one of the eight victims who testified against Sandusky at trial, said Tuesday it made sense to ease the penalties, given the university's reforms and other actions.
"I believe that the university should be able to move forward positively, based on everything they have done," Kline said. "Lifting the sanctions is something that is earned, deserved and is a correct decision."
It was certainly welcomed by a good chunk of the Nittany Lions' roster, who had every opportunity to escape without punishment when the sanctions were handed down.
"I just love Penn State," senior linebacker Mike Hull said. "I love the school, love everything about it. I'm just a Penn State guy at heart."
September, 9, 2014
Sep 9
10:30
AM ET
STATE COLLEGE, Pa. -- For two years, fans of Penn State football waited to hear that the Nittany Lions' sanctions would be lifted. And on Monday, all that waiting -- the anger, the doubt, the questions -- melted into relief and
gave way to celebration
.
Several thousand students converged on campus to celebrate the NCAA's afternoon announcement that PSU will be
eligible for the postseason this year
and will have full restoration of its scholarships next season. Students first met on the lawn of Old Main, the central administrative building, with reports coming just before 9 p.m. about the growing crowd.
Upwards of a thousand people have gathered outside Old Main, and "Joe Paterno!" chants echo throughout the campus. https://t.co/pWcWUnpgyq

— Onward State (@OnwardState) September 9, 2014
Just before 10 p.m., the crowd -- decked out in blue and white -- spilled onto the campus sidewalks and paths on its way to Beaver Stadium. Some sprinted, some walked and most yelled. A few didn't even know where they were going.
"Where are you guys headed?" one reporter asked.
"We have no idea!" was the response.
The size of the crowd was difficult to gauge around the stadium's Gate A, where students routinely enter for football games. But some in the closely packed crowd stood atop merchandise vans, and constant chants rang throughout the night: "We Are ... Penn State!" "Dominate the State!" "Joe Paterno." "I believe ... that we will win!"
Several players showed up, but most watched from across the street. Two greeted the students briefly, leading a Penn State chant, before taking off once TV cameras arrived.
Hamilton and Lynch leading a #WeAre chant https://t.co/xZxFOltlCn

— Ben Jones (@Ben_Jones88) September 9, 2014
Several police cars remained in the area, but no major incidents were witnessed. State College Police Chief Tom King later told Onward State, a student-run PSU blog, that he considered this "a peaceful crowd."
After milling around the stadium, the group finally decided to head to Beaver Canyon, a downtown spot on Beaver Avenue that's right next to traditional late-night snack spot Canyon Pizza. That's where the crowd grew even larger.
Found a better spot to watch ... A look at the growing crowd here at PSU on Beaver Avenue. It's almost midnight. pic.twitter.com/NTYmy1aJcT

— Josh Moyer (@ESPNJoshMoyer) September 9, 2014
The street was cordoned off, and police rerouted traffic around the crowd. The buzz of the group was palpable from at least three blocks away. Some students crowd-surfed on mattresses, others just gawked and took pictures, and apartment balconies flooded with fans taking it all in.
As students joined in the celebration, and as they got to within a block, most just took off in a full sprint. The energy was akin to an upset over the top-ranked team in the nation.
"Do we run?" asked one female student in pink dress clothes.
"Yeah, we run," her friend responded, before a group of about five well-dressed students took off in a sprint.
The celebration subsided about 12:30 a.m. Tuesday, 10 hours after the initial NCAA announcement at 2:30 p.m. Monday. Classes on Tuesday began at 8 a.m.
We've gone final in the Canyon. Some bottles and assorted trash, but really, no worse for wear. pic.twitter.com/VgTpCfIfgk

— Greg Pickel (@GregPickel) September 9, 2014
September, 9, 2014
Sep 9
10:00
AM ET
It was an interesting weekend for the Big Ten on the field to say the least. The play on the field has raised a few questions in terms of recruiting, but there were plenty of positives for the conference as a whole.

Because of that, we are here to give you a recap of what took place and what to watch in the future.

Biggest news:


September, 9, 2014
Sep 9
8:00
AM ET
Three thoughts to kick off a fine Tuesday morning.
The timing of Penn State's bowl ban being lifted coincides nicely with Saturday's trip to Rutgers. We knew the Scarlet Knights faithful would be geared up for Rutgers' Big Ten debut against the program of record in the Mid-Atlantic region. Now Penn State fans will be even more energized as their team is eligible for a Big Ten championship and a postseason berth. I'll be at a non-Big Ten venue on Saturday night, but I can't wait to see the images from Piscataway, as High Points Solutions Stadium will be rocking for the first conference game of the season. Good times.
The Big Ten's Week 3 schedule lacks the national showcase opportunities we saw in Week 2, but there are some sneaky good matchups that could help or hurt the league's profile. Illinois aims for a bowl-boosting road upset against Washington, which has struggled in its first two games under new coach Chris Petersen. West Virginia, which visits Maryland on Saturday, looks much improved after testing Alabama in Week 1 and thumping Towson. Minnesota tries to validate its stock with a road win against TCU, while Iowa faces an Iowa State team that nearly stunned Kansas State last week. Notre Dame is a heavy favorite against Purdue, but the Boilermakers have given the Irish their best shot in recent years.
Perhaps we should expect this early in the season, but it seems like Big Ten coaches are being outwitted quite a bit by their opponents. In Week 1, Northwestern's staff admitted it didn't expect Cal to use freshman quarterback Luke Rubenzer as a complement to Jared Goff. Now Ohio State's coaches say they didn't expect Virginia Tech's defense to load the box so much or Hokies quarterback Michael Brewer to move around so much in the pocket. "That is the first time I've seen that kind of defense, maybe in our coaching career, where they were all [within] six yards [of the line of scrimmage]," Urban Meyer said. Meyer is a big fan of hyperbole, so take that into account. I just wonder when Big Ten teams will get the schematic edge in some of these games.
To the links ...
Penn State
East Division
West Division
And, finally ...
September, 9, 2014
Sep 9
12:15
AM ET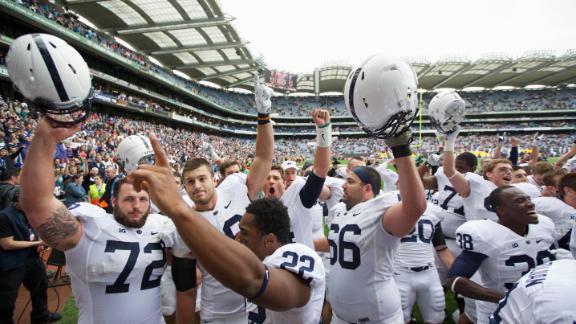 STATE COLLEGE, Pa. -- Happy Valley lived up to its name Monday night, as thousands of Penn State students converged to celebrate the football team's newfound bowl eligibility and the return of its scholarships.
Students first gathered at the lawn of Old Main, the central administrative building, before running in droves to Beaver Stadium. From there, they marched downtown to Beaver Avenue -- where the crowd grew even larger.
For more than four hours Monday night, fans celebrated as if the Nittany Lions had just knocked off the top-ranked team in the nation.
Chants of "We are ... Penn State" rang out in the night sky, songs like "Sweet Caroline" and "Zombie Nation" were staples for the duration, and cries of "Joe Paterno" and "Where's the statue?" were frequently hit upon.
It was a relatively calm night, considering the size of the crowd. One fan attempted to scale a street light outside Beaver Stadium but was politely chided by a police officer and instantly climbed down. Another reporter saw the crowd disperse for a trapped taxi cab.
"We consider this a peaceful crowd," State College Police Chief Tom King told Onward State. "As long as no extensive damage is being done, we have no problem with it."
At least two players briefly joined in the celebration at Beaver Stadium before thinking better of it once TV cameras showed up. During the downtown celebration, some fans crowd-surfed on mattresses while many just stood around to take photos or take part in the chants.
The crowd gradually dissipated as the night wore on, and most left around 12:30 a.m. ET Tuesday. The NCAA's announcement was made around 2:30 p.m. Monday.
September, 8, 2014
Sep 8
11:00
PM ET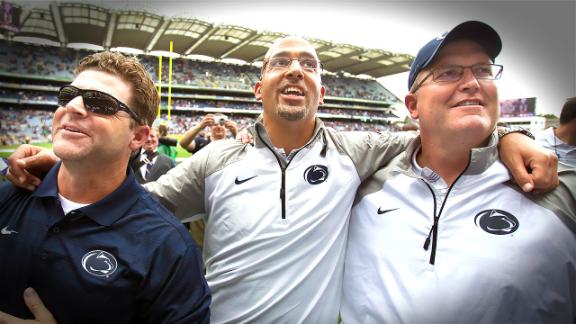 The Early Offer is RecruitingNation's regular feature, giving you a daily dose of recruiting news across the country. Today's offerings: James Franklin and Penn State was already building one of the best classes in the country, and Monday's news that the Nittany Lions were eligible for postseason play will help them build an even better class. Plus, recruits across the country agreed with the NFL and the Ravens' decision to distance themselves from
Ray Rice
, and we continue our tour of the top recruiting happenings on social media.
To continue reading this article you must be an Insider
September, 8, 2014
Sep 8
6:30
PM ET
September, 8, 2014
Sep 8
6:15
PM ET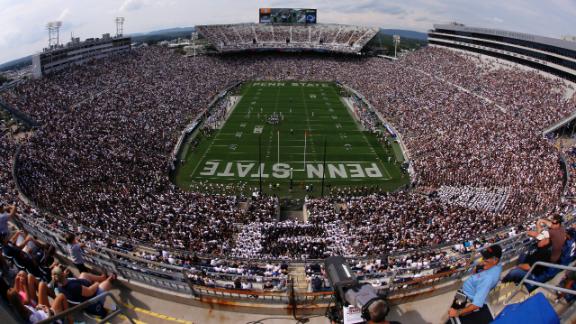 The NCAA announced Penn State will
immediately be bowl eligible
and the football program will be restored to 85 scholarships in the 2015-16 season. That is huge news for the recruiting efforts of the Nittany Lions as it eases pressure off of the coaching staff.
Penn State previously had the sanctions reduced to 80 total scholarships for the 2015 season, which means five more spots are now opened up.
With the No. 5 ranked class in 2015, the Penn State coaching staff obviously wasn't having any trouble overcoming the sanctions, but this gives the staff a little breathing room.
To continue reading this article you must be an Insider
September, 8, 2014
Sep 8
5:37
PM ET
STATE COLLEGE, Pa. -- This is the moment that former and current
Penn State
players have waited for over the past two seasons.
The worst of the sanctions is over. The
Nittany Lions can be bowl eligible
, and their scholarships will be restored completely in time for next season. Penn State has survived a fate worse than the "death penalty" -- and former players who endured all this couldn't be happier.
"It's happened, it's over with, and we just need to be thankful with all that's happened the last two years: our teams, coach Bill O'Brien, James Franklin, this Penn State community, everyone," former cornerback Stephon Morris told ESPN.com. "We are all one. I'm just very, very excited. I was jumping up and everything when I heard it; that's no lie."
Alumni began texting feverishly as soon as the news hit. First came former Sen. George Mitchell's recommendation that the sanctions be all but eliminated, and on its heels came the NCAA's official announcement.
Center Matt Stankiewitch, a senior when the sanctions hit, can still remember the scene in the players' lounge when NCAA president Mark Emmert appeared on TV and hammered the program. For eight minutes, he decried everything wrong with Penn State. And Stankiewitch's teammates just stared at one another, gutted. At the nearby student union building, dubbed the HUB, some students gasped or openly wept.
"This is the total opposite of that feeling," Stankiewitch said Monday afternoon. "It's uplifting, it's gratifying, it's a great feeling to have. It's totally different. It's two different worlds."
These players -- in addition to several others -- may no longer be on the team, but they say Monday's news caused them as much, or more, happiness than the current players. Penn State is a community, a family, they said, and if that weren't the case, then they never would have made it this far.
"I never had a doubt in my mind about Penn State getting through the sanctions," said wideout
Allen Robinson
, now a second-round draft pick with the Jacksonville Jaguars. "Penn State wasn't just about a bowl game. It was about football and being with some of my best friends and having the opportunity to play with those guys like John Urschel.
"Playing at Penn State isn't just about bowl games. There's no place like Beaver Stadium; there's no place like Penn State. We lost the first two games my sophomore year, and we still had like 100,000 fans the next game. I don't think that happens everywhere."
Within an hour of the news, Morris had already contacted several former teammates -- such as LB
Michael Mauti
and DT Jordan Hill -- to share in that joy. No one, outside of these Nittany Lions, gave them much of a shot at first to make it through these sanctions.
Monday's announcement all but made that official. So, Morris said, the players he contacted are spreading the word: No matter what bowl Penn State makes it into, the recent alumni -- the ones who kept a team together through the university's darkest time -- plan to be there. In droves.
"We got to go to a bowl game and represent," Morris said. "We travel great already, but whatever bowl we go to, we're going to completely dominate that area. This is big for all of us, for all the former players, for all the guys. This feels awesome."
Morris received a few texts about PSU's eligibility but didn't wholly believe them until he saw the ESPN ticker scroll along the bottom of his television. First, he called his mother. Shortly thereafter, he called former teammate and safety Stephen Obeng-Agyapong.
And Obeng-Agyapong told ESPN.com that one word came to him while he watched Monday's events unfold: validation.
"We stuck together through Penn State's toughest time," he said. "So for that ban to be lifted, it validates us sticking together because we stuck together for a reason. We knew what the NCAA was doing was wrong, and we weren't going to let them get the best of us."
The NCAA allowed players to transfer without impunity that first year. Only nine players initially took the offer. A lot of critics wrote off these Nittany Lions, but the former players said they never had a doubt.
Monday was a celebration, they said, and it's one that should stick with them awhile.
"With another school, maybe this is the end for them," Morris said. "With Penn State, we were disappointed, but we never held our heads down. We always thought we were going to make something good out of that equation. We always wanted more."
September, 8, 2014
Sep 8
5:00
PM ET
That was a rough weekend for the Big Ten. Let's check out the damage and move on to the mailbag:
Anthony from New York, N.Y., writes:
Who had the worst weekend, Michigan State, Ohio State, or Michigan?
Josh Moyer:
That's a tough one, but I have to go with Michigan. The Buckeyes had a freshman signal-caller up against a strong defense, while the Spartans played arguably the best team in the nation. To me, those outcomes weren't nearly as surprising as with the Wolverines. This was the final contest in the series against Notre Dame, and the entire game was an absolute embarrassment as U-M failed to score a point and lost 31-0. At least MSU led in the second half, and OSU kept the game close. This was the first time Michigan was shut out in 365 games – that's 30 years – and it was the most lopsided victory for Notre Dame in a series that dates back to 1887. Michigan State and Ohio State didn't help themselves with those losses, but those games weren't historically bad. Michigan's was.
---
@ESPNJoshMoyer so, OSU line showed reason 4 concern. Any chance Warriner can get them right this season? D was bad, but O lost that game

— Matt Pacholski (@Mpachol) September 8, 2014
Josh Moyer: I was more down on Ohio State after its Navy win than most people, so maybe this answer will surprise you: Yes. Sure, this offensive line still has a ways to go. But it showed improvement in the second half of the Navy game - and the unit didn't perform as badly as the Virginia Tech game indicated. On 43 of J.T. Barrett's dropbacks, the Hokies brought five or more pass-rushers on 34 of them. Frank Beamer blitzed mercilessly all night, and Ohio State just didn't have an answer. Any offensive line would've struggled under that kind of pressure. As Barrett matures and Urban Meyer opens the playbook, they'll be able to make teams pay with that kind of aggressive scheme. But it's just not in the cards right now. This line will get better, and Ed Warinner will get them "right." But it's going to take time.
---
Cal from Minneapolis writes:
How do you really see Penn State-Rutgers playing out? A lot of buildup for this one, but Penn State beat Akron 21-3, Akron beat Howard 41-0, and Rutgers beat Howard 38-25. Is the game really going to go down to the wire?
Josh Moyer: Careful about comparing scores like that, Cal. Those don't mean much. And my view of Rutgers has changed quite a bit since the preseason. The Knights have proved they're far from a pushover. Paul James belongs with the group of B1G backs who sit a notch below the elite ones. Gary Nova has looked good, and Leonte Carroo provides a speedy threat at receiver. So I'd be surprised if Penn State plowed right through this team. I still think the Lions will - and should - be favored, but I do expect a close one. Sure, on paper, the Howard game looked tighter than it should've been - but it was 31-7 at halftime, and Howard scored only when the game didn't matter anymore. (It was 21-0 at Akron-Howard halftime, if you're curious.) Penn State has a better defense than Rutgers' first two opponents, but Rutgers should provide the biggest offensive test for PSU since UCF's Pete DiNovo struggled in the opener. Rutgers will need to force turnovers in this one, while Christian Hackenberg needs to remain calm and not force the ball. It should be a good one.
---
@ESPNJoshMoyer What should B1G fans do now? I am thinking about learning a foreign language or something.

— John Babri (@JohnBabri) September 8, 2014
Josh Moyer: I hear knitting's a relaxing hobby. Or maybe B1G fans could adopt an NFL team or take to watching hockey? No doubt, it's difficult to be a Big Ten fan right now. I wish I could tell you that better times are ahead, but ... ummm ... it can't get any worse? That's the best I can do right now. It's basically impossible for this conference to prove itself the rest of the regular season. It missed its big chance. So the hope has to be this conference can regroup, solidify those weak points (e.g. Wisconsin - QB, Penn State/OSU - OL) and have a strong bowl season. That's quite a while away, but what more can I tell you? In the words of Jeremy Fowler, the whole Big Ten had an "Urban-Meyer-eating-pizza-outside-the-locker-room kind of day." And it won't get any better until the conference can change minds by beating better nonconference opponents, an opportunity that really won't present itself until bowl season. A team like Michigan State needs to win out, gain a playoff spot and put up a solid showing for outsiders' minds to change about the conference.
Big Ten Weekend Wrap: Sept. 16