September, 23, 2014
Sep 23
10:30
AM ET
September, 23, 2014
Sep 23
8:00
AM ET
For this edition of the morning links, I bring you three bite-sized opinions:
1. Michigan should look to backup QB:
Shane Morris
doesn't
deserve
to start, per se, but
Devin Gardner
has shown he's not the answer to Michigan's woes. Actually, he's a big contributing cause. Against two Power-5 opponents, Gardner has led the Wolverines offense to exactly zero touchdown drives. Can Morris possibly fare any worse? Hoke should announce the starter later Tuesday. If he picks Gardner, this has to be the dual-threat's last chance. But if U-M wants to turn things around now, maybe it should stop starting the same guy over and over again and expecting different results. You know what they call that ...
2. Ameer Abdullah still the best back in the Big Ten:
Apologies to Wisconsin's
Melvin Gordon
, who made enough highlight-worthy plays just on Saturday to fill up a season-long reel. But Abdullah has still had the more impressive season by far. Gordon put up video game numbers against Bowling Green, but Abdullah grinded it out against a good Miami run defense for 229 yards. Abdullah's "worst" game came against McNeese State when he turned in
this play
. Don't worry; you really don't have to click that link because you've probably seen that crazy play -- where he breaks at least five tackles en route to a 58-yard TD -- at least a dozen times already. Gordon is great but, so far this season, Abdullah is better.
3. NCAA president Mark Emmert can't admit when he's wrong:
Can we make something clear here? Whether or not you agreed with the NCAA's initial move of sanctioning Penn State, it seems as if we can all agree that the NCAA handled the situation in a manner that was far from ideal. But, of course, the NCAA's tone-deaf president was asked Monday about his handling of it all -- and, of course, disagreed.
Emmert's response
: "I think that has gone really well." It looks as if we need to talk, Mark. If you dole out a punishment and reduce said punishment twice in two years, then you probably missed the mark initially. Heck, you're basically admitting you missed the mark with actions instead of words. ESPN.com's own Ivan Maisel wrote something to that effect as well --
nearly a full year ago
. The more Emmert talks, the more it becomes harder to believe him.
Now on to the links ...
East Division
West Division
September, 22, 2014
Sep 22
5:00
PM ET
Well, it's been a while, folks. Did ya miss me?
Let's get to those Big Ten questions.
@ESPNRittenberg After the Mizzou win, what is IU's ceiling and can we get Tevin Coleman some Heisman/Doak Walker love?

— Jesse Pace (@JGPace) September 22, 2014
Adam Rittenberg:
It's a fascinating question, Jesse, because Indiana hasn't had a win like this in a while. Coach Kevin Wilson has often talked about the challenge of handling success when you achieve it and how that's part of turning a corner as a program. Indiana can compete with just about anyone in the Big Ten, especially if its defense can build off the Missouri game.
This week's home game against Maryland is huge. Maryland has the playmakers to test the Hoosiers' defense, but Indiana comes in with confidence and a good chance to start Big Ten play at 1-0. If so, the Hoosiers have a chance to improve to 4-1 against North Texas. Then bowl eligibility, which has been so elusive for IU, is within sight.
Wilson and his staff have upgraded the talent. It's now about maturity and not getting too carried away with a great win. But I've always felt Indiana could win seven or eight games if things go right.
Coleman finally got overdue national attention after his performance at Missouri. It's hard to get hype in a league featuring two elite running backs (Ameer Abdullah and Melvin Gordon), but people are finally noticing what Coleman can do.
Every UMFan from Streamwood, Illinois, writes: On a scale of 1 to 10, 1 being Lane Kiffin (USC or Tennessee, take your pick) 10 being Nick Saban at Alabama, what's Brady Hoke's job security? Is Michigan still a destination job?
Adam Rittenberg:
It has dropped from about a 7 to begin the season to a 3 or 4 right now. Anyone who objectively watched the end of the Utah game sensed the hopelessness surrounding Hoke's program right now. Hoke needs a strong showing in Big Ten play, at least five wins and possibly more, to keep the hounds at bay. It starts this week against Minnesota, a team Michigan has beaten even when it's really down (see: 2008). If Michigan loses the Jug, the talk about Hoke losing his job will only intensify.
Is Michigan a destination job? There's great tradition. The facilities have recently become top-notch. The resources are there. The right coach can make Michigan great again. But I also think the culture needs to change. I'm tired of hearing about what Michigan was. Stop living in the past. Don't be afraid to bring in an outsider if that person can win. If so, embrace that person. Spend less time on legends jerseys and more time on how to appeal to the best recruits from around the country. It's not a turn-key job, but it remains an appealing one.
@ESPNRittenberg is Penn state a legitimate contender for the East title? Can't the Lions be 6-0 when they matchup with Ohio State?

— LeftyMarlins (@LeftyMarlins) September 22, 2014
Adam Rittenberg:
At some point, Lefty, we're going to look around and realize, "Hey, Penn State can really win this thing." It seems like people are still grasping that Penn State is, indeed, eligible for everything again. I still worry that the Lions are an injury or two away from being in big trouble, but they've remained relatively healthy so far and seem to be getting better each week. A 6-0 start is certainly possible as PSU plays two struggling teams (Northwestern and Michigan) and has two open weeks between now and the Ohio State game. But it will take a win against Ohio State for Penn State to be viewed as a serious contender in the East. From what I've seen, Michigan State is still a cut above everyone else.
Dave from Marietta, Ohio, writes:
Yes, 12-1 was an excellent weekend for the Big Ten (BIG ups to Indiana from an OSU grad; no thanks to you, U-M). But, the hatred for the Big Ten will remain. 1-10 is burned into the memories of the media. For anyone from the Big Ten to get in, there has to be an even weaker sister champion from the other Power 5 conferences, and right now, I don't see one.
Adam Rittenberg:
First impressions tend to stick, Dave, and the Big Ten made a very poor one during the first three weeks. The media doesn't make the selections and the committee has pledged to take into account the whole season, but the Big Ten didn't show much punch in nonleague play. A Clemson win against Florida State would have really helped because the ACC would have a tougher road to the playoff. The Big Ten would really benefit from Oklahoma losing (and Baylor, too) and the Pac-12 beating up on each other.
If Nebraska or Penn State runs the table, it's in. And I still think a Michigan State team that dominates Big Ten play would have a shot. But it will be tough.
September, 22, 2014
Sep 22
3:30
PM ET
Our crew of Big Ten reporters will occasionally give their takes on a burning question facing the league. They'll have strong opinions, but not necessarily the same view. We'll let you decide which one is right.
Today's Take Two topic: Who has the best receiving tandem in the Big Ten?
[+] Enlarge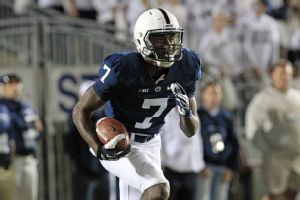 Matthew O'Haren/USA TODAY SportsPSU's Geno Lewis has the stats and intangibles to make a case for one of the Big Ten's best WRs.
Take 1: Josh Moyer
Dan, Dan, Dan -- let's not overthink this. Michigan has the Big Ten's best receiver in
Devin Funchess
, but there's really no No. 2 there.
Stefon Diggs
is an elite talent, but
Deon Long
hasn't made a huge impact this season. So, let's not get cute with this pick. The answer is really simple: Penn State's
Geno Lewis
and
DaeSean Hamilton
.
Now, before the season, I wouldn't have guessed this. Lewis was inconsistent last season, and Hamilton missed his true freshman season with an injury. But you can't argue with their production this season. Only four receivers in the Big Ten are averaging at least 100 yards a game, and Lewis and Hamilton are two of them. Lewis leads the conference in receiving yards (462) and is second in receptions (25); Hamilton leads the conference in receptions (30) and is second in receiving yards (402). How's that for complementary?
But you know what, Dan? Let's forget about the stats. You want a deep threat with great focus and athleticism? Lewis has made several highlight-worthy catches, including a
tipped ball he pulled down for a 41-yard gain
against UCF. You want consistency and a target on more underneath routes? Hamilton caught a pass in 13 of this season's first 14 quarters. You want clutch plays? Well, on PSU's game-winning drive against Rutgers, Lewis
accounted for 76 yards
on the Nittany Lions' 80-yard drive. You want a guy who has the potential to grow a lot more just this season? Hamilton was called "one of the biggest sleepers in the Big Ten" in the preseason by his receivers coach and, despite an 11-catch performance in Week 1, Hamilton said he didn't feel 100 percent.
This is a young tandem -- Hamilton is a redshirt freshman, Lewis a redshirt sophomore -- but their ability is not in doubt. We'll probably see these guys a few times on "SportsCenter"'s top 10 plays, and it certainly doesn't hurt that they have
Christian Hackenberg
throwing to them. So the answer here is an easy one: It has to be Penn State's tandem.
Take 2: Dan Murphy
[+] Enlarge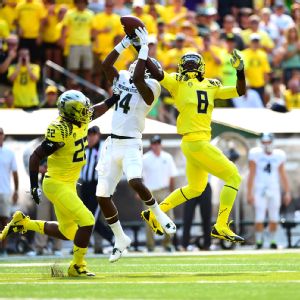 Phil Ellsworth/ESPN ImagesThrough three games this season, Spartans WR Tony Lippett has 18 receptions for 345 yards and 5 TDs.
Michigan State veteran
Tony Lippett
played less than a half
on Saturday
in Sparty's blowout
73-14 win
against Eastern Michigan, but he still had time to add to his league-leading total of five receiving touchdowns. Getting to the end zone was the main thing missing from Lippett's game in past years. Now he's on track to contend for the conference's best receiver and a shot at the Biletnikoff Award short list.
To make this list, though, he'll need a partner. That's where junior
MacGarrett Kings Jr.
comes in. The 5-foot-10 speedster has only four catches through three games this season, but he has the physical skills to complement Lippett when he reaches his potential.
Kings missed the majority of spring practice after a DUI arrest and has been playing catch up ever since. Spartans coach Mark Dantonio made Kings scrape his way back toward the top of the depth chart during fall camp. His day against Eastern Michigan was short as well, but he did flash his big-play ability with a 43-yard punt return to set up the first of many scores.
Lippett is averaging six receptions and 115 yards per outing after three games, one of which came against a talented Oregon team that boasts one of the best cornerbacks in the country in
Ifo Ekpre-Olomu
. He has reached the end zone in every game this season, more than doubling his career touchdowns after starting the year with only four to his name.
Penn State's Lewis owns the Big Ten passing play of the year so far with his 53-yard catch-and-run to help take down Rutgers two weeks, but we're only four weeks (and one league game) into the season. Lewis and Hamilton rank among the top three receivers in the conference in catches per game and yards per game, but small sample sizes make it hard to extrapolate in September.
Lippett and Kings should be able to pass Lewis and Hamilton as the conference's top receiving tandem once they get up to full speed.
The battle for wide receiver duo supremacy is likely to remain between these two programs this season for one main reason -- both pairs have the luxury of a quality quarterback. The league has other talented receivers such as Diggs, Funchess, and
Kenny Bell
and
Jordan Westerkamp
in Nebraska, but no one from that group has a proven consistent passer to feed them the ball.
September, 21, 2014
Sep 21
8:00
PM ET
Those in Ann Arbor will understandably disagree, but Week 4 was a very good one for the Big Ten. The league went 12-1 and won several games in impressive fashion. When almost every team handles its bid-ness, there's not much shuffling in the bowl projections.
The big development this week is Indiana's return. Seven days after an all-too-typical, potentially bowl-crushing loss at Bowling Green, Indiana recorded its biggest win in years, shocking No. 18 Missouri on the road. The Hoosiers are back in the projections and could rise higher in the coming weeks if they can build on the Missouri win. For now, we have them receiving an at-large bowl invitation.
Michigan moves down after its loss to Utah. The Michigan brand still carries weight in the bowl pecking order, but this Wolverines team could have a tough time reaching the six-win mark if its offense doesn't dramatically improve. The Wolverines are last nationally in turnover margin at minus-10 through four games. Yuck.
For now, we have Michigan essentially staying home for bowl season in Detroit.
New Big Tenners Maryland and Rutgers, meanwhile, move up after impressive starts.
Expect more shuffling next week as Big Ten play begins in full force. Several matchups could affect the order, namely Minnesota visiting Michigan and Indiana visiting Maryland.
To the projections ...
Chick-fil-A Peach/Cotton/Fiesta/Orange:
Michigan State
Chick-fil-A Peach/Cotton/Fiesta/Orange:
Ohio State
Capital One:
Penn State
Outback:
Nebraska
National University Holiday:
Wisconsin
TaxSlayer/Franklin American Mortgage Music City:
Iowa
San Francisco:
Maryland
New Era Pinstripe:
Rutgers
Quick Lane:
Michigan
Heart of Dallas:
Minnesota
At-large: Indiana
September, 21, 2014
Sep 21
2:00
PM ET
September, 21, 2014
Sep 21
10:46
AM ET
It was a great weekend for the Big Ten, going 12-1 with the only loss coming from Utah's defeat of Michigan. A few of the games turned out to be exciting matches, including Indiana's win over Missouri and eventually Nebraska's win over Miami.
It was a great opportunity for visiting recruits to see some big games and the prospects took to social media to document those trips. Here is a look at some of the best posts from the weekend.
Nebraska vs. Miami:
This game lived up to the hype and the Cornhuskers put on a show for the visiting recruits. There were some big targets on hand, so this was an important game.
Wide receiver Tavin Richardson made the trip from South Carolina and tweeted his approval of the game.
Tonight's game was turnt????

— GetDoughBoys#?1?1?. (@Rich_Man11) September 21, 2014
Turnt is good. The fans were in full force and as loud as ever, something defensive back Kahlil Haughton took notice of.
Good lord, Nebraska fans are too live!

— Kahlil Haughton (@Kahlilhaughton) September 21, 2014
It's not hard to see why after seeing offensive coordinator Tim Beck's picture of the raucous crowd.
Shoutout to the Nebraska Student section. THIS IS AWESOME !!!!! pic.twitter.com/qZDlAiFEd9

— Tim Beck (@NU_speed_kills) September 21, 2014
Beating Miami in the fashion it did, this was a big win for Nebraska on the field and on the recruiting trail as well.
Penn State vs. UMass:
On paper this doesn't look like a huge game for Penn State, but there were some big visitors in town to watch the Nittany Lions.
A few of the commitments got a chance to bond, and that might be a help for the future as defensive end Jonathan Holland has been talking about taking other visits. He and offensive line commit Sterling Jenkins spent some time together on the visit and seemed to enjoy themselves.
Walking with @S_Jenkins72 is like walking with a celebrity

— Hollywood (@JonHolland_COO) September 20, 2014
Outside of the commitments, Penn State had a few important uncommitted prospects checking out campus as well. The No. 29-ranked prospect in 2016, quarterback Brandon McIlwain took in the game and got the chance to speak with the coaches during the trip.
#ESPNJr300 QB Brandon McIlwain @BFMcIlwainqb12 on his visit to Penn State today: http://t.co/iq67odOjxR pic.twitter.com/pqg2pp9VwO

— Tom VanHaaren (@TomVH) September 20, 2014
Fellow ESPN Jr. 300 prospect Rahshaun Smith, the No. 99-ranked recruit in 2016, was also on campus. Penn State has made the East Coast a big priority, and since Smith hails from Maryland and happens to be a top prospect, he will be a main target for the coaches going forward.
#WeAre #PSU ?????? pic.twitter.com/DFlXApR63m

— Humble & Hungry ?? (@Nextlevel_shaq) September 20, 2014
Eastern Michigan vs. Michigan State:
It was a walk in the park for the Spartans on Saturday as they rolled past Eastern Michigan. That means it was a relaxed time for the recruits after the game once they spent time with the coaches.
Brandon Wildman, a 2016 quarterback, made the trip in from Illinois and got his money's worth on the unofficial visit.
Always great talking with the Salems @CoachSalemMSU pic.twitter.com/HFUt4Z4Nwx

— Brandon Wildman (@brandon_wildman) September 20, 2014
Michigan vs. Utah:
Michigan had the only loss for the conference on Saturday after losing to Utah at home. The Wolverines didn't have a huge visitor list, but there were plenty of prospects watching to see the outcome right from the comfort of their own home.
Todd Sibley, a 2017 Ohio running back, tweeted that he had his eyes on the game and was curious to see what would take place.
Watching this Michigan game very closely ??

— ?Todd Sibley Jr.? (@ToddSib23) September 20, 2014
Sibley was watching because he's interested in Michigan, but the outcome wasn't what he was hoping for. The Wolverines have now lost two games in convincing fashion, which could start to impact prospects and their perception of the program.
It might not have been the best game to have prospects on campus because of the loss, but also because of the terrible weather. The game was eventually delayed due to rain and lightning and resumed over two hours later.
In-state running back Matt Falcon was one of the visitors on hand, though, and because he lives relatively close, this likely won't be Michigan's last chance to impress the talented back.
2016 RB Matt Falcon @mfalcon21 at Michigan today. pic.twitter.com/117lNgrFT0

— Tom VanHaaren (@TomVH) September 20, 2014
September, 20, 2014
Sep 20
7:37
PM ET
Associated Press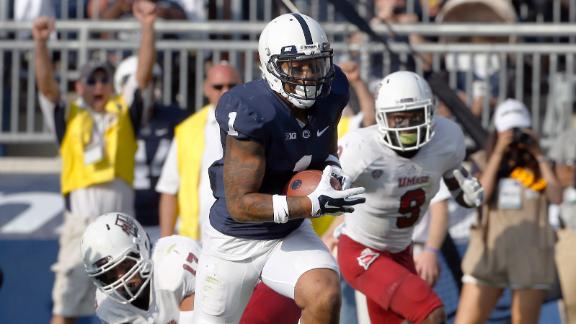 STATE COLLEGE, Pa. -- Bill Belton and Zach Zwinak rushed for a pair of touchdowns each, Christian Hackenberg threw for 179 yards and Penn State defeated Massachusetts 48-7 on Saturday.
Penn State (4-0), which needed late-game drives to win two of its first three games, displayed a run-pass balance for the first time this season during its first-ever game against UMass (0-4).
The Nittany Lions punted on their first possession but kicked two field goals and scored six touchdowns on their next eight. It was the most points Penn State scored since a 52-3 win over Eastern Illinois on Oct. 10, 2009.
Akeel Lynch rushed for 81 yards on eight carries while Belton's 76 yards came on seven rushes.
Penn State rushed for 228 yards on 45 attempts and its defense allowed just three rushing yards.
UMass quarterback Blake Frohnapfel was 17 of 33 for 263 yards and a touchdown.
September, 19, 2014
Sep 19
8:07
PM ET
Associated Press
[+] Enlarge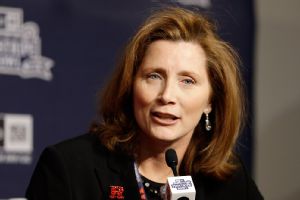 AP Photo/Frank Franklin IIRutgers acknowledged that AD Julie Hermann made a joke about the Jerry Sandusky child sex-abuse scandal during a meeting with staff last fall.
PISCATAWAY, N.J. -- Rutgers athletic director Julie Hermann made an off-the-cuff joke about the Jerry Sandusky child sex-abuse scandal at Penn State during a meeting with staff last fall.
The university acknowledged Friday that Hermann made the impromptu comment in a fundraising meeting but said it was not directed at anyone associated with Penn State.
The comment was first reported by NJ Advance Media, whose story included statements from more than a half-dozen people inside the Rutgers athletic department.
The report said Hermann told staff members to "reach out and touch the donors" of the Rutgers program, and her punchline was to not do it "in a Sandusky way."
"Julie's comment was an off the cuff response to a give-and-take interaction urging the fundraising team to reach out and touch the donors," Pete McDonough, senior vice president for external affairs, said in a statement sent Friday evening to The Associated Press. "There probably isn't a person alive today who hasn't made an impromptu remark in a private meeting that probably shouldn't have been said. Even taken out of context, this single comment was not directed at Penn State, its students, staff or faculty."
September, 19, 2014
Sep 19
5:00
PM ET
Hope still abounds in the mailbag, at least among Nebraska and Penn State fans. Let's get straight to the questions:
@DanMurphyESPN Will Penn State be able to compete for a B1G (or National) Championship with the way Franklin is recruiting? How soon?

— Greg Korslund (@G_Kors) September 18, 2014
Right now Penn State is the only Big Ten team with a unanimous top-10 recruiting class from the ranking services, and Franklin definitely has some positive momentum rolling in Happy Valley. They have some issues to iron out before they can get past Ohio State and Michigan State to reach the conference title game, but there is no reason to think the Nittany Lions won't be a threat in the East Division in the next couple years. There's still a more significant gap, one that might be out of Franklin's control, to close before Penn State fans should be thinking about national championships.
@DanMurphyESPN If Nebraska somehow goes undefeated this season and wins the B1G championship how would we stack up against the other power

— Brandon Williamson (@Husker_bran) September 18, 2014
Nebraska has a very long way to go for an undefeated season.
ESPN's FPI rating
gives the Huskers a 0.8 percent chance of winning out (tied for 29
th
among FBS teams). If they do defy the odds, that will mean beating Michigan State and Wisconsin on the road along with the East Division champ (most likely Michigan State again or Ohio State) at a neutral site. With that resume, it would be almost impossible to leave them out of the College Football Playoff. They would still be a No. 3 or 4 seed, and I don't think they have the individual skill level to compete with the Alabamas and Oregons of the world this season. The consolation prize? If they get that far, you would have to imagine
Ameer Abdullah
would be a Heisman front-runner in December.
@DanMurphyESPN How many non power 5 schools would finish in the top half of the B1G? ND, BYU for sure, but ECU, Marshall, others?

— Mark (@msmeraglinolo) September 18, 2014
Let's start by setting the bar for "the top half of the B1G." Rutgers is currently in sixth place in our weekly power rankings and plays the same newcomer role that any hypothetical additions would assume. Teams that could reasonably expect to compete with or beat the Scarlet Knights will make our cut.
I think that group includes the three major independents (Notre Dame, BYU and Navy), three from the American Athletic Conference (UCF, East Carolina and Cincinnati), Northern Illinois and Boise State. Marshall and maybe one or two others could sneak into that conversation if they continue on an upward trajectory, but at this point I think they would still be underdogs against Rutgers. To be fair to the beloved Big Ten, I'm not sure this list would be much shorter if you asked the same question about the Big 12 or the ACC.
@DanMurphyESPN do you think hoke is done if Michigan loses this weekend and who could possibly replace him?

— andrew busovsky (@andyb1821) September 19, 2014
The boo birds showed up at Michigan Stadium last weekend against Miami (Ohio) and Michigan won that game 34-10. If Utah beats the Wolverines on Saturday, the calls for Brady Hoke's job will get a lot louder, but it's way too early in the year to starting writing anyone off. Even if he has another mediocre season, Hoke can save himself by beating Ohio State in the season finale. Combined with a relatively easy month of November before the rivalry game, a win against the Buckeyes would produce enough optimism for the future to buy a fifth year. There are way too many dominoes still standing upright to predict who could be next in line for the job.
@DanMurphyESPN who are you and what have you done with Rittenberg?

— Eric Shuman (@eshuman34) September 18, 2014
Hello there, I'm Dan. I enjoy chocolate-covered almonds, romantic comedies and the read option. Adam's just fine, I promise. See you all next week.
September, 19, 2014
Sep 19
4:30
PM ET
First it was dominate the state. Now ... dominate the airwaves?
Penn State coach James Franklin found himself in the backyard of Penn State's rival, Pittsburgh, on Friday morning for a recruiting trip and decided to call in to the local sports morning talk show, 93-7 The Fan. It didn't seem like the call was entirely expected -- since the producer hung up when he called the first time.
Here's how the second, successful, call opened:
Let's go to James, who's calling from State College. What's going on, James?

Franklin: What's going on guys?

This voice sounds familiar. Who is this?

Franklin: Well, I tried to call in. I just landed in Pittsburgh this morning to run around and do some work, and I tried to call in and your producer hung up on me.

Wait a second -- is this James Franklin?

Franklin: Yeah, man, good morning.
Franklin remained on the line for several minutes to briefly touch on recruiting, UMass and the sanction reduction. Penn State's head coach also explained how he tried to call in earlier, but the show's producer didn't believe he was actually James Franklin.
"He said, 'How can we verify it's you?'" Franklin told 93-7 The Fan. "I'm like, 'I don't know. I can't give you my license number over the phone.'"
Franklin ended the conversation over the radio by asking if it was OK for him to call in whenever he's in Pittsburgh again. The show's hosts seemed just fine with the prospect.
You can listen to the entire segment
right here.
September, 19, 2014
Sep 19
3:00
PM ET
STATE COLLEGE, Pa. --
Christian Hackenberg
has made just 15 starts, but there is no shortage of hype surrounding the Penn State quarterback: One AFC scout recently called him the
top quarterback in college football
, and The Sporting News asked months ago whether he would go
No. 1 in the 2016 NFL draft
.
So, right now, how does Hackenberg stack up with the top quarterbackss of past years?
To find out, we looked at the first 15 starts of the past five quarterbacks who were taken first at their position in the NFL draft. The lone exception was the 2011 draft, where we skipped over
Cam Newton
since he made starts in junior college and instead went with the second drafted quarterback.
So far, Hackenberg has thrown for more yards than any of those past quarterbacks -- 310-of-519 passing (59.7 percent) for 4,037 yards, 24 TDs and 15 INTs -- although he's also received the least amount of run support.
Here's a closer look at those past quarterbacks:
---
Sam Bradford, Oklahoma, started from 2007 to 2009
No. 1 overall NFL draft pick (2010) by St. Louis Rams
Bradford
The stats (in first 15 starts):
254-of-363 passing (70 percent), 3,304 yards, 38 TDs, 8 INTs; 31 rushes for 7 yards and no TDs
The run-game support (in first 15 starts):
Oklahoma averaged slightly more than 41 carries a game for 190 yards (4.6 ypc). The Sooners ran the ball on about 59 percent of their offensive plays.
The highlights (in first 15 starts):
Bradford didn't come into Oklahoma as a highly touted recruit, but he stepped up in a big way when he won the job as a redshirt freshman. In his first career game, against North Texas, he set a school record for most passing yards in a half by going 20-of-22 for 350 yards. He won the Big 12 championship as a redshirt freshman and broke the NCAA freshman record for passing TDs.
---
Jake Locker, Washington, started from 2007 to 2010
No. 8 overall NFL draft pick (2011) by Tennessee Titans
Locker
The stats (in first 15 starts):
200-of-412 passing (48.5 percent), 2,523 yards, 15 TDs, 15 INTs; 218 rushes for 1,149 yards and 16 TDs.
The run-game support (in first 15 starts):
Washington averaged 40 carries a game for 175 yards (4.4 ypc), but Locker was a big reason for that. Including Locker's runs, this offense ran the ball 56 percent of the time.
The highlights (in first 15 starts):
He went 3-12 in his first 15 games, but he was named the Pac-10 Freshman of the Year in addition to making some freshman All-American teams. His best game, statistically, came against Arizona in 2007 when he passed for 336 yards, rushed for another 157 yards and scored four total TDs. An injury derailed his sophomore season during the 16th game of his career.
---
Andrew Luck, Stanford, started from 2009 to 2011
No. 1 overall NFL draft pick (2012) by Indianapolis Colts
Luck
The stats (in first 15 starts):
207-of-358 passing (57.8 percent), 3,249 yards, 23 TD, 4 INT; 74 rushes for 494 yards and 3 TDs
The run-game support (in first 15 starts):
Stanford averaged 41 carries a game for 228 yards (5.5 ypc), although Stanford aired it out the more Luck progressed. This offense ran the ball 63 percent of the time in Luck's first 15 games.
The highlights (in first 15 starts):
In back-to-back weeks as a redshirt freshman, Luck helped knock off two top-15 teams -- No. 7 Oregon, 51-42, and No. 11 USC, 55-21. He threw four touchdown passes and no interceptions in those two games. But this was a run-first team; Luck threw more than 29 passes just four times in those first 15 games, and it was no coincidence that all four were losses since Stanford was trying to mount a comeback. He led the Pac-10 in pass efficiency as a redshirt freshman, but really made a name for himself in 2010.
---
EJ Manuel, Florida State, started from 2009 to 2012
No. 16 overall NFL draft pick (2013) by Buffalo Bills
Manuel
The stats (in first 15 starts):
260-of-380 passing (68 percent), 3,251 yards, 18 TDs, 14 INTs; 144 rushes for 441 yards and 6 TDs
The run-game support (in first 15 starts):
Florida State averaged 35 carries a game for 150 yards (4.3 ypc). The Seminoles also ran the ball 56 percent of the time.
The highlights (in first 15 starts):
Manuel's first 15 starts came over the span of three seasons, but he always had a high completion percentage. He posted a 3-1 record as a redshirt freshman and was the Gator Bowl MVP. Against Maryland, to keep FSU bowl-eligible, he led a game-winning touchdown drive with 2:31 left. He also started two games as a redshirt sophomore and won the job as a redshirt junior, when he really burst onto the scene.
---
Blake Bortles, Central Florida, started from 2012 to 2013
No. 3 overall NFL draft pick (2014) by Jacksonville Jaguars
Bortles
The stats (in first 15 starts):
269-of-423 passing (63.5 percent), 3,373 yards, 28 TDs, 7 INTs; 93 rushes for 287 yards and 8 TDs
The run-game support (in first 15 starts):
Central Florida averaged 38 carries a game for 180 yards (4.7 ypc). The Knights also ran the ball 56 percent of the time.
The highlights (in first 15 starts):
He redshirted, then played in 10 games as a redshirt freshman -- but didn't start until his redshirt sophomore season. The Knights fell in the Conference USA title game, but Bortles was still named to the all-conference team and earned MVP honors in the Beef O'Brady's Bowl.
Are Midseason Firings A Good Idea?