November, 11, 2014
11/11/14
8:00
AM ET
Thank you, troops! And good morning, Big Ten fans …
1. New rivalry trophy:
Like it or not, trophies are part of the Big Ten fabric. How many other conferences fight over a bronze pig (Minnesota-Iowa)? A brass spittoon (Indiana-Michigan State)? Or a … whatever the heck the Land Grant Trophy is supposed to be (Penn State-Michigan State)? Some are unforgettable, and some are better off forgotten. (I'm looking at you, Governor's Victory Bell.) But, at worst, adding a new trophy still doesn't hurt anything. It doesn't water down the Old Oaken Bucket or the Little Brown Jug. It doesn't make Paul Bunyan's Axe any less important.
So, I say, we should welcome the
Nebraska-Wisconsin Freedom Trophy
. Maybe it doesn't mean much at present, but these rivalry trophies have to start somewhere. They can't all have 80-year histories with unique backstories. Maybe this evolves into something special; maybe it doesn't. But what's the harm? Heck, someone needs to think about the Big Ten newcomers. Come to think of it, Maryland might actually have the trophies covered if it just goes with one of its fan's creations -- with this
armadillo wine-holder
or this
more traditional-looking trophy
. Whatever works.
2. Stefon Diggs out for regular season?:
According to The Baltimore Sun, which
cited multiple unnamed sources
, Maryland's top wideout will miss the last three regular-season games due to a lacerated kidney suffered against Penn State. We could hear confirmation from Maryland as early as today, as head coach Randy Edsall is scheduled to address the media twice in the afternoon. Diggs is obviously a great talent, but Maryland is also pretty deep at the position.
Deon Long
will take over as the No. 1, with
Marcus Leak
and
Jacquille Veii
starting alongside him.
3. And the Big Ten offensive player of the year is …:
It looks as if we might have a bit of a battle here after all.
Tevin Coleman
has dropped off now that defenses are keying in on only him, and
Ameer Abdullah
has slipped through no fault of his own (injury). A couple weeks ago, that news would've meant that Wisconsin running back
Melvin Gordon
would be a lock to add some hardware to his trophy case. But now it's not so clear. Ohio State quarterback
J.T. Barrett
is definitely making an argument to be considered. He's ranked second nationally in passing efficiency, behind only Oregon QB
Marcus Mariota
, and he's also been responsible for 204 points -- again, No. 2 nationally, behind just Mariota. Do I think Gordon remains the favorite? Absolutely. But I also think it's premature now to dismiss Barrett. We'll have to see how these last few weeks play out.
Now, on to the links ...
East Division
West Division
November, 10, 2014
11/10/14
11:00
PM ET
Star 2016 DT
Edwin Alexander
backed away from an early pledge to LSU, but expect his next pledge to stick this time around. The battle for ESPN 300 offensive guard
Joshua Wariboko
will come down to two schools.
November, 10, 2014
11/10/14
5:00
PM ET
You've got questions, I've got answers. On to the Monday mailbag ...
@ESPNJoshMoyer likelihood Ohio State makes the playoff this year?

— joey (@JoeyFrass) November 10, 2014
.
Josh Moyer:
Right now, I'd have to say there is a better chance the Buckeyes are left out. Don't get me wrong -- Ohio State might just be the most improved team in the country.
J.T. Barrett
looks like the best quarterback in the Big Ten, and the Buckeyes are clearly the best team in the conference. But the past is what's haunting OSU. That loss to Virginia Tech is as bad as any among the nation's 10 best teams. And how the committee weighs that loss, compared to OSU's improvement, is going to be a big factor. There are basically two spots left in the playoff -- because Florida State sure looks as if it will clinch one, and at least one SEC team will grab the other. So, even if the Buckeyes win out, they will need help outside the conference, such as Mississippi State beating Alabama, Oregon faltering, or TCU/Baylor dropping in the rankings. A lot of variables are at play right now, and it's difficult to say where we might be in three or four weeks. But right now? I like the Buckeyes; I don't like their odds.
---
Mike from Minneapolis writes:
I am confused on the status of Brady Hoke. Is the end of his tenure with Michigan virtually a foregone conclusion? Understanding that a new administration more often than not signals changes in staffing, if Hoke finishes the season 6-6 and gets a bowl victory, is that even enough for another year as head coach?
Josh Moyer:
I just can't see a way Hoke stays as the football coach at Michigan. The firing of athletic director Dave Brandon was the first domino to fall, and I anticipate Hoke being let go after the season once a new AD is in place. It's not just a matter of whether the Wolverines have a good record this season, the issues run much deeper. And, at the heart of any move, you have to ask: Does keeping the head coach make this team better? Based on the fact U-M has regressed every season under Hoke and the quarterbacks have been turnover-machines, I think the answer is a resounding "No." Toss in the concussion situation with
Shane Morris
, and it's just added incentive to fire Hoke. It'd be very surprising if the next athletic director chooses to keep him around -- no matter what happens this season.
@ESPNJoshMoyer Lot of hot seat talk around Hoke (5-5) & Beckman (4-5)(deservedly) when do Wilson (3-6) & Fitzgerald (3-6) join them?

— Adam Manning (@aamannin) November 10, 2014
.
Josh Moyer:
They are in different situations, so I don't think we will see hot-seat talk pick up on the latter pair this season. But let's take a look at each guy. Pat Fitzgerald is signed through 2020, and there is no way the Wildcats could nab a bigger-name coach. We are 13 months removed from Fitzgerald's name being thrown around the
Texas and USC openings
. What are the odds the Wildcats find another guy who can say the same? It hasn't been a great past two seasons for Fitzgerald -- but he lost his top tailback, Venric Mark, right before the 2014 season and injuries plagued the Cats in 2013. He made five straight bowls at one point. Know how many Northwestern coaches made before Fitzgerald's tenure? Five, starting in 1949. He has earned a longer leash. As for Kevin Wilson, expectations are low. Indiana last won a bowl game in 1991, and he has at least made progress each season -- from one win to four wins to five wins. This season is a wash because he's operating with the third-string quarterback, really the fourth-string player if you consider
Tre Roberson
's transfer. You could add Urban Meyer to that coaching staff, and they still wouldn't be able to make that offense any better right now. If IU and Northwestern take a step backward
next
season, then we might hear hot-seat talk. But this season? I don't think so.
---
Matthew Herek writes:
In your opinion how long will MSU/OSU be the game that determines the East champion? Admittedly, I'm one of those who has been tired of "the Big Ten NEEDS Michigan to be a better team" talk. But, after Saturday night, as an MSU fan I think I've seen the light. Without a solid Michigan team (or for that matter Penn State), the path to the Big Ten East title is pretty narrow for both Ohio State and Michigan State isn't it?
Josh Moyer:
You bet it is, Matt. Rutgers and Maryland are several years away -- at best -- from really making noise in this conference, and Indiana last won 10 games in a season ... never. That leaves Penn State and Michigan to compete. James Franklin has done a great job recruiting for the Nittany Lions, but there are no short-term solutions for PSU and its struggling offensive line. Michigan has more talent and, in the short-term, I think the Wolverines' ceiling is highest. This offense needs work, but a new coach might be up to the task. That being said, though it's difficult to look too far into the future, it will still be hard in 2015 to like another team besides Ohio State or Michigan State. And in 2016? That potential Barrett-
Ezekiel Elliott
combination could be difficult to overcome ...
November, 10, 2014
11/10/14
2:00
PM ET
No, Michigan State and Ohio State can't play every week. But we're still in for an entertaining weekend, as the Big Ten's only two other ranked opponents -- Nebraska and Wisconsin -- will square off Saturday. We saw a clash of the East's elite last week, and it looks as if we're in for the best of the West this week.
That game is only one of the things to watch this week, however. Here's your early look at the storylines for Week 12:
[+] Enlarge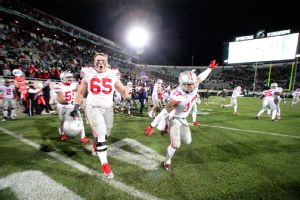 AP Photo/Al GoldisThe Buckeyes will need help to crack the list of the top four teams in the nation.
How far Ohio State can climb in the College Football Playoff rankings:
Urban Meyer's squad beat Michigan State in convincing fashion,
49-37
, Saturday so the Buckeyes will undoubtedly move up here. But just how much? Four of the committee's top-10 teams lost Saturday, and Ohio State needs a good boost because this will stand as OSU's best win until
at least
the Big Ten title game. As Adam Rittenberg
wrote earlier
, Ohio State "will need a lot of help to be acknowledged as one of college football's best four." It was one of the lowest-ranked one-loss teams last Tuesday, so that help needs to start this Tuesday.
Melvin Gordon versus Ameer Abdullah:
Nebraska-Wisconsin is the marquee Big Ten matchup Saturday due in large part to these two running backs. Gordon leads the nation in rushing yards per game (166.8); Abdullah is No. 6 (138.9 ypc), even after he left the last game with just 1 yard due to injury. No other matchup this season -- in the Big Ten or otherwise -- has seen two of the current top-six rushers square off against one another. So this is a rare treat. Both are among the best in the nation, both are ranked by ESPN.com's Todd McShay as two of the
best 32 prospects in the NFL draft
, and both have the potential to take control of this game. This one could produce a lot of highlights.
The Wild West:
You should know by now that anything can still happen in this division. Minnesota, Nebraska and Wisconsin are all tied for first with just one conference loss -- and two-loss Iowa technically isn't out of the equation either. We should get a clearer picture of the West this weekend, but we won't be able to jump to any conclusions. The loser of the Nebraska-Wisconsin game will be at a huge disadvantage -- but the winner won't necessarily be a shoo-in for the title game since Minnesota plays both Nebraska and Wisconsin in the final two weeks. It's all about who plays best these final three weeks, so all of these teams need to take a step forward Saturday.
Can Rutgers and Penn State become bowl eligible?
Both teams are on the cusp of the postseason with five wins apiece, and Saturday could prove to be both squads' best shot at a bowl game. Penn State plays a Temple team that hasn't won in the series since 1941, and Rutgers is set to face a reeling Indiana squad that hasn't won without
Nate Sudfeld
. It only gets harder here from here on out for those two teams -- Penn State has Illinois and Michigan State left, while RU has Michigan State and Maryland. That being said, neither Penn State nor Rutgers has looked particularly good lately. The Nittany Lions are 1-4 over the last five games, and the Scarlet Knights have dropped their last three.
Finding the real Minnesota:
Jerry Kill's squad isn't an easy team to decipher. On one hand, it lost to Illinois and barely beat the likes of Northwestern and Purdue. On the other hand, it just crushed a good Iowa team and stands at 7-2. The Gophers are a wild card of sorts in the West, and they have a good chance to prove they're for real Saturday against Ohio State. They boast a top-25 defense and one of the most underrated rushers in the nation in
David Cobb
. A solid win, or at least a solid performance, would give the Gophers respect and credibility in the West. They're the division's dark horse right now.
November, 10, 2014
11/10/14
10:00
AM ET
Our latest afternoon and evening of football was billed nationally as Separation Saturday, with six games between ranked teams set to reshape the College Football Playoff picture, including, of course, Ohio State-Michigan State in the Big Ten.
After the Buckeyes' 49-37 victory -- their league-record 21st straight in regular-season conference play -- the Saturday moniker appears to apply more so in the Big Ten than any place elsewhere on the Power 5 landscape.
[+] Enlarge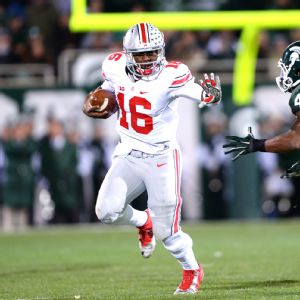 Allen Kee/ESPN ImagesJ.T. Barrett accounted for five touchdowns in Ohio State's win over Michigan State.
Boosted by freshman quarterback
J.T. Barrett
,
Ohio State has separated itself
atop the Big Ten, according to the many pundits who watched OSU punish the Spartans en route to 568 yards of total offense.
But three weeks of play remain. An opponent from the West, presumably to face Ohio State, must be determined for the Big Ten championship game.
It's not over in the Big Ten. Really, it's not.
Also on Saturday, Wisconsin pushed forward with a 34-16 win at Purdue. Iowa provided its fans with reason to give up on this year, losing 51-14 at Minnesota. Great rebound, by the way, for the Gophers.
The other two games were not worth revisiting. But read on, and we'll get there:
Team of the week:
Ohio State. The Buckeyes, if you stopped watching after Week 2, have outscored their past seven opponents 214-59 in the first half. They've also won 12 straight games on the road, the longest streak among FBS teams, and last lost at Spartan Stadium in 1999. Ohio State simply bullied its way to victory over the Spartans. Defensively, the Buckeyes blitzed
Connor Cook
effectively, holding the junior quarterback without a completion on six first-half attempts against five or more pass rushers. On offense, Ohio State gained 284 yards on designed rushes and became the first team to run for four touchdowns against Michigan State since Alabama in 2011 Capital One Bowl.
Biggest play:
Ohio State trailed 21-14 when Barrett found
Michael Thomas
on a slant. Thomas slipped past cornerback
Darian Hicks
and outraced safety
Kurtis Drummond
to the end zone for a
79-yard reception
. The Buckeyes never trailed from there. Adding to the impact of Thomas' big catch, it followed a 39-yard missed field goal by
Michael Geiger
after a holding penalty wiped out
Jeremy Langford
's touchdown run. And that came on the heels of a fumble by Ohio State receiver
Dontre Wilson
on a kickoff return. So to assess, a dramatic reversal of momentum that propelled Ohio State to a halftime lead.
Big Man on Campus (offense):
Who do you think? Barrett finished with 300 yards on 16-of-26 passing with three touchdowns. He also rushed for 86 yards and two scores. That's five touchdowns, giving him 34 for the season -- two from tying
Braxton Miller
's school record set last year. And despite another 205 rushing yards from
Melvin Gordon
, it's hard now not to consider Barrett as the frontrunner for Big Ten offensive player of the year.
Big Man on Campus (defense):
Michigan defensive end
Frank Clark
teamed with linebacker
Jake Ryan
to smother Northwestern in the Wolverines' 10-9 win. Clark gets the nod for his impact on the defining play of the game. After the Wildcats scored on a
Tony Jones
reception with three seconds to play, Clark chased
Trevor Siemian
on the two-point conversion as the Northwestern QB slipped to the ground. Credit Pat Fitzgerald with a gutsy call to go for the win. But credit Clark more for his readiness to make a crucial stop.
Big Man on Campus (special teams):
Purdue kicker
Paul Griggs
connected on three field goals. His conversions from 53 and 52 yards with the wind at his back made him the first ever at Purdue to hit two field goals in the same game of 50 yards or longer.
Biggest faceplant:
Take your pick among the offensive units in Michigan-Northwestern and Penn State's 13-7 win at Indiana. Only Penn State, among the foursome, made it to 300 yards. In Evanston, it was scoreless until
De'Veon Smith
's 3-yard touchdown run with 6:49 to play in the third quarter. On a particularly ugly sequence in the third quarter for Michigan, a snap from center
Jack Miller
hit
Devin Funchess
as the receiver ran in motion, leading to a turnover; when Michigan regained possession, QB
Devin Gardner
tripped and fell for a 7-yard loss.
Fun with numbers:
Minnesota's 37-point margin of victory was its largest in a Big Ten game under coach fourth-year coach Jerry Kill. Minnesota tight end
Maxx Williams
caught three touchdown pass and set a season position record at the school with seven. ... The Gophers are 6-0 at home for the first time since 1977. ... Barrett has thrown 22 touchdowns with three interceptions in Ohio State's past seven games. ... The Buckeyes are 20-0 when
Devin Smith
catches a touchdown. ... Urban Meyer is 36-3 in November since 2003. ... Eight Wisconsin receivers caught at least one pass against Purdue. ... The Boilermakers rushed for 26 yards on 26 carries, the third straight and sixth of nine Wisconsin foes to rush for fewer than 100 yards. ... Gordon accumulated 249 yards of total offense. He has scored multiple touchdowns in six of the Badgers' past seven games. ... Wisconsin QB
Joel Stave
threw for a season-high 219 yards.
November, 10, 2014
11/10/14
8:00
AM ET
Good morning, and welcome to the Big Ten's new world order ...
There were many highlights from Urban Meyer's first two years at Ohio State. The Buckeyes went undefeated while on probation in his first season in Columbus, then started 12-0 in 2013 before losing the final two.
Yet there was a gnawing sense of unfinished business that had to do with the lack of a bowl game in 2012 and the losses in the Big Ten title game and the Orange Bowl a year ago. Meyer had the Buckeyes buzzing, but they hadn't really beaten anyone of note. The Week 2 loss to Virginia Tech at home this year, as the team looked to replace the injured
Braxton Miller
, seemed to further delay the timetable toward true greatness.
[+] Enlarge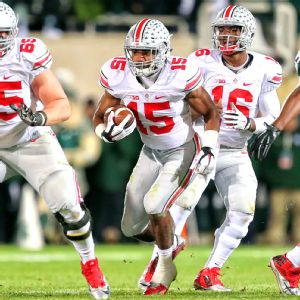 Mike Carter/USA TODAY SportsSophomore running back Ezekiel Elliott is one of several emerging stars on the Ohio State offense.
That's why Saturday's 49-37 win at No. 8 Michigan State could be the start of something really special for Ohio State under Meyer. The offense on display in East Lansing is now more powerful and diverse than anything the Buckeyes had in the previous two seasons, thanks to
J.T. Barrett
and a growing arsenal of skill players. And the defense is no longer a sieve in the back end.
Here's the truly scary thing for the rest of the Big Ten: the Buckeyes' two-deep for the Michigan State game listed 19 freshmen or sophomores, including guys like Barrett,
Ezekiel Elliott
,
Michael Thomas
,
Dontre Wilson
and
Curtis Samuel
on offense. Ohio State is in line to bring back as many as 15 starters next year, not counting whatever happens with Miller.
All that speed and talent Meyer has recruited is blossoming now, and his 24-0 run may have only been the prelude. Maybe the Buckeyes won't get to the playoff because that Virginia Tech loss is such an albatross. But they look like they're ready to return toward dominating the Big Ten.
Meyer has Ohio State
back where it belongs,
Dan Wetzel writes. Here come the Buckeyes, and
they're here to stay
, Michael Rosenberg says. A
hidden program resurfaced
, Chuck Culpepper writes. Beating the Spartans was Ohio State's
best regular-season win since 2006
.
More links ...
East Division
West Division
November, 9, 2014
11/09/14
2:00
PM ET
November, 9, 2014
11/09/14
9:00
AM ET
Recognizing the brightest from Week 11 in the Big Ten:
Ohio State quarterback J.T. Barrett: The redshirt freshman didn't just play well against the No. 5 defense in the nation; he absolutely dominated. Barrett threw for 300 yards, three touchdowns and no interceptions. That alone probably would've earned him a helmet sticker -- but he also added another 86 yards and another two scores on the ground. He led Ohio State to touchdowns on six straight drives and scored four TDs in just the first half, as the Buckeyes posted the surprising 49-37 victory over Michigan State. Barrett played big on the Buckeyes' biggest stage yet this season; this honor was a no-brainer.
Minnesota tight end Maxx Williams: When Williams inevitably wins the Big Ten tight end of the year award, how many of his highlights are actually going to come from this game: His first TD? His second? His third? Or about that toe-dragging 25-yard reception? On a day in which the Gophers finished with 51 points in a 51-14 win, the most they've scored in the battle for the Floyd of Rosedale since 1949, Williams was the star. He finished with five catches for 46 yards and three touchdowns. All of his scores came on second downs, and he made it all look easy for the Gophers.
Michigan defensive end Frank Clark: Good numbers, clutch play, holding the other team to minus-9 rushing yards – that's a pretty good route to a helmet sticker. Clark finished with seven tackles, two pass breakups, a sack and two stops in the backfield during Michigan's 10-9 victory at Northwestern. He was closing in on Wildcats quarterback Trevor Siemian when Siemian slipped on the potential game-winning two-point conversion. Clark helped ensure the U-M victory and, while linebacker Jake Ryan also turned in a solid performance, Clark's nose for the ball on the Northwestern's final play gives him an edge.
Wisconsin running back Melvin Gordon: Another week, another helmet sticker for MGIII. You can't really be surprised at this point because the Heisman hopeful tends to dominate every week. In a 34-16 victory over Purdue, he ended up with 25 carries, 205 rushing yards and a touchdown. He also added a highlight or two receiving with three catches for 44 yards and another score. His two touchdowns came when the Badgers needed them most, the first to take the lead and the second to make it a double-digit game. He's quick, he's explosive, and his helmet might be running out of room with all these Big Ten helmet stickers.
Penn State defense: Indiana never once entered the red zone during Penn State's 13-7 victory, but it's not fair to single out just one Nittany Lion defender here because, quite frankly, no individual stuck out. Mike Hull and Nyeem Wartman paced the unit with seven tackles apiece, but five other players had six tackles. And eight players had at least one stop in the backfield, with no one finishing with more than two. It was a total team effort. And it was the first time all season Indiana tailback Tevin Coleman didn't reach the 100-yard mark. It was an impressive performance all-around. PSU's defense finished with 10 stops in the backfield and two interceptions.
November, 9, 2014
11/09/14
12:20
AM ET
Lessons learned after Week 11 in the Big Ten:
[+] Enlarge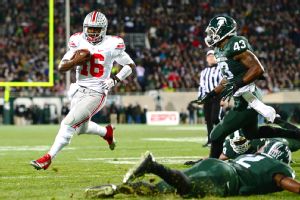 Andrew Weber/USA TODAY SportsA clutch performance by J.T. Barrett on Saturday night helped keep Ohio State's playoff hopes alive.
1. Ohio State is king of the East and one of the B1G's two best bets for the playoff:
Michigan State linebacker
Taiwan Jones
said he felt as if the College Football Playoff started Saturday. He was kind of right, but the Spartans are out, and the Buckeyes are in ... the playoff picture. Few people saw the Buckeyes' dominating
49-37 win
over Michigan State coming, and that's exactly what they needed to make a statement in this playoff race.
J.T. Barrett
outplayed
Connor Cook
, Ohio State scored touchdowns on six straight drives, and there was no sad pizza eating for Buckeyes coach Urban Meyer. Margin of victory can only help the Buckeyes, and they'll need to keep playing like this to show they deserve one of the playoff's four spots. Only two Big Ten teams, one-loss Ohio State and Nebraska, are in contention for the playoff now, and they could face each other in the Big Ten title game. Of course ...
2. ... The Wild West still remains wild:
Just when you think you've started to figure out the West Division, with Minnesota coming off a puzzling loss to Illinois and Iowa blowing out Northwestern, Jerry Kill's squad steps up and absolutely dominates the Hawkeyes in a
51-14 thrashing
that was over by halftime. Nebraska, Minnesota and Wisconsin all boast just one Big Ten loss now -- so anything can happen in these last three weeks, especially when you consider these three teams will all play one another, with Nebraska taking on Wisconsin next Saturday. (Even Iowa, which still plays Wisconsin and Nebraska, isn't technically out of the equation.) It's looking more and more as if we'll have to wait until the final week of the regular season to get a clear picture of who will move forward. Lessons learned: It was way too premature to write off Minnesota (
and Kill's dancing skills
), and it's still too early to pick a clear favorite.
3. Wisconsin passing game has some potential:
Joel Stave
and
Tanner McEvoy
appeared doomed early this season, but they might end up just fine if Stave can build off part of Saturday's performance. The Badgers set a season high with 30 pass attempts, and Stave finished 19-of-29 for 216 yards, two touchdowns and one interception. His QBR of 77.2 was the highest of any Wisconsin starter in the Big Ten season, and he was especially hot in the second quarter of the
34-16
win. This was about as balanced as Wisconsin's offense has been all season, and if defenses are forced to take some of the focus away from the running game, the Badgers' offense could become even more dangerous. One game doesn't make a trend, but it does show Stave is capable of more this season.
4. Several B1G offenses are regressing:
If you watched -- and stayed awake through -- Penn State's
13-7
win over Indiana and Michigan's
10-9
win over Northwestern, feel free to pat yourself on the back. Those four teams combined for three offensive touchdowns, 39 points, 33 punts and 10 turnovers. It wasn't pretty. For Indiana, it's more understandable because
Nate Sudfeld
's injury forced this team to become even more one-dimensional. But for the other three, every week seems to lead to fewer answers and more questions. Turnovers continue to be an issue for
Devin Gardner
and the Wolverines,
Trevor Siemian
remains incredibly inconsistent … and Penn State? Well, nothing seems to be going well there. Penn State, Michigan and Northwestern are ranked outside the top 100 in scoring offense, and the Hoosiers have averaged 11.3 points per game with
Zander Diamont
as the starting quarterback. These offenses aren't showing much progress.
5. Penn State bowl hopes pinned to the defense:
As bad as the Nittany Lions' offense has been, the defense has performed nearly perfectly. Indiana never reached the red zone Saturday,
Tevin Coleman
didn't reach 100 rushing yards for the first time all season, and the Lions' defense didn't allow a single point. (IU's only touchdown came on an interception return for a TD.) PSU needs just one more win for bowl eligibility, but even with Illinois and Temple left on the slate, that's no guarantee. The offense hasn't once reached 20 points in regulation in a Big Ten game, but on the flip side, the defense has allowed just nine touchdowns in regulation in six B1G games. This is arguably the best defense in the Big Ten, but it's also arguably the worst offense.
November, 8, 2014
11/08/14
3:41
PM ET
Associated Press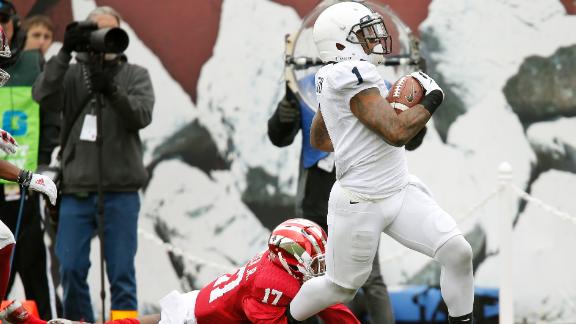 BLOOMINGTON, Ind. -- Sam Ficken kicked a 27-yard go-ahead field goal and Penn State defeated Indiana 13-7 to snap a four-game skid.
Ficken's kick gave Penn State a 10-7 lead which he later extended with a 28-yard field goal with under a minute to play.
Christian Hackenberg was 12 of 29 for 168 yards and Bill Belton ran for 137 yards and a touchdown for the Nittany Lions (5-4, 2-4 Big Ten), who haven't lost more than five games since 2004.
Zander Diamont was 13 of 28 for 68 yards and ran for 58 yards for the Hoosiers (3-6, 0-5), who have lost four straight.
Tevin Coleman rushed for 71 yards and finished with less than 100 rushing yards for the first time in 10 games.
Belton's fifth scored of the year came on a 92-yard run and was the longest rushing touchdown by a single player in Penn State history.
Big Ten Recruiting Classes Evaluated
BIG TEN SCOREBOARD
Thursday, 9/3
Saturday, 9/5
Monday, 9/7