October, 29, 2014
Oct 29
1:00
PM ET
Some Penn State fans have grown a little paranoid this week, after the latest series of bad calls against them. But can you really blame the group? The missed calls against Ohio State weren't isolated incidents; they were part of a pattern. It's systematic! A conspiracy!
Luckily, our equipment -- laptop/TV -- isn't broken, so let's replay Saturday's egregious acts and then break this case wide open. Two minutes into the game, the officials' replay system just so happened to fail when
Christian Hackenberg
threw
a clearly incomplete pass
that was ruled an interception. It didn't help much that the refs insisted they couldn't see the play on their own equipment and weren't allowed to look elsewhere, like, oh, I don't know, up at the TWO NEW GIANT VIDEO BOARDS. Yeah, tough to get a good look when there are two big screens that feature a combined total of 10,285 square feet of video space and show replays in high definition just behind each end zone.
[+] Enlarge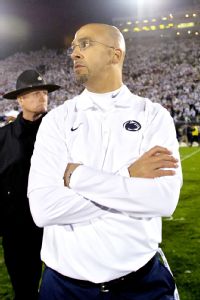 MCT via Getty ImagesPenn State's James Franklin wasn't real pleased with the officiating last Saturday.
Or maybe they could just borrow a smart phone from one of the fans in the front row (maybe the fan could put a jacket over an official so he could feel like he was in a booth) if they felt they needed a closer look.
Innocent mistake or malice?
A quarter later came Ohio State's 49-yard field goal, which was snapped about three seconds
after the play clock expired
. Referee John O'Neill and his crew messed up so many calls that there has to be something more sinister at play. Ohio State needed the win to keep its – and the Big Ten's -- playoff hopes alive. The Buckeyes' game at Michigan State is a playoff elimination game if both enter with just one loss, and can't have Ohio State stumble before that Nov. 8 primetime matchup, right? Naturally, the B1G officials had to protect the B1G. If it takes out Penn State in the process, that's acceptable collateral damage. So, of course, the biggest screw-ups just so happened to go against the Nittany Lions.
Coincidence? Even Dana Scully thinks that's a reach.
O'Neill is the same official who worked the Penn State-Nebraska game in 2012, when the crew ruled tight end Matt Lehman did not cross the goal-line for a score. Here's
visual evidence
to the contrary.
But wait, there's more proof that officials are clearly out to get Penn State. Remember the Penn State-Michigan game earlier this season? How about the Lions' onside kick recovery, when tight end
Jesse James
was ruled offside and the ball was mistakenly given to the Wolverines? Does
THIS
look offside to you?
And just for fun apparently, on Monday, somehow, linebacker
Mike Hull
– easily the best linebacker in the conference – didn't make the list of Butkus semifinalists. Penn State's coaches
didn't hide their feelings
there.
So how do you explain all that?
To quote Joseph Heller, "Just because you're paranoid doesn't mean they aren't after you."
Overreaction of the week:
All this fuss over the College Football Playoff Rankings, and there's still a lot of season left.
No, the committee is not out to get your team. Sure, three SEC teams are currently ranked within the top four. But that really doesn't matter. Seriously. Take a look at where we would've stood at this time last season with the rankings, and you'll see why. After Week 10 in 2013, Michigan State was ranked No. 22 and Auburn was No. 11. But both teams entered the bowl season ranked within the Associated Press' top four.
Oregon and Ohio State were also ranked within those four spots at this time last year -- but finished outside of those four spots following losses late in the season.
In other words, let this serve as a reminder: Rankings can change a lot in a couple weeks and, just because a team's ranked outside the top four, top 10 -- or maybe even the top 20 doesn't mean it's out of the playoff hunt. Six of the committee's top-10 teams will play at least one other top-10 team, after all.
Underreaction of the week:
Why isn't anyone talking about Marshall? Maybe Conference USA should ask for its money back from the PR firm it hired to boost Marshall's profile in the College Football Playoff. Because the undefeated Thundering Herd (8-0) didn't make any noise in the inaugural CFP Rankings.
They're not even ranked.
As was mentioned earlier, teams can move up. Plenty of season is left. But that doesn't quite hold true for a Group of 5 member that doesn't boast a single ranked team on its schedule. It's a bit of a shame, but we just don't know how good Marshall is. Even Marshall's nonconference slate is sickeningly easy, with three MAC teams and an FCS school.
The PR firm, Brener Zwikel & Associates, still has time to boost Marshall's profile. But, since it's not yet ranked, even overtaking No. 23 East Carolina for a contract bowl won't be an easy accomplishment.
October, 29, 2014
Oct 29
11:00
AM ET
By
ESPN.com staff
| ESPN.com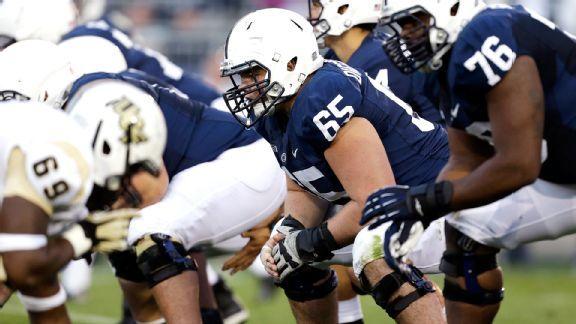 Josh Moyer talks with injured Penn State offensive guard
Miles Dieffenbach
about his potential return and the Nittany Lions' offensive line.
October, 29, 2014
Oct 29
8:00
AM ET
Welcome to a new age of college football. The year is now 1 CFPE. The College Football Playoff Era began last night with the first release of the selection committee's Top 25 rankings.
1. The Big Ten
landed three teams in the initial poll
, which is about as good as the league could have expected. The No. 8 Spartans lead the way. Nebraska coming in at No. 15, one spot ahead of Ohio State, was the biggest surprise for Big Ten teams. As entertaining as it was to see the first rankings unveiled, next week's will be far more interesting. Then we'll find out if the committee will let its previous rankings affect the new version -- one of the biggest faults of the AP and Coaches' polls -- or if it will more liberally move teams up and down based on how they look at the moment. Either way it's safe to assume there will be just as much consternation and complaining about snubs as in the BCFPE.
2. Speaking of snubs, somehow Penn State's
Mike Hull
was somehow left off of the list of 15 semifinalists for this year's Butkus Award for the country's top linebacker. Northwestern coach Pat Fitzgerald, who has a vote for the final winner, said
he will make Hull a write-in candidate
. Fitzgerald said the semifinalist lists, which he was on as a player in the mid-90s, are just a popularity contest.
Hull did get noticed
by the Bednarik Award folks this week. They added him to the watch list for their top defender award.
3. No snubs this week, however, were more headshaking than the ones Michigan athletic director Dave Brandon dished out to Wolverines fans via e-mail during the past year.
A report on mgoblog.com
Tuesday revealed a collection of snarky and condescending e-mails that the beleaguered athletic director has sent to fans. It's baffling that a man described as a master of public relations when he took the job at Michigan in 2010 could be so tone deaf when talking to his customers. Brandon called the blog report "
nonsense
" when asked about it leaving an award ceremony Tuesday night, but the messages can't sit well with the university president currently mulling over Brandon's future at Michigan.
East Division
West Division
October, 28, 2014
Oct 28
8:15
PM ET
Tuesday nights have become rather significant in college football with the release of the playoff selection committee's rankings. As a result, bowl projections also move to Tuesdays and will be released immediately after the committee's rundown.
Last week, we projected Maryland to the Holiday Bowl based on merit, while noting that the Terrapins would have to prove themselves again at Camp Randall Stadium. Wisconsin ended up mauling Maryland, so the Badgers move up the projections. Remember: the Big Ten is taking greater control over bowl pairings this season, so the teams that have earned it on the field, not necessarily those with the largest fan bases, will land in the higher-profile games.
We had a brief discussion about projecting Michigan State or Ohio State to the playoff, but a few more things need to break the Big Ten's way. There's a good chance the winner of the Nov. 8 showdown at Spartan Stadium moves up a rung, but we're not ready to pull the trigger.
We also discussed whether to project Illinois to its first bowl game under coach Tim Beckman after a big home win against Minnesota. The Illini only need two more wins, but we need to see a little more.
Maryland and Rutgers move down after losses. Penn State, meanwhile, actually moves up after taking Ohio State to the brink before falling in two overtimes.
Here are the latest projections:
Chick-fil-A Peach/AT&T Cotton/Fiesta/Capital One Orange:
Michigan State
Chick-fil-A Peach/AT&T Cotton/Fiesta/Capital One Orange:
Ohio State
Buffalo Wild Wings Citrus:
Nebraska
Outback:
Wisconsin
National University Holiday:
Minnesota
TaxSlayer/Franklin American Mortgage Music City:
Maryland
San Francisco:
Rutgers
New Era Pinstripe:
Penn State
Quick Lane:
Iowa
Heart of Dallas:
Northwestern
October, 28, 2014
Oct 28
2:35
PM ET

The College Football Playoff selection committee will issue its first-ever set of rankings Tuesday night.

It's an exciting time for fans and the signal of a bold new beginning for the sport. Many will be glued to their TV sets for the unveiling of the Top 25.

But in terms of appointment viewing for the three Big Ten figures who have the most to gain or lose tonight, this show might as well be a rerun of "New Girl."

On Tuesday's Big Ten coaches' teleconference, I asked Nebraska's Bo Pelini, Michigan State's Mark Dantonio and Ohio State's Urban Meyer -- all of whom should see their teams ranked in the top 20 -- how much attention they'd pay to the rankings release. All three said they didn't even plan on watching the show.

"I think you'll notice it, but I think our focus has got to be on our next football game," said Dantonio, whose team has a bye this week before hosting Ohio State. "That will be where the challenge is. I think this is the starting point for everything from a media perspective. I'm really not quite sure how it will even work."

"I'm sure I'll hear about it, but I've got other things on my mind than what that vote is today," Pelini said. "It's not something that affects me."

"I'm sure I'll look at them tomorrow morning," Meyer said. "We're practicing and it's a heavy game plan night. So I know I won't watch it, though I'm aware it's going to happen."

Playoff talk has dominated college football since the end of last season. But even though there are two men with major Big Ten ties on the committee -- Wisconsin athletic director Barry Alvarez and former Nebraska coach/athletic director Tom Osborne -- the coaches all said they were unfamiliar with how the process will work.

Pelini even said he's had no conversations with Osborne about the playoff selection in the past year. I asked him if he'd address the playoff rankings with his team.

"No," he said. "Other than to ignore them."

None of the coaches expected to learn much from the rankings, either, though the committee could tip its hand on which areas -- like strength of schedule, good wins vs. bad losses -- it prioritizes.

"I haven't followed it that much," Meyer said. "I don't know if it's much different than the old BCS system when the BCS rankings came out. The only thing I look at it as, it's four teams instead of two. I really don't understand the whole dynamics."

"I think it's just another poll," Dantonio said. "I'm sure they have their methodology. It will be interesting to watch as it goes through. [But] we need to try and live in the present."

Tonight's show should attract a lot of interested college football fans. But not so many Big Ten coaches, apparently.

"I didn't know the rankings were tonight and will not watch them," Penn State's James Franklin said. "But I am curious about how the whole thing will play out. I will follow it from a distance in my free time."
October, 28, 2014
Oct 28
1:23
PM ET
[+] Enlarge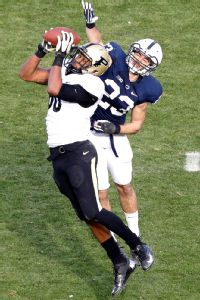 AP Photo/Gene J PuskarSafety Ryan Keiser, a former
walk-on, has played in 42 games for Penn State and started 11.
STATE COLLEGE, Pa. -- Penn State safety Ryan Keiser remains hospitalized after fracturing a rib in practice last Thursday and undergoing operations for a related small bowel injury.
According to a source, he is not in critical condition but is "also not great."
A spokesman for the Penn State Hershey Medical Center declined to disclose his condition and referred questions to Nittany Lions coach James Franklin, who would only say Tuesday afternoon that the senior had no infection and was "improving." Keiser is out for the season.
"Our trainers and doctors have been in constant contact and have been involved every step of the way," Franklin said during his weekly news conference.
Keiser arrived in Happy Valley as an unheralded walk-on in 2010, but quickly made an impact after he redshirted his first season. He's played in 42 games, starting 11, and earned a scholarship.
In six games this season, he had 25 tackles along with an interception and three pass deflections. He also made calls for the defense.
"I love Ryan Keiser," Franklin said. "I love everything about him. He is one of the nicest, most kind, most thoughtful kids I've been around. Same thing with his family."
October, 28, 2014
Oct 28
12:49
PM ET
Associated Press
STATE COLLEGE, Pa. -- Penn State's trustees aren't going to take a fresh look at the 2012 report the university commissioned into how the Jerry Sandusky molestation scandal was handled.
The board voted 17-9 on Tuesday against a resolution by an alumni-elected trustee to comb through the report and seek answers from Louis Freeh, the former FBI director who led the team that produced it.
The board did OK a resolution that said it will monitor ongoing legal proceedings related to the matter.
The debate demonstrated the deep divide among board members about the report, which concluded former football coach Joe Paterno and top administrators concealed key facts about Sandusky's abuse to avoid bad publicity.
Sandusky was convicted of sexual abuse of 10 boys and is serving a prison sentence.
October, 28, 2014
Oct 28
10:00
AM ET
October, 28, 2014
Oct 28
8:00
AM ET
You know the drill: Coffee first. Notes and observations here second. And links at the bottom third.
1. Iowa transfer?:
It appears as if freshman wideout Derrick Willies might have played his last game for the Hawkeyes. He posted a
cryptic message
on his Instagram Monday night that read, "It's been real Iowa, things are just moving on to a different chapter in the story..." A Hawkeyes spokesman
told the Des Moines Register
that any roster updates would be addressed by coach Kirk Ferentz on Tuesday. Willies was not listed on the team's Monday depth chart.
2. Hoke domino effect:
Brady Hoke says
no one's talked to him
about his job status, and that kind of uncertainty is not what you want to hear when it comes to recruiting. As a result, ESPN 300 DB Garrett Taylor
decommitted from the Wolverines
on Monday. And U-M will be lucky if he's the last recruit to decommit. Oft-given advice is for a player to commit to a school, not a coach, but it rarely seems to work out that way. Michigan is down to nine commitments right now.
3. No Nova?:
Rutgers senior QB Gary Nova is listed as "questionable" for Saturday's game against Wisconsin, which means redshirt freshman Chris Laviano could be in line for his first career start. Laviano could push Nova for time, regardless, as he outplayed Nova in the Nebraska game and even led his team with 54 rushing yards. But I'm more in line with the
thinking of NJ.com's Dan Duggan
: If Nova is medically cleared, he should play. A one-game sample size isn't enough to vault Laviano over Nova, who's been pretty good this year. Nova still gives the Scarlet Knights their best chance to win.
East Division
West Division
October, 27, 2014
Oct 27
6:54
PM ET
[+] Enlarge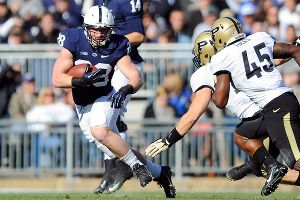 Rich Barnes/USA TODAY SportsPenn State has lost running back Zach Zwinak (above) to a season-ending leg injury and safety Ryan Keiser to an undisclosed season-ending injury, the school announced Monday.
Penn State has lost seniors Zach Zwinak and Ryan Keiser to season-ending injuries, the team announced Monday.
Zwinak, a running back with 11 career 100-yard rushing performances, suffered a lower leg injury on the first play of Saturday's game against Ohio State. Keiser, a safety and co-captain, sustained an undisclosed injury in Thursday's practice. Keiser had started the first six games at free safety, and recorded 25 tackles and an interception that sealed Penn State's win at Rutgers. He finishes his career with 11 starts and four interceptions.
"We had something kind of freaky happen in practice on Thursday," coach James Franklin said of Keiser's injury.
Freshman Marcus Allen played in place of Keiser against Ohio State and is expected to do so again this week against Maryland.
Zwinak finishes his career 15th on Penn State's all-time rushing list with 2,108 yards. He has appeared in all 31 games the past three seasons and rushed for 1,000 yards in 2012.
October, 27, 2014
Oct 27
5:00
PM ET
You've got questions. We've got stuff written below your questions. It's time for a Monday evening mailbag. Where should we begin?
@DanMurphyESPN @ESPN_BigTen Delaney going to do anything about officials? It's embarrassing!

— Jeff Minemier (@jeffjmin) October 27, 2014
.
Dan Murphy:
In Saturday night's unexpected nail-biter between Ohio State and Penn State referees appeared to blow two calls that potentially could have changed the outcome of the game. In one instance replay equipment broke down preventing the officials from properly reviewing an interception call that should have been overturned. In another, Ohio State kicked a field goal three seconds after the play clock expired. The Big Ten admitted Monday that its crew made mistakes.
I'm usually a staunch supporters of referees having one of the toughest jobs in sports and doing a remarkable job of making the right call almost all of the time. These two misses were inexcusable though, and could have cost Penn State its biggest win of the season. There's no reason why in 2014, when anybody inside Beaver Stadium with a smartphone had access to replays, those mistakes should go uncorrected on the field. If the rules prohibited the referees from finding a way to change their initial ruling, then those rules should be changed.
---
DJ from Minneapolis writes:
Saturday was another "here we go again" moment for Minnesota and their fans. Why can't this program ever get over the hump? Is .500 the best MN can ever aspire to and isn't it likely the Gophers will lose out with the rest of the schedule?
Dan Murphy:
The Gophers will probably be underdogs for all four games they play in November, but it wouldn't be a shock if they steal at least one victory. A bad loss to Illinois doesn't make them a bad team all of a sudden.
The margin for error is always going to be thinner at a program like Minnesota that doesn't have the resources, tradition, or location to bring in steady waves of talent. That doesn't mean the Gophers aren't capable of making it to a Big Ten title game or even winning it in an isolated year when a few bounces roll their way. It doesn't look like that will happen this season, but it shouldn't take away from the terrific job coach Jerry Kill has done finding a formula for success. Speaking of Kill ...
---
Adam from Los Angeles writes:
With Brady Hoke being on the hot seat would Michigan ever consider a bold in-conference play and target Jerry Kill as a head coaching candidate? I know Kill has health challenges, and is probably loyal to Minnesota but could you imagine what he and his staff could do with Michigan's resources? A solid program builder at every level, does a lot with very little.
Dan Murphy:
Building programs with limited resources doesn't necessarily translate to winning at a place like Michigan, where the ingredients for success are more plentiful. A coach who is well-versed in doing more with less doesn't always become a coach who knows how to do more with more. The past two coaches at Michigan -- Hoke and Rich Rodriguez -- have failed more because of their inability to control the off-the-field issues in a high-pressure job than their lack of coaching acumen.
Running a big-time program like Michigan requires a coach that can be as much of a politician as he is a tactician. That's not to say Kill isn't capable of handling those responsibilities, but there are others who have more experience in that field that are probably higher on the wish list if Michigan does decide to make a coaching change.
@DanMurphyESPN What causes more chaos tomorrow: a playoff committee ranking that's way off from polls, or a pick that's aligned to polls?

— wmstrom (@wmstrom) October 27, 2014
.
Dan Murphy:
I guess that all depends on what part of the country you are from and where you went to school. There is bound to be a faction of fans somewhere that is upset. I wouldn't expect the selection committee's rankings to look the same as the AP poll. There will undoubtedly be some differences with so many one-loss teams with different strengths and weaknesses. The important thing to remember is none of it matters now. Everything changes on a weekly basis in college football. The one guarantee I can make is that this week's rankings will certainly be different than the final group that is decided in December.
---
Buckeye fan from Boston writes:
In comparing the 2013 Week 9 BCS rankings and the Week 16 BCS rankings, six teams ranked in Week 9 ended up unranked in the Week 16 rankings ... six unranked teams ended up ranked, including Michigan State, which went from unranked to No. 4 during that time period. If this holds true, which top 10 team do you think is most likely to end up unranked, and which unranked team do you think has a shot of being in the top ten?
Dan Murphy:
Michigan State's biggest jump a year ago didn't come until after winning the Big Ten championship. It's hard to imagine any team currently outside the polls finishing in the top 10 without winning a league title. With that in mind, two programs who have a path to get there -- albeit a difficult one -- are Wisconsin and Louisville.
The Badgers(5-2) still control their own fate in the West Division. The biggest game left on the schedule is Nebraska at home. If they can win out and somehow upset the East Division winner in Indianapolis, Wisconsin would be a top 10 team. That, of course, would probably require them to find a passing game. Louisville (6-2) has games against Florida State and Notre Dame remaining on the schedule. Two quality wins and a trip to the ACC title game would be enough to catapult them high in the rankings.
The big droppers are harder to predict. I'd imagine that at least someone in the SEC has to fall victim to the week-to-week difficult competition. No. 7 Ole Miss and No. 9 Georgia are candidates there.
Thanks for the questions, everyone. Looking forward to hearing from you again soon.
October, 27, 2014
Oct 27
2:00
PM ET
Just one game short of a full schedule in the Big Ten as the calendar turns to November for Week 10. Michigan State and Minnesota are off, though not out of our minds. Here's an early look at the best of the league's storylines:
The College Football Playoff rankings are coming out.
Cue the Big Ten cries and anger. The 12-member playoff committee is meeting in Dallas -- so exciting -- and set to release on Tuesday its first list of 25 teams, the top four of which will eventually create matchups for our New Year's Day semifinals. Let me remove some of the suspense for you: The Big Ten is going to be on the outside looking in. Michigan State figures to fit into the top 10, with Ohio State and Nebraska among the top 20. If you have a short memory, here's
what happened on Sept. 6
. It looms large in the lack of respect this league receives nationally. All is not lost, though, as SEC and Pac-12 and Big 12 teams continue to knock each other from the top. Six weeks remain for one of the Big Ten's top three teams to climb toward the top. It could happen.
What will happen next at Michigan?
Just when you thought the season couldn't get any worse for Brady Hoke and his team, Saturday happened. Not the 35-11 loss at Michigan State. That was expected. And hey, the Wolverines rushed for 61 yards -- 109 better than a year ago. But before the game, Michigan linebacker
Joe Bolden
drove
a stake through the turf
at Spartan Stadium. Not a good idea. Later, the Michigan Daily, the U-M student newspaper,
gave up on the game
. Ouch. So have the fans, especially the students, given up on the Wolverines? It will be interesting to see what happens in the seats at the Big House on Saturday as Indiana visits.
The Rutgers quarterback situation.
The Scarlet Knights ranked as the top feel good story in the first half of the Big Ten season. Commonly picked to finish last in the East Division and miss a bowl game, Rutgers raced to a 5-1 start behind a solid defense and revitalized quarterback
Gary Nova
. But on Saturday at Nebraska, Nova went down with a knee injury late in the the first half as Rutgers -- instructed by coach Kyle Flood -- aggressively tried to drive the entire field, down 21-7 with one minute to play. Redshirt freshman
Chris Laviano
took over as Nova missed the second half. His status is uncertain for Saturday at home against Wisconsin. The rest of this season for Rutgers goes as Nova goes. It could win two more games and even push the Badgers if Nova is healthy. Without Nova, a crash-and-burn scenario is possible. Don't book the bowl trip yet.
On Wisconsin.
Just like that, the Badgers are back. Sure, that loss at Northwestern still stings. But Wisconsin looked like a re-energized group in dispatching Maryland 52-7 on Saturday. And now, it's got trips to Rutgers and Purdue before a big game in Madison on Nov. 15 against Nebraska opens the crucial three-game finish. It's all out there for Gary Andersen's team. With
Melvin Gordon
running the football and the quarterback situation apparently resolved, the Badgers are rounding into the team that ought to strike fear into the rest of the West -- and might just serve as the division's best shot to beat Michigan State or Ohio State in Indianapolis.
The Under the Radar Bowl in Iowa City.
Iowa and Northwestern sat out in Week 9, giving our short memories just enough time to forget about them. Not long ago, the Hawkeyes and Wildcats were contenders in the West. Then Iowa lost at Maryland, and Northwestern fell apart in the second half against Nebraska. The winner of this game remains in the mix, especially if it's Iowa, which visits vulnerable Minnesota next week and gets Wisconsin and Nebraska at home to finish. But beware of Northwestern. It has won six of the past nine games in this series.
October, 27, 2014
Oct 27
12:49
PM ET
Maybe most of the Butkus Committee fell asleep early Saturday night. Or maybe their TVs aren't normally tuned to unranked teams.
[+] Enlarge
Matthew O'Haren/USA TODAY SportsPenn State linebacker Mike Hull has been left off of the Dick Butkus Award semifinalist list.
Really, those seem to be the only feasible explanations to leave Penn State linebacker
Mike Hull
off the Dick Butkus Award semifinalist list. Because anyone who's watched Big Ten football this season wouldn't have put
maybe
the third best backer in the conference over Hull.
Let's get one thing straight here: This isn't a bias against Penn State. Former Nittany Lions Michael Mauti and Gerald Hodges
both made the list
two seasons ago. Hull's exclusion is simply pure ignorance, lack of research and ... well ... a black eye for the committee.
A cursory glance at the statistics would show Hull has more tackles per game (11.9) than any candidate on the semifinalist list. This isn't extensive research, folks. You'd think that alone should merit some pause.
But let's take a closer look at some of the semifinalists, if for no other reason than to just grasp how truly crazy this omission is. Three candidates -- Alabama's
Reggie Ragland
, Georgia's
Ramik Wilson
and UCLA's
Myles Jack
-- didn't even make their respective midseason all-conference teams, whether it came from the
conference itself
or the
first- or second-teams
from Phil Steele. Hull is on our
awards tracker
as one of the best overall defenders in the conference.
How about numbers? Well, none of those three have more sacks, tackles-for-loss, interceptions, solo tackles, assisted tackles or total tackles than Hull -- and two of them played in an extra game. How about team rankings? Jack's UCLA defense is No. 86 in total defense; Penn State is No. 7. How about big-game performances? Against heavily favored Ohio State, Hull just turned in a 19-tackle game, complete with 2.5 stops in the backfield and an interception.
If a 'defensive award' doesn't include @m_hull4943 as a candidate then the research dept clearly isn't watching any film(attn:@butkusaward).

— Herb Hand (@CoachHand) October 27, 2014
"I think he should be on every award list," head coach James Franklin said immediately following the
loss to the Buckeyes
. "I've got a man-crush on that guy."
This happens every season. Good players are always going to be left off these lists, with debate and controversy following closely behind. Hull is just the latest overlooked player.
But the fact is he should've made the cut. And the Butkus committee made a mistake.
October, 27, 2014
Oct 27
10:00
AM ET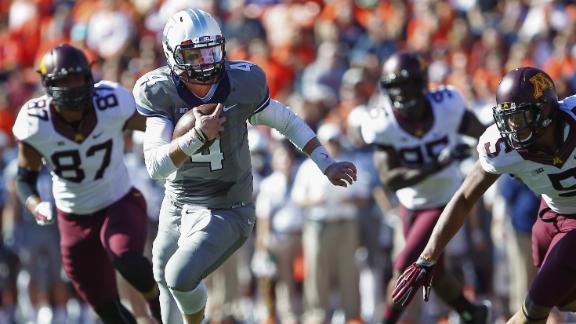 Rutgers and Maryland both got off to nice starts in their first season in the Big Ten. But reality is beginning to set in for both programs.
The Scarlet Knights beat Michigan and the Terrapins notched a solid victory over Iowa earlier this season. So both teams have been more than competitive and should go bowling. Yet hanging with the Big Ten's best teams in the league's toughest environments is another story entirely.
Rutgers fell to Nebraska
42-24
on Saturday in Lincoln, a week after losing 56-17 at Ohio State. Maryland got hammered by Wisconsin
52-7
in Madison and lost 52-24 earlier this season to Ohio State at home. The Terps were outgained by a total of 575 yards in those two blowout defeats, while the Scarlet Knights gave up 616 rushing yards to Ohio State and Nebraska.
Many Big Ten teams would suffer the same fates in those stadiums and against those opponents, so this is not really a knock on the newbies. It's just a reminder that while both Maryland and Rutgers are far from Big Ten bottom-feeders, they're not all that close to the cream of the crop, either. And both still have to play Michigan State.
[+] Enlarge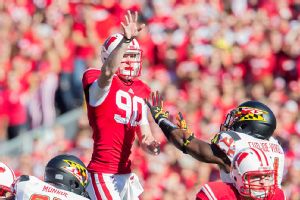 Dan Sanger/Icon SportswireBadgers punter Drew Meyer tosses a pass during Saturday's Week 9 game against Maryland.
On to the Week 9 rewind:
Team of the week:
Illinois. Like many others, we have given Tim Beckman a hard time. But he has always struck me as a decent guy who really cares about his players, and his joy for them was evident after the
Illini upset Minnesota
on Saturday. It was the program's first Big Ten home win since October 2011, incredibly. As bad as things have seemed in Champaign this season, especially after the home loss to Purdue, Illinois is still 4-4. A bowl game -- and another year for Beckman -- is still in play.
Biggest play:
V'Angelo Bentley
's 12-yard fumble return with 6:33 left provided the winning score for Illinois. It was sad to see
David Cobb
cough up such a big mistake since he's had an amazing season and has carried Minnesota's offense on his back, including on Saturday.
Coolest play:
Never sleep on the punter.
Well done
, Wisconsin's
Drew Meyer
.
Worst play:
Uh,
not so well done
,
Devin Gardner
.
Big Man on Campus (offense):
Ameer Abdullah
set a Nebraska record with 341 all-purpose yards. I think he blew up all the red balloons before the game, too. We're running out of superlatives for this guy.
Big Man on Campus (defense):
Several Penn State defensive players were great, including
Mike Hull
and
Anthony Zettel
. But when the game was on the line in State College, guess who came through? No, don't
just shrug
. Take a bow,
Joey Bosa
.
Did it for you coach. So blessed to have you on our side. #GoBucks http://t.co/M0GdUBjuBu

— Joey Bosa (@jbbigbear) October 26, 2014
Big Man on Campus (special teams):
Ohio State's
Cameron Johnston
averaged 45 yards on six punts and had four of them downed inside the 20, including a pair inside the Penn State 10-yard line in the fourth quarter.
Biggest faceplant:
Minnesota was angling toward a 7-1 start and starting to gain some national respect before it lost to an Illinois team that had lost 24 of its previous 25 Big Ten games. For a second straight week, the Gophers fell behind early, and it's not a team built to play that way. With the closing foursome of Iowa, Ohio State, at Nebraska and at Wisconsin still left, Jerry Kill's team needs to regroup quickly or risk losing some serious steam.
Dumbest stake-plant:
Well,
duh
. If you're keeping track, Michigan's ratio of wins to public apologies this season stands at 3-to-2. What a bizarre year in Ann Arbor.
Fun with numbers:
Budget some extra time if you're going to Beaver Stadium for a league matchup. Five of Penn State's last seven Big Ten home games have gone into overtime. ... Michigan's fourth-quarter touchdown against Michigan State was its first versus the Spartans in 186:08 of game action, dating back to the fourth quarter of the 2011 game. ... Abdullah now ranks second in Big Ten history with 6,604 career all-purpose yards. He needs 825 more to break Ron Dayne's record, and with four more regular-season games plus a bowl (and a possible Big Ten title game) he should get there. ... Wisconsin's
Melvin Gordon
has five games with at least three rushing scores over the past two seasons, the most among all Power 5 conference players. His 15 touchdowns in his last five games ties Billy Marek (1974) for the school record for most scores in a five-game stretch.
Penn State Lands ESPN 300 CB Taylor
BIG TEN SCOREBOARD
Monday, 12/22
Saturday, 12/20
Tuesday, 12/23
Wednesday, 12/24
Friday, 12/26
Saturday, 12/27
Monday, 12/29
Tuesday, 12/30
Wednesday, 12/31
Thursday, 1/1
Friday, 1/2
Saturday, 1/3
Sunday, 1/4
Monday, 1/12