May, 8, 2014
May 8
5:00
PM ET
The 2014 NFL draft is just hours away, and
unlike last year
, the first night
should be a lot better for the Big Ten
.
As Michigan's
Taylor Lewan
and most likely several other Big Ten players walk across the stage tonight, I thought it would be interesting to recall their recruiting stock coming out of high school. Were they pegged for greatness back then, or largely overlooked?
Let's begin the look-back with the five Big Ten players in New York City today, as well as Michigan State's
Darqueze Dennard
, who will most likely be drafted in the first half of the first round. Note: several players were evaluated at different positions as high school recruits.
Michigan LT Taylor Lewan
Class:
2009
ESPN 150:
Yes (No. 148 overall)
Position rank:
No. 12 offensive tackle
ESPN scouting report:
"Displays good feet and can mirror a rusher. Will hop at times and open quickly, but displays the tools to be a college left tackle. Lewan has some parts of his game to keep developing and needs to add bulk, but this is a good offensive tackle prospect."
[+] Enlarge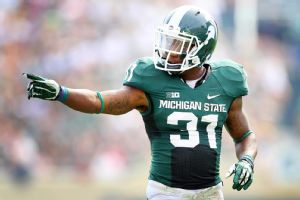 Mike Carter/USA TODAY SportsDarqueze Dennard went from unheralded recruit to college football's best cornerback.
Michigan State CB Darqueze Dennard
Class:
2010
ESPN 150:
No
Position rank:
No. 166 wide receiver
ESPN scouting report:
"Dennard is a feisty competitor who plays bigger between the white lines. May get recruited to play on either side of the ball, can really close on the football with good burst and speed when employed at defensive back. Good under-the-radar prospect."
Ohio State CB Bradley Roby
Class:
2010
ESPN 150:
No
Position rank:
No. 42 athlete
ESPN scouting report:
"May get a look at corner as he flashes the great speed, body length and ball skills sought-after as a perimeter defender. Overall, this is a guy who may be falling under the radar nationally and with some positional polish should develop into a very good wideout or corner at the major college level."
Minnesota DT Ra'Shede Hageman
Class:
2009
ESPN 150:
No
Position rank:
No. 12 tight end
ESPN scouting report:
"This kid can be a productive weapon as a receiver. He also has upside as a blocker. A bit raw in his technique he will be physical and can create push in the run game. Gets into a defender and drives his legs. Displays good tenaciousness. Needs to be more consistent in his hand placement."
Ohio State LB Ryan Shazier
Class:
2011
ESPN 150:
Yes (No. 81 overall)
Position rank:
No. 4 outside linebacker
ESPN scouting report:
"His backside pursuit is relentless. Has a very quick inside gap move which is very difficult to block; this creates havoc in the backfield with many TFLs. His real strength is as an outside pass rusher; displays the quickness to beat tackles off the edge; can squeeze the pocket with excellent balance forcing the QB out of the pocket."
Indiana WR Cody Latimer
Class:
2011
ESPN 150:
No
Position rank:
No. 178 wide receiver
ESPN scouting report:
"Latimer is a big, physical wide receiver that is smooth and fluid, but for the most part straight-lined and more of a possession guy in the short to intermediate ranges of the field. His size/strength combination could develop him into a formidable red-zone target as an outside receiver. He does not have explosive speed."
Now let's look at several other Big Ten players who
could be selected early in the draft
.
Ohio State RB Carlos Hyde
Class:
2009
ESPN 150:
No
Position rank:
No. 31 running back
ESPN scouting report:
"He is a power back with good straight-line speed and some quickness, but tends to try and dance laterally at times instead of blowing it up hard inside utilizing his good North-South speed and running strength. Long-strider who rarely gets caught from behind, but he does lack good top-end speed and is more of a one-gear back."
Nebraska CB Stanley Jean-Baptiste
Class:
2010
ESPN 150:
No
Position rank:
Not rated as a wide receiver
ESPN scouting report:
Not available
Penn State WR Allen Robinson
Class:
2011
ESPN 150:
No
Position rank:
No. 201 wide receiver
ESPN scouting report:
"We see a big, strong possession receiver capable of leveraging his body to make the contested catch. Robinson appears to be a borderline BCS prospect with the potential for success as a go-to guy when tough yardage is needed."
Wisconsin LB Chris Borland
Class:
2009
ESPN 150:
No
Position rank:
No. 134 athlete
ESPN scouting report:
"Borland is an good athlete but impresses you more as a total football player on film. He has good size with his compact, thickly-built frame. A very durable prospect. Could get recruited on either side of the ball at the next level and will bring a lot of toughness and versatility to a college roster."
Penn State DT DaQuan Jones
Class:
2010
ESPN 150:
No
Position rank:
No. 43 offensive guard
ESPN scouting report:
"Jones plays on both sides of the ball -- at DT and OT. He has the size for both positions at the major level of competition. Flashes upper body explosion and good hand shiver; able to defeat the one-on-one block but lacks agility in space; displays sure tackling ability. We feel he is a better prospect at offensive guard."
Rutgers WR Brandon Coleman
Class:
2010
ESPN 150:
No
Position rank:
No. 120 wide receiver
ESPN scouting report:
"He is tall, thickly built and has a wide catching radius. This is a prospect that possesses good overall top-end speed, but lacks quick-twitch explosion. Climbs the ladder and is a rumbling, physically-imposing target in the passing game."
Some quick thoughts:
To say the Big Ten's top draft contingent is underrated would be an understatement. Only Lewan and Shazier ranked in the ESPN 150 in their respective classes, and neither was in the top 80. Dennard's story from fringe FBS recruit to potential top-10 pick is extraordinary, and players like Jean-Baptiste, Latimer, Robinson, Borland and Coleman were far from top prospects in high school. It's interesting to see how many of these players were projected at other positions. The scouting reports swung and missed in several cases (Robinson as a borderline BCS prospect?) and hit on other prospects (Borland's versatility, Shazier's pursuit).
May, 8, 2014
May 8
2:30
PM ET

Ready or not -- and seriously, you should be ready by now -- the 2014 NFL draft is almost here. The Big Ten is poised to have a much stronger overall draft showing than it did a year ago.
But which Big Ten team will produce the most picks during the seven rounds? That's the subject of today's poll question.
Illinois led Big Ten teams with only four draft picks in 2013, followed by four teams with three selections. I'd be surprised if this year's Big Ten leader has only four players selected, but we'll see.
The candidates ...
Iowa:
The Hawkeyes lack top-line prospects, but they typically do well in the NFL draft. Iowa produced six picks in the 2010, 2011 and 2012 drafts -- only one, cornerback
Micah Hyde
, last year -- and has generated
52 picks during the Kirk Ferentz era
. Linebackers
James Morris
and Christian Kirksey, and tight end
C.J. Fiedorowicz
lead Iowa's draft contingent.
Michigan State:
Cornerback
Darqueze Dennard
might be the first Big Ten player off the board, but he won't be the only Spartan. Several other Michigan State defenders, including linebacker
Max Bullough
and
Denicos Allen
, are likely draft picks.
Ohio State:
The Buckeyes have had at least three players drafted in every draft since 1999, and they could produce a large haul this year. Linebacker
Ryan Shazier
and cornerback
Bradley Roby
are potential first-rounders, and bruising running back
Carlos Hyde
-- plus several offensive linemen -- should follow.
Penn State:
Since being shut out of the 2005 draft, Penn State has had multiple selections in each subsequent draft and three or more selections six times. Wide receiver
Allen Robinson
and defensive tackle DaQuan Jones are likely second-day picks, and others, like guard
John Urschel
, should hear their names called as well.
Wisconsin:
The Badgers have had multiple players selected in each of the past six drafts and at least four players picked 10 times since 2000. Although Wisconsin's streak of first-round picks likely will end at three tonight, linebacker
Chris Borland
and wide receiver
Jared Abbrederis
lead a
group that could add up by the end of the week
.
It's time to vote.
May, 8, 2014
May 8
12:55
PM ET
Good things come to those who wait ...
May, 8, 2014
May 8
10:30
AM ET
With spring practice officially behind us, we're taking a look at each Big Ten team and identifying a player who announced himself as a potential key performer this fall.
These are guys who haven't played big roles yet but showed enough during the 15 spring practices -- not just some fluky, spring-game performance against backups -- to factor heavily into their team's plans.
Next up is the team with the highest spring game attendance in the B1G, the
Penn State Nittany Lions
.
Spring breakout player:
DT
Anthony Zettel
[+] Enlarge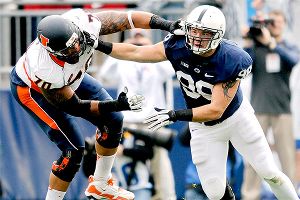 MCT via Getty ImagesAfter moving from DE to DT, Anthony Zettel looks poised for a big year for Penn State.
Coach James Franklin was ready to sit Zettel down this offseason to persuade him to move permanently from end to tackle. But Franklin never had the chance -- Zettel soon told Franklin that was
his
plan all along.
Clearly, they both made the right decision. Zettel, who alternated between the outside and inside last season, embraced the move and wasted no time in making an impact this spring. He earned praise from defensive coordinator Bob Shoop and his teammates, and he's even gained 16 pounds from last season -- he's now up to 274 -- to better facilitate the transition.
Zettel also maintained his speed, probably the characteristic that most separates him from other defensive linemen. Despite now eating five meals a day, he's still one of the fastest players on Penn State's line -- and that speed has proved problematic for his OL teammates.
"Zettel has been very, very disruptive this spring," Shoop acknowledged last month.
Zettel was a key backup for Penn State the last two seasons but now, as a redshirt junior, he's one of the starting defensive tackles. And, in many ways, this spring has been a long time coming.
He was recruited as a promising defensive tackle -- he has broad shoulders and a shorter wingspan -- but he moved to defensive end because he couldn't gain weight fast enough. He still managed to play in 24 games, starting in two, and he has made the most out of his limited time.
In 2012, during an 11-play span against Navy, he came away with six tackles and two sacks. Last season, as a backup, more than one-third of his tackles (six of 16) came in the backfield. And, with a strong spring now behind him, there's no telling what kind of fall is in front of him as a starter.
"I wasn't ready to start," Zettel said last month, referring to his last two seasons. "But, now, I feel like I am. And I'm excited."
May, 8, 2014
May 8
5:00
AM ET
1. UCLA quarterback
Brett Hundley
watches the video of the Bruins' losses to Oregon (42-14) and Stanford (24-10) "countless times," more than he does any of the team's 10 wins. "As a quarterback, it comes to the point where, honestly, I don't even have to watch the film. I can go back in my head and go over all the plays. It's certain things like that that give you that edge to want to be so much better."
2. I am sorry to see the
Pac-12 is looking at a neutral site
for its fourth conference championship game. Rewarding the team with the best record is the model nearly every major professional postseason uses. I thought one of the reasons the league went to campuses centered on a concern that Pac-12 fans might not attend a neutral site the way that Big Ten and SEC fans do. Nothing has changed there.
3. Penn State coach James Franklin said the other day he ran into a Wegmans grocery store in State College to buy four apples, and it took him 90 minutes to leave. Every shopper wanted to chat with him, and Franklin didn't feel like he could say no. That made me think of a conversation I had a few years ago with Oklahoma coach Bob Stoops, who has remained in Norman for 15 seasons in part because Sooners fans allow him to live his life, up to and including grocery shopping. Give it time, Coach Franklin. Give it time.
May, 7, 2014
May 7
5:00
PM ET
By the time you read this, I'll be somewhere over the Atlantic. (Where are the best Big Ten bars in Italy?). But before my Euro trip, I had time to answer your postcards ... er, emails:


Rob from New York writes:
Brian, a lot of the Big Ten rivalry games aren't really rivalries anymore (or maybe ever). Not sure anyone is really getting up for the Illibuck, Governor's Victory Bell or the Old Brass Spittoon, not to mention lesser games like the Land Grant or Little Brown Jug. In your opinion, which games (A) deserve to be recognized rivalry games, (B) deserve to be trophy games, and (C) which ones should be retired and/or have their trophies burned to the ground? (Hint: the unanimous ugliest of them all.) My vote goes to Wisconsin/Michigan State becoming a rivalry AND trophy game, with a brass penalty flag as the trophy, since the series is littered with controversial calls and Michigan State fans whining about them (yeah, I'm biased). A non-trophy rivalry game could be Indiana and Michigan State, since it's not really a rivalry anymore. And a rivalry game that needs to die is Minnesota and Penn State (honestly, would anyone notice?).
Brian Bennett:
Rob, Adam and I did a full assessment of the state of the Big Ten rivalries last year as the conference was working on realigning the division. You can find that post
here
. There's a difference between rivalries and trophy games. You can hand out a trophy for any game, but rivalries reveal themselves. For example, Wisconsin and Michigan State had grown into a rivalry without a trophy, while hardly anybody thinks the Old Brass Spittoon game is an actual rivalry. Alas, the Badgers and Spartans will be in different divisions now, didn't play last year and won't meet in 2014 or '15, so it's going to be hard to keep that going as a rivalry. I like the trophies, because many of them are goofy and fun and have some interesting history. But it will be worth tracking how the new division alignment and expansion affect actual rivalries.
---
Ben from Omaha writes:
OK, I'm going to do my best to not be a homer here, but I'm a little shocked Nebraska isn't a favorite over Wisconsin in the West Division. Nebraska returns almost all of its D and as long as
Tommy Armstrong
just plays consistently and doesn't turn it over, our offense will be great again. Wisconsin, on the other hand, loses a ton of its D and O, and its only returning contributors are
Joel Stave
and
Melvin Gordon
. I get that Nebraska can be tough to trust, but I'd still take them based off returning players. Am I being a homer here or am I on to something?
Brian Bennett:
First, Ben, I'd have to ask where you're getting the idea that there's a favorite in the West. I think the division is pretty wide open, and it's only early May. Colleagues Mark Schlabach and Brian Fremeau
do have Wisconsin ranked higher
than Nebraska right now, but I don't believe there's any real consensus. I am higher on the Huskers than the Badgers, because I think Gary Andersen's team has too many question marks. But the schedule is a real factor here. Wisconsin and Iowa have much easier roads to Indianapolis than does Nebraska, which has to go to Michigan State as one of its crossovers and plays the Badgers and Hawkeyes on the road. I think sometimes we overrate schedules in the preseason, though.
---

MonsterHunter via Twitter writes:
Did the Big Ten do any due diligence about Rutgers before handing them their Golden Ticket? Strictly amateur hour in N.J.
Brian Bennett:
Rutgers can't seem to get out of its own way when it comes to bad PR. moves, the latest being the flap over the Eric LeGrand speech. I don't think the LeGrand incident is that big of a deal in its own right, but it adds to the string of poor decisions and tin-eared communication skills of the administration. The school has a lot of different political factions tugging it in many directions, so it can often be hard to get everybody on the same page. But for the sake of the Scarlet Knights and the Big Ten, Rutgers really needs to get its house in order and stop creating controversy. Playing good football would make a lot of this stuff go away.
---

Alex from York, Neb., writes:
Hi, Brian. My question is why do I get the feeling from the media that the Nebraska QB battle has already been won? It's only spring. I know Tommy Armstrong is the incumbent starter but that's no reason to end a position battle. Tommy is going to look better in practices because he's been around longer, but in the spring game, the closest to a real game situation we've seen so far,
Johnny Stanton
and ever
Ryker Fyfe
looked much better than TAJR. I'm not saying he won't win the battle, but why do people seem to think the battle is over already?
Brian Bennett:
Armstrong has such an experience edge that I think he would have had to do something to lose the job this offseason. And by all accounts, he played well and took on a bigger leadership role this spring. I don't put much stock in spring game performances. Armstrong can't rest on his laurels, and if he doesn't play well early this season, he has a chance to get passed by. But I'd be really surprised if he weren't the starter in September.
---
Kevin from Fairfax writes:
Seriously, someone has Michigan ranked in the top 25? Michigan is going to be lucky to break .500 this year. As for Sparty, they were one of the two best teams in the country last year, while the defense might take a half step back, the offense should help. Right now there are five Big Ten teams that deserve to be ranked: Michigan State, Ohio State, a Penn State team that was far closer to an 11-win team than most admit, Wisconsin and Nebraska.
Brian Bennett:
I don't quite get ranking Michigan either, though the Wolverines clearly have some talent if they can figure things out. But based on what we saw last year and given some of the issues on the offensive line, this is a team that will have to show me something before I consider it as a Top 25-caliber club. I disagree with you about Penn State. While the Nittany Lions definitely have some upper-echelon players and a pretty good schedule, there are depth questions and an offensive line that might be even more problematic than the one in Ann Arbor. With a new staff in place, this is another show-me team (and I'd like you to show me how a team that lost by double digits to Indiana and Minnesota and by 49 points to Ohio State was almost an 11-win team). The five teams I think should be ranked are, in order, Michigan State, Ohio State, Nebraska, Iowa and Wisconsin.
That's it for me and the mailbag for a bit as it's vacation time.
Arrivederci!
May, 7, 2014
May 7
3:30
PM ET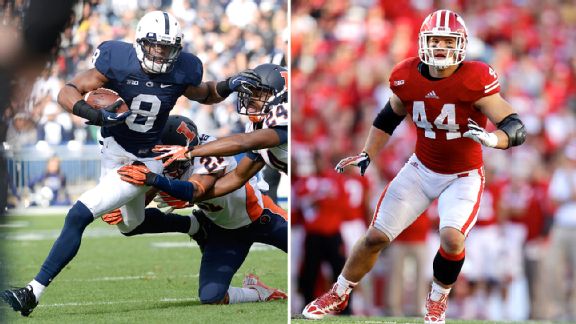 AP Photo, Getty ImagesProductions isn't a question when looking at Penn State's Allen Robinson and Wisconsin's Chris Borland.
Big Ten bloggers Adam Rittenberg and Brian Bennett occasionally will give their takes on a burning question facing the league. We'll both have strong opinions, but not necessarily the same view. We'll let you decide which blogger is right.
The 2014 NFL draft is rapidly approaching, and we have some thoughts on the Big Ten's draft class. We each
weighed in on the league's top future pro
earlier this week.
Today's Take Two topic:
Who will be the Big Ten's top draft sleeper this year?
Take 1: Adam Rittenberg
It's weird to describe
Allen Robinson
as a sleeper, as the Penn State product won the Big Ten's Richter-Howard Receiver of the Year award both in 2012 and 2013. But this year's
draft is loaded at wideout
, and
some have questioned Robinson's decision
to
skip his final college season
and turn pro. His speed could be an issue for some NFL teams, and he's projected in the second or third round. If he falls to the third round, he would be a major steal.
I like three things about Robinson:
He was extremely productive at Penn State despite working with two different quarterbacks, an unheralded senior in Matt McGloin and a decorated true freshman in Christian Hackenberg. He recorded 174 receptions and 17 touchdowns the last two seasons

He excelled in an NFL-style offense with former Penn State coach Bill O'Brien, now with the Houston Texans

He's very effective in the red zone and can make tough catches, like this one against Michigan last year. He's not afraid of traffic and can find space to make plays where there isn't much real estate.
Other receivers might have better measurables, but Robinson has gotten it done between the lines. He'll be a good pro receiver.
Take 2: Brian Bennett
I'm going to choose another player who really shouldn't be considered a sleeper: Wisconsin's
Chris Borland
. Big Ten fans know all about Borland, as he spent a long and productive career making big plays at linebacker for the Badgers, winning league defensive player of the year honors last year.
Many scouts who came through Madison and who have watched his game film say Borland deserves to be a first-rounder. But it's highly unlikely he'll go that high, and I've seen him projected some places in the third round or lower. The problems, for some, begin with the measurables. Borland stands only 5-foot-11. He ran a subpar 4.83 40-second draft at the NFL combine. He has short arms and a shoulder that has gone under the knife twice.
But Borland has never been a conventional-looking player, and you can't measure the size of his passion or understanding of the game. He's an outstanding all-around athlete who shouldn't be judged on the basis of some workout runs but rather what he does on the field. My biggest concern with Borland is that his body won't be able to withstand the rigors of the NFL. But if he can stay healthy, I have no doubt he'll be a terrific pro and a valuable addition to somebody's team -- perhaps at a real bargain price.
May, 7, 2014
May 7
1:30
PM ET
James Franklin learned quickly that there's no such thing as a quick shopping trip in Happy Valley -- not when you're the face of the football program.
He stopped by Wegman's, a regional grocery chain, earlier in the week to purchase five apples. He left about 90 minutes later, after four dozen-or-so fans approached him for handshakes and autographs.
"I will never do that again," Franklin said with a laugh.
[+] Enlarge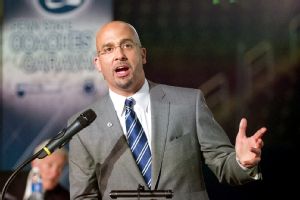 MCT via Getty ImagesJames Franklin is hitting the road on the Penn State Coaches Caravan and is opening up about him team, his program and himself (really ... phobias and all).
Ever since the coach stepped foot in Penn State, there's been an unmistakable sense of excitement surrounding him, and he's trying to stoke that by speaking in 17 cities throughout the month of May. He'll be joined by a rotating cast of other Penn State coaches on a speaking tour that's dubbed the "Coaches Caravan," an annual event that fills up gymnasiums and hotel ballrooms.
Franklin has already visited three Pennsylvania towns -- State College, York and Hershey -- and here are the highlights of what he's said so far:
It'll take the new staff three years to fully acclimate to Penn State: That's Franklin's best estimate because it took the staff three years to feel comfortable at Vanderbilt. To get a true sense of the community and the university, Franklin said there's no substitute for time and experience."I'd say that's probably been some of the frustration when you first show up -- you're starting all over," he said. "The other end of the spectrum is the excitement, the excitement of the things and the potential this place has and the history and the tradition and the direction we're going to take it. But you are starting all over again, developing a relationship with you guys, the media, starting to develop a relationship with people on campus and in the community and getting to know the players."

Franklin's a germaphobe: One of the more light-hearted exchanges occurred when the head coach grabbed a nearby water bottle and questioned whether it had already been opened -- and then reiterated his concern when the cap was loose."OK, I'm a germaphobe," he admitted. "I am. I have been stuck in a bathroom before. You know, the hand-dryers are really cool -- but then I don't have a towel to open the door. I will stand there for 15-20 minutes until someone comes in to get out."

He wants his assistants to move on … eventually: The key, Franklin said, is that no one moves laterally. Several of his assistants interviewed for head coaching jobs last season, and one even turned down an offer. A big part of that loyalty has derived from the staff's relationships, as their wives and children are all friends with one another."I feel like that's natural, and I want that for them," Franklin said, referring to his staff moving on for higher positions. "I want them to feel like they can reach all of their dreams at Penn State, as well."

Some scholarship players will not make the 105-player training camp roster: Franklin met with each player on the roster for 20-25 minutes, and he broke the news to some scholarship players -- although he declined to reveal any names."I hope we don't lose one," Franklin said, referring to potential transfers. "And if there is somebody that does want to move on and leave, then we'll respect that as well."

Franklin wants all of his players to graduate in three-and-a-half years: He's hoping to achieve this by encouraging players to take nine credits over the summer. That way, seniors can leave Penn State to train for the NFL combine elsewhere -- or players can pursue a master's or second major."I've seen too many times that you have that redshirt senior, typically, a true senior, that in December he's been there three-and-a-half years and he's got six credits left to graduate," Franklin said. "And he signs with an agent, and the agent is telling him he needs to go to Miami or Arizona to train for the combine and you'll go back and finish those credits up later. And they don't."

Franklin is an all-or-nothing kind of guy -- in everything: Maybe that's not too surprising, considering that he's literally been living out of his office. But Franklin acknowledged that's how he is at everything. Yes, even eating."NFL scouts bring donuts. I won't go buy a donut -- but if they're sitting there, I'll eat seven," he said. "I have an extreme personality. All or nothing."

He cares what people think: "My issue," Franklin said, "is that a lot of people say they don't care what other people think. I do." For example, Franklin said, when 45 fans approach him at Wegman's, he wants them all to have a good interaction so they leave thinking positively about him and Penn State. But, at some point, he has to walk away -- and that bothers him a bit."That's kind of my personality," he said. "People are important to me, and what people think is important to me. I think that's a strength, and I think that can probably be a weakness as well."
May, 7, 2014
May 7
12:00
PM ET
Spring, is that you at last? Feel free to stick around a while.
May, 7, 2014
May 7
9:30
AM ET
Penn State coach James Franklin wants a bigger presence in Georgia -- so what better way to recruit the Peach State than joining forces with another program?
Franklin and his staff plan to coach at Georgia State's high school camp in June. Schools aren't allowed to hold their own camps at a greater distance than 50 miles from their own campus, so this gives Franklin and his staff a chance to work one-on-one with prospects who normally wouldn't make the trek to Penn State.
"It's genius on their part. You get to get face time with the talent down here in the heart of SEC country," said Georgia prospect
Russell Ude
. "They can sell their brand to recruits at a school that doesn't compete with them."
May, 6, 2014
May 6
9:31
PM ET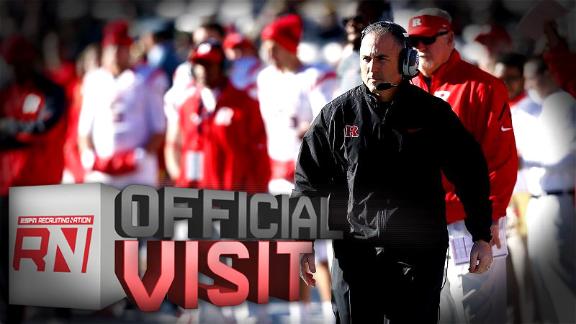 Where's Olivia Pope when you need her? Washington D.C.'s top fixers would have a hard time repairing the damage that has been done to the Rutgers brand over the last 13 months.
It started with a messy transition in basketball where
the school fired Mike Rice
after videos surfaced showing him shoving, grabbing and throwing balls at players, and then
failed to fully vet new coach Eddie Jordan
.
[+] Enlarge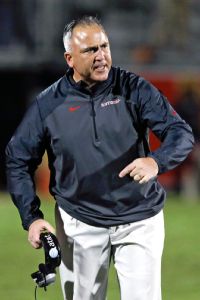 AP Photo/John RaouxCoach Kyle Flood and Rutgers had the No. 56-ranked recruiting class in 2014.
It continued recently when new athletic director Julie Hermann declared that it "would be great" if the state's largest newspaper, The Star-Ledger, went ahead and died. The school then took another major PR dagger over the weekend when it rescinded a commencement speaker offer to
Eric LeGrand,
the former Rutgers' football player who was paralyzed during a game in 2010. (LeGrand will speak at the school).
Outside of a disappointing 6-7 season in 2013, the Rutgers football program has not been a part of any of the negatives that have touched the university over the last year. But many in the New Jersey high school community agree the university's issues have impacted the football program's success on the recruiting trail.
"I think the football program has been unfortunately painted with the same brush so to speak," Erial (N.J.) Timber Creek coach Rob Hinson said. "All the football recruits see is all the negative stuff going on with the school. I think it definitely has hurt them with all the things that are going on. Coach [Kyle] Flood and those guys have had to face the brunt of something that was everybody else's mess. It's made it awfully difficult for them on the recruiting trail."
Hinson is right. The Class of 2015 has gotten off to a disastrous start in-state for the Scarlet Knights. After ESPN 300 quarterback
Brandon Wimbush
committed to Penn State
on Tuesday, it means Rutgers likely won't land any of the
top four players in New Jersey
. The only top-10 player in the state to commit to Rutgers at this point is three-star quarterback
Michael Dare
, while Penn State has already landed four in the top 10.
The
2014 class
wasn't much better as Rutgers signed only one of the top 15 players in the state and future Big Ten rivals Michigan, Northwestern, Michigan State, Maryland, Ohio State and Penn State raided New Jersey for talent. Rutgers' 2014 class also made national headlines when it lost 12 decommitments during the final push to signing day.
"I know Rutgers is a really special place, because I graduated from Rutgers, my wife graduated from there, my brother-in-law graduated from there and my father-in-law was a three-sport letter winner there," Hinson said. "But all the stuff that's been floating around about Rutgers has made a lot of recruits sour on them. It has nothing to do with football, it's just recruits hearing folks asking all the time 'What's going on up at Rutgers.' For one reason or another, they've not been able to fix some of the PR issues that they've faced and it's really hurt them with recruits."
Penn State was faced with similar challenges, albeit on a much grander scale after the Jerry Sandusky child sexual abuse scandal that rocked college football in 2011. When Bill O'Brien was hired he had an impossible job of putting together a recruiting class in the wake of NCAA sanctions.
But the players, the university and the community rallied behind the program, helping O'Brien land a serviceable 2011 class and even better 2012 and 2013 classes. It set the table for James Franklin, who was hired in January. Penn State finished with a top-25 class
in 2014
and the
2015 class
ranks as the nation's fourth best and got stronger Tuesday with the additional of Wimbush and
Sterling Jenkins
, the top-ranked prospect in Pennsylvania.
Instead of trending downward, the Nittany Lions are now one of the hottest recruiting programs in the country, and many observers believe they've been able to rebound from scandal better than Rutgers because of that support from the community and fan base.
"When you get rocked like they got rocked, but you're able to still manage a commitment from the university, and more importantly from the fan base, the students and the community, it certainly can change how things are viewed by recruits," Piscataway (N.J.) High coach Dan Higgins said.
"When you can fill the stadium each week it sends a big signal to everybody. You can't tear that place down, it doesn't matter what happens. The place is still special, and I felt it myself when I was there for the Wisconsin game. It was chilling to be there and understand that it's a lot bigger than just a scandal or a football team. That helped them survive with dignity and class, and there's no question that has impacted the athletes that have had Penn State on the mind the last few classes."
Juwan Johnson
, one of the Nittany Lions' top commits in New Jersey and the No. 3 prospect in the state, agrees with Higgins. He said prospects all over New Jersey are aware of what's happened at Rutgers because of the nonstop media coverage and he believes the way Penn State handled things has made it easier to buy into future success.
"I wasn't bothered by the Penn State scandal because I knew they had rebounded from it really well from it and the school had more to offer me than Rutgers and other schools," said Johnson, who picked the Nittany Lions over offers from Alabama, Boston College, Georgia Tech and Michigan State, among others. "I just don't think Rutgers can compete with Penn State now with all that's going on."
Hinson, Higgins and a number of other high school coaches in New Jersey believe Rutgers' transition to the Big Ten will eventually pay off on the recruiting trail. There are still other quality 2015 in-state recruits on the board like linebacker
Manny Bowen
, athlete
Daiquan Kelly
, safety
Ronnie James
, tight end
Jake Pickard
and others who list Rutgers among their favorites, plus all of the coaches were unanimous in support of Flood and his staff.
"He's a very personable guy that can relate to coaches in New Jersey," Higgins said. "He's a former offensive line coach that worked his way up the ladder through hard work. Everybody here respects that, and I know there are a lot of people hoping he can fix things, push past all the other stuff that's hurting the university and start keeping New Jersey kids at home."
May, 6, 2014
May 6
8:37
PM ET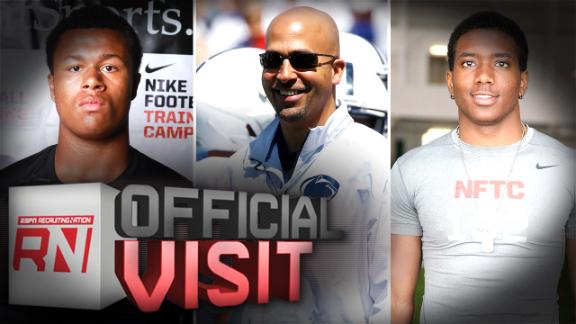 Soon after Under Armour All-American offensive tackle
Sterling Jenkins
announced
for Penn State
,
ESPN 300
quarterback
Brandon Wimbush
has also joined the Nittany Lions' class. Continue reading to check out Tom Luginbill's take on the news:
To continue reading this article you must be an Insider
May, 6, 2014
May 6
7:16
PM ET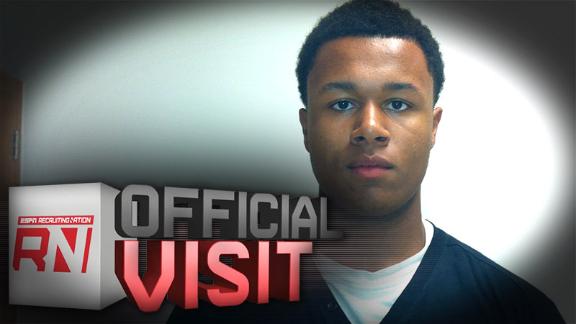 The Nittany Lions have a new top-rated recruit in offensive tackle
Sterling Jenkins
. Read below to see how Craig Haubert expects the Under Armour All-American will develop in Happy Valley:
To continue reading this article you must be an Insider
College Football Minute
BIG TEN SCOREBOARD
Thursday, 8/28
Friday, 8/29
Saturday, 8/30