April, 11, 2014
Apr 11
3:00
PM ET
STATE COLLEGE, Pa. -- There will be plenty to watch when the Blue-White Game kicks off at 1:30 p.m. Saturday, but here's a look at some of the more interesting storylines:
1. How the offensive line performs.
This unit will go a long way in determining Penn State's success this season. There's enough talent at the skill positions that the Nittany Lions could surprise again this year, but only if this battered line can hold up and hold its own. Neither guard
Miles Dieffenbach
, who's reportedly out for the season with a knee injury, nor tackle
Andrew Nelson
is expected to play on Saturday. Guard
Anthony Alosi
isn't listed on the roster, as he's facing criminal charges. And the status of center
Angelo Mangiro
is unknown.
[+] Enlarge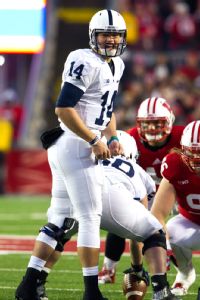 Dan Sanger/Icon SMIChristian Hackenberg looks poised to build on a sensational freshman season.
There's a lot of uncertainty on this line, and the bigger questions are at guard.
Brendan Mahon
practiced at right tackle last week, so it's possible that converted defensive tackles
Brian Gaia
and
Derek Dowrey
could start inside during the Blue-White Game. At the very least, the two are sure to get considerable playing time on Saturday, and it will be interesting to see how they've progressed since learning of the position changes about a month ago. Left tackle
Donovan Smith
said Thursday that he has had to slow his pace a little bit as a result of playing alongside an inexperienced teammate.
2. Christian Hackenberg's ability to make any throw.
Some analysts have already started wondering aloud if Hackenberg
might be the No. 1 overall pick
if/when he declares early for the NFL draft. Maybe that happens; maybe it doesn't. But the fact that's even being discussed now should give you an idea of his talent level.
He was one of the Big Ten's best passers last season, despite moving into Happy Valley just a few short months before the opener. His progress was pretty notable from Week 1 to the finale against Wisconsin. Bill O'Brien called running plays on third-and-long against Syracuse in the opener so he wouldn't put Hackenberg in a tight spot. Against 24-point favorite Wisconsin? Hackenberg was nearly perfect -- 21-of-30, 339 yards, 4 TDs, 0 INTs, 89.4 QBR -- and led the Lions to an upset.
Expectations were incredibly high for Hackenberg last season and he still managed to surpass them. After another few months on campus, he's bound to impress yet again. And it would be even more surprising if James Franklin didn't give fans something to cheer for by having Hackenberg lob a few deep balls in the Blue-White Game.
3. An improved secondary.
This has been the Lions' Achilles heel the past two seasons, but it shouldn't be anymore. There will be an influx of talented freshmen this summer but, even before then, this secondary's stock is on the rise.
Adrian Amos
is much more comfortable at safety this season, and cornerback
Jordan Lucas
has been putting in a lot of work this offseason. Young players last year -- such as
Malik Golden
and
Jordan Smith
-- are evolving into good backups who could challenge for playing time.
Trevor Williams
and
Ryan Keiser
are really the questions here, but they have one more year of experience under their belts.
Amos has All-Big Ten ability, and his transition back to safety will be crucial to the defense. If he can read Hackenberg or catch up to a speedster like
De'Andre Thompkins
on Saturday, that can only mean good things for Penn State.
4. WR Thompkins and DT Anthony Zettel.
You've seen the running backs and wideout
Geno Lewis
before. You know what
Mike Hull
and
Jesse James
are capable of. But this could be a coming-out party for both Thompkins and Zettel. Zettel has impressed the last two seasons, but he mostly played as a defensive end -- and now he's gained weight and moved inside. Zettel could be the surprise on the defense this season, as his speed certainly sets him apart. And, with a beaten-up offensive line in the Blue-White Game, he could have a field day. As far as Thompkins, he has been on campus three months but he's already the fastest player on the team. He needs to improve his hands and his route-running but, when he gets the ball, he's electrifying.
April, 11, 2014
Apr 11
12:00
PM ET
Have a great weekend, everybody, and enjoy all the spring games. Looks like some nice weather out there.
April, 10, 2014
Apr 10
4:00
PM ET
Head coaches from the Big Ten East Division, along with a player from each team, addressed the media this afternoon on teleconferences. The
West Division players and coaches
spoke Wednesday.
Here's a closer look at the East:

INDIANA
Defense has been a lingering Indiana concern for years, but coach Kevin Wilson believes he's starting to see a change, thanks to new defensive coordinator Brian Knorr. The scheme hasn't changed radically, but the Hoosiers return 10 starters there -- and Wilson's seen a promising spring so far with an added focus on competition and communication: "They've for sure held their own on a daily basis -- and, in some ways, probably even better -- against the offense."
Wilson believes teams need to invest scholarships into the kicking game, but he thinks it's also too risky to offer recruits straight out of high school. If you look at the NCAA's top 25 kickers, Wilson estimated at least 15 started out as walk-ons. So he's hoping to find some walk-ons who are willing to work for a scholarship, rather than be granted one right away.
At 5-foot-7, Shane Wynn is the Hoosiers' leading returning receiver, and he's transitioning to playing the outside. It's been a little different for Wynn, who said he's had to watch more film as a result. He's reading the corners now, instead of the safeties, as just one example.

MARYLAND
Maryland coach Randy Edsall is confident in his offense and believes the Terrapins have enough options so that opponents can't focus on just one person. If defenses lock on to wideout Stefon Diggs, then quarterback C.J. Brown can take off running or receiver Deon Long can pick up some slack. "The No. 1 thing I do like," Edsall said, "is we can spread the field."
Maryland's staff has already started looking at film of Big Ten teams, so they know what to expect when the conference season begins. Edsall said he wants to at least get a feel for their personnel and what kind of schemes he'll face. He's also confident the Terps will be ready: "We fully expect to be able to compete when we get into the Big Ten this year."
Brown said one of the main reasons he committed to Maryland was the coach who recruited him at the time, former Terps assistant and current Penn State coach James Franklin. He's looking forward to squaring off against Franklin this season, and Edsall said there's no question he would like to develop a rivalry with the Nittany Lions.

MICHIGAN
The quarterback derby will continue, and Brady Hoke included all three of his options in the discussion heading into the offseason. The Wolverines coach did acknowledge, though, that Devin Gardner "probably would be" the starter if there was a game on the schedule this weekend. There isn't, so Shane Morris and Wilton Speight will continue to be in the conversation.
The first opponent on the schedule will always stir emotions for Michigan fans, but Hoke didn't attach any revenge or sentimentality to his reasons for wanting to take on Appalachian State in the opener this fall. "We needed a game," Hoke said. "I thought it would be a good game." Defensive end Frank Clark was certainly aware of the history between the programs, even though he was still years away from joining Michigan and getting a shot at making up for the upset loss in 2007 -- which he called "shocking" and "shows how hard those guys play."

MICHIGAN STATE
Michigan State is coming off a Rose Bowl victory, but coach Mark Dantonio and quarterback Connor Cook would prefer not to think about that any longer. Dantonio said they've talked a lot these last four months about not growing complacent, and Cook only echoed his coach. "A lot of people keep bringing up the Rose Bowl," Cook said. "But we're past that. We're focusing on the now."
The offensive line has made some big strides since January, at least according to Cook. He felt like he had no time in the pocket last spring and said the pass rush was getting to him every time. This spring? He doesn't feel rushed in the pocket, and he thinks that's pretty indicative of how far this line has come.
Jeremy Langford earned a lot of praise from Cook, who said the running back has become a much bigger part of the passing attack. "He's improved a lot with catching the ball," Cook said, complimenting Langford's versatility. "He's done so many different things for us."

OHIO STATE
There is still work to be done in addressing the most glaring weakness on the team last season, but Urban Meyer called Ohio State's pass defense "drastically improved" and will be watching closely for more signs of progress in Saturday's spring game. The Buckeyes will play a traditional game, but the emphasis will be on throwing the football and assessing the skill players on both offense and defense -- giving Meyer a chance to evaluate backup quarterback Cardale Jones in a live setting in addition to checking out the secondary.
Arguably the strongest part of last season's team is undergoing a transition without four senior starters, and the offensive line is somewhat of a concern for Meyer heading into the offseason. With guard Pat Elflein the only other player to have earned a first-team slot to play alongside junior Taylor Decker at this point, that competition is likely to spill over into preseason camp in August. Both tackle Darryl Baldwin and guard Antonio Underwood were praised for their work by defensive tackle Michael Bennett, and Billy Price and Jacoby Boren are dueling at center.

PENN STATE
Franklin said he knew exactly what he was getting into at Penn State, in terms of the current depth and sanctions. He and former coach Bill O'Brien worked together at Maryland, and he said the two had a lot of honest conversations about the current state of the Nittany Lions. The two have continued to talk since.
Derek Dowrey and Brian Gaia are both making transitions from defensive tackle to offensive guard, and Franklin said he has been pleased with their performances so far: "They're doing a good job for us -- and they have to. We're thin at that position."
Franklin said he feels especially comfortable with the talent at running back and defensive line. Middle linebacker Mike Hull was more specific about naming the players who impressed him, pointing to backup linebacker Gary Wooten and cornerback Da'Quan Davis. Hull said Wooten is always around the football and that Davis, who missed part of the spring with a hamstring injury, has come up with several interceptions.

RUTGERS
Another open competition at the most critical position on the field -- quarterback -- is still playing out at Rutgers, and coach Kyle Flood isn't ready to declare a winner in what would seem to be a wide-open battle. Flood indicated that Gary Nova, Mike Bimonte and Chris Laviano are all "really vying for that first-team job."
The change in conference affiliation has been welcomed with open arms by the Scarlet Knights, who can "feel the energy" as theypractice for their first season in the Big Ten. Defensive tackle Darius Hamilton said the team was already buzzing with excitement about the opportunity, and Flood called joining the league a "positive in every way." The move also presents the opportunity for a rivalry to develop with new divisional neighbor Penn State, with both Flood and Hamilton citing the proximity between the schools as a bonus.
April, 10, 2014
Apr 10
1:00
PM ET
It's finally time to settle our
all-time Big Ten coaches tournament
and declare a champion.
We began with 12 legends, and now we're down to the final two contenders. There's not much more left to say than to state the matchup:

No. 3 seed Nebraska's Tom Osborne vs. No. 4 seed Penn State's Joe Paterno
Tournament résumés:
Paterno: For nearly half a century, JoePa was Penn State football. He won a record 409 games, plus two national championships (1982, 1986) and had four other undefeated seasons. He won all four major bowl games -- the Rose, Orange, Fiesta and Sugar -- and was the AFCA national Coach of the Year five times. Yes, his career ended in scandal and a huge chunk of his wins were vacated by the NCAA. You have to decide for yourself how much that affects his legacy.
Osborne: It's hard for any coach to gain near universal respect and admiration, but Osborne achieved it with his illustrious tenure at Nebraska. He went 255-49-3 in leading the Huskers to three national titles in a four-year span (1994, 1995 and 1997), and his teams never won fewer than nine games in a season. Sure, he didn't coach in the Big Ten, but Nebraska is a member school and he was instrumental in getting the school into the league.
Who gets the one shining moment as the winner of our tournament? Your votes decide, and the polling will be open through the weekend. Make sure to
drop us a note
saying why you voted the way you did. The best responses will run in our results post.
April, 10, 2014
Apr 10
12:00
PM ET
How long is too long to wait for free pizza?
April, 10, 2014
Apr 10
10:00
AM ET
STATE COLLEGE, Pa. -- Saturday features a full slate of Big Ten spring scrimmages, and we're breaking down each one through Friday. Here's a closer look at what to expect from
Penn State
's Blue-White Game:
When:
Saturday, 1:30 p.m. ET
Where:
Beaver Stadium, State College, Pa.
Admission:
Free; parking is also free and is first-come, first-served
TV:
Big Ten Network (will air at 6 p.m.)
Weather forecast:
Mostly sunny and mild, with a high near 67 degrees.
What to watch for:
After two seasons of
a head-scratching scoring system
, where sacks and big plays netted points, James Franklin is taking the spring game back to its roots. It'll be structured like a traditional game, so a math whiz like
John Urschel
won't have to be on hand to tally the score.
Christian Hackenberg
is the unquestioned leader of this offense, and he's the player whom all eyes will be on. He capped off his Big Ten freshman of the year campaign with an upset over then-No. 15 Wisconsin, a 24-point favorite, and big things are once again expected of him. He still hasn't been on campus for a full year, but he has said the college game has finally slowed down for him -- and that should be an unnerving thing for opposing defenses to hear.
The big question mark not just on the offense but on the team revolves around the offensive line. Franklin voiced concern about depth before spring practice even started, and it's only gotten worse. The Nittany Lions have reportedly
lost their most-experienced lineman
, guard
Miles Dieffenbach
; right tackle
Andrew Nelson
has missed several practices and was seen limping Tuesday; and backup guard
Anthony Alosi
is
facing criminal charges
and his status with the team is uncertain.
As a result, Franklin said Saturday that the offensive line will wear gray jerseys and likely play for both the Blue and White teams. He's still hoping to field two units with the offensive line, but it's not even known whether Penn State will be able to do that much, at least with scholarship players. Its depth is that concerning.
Elsewhere, Penn State will feature several new faces and feature veterans at different positions. Cornerback
Adrian Amos
is back at safety, OLB
Mike Hull
is taking over the MLB spot, and defensive end
Anthony Zettel
has moved inside. On offense, Hackenberg will have to focus on some new targets, notably
Geno Lewis
and freshman early enrollee
De'Andre Thompkins
. Thompkins has already turned heads, as he clocked the fastest 40-yard dash time on the team. His ability will be showcased for the first time Saturday, as will that of backup quarterback
Michael O'Connor
, whom was ranked as the No. 6 QB recruit in the nation.
April, 9, 2014
Apr 9
2:00
PM ET

I joined Matt Barrie on the ESPNU College Football podcast earlier today to discuss my recent spring football trips to Penn State, Purdue and Wisconsin. We discussed the ongoing quarterback competitions, how James Franklin is building relationships at Penn State and which team can be this year's Michigan State.
Listen to the full podcast
here
.
April, 9, 2014
Apr 9
12:00
PM ET
April, 8, 2014
Apr 8
5:45
PM ET
Coming at you from America's dairyland. Don't forget to join
our Twitter minions
.
Inbox time ...
Jimmy H. from Six Feet Under a Driveway in Grosse Point writes:
We can probably all agree that the current system does exploit the players. Well, what if say, 2 percent of football revenues went to the players? You could even pay the money out in limited checks while in school, or perhaps after graduation. Alternatively, would it radically change the game if say, seniors only, could do promotions and product sponsorship? Imagine if each conference started to allocate 5 percent of conference football revenue to their players, paid out either as stipends during college or over a period following graduation. I think the BIG would once again start dominating the recruiting battles.
Adam Rittenberg:
Jimmy, some interesting ideas here. I like that your proposals would affect players across the board, not necessarily just stars. There's no doubt that more of the record revenue being generated can go toward the athletes. Whether it's a stipend for travel/standard expenses, a trust to ensure further education for those who leave school early, or a fund to cover long-term medical injuries sustained while playing, there are ways to improve the college player experience. Some of these already have been proposed by the Big Ten and other conferences, but nothing substantial has come to fruition. The NCAA has let these issues drag for years and now could pay a substantial price, and not just in dollars.
---

Matt from Michigan writes:
MSU has more hype than it deserves. Yes, they won the Rose Bowl, and that is great for a conference that needed a team to do it, but you are forgetting how little one random year means in actually being a consistent program. MSU was 7-6 the previous year. Are you forgetting they had four HOME losses that year? Pat Narduzzi is a fantastic assistant with a great scheme. But that scheme was helped by having talent AND experience at some key positions last year. Something that MSU does not have much of coming back. Looking at just last season, MSU deserves all the recognition it has gotten, but as for the future, please slow down the hype train for the inconsistent Spartan program.
Adam Rittenberg:
A couple things, Matt. Go find me a projection that has Michigan State in the College Football Playoff. There aren't many, if any, out there. You cite the 7-6 season MSU had in 2012. That's fair, and the Spartans must show they can build on a season like last one with another strong performance. But to label Michigan State inconsistent is inaccurate. MSU has recorded 11 or more wins in three of the past four seasons. It has produced a top-five defense in each of the last three seasons, despite some personnel moving in and out. Will the 2014 Spartan Dawgs be as dominant as their predecessor? Probably not, but the offense certainly could be better than the 2013 version. I'm going to take a wild guess and say you're a Michigan fan. If we were talking about Michigan, because of its superior overall history, it would be mentioned as a playoff candidate. Michigan State isn't getting the same treatment.
---

Mark from Champaign, Ill., writes:
Is Julie Hermann too outspoken? She doesn't seem to have any boundaries and will talk about anything to any audience. Looks to be a thorn in Jim Delany's side right away.
Adam Rittenberg:
I don't know if she has boundaries, Mark, but she's showing her inexperience in the role. Major-conference athletic directors must deal with scrutiny, especially those operating in major markets. She certainly has had more than her share for a first-year AD, but the spotlight is always on, and people are looking for poise, not noise about the media. As an AD, you have to focus on the bigger picture and stay above this stuff. It will be important for Hermann to do so going forward with the Big Ten transition.
---
Scott from Pleasanton, Calif., writes:
After reading some articles about James Franklin's long hours and boundless energy, I wanted to get your take on the following -- does it matter that much? I mean, the coaches aren't on the field making plays, so it seems to me there may be diminishing returns with respect to the total number of hours spent in the office. Would he be just as effective if he worked a little less and got some more sleep?
Adam Rittenberg:
He could be, Scott, but coaches always talk about being who they are, and Franklin knows no other way to do the job. The long-hours thing gets overplayed, but I think his energetic approach -- and that of his staff -- is effective in making connections with a group of players who have been through a lot with the coaching changes and sanctions. They want to see the coaches invested in them and in the program. They're getting that with Franklin.
---
Joel from Minneapolis writes:
The
Big 12 Blog recently gave its take
on whether spring games were still necessary or have become irrelevant. I'd be interested to know your (and Bennett's) takes are on these events. Obviously they're a nice bridge that fills such a long offseason, but some schools can barely attract enough fans to fill even a fraction of their stadiums, and as many coaches in the B12 blog pointed out, have become so guarded as to showcasing how far their team has come along. Perhaps its time for the marketing departments at each school to rebrand these events into a more quasi-athletic affair, showcasing other aspects the athletic department. Thoughts?
Adam Rittenberg:
Joel, schools take different approaches and some try to pair the spring football games with another athletic event (
Ohio State typically schedules a lacrosse game beforehand
). The bigger issues I see are existing injuries or the fear of more injuries. Some teams are so beaten up along the lines that it's impossible to field two true teams. Can't blame them for that. Other coaches are concerned about starters being hurt. I can tell you Wisconsin will have a true spring game, despite its injuries, as only a handful of players (RB
Melvin Gordon
among them) will be held out as a precaution. Spring games are fun events for the die-hards, but they often don't matter nearly as much as the 14 preceding practices. I'm fine with having the events continue, but I don't expect much from them.
April, 8, 2014
Apr 8
4:30
PM ET
STATE COLLEGE, Pa. -- Go ahead, underestimate
Allen Robinson
. He doesn't care; he's used to it.
Robinson was a consensus two-star prospect in high school. He caught three passes as a college freshman. And, before his sophomore season, the media focused on players such as Alex Kenney and Shawney Kersey as possible stars.
[+] Enlarge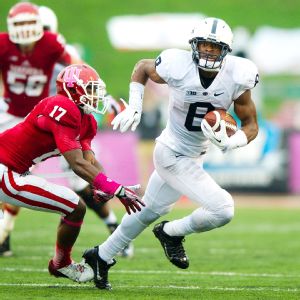 AP Photo/Doug McSchoolerDespite a highly productive college career, Allen Robinson understands that NFL scouts have their doubts about his speed.
Everyone, outside of Robinson's close friends and family, overlooked the skinny kid wearing No. 8. No one foresaw two back-to-back B1G receiver of the year awards or Biletnikoff watch lists. And now, exactly a month before the draft, some analysts have taken to saying he's not one of the elite wideouts in this draft -- that the junior is maybe a third-round talent.
Robinson hears all the chatter; it just doesn't bother him. He has been here before.
"My whole life has been sitting around waiting," he said after Penn State's Tuesday pro day. "So whatever round I go in, it is what it is. But at the same time, when I get to my team, I'm going to grind and earn my spot."
The Michigan native, who caught high school passes from four-star recruit Rob Bolden, knows some have criticized his breakaway speed, or lack thereof. (NFL.com's profile of him
lists that as his main weakness
.) The concern is he's too slow to be a productive NFL wideout, that he's a solid college wideout whose NFL stock dropped considerably since running a 4.6-second 40.
That's not news to Robinson, but he has made a career out of proving doubters wrong. He centered a lot of his training around improving that 40-yard dash in time for Tuesday's pro day. And, according to Robinson, scouts approached him afterward and told him he clocked a sub-4.5.
He also finished with a 42-inch vertical, a three-cone time of 6.53 seconds and a broad jump of 10 feet, 11 inches. All of those numbers were
improvements from the NFL combine numbers
.
"I've seen a lot of improvement in myself," Robinson said. "I feel like I made the best decision I could've made [declaring early], and I'm comfortable with that."
Robinson doesn't know where he'll go in the draft. Maybe he'll surprise the analysts and be picked in the second round, or maybe even the first. But, wherever he goes, he said he wouldn't be disappointed. And wherever he goes, no one is counting him out this time around.
"Everyone's dream is to go in the first round, but I can't control that," he said. "So wherever I end up going, God has blessed me with being picked by a team. All I can do is stay prepared and ready and, once my name is called, show those guys what I can do and earn my spot on the field."
Not stressing out:
Defensive tackle
DaQuan Jones
might be the first Penn State player taken in next month's NFL draft, but he's trying not to think about that.
"You really don't know until the draft so, right now, I'm not really stressing about it," said Jones, who has been projected to go as early as the second round. "All I can do now is take care of my body."
Jones weighed in at 324 pounds, a six-pound gain since the start of last season, and stood at 6-foot-3. He said teams have approached him as both a 3-4 and 4-3 defensive tackle, and he's fine with either.
"Everyone's going to multiple defenses," he said, "so you're going to play either/or no matter where you go."
High risk … high reward?:
Tight end-turned-offensive tackle
Garry Gilliam
was present for pro day, and it's a good thing he was. A lot of NFL scouts didn't even know he declared.
"They actually said they didn't know I was coming out," said Gilliam, who had one year of eligibility remaining and declared late. "So it was huge to come out here."
Gilliam probably could have benefited from another season at Penn State. He played only one season as an offensive tackle after bulking up last offseason. But, at 23 years old and with two degrees already, Gilliam felt it was time to move on.
He came in Tuesday at 6-6, 306 pounds and ran a sub-5-second 40. But his upper body strength has teams worried, as he did between 19 and 20 reps on the bench press.
"I think they know I'm a raw player and they need to develop me," he said, "but I think they'll take a shot to do it."
Disrespected:
Middle linebacker
Glenn Carson
didn't receive an invitation to last month's NFL combine. And he doesn't plan to forget that snub anytime soon.
"I definitely came in today with a chip on my shoulder," he said. "I felt as if I should've gotten a combine invite, and that's why I had to go out there and impress people today.
"I felt like I was a little underappreciated, but all you have to do is put your head down and work. And that's what I did for these past three months."
Carson could wind up as a priority free agent, but he's not expected to be drafted. Still, he felt as if he improved his stock on Tuesday and said several scouts complimented his performance and how he played "smooth."
"It would be awesome to get drafted," Carson said.
April, 8, 2014
Apr 8
12:00
PM ET
I've been to Storrs. I don't know how UConn keeps doing it.
April, 8, 2014
Apr 8
11:00
AM ET
The NCAA men's tournament is all over, but we've still got the title match in our
all-time Big Ten coaches' tournament
.

Like that other madness, we had some lower seeds advancing all the way to the championship, though the upsets weren't huge. In our
second semifinal matchup
, No. 4 seed Penn State's Joe Paterno edged No. 1 seed Ohio State's Woody Hayes by a 53-47 count in your voting, with more than 21,000 votes cast.
So Paterno advanced to face No. 3 seed Nebraska's Tom Osborne. An all-time Big Ten coaches tournament final with no Woody or Bo? It is surprisingly so, though the two finalists are no slouches either.
We'll open the tournament final on Thursday. For now, here are some of your comments on this matchup:
Brian from Smyrna: I voted for Joe Paterno over Woody Hayes. There's no arguing that Hayes has a better Big Ten résumé than JoePa. But Paterno has a better career than any other Division 1 coach ever. No one won more games than he did and even his 2 championships are short changing him (he went undefeated 4 other times without being awarded a championship). He won during all kinds of eras of the game. No one will ever top the greatest coach of all time.

Sean J. from Philadelphia: Yes, many coaches have won a plethora of games, fund-raised for their universities, and built the brand of their schools. However, none have had the same impact that Joe Paterno had both on and off the field. Not many fans can attribute their coach for the success of the team and their own personal success. Whether it's the national recognition your degree gets, the time spent in the library with his name on it, or the visit he made to your tent in Paternoville the night before a big game, Joe Pa impacted many of our lives. Despite accusations from the scandal, generations of alumni know they owe Joe a debt gratitude for the education they received at Penn State. That is why he deserves to win this tournament.

David S. from Virginia Beach: Quite simply, Joe Paterno coached and won 409 games regardless of the dumbest part of the NCAA sanctions Penn State had... NO ONE BETTER

Brian B. from Atlanta: I voted for Joe Paterno for two reasons: 1. Joe Pa was the greatest coach of all time. 2. I hate Ohio State and would vote for anything opposite them. Obviously a no-brainer.

Dave from Columbus: Great matchup here. Two towering figures of the B1G. Okay, so JoePa wasn't part of the B1G until the last 20 years of his career, but still. Both coaches' legacies were ended in disgusting tarnish. My favorite team being tOSU, Woody gets my vote. But it's deeper than that. Woody's been immortalized throughout campus, the B1G and beyond. I just don't see JoePa's legacy ever recovering from what happened there. I have a feeling a lot of folks are voting for JoePa out of their disdain for Woody.

James from Nashville: Many people are overlooking the fact that Paterno had the benefit and being independent and setting up a lot of cupcakes. Hayes was the better coach, and would have won more titles if not for facing off against Bo for a decade, and playing Rose Bowls against several exceptional USC teams. Even so, he still won more titles, more conference titles, and indeed a higher percentage of Big Ten games that Paterno. Anyone who votes Paterno is clearly someone who does not know much about the history of the Big Ten.

Larry P. from Mansfield, Ohio: Woody Hayes won 13 Big Ten titles and 5 national championships. Joe Paterno won 2 Big Ten titles and 2 national championships. Not a tough call.

Tom from Cuyahoga Falls, Ohio: The Big Ten term 3 yards and a cloud of dust came because of Woody. Yes, when you think of Penn State, you think of Joe Pa. When you think of Ohio State, you think of Woody. The difference is when you think of the Big Ten, you also think of Woody. My vote goes to Woody Hayes.
April, 8, 2014
Apr 8
10:00
AM ET
Saquon Barkley
tossed off his backpack, when a stack of more than 50 letters -- several blue envelopes on top, bigger white ones below -- caught his eye on the kitchen table.
"What's this?" he asked his mother.
"The mailman hates you," she said with a laugh. "They're all from Penn State."
[+] Enlarge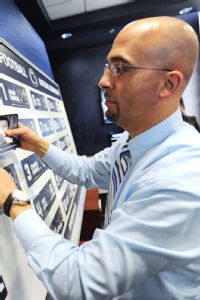 MCT via Getty Images James Franklin and Penn State were busy on national signing day and they're working to build on the recruiting successes.
Barkley, a three-star tailback in the 2015 class, committed to the Nittany Lions nearly two months ago -- and the letters arrived at Barkley's home just last week. He still hasn't gotten around to opening them all.
That thick stack of envelopes, with two rubber bands holding them together, stands as just one of the testaments to the extra work that James Franklin and his staff have put in. They've inundated commits with handwritten letters, wooed recruits with heaps of attention -- and, most important, have somehow persuaded 11 prospects in the 2015 class to pledge to the Blue and White. It's one of the biggest surprises in the recruiting world.
"Coach Franklin, he's a great guy. If he wants you and needs you on this team, he's going to get you," said Barkley, who flipped from what he labeled his dream school in Rutgers. "I'm telling you the truth. He just has face time for no reason, just to see how I'm doing or my family's doing. Even now, when I'm already committed."
This early recruiting success is unprecedented for the Nittany Lions. Since 2006, when ESPN began tracking recruiting, Penn State never boasted more than five commits before April 10 -- and never, even during a full recruiting cycle, garnered more than six ESPN 300 commits. They're already up to six such players, and with 10 months remaining.
It's not as if Franklin is focusing upon longtime Penn State fans, whose parents drive around with "409" bumper stickers. He's changing the minds of out-of-state high schoolers with confidence -- "I'm not letting you go anywhere else" -- and with an energy usually reserved for motivational speakers who have a predilection toward espresso. Two of Penn State's most recent commits would've offered blank looks or a confused stare if you told them two months ago they'd be changing their Twitter backgrounds to a Nittany Lions logo.
"I would've just said, 'No,' " offensive guard
Steven Gonzalez
said with a laugh. "I would've said that I most likely would've been a Buckeye."
Added linebacker
Josh Barajas
, a heavy Notre Dame lean: "I would've told you that you were crazy."
Barajas gave Penn State a chance when he started receiving more handwritten letters from the university than anywhere else. He then arrived to a practice that featured Franklin performing the worm and playfully spraying water in the kicker's face before a field goal. And when Barajas sat down to a lunch of cheesesteak and fries, a time normally reserved for just recruits, Franklin pulled alongside a chair and ate with his family.
Barajas didn't expect that. It was a small gesture -- but it was one no other coach had done. Bill O'Brien, whose office prominently displayed a photo of him alongside Tom Brady, often called recruits into his office to chat. He won top prospects over with his track record but induced
sweaty palms and stammers
. Here, Franklin's personality is putting recruits at ease -- and then winning them over.
"Sometimes you're kind of uneasy sitting around a guy that important," Barajas said, "but I was just talking to him like he was my friend. We talked about a lot of stuff, too, not just football."
Franklin landed on the Happy Valley tarmac on a wet January morning and, following his introductory news conference, joked with reporters that he needed to leave so he could get to work. He landed a 2014 commit later that night. Two weeks ago, he offered reporters a six-minute chat before leaving abruptly and saying, "As much as I love you, I love [recruits] more." He reeled in two more 2015 commits that weekend.
He's now sleeping on a mattress in his office --
seriously
. And he treated signing day like Christmas, complete with
several pipers piping
. Several commits weren't even quite sure how to explain Franklin's success, but Franklin has an idea.
"For us, it's not work," he told ESPN.com. "It's calling around to all your buddies, it's bringing recruits up and having fun with them, showing them how much fun we have at practice. When we write letters and direct-message and do those things, it's not dry, standard material. It's us showing these kids and these parents and these high school coaches who we are as men and who we are as coaches, and having fun with it."
Franklin made a splash on Day 1 when he repeated -- twice -- that his staff planned to
dominate the state and region at recruiting
. So far, he has. And, so far, even some of his own commits can't quite believe it.
"I'm definitely surprised," Barajas said. "I didn't think they were going to blow up like this.
"But, then again, I don't see them stopping anytime either."
April, 7, 2014
Apr 7
1:25
PM ET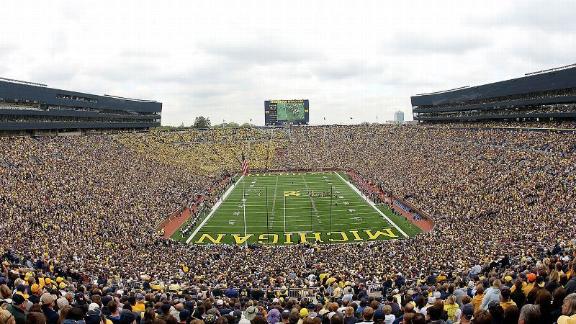 So you want more prime-time games in the Big Ten? How does Penn State vs. Michigan in the Big House sound?


The Wolverines, of course, have hosted two night games in Michigan Stadium. Those games, against Notre Dame in 2011 and 2013, turned into events and created an electric atmosphere.
No. 3 under the lights will be a
conference game against Penn State
on Oct. 11. The Notre Dame rivalry is great and all, but this will be two titanic Big Ten programs squaring off in an East Division showdown. It's a worthy addition to the short history of night games at the Big House.
"The night game atmosphere created by our fans has been electric and we expect that same type of energy for our first-ever conference night game against Penn State," Michigan coach Brady Hoke said in a statement. "Our players really enjoy playing in prime time at Michigan Stadium."
The Notre Dame-Michigan night games were enhanced by exciting shootouts on the field. We can hope for the same this year between the Nittany Lions and Wolverines, who played a
43-40, four-overtime thriller
in Beaver Stadium last year. Because Ohio State-Michigan will likely never be in prime time and Michigan athletic director Dave Brandon doesn't want to play Michigan State at night, this is about the best in-conference matchup you could wish for under the lights at the Big House.
Expect more league prime-time games to be announced soon. This one already has us salivating.
Penn State 2015 Class Debuts At No. 3
BIG TEN SCOREBOARD
Thursday, 8/28
Saturday, 8/30