June, 4, 2014
Jun 4
9:00
AM ET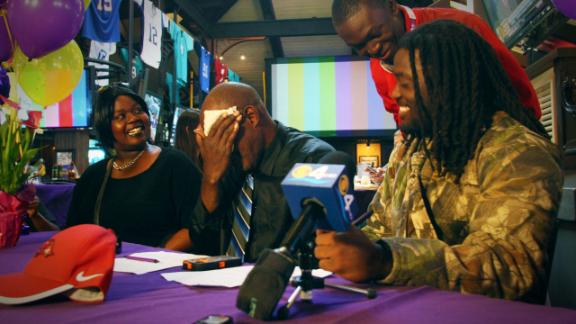 Momentum seems to be building for creating an early signing period in college football. The Conference Commissioners Association will discuss the idea as part of its agenda at a meeting later this month.
As with many things in life, the devil is in the details. The ACC
recommended an early signing date
of Aug. 1. The SEC at its meetings last month
came out against changing the recruiting calendar
, but would like to use the Monday after Thanksgiving if an early signing period does happen.
The Big Ten has not endorsed a specific stance on an early signing date as a conference. Based on interviews given to ESPN.com and other media outlets, most league coaches are in favor of it. Again, though, preferences on the when and the how differ.
Several coaches support the junior college signing period of mid-December as the right time to allow high school prospects who don't want to wait until February to sign their national letters of intent.
[+] Enlarge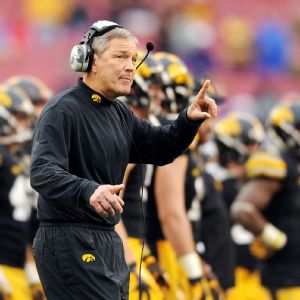 Steve Mitchell/USA TODAY SportsIowa's Kirk Ferentz is among the Big Ten coaches who favor an early signing period after the regular season.
"To me, that would be the perfect time," Iowa coach Kirk Ferentz said last summer. "I still don't understand the resistance. All it is is an opportunity to sign. They don't have to sign. I don't think anyone is going to lose a scholarship. It just gives everyone a chance to lay their cards on the table and say, 'I'm 100 percent sure now' or, 'Still not quite there.' That would be great for both parties, I think."
Northwestern coach Pat Fitzgerald, Wisconsin's Gary Andersen and Michigan State's Mark Dantonio are among others who back an early signing period in December.
"It sure would clear up recruiting for a lot of us," Andersen told ESPN.com. "In my opinion, if a kid's committed, let's have him go to the school where he wants to go, and we'll move on in recruiting and get the guys we want. I think it's the most logical answer."
A possible downside of having the early signing period in December would be that it puts more pressure on coaches to concentrate on recruiting late in the season, when championships could be on the line, or during bowl preparation. In-season recruiting pressures would grow even higher with the SEC's post-Thanksgiving recommendation.
Most who favor an early signing period say their schools and coaching staffs are spending too much valuable time, money and energy trying to re-recruit players who might have signed earlier. That's why some coaches, such as Indiana's Kevin Wilson, support a signing date before or right at the beginning of the season.
"I had guys who were committed in the summer who in the last weekend [before the February signing date] changed their minds," Wilson told ESPN.com. "It would be nice if there was an early signing period on the first of September. I don't know if we've got to move the calendar up, but we waste a lot of time and a lot of money babysitting kids who have made their decisions."
Michigan is one school that could have benefited in recent seasons from an early signing period. The Wolverines have sewn up the majority of their classes under Brady Hoke in the summer before the prospects' senior year of high school. Hoke's staff could have locked up those commitments and focused on filling out the final few spots or moving on to the following year's class.
Hoke would like to see an early signing date, but with a caveat.
"If there's an early signing period, there probably needs to be an early visitation period for those kids," he told ESPN.com. "Maybe the first two weeks in June to get on your campus."
That's a big deal for Big Ten coaches, who would love to see prospects be able to take official visits before the start of their senior year. An early signing date without an earlier visit calendar could put the league at a disadvantage against schools in more talent-rich areas. (We'll look more closely at this issue on Thursday in the blog.)
[+] Enlarge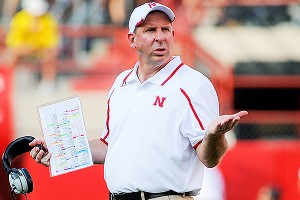 Eric Francis/Getty ImagesNebraska's Bo Pelini says allowing earlier official visits must be a part of any move toward an early signing period.
Nebraska's Bo Pelini has said he would not support an earlier signing date without those earlier visits (and even then, he said he would need more time to study the issue). Schools such as Nebraska and Minnesota, which are farther away from talent-rich hubs, simply wouldn't see many benefits to an early signing day if the rest of the recruiting calendar remained the same. Players in blue chip-heavy areas -- such as the South, Texas and California -- would be more apt to take unofficial visits at schools closer to home and then could get pressured into signing before they ever made a trip up north.
Ohio State under Urban Meyer has thrived during the final weeks of recruiting before the February signing day, as his staff has built a reputation of being great "closers." So it's no surprise that Meyer was one of three SEC coaches to vote against a proposal to support an early signing date in 2008, when he was still at Florida. Meyer said at the time that "recruiting should be done in December, January and February. I think [an early date] speeds up 17- and 18-year-olds to make a decision that affects the rest of their lives."
Maryland's Randy Edsall has proposed that schools shouldn't even send out any type of scholarship offer until Sept. 1 of a high school prospect's senior year in high school, and then those offers would come from the university's admissions office, not the coaches. That would slow things way down and make sure prospects have achieved the necessary test scores and admission standards. Yet Edsall also said this spring that if recruiting continues at its current accelerated pace, that "there definitely has to be an early signing period."
There are other issues with the early signing date, including what protection the players would have if the coach left for another job after they signed. Plus plans change in recruiting all the time.
"I see the pluses and the minuses with it," Dantonio told ESPN.com. "If you have a committed guy and he signs with you, he truly is committed. That's a positive. I also think if you take one quarterback and he thinks he's the only one, and all of a sudden you take two, how does that all play out?
"I do think it keeps people from poaching off you, whether it be us poaching off somebody or somebody else [poaching]. It makes people hold to their word. If they don't want to sign then, they're still open, and you know they're open. But I would make it a mid-December type deal. I'm not in favor of August; I'm not in favor of September. I'm in favor of, 'They've had a chance to at least visit and be on campus a couple places, so they have a feel.'"
College football does appear headed for an early signing date soon, if only the details can get ironed out.
"We get into these discussions, and everybody kind of has their own agenda of what's in the best interests for their school," Penn State coach James Franklin told ESPN.com. "But for a lot of different reasons, an early signing period makes sense for everybody."
June, 3, 2014
Jun 3
5:00
PM ET
Coming at you from an undisclosed Big Ten campus. Can you guess which one?
Twitter
!
A lot of good responses to
what you would do to improve college football
.
To the inbox ...


Jeff from Chicago writes:
What would I like to see in college football: A Big Ten-SEC Challenge every season, the first weekend of October. Just like the B1G-ACC Challenge in basketball, you make the pairings by perceived quality, play half the games in each conference's stadiums. Alabama-Ohio State. Texas A&M-Michigan. Michigan State-Auburn. Florida-Penn State. Wisconsin-Georgia. All on the same day. Would that be compelling TV or what? (And yes, I know it's not going to happen!)
Adam Rittenberg:
It would be extremely compelling TV and, unfortunately, it will never happen. Although SEC teams will have more nonleague games to schedule than their Big Ten counterparts, I could never see that league getting on board with a scheduling agreement like this one. There are other nonleague rivalries (Florida-Florida State, Georgia-Georgia Tech) that would take priority, and I just can't see too many SEC teams leaving the comforts of the South to play Big Ten opponents on the road. Maybe the playoff and its purported emphasis on schedule strength changes things.
---
Bill from Indianapolis writes:
While it would never happen, the big improvement would be to take the 4 nonconference games and reduce it to two. Then take those two games and have them played after the conference championships. Each team would get one home game and one road game against a team from another conference that finished in a similar place in the standings. Thus when the playoff teams are picked there are more quality games to choose well and it, in a way, expands the playoff by two extra weeks. A full write up on this idea can be found
here
...
Adam Rittenberg:
Interesting proposal, Bill. It could provide a more comprehensive gauge on which teams truly deserve to be part of the playoff. I actually like having nonleague games sprinkled in later in the season as some teams improve gradually. Some early season nonleague contests are really misleading. If logistics didn't matter, maybe this plan could work. I wish there was more flexibility to do short-notice scheduling in college football, but when you have big stadiums and big money on the line, it's difficult, if not impossible.
---
Rob from Morristown, N.J., writes:
Adam, you can mark this down for a "bold prediction" but I seriously (homer alert) think you are missing any one of the PSU tight ends in your mystery man option for
B1G 1,000-yard receivers
. My pick, C-Hack's best friend on the team
Adam Breneman
. All three PSU tight ends have shown they are more than capable of being reliable pass catchers,
Kyle Carter
in 2012,
Jesse James
and Breneman in 2013. With the lack of a true No. 2 receiver to compliment
Geno Lewis
, and an inexperienced O-Line that may cause a lot of dump off passes to a tight end, this could be a year that multiple tight ends push the receiving yards race.
Adam Rittenberg:
Rob, I certainly considered the possibility of a Penn State tight end breaking out this season, although 1,000 yards is a very lofty mark. Ultimately, Breneman would really have to separate himself to have a chance to catch so many passes from his buddy
Christian Hackenberg
. Breneman was hurt when I watched PSU practice this spring, and James looked like the best receiving option on the field. He's a beast at 6-foot-7 and 257 pounds -- a matchup nightmare. So while Breneman could become a superstar, I don't know how Penn State ignores James. And then there's Carter, who has 54 receptions in his first two seasons. I expect all the tight ends to play and likely limit one from producing way more than the others.
---
Joe from Ames, Iowa, writes:
As a Big Ten (Minnesota) alum, here are a few ideas on how to improve college football:
1. Ban oversigning. Eat it, Team SEC.
2. Create an early signing period.
3. Quit tinkering with rules just for the sake of tinkering. Touchback placement comes to mind. "Safety" has become the catch-all justification for every bit of tomfoolery the rules committee wants to try.
4. Expand playoff to 8 teams.
5. No polls until after Week 4.
6. USC, Texas, Nebraska, PSU, Miami, etc. return to normal and help beat some humility back into the University of SEC. A thousand years of darkness for Michigan. Reversion to pre-1993 historical means for Wisconsin and Minnesota.
7. Honestly wouldn't mind Boston College in the B1G, albeit for selfish hockey reasons.
Adam Rittenberg:
Wow, a lot of thoughts here, Joe. I'll tackle a few of them. I agree on the early signing period, but as I'll write later this week, moving up official visits to a prospect's junior year is even more important, especially for Big Ten schools. I can't agree more with pushing back any sort of poll or getting rid of them entirely. They have way too much significance in shaping the way teams and leagues are viewed. Looking at your list for No. 6, it's amazing how college football's power structure has shifted. You likely won't see any of those teams mentioned as likely playoff contenders this season. Times have changed.
---

Isaac from Stevens Point, Wis., writes:
I'd just like to throw in my two cents regarding receiving threats for the Badgers for the upcoming year. Many people are worried, and for good reason. I feel like many people have failed to notice one man:
Sam Arneson
. I have never seen the guy drop a ball and his touchdown catch against Ohio State last year was incredible. The guy has size and athleticism in an offense that features pass-catching tight ends. I wouldn't be surprised if he led the Big Ten in receiving for tight ends. What are your thoughts?
Adam Rittenberg:
Bold statement, Isaac. I like Arneson, too, and he could have a much bigger role in the offense this season. I don't know if Wisconsin will pass the ball enough for any player to eclipse 1,000 receiving yards, but the uncertainty at wide receiver creates opportunity for players like Arneson, who has only 10 career receptions, four for touchdowns. I'd be surprised if he has more yards than Michigan's
Devin Funchess
(still technically a tight end), Rutgers'
Tyler Kroft
, Ohio State's
Jeff Heuerman
and possibly several others, but his numbers will go up.
June, 3, 2014
Jun 3
1:30
PM ET
One of the things separating the Big Ten from some of the other power conferences in recent years seems to be elite quarterback play.
Take the 3,000-yard passing mark as an example. The league had just one player reach that plateau both last season (Illinois'
Nathan Scheelhaase
) and in 2012 (Penn State's
Matt McGloin
). The good news is, some talented quarterbacks returned to Big Ten campuses for the 2014 season. Will any of them reach 3,000 yards?
We took a look at the
most likely candidates
to do so on Friday, and now we want your opinion. Which of these quarterbacks will throw for 3,000 yards this season?
Vote now in our poll.
June, 3, 2014
Jun 3
12:00
PM ET
June, 3, 2014
Jun 3
9:00
AM ET
STATE COLLEGE, Pa. -- Penn State has a new offensive coordinator, a new running backs coach and a new (inexperienced) offensive line. But not everything has changed -- both of its starting running backs return for their final seasons.
As seniors,
Zach Zwinak
and
Bill Belton
are among the Nittany Lions' most experienced players. Zwinak has led the team in rushing the past two seasons, but Belton was widely regarded as the team's most improved player last fall. He finished his junior campaign with 803 rushing yards and edged Zwinak with 5.1 yards per carry.
Belton has earned a reputation as one of Penn State's hardest workers and, if you don't know his name yet, he's hoping you will by the end of this season. ESPN.com checked in with him earlier this week.
[+] Enlarge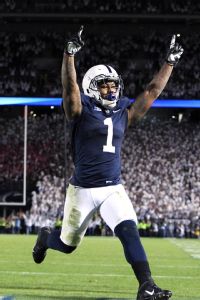 Matthew O'Haren/USA TODAY SportsPenn State RB Bill Belton rushed for 803 yards (5.1 ypc) and 5 TDs last season, and is expecting even more of himself this year.
It's June, so the football season's creeping up. How are you preparing yourself for your senior year, and what's been the focus this offseason?
Bill Belton:
I'm doing a lot of the same things, but I'm going two times harder than I did last season, just to improve on some things and take my game to the next level. I'm getting in the weight room, building more strength because, oftentimes, you hear things like, 'He's too small. He can't play all three downs.' So I've just been trying to build up my strength and conditioning at all times to help my team win and put my team in the best position.
You told me last season you save online articles where you receive criticism, that it gives you motivation. Is that where you got the "he's too small" stuff from?
BB:
Yeah. I mean, I read stuff to see what people are saying. I see some crazy stuff out there, but it doesn't affect me whatsoever. Basically, I'm just coming to get the respect I deserve, be the best player I can, push myself and hold myself to a high standard -- and become one of those players that people talk about.
How is 2014 Bill Belton different from the 2013 or 2012 version?
BB:
A better teammate, a more vocal person. Just being not only a good player but a great player that helps his teammates when they need it. Not just standing off and allowing things to happen but stepping up in situations and making sure everyone's on the same page and, basically, just being a model teammate and giving the younger guys someone to come to when they need advice.
So you're finding yourself talking to or mentoring younger running backs, like Akeel Lynch, a bit more this offseason?
BB:
Not just him. A kid that I really see a lot of potential in is [wideout]
DaeSean Hamilton
. We've been doing two-a-days, running in the morning and working out later on with the team in the afternoon and doing work. So it's not only just the running backs, but it's the receivers and DBs and whoever needs help and wants to work to get better.
It's no secret there are some concerns with the offensive line since it basically returns one starter. It seems fair to say that your job will be a little harder. Has that changed your approach at all?
BB:
All we got to do is keep working and we'll be just fine ... And, no, you just got to continue to prepare the way you were before. Like I said before, I've been working my behind off to be known throughout the Big Ten and throughout the country. That doesn't really change anything; it's going to work. We're happy; none of us are upset with what's going on. That's the hand we were dealt, and we want to continue to work and we're going to be good come Aug. 31.
Let's talk a little bit about your head coach, James Franklin. What are your impressions of him, and how does he compare to Bill O'Brien?
BB:
Every guy is different; every head guy who comes here is different. They have ways they do things. Franklin came in, and he was a fiery guy. He instilled that competitive spirit throughout our team so, whatever we're doing, we're competing and trying to get better and take this team to where it has been before and just return it to that prominence in the Big Ten. O'Brien and Franklin, they have a relationship, so things they do are pretty similar.
Including interim guys, you've had five head coaches over your college career. That's unprecedented at Penn State. What kind of adjustment has that been, and is there any good that comes from having that many coaches?
BB:
The good coming from it is, if you think about all the guys from our team, everyone wants to take the step to the next level. And we learned a lot of systems, and the systems we learned can help us at the next level. And with the coaching situation, it's just something we have to deal with. It's not something we asked for, but we had a chance to play under a few different guys and every time it was different. There was nothing, like, terrible to come out of it. It was just a learning experience.
One player who's been alongside you for the entire ride is Zwinak. What's your relationship like off the field, and what's it been like splitting carries with one another? Last season, you had 36 carries against Illinois and then seven the week after.
BB:
We have a good relationship off the field. It's basically the same thing -- we're total opposites, but sometimes opposites get along. And that's what it's been like. We have fun with each other, and we compete with each other. But, at the end of the day, we both know we're going to need each other. I'm going to feed off him, and he's going to feed off me.
When one guy gets going, we support. It's not something like, 'I'm against you and you're against me.' At the end of the day, we're on the same team and we're all trying to accomplish the same thing.
Final question. Franklin likes the Wildcat. You were an all-state high school quarterback. So, I'm curious -- any chance we see you throwing the ball a little, or at least lining up at quarterback for a few plays?
BB:
I don't know, I don't know. Maybe. I don't know. We'll just have to wait and see. [Laughs]
June, 2, 2014
Jun 2
1:30
PM ET
Big Ten receivers undoubtedly took a step forward last season after struggling mightily the year before. Will the group continue to improve or backslide after losing standouts such as
Allen Robinson
, the back-to-back Big Ten receiver of the year,
Jared Abbrederis
,
Jeremy Gallon
and
Cody Latimer
?
The 1,000-yard mark means more to wide receivers than rushers, especially in the Big Ten. Four players reached the milestone in 2013 after just one (Robinson) in 2012. The Big Ten had four 1,000-yard receivers in 2011 but none in 2010 and just one (Purdue's
Keith Smith
) in 2009. So this category can be tricky to forecast.
Although no Big Ten returning player had more than 800 receiving yards in 2013, the league boasts several potential breakout stars. Your task today: Select the Big Ten player most likely to eclipse 1,000 receiving yards this fall.
The candidates ...

Kenny Bell, Nebraska, senior:
The 'fro, tragically, is
no mo'
after Bell lost a bet to his friend, Northern Colorado defensive lineman
Devontae Chapple
. But perhaps less hair will mean more production after Bell's receiving yards went from 863 in 2012 to 577 last year. Nebraska never has had a 1,000-yard receiver, and quarterback
Tommy Armstrong Jr
. has much to prove as a passer, but Bell is one of the nation's most experienced wideouts.
Stefon Diggs, Maryland, junior:
Big Ten fans who haven't seen Diggs are in for a treat, at least when he's not facing their favorite team. An ESPN 150 recruit who picked Maryland over Ohio State and others, Diggs finished eighth nationally in all-purpose yards (174.2) as a true freshman. He averaged 17.3 yards per reception through Maryland's first seven contests last season before suffering a broken leg. Diggs should be fine for the season and can put up huge numbers with his big-play ability. Maryland's depth at receiver --
Deon Long
also returns from a broken leg -- could make it tough for Diggs to get to 1,000 yards.
Devin Funchess, Michigan, junior:
Funchess is listed as a tight end and won the Big Ten's tight end of the year award last fall, but he plays like a bigger receiver at 6-foot-5 and 230 pounds. He has averaged 15.5 yards per reception in his first two seasons with 11 touchdowns, setting a team record for receiving yards by a tight end with 748 last fall. Funchess becomes quarterback
Devin Gardner
's favorite target as Gallon departs. Michigan needs its receivers to step up, but Funchess could threaten 1,000 yards this year.
Shane Wynn, Indiana, senior:
Like Bell, Wynn saw a slight production drop from 2012, when he led Indiana with 68 receptions, to last season, when he had 46 but still put up about the same yardage. But the departures of Latimer and tight end
Ted Bolser
, both selected in the NFL draft, along with
Kofi Hughes
and
Duwyce Wilson
leave Wynn as undoubtedly Indiana's No. 1 passing target. Quarterbacks
Nate Sudfeld
and
Tre Roberson
will be looking for Wynn a lot this fall, and his numbers could surge in a productive IU offense.
And, finally ...
Mystery man:
Don't like any of these candidate to reach 1,000 receiving yards? This is the spot for you. Maybe Rutgers'
Leonte Carroo
complements his touchdowns with bigger yards totals this fall. One of the Northwestern Joneses (
Christian
or
Tony
) might reach 1,000 yards in a more pass-driven offense.
Geno Lewis
could follow Robinson's path at Penn State. Maybe Ohio State's
Devin Smith
gets there. Will one of Michigan State's receivers --
Tony Lippett
,
Macgarrett Kings
,
Aaron Burbridge
,
Keith Mumphery
-- separate from the pack? Maybe one of the spring standouts -- Iowa's
Derrick Willies
, Illinois'
Geronimo Allison
or
Mikey Dudek
, Michigan's
Freddy Canteen
-- has a true breakout season.
June, 2, 2014
Jun 2
12:00
PM ET
Chicago Blackhawks -- One Goal (Away). So close. But congrats to the Kings, a more resilient team.
Links time ...
June, 2, 2014
Jun 2
9:00
AM ET
Last week, we took a look at some notable offensive milestones --
3,000 yards passing
,
1,000 yards rushing
and
1,000 yards receiving
-- and which players in the Big Ten were most likely to reach them. Now, let's turn to the defensive side of the ball and examine which players might get to another impressive plateau: 10 sacks.
[+] Enlarge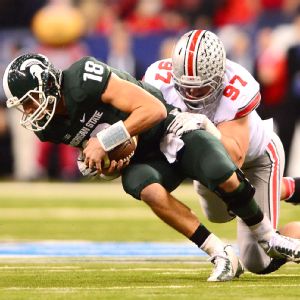 Andrew Weber/USA TODAY SportsOhio State's Joey Bosa is poised to become one of the Big Ten's fiercest pass rushers.
In light of those quadruple-digit offensive numbers, 10 might seem like a modest goal for sacks. But only one Big Ten player made it there last season -- Nebraska's
Randy Gregory
, whom we
correctly pegged as a possibility
last summer -- and none did in 2012. Only 20 players in the FBS finished in double digits in sacks last season. So it's not easy.
But there are a handful of players in the league who have the ability and opportunity to register 10 or more sacks in 2014. They are:
Randy Gregory, Nebraska (10.5 sacks in 2013): The physically imposing Huskers defensive end could cause even more damage now that he has a full season of FBS competition under his belt. There's a reason some are projecting him as top-10 NFL draft pick next spring.

Joey Bosa, Ohio State (7.5): Bosa burst onto the scene as a true freshman, finishing with 7.5 sacks. His freakish combination of strength and speed could help him achieve true superstar status as a sophomore. Also watch out for Buckeyes teammate Noah Spence, who had eight sacks a year ago but will miss the first two games of the year because of a suspension. It will be extremely difficult for opponents to double-team the two defensive ends once Spence comes back.

Andre Monroe, Maryland (9.5): We have to rank the Terps senior this high because he very nearly recorded 10 sacks last season in the ACC. The self-proclaimed fireball aims to burn Big Ten offensive lines this fall.

Shilique Calhoun, Michigan State (7.5): The Big Ten's defensive lineman of the year became known for his early season scoring prowess and was a fearsome pass rusher. But despite having a great year over 14 games, he still finished well shy of 10 sacks. Shows you how hard it is to get there.

Theiren Cockran, Minnesota (7.5): Somewhat quietly, Cockran was one of the leading sack artists in the league a year ago. He's long and quick off the edge. He won't have Ra'Shede Hageman inside to take away attention, but Cockran has shown that he can do damage by himself.

C.J. Olaniyan, Penn State (5): It's hard to block the 6-foot-3, 245-pound Nittany Lions senior, who led the team in quarterback takedowns a year ago. Of course, we also have to mention Deion Barnes, who had six sacks in 2012 en route to Big Ten freshman of the year honors but slipped to just two in a disappointing 2013. Can Barnes bounce back?

Frank Clark, Michigan (4.5): Clark didn't quite have the monster breakout year some predicted for him in 2013, but he was very solid with 12 tackles for loss. He's got enough skill and experience to improve those numbers for a Wolverines defense that aims to pressure opposing passers a lot more this year. Perhaps a healthy Jake Ryan, who had 4.5 sacks in 2012 but none in an injury-shortened season last fall, also could make some noise in this category.
June, 1, 2014
Jun 1
10:20
PM ET
The top prospects from all over the Midwest came out to perform at the Columbus NFTC. When you gather that much talent in one place, it's only natural that a lot of recruiting news will follow.
ESPN 300 linebacker
Justin Hilliard
was one of five prospects who earned an invitation to The Opening, and Hilliard discussed whether or not he has narrowed his top-five down even further.
He was one of many uncommitted recruits who made news on the day, as did running back
Mike Weber
, defensive end
Jashon Cornell
and offensive lineman Matt Burrell.
Those prospects became targets at the camp for some of the committed recruits on hand. One of the main targets was No. 1-ranked running back
Damien Harris
, who will soon have news of his own.
List to narrow for Harris
May, 30, 2014
May 30
4:30
PM ET
The next time we meet (barring breaking news), it will be June. One month closer to the season.
Follow us
on Twitter
.
Looks like I made a few friends down South after
this post
.
To the inbox ...
Jonathan from San Antonio writes:
While I get the irony of oversigning and then standing on "integrity" to complain about Franklin, do you get the irony of your article? You seem to defend Franklin's strategy based on the fact that others do it and that it's within the rules. Yet, you (Big Ten proponents and fans) complain about oversigning, when it too is a "others are doing it," and "it's within the rules" equally applies to that practice. So if you want the SEC to stop complaining about this particular issue (and join in), then the Big Ten needs to stop complaining about oversigning (and join in).
Adam Rittenberg:
Jonathan, you can't possibly be equating oversigning to guest-coaching at another program's camp? Only one of those tactics hurts players. Only one involves dishonesty. My post had a heavy dose of sarcasm, but just to be clear, I don't like oversigning. I have no problem with guest-coaching at camps. Who does it harm? It's a brilliant move by James Franklin, and other coaches either have or will follow. The SEC should get rid of its rule and guest-coach as well. No issue there. These are two extremely different tactics, and only oversigning does real damage, in my view.
---


Tracie from Manhattan, Kan., writes:
You obviously have a personal vendetta against the SEC and are using your public platform to voice your biased opinion. It's disappointing that ESPN allows this type of journalism to be on the website. The message that I received from this article is how jealous you are of the SEC and will try to put the conference down in order to make the Big Ten look better. What actually happened is you made the Big Ten look like all it can do to compete with the SEC is to try to find a loophole. Good luck in your future attempts at journalism, this was a complete fail. Go Hogs.
Adam Rittenberg:
It's kind of funny, Tracie, because every third email I receive states how ESPN promotes the SEC whenever possible. I don't have a vendetta against the SEC. It's a great league with great coaches. It's also a league that doesn't get called out enough for things like this. People might think I'm a Big Ten homer for writing that post. Those
who read me
know
that's far from the truth
. The Big Ten is justifiably criticized for its missteps. The SEC seems to get a pass because it wins national championships. It's not a jealousy issue. The Big Ten
is
way behind the SEC when it comes to recruiting and winning. That's why Franklin's guest-coaching plan makes complete sense. The funny part is that the SEC, a league very good at football but also very good at bending recruiting rules to its advantage, has a problem with it. Woo Pig Sooie!
---
Zac from Colorado Springs, Colo., writes:
No
Ezekiel Elliott
on your list? I know Meyer only has one 1,000-yard (running back) rusher all time, but Elliott is going to get the majority of the carries this year for the Buckeyes. He's more of a home-run threat than Hyde and I'm sure he'll get 1,000-plus this year.
Adam Rittenberg:
I like your confidence, but I need to see more from Elliott to include him on the list of likely 1,000-yard rushers. I can't include every player who eclipsed 250 yards last year. The list becomes pointless. Elliott is a talented back, but 162 of his 262 rushing yards last year came against Florida A&M. He had more than two carries in only one Big Ten game, against last-place Purdue. I also think Ohio State will mix and match backs. So while Elliott could reach 1,000 yards, he needs to prove himself this season.
---
Kevin from Fort Myers, Fla., writes:
Adam, I know there has been talk about [head coach Brady] Hoke being on the hot seat or even let go if there is another losing or unsatisfactory season. If this were to occur (knocking on wood), would there be a chance Coach [Doug Nussmeier] would take over, seeing how he has the résumé for it and that there was talk that his stop at U of M was just temporary until a college came for him as a head coach? Head coach of the Wolverines would be an attractive job for Nuss. ... Your thoughts?
Adam Rittenberg:
It would be an attractive job, Kevin, but it won't happen for several reasons. The biggest one is simple logic. If Michigan is to consider Nussmeier for the top job, Nussmeier would have to perform well as offensive coordinator this season. And if the offense performs better, the team seemingly will, too. Michigan's defense should be as good and likely better than it was in 2013. The team's big issues are on offense. If those are rectified, the win total goes up and Hoke stays. Athletic director Dave Brandon does not want to fire Hoke, whom he hired. Plus, I'd be surprised if Michigan would replace Hoke with a first-time head coach.
---

Anthony from Columbus, Ohio, writes:
It seems like whenever a Big Ten team has a successful year (aka beating Ohio State), that team always underperforms the next season. Penn State, Illinois, Wisconsin, and Michigan have all made it to BCS bowls after winning against Ohio State, but didn't have the same success the next year. Do you think this will happen with Michigan State?
Adam Rittenberg:
Interesting observation, Anthony, although I wouldn't say the 2011 Wisconsin team, which beat Ohio State in 2010 but repeated as Big Ten champion the following year, grossly underperformed. This seems more coincidental than anything else. Michigan State could take a step back if certain linebackers and defensive backs struggle, or if some of
Connor Cook
's near interceptions turn into actual interceptions. But I like how the Spartans, who have been very good at home under Mark Dantonio, get Ohio State, Michigan and Nebraska on their home field.
May, 30, 2014
May 30
12:00
PM ET
Glorious sunset of my heart was fading. Soon the
super karate monkey death car
would park in my space. But Jimmy has fancy plans. And pants to match.
May, 30, 2014
May 30
11:11
AM ET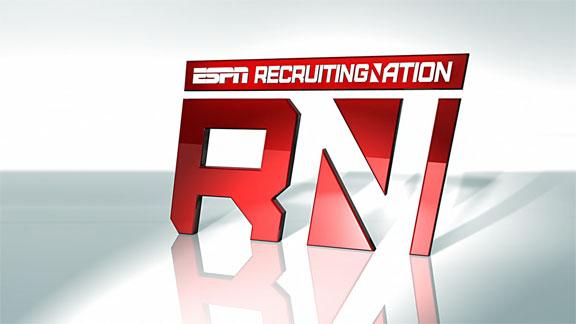 On Friday, ESPN 300 linebacker
Josh Barajas
switched his commitment from
Penn State
to
Notre Dame
. Below, Craig Haubert gives his take on what Barajas' change of heart means for the Irish:
To continue reading this article you must be an Insider
May, 30, 2014
May 30
10:30
AM ET
Many of you are doing your homework this week: crafting ideal future schedule models for your favorite Big Ten team. We posted
several submissions Thursday afternoon
, and here are some more for you to pore over.
Enjoy!
Matt from L.A.

Affiliation:
Wisconsin
Big Ten games:
Nine. Six division, three crossovers, including protected crossover with Michigan State. Other protected crossovers: Indiana-Purdue, Michigan-Minnesota, Ohio State-Illinois, Penn State-Iowa, Maryland-Nebraska, Rutgers-Northwestern (Nebraska and Northwestern fans will complain. Deal with it.)
Nonleague plan:
Two games vs. other Big 5 schools (one at a neutral site, one as part of a home-and-home in back-to-back years, preferably with a Pac-12 school). Both games take place in the first four weeks. One home game vs. MAC team. I think that it is productive for both sides to play MAC teams.
FCS opponents:
No. Does more harm than good, no matter what.
Neutral-site games:
I'm a big fan of neutral-site games for recruiting purposes especially, but also for exposure in general. They can also be a welcome chance to see the team in person for fans living in other areas of the country, or for those who want an excuse to travel. I would love to see Wisconsin vs. Arkansas in Atlanta, Houston, Dallas, or New Orleans for obvious Bielema-related reasons.
---
Vince from Santa Barbara, Calif.

Affiliation:
Iowa
Big Ten games:
Eight. Six in the division and two rotating crossover games in which we play all seven teams over the course of three and a half years.
Nonleague plan:
One against each school from the Pac-12, SEC, ACC and Big 12. How awesome would that be?! My initial choices would be teams that mirror the athletic history, recent game history and recent (last decade) success that Iowa has had in the following desired order -- Pac-12: UCLA, Washington, Arizona -- SEC: Ole Miss, Tennessee, South Carolina -- ACC: Georgia Tech, Clemson, Virginia Tech -- Big 12: Texas, Kansas State, Missouri.
FCS opponents:
None (sorry, Northern Iowa)
Neutral-site games:
I love the idea. Fits best with teams from the Big 12 and SEC. Iowa vs Kansas State or Missouri (they owe us a game) in Kansas City, or Iowa vs. Tennessee in St Louis.
---
Lachian from Winnipeg

Affiliation:
Penn State
Big Ten games:
Nine. I have no problem watching PSU play nine games with some of the more historical brands (i.e Ohio State, Michigan, Nebraska, etc.).
Nonleague plan:
Make it an even four of four [against Power-5 conference teams]. You just don't get the sense that the stadium atmosphere is up there with an FCS team as it would be with an OOC rival like Pitt or even teams like Notre Dame, Alabama, which jump out to fans and get them excited about the season heading into conference games.
FCS opponents:
No, unless PSU is constantly scheduling the top-tier FCS teams. I don't feel people are interested in seeing them play, especially as PSU gradually gets the scholarships back from the ban and the depth comes back.
Neutral-site games:
I thought watching PSU-Syracuse at MetLife (Stadium) last year was pretty neat, and of course the game in Dublin is cool, though waking up at 7 a.m. won't be particularly fun. As long as it's with a respectable opponent in a stadium outside of the college football world with some history to it you can't really go wrong.
---
Tony from Auburn

Affiliation:
Purdue
Big Ten games:
Nine. Ten games is out of the question due to budget issues, and we might as well not even be a conference with only eight.
Nonleague plan:
There should be a minimum of one game per season against other Power-Five teams, if for no other reason than giving a more exciting game to the fans. It wouldn't be an Auburn or a Stanford, but it would still be better than our usual full slate of MAC teams.
FCS opponents:
I don't think there needs to be a hard rule against FCS opponents. All any school should really be after is scheduling teams of a similar level of play. The Ohio States and Wisconsins should definitely not be scheduling any FCS teams, but after Purdue's pitiful 2013 season, beating any FCS team is still better than losing to a bad FBS team.
Neutral-site games:
Really aren't on my radar. Without a LSU-Wisconsin at Lambeau Field-level of hype, I don't know if neutral-site games would pay out enough to be worth it. Notre Dame is the only opponent that could possibly generate enough excitement for most fans to travel for a Purdue game, so I guess we'll see how this year's contest in Indianapolis goes.
---
Jerome from Toronto

Affiliation:
Nebraska
Big Ten games:
Nine. I would take out the divisions. Every team plays five natural conference rivals EVERY year, then rotates the remaining eight teams through a four-year cycle so they play four teams for a home-and-home, and then the next four teams for a home-and-home.
Nonleague plan:
Play a major Power-Five school (home/home). Play either a lower Power-Five school or a good non-Power-Five school. Play any FBS school you can get to visit Lincoln that won't require a home-and-home series.
FCS opponents:
No. I hate seeing FCS games on the schedule so I'm glad the B1G is eliminating these games completely.
Neutral-site games:
Should be left for the bowls, and playoff games.
---
Nick from Washington, D.C.

Affiliation:
Ohio State
Big Ten games:
Ten. It's worth it for more Iowa, Wisconsin and Nebraska games.
Nonleague plan:
One game against a big-name program, presumably from a Power-Five conference (USC, Texas, Alabama, FSU, Oregon, Georgia, Stanford). One game against a respectable team from a Power-Five conference (Tennessee, UNC, Washington, Texas Tech, Cincinnati, Syracuse, Boston College). One tune-up game against the Little Sisters of the Poor or similar programs (Akron, Bowling Green, Kent State, Arkansas, Connecticut).
FCS opponents:
No. They don't need to go down a division for a tune-up game. Also, losing would be horribly embarrassing.
Neutral-site games:
No. And especially not in the south. The SEC is just using these "neutral-site" games as a way to avoid a home and home. MAKE. THEM. COME. NORTH.
Penn State Outlasts UCF In Opener
BIG TEN SCOREBOARD
Saturday, 8/30
Thursday, 8/28
Friday, 8/29