January, 11, 2014
Jan 11
5:56
PM ET
James Franklin won more games at Vanderbilt than most people expected. But there should have been no surprise that Franklin won the press conference as he was introduced as Penn State's new head coach on Saturday. Crushed it, actually.
Self-confidence is one of Franklin's more easily identifiable traits. It fairly oozes out of him and is part of the reason why he has been such a terrific recruiter during his career. So Franklin had no problem setting the bar high for his Nittany Lions tenure during a news conference that lasted almost an hour.
[+] Enlarge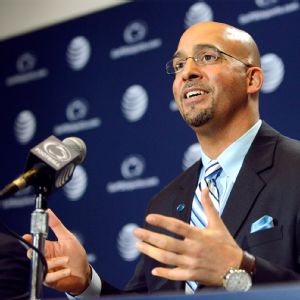 AP Photo/ John BealeJames Franklin described his desire to aggressively recruit all of Pennsylvania.
On recruiting, for example, Franklin said, "We are going to dominate the state. We are going to dominate the region." He later mentioned the domination angle a couple more times. He also said he would recruit all corners of Pennsylvania and that his team would primarily be comprised of in-state players, though he'd also recruit nationally. Look out, Pitt.
Did we say confident? Here was Franklin's reply when asked about attendance at Beaver Stadium, which has sagged a bit in recent years:
"How many does the stadium hold?" he asked. "[It will be] 107,000 every single game from here on out. That stadium will be sold out from here on out."
Franklin's predecessor, Bill O'Brien, was uncomfortable having to play the role of Penn State's top ambassador and unifier of the community. The new coach made it clear he embraces that wholeheartedly.
"I think I'm the right guy to come back and unite this state and bring this program back to where I think it should be," said Franklin, a Pennsylvania native. "... The healing process is why I'm here. It's why we're all here. To bring this great university back together."
Franklin said he took all the deans, provosts and faculty leaders out to lunch when he first got to Vanderbilt and will do the same in State College. He plans on reaching out to just about every stakeholder at the university and said he'd never turn down a speaking engagement. In a great line, he added that "if people ask us to blow up balloons in the backyard, we'll do that as well."
He didn't run away from the Joe Paterno faction, either, calling him a great man and saying he was enthralled by Paterno's "success with honor." Franklin said he's talked to several former Penn State players on the phone already and that he has gotten to know and respect Paterno's widow, Sue.
In short, Franklin said all the right things to get the Nittany Lions fan base fired up. Here are some more notable items from his introduction:
Franklin was asked about the Vanderbilt scandal in which four players were accused of raping an unconscious 21-year-old woman in June. He called it the most-challenging situation he'd ever been through and said he and Penn State's search committee discussed it thoroughly.
"We were honest and we were upfront that we made decisions quickly and tried to do everything we possibly could to respect the situation," he said.
Athletic director Dave Joyner said the vetting process on Franklin was the most thorough background check used on any hire in school history. The search committee did its due diligence, he said, and spoke to many people at Vanderbilt about Franklin.
"My belief, without a doubt, is James Franklin is a man of extremely high character," Joyner said.
The uncertainty at president and athletic director, where new people should be in place by the summer, was a concern for Franklin. But he said he was sold on the larger picture and was confident that Penn State "has a plan and has a purpose." He also called Penn State his dream job, something he said he mentioned to his wife when they started dating. Franklin grew up a Penn State fan and attended a Nittany Lions camp in the 11th grade.
"I thought I was good enough to play at Penn State," he said. "I was not."
Franklin said he hoped to be at Penn State a long time. He had interest this offseason from some NFL teams but said, "I'm a college guy. I'm a relationship guy."

Franklin said he will sit down with Larry Johnson, who served as interim coach after O'Brien left, and former assistant Ron Vanderlinden, but described himself as "fiercely loyal" to assistants he's worked with in the past. Expect several Vanderbilt assistants to follow him to State College.

On his coaching philosophy, Franklin said, "We're going to be multiple-pro style offense, defense and special teams. I'm not a guy that's going to pigeon-hole what we do." He added that Penn State would be aggressive in everything it does, including getting off the bus. And he said the team would take chances and have fun, "and it always helps to have a quarterback." He's pretty excited to coach Christian Hackenberg.

Franklin didn't have a lot to say about dealing with Penn State's remaining NCAA sanctions. He said he'd let the administrators handle trying to get those penalties reduced and he'd focus on making the team the best it can be on and off the field.

Franklin plans to reach out to Penn State's committed players very soon. Some of them he recruited at Vanderbilt. The ones who chose the Nittany Lions over the Commodores will find themselves at the bottom of the depth chart, he joked.
January, 11, 2014
Jan 11
10:00
AM ET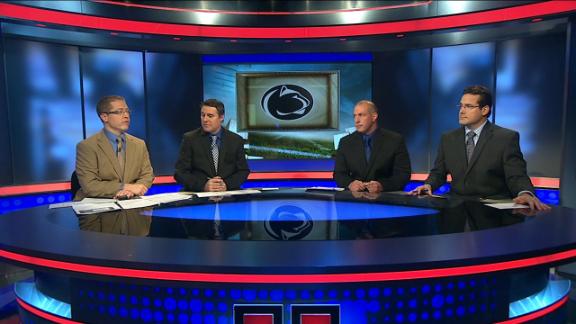 Penn State has
hired former Vanderbilt coach James Franklin
to take over the vacant head-coaching position in Happy Valley. With a coaching change coming so close to signing da, there are always recruiting implications, and this one seems to be positive for Penn State.
Reactions from the Nittany Lions' commitments in the 2014 class have been overwhelmingly positive, including comments from some of the commits set to enroll early.
To continue reading this article you must be an Insider
January, 11, 2014
Jan 11
9:35
AM ET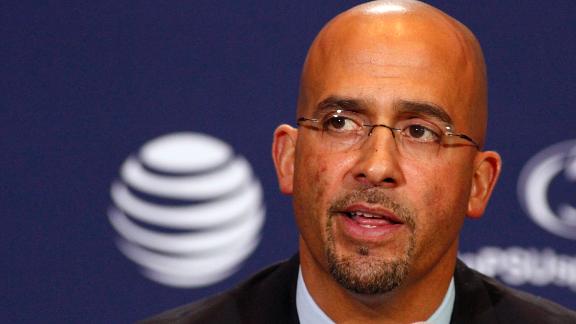 STATE COLLEGE, Pa. -- ESPN 300 receiver
De'Andre Thompkins
didn't know whom his Penn State coach would be on Monday night. The Nittany Lions' commit only knew the coach he preferred.
"I really hope [James] Franklin takes it," he told ESPN.com, five days before the hire became official.
He wasn't the only one -- four-star wide receiver
Chris Godwin
felt similarly -- because Franklin's reputation precedes him. He's the gregarious coach who calls recruits "homeboy" and the tireless recruiter who
clips two cell phones to his boxers
when he's preparing for a night's rest.
[+] Enlarge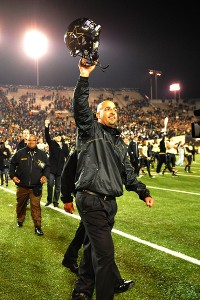 Don McPeak/US PresswireJames Franklin was the most successful coach at Vanderbilt in generations, and his outgoing personality is infectious.
He garnered Vanderbilt commitments from ESPN 300 prospects in Florida, Georgia and California. He convinced offensive tackle and Louisiana native
Bailey Granier
to choose Vandy over Alabama and Florida State. And he reeled in 22 four-star recruits during his time there -- a half-dozen more than Penn State. The Commodores managed a total of just one four-star prospect in the six previous classes.
Franklin's impact on the Nittany Lions' future recruiting classes -- and on overall recruiting in the Big Ten -- should be instant and far-reaching. An ACC coach told CBS' Bruce Feldman that, if Franklin wound up at Penn State,
"He'd kill it in recruiting around here."
"He's very different because he's so approachable," said Ricky Bowers, a high school coach at The Ensworth School in Nashville, Tenn., whose team won four consecutive state titles. "He's just different. He's friendly, likable and passionate.
"The only way you wouldn't like him is if you were jealous of him."
Franklin drove to Ensworth before the state title game just to wish Bowers luck. And Bowers said Franklin is that rare type of coach with whom he can just shoot the breeze on the occasional lazy day.
Franklin was characterized by others as an energetic recruiter with an infectious personality -- so Bowers wasn't surprised much by all the NFL attention. After all, Nashville-area recruits looked at Franklin as the man who built up the local college program out of the ashes. Lest you think that's an exaggeration, consider this: Before Franklin arrived in the Music City, the Commodores last boasted a nine-win season in 1915, a full decade before Joe Paterno was born. In the past two years, Vanderbilt has recorded back-to-back nine-win seasons.
"Good gracious, he's got everybody fired up about football," said Marty Euverard, the high school coach at Montgomery Bell Academy in Nashville. "He just knows how to build relationships, and I think that's a key component. Some people have a gift; some don't. He's got it."
Penn State's old coaching staff
tried
to construct new recruiting pipelines. Former defensive coordinator Ted Roof attempted to circle back to his recruiting roads around Georgia and, when he left, safeties coach Anthony Midget focused on his old stomping grounds in Florida. Their spoils? Roof helped reel in two 2013 commits who remain on the roster, defensive back
Kasey Gaines
and defensive tackle
Parker Cothren
, from Georgia and Alabama, respectively. Midget didn't grab any in the most recent class.
Compare that untapped territory with Vanderbilt. The Commodores signed three players from California -- and that was just in the last class alone. Vanderbilt's current roster includes players from 21 states. No recruiting area has really been off-limits to the bald coach with the trademark frames.
"He's been able to cast a wide recruiting net at Vanderbilt, one that's broader than any net I've seen cast," Bowers told ESPN.com. "He's honed in on schools that Vanderbilt has not traditionally been in on. When you first see him, he just has this personality, where you like him right away. He's just a nice guy and, yeah, he's a really good recruiter."
Franklin was able to attract top recruits to a cellar-dwelling program and turn it into something special. It's unknown what he can do with a former powerhouse -- whose fans once showed up in the thousands
for a 7 a.m. pep rally
, and showed up by the handful Wednesday night in snowy, below-freezing temperatures at the airport just to catch a glimpse of Franklin.
Nobody can say for sure the heights that Franklin can take this program, recruiting-wise. But Thompkins and Godwin aren't the only ones who are excited -- and Big Ten newcomers Maryland and Rutgers, two teams in PSU's recruiting footprint, shouldn't be the only ones who are worried.
January, 11, 2014
Jan 11
9:30
AM ET
Penn State is Dream Job No. 2 for
James Franklin
.
Dream Job No. 1 slipped out of his grasp in 2010, when Maryland hired Kevin Anderson as its athletic director.
In February 2009, Franklin was Maryland's offensive coordinator and one of the country's fastest-rising young assistants. He was one of the nation's top recruiters and locked in to become the program's next head coach. Franklin was
named Maryland's head-coach-in-waiting,
patiently working alongside former coach Ralph Friedgen as offensive coordinator and waiting for his turn as the CEO of the struggling program.
[+] Enlarge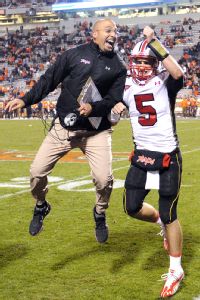 G Fiume/Maryland Terrapins/Getty ImagesNew Penn State coach James Franklin, shown in 2010 as Maryland's offensive coordinator, was once Maryland's head-coach-in-waiting.
"I always dreamed of this opportunity," Franklin, a two-time assistant with the Terps,
said at that time
. "I think I have a pretty unique perspective on the university and what it's going to take to be successful here. Really, our plan and our discussion was about continuing to build off the foundation Ralph has laid here and continue to build this program into one of the elite programs in the country."
How ironic.
As Maryland heads into the Big Ten next season, James Franklin is going to be the Terps' worst nightmare. (Well, him and Ohio State ...)
He's already established as a recruiter in Maryland's backyard, working the high schools of the District of Columbia and the surrounding counties of Maryland. He's well connected with high school coaches, prospects and their families throughout the Baltimore-Washington-Pennsylvania territories -- all areas that the Nittany Lions have successfully recruited in the past. (Franklin, a native of Langhorne, Pa., versus Mike Locksley in recruiting will be as good as any rivalry in the ACC – or the Big Ten, for that matter.) Franklin is an energetic, passionate young coach who will take over a program that – despite all its lingering issues – still has more resources and support than Maryland.
And yet there was a time when Maryland was the only place he wanted to be.
Franklin used to spend his Thanksgivings at the University of Maryland, where his aunt used to work in admissions. Franklin, a graduate of East Stroudsburg University in Pennsylvania, had plenty of connections to the area, much as he does to Penn State. When Anderson was hired in 2010, though, he made it very clear that while Franklin could be a candidate to replace Friedgen, there was no guarantee Anderson would honor the coach-in-waiting plan.
In retrospect, it was a smart move by Anderson. Had Franklin stuck around and not been named head coach by January 2012, Maryland would have owed him $1 million. By letting Franklin know there were no promises, it not only opened the door for him to leave on his own, it encouraged the move before Friedgen was even fired. Had Franklin still been on staff when Friedgen was fired, many would have expected Franklin to take over.
So when Vanderbilt called, Franklin had little choice but to answer.
Vandy's win was Maryland's loss, as it was impossible not to compare the direction of the programs during Anderson's tenure.
The Commodores' 24-15 record under Franklin matched the legendary Dan McGugin for the most victories in school history by a coach in his first three seasons. For the first time in the program's 124-year history, Vandy was ranked in the AP Top 25 in back-to-back seasons. Vanderbilt's 41-24 win over Houston in the BBVA Compass Bowl gave the Commodores back-to-back nine-win seasons for the first time in program history.
Meanwhile, Maryland was thrilled just to get to a bowl game for the first time under Randy Edsall – a bowl game they lost Dec. 27 to Marshall in nearby Annapolis.
While the decision made sense to many at the time and eliminated a sticky situation on Maryland's coaching staff, Maryland will now continue to be haunted by the one who got away.
The timing of the hire is certainly uncanny.
Once seemingly inseparable, Maryland and James Franklin are heading to the Big Ten together -- and yet they couldn't be further apart.
January, 11, 2014
Jan 11
9:30
AM ET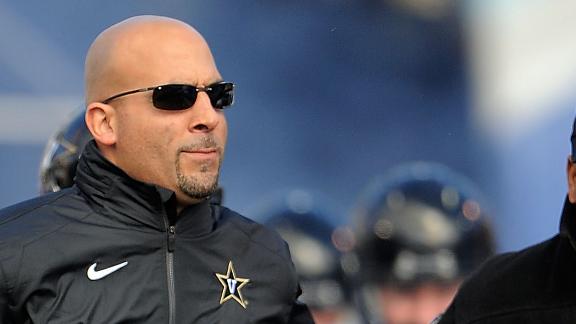 Penn State's last coaching search went at a slow, seemingly wayward pace and left plenty of questions, especially about the man being introduced to lead the program on Jan. 6, 2012.
There will be no Bill O'Who moments when James Franklin,
officially hired today as Penn State coach
, steps to the lectern this afternoon inside Beaver Stadium. Franklin is a known name and a big name in the coaching profession. He has accomplished what few believed possible: He made Vanderbilt not merely relevant in football, but pretty darn good with three consecutive bowl appearances and a 24-15 record. The 41-year-old has been mentioned for seemingly every college and NFL coaching vacancy this year. If Penn State fans weren't familiar with his work before the past few weeks, they certainly are now.
[+] Enlarge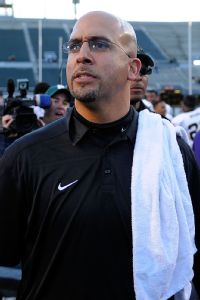 Stacy Revere/Getty ImagesNew Penn State coach James Franklin led Vanderbilt to a 24-15 record.
Franklin isn't a mystery man like Bill O'Brien was two years ago. Penn State is getting a sharp, dynamic coach who can compete with Ohio State and Michigan on the recruiting trail and, despite the lingering NCAA sanctions, should soon make Penn State a contender in a tough Big Ten East division. Some felt sorry for Penn State when O'Brien bolted for the NFL just two seasons after the NCAA imposed unprecedented sanctions on the program, including a four-year postseason ban.
No one is feeling sorry for Penn State now. The only pity party being thrown might be by new Big Ten member Maryland, which tapped Franklin as its coach-in-waiting in 2009 but couldn't keep him in town.
This is a move that carries potential high rewards for Penn State, and also some risks.
Franklin signed the nation's No. 22 recruiting class in 2013, and Vanderbilt's 2014 class currently ranks 29th. He's an exceptional recruiter with national reach, as well as ties both in the state -- he's from Langhorne, Pa., just outside Philadelphia, and played quarterback at East Strousburg University -- and in the Mid-Atlantic. Franklin's time in the SEC should put Penn State in play for more prospects in a region they rarely have entered.
Vanderbilt's current roster
includes players from 21 states, including the big three (Texas, Florida and California), but also Big Ten states Ohio, Illinois, Indiana and Pennsylvania.
There has been a lot of talk about Ohio State coach Urban Meyer shaking up the Big Ten with his "SEC-style" recruiting approach. Well, Meyer has company with Franklin. That's not a bad thing for a league that for the most part lags behind in recruiting at the highest levels.
Franklin will fire up Penn State fans, players and recruits when he speaks. He oozes confidence -- some see it as arrogance -- and won't flinch at the NCAA sanctions, the administrative instability and the pro-Joe Paterno section of Penn State's fan base, which
frustrated O'Brien at the end
of his tenure (but wasn't the primary reason he left). Penn State is an old-school program and Franklin is undoubtedly a new-school coach, but the marriage can be successful.
His hiring also brings some potential red flags.
1.
Franklin has had six coaching jobs since 1999 and hasn't remained in one place for longer than five years. Although many believe he's suited for the college game, NFL teams could come calling if he continues to succeed. When top SEC vacancies become available, his name likely will be mentioned. For all his talk of "anchor down" at Vanderbilt, it's debatable whether Franklin will ever truly drop anchor, even if he's back in his native Pennsylvania. The buyouts in his contract will be very telling, as Penn State can't afford to be a steppingstone job.
2.
A Penn State program embroiled in a child sex-abuse scandal in 2011 is hiring a coach who had four players accused of raping an unconscious 21-year-old woman in June. A November court filing by defense lawyers
requested text messages sent by Vanderbilt coaches
that could shed light on what took place. Franklin immediately dismissed the players and hasn't been implicated in any potential cover-up, but Penn State simply can't afford any character issues with its new coach. PSU's vetting of Franklin had better be foolproof or the school will suffer.
3.
There's a lot of hype around Franklin, some of which might be overkill. Coaches who win at places like Vanderbilt or Duke or Northwestern tend to get additional credit when it's not always merited. Of Franklin's 11 SEC wins at Vanderbilt, only two came against teams that finished with winning records. He still must show he can beat top teams like Ohio State, Michigan State and possibly Michigan, all three of which he'll see annually in the East division. Vanderbilt's offense ranked no higher than 55th nationally in scoring under Franklin, who has overseen only one truly explosive offense (Kansas State in 2007, when he served as coordinator).
Al Golden would have been the safe choice, but Penn State swung for the fences with Franklin, who will earn up to $4.5 million per season, according to ESPN's Brett McMurphy. Franklin mint, indeed.
There are more potential rewards than risks here, and the fact Penn State could land such a coveted coach under the cloud of sanctions illustrates how the job has improved in two years. Franklin enhances the Big Ten coaching fraternity. That two of the league's past three coaching hires are African-American is an excellent sign after a lengthy drought.
A Penn State program not known for glitz under Paterno has made a flashy, fascinating hire in Franklin.
Buckle up, Nittany Nation. This will be a wild ride.
January, 11, 2014
Jan 11
9:21
AM ET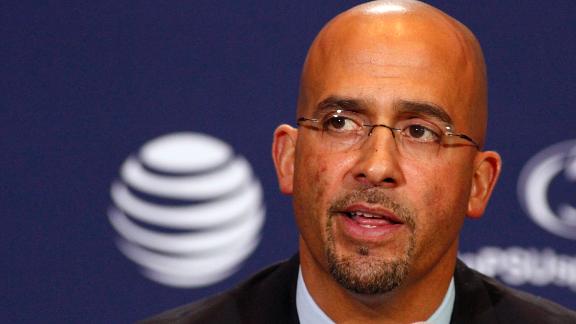 STATE COLLEGE, Pa. -- James Franklin smiled when he took the dais here Saturday as he was formally introduced as Penn State's 16th head football coach.
"I'm excited to come here," he said during an hourlong news conference. "I'm a Pennsylvania boy with a Penn State heart."
The former Vanderbilt coach met with Commodores players at 9 a.m. ET Saturday before hopping on a twin-jet to Happy Valley. About two dozen fans and photographers stood behind an airport gate at Penn State to greet the new coach. The Pennsylvania native, who grew up in Langhorne, Pa., shouted to fans there: "It's good to be home!"
Franklin signed a six-year deal worth $25.5 million in total guaranteed compensation, with a buyout starting out at $5 million and gradually decreasing to $1 million by the last year of the contract. Penn State's newly formed Compensation Committee unanimously approved the deal, 6-0, at a Saturday morning meeting.
"I'd still be at Vanderbilt if it wasn't just such an unbelievable opportunity," he said. "We're coming with the mindset we're going to build this program. ... We plan on being here a very, very long time. This is my dream job; this is where I want to be."
Franklin, who coached at Vanderbilt the last three seasons, entertained overtures this offseason from the NFL's Houston Texans, Washington Redskins and Cleveland Browns before agreeing to a deal with Penn State. He replaces Bill O'Brien, who left for the Texans earlier this month after two seasons.
January, 10, 2014
Jan 10
9:29
PM ET
After a relatively slow start, the college football coaching carousel began to spin wildly in the last few weeks. Many were shocked by Charlie Strong's move from Louisville to Texas and Bobby Petrino's back-to-the-future gig at Louisville.
But hardly anyone was stunned by Penn State hiring James Franklin away from Vanderbilt. Franklin had become one of the hottest coaches in the country after taking over a program that was 2-10 the season before he arrived to three consecutive bowls, while compiling an overall record of 24-15. And he did it with an engaging personality and outgoing style, generating excitement for the program and selling Vandy to anyone who would listen (including calling into radio shows as "James from Nashville"). It's no wonder he was on the short list for the jobs at Texas, Penn State, USC and a handful of NFL teams.
But the question now is no longer about whether Franklin is a good coach, or a hot coach on the rise. The real question is, "Is Franklin a good fit at Penn State?"
Sometimes the "hot" coach isn't the right fit for every school. In the case of Franklin and Penn State, I believe you have to look at two significant factors in order to evaluate whether it is a good fit -- recruiting, and Franklin's ability to get the most out of QB Christian Hackenberg – in addition to one off-the-field issue that could loom large in the coming months.
To continue reading this article you must be an Insider
January, 10, 2014
Jan 10
4:30
PM ET
Wishing you a great weekend.
Penn State hiring of new coach James Franklin
should be finalized Saturday, so be sure and check the blog for reaction.
Don't forget:
Twitter!
To the inbox ...
Josh from NYC writes:
I know, I know, offensive MVP of the Rose Bowl and Big Ten Championship game. However had those very catchable INTs gone through, Cook could just as easily come out the villain rather than the hero. That said, when, if at all, do you think we start seeing some
Damion Terry
action over there in East Lansing?
Adam Rittenberg:
Josh,
Connor Cook
lived on the edge for most of the season with his throws, and he certainly had fortune on his side. But what I loved is that he'd respond from a near-interception with a great throw on the run in traffic or a nice deep ball. If you get the breaks, you have to capitalize, and that's what Cook did. He deserves to be the starting quarterback entering the 2014 season. That said, Terry should be part of the offense, and I could see Michigan State employing a package of plays to get Terry more involved. Mark Dantonio understands the need to have more mobility and play-making skills from the quarterback spot. Terry certainly can help in that area.
[+] Enlarge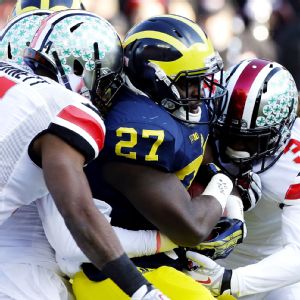 AP Photo/Carlos OsorioOhio State's defense had its struggles against Michigan but have found what needs correcting before facing Michigan State.
Shane from Michigan writes:
Hi Adam, I have a question maybe you can help me with. First of all, I am very optimistic about Michigan's latest hire of Doug Nussmeier. He sounds like a very proven coach. My concern is still the offensive line. The line has never really been great for the three years of the Brady Hoke era. So my question to you is this: how much of the offensive line woes fall on the O-line position coach and how much is that actually on the offensive coordinator?
Adam Rittenberg:
It falls mainly on offensive line coach Darrell Funk, especially because he directly recruited the linemen. The coordinator must create schemes catered to players' strengths and make the right play calls and the right times, but when you can't convert third-and-1 on a consistent basis, there's not much a coordinator can do. I'm interested to see how Michigan's blocking schemes change under Nussmeier, who clearly knows the run game is a priority after the past two seasons. But the development of individual players falls more on Funk.
Brian from Raleigh, N.C., writes:
As the dust clears from the 2013 season, Northwestern loses "QB 1A"
Kain Colter
. Predictions, please: Does
Trevor Siemian
take over as a full-time QB in a 2009 Kafka-style offense? Is there open competition in the spring between Siemian,
Zack Oliver
, and
Matt Alviti
? Or does NU try to replicate 2012's success/take advantage of differing skill sets with another multiple-QB system?
Adam Rittenberg:
Brian, I'm glad you brought up the 2009 offense, and I'd even throw in (pun intended) the pass-heavy 2008 offense led by C.J. Bacher. If Siemian is the starter, and it seems likely he will be, Northwestern should shape the offense more around his skill set, which is pocket passing. Assuming a two-quarterback system will work every year is risky, and assuming one quarterback will get hurt every year because of how much Northwestern runs its quarterbacks isn't a long-term formula for success in my view. There should be a competition this spring and Siemian shouldn't be handed the job. But if he stays healthy and develops with the receiving corps, which should be pretty good, I think Northwestern ditches the 2-QB deal and goes back to the 2008/2009 offenses, except this time with better running backs.
Casey from Dublin, Ohio, writes:
I think the West division from top to bottom will be better than the East in 2014. After Mich St and tOSU they don't have anybody to compete. Michigan still has to prove it can get back. Penn St loses the top playmaker and will break in a new head coach. The West has Neb, Wisky, Iowa, Minny and possibly NW competing for the title in the west if they can get strong QB play and Mark can return to the Mark of 2 seasons ago.
Adam Rittenberg:
Casey, the West undoubtedly has more parity entering 2014 and could be a more exciting divisional race. Will it be top-to-bottom better than the East? A lot depends on Michigan, which must rebound from a very disappointing season, and Penn State, which once again welcomes a new coaching staff. If those two programs both improve, the East should be stronger overall. Every West team has potential flaws, as Wisconsin loses a huge senior class, Minnesota has quarterback problems, Iowa needs to show more on offense, Nebraska must overcome long-term erratic play, and Northwestern comes off a brutal 5-7 year. I feel pretty comfortable writing that MSU and OSU will be pretty good in 2014. There are more unknowns in the West, but it should be a lot of fun to watch.
Greg from Philadelphia writes:
Really Adam?
Christian Hackenberg
isn't a star to watch in 2014?! You're ridiculous.
Adam Rittenberg:
I've been called worse, Greg. It's a national list and you can't include everyone. Penn State's uncertain coaching situation at the time the story ran played a role in not including Hackenberg, who has given every indication he'll return but still faces a decision on his future with the new staff. He certainly looks like an eventual superstar, but he'll have to adjust to a new set of offensive coaches under James Franklin.
[+] Enlarge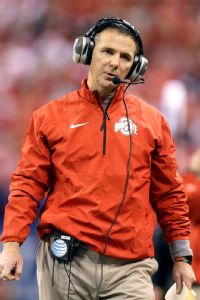 AP Photo/Michael ConroyUrban Meyer has some big shoes to fill on his defensive staff.
Steve from Columbus, Ohio, writes:
Hey Adam, how do you see Coach Meyer handling his defensive staff after he reviews the year, and who are some likely candidates to replace Coach Withers?
Adam Rittenberg:
Meyer will be a busy man next week at the American Football Coaches Association in Indy as he must not only replace Withers but also defensive line coach Mike Vrabel, who is joining Bill O'Brien with the NFL's Houston Texans. Both Withers and Vrabel were exceptional recruiters, so Meyer has to find candidates who not only can develop young players in both areas but get it done on the trail. I think it's important to get an assistant with ties to the South like Withers had. Could Ohio State bring back former coordinator Jim Heacock as defensive line coach? Extremely underrated assistant, in my view.
Nathan from San Antonio writes:
Hey Adam, did you happen to see that next years MSU @ Oregon game was moved from week 3 to week 2? I have only read it in one location and wondered if it was true and if so, how come?
Adam Rittenberg:
It has been moved, Nathan, to accommodate national television and a certain time slot, which won't be at night. The TV plans aren't final, but the game needed to be played Sept. 6 rather than Sept. 13. So Michigan State won't have an extra week to prepare for the Ducks after the opener against Jacksonville State, but it also won't have to deal with Autzen Stadium at night, which is never fun for the visiting team.
Donnie from Atlanta writes:
Hey Adam/Brian, when will the Maryland & Rutgers additions be league official and when will you guys bring them in as part of the blog? Excited to learn more about the newcomers and the new stadiums/fan bases my Buckeyes will be going up against.
Adam Rittenberg:
Donnie, we typically make the transition around national signing day, so check the blog in February as we'll officially welcome Maryland and Rutgers.
January, 10, 2014
Jan 10
2:57
PM ET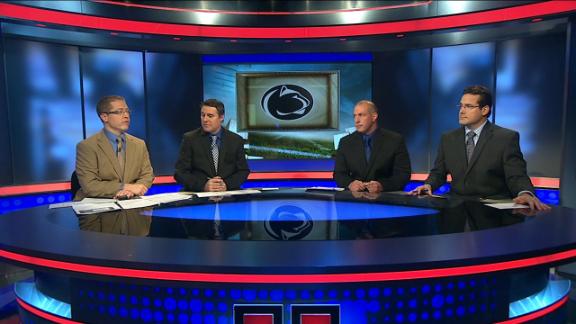 James Franklin is expected to receive a contract from Penn State worth up to $4.5 million a year, according to a source, making him the Big Ten's second-highest-paid coach behind Ohio State's Urban Meyer.
Former coach Bill O'Brien made $3.82 million a year while Franklin reportedly made about $3 million a year at Vanderbilt.
Penn State has scheduled a news conference for 4:15 p.m. ET Saturday to make a "major announcement." Vanderbilt, meanwhile, has called a team meeting for early Saturday morning, a source told ESPN's Josina Anderson.
The Penn State compensation committee is scheduled to meet in a closed session at 8:30 a.m. ET Saturday to discuss a "matter of compensation," school spokeswoman Lisa Powers said. Sources told ESPN that meeting is about Franklin, who spent the past three seasons at Vanderbilt.
Powers said that following the meeting a brief public session would be held. The committee members are chairwoman Linda B. Strumpf, Kathleen L. Casey, Mark H. Dambly, Karen B. Peetz and Paul H. Silvis.
A source told ESPN on Thursday that Franklin would not officially accept the Penn State job until the contract was approved Saturday.
Franklin was given a contract extension in December 2012 designed to keep him at Vanderbilt for years to come. Asked whether the Commodores have worked to restructure Franklin's deal since the end of the 2013 season, Vanderbilt athletic director David Williams said they have an ongoing process to remain competitive.
January, 10, 2014
Jan 10
2:15
PM ET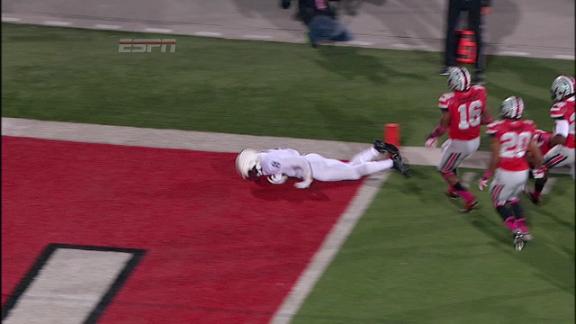 Former Penn State quarterback Tyler Ferguson is following Bobby Petrino to Louisville.
The Nittany Lions granted Ferguson his release last month, and he initially planned to play for Petrino at Western Kentucky. But those plans changed this week once Petrino returned to Louisville as successor to new Texas coach Charlie Strong.
"After he got the job at Louisville, he called me very shortly after that," Ferguson told ESPN.com. "So, yeah, I'm going out there to Louisville now."
Ferguson, Penn State's backup quarterback last season, plans to be on Louisville's campus by Sunday and start classes Monday.
"[Petrino] was the first to reach out to me when I got my release from Penn State," Ferguson said. "He said if he got the Louisville job, he still wanted to get me."
The rising junior, a junior college standout at College of the Sequoias in Visalia, Calif., will be required to sit out the 2014 season under NCAA transfer rules.
Ferguson played in five games last season, spending most of his time backing up Big Ten freshman of the year Christian Hackenberg. He finished his first season in the FBS by going 10-of-15 passing for 155 yards with one touchdown and no interceptions.
He cited playing time as the primary reason for his transfer.
January, 10, 2014
Jan 10
12:37
PM ET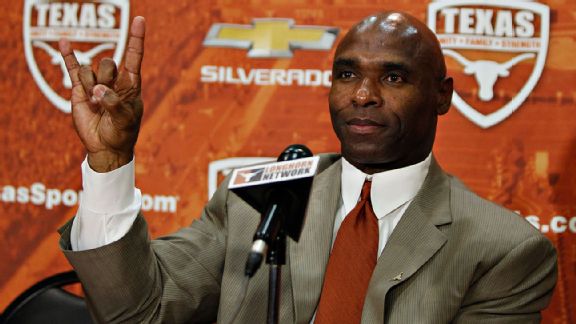 Erich Schlegel/Getty ImagesHow many games will Charlie Strong win with the Longhorns in 2014?
The 2013 season brought us coaching changes at flagship schools, including Texas and USC, and, following Florida State's nail-biting win over Auburn in the BCS title game, a national champion outside of the SEC for the first time in eight years.
What's in store for 2014? Here are the top 10 questions for the year ahead.
1. How many games will Charlie Strong win in his Texas debut?
Those doing the hiring were wowed by the idea of Strong instilling toughness and creating more of a concrete identity; both were hits on the Longhorns program in Mack Brown's final seasons.
But those are not overnight fixes, and expectations will not exactly be through the roof in Strong's first season.
To continue reading this article you must be an Insider
January, 10, 2014
Jan 10
12:00
PM ET
Can we pretend that airplanes in the night sky are like shooting stars?
January, 10, 2014
Jan 10
5:00
AM ET
1. James Franklin can recruit. He has an electric personality. He likes people. And if he led Vanderbilt to consecutive nine-win seasons, then it's self-evident that he has the football chops. Franklin's salesmanship may be the glue that can unite a fractured Penn State fan base. Given the university's need to be cleaner than clean, we must assume that Penn State looked and found no skeletons in his closet. Good for him. Good for Penn State.
2. Tailback
Ameer Abdullah
's eloquent statement regarding why he decided to remain at Nebraska for his senior season should be required reading for anyone considering leaving early for the NFL. "I have come to realize that life is bigger than football," Abdullah said, "and that my chances of long-term success in life will be greatly enhanced by completing my college education. … If playing in the NFL is truly in God's plans for me, then God will again present this opportunity to me after I complete my college education."
3. You don't need a forensic accountant or a marketing consultant to understand that UAB is cash-starved and attention-starved. The university in Tuscaloosa makes sure that UAB is starved of cash, and the lack of resources makes it difficult to attract attention. Anyone who didn't understand that before Thursday knows it now. Blazers head coach Garrick McGee resigned to rejoin the staff of Bobby Petrino, now at Louisville. When your FBS head coach resigns to become an FBS assistant, you've got issues.
Challenges Facing Franklin at Penn State
BIG TEN SCOREBOARD
Saturday, 12/21
Monday, 12/23
Tuesday, 12/24
Thursday, 12/26
Friday, 12/27
Saturday, 12/28
Monday, 12/30
Tuesday, 12/31
Wednesday, 1/1
Thursday, 1/2
Friday, 1/3
Saturday, 1/4
Sunday, 1/5
Monday, 1/6