October, 20, 2014
Oct 20
4:00
PM ET
For nearly two decades, former Penn State assistant Larry Johnson jogged through the tunnel at Beaver Stadium and turned right -- past the cheering student fans, past the Nittany Lions' mascot -- to the home sideline.
On Saturday night, for the first time in his career, Johnson will be standing across from that sideline.
The 18-year Penn State assistant is now the defensive line coach at Ohio State, and his new team will face his old Saturday night in State College. Urban Meyer scooped Johnson up after he left Happy Valley in January -- making the Buckeyes just the second college team he's ever coached -- and Johnson said he's not quite sure what emotions to expect when he returns.
[+] Enlarge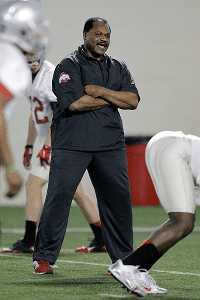 AP Photo/Jay LaPrete"I had a great time there for 18 years." said ex-Penn State assistant Larry Johnson, now the D-line coach at Ohio State.
"It'll be different," Johnson said Monday afternoon. "You spend 18 years in one place for a long time and then you walk back in there on a different sideline. But I'm looking forward to going back, and I'm looking forward to going back with Ohio State University.
"I'm looking forward to going back home and being excited to play in the stadium."
Johnson's departure was an emotional one for Penn State fans. He was the final Joe Paterno holdover, the last assistant with a direct connection to the no-name jerseys and the rolled-up khakis. While unprecedented change swept through Happy Valley, Johnson was the lone constant.
He was promoted to co-defensive coordinator when Paterno was fired. Then he was relegated to defensive line coach with Bill O'Brien's arrival. Two seasons later, when O'Brien left, he kept this team together as the interim head coach. Then, with James Franklin's hiring, he left.
"I didn't have any bitterness when I left. It was my decision to leave, it was my time to move on," he said Monday. "I just felt that Coach Franklin was coming in with a new staff, and I knew he had a guy he really liked a lot. I just felt it was the best thing to do."
Now, instead of addressing the media behind a blue and white backdrop, he talks to reporters behind a scarlet and gray one. On Monday afternoon, in a dark Ohio State jacket, the even-tempered coach kept a soft tone as if he were in a library while reflecting on his time in State College.
He spoke highly of his past stop throughout the news conference. About how past "White Outs," where the crowd wears all white, jump-started his players. About the "great friends, great players" he coached. About how blessed he feels with PSU and now OSU on his resume. Though he remained stoic for much of the time, he smiled when asked if -- in his 18 years -- he ever caught a peek of the visitors' locker room.
"I have not," he said.
But have you heard about it?
"I have heard about it," he said with a slight grin. "It's very small."
Besides Monday's location -- and the color of his shirt -- Johnson said not all that much has changed in his life. He still tends to his flowers in the offseason -- "That's kind of my style," he added -- he still preaches player development and relationships, and he's still a top recruiter. He built a new house near Ohio State, and his son, former Penn State wideout Tony Johnson, moved closer to him.
He sold his old house in State College and doesn't plan to stop by once he returns. He doesn't plan to swing by the Creamery for some Peachy Paterno ice cream, or see much of anything other than the walls to his hotel and the inside of Beaver Stadium. He said he simply doesn't have the time.
He remains in touch with his pastor from Penn State, along with some members of the congregation, so he plans to see some familiar faces in the crowd Saturday night. He'll shake hands with his former players after the game, and it's sure to be a surreal experience for the coach whom Paterno plucked from the high school ranks back in 1996.
"I had a great time there for 18 years," Johnson said. "I got to be part of their lives for a long time. It's a new job, a new place and a new school, so I'm looking forward to coming back."
ABC Saturday Primetime Pregame