October, 13, 2014
Oct 13
10:00
AM ET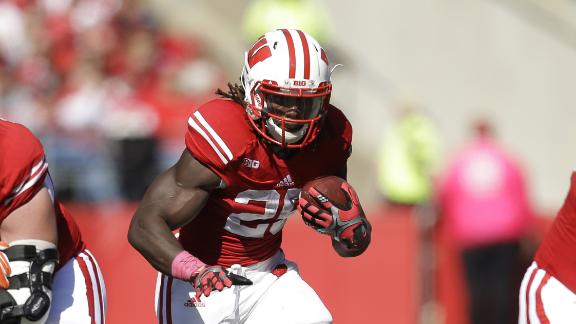 It was a banner weekend for resilient quarterbacks in the Big Ten.
Junior
Jake Rudock
wrenched Iowa's plans for a balanced, two-quarterback system by completing nine of his first 11 passing attempts en route to 28 points in the first quarter. Michigan's
Devin Gardner
, who has had to fight for his job during a 2-4 start to the season, returned from an ankle injury to lead the Wolverines to an 18-13 win over Penn State. And in West Lafayette, a new face is emerging under center. Purdue sophomore
Austin Appleby
kept Michigan State's defense on its toes for much of a 45-31 Spartans win.
The Big Ten won't be confused for anything but a running back's league this season, but this past weekend was a relatively strong showing for their backfield mates.
Rudock earns the top honor there for helping the Hawkeyes to their fifth win of the season. Minnesota has done most of the head-turning in the West Division during the past couple weeks, but Iowa has quietly compiled an identical record (5-1 overall, 2-0 Big Ten) and is tied with the Gophers for the division lead. Both teams have two winnable games before facing each other Nov. 8, which brings us to our choice for the team of the week ...
Team of the Week:
Who says you can't teach an old dog new tricks? Iowa's offense was downright explosive at times during a
45-29 win
over Indiana Saturday. Hawkeyes coach Kirk Ferentz's decision to go for it on fourth down pushed Iowa's lead to 38-21 on the final play of the first half. The offense, led by the sharpest version of Rudock to date, had topped its previous season-high point total by the end of the first quarter.
Biggest Play:
Speaking of Minnesota, the Gophers kept their
Big Ten record unblemished Saturday
thanks to
Jalen Myrick
's 100-yard kickoff return for a game-winning touchdown. Northwestern had just tied the game 17-17 with 7:32 to play on an impressive 13-play, 97-yard scoring drive. Myrick went a little farther in far less time, darting past midfield untouched before slipping away from the Wildcats' kicker on his way to a big score.
Big Man on Campus (offense):
It may have come in a losing effort, but Indiana's
Tevin Coleman
dazzled again with big plays and big numbers. Coleman finished
Saturday's game
with 219 yards on just 15 carries. He scored three times on runs of 83, 45 and 69 yards to keep the Hoosiers within striking distances even after starting quarterback
Nate Sudfeld
left the game before halftime. Coleman leads the nation in rushing yards and is on pace for 2,120 yards in his junior season.
Big Man on Campus (defense):
Stellar defense was hard to find this weekend in the Big Ten. The biggest play on that side of the ball belonged to Michigan State linebacker
Darien Harris
, who clinched the
Spartans' win over Purdue
with a pick-six in the fourth quarter. Harris added six tackles, one of them behind the line of scrimmage, for a defense that looked uncharacteristically average against the Boilermakers and their sophomore quarterback, Appleby.
Big Man on Campus (special teams):
Myrick certainly deserves mention here for his big return, but placekicker
Matt Wile
beats him out by being the difference for a Michigan team that desperately needed a victory. Wile connected on all three of his field goal attempts, from 45, 42 and 37 yards out. He bailed out an offense that has yet to find a way to move the ball consistently, accounting for 10 points in an
18-13 win
over Penn State.
Biggest face plant:
The Nittany Lions' offensive line did its part to make field goals the difference against Michigan. Sophomore quarterback
Christian Hackenberg
was under constant siege at the Big House Saturday. He was sacked six times and pressured into poor decisions on a regular basis. The running game managed only 54 yards. The crumbling of Penn State's promising September begins and ends with its struggle in the trenches.
Facts and numbers to know:
Purdue's 31 points against Michigan State is the most a Big Ten opponent has scored on Sparty since Wisconsin hung 42 on them in December 2011. ... Myrick's kickoff return for a touchdown was the first such play for anyone in the Big Ten this season. ... Ten teams in the country allow less than 100 rushing yards per game. Three of them (Penn State, Michigan State and Michigan) are in the Big Ten. ... Coleman's 176.67 rushing yards per game leads the nation.
Melvin Gordon
(174.33) and
Ameer Abdullah
(146.33) are second and fourth, respectively, in that category. ... Ten different Iowa players caught passes in the win over Indiana. The Hawkeyes are 4-0 this season when completing throws to at least 10 receivers. ... Gordon became the fastest Wisconsin player to 1,000 yards rushing by accomplishing the feat in his sixth game of the season.
October, 13, 2014
Oct 13
8:00
AM ET
Good morning. Can you believe the regular season is halfway over already? Kicking the second half off with a few thoughts:
1. I'm legitimately worried about
Christian Hackenberg
. Penn State's sophomore quarterback is a superlative talent who has a long future playing professionally ahead of him. That's if the the Nittany Lions' tragic offensive line doesn't ruin him.
The worst thing that can happen to a young quarterback is for him to succumb to unrelenting pressure. I've seen it before; suddenly, he starts looking at the pass rush instead of keeping his eyes downfield. He develops happy feet. He throws the ball away too quickly, or holds onto it while bracing for a hit.
I saw some of those things in Hackenberg during Saturday night's 18-13 loss at Michigan, and so did PennLive.com's David Jones,
who wrote
:
"Hackenberg is, by [James] Franklin's own estimation, 'frustrated,' due to obvious factors. He took a pounding again against the Wolverines, bringing his sacks-absorbed total to a whopping 20 just halfway through the season. His body language is awful; he spent much of the second half slouching on the bench in apparent despondence."
Penn State's inability to block for its star quarterback is clearly taking its toll and forcing Hackenberg into some bad habits -- to say nothing of the injury risk. Those bad habits can be hard to shake off. The Nittany Lions have to figure out a way to protect him in the second half of the season, because it would be a shame if the offensive line issues caused permanent damage.
2. Is it time to worry about Michigan State? The Spartans keep winning and still look like the Big Ten's best team. But for the second straight game, they let a big lead slip away, and Purdue had the ball with a chance to tie the score late.
This isn't even about the College Football Playoff, though Mark Dantonio's team is squandering opportunities to impress the selection committee. No, it's about whether some of Michigan State's obvious mental lapses --
Connor Cook
throwing needlessly into coverage, for example, or the defense uncharacteristically giving up big plays -- will result in a loss before December. Last year's Spartans were masters at closing out games, but this year's edition has neither the shutdown defense nor the physical running game to impose its will in fourth quarters, at least not yet. As a result, Michigan State is
flirting with disaster
, as Drew Sharp writes.
3. Let's all marvel at Minnesota, which is winning in a way that's different than just about anybody else.
The Gophers had only 274 yards on Saturday yet turned away a solid, confident Northwestern team at home. Even with a rushing attack that by their standards was held in check (just 3.1 yards per carry), they continued to maximize every opportunity, KO'ing the 'Cats on a 100-yard KO return by
Jalen Myrick
.
Jerry Kill's team knows its identity, is too well-coached to beat itself with mistakes and will make you fight every down. That style might not always work against high-scoring, hyper-athletic opponents (see: TCU), but nobody in the Big Ten is looking forward to playing Minnesota in the second half. The Gophers
showed resolve on Saturday
.
More links:
East Division
West Division
October, 12, 2014
Oct 12
8:00
PM ET
Michigan is back on the winning track but not quite back in the bowl projections.
Brady Hoke's team ended its three-game slide Saturday night by grinding out an
18-13 win
against Penn State at Michigan Stadium. The Wolverines' defense locked down Penn State, but many of Michigan's problems remain, and three more wins still seems like a tall order.
We considered dumping Penn State from the projections as the Nittany Lions' offensive woes up front could be unfixable this season. But James Franklin's team needs only two wins to qualify for postseason play, and with games left against Indiana, Temple and Illinois, the Lions should get there.
The favorites held serve around the Big Ten in Week 7, but we have a bit of shuffling as Minnesota continues to make strides and deserves more love in the projections. It's also important to project non-repeat destinations, so Iowa moves out of the Outback Bowl (for now) and Minnesota moves up.
Melvin Gordon
is a stud, but Wisconsin continues to look faulty and falls down a spot.
Big Ten newcomers Rutgers and Maryland have excellent opportunities to rise in the projections this week as they take on Ohio State and Iowa, respectively.
The winner of the Ohio State-Michigan State game on Nov. 8 will be in decent shape for College Football Playoff selection, as long as it runs the table. But for now, we have both the Buckeyes and Spartans in contract bowls.
Enough rambling. Projection time ...
Chick-fil-A Peach/AT&T Cotton/Fiesta/Capital One Orange:
Michigan State
Chick-fil-A Peach/AT&T Cotton/Fiesta/Capital One Orange:
Ohio State
Buffalo Wild Wings Citrus:
Nebraska
Outback:
Minnesota
National University Holiday:
Iowa
TaxSlayer/Franklin American Mortgage Music City:
Wisconsin
San Francisco:
Rutgers
New Era Pinstripe:
Maryland
Quick Lane:
Penn State
Heart of Dallas:
Northwestern
October, 12, 2014
Oct 12
2:00
PM ET
October, 12, 2014
Oct 12
1:35
AM ET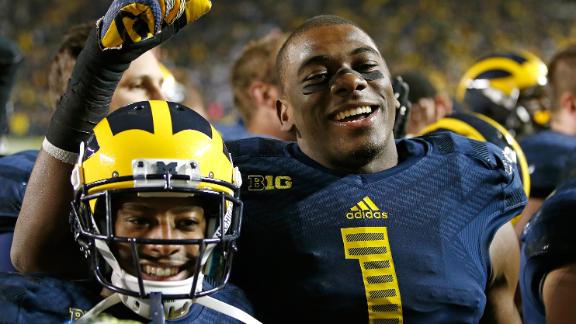 ANN ARBOR, Mich. -- An electric crowd, a stifling defense, modern-day trappings blended in proper proportion with an old-school Big Ten result. This was the vision that has danced in the heads of Michigan coach Brady Hoke and athletic director Dave Brandon for the better part of the past four years. For at least one night, they got to watch it play out.
Michigan (3-4) pounded its way to an
18-13
win Saturday over visiting Penn State (4-2) in front of the biggest crowd the Big House has seen this season. The 113,085 onlookers witnessed a dominant Michigan defensive line and a gutsy performance by its hobbled quarterback to seal the victory. Senior
Devin Gardner
returned from an ankle injury in the fourth quarter to push his offense just far enough for a game-winning field goal, ending the night's drama in enough time to allow for a celebration and a collective sigh of relief.
"The environment, the crowd, there's no place better in this country when you have a game like this than Michigan Stadium," Hoke said.
Games like this have been hard to come by for Hoke and Brandon. Their Wolverines entered Saturday's prime time matchup in a state of disarray. On the field, the team had lost four of its past five games and gave few reasons to be optimistic about a turnaround. Controversy and attempts to manufacture hype away from the field put the embattled coach and his boss on equally shaky ground in terms of job security.
[+] Enlarge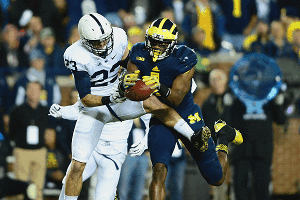 Andrew Weber/USA TODAY SportsDevin Funchess helped spark Michigan with this first-quarter catch against Penn State's Ryan Keiser.
Hoke heaped praise on his players after the game for their resilience during the past month, but acknowledged the team was in desperate need of some validation.
"It certainly helps," he said. "There's no question about it."
Michigan's fortunes started to turn on its first possession. Gardner (16-for-24, 192 yards) lofted a pass down the middle of the field that looked destined to land in the arms of Penn State safety
Ryan Keiser
. Gardner was benched two weeks earlier largely because of turnover issues. Instead of another deflating mistake, though, wide receiver
Devin Funchess
stepped in front of Keiser and yanked the ball away to complete a 43-yard scoring play.
That would be Michigan's final trip to the end zone, but a fire blanket of a defense took the baton from there. Michigan's front seven abused Penn State's inexperienced offensive line and its star quarterback,
Christian Hackenberg
. The Wolverines sacked Hackenberg six times and pressured him into several other poor decisions.
Jourdan Lewis
intercepted an ill-advised throw in the third quarter that set up a game-tying field goal. A three-and-out and shanked punt in the fourth quarter gave Michigan's offense the ball in good position again. Gardner completed two passes to get place-kicker
Matt Wile
in range to give his team a 16-13 lead. More pressure backed Hackenberg up to his goal line in the final minutes and forced Penn State to snap a ball out of the back of its end zone for a safety. A defensive line missing its most effective interior rusher (tackle
Willie Henry
) played a major role in creating Michigan's final eight unanswered points.
The near sell-out crowd roared in approval. The week started with threats of a student boycott to show their disapproval with the direction of the program. The lure of a night game brought them out in full force, waving yellow pompoms and creating an atmosphere that Michigan Stadium hasn't seen since its previous two "Under The Lights" affairs -- both wins against Notre Dame.
"That was awesome tonight," center
Jack Miller
said. "We feed off that kind of stuff. We love it."
The buzz inside the Big House continued during halftime with a well-orchestrated light show from the Michigan marching band. Former players lined the team's walk to its locker room earlier in a show of support. Brandon's attempts to add new life to the storied old stadium finally struck the right chord with a student body and alumni that has grown tired with his previous gimmicks.
"We try to create a spectacle," Brandon said following the game. "It's a great stadium and when you light it up, that's what it is -- a spectacle."
When the sun rises Sunday morning, Michigan will still have a losing record. The prospects of a bowl game will still be dim. Its team will still be plagued with the same problems that have caused it to stumble more often that not this season. The offense still struggled to run the ball consistently against Penn State. Gardner still threw an interception. Hoke and Brandon will still be climbing a steep, uphill battle to restore their reputations and save their jobs.
Two weeks from now, after a bye, the Wolverines face in-state rival Michigan State -- a Big Ten power with the potential to wipe clean the memories of this weekend's spectacle.
Still, Hoke and Brandon should savor the moment. Both men might not be around for more nights like this in Ann Arbor. If this is indeed their final season as Michigan men, at least they got a taste of what they expected at the start of a promising relationship. They showcased a tough team on a glitzy stage Saturday -- a vision realized if only for one night.
October, 11, 2014
Oct 11
11:11
PM ET
Five observations from an interesting Saturday in the Big Ten:
1. Gophers are contenders:
The wins aren't usually pretty, but it doesn't take any style points to win a conference championship. Offensive limitations certainly cut down on Minnesota's margin for error every week, but with running back
David Cobb
pounding away at teams and a stout defense, the victories are starting to pile up for coach Jerry Kill, who appears to have a legitimate contender on his hands. Knocking off resurgent Northwestern
24-17
puts the Gophers on top of the West Division with manageable games on deck against Purdue and Illinois, which could allow them to build momentum ahead of a tough closing stretch in November. By the end of October, there might not be a team in better position in the wide-open West.
[+] Enlarge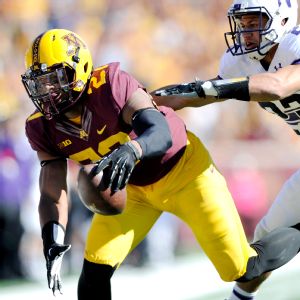 Hannah Foslien/Getty ImagesDavid Cobb rushed 30 times for 97 yards, helping Minnesota to a 2-0 record in the Big Ten.
2. Ferentz, Hawkeyes alive and well:
Meet the new Kirk Ferentz, fearless riverboat gambler in do-or-die, fourth-and-goal situations and manager of a two-quarterback system. Indiana's suspect defense might have made it easier for Ferentz to get aggressive just before halftime Saturday, and the Hawkeyes might have given the scoreboard a workout regardless of who was taking the snaps. But after some ugly play in September, Iowa appears to be finding an identity and gaining confidence at the right time now that Big Ten play has arrived. Iowa has taken care of business in both league games so far, including Saturday's
45-29 win
over the Hoosiers, and like Minnesota, that alone makes it a threat in the unpredictable West.
3. Uphill battle ahead of Hackenberg, Nittany Lions:
The talent is still plain to see at times, but
Christian Hackenberg
's development might be getting stunted by Penn State's anemic offensive line. The sophomore looks like he's preparing to get hit every time he takes a snap, and that's leading to some horrible decisions and inaccurate passes that are catching up with the Nittany Lions after their fast start under James Franklin. Without Hackenberg's ill-advised attempt under pressure that was picked off in the second half on Saturday night, Michigan's toothless offense probably would have never been in position to kick a game-tying field goal, and his intentional grounding on Penn State's final drive clinched the
18-13 defeat
.
Devin Gardner
is in a similar situation behind Michigan's suspect offensive line, and both guys should prepare to take a lot more punishment over the next few weeks.
4. Spartans still missing a complete effort:
Purdue has noticeably improved and deserves credit for the strides it has made in coach Darrell Hazell's second season with the program. But there's still no real excuse for the reigning Big Ten champions and a team aiming to get back in the College Football Playoff conversation to lose concentration and allow opponents to climb back into games down the stretch the way Michigan State did for the second week in a row. The Spartans claimed to have learned a lesson after nearly giving away a win over Nebraska last week, but it doesn't appear to have sunk in yet following a
45-31 win
over the Boilermakers. Even Mark Dantonio will have to accept some blame this time after his head-scratching decision to fake a punt deep in his own territory in the fourth quarter.
5. Defenses sinking Illinois, Indiana:
Both programs are still more than capable of scoring points, even with injuries limiting their quarterbacks. But the Illini and Hoosiers just aren't going anywhere with such porous defenses continuing to undermine any efforts on the other side of the ball. Illinois showed some fight for coach Tim Beckman during a
38-28 loss
, but its tackling was shoddy far more often than not and it couldn't slow down even a one-dimensional Wisconsin offense that is barely a threat to pass at all. And an Iowa team that hadn't scored more than 24 points in a game all season surpassed that total by the end of the first quarter, once again showing how far the Hoosiers have to go defensively if they're going to turn things around and get back to a bowl game.
October, 11, 2014
Oct 11
10:39
PM ET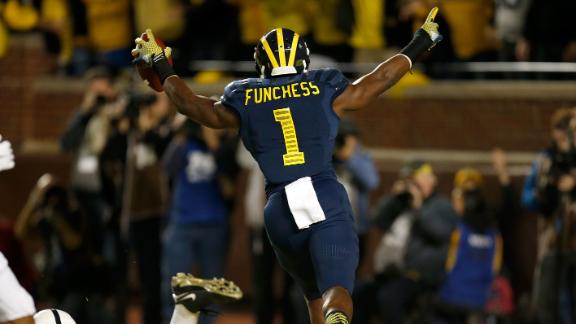 The Big House felt big again on Saturday night in Ann Arbor, Michigan.
Penn State folded in front of an electric crowd, gaining only 214 total yards and converting one fewer field goal than the Wolverines in a much-needed
18-13 victory
for the home team.
Michigan receiver
Devin Funchess
turned a would-be Penn State interception into a 43-yard touchdown pass on the first Wolverines drive of the game. The Wolverines' offense wouldn't get any more productive, but
Matt Wile
connected on all three of his field goal attempts to provide the points his team needed.
Quarterback
Devin Gardner
left the game with what looked like an ankle injury, but returned to lead a drive that resulted in a 37-yard, game-winning field goal. He completed 16 of 24 pass attempts for 192 yards. He also ran 10 times for 18 yards. Gardner and the Wolverines get a bye week to try to spin their biggest win of the year -- their first against a Power 5 team this season -- into a better second half of the schedule.
How the game was won:
Neither offense sparkled on Saturday night, but Michigan's was opportunistic enough to take advantage of good field position in the second half. A third-quarter interception from cornerback
Jourdan Lewis
set up a game-tying field goal three plays later. In the fourth, a shanked punt gave the Wolverines another short field and a game-winning field goal.
Game ball goes to:
Michigan's defensive line beat up on a shaky Penn State front all night.
Brennen Beyer
had two of the team's six sacks. The line also forced Penn State quarterback
Christian Hackenberg
into bad choices throughout the second half, including an ill-advised across-the-body throw that resulted in Lewis' momentum-changing interception. Under constant pressure, the Nittany Lions didn't pick up a single first down in the second half.
What it means:
The noose around Michigan's neck ceases to tighten for at least a couple of weeks. The Wolverines are still 3-4 with plenty of warts that need fixing. A bowl game isn't completely out of the picture yet, though. Whatever chance the Nittany Lions had at contending for the East Division's spot in the Big Ten title game this season is likely shot.
Best play:
Michigan receiver Devin Funchess turned a potential face palm for the Wolverines into a touchdown on their opening possession. On first down from the 43-yard line, Devin Gardner floated a pass that looked destined to land in the arms of Penn State safety
Ryan Keiser
. Funchess stepped in front of Keiser, pulled the ball away and coasted into the end zone for an early score. The seven points were a big confidence boost for a team that was in desperate need of a good break.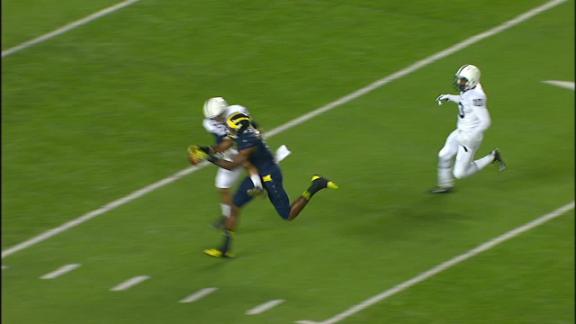 What's next:
Both teams take a week off to regroup before taking on the best the Big Ten has to offer. Michigan will face in-state rival Michigan State on Oct. 25, but likely won't have to listen to speculation about who its head coach will be for that game in the interim. Penn State hosts Ohio State.
October, 11, 2014
Oct 11
10:33
PM ET
Associated Press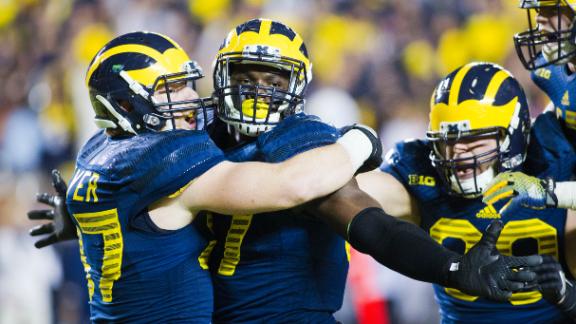 ANN ARBOR, Mich. -- Matt Wile kicked a 37-yard field goal with 11:24 remaining, and Michigan's defense stifled Penn State in the second half as the Wolverines held on for an 18-13 victory Saturday night, snapping their three-game losing streak.
Devin Gardner returned from a second-half injury and threw a 24-yard pass to Dennis Norfleet to set up Wile's tiebreaking kick, but it was the defense that lifted Michigan (3-4, 1-2 Big Ten) in the second half. Penn State (4-2, 1-2) led 13-10 when Christian Hackenberg's ill-advised pass was intercepted. That turnover set up a tying field goal in the third quarter, and the Wolverines took advantage of good field position again early in the fourth, when Wile's final field goal broke a 13-all tie.
Gardner threw for 192 yards and a touchdown. He was helped off the field in the third quarter with an apparent left leg injury but was able to return.
Hoke Glad To Get Back To Winning