November, 17, 2014
Nov 17
12:00
PM ET
The great thing about the college football season is that until it ends, there is a chance to change the story. Players, coaches, teams and even leagues can have a second act.
The Big Ten's first act in 2014 was a tragedy or comedy -- probably both. It also was surprisingly short, lasting just two weeks. A face-plant in Week 2 elicited national mockery, confirmed the stereotypes and brought more bad vibes to a league that has had more than its share. Many cropped the Big Ten from the College Football Playoff picture after high-profile losses by Michigan State, Ohio State and Michigan, coupled with three losses to Mid-American Conference foes.
Was it over for the Big Ten? Many said yes. And if the league is left out of the playoff -- translation: if Ohio State finishes with one loss (Week 2 against Virginia Tech) and still doesn't make it in -- it will trace back to that sorry Saturday.
[+] Enlarge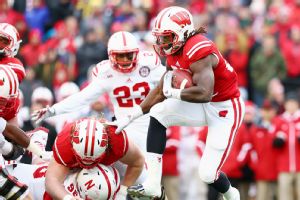 Ronald Martinez/Getty ImagesBig performances by players like Melvin Gordon and some exciting games have improved the perception of the Big Ten on the national stage.
But the curtain didn't come down on the Big Ten's season. The league still had time to change the narrative, and it's starting to happen.
The Big Ten's second act, not surprisingly, is a lot easier to watch. Nebraska fans are understandably flinging tomatoes, eggs and anything they can find at Bo Pelini after his team's latest big-game flop, but Saturday, overall, was really good for the Big Ten. So was the previous Saturday, as league heavyweights Ohio State and Michigan State played a high-scoring, visually appealing game on the national stage.
What has changed in the Big Ten?
Start with much-needed star power. The Big Ten hasn't had a Heisman Trophy winner since 2006, when Ohio State's Troy Smith claimed the award. Worse, the league has had just one Hesiman
finalist
since then (Wisconsin's Montee Ball in 2011).
Wisconsin running back
Melvin Gordon
will be going to New York. That became clear as he took down record after record on a snowy Saturday in Madison, culminating with LaDainian Tomlinson's single-game FBS mark of 406 yards. Gordon finished with 408 yards and four touchdowns on 25 carries (16.3-yard average). He has 15 runs of 40 yards or longer, more than any other FBS
team
.
"I'm glad we never play him again!" one Big Ten coach text-messaged me Sunday.
It's a sentiment undoubtedly shared by others, but at least we can enjoy Gordon for several more games.
#GordontoGotham
will happen, and if Gordon keeps dazzling, he could be the one holding the trophy Dec. 13.
Gordon might not be the only Big Ten player at the Heisman ceremony. Ohio State quarterback
J.T. Barrett
continues his rapid rise. He set Ohio State's single-game quarterback rushing record with 189 yards Saturday at Minnesota. Barrett is responsible for 38 touchdowns, eclipsing
Braxton Miller
's single-season record set last season.
Though Gordon has separated himself in the Big Ten's unparalleled running back group, three other players -- Indiana's
Tevin Coleman
, Minnesota's
David Cobb
and Nebraska's
Ameer Abdullah
-- rank in the top 10 nationally in rushing. Coleman ran for 307 yards Saturday at Rutgers, a performance overshadowed by Gordon's, but deserving of major recognition.
There are also intriguing teams around the Big Ten. Ohio State is still very much in the playoff hunt. Michigan State is pushing for New Years Six consideration. Wisconsin overcame early season drama/losses to put itself in position for a third Big Ten championship appearance in four years. Minnesota continues to make strides. The West Division is far from settled, and if Iowa upsets Wisconsin at Kinnick Stadium, it will really get wild.
Penn State somewhat quietly became bowl-eligible Saturday with a win against Temple. Regardless of your opinion on the initial sanctions, it's nice to see these players rewarded, especially resilient seniors like linebacker
Mike Hull
. The Lions still have a lot to improve -- quarterback
Christian Hackenberg
's future will be a major offseason topic -- but their defense is superb and they will play into the postseason.
Big Ten newcomers Maryland and Rutgers also are going bowling, no small feat given the gloomy outlook (especially for Rutgers) and apathy surrounding their arrivals. Rutgers has overcome key injuries and a grinding schedule to reach six wins. Maryland finally has stayed relatively healthy and recorded notable wins against Iowa and Penn State, with Michigan up next.
Northwestern still needs work to reach bowl eligibility, but is there a wackier 4-6 team? Three of the Wildcats wins have come against Wisconsin, Notre Dame and Penn State, the latter two on the road. Northwestern has endured a rough 13 months, but the Notre Dame win -- how it happened, where it happened -- provides a boost.
It's not all warm and fuzzies in this league. Michigan could soon follow Florida in dumping its coach, and
the situation
involving defensive lineman
Frank Clark
appears extremely disturbing. Illinois coach Tim Beckman is on the ropes. Indiana, which beat SEC East-leading Missouri in September, remains winless in conference play.
Still, the Big Ten is doing enough good to keep fans in their seats, on the edge of them or even standing.
The second act is nearing its conclusion, and this time, no one is turning away.
November, 17, 2014
Nov 17
10:00
AM ET
The Big Ten will have no problem filling its bowl slots this season. Rutgers and Penn State became the eighth and ninth bowl-eligible teams in the conference this weekend with wins against Indiana and Temple, respectively.
It hasn't been pretty for the Nittany Lions during the second half of the season, but reaching the postseason in the first chance they have had since the Jerry Sandusky sanctions is a notable accomplishment. Likewise, Rutgers hasn't blown any one's hair back lately, but the Scarlet Knights have outperformed preseason expectations and are bowl bound in their inaugural Big Ten season.
As many as 11 of the conference's 14 teams have a chance to get to the six-win mark before the season is over. Michigan can put the league in double digits with a win against Maryland at the Big House this weekend. Northwestern suddenly has postseason hope after upsetting Notre Dame in overtime. Pat Fitzgerald's team can get to six with wins against Purdue and Illinois in its final two games. The Illini could also back into a couple extra weeks of practice (and perhaps save Tim Beckman's job) if they beat Penn State and then Northwestern in the regular-season finale.
Higher up the food chain in the Big Ten, the postseason pictured continued to flicker toward clarity. Ohio State cleared its biggest remaining hurdle on its way to Indianapolis by beating Minnesota. Wisconsin is in the driver's seat for the West Division title. Iowa and Minnesota are capable of derailing the Badgers, but after what
Melvin Gordon
did this Saturday, the Hawkeyes and Gophers might need to send their defenses on to the field together to slow him down. That brings us to ...
Team of the Week:
Wisconsin's 59-24 win against Nebraska showed it could barrel through a quality opponent as effectively as it ran through the bottom half of the conference. Gordon deservedly dominated headlines around the country with his FBS record-setting 408 yards, and it only took 25 carries to get there. It would be a mistake not to shed a little light on the Wisconsin defense's day as well. The Badgers held the Nebraska offense to 180 total yards. If not for some help from Wisconsin turnovers, the Huskers probably would have come up well short of 24 points.
Biggest play:
The first big play on Saturday remained the biggest when the weekend wrapped up.
J.T. Barrett
gave Ohio State a 7-0 lead in the first five minutes of its win against Minnesota with an 86-yard rushing touchdown. The Buckeyes quarterback isn't considered as good of an athlete as the guy he replaced, but he looked pretty quick while leaving a trail of yellow jerseys behind on what proved to be an important score in a game that was decided by seven points.
Big Man on Campus(Offense):
Gordon is the obvious choice here, but the "Big Men" in front of him deserve a lot of the credit. On more than a quarter of his carries (seven of 25), Gordon ran 20 yards downfield before he was touched by a Nebraska defender. Those holes came courtesy of
Tyler Marz
,
Dallas Lewallen
,
Dan Voltz
,
Kyle Costigan
and
Rob Havenstein
. When Gordon left the game, that crew kept plowing through the snow to lead the Badgers to a total of 581 rushing yards. Wisconsin ranks third nationally in rushing yards per game and is tied for fourth in sacks allowed. When Gordon gets his invite to New York City for the Heisman Trophy ceremony he should be sure to ask for tickets for five of his closest friends.
Big Man on Campus(Defense):
Michigan State rolled through Maryland with a decisive win, but it could have been worse if not for Terps' linebacker
Cole Farrand
. The senior made 18 tackles, 14 of them solo efforts, and broke up two passes in the 37-15 loss. He played a big role in holding the Spartans to one touchdown on their four trips inside the red zone, which kept Saturday night's game competitive -- on the scoreboard at least -- until the end of the third quarter.
Big Man on Campus(Special Teams):
A starter in the outfield for Northwestern's baseball team,
Jack Mitchell
got the biggest walk-off of his life while kicking the winning field goal for the Wildcats in South Bend this weekend. Mitchell hit four of his five attempts in a 43-40 overtime upset of Notre Dame. He tied the game from 45 yards out with 19 seconds remaining and hit a 41-yarder in overtime to seal the victory.
Biggest face-plant:
Nebraska led by two touchdowns on the road before stumbling into a face-down snow angel at Wisconsin. The Badgers' rushing attack helped pop the wheels off of the Cornhuskers' game and possibly their season. Bo Pelini's program continues to smash its head into the ceiling that separates good from great in college football. With competitive games remaining against Minnesota and Iowa, Pelini needs a strong finish to keep the Husker faithful from revolting.
Facts and numbers to know:
Barrett's 86-yards touchdown run was the longest ever by an Ohio State quarterback. He also passed the school record
Braxton Miller
set last season with 38 total touchdowns ... Michigan State's
Jeremy Langford
has 11 touchdowns in his past four games, which matches the entire Penn State offense's total for the 2014 season ... Michigan State won the turnover battle, 4-0, in College Park and now has the best turnover margin (plus-18) in the nation ... The 12 Big Ten teams that played Saturday combined for 30 turnovers. Seven teams had at least three giveaways, but four of them (Wisconsin, Northwestern, Ohio State and Penn State) won games anyway.
November, 17, 2014
Nov 17
8:00
AM ET
Good morning and welcome to the penultimate week of the Big Ten regular season. Some thoughts from the weekend:
1.
Melvin Gordon
's historic day stole all the headlines in Wisconsin's 59-24 demolishing of Nebraska, and rightly so. But the game also raised another important question: How many more times can the Cornhuskers get embarrassed in a big game under Bo Pelini?
It seems to happen at least once or twice a year, usually on the road (and Nebraska has given up 129 points in its last two games vs. Wisconsin). The type of meltdown we saw Saturday wasn't supposed to happen this year, as Pelini looked to have one of his best defenses in recent years. Yet the Huskers were getting steamrolled as if it were the 2012 Big Ten title game all over again.
Take it away,
Tom Shatel
:
"There are no more words. There are no more excuses. There's only a Nebraska football program that can't stop spinning its wheels, keeps driving itself into the same ditch.

Bo Pelini was supposed to be the tow truck. But seven years later, NU is still stuck, maybe more than ever. And it's obvious Pelini doesn't know how to get it out."
It's not much of a stretch to envision Nebraska winning its final two games (Minnesota this week, at Iowa on Black Friday) to finish 10-2. That's in no way a fireable offense. But another season will pass without a conference championship in Lincoln, and as Shatel writes, "the definition of insanity would be to do this another year and expect different results."
Pelini's program should be past this by now,
Steven M. Sipple writes
.
2. Ohio State's offense has been nearly unstoppable for the past couple of months, save for a slog against Penn State's remarkable defense. Urban Meyer's attack has one potential Achilles' heel, however:
turnovers
.
Minnesota was able to keep things close on Saturday in large part because of three Buckeyes giveaways, including two by
Jalin Marshall
. Ohio State also came close to digging itself a huge hole at Michigan State two weeks ago with two early turnovers.
Meyer said he doesn't bench players who make mistakes, but that the problem has to be fixed or eventually they stop playing.
"We're going to grind them, big time," he said Saturday. "I've got to evaluate that. You don't just keep going."
Ball security probably won't be a major issue in the Buckeyes' final two-regular season games, against Indiana and Michigan at home. But living dangerously like that could become a problem in the Big Ten championship game or in whatever postseason destination – a playoff semifinal, perhaps? – awaits them.
3. The Indiana-Rutgers game didn't garner much attention on Saturday, for obvious reasons. It also got overshadowed by Gordon's performance and the Northwestern upset of Notre Dame happening at the same time.
But the Scarlet Knights did win to become bowl-eligible, and they might have saved Kyle Flood's job for another year in the process,
Steve Politi writes
. With games remaining at Michigan State and at Maryland, Rutgers might not finish better than 6-6. Still, given the murderous schedule laid in front of the team in its first year of Big Ten play, getting to the postseason is still an accomplishment. And there are a few other Big Ten teams who would like to have six wins in the bank already.
East Division
West Division
And finally,
here's how you celebrate
when you lead Penn State back to a bowl, apparently.
November, 16, 2014
Nov 16
2:00
PM ET
November, 16, 2014
Nov 16
11:02
AM ET
In one of the coldest games of the season, Ohio State and Minnesota squared off in a back and forth match that ended with a Buckeyes win. The snow and cold might have impacted the play on the field, but it didn't stop Minnesotans from enjoying the day.
The weather also didn't keep the prospects from visiting as there were quite a few recruits in attendance.
He wasn't visiting as a Minnesota target, but Ohio State five-star commit Jashon Cornell decided to attend the game to watch his future team in Ohio State. The Minnesota native didn't have too far of a drive, but it takes some dedication to sit in that weather.
#BuckeyeNation pic.twitter.com/RQsHSXhr6d

— Jashon Cornell (@JayRock_9) November 15, 2014
The Gophers did have some of their own targets on campus, too, including offensive lineman Tyler Moore. There is no confirmation if his mother's name is Mary, but there is confirming that Tyler enjoyed his trip.
Wheels down. Gophers up ?????? pic.twitter.com/0QgSBVWimP

— Tyler Moore (@Ohh_MOE) November 15, 2014
The Gophers weren't the only team to deal with bad weather as Wisconsin also had snow and frigid temperatures. While it was an excellent game to watch, Florida native Andre Smith made it very apparent he was aware of how cold it was.
#OnWisconsin?? pic.twitter.com/aKW702jMhV

— Andre The Giant?? (@AndreSmith_9) November 16, 2014
Offensive line commit David Moorman was also at the game and got the chance to do a little recruiting. Moorman spent some time ESPN 300 offensive lineman Jalen Merrick, who is also from Florida.
In Madison with my boy & future badger offensive lineman @Jalen_Merrick Badgernation show some love #vinceisamidget pic.twitter.com/HuTEM3vMrQ

— David Moorman (@MoorDaddy) November 14, 2014
Penn State wasn't hosting a marquee opponent in Temple, but it didn't stop some of the bigger prospects from coming out to the game. ESPN Jr. 300 wide receiver Brad Hawkins came out for the match and tweeted a picture from his seats.
PSU ?? pic.twitter.com/wQlFUDEKh6

— stay tuned (@bradhawkins9) November 15, 2014
Hawkins is one of the bigger receiver targets along the East Coast, ranked No. 239 in the ESPN Jr. 300, so he will be a focus for the Nittany Lions in the future.
Since the East Coast and surrounding areas are so important to Penn State, it was a huge visit with ESPN Jr. 300 defensive back Eric Burrell out of Maryland.
#ESPNJr300 DB @EricBurrell_ at Penn State yesterday, ranked No. 80 in 2016: pic.twitter.com/mnsNUVDB0Q

— Tom VanHaaren (@TomVH) November 16, 2014
Burrell is ranked No. 80 in the 2016 class and was also on campus with 2017 offensive lineman Jordan McNair.
Maryland ended up losing its game to Michigan State, but once again it was a good game to have recruits on campus for. Some of the prospects in surrounding areas, including ESPN Jr. 300 tight end Naseir Upshur took a visit this weekend.
November 16, 2014
The Terps also had some official visitors, including defensive lineman Wesley Annan.
Because of its location, Maryland has some unique selling poins for recruits, some of which Annan was able to check out for himself.
Illin with honest Abe! pic.twitter.com/B4CVzBfYlp

— Nii Aryee(Wes Annan) (@NiiAnnan_56) November 15, 2014
Annan got to check out the Lincoln Memorial since it's so close to campus. There aren't many other schools that can boast that type of experience for recruits.
November, 16, 2014
Nov 16
12:13
AM ET
Five observations from Saturday's games around the Big Ten:
1. Wisconsin is the team to beat in the Big Ten West.
The Badgers might have stumbled early this season, but they proved in their
59-24
win over Nebraska on Saturday that their recent offensive dominance wasn't just a matter of picking on the little guys. Wisconsin is averaging 44 points per game in its current five-game win streak, after hanging 59 on Nebraska. Dave Aranda's defense also acquitted itself as an elite unit. The Cornhuskers managed only 180 total yards, and all four of their scoring drives started in Wisconsin territory. A trip to Iowa and a season finale against Minnesota are far from "gimmes," but right now, it would be a surprise if anyone other than Wisconsin and Ohio State met in the Big Ten title game.
[+] Enlarge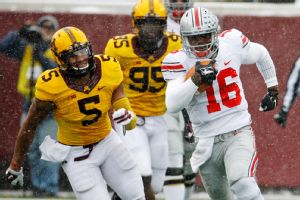 AP Photo/Ann HeisenfeltJ.T. Barrett dashed through the Minnesota snow for 189 yards and a touchdown to keep No. 8 Ohio State's playoff hopes alive.
2. The Big Ten should be well represented at the Heisman Trophy ceremony.
Melvin Gordon's 408-yard performance in the snow -- in three quarters, nonetheless -- will be the stuff of legend in Wisconsin for a long time. It almost certainly punched his ticket to New York City as a Heisman finalist. Ohio State's
J.T. Barrett
also deserves to be a serious candidate for the award. He ran for 189 yards on another snow-covered field in Minnesota, threw three touchdown passes and continued to march his Buckeyes toward a division title and a shot at a coveted playoff spot with a
31-24
win. He and Gordon both deserve to be finalists, which would probably leave the supposedly talent-deprived Big Ten with more players at the ceremony than any other conference.
3. Christian Hackenberg isn't comfortable in Penn State's offense.
Opposing coaches and defenders have been nearly unanimous in anointing the sophomore quarterback a future pro. He hasn't looked like the part recently for the Nittany Lions, and you can't point to a poor offensive line as an excuse this week. He was 12-for-26 with two interceptions and missed a few wide open receivers in a
30-13
win over Temple on Saturday, despite getting good protection. Hackenberg has now thrown 12 interceptions and only seven touchdowns this season. He came to Happy Valley to play in Bill O'Brien's pro-style offense and so far has clashed with the scheme James Franklin is trying to install. He and Franklin need to get on the same page if the Penn State offense is going to improve in the future.
4. Michigan State's defense is still dangerous.
The Spartan Dawgs responded well after giving up 49 -- tied for the most points the program has allowed since Mark Dantonio arrived -- a week ago in the loss to Ohio State. Michigan State held a hot-and-cold Maryland offense to 6 rushing yards and only one touchdown while the game was still in doubt in a
37-15
win. Safety R.J. Williamson had a pick-six, and
Kurtis Drummond
set up a field goal with another interception on the Terrapins' opening drive. On a night when Michigan State's offense wasn't quite as explosive as it has been for most of the season, the defense proved it can still be relied on to deliver a good performance.
5. Expect the unexpected in November.
Chaos might be the one constant in college football, and the Big Ten wasn't immune to it this weekend. Northwestern helped give the league its first win over Notre Dame in 2014 by outlasting the Fighting Irish in a sloppy
43-40
overtime win. The Cats, 17.5-point underdogs Saturday, have had an inexplicably up-and-down season. They beat Notre Dame and Wisconsin but have had some ugly losses. A week before putting up 43 on the road, Northwestern's offense mustered only nine points in a one-point loss to Michigan. Despite erratic play, Pat Fitzgerald has his team within reach of a bowl game if it can beat Purdue and Illinois to finish the season. Nine Big Ten teams already have enough wins to make it to the postseason, with the Wildcats, Michigan and Illinois all still alive.
November, 15, 2014
Nov 15
3:58
PM ET
ESPN.com news services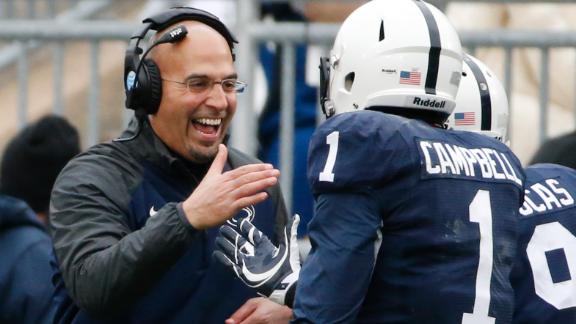 STATE COLLEGE, Pa. -- Penn State capitalized on five Temple turnovers, Akeel Lynch rushed for 130 yards and the Nittany Lions defeated the Owls 30-13 on Saturday to become bowl eligible for the first time since 2011.
Penn State (6-4) rushed for a season-high 254 yards as Bill Belton added 92 yards on 19 carries. Lynch rushed 18 times and scored on a 38-yard touchdown.
The Nittany Lions held Temple (5-5) to 268 yards and intercepted quarterback P.J. Walker four times to pull away from a 6-6 tie late in the third quarter.
Penn State capitalized on turnovers on four straight Temple possessions late in the third quarter and early in the fourth to pull away after the Owls had closed their deficit to 20-13.