September, 17, 2014
Sep 17
10:00
AM ET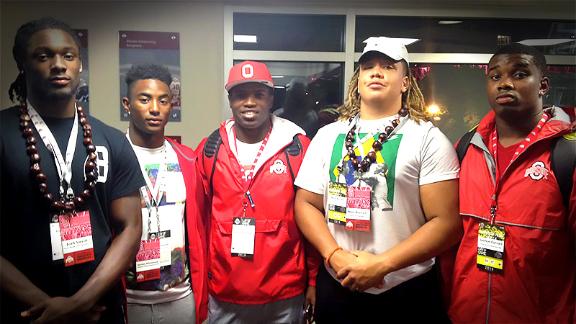 It's a vicious cycle. You have to win to get the right recruits, and you have to get the right recruits to win. That's the merry-go-round the Big Ten conference is currently on, and depending on who you ask, recruits have varying opinions on the conference.
Prospects from the North tend to believe the conference is still in the upper echelon, while a good amount of Southern recruits would say quite the opposite.
The Big Ten has an overall record of 24-14 with only two undefeated teams left, compared to the SEC with eight undefeated teams. The Big Ten also has the lowest winning percentage (63 percent) this season for any Power 5 conference, according to ESPN Stats & Information.
You could argue that there is a direct correlation to those wins and losses when comparing the number of big-name commitments as well. The SEC currently has 87 ESPN 300 prospects committed where the Big Ten has 27.
An ESPN 300 prospect from the South who wished to remain anonymous believes part of the Big Ten's problems on the field and recruiting have to do with geography and coaching.
"The recruiting areas from the North and Midwest aren't really a hotbed for recruiting. Plus, other than Ohio State or maybe Michigan, there's not really any big cities or things you can sell recruits on outside of the university," he said. "Like what does a kid from Florida do at some of those places? Plus, getting a well-known coach like Urban Meyer is a big reason why kids down here like Ohio State.
"They know he can turn things around there and they'll win. They need to get bigger-name coaches where kids can say, 'Yeah, I know him and I know he'll get me ready for the NFL.'"
That isn't the sentiment for every prospect, but plenty of other Southern ESPN 300 recruits agreed with this thinking.
The Northern prospects interviewed did believe the conference is top-heavy with a few teams in the national championship conversation every year, but they had different thoughts on the outlook as a whole.
September, 16, 2014
Sep 16
4:00
PM ET
STATE COLLEGE, Pa. -- Penn State linebacker
Brandon Bell
broke out in a big smile Tuesday afternoon when asked to describe his defensive coordinator. He knew he'd offer the same two-word answer that another teammate used.
"Mad scientist."
"That hits it on the head," Bell said. "He's a guy who knows what he's talking about. And that confidence is instilled in us."
[+] Enlarge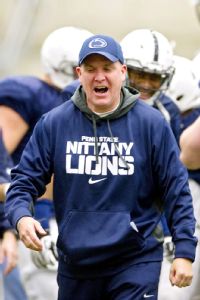 MCT via Getty ImagesBob Shoop's unit ranks among the nation's best in scoring defense.
Call defensive coordinator Bob Shoop what you will. But, by any measure, you'd have to call him a success. Penn State's defense was inconsistent at best, and poor at worst, last season. The Nittany Lions ranked No. 48 in total defense and No. 59 in scoring defense, while PSU fans everywhere were forced to take a deep breath on
third
-and-long with those passes over the middle. Now, despite preseason question marks, the defense is soaring as one of the nation's best.
The Lions are No. 13 in total defense and No. 11 in scoring defense. Sure, there's a lot of time left in this season, but players are noticing a big difference. And a lot of that starts with Shoop and his penchant for calling the right play at the right time.
"I don't know if we're doing that much different," linebacker
Nyeem Wartman
said, comparing this season to 2013. "It just seems like the play-calling and the timing is right. There are no more than two or three plays that seem new."
Said James Franklin: "I've been on the headset on defense where Bob's calling out 75 percent of the plays before they're being run. He's calling out, 'We're going to get an interception here,' and things like that. It's impressive, it really is."
Shoop literally broke out a pack of Icebreaker breath mints last week and told his defense they were going to "break the ice" with some turnovers. It was a silly move, one that drew laughs, but Shoop followed that up by saying this defense would force five turnovers against Rutgers on Saturday.
On Saturday, Penn State wound up with five interceptions against the Scarlet Knights. In several different interviews, within an hour after the game, Penn State's defensive players swore that Shoop called those five picks. He knew the Nittany Lions would have opportunities, and he told his squad five turnovers is what it would take for a win.
"It's crazy," linebacker
Mike Hull
said, half in disbelief. "It's crazy it worked out that way. You never think about that kind of stuff; you just do your job and hope things take care of themselves."
It's premature to call this a defensive renaissance for the Nittany Lions. But it's not too early to call this a dramatic improvement over last season. The secondary in 2013 was the Achilles' heel of the team, and cornerback
Trevor Williams
struggled so mightily that PSU shuffled the lineup to bench him midway through the season. On Monday, Williams was named the Big Ten defensive player of the week after pulling down two picks against Rutgers.
The offseason graduation of defensive tackle DaQuan Jones -- whom NFL.com's Gil Brandt once rated as the top senior DT -- was supposed to prove problematic. But now first-year starter
Anthony Zettel
could be on pace for Big Ten defensive player of the year. These linebackers were also supposed to struggle with their depth and inexperience outside, but they've been just fine.
When problems become strengths, and question marks evolve into exclamations, that's a definite sign of progress. And it has been a mark of Shoop and this staff.
"He's like a mad scientist the way he figures out defenses and tendencies of the offenses," Wartman said. "He's the one who predicted the five turnovers, and he's the one who said we were going to come out and not give up 14 points. He's just phenomenal."
September, 16, 2014
Sep 16
3:00
PM ET
Another week, another Big Ten coaches' teleconference. Here are some of the highlights from today's session featuring all 14 league coaches:
Dantonio on ex-Spartan QBs winning in the NFL: OC Dave Warner "did an outstanding job with those guys ... We attract a high-quality player."

— Mitch Sherman (@mitchsherman) September 16, 2014
Franklin says DaeSean Hamilton didn't start coming on until this summer. Started hearing buzz on him from players after voluntary workouts.

— Brian Bennett (@BennettESPN) September 16, 2014
Edsall: We're scoring points, moving the ball. But we're doing some things to shoot ourselves in the foot.

— Brian Bennett (@BennettESPN) September 16, 2014
Urban Meyer on the bye: "We're really going to get after it" because Cincinnati can cause problems next week.

— Austin Ward (@AWardESPN) September 16, 2014
N'western's Fitz on how his team lost its edge:"We lost two games, that's how it was lost." Well, simple enough.Should get some back vs. FCS

— Josh Moyer (@ESPNJoshMoyer) September 16, 2014
Kirk Ferentz on Iowa's struggles running the ball: "Our opponents have done a good job of trying to take that away from us."

— Mitch Sherman (@mitchsherman) September 16, 2014
Kill expects QB Mitch Leidner to practice today, reports of a broken toe aren't true.

— Dan Murphy (@DanMurphyESPN) September 16, 2014
Flood says Penn State DT Anthony Zettel is "as good as anybody in the country."

— Brian Bennett (@BennettESPN) September 16, 2014
Geronimo Allison's TD catch last week "rates with some of the great ones I've been around," Beckman says.

— Dan Murphy (@DanMurphyESPN) September 16, 2014
September, 16, 2014
Sep 16
11:15
AM ET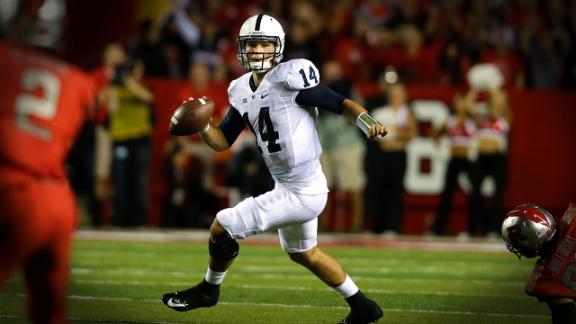 Penn State picked up some good news from the NCAA, which resulted in more positive news on the recruiting trail this weekend. Ohio State solidified its spot in a top target's list, and a few new offers were extended this week.
Here is a look at the latest happenings on the recruiting trail within the Big Ten.
To continue reading this article you must be an Insider
September, 16, 2014
Sep 16
8:00
AM ET
Concerns about the new College Football Playoff and its impact on how we watch games have made their way into the national conversation this week. What took so long?
After three weeks of trying to place even the most meaningless wins and losses into the context of how they might affect which four teams will battle for a national championship in January,
some are starting to worry
that the new system might be sucking the joy out of Saturdays in the fall.
Is the cycle of playoff-centric predictions and analysis stripping the magic away from upsets and heroic moments? Will fans lose interest once they're told their team no longer has a title shot? Michigan State coach Mark Dantonio felt it necessary to tell his followers that
not all hope was lost after a Week 2 defeat in Oregon.
While it's probably a good thing that the setters of national storylines are treading cautiously around the long-awaited change to the postseason, it's not time to yearn for the good ole days of the BCS quite yet. Part of the overemphasis on playoff discussion can be blamed on the system still being a new, shiny mystery. No one knows how the 13-person committee will weigh each contender yet. Some of that will fade in future years when the college football court develops a precedent.
Another part of the saturation comes from the heavy slate of inter-conference competition that occurs each September. With only four playoff spots available to five conferences, the battle to establish a positive perception before falling into league play is intense. That posturing is less likely to fade, making the future of college football a more tribal affair. The SEC won't be the only fanbase chanting for its conference after big wins, and that doesn't sound like a bad byproduct of the playoff hype.
Even in our unsettled present state, a crowd of red bandana-wearing Boston College students didn't seem bothered by the fact that they aren't playoff contenders while storming the field to celebrate their upset of USC Saturday night. Iowa's last-second loss to in-state rival Iowa State was neither more nor less gut-wrenching than it would have been in the BCS era. Fear not, the magic isn't gone. There's still plenty to play for without the hope of a College Football Playoff berth.
And speaking of playing for more than a playoff spot, kudos to Penn State quarterback
Christian Hackenberg
and the rest of his Nittany Lions teammates who showed up or stayed in Happy Valley despite having the opportunity to back away penalty-free from a team that wasn't eligible for any bowl games until a week ago.
That's when the NCAA decided it wasn't going to punish current players for the past sins of the program's coaches and administrators. After leading a fourth-quarter comeback against Rutgers Saturday night,
Hackenberg told reporters that the lack of a postseason goal helped bring his team closer together
. Now that Penn State is atop the Big Ten East Division and eligible for bowl games, he says the camaraderie they built "is not going to change for a while."
And now, without further ado, the links:
East Division
West Division
September, 15, 2014
Sep 15
9:20
PM ET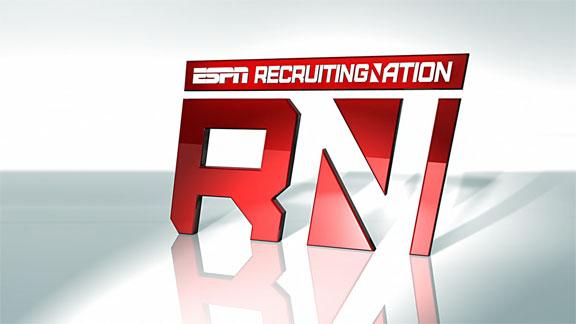 ESPN 300 offensive lineman
Matt Burrell Jr.
has already taken an official visit to
Ohio State
, and that trip has resonated with the No. 61 ranked prospect. He still has four more official visits to take, but Burrell says he has his list in order as it stands.
To continue reading this article you must be an Insider
September, 15, 2014
Sep 15
5:00
PM ET
Let's cut through the pleasantries -- it wasn't really a pleasant weekend for the Big Ten -- and get right to the mailbag questions. As always -- more than ever, in fact -- thanks for your submissions.
@mitchsherman @ESPN_BigTen who are the favorites to come out of each division after the struggles the B1G has faced over the past two weeks?

— Adam Boben (@abobes7) September 15, 2014
Mitch Sherman: Nothing has changed in the East, where Michigan State remains the team to beat. The Spartans look like the best team in the league, and I don't think you will get much of an argument from logical fans of other Big Ten teams. If anything, the results of the past two weeks -- even the Michigan State setback at Oregon -- has solidified MSU atop its division. It's murky in the West, where the schedule says Iowa is the favorite. The Hawkeyes' play does not. Wisconsin also plays a favorable slate, and we will see if the week off has allowed the Badgers to flip momentum. If so, they are a co-favorite with Nebraska, which, despite a near disaster against McNeese State, has produced two of the league's top performances this seasons in wins against Fresno State and Florida Atlantic.
@mitchsherman @ESPN_BigTen it appears stave is throwing and taking part in drills. Should we expect to see him soon? Need his big arm.

— Douglas Greenberg (@DougGreenB) September 15, 2014
Mitch Sherman: Joel Stave, fighting a football version of the yips, returned to team drills in some form last week, though coach Gary Andersen has not declared anything in regard to his senior quarterback. Sounds like it remains an extended process with Stave, who has sought some outside attention in dealing with his throwing issues. It's good to hear that Stave has maintained a healthy approach in practice, though I have concerns about his effectiveness even after he clears the hurdles necessary to get back on the field. What happens when adversity strikes in a game? How will it impact his play to perform in front of tens of thousands of people who know about his struggles? For that reason, expect the Badgers to move slowly with Stave. The schedule is on their side, staying soft through October.
@mitchsherman @ESPN_BigTen Purdue played well against ND last year & then tanked. How will they fare after a decent ND game this year?

— Joe Paulsen (@yazdog8) September 15, 2014
Mitch Sherman: Well, considering that the Boilermakers tanked this year before playing Notre Dame, I don't know if parallels exist to be drawn. It seems that Purdue does a nice job of getting up for the Irish, or maybe it's something about the matchup that works well. Or maybe Notre Dame is disinterested. Regardless, the Boilers have a good shot on Saturday against unbeaten FCS foe Southern Illinois. If it doesn't happen, another one-win season enters the realm of possibility. As bad as the Big Ten looks, I still don't see that as likely. Quarterback Danny Etling showed improvement against Notre Dame, and hey, Northwestern visits Ross-Ade Stadium this year. Realistically, if Purdue can build on the good things from Saturday in Indianapolis, as many as four games in the Big Ten could be competitive.
@mitchsherman if OSU would've had Kent as 1st game to tune up, think they'd look as rough as they did 1st 2 games?

— Matt Pacholski (@Mpachol) September 15, 2014
Mitch Sherman: That question wins the award, Matt, for most intriguing of the day. I'm not sure J.T. Barrett and the Buckeyes would have defeated Kent State 66-0 if it had been the opener. But it would have been an easy victory that could have provided the young quarterback and his offensive line with the confidence it lacked against Navy and Virginia Tech. I'm convinced that by the end of this season, Virginia Tech could not come into the Horseshoe and dominate Ohio State in any way close to what happened in Week 2. By the same token, the Buckeyes might have had even more trouble with Navy if that game came later in the season. But to answer your question, no; Ohio State would have fared better in its bid to escape this nonconference season with a perfect mark intact if the order of games had been arranged differently..
September, 15, 2014
Sep 15
1:14
PM ET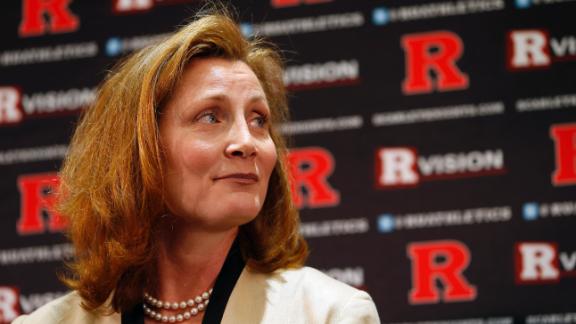 Rutgers athletic director Julie Hermann issued a public apology Monday afternoon for the "classless display" of some fans against Penn State after photos popped up on social media of some Scarlet Knights fans making light of the Jerry Sandusky child sex abuse scandal.
The Scarlet Knights, making their Big Ten debut, hosted the Nittany Lions on Saturday night, and photos began making the rounds on Facebook and Twitter before the game. Several photos showed Rutgers fans wearing red "Beat Ped State!" T-shirts, while another showed an inappropriate banner in Penn State's colors.
"On behalf of Rutgers University and the Athletic Department, we would like to apologize for the regrettable actions of a handful of Rutgers fans on Saturday that do not convey the message of good, competitive spirit that we look forward to having with our new Big Ten rival Penn State University," Hermann wrote in a statement.
Hermann alluded to both the T-shirts and the banner in a news release and said they briefly appeared on Rutgers' Facebook page as part of a 200-picture montage. The photos were immediately removed.
Hermann said she contacted Penn State's athletic director, Sandy Barbour, to offer further apologies.
"I would like to apologize equally to the Penn State University fans, as well as Rutgers fans that were subjected to this classless display that does not represent the ethos of our university, athletic department or fan base."
Rutgers set a school attendance record for the game with a crowd of 53,774 at High Point Solutions Stadium, 37 more fans than the 2009 Cincinnati-Rutgers contest. Rutgers lost to Penn State 13-10 on Saturday night.
September, 15, 2014
Sep 15
1:00
PM ET
The Big Ten is down to its final weekend of widespread nonconference play before mercifully retreating to league games.
The conference followed its flop on the big stage in Week 2 by dropping from eight unbeaten teams to two -- Nebraska and Penn State -- in Week 3. Big Ten teams fell to 1-10 on the season against Power 5 opponents. Saturday night ended with a glimmer of hope thanks to Penn State quarterback
Christian Hackenberg
's fourth-quarter magic in a win over Rutgers. A few teams will have an opportunity to build on that optimism in the coming week.

1. Last chance to save face:
The last two weeks sufficiently bulldozed any Big Ten claims to conference supremacy, or even equality, but a couple programs can scrape a bit of remaining dignity off the pavement with wins this weekend. Indiana and Iowa get a shot to redeem last-minute losses on the road. The Hoosiers are a long shot to beat No. 18 Missouri, and Iowa's run defense will be put to the test at Pitt. Nebraska is the league's best chance at this point. The Cornhuskers(3-0) can provide some relief if they stay unbeaten with a win over Miami in primetime. After that game, the Big Ten has only one nonconference matchup with a Power 5 team remaining in 2014 – Northwestern's trip to Notre Dame in mid-November.

2. Letdown alert:
What a week it was for the Nittany Lions in Happy Valley. It started with the announcement that Penn State's NCAA sanctions were cut short for good behavior and ended with ruining Rutgers' conference welcome party in a 13-10 come-from-behind victory. The Lions, now that they are eligible for the postseason, are suddenly in the mix in the East Division. Penn State gets easy-to-overlook UMass this week. The Minutemen are 0-3 but gave Vanderbilt all it could handle last weekend. Could they catch James Franklin's new team peeking into the future and make this Saturday an interesting game?

3. Is Michigan's defense for real?
The Wolverines enter Week 4 with a top 10 defense despite three of its veteran starters missing time due to injuries. Michigan has shut down the teams it should, allowing an average of 252.7 total yards against Appalachian State, Miami (Ohio) and No. 9 Notre Dame. The Irish hung 31 points on the Wolverines, but turnovers were the bigger culprit in that loss. Michigan held
Everett Golson
and his offense to a respectable 280 yards. Enter Utah, which brings the No. 3 scoring offense in the nation to Ann Arbor. The Utes racked up 1,115 yards of offense in wins over Idaho State and Fresno State. They should provide a good measuring stick for where the Michigan defense stands a month into the season.

4. The Same Old Nova:
Senior quarterback
Gary Nova
threw five interceptions in Rutgers' Big Ten debut, proving he may not have exorcised his past turnover demons just yet. His shot at redemption will come against Navy, which has won two games since sticking with Ohio State for three quarters in its season opener. Consecutive losses for the Scarlet Knights could knock the wind from the sails of a positive start for Kyle Flood's team this season. Rebounding from an emotional week and a tough loss won't be easy.

5. Can Northwestern keep its season from going completely off the rails?
Losers in nine of their last 10 games, the Wildcats host the Leathernecks of Western Illinois (2-1) this weekend. Coach Pat Fitzgerald challenged his team's toughness and pride heading into the bye week and ramped up the intensity at practice. Will the attitude adjustment help Northwestern improve its 115th-ranked rushing attack and 112th-ranked scoring offense? The best case scenario for Fitzgerald's team this weekend would be keeping the jury in deliberation until the start of conference play. Another rough outing against a lowly opponent could spin things out of control in Evanston.
September, 15, 2014
Sep 15
10:00
AM ET
There they go again.
Just when it looked like it was safe to start kicking around some other leagues, the Big Ten tripped all over itself and bumbled away its handful of chances to claim wins over teams from Power 5 conferences.
Minnesota and Illinois were blown out. Purdue fought hard but was ultimately overmatched. A shootout slipped away from Maryland. It's probably best not to mention what happened to Iowa at all.
The conference obviously has nobody else it can blame for the lack of respect nationally when it keeps coming up short in its biggest opportunities to earn it around the nation. There may still be a College Football Playoff contender or two at the top of the league, but if there's a logjam for the third and fourth spots in December, the Big Ten's best may look back at September games it wasn't even involved in as the reason it gets left out of the playoff field.
There were a few bright spots Saturday scattered among the wreckage. Reflect on those and start turning the page to Week 4.
Team of the week:
Struggling mightily to find the end zone for 58 minutes, Penn State didn't look much like the program about to pick up the most valuable win of the weekend. But
Christian Hackenberg
again delivered when it mattered most, calmly leading the game-winning drive in the closing minutes and staking the Nittany Lions to an early lead in the East Division with a rivalry win over Rutgers.
Game of the week:
The game tape won't be sent to the Hall of Fame and the outcome didn't go the Big Ten's way, but the battle for the Cy-Hawk Trophy was still an entertaining affair -- though certainly not because of the offenses. The emotions were high, the score was close from start to finish and the closing minutes leading up to Iowa State's go-ahead field goal also provided a seemingly endless amount of opportunities to question the clock-management skills of Iowa coach Kirk Ferentz. There were high-scoring, competitive games elsewhere, but this was pretty solid theater that will still be worth dissecting all week.
Biggest play:
After the Nittany Lions beat their heads against the wall for more than three quarters, Hackenberg had one final shot at a breakthrough as he took a snap with three minutes left on the clock. His strike to
Geno Lewis
on first down went for 53 yards, instantly flipping the field position and setting the stage for Penn State's breakthrough. Lewis would also grab another 23-yarder on the drive, but it was the initial hookup that generated the momentum that finally carried the Nittany Lions to the end zone.
Big Man on Campus (offense):
The opponent clearly didn't provide much of a challenge, and looking back now, Ohio State surely wishes it could have shuffled around its schedule to get
J.T. Barrett
a chance to tune up against a team like Kent State instead of throwing him into the fire against Navy and Virginia Tech. Who knows if it would have changed anything, but the redshirt freshman quarterback certainly left Saturday's blowout with more confidence after tying a school record with six touchdown passes and throwing for more than 300 yards -- two things
Braxton Miller
has never done with the Buckeyes.
Big Man on Campus (defense):
The Nittany Lions might need to split this award up after that impressive second-half shutout and only allowing one touchdown total on the way to their road win.
Anthony Zettel
was again a fixture in the backfield with three tackles for loss,
C.J. Olaniyan
forced a fumble and tallied a sack, and four different defenders intercepted Rutgers quarterback
Gary Nova
. But
Trevor Williams
doubled down with a pair of picks and finished second on the team with five tackles, giving him the slight nod.
Big Man on Campus (special teams):
The Huskers might have finally found the solution for the problem that has been plaguing them over the last couple seasons on special teams.
De'Mornay Pierson-El
provided a jolt of energy to Nebraska's punt return unit, dazzling with an 86-yard scamper for a touchdown and following that up with a 51-yarder as an encore shortly after to set up another score in the rout of Fresno State.
Biggest face plant:
The Hawkeyes are tempting, but Indiana's loss at Bowling Green figures to be far more damaging to Kevin Wilson's club and its bid to get back to a bowl game. The defense is still a weakness that no amount of production from running back
Tevin Coleman
can consistently overcome, and the Hoosiers will probably be kicking themselves over this loss in November.
Numbers and facts to know:
Nebraska running back
Ameer Abdullah
moved up to No. 5 on the school's all-time rushing list, posting his 19th 100-yard rushing performance to move his career total up to 3,373. ... Officially, Barrett's 300-yard outing through the air was Ohio State's first since Troy Smith in 2006. Terrelle Pryor threw for 334 yards against Indiana in 2010, but those statistics were vacated. ... Michigan held Miami (Ohio) to 33 rushing yards, its lowest rushing total allowed since 2010.
September, 14, 2014
Sep 14
10:15
PM ET
Oklahoma
landed two high-profile recruits this weekend, but scoring a pledge from ESPN 300 safety
Will Sunderland Jr
. is about as big as it gets. Plus,
Boston College
will be able to use its victory over then top-10
USC
as a big selling point on the recruiting trail.
To continue reading this article you must be an Insider
September, 14, 2014
Sep 14
8:00
PM ET
The major development in this week's bowl projections isn't that the Big Ten suddenly looks poised for a breakthrough postseason. If anything, things went from bad to worse for the league in Week 3 with a 3-6 record in nonconference games.
So what changed? Penn State is back. For good.
Not only did the Lions improve to 3-0 under new coach James Franklin, but they learned Monday that they once again are eligible for bowl games after two seasons of sanctions. So for the first time since the 2011 season, Penn State appears in the bowl projections. While the Lions have a lot to fix, especially on offense, they're a young, talented team that should improve throughout the season. They've posted two of the better wins (UCF and Rutgers) of any Big Ten team so far, and we like their potential to keep racking up W's.
Penn State is slotted for the Capital One Bowl, which knocks several teams down a peg. There's some shuffling at the bottom of the projections as Minnesota tumbles following its blowout loss at TCU, and Indiana falls out of the rankings entirely after an all-too-familiar-looking defeat at Bowling Green.
We continue to keep two teams in the major bowls as Ohio State rebounded nicely from the Virginia Tech loss to crush Kent State.
To the projections ...
Chick-fil-A Peach/Cotton/Fiesta/Orange:
Michigan State
Chick-fil-A Peach/Cotton/Fiesta/Orange:
Ohio State
Capital One:
Penn State
Outback:
Nebraska
National University Holiday:
Wisconsin
TaxSlayer/Franklin American Mortgage Music City:
Iowa
San Francisco:
Michigan
New Era Pinstripe:
Maryland
Quick Lane:
Minnesota
Heart of Dallas:
Rutgers
College Football Top Plays Week 4