March, 4, 2014
Mar 4
2:30
PM ET
The college football offseason is way too long. Trust us; we're suffering through it along with you. As spring practices kick off across the Big Ten, we're looking way in the distance toward the actual games, which kick off in late August.
If you're unfamiliar with this series, we each pick a game featuring a Big Ten team in every week of the season. There are no editors telling us where to go -- or to stay home -- and money is no issue in this fantasy road trip. We base our choices on the quality of the matchup, how often we've seen a certain team and other factors, including the game's location. The only restriction: one game per week, even when it's possible to attend more.
Let's begin with Week 1. Here's the schedule:
Aug. 30
Indiana State at Indiana
James Madison at Maryland
Appalachian State at Michigan
Jacksonville State at Michigan State
Ohio State at Navy (at M&T Bank Stadium in Baltimore)
Penn State vs. UCF (at Croke Park in Dublin, Ireland)
Rutgers at Washington State (at CenturyLink Field in Seattle)
Youngstown State at Illinois
Northern Iowa at Iowa
Eastern Illinois at Minnesota
Florida Atlantic at Nebraska
California at Northwestern
Western Michigan at Purdue
Wisconsin vs. LSU (Reliant Stadium in Houston)
Adam Rittenberg's pick:
Wisconsin vs. LSU


The Week 1 slate isn't as
pathetic as last year's
, and there are a few decent matchups and some great trips, such as Dublin and Seattle. But only one game truly pops on the national radar, and it's a big one for both Wisconsin and the Big Ten. The Badgers embark on a series of marquee openers against elite SEC opponents, as they face LSU both this fall and in 2016 (at Lambeau Field in Green Bay), and Alabama in 2015 (at Cowboys Stadium in Arlington, Texas). These moves show Wisconsin is serious about making a push for College Football Playoff selection, and they're nice departures from the typical early season snoozers we see from the Badgers.
The opportunity to see
Melvin Gordon
, a potential Heisman Trophy candidate, face an always stout LSU defense is enough to get me to Houston, a city I've never visited (other than the airport). Gordon has a chance to showcase his immense talent on a national platform. Wisconsin has many questions elsewhere, from
the quarterback spot
to the defensive front seven. We'll find out much more about coach Gary Andersen and his staff in Year 2 as they'll have more influence on the roster and the philosophy. LSU also is reloading, personnel-wise, after losing a glut of underclassmen to the NFL draft for the second straight year. Wisconsin has an extremely favorable Big Ten schedule, so the opener might provide the most accurate gauge on the 2014 Badgers.
I'm heading out to buy boots and a belt buckle. Bringing an appetite for barbecue shouldn't be a problem.
Brian Bennett's pick:
Penn State vs. UCF


Top o' the mornin' to ya, lads. Sure
,
Wisconsin vs. LSU is the monster game of Week 1, but unlike Adam, I've actually been to Houston. The airport has about as much charm as the rest of the city. I'm going to be selfish here and choose the Croke Park Classic. How many other times do you get a chance to travel to Ireland and watch college football?
And the game itself offers plenty of intrigue, even if it no longer matches two coaches with Irish names. James Franklin makes his debut as the Nittany Lions head coach, and after he has built up some excitement through his recruiting and public pronouncements, I'm really interested to see what a Franklin-coached Penn State team actually looks like. Don't forget that UCF is coming off a Fiesta Bowl victory, though this game would draw a lot more attention if it featured a
Blake Bortles
-
Christian Hackenberg
matchup. The Knights have some major holes to fill, but then again so do the Lions, starting at receiver in the post-
Allen Robinson
era.
I would expect a fun game and even better times from the trip itself. Save me a stool at the pub. As long as we agree not to talk about soccer.
March, 4, 2014
Mar 4
1:30
PM ET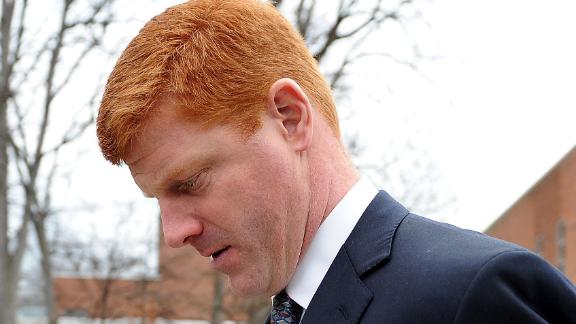 Former Penn State quarterback and later assistant coach Mike McQueary was the key whistleblower in the Jerry Sandusky sex scandal that brought down Joe Paterno and several school leaders.
McQueary will once again be an important figure in the criminal trials of Graham Spanier, Tim Curley and Gary Schultz and in his own lawsuit against Penn State. ESPN The Magazine takes a closer look at McQueary in
this gripping story
.
One of the bombshells from the story is that McQueary told Penn State players in 2011 that he could relate to Sandusky's victim in the shower incident he witnessed because he, too,
had been sexually abused as a child
.
Don Van Natta Jr. writes that McQueary's life has been difficult since his allegations came to light. He still lives in State College at his parents' house but is unemployed and broke:
Approaching 40, McQueary fills his days hunting for distractions, scouring the web for employment -- he's failed to land several sales jobs -- and visiting his lawyer's office at a strip shopping center. On some days, he pays his respects at Joe Paterno's final resting place.
Van Natta also reports that McQueary developed a compulsive gambling problem while he was a player at Penn State and that he even bet on Nittany Lions games:
One former teammate specifically recalls that Big Red bet and lost on his own team in a November 1996 game against Michigan State at Beaver Stadium. With McQueary serving as a backup on the sideline, favorite PSU won on a late field goal 32-29 but didn't cover the eight-point spread.

As his losses mounted, McQueary owed thousands of dollars to a bookie, a debt that was eventually erased by his father, several people say. A college friend recalls urging McQueary to slow down. "It got pretty bad," the friend says, "and it just kept snowballing and snowballing. He was very impulsive."

Whether Paterno or his assistants were aware of McQueary's gambling isn't known, but several teammates and former coaches say they doubt it. By all accounts, McQueary was fooling fans across Happy Valley -- and pulling the wool over on Paterno. "I love Joe to death," says a woman who worked for years in the football office. "But in a lot of ways, he was clueless."
There have been inconsistencies in McQueary's account of what he saw in the Lasch Building showers on Feb. 9, 2001, and those statements and his memory will thoroughly be dissected in the forthcoming trials.
March, 4, 2014
Mar 4
12:00
PM ET
Whoever ticked off Frosty, can you just apologize already?
March, 4, 2014
Mar 4
9:00
AM ET
STATE COLLEGE, Pa. – We've reached Day 2 of this week's countdown, which is centered on the top position battles to keep an eye on this spring.
Up today is a position battle that's actually a positive for the Nittany Lions …
No. 4 position battle:
Tight ends
[+] Enlarge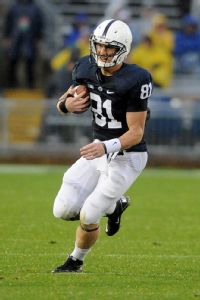 David Dermer/Diamond Images/Getty ImagesPenn State's Adam Breneman is battling with older players for playing time at tight end.
Departures:
Matt Lehman
(2 catches, 17 yards; injured in Week 1)
Returning players:
Adam Breneman
(15 catches, 183 yards),
Kyle Carter
(18 catches, 222 yards),
Jesse James
(25 catches, 333 yards),
Brent Wilkerson
(missed season with injury),
Mike Gesicki
(incoming freshman)
Breaking it down:
This is not a position of concern. Quite the contrary, actually. Tight end is the deepest position on the offensive side of the ball, and the Nittany Lions have three solid players here in Breneman, Carter and James. But who'll finish the season with the most catches? Who'll wind up as
Christian Hackenberg
's top threat?
Each of those three players will be battling this spring to become that No. 1. Two seasons ago, Carter seemed like he was on pace to be the Big Ten tight end of the year before an injury derailed his hopes. He boasted the best hands on the team, but his wrist was still taped up during a Monday weightlifting session. Last season, James was the top option -- and he provides an excellent red-zone target with his height of 6-foot-7. And then there's Breneman, the up-and-coming tight end who's a great friend of Hackenberg's and who might have boasted the best chemistry with the young QB. They all have their own strong points, and this should definitely be an interesting position battle.
When you take
Allen Robinson
out of the equation, tight ends caught 41.6 percent of passes last season and 42.5 percent of throws the year before that. This group should make a big splash, but it's still unknown who'll lead them.
Pre-camp edge:
James. He was the top target last season, so it's fair to say he has the edge right now. He has a great blend of size and speed, and this could be his breakout year now that Robinson is headed to the NFL. Breneman still has work to do -- namely improving his blocking -- to become an every-down tight end, so this spring race seems like it would be between Carter and James. Carter has the potential, but there's no telling whether the terrific 2012 version will show up. As a result, right now, James has to be considered the leader.
More position battles to watch:
No. 5:
Kicker
March, 3, 2014
Mar 3
5:00
PM ET
Let's beat a case of the Mondays and another depressing winter storm with this edition of the mailbag. Remember to
keep your questions coming
, as Adam and I are both doing two mailbags per week now. Or you can always
tweet us
your questions.
Kyle from Madison, Wis., writes:
With spring games on the horizon, we once again see the difference between the BIG and the SEC; where BIG spring games are a moderately attended sideshow that might be fun for a family, SEC games routinely sell out. Is there any way to increase interest among BIG fan bases for these games, and is there any benefit (besides, in the case of Wisconsin, raising extra money for a cause) to doing so?


Brian Bennett: I wouldn't classify Ohio State's spring game as "moderately attended;" the Buckeyes led the nation in spring-game attendance in 2012 with more than 81,000 and set a record with more than 95,000 at the 2009 event. (That figure dipped to 37,000 last year, but Ohio State moved its spring game to Cincinnati in 2013 because of renovations at the 'Shoe). Nebraska got more than 60,000 people to come out to its spring game last year, which became memorable because of Jack Hoffman's inspiring touchdown run. Penn State had more than 60,000 two years ago, and I would expect a big crowd at Beaver Stadium next month to see the beginning of the James Franklin era.
Still, Kyle is right that the average spring game attendance in the Big Ten is typically less than that of the SEC. Just check out
this list
from last spring. But one of the main factors on attendance at those events is weather, and of course, April weather in the Midwest can be a whole lot more unpredictable (and sometimes downright unfriendly) than it is in the South. Unlike with real games in the fall, most fans and alums don't plan for weeks on making it to a game; they look at the weather and see if it's worth it to sit outdoors and watch a practice. Spring games are a great way for fans to get a glimpse of their team during the long offseason, especially those with kids, but they're not usually all that exciting, either. And with every team's spring game available on the Big Ten Network or elsewhere, I can't blame anyone for finding something better to do on an April weekend.
---
Andy from Beavercreek, Ohio, writes:
Does Bo Pelini's raise signal a commitment to the coach, or is it a "Hey, recruits, don't run screaming when we lose a few games" raise?

Brian Bennett:
It's neither, Andy. The $100,000 pay raise Pelini got was worked into his contract in 2011 and was nothing more than a scheduled formality. The more interesting question is whether he'll get a one-year extension to keep his current deal at five years. It hasn't happened yet, but it still could. Ultimately, though, we all know that 2014 is what's most important for Pelini's future. If Nebraska has a mediocre or subpar year, athletic director Shawn Eichorst might be inclined to make a change. If Pelini can finally deliver a conference title or at least maintain the nine- and 10-win plateau without as much off-the-field drama as last year, he'll likely be safe.
---
Jared from Columbus, Ohio, writes:
Can you think of another year where Ohio State's defense would have accounted for 30 percent of the best offensive performances of the season? I've heard the excuse that the talent was down from the norm, but you can't tell me the Buckeyes had less talented athletes than many teams that outpreformed them on D. Are you surprised there hasn't been more talk about accountability of the coaches, especially with a guy like Urban Meyer at the helm?

Brian Bennett:
It was by no means a vintage year for the Silver Bullets, though most of the bad Ohio State defensive performances came in the final weeks of the season. Depth became a major issue, especially in the Orange Bowl, and I was a bit surprised some younger players such as
Vonn Bell
didn't see more reps earlier in the year. (Though, to be fair, the Buckeyes were 12-0 and ranked No. 2 going into the Big Ten title game). Meyer has said over and over again that Ohio State's defense has not been up to standards, especially at linebacker. He has not really criticized his coaches or defensive coordinator Luke Fickell much at all publicly, and I'm not sure what purpose that would serve. The offseason hiring of Chris Ash from Arkansas to be co-defensive coordinator spoke volumes, however, and I'd expect him to have a big role in the defense this year.
---
Luke B. via Twitter writes:
Do you think Indiana's two-QB system can work, or would it be in IU's best interest to pick one and stand by him?

Brian Bennett:
I would argue that it can work and that it did work, for the most part, last season, as the Hoosiers fielded the Big Ten's top passing offense despite juggling
Nate Sudfeld
and
Tre Roberson
at quarterback. Sudfeld started off the season hot but faded a little down the stretch as Roberson took on a bigger role. Sudfeld throws it a little better than Roberson, but Roberson has better wheels. Conventional wisdom suggests that you need to pick just one guy, but Northwestern had success with a two-quarterback system in 2012 and used the same plan last season. Would coach Kevin Wilson like to see one guy totally separate and command the offense this spring as the clear No. 1? Probably. But part him probably also likes the idea of having two guys push each other constantly and knowing he has an option should one struggle on gameday.
---
LP from NYC writes:
Brian: Nobody really talks about this but it feels to me that one the reasons the B1G made the decision to expand East was to protect one of their power brands, who at the time was just given the worst penalty in the history of college sports. Now that my Nittany Lions have shocked the world, including Jim Delany, do you think the B1G brass regrets this decision even a little bit? I mean, can you imagine if they went after Carolina and Duke instead of Rutgers and Maryland?
Brian Bennett:
While there were rumors of the ACC courting Penn State and it's no secret the Nittany Lions felt isolated, I don't think the NCAA penalties had any impact whatsoever on the league's decision to expand East. This was all about opening up new markets, both for TV eyeballs, new fans and recruiting purposes. That's why the Big Ten chose schools located in the highly populated New York/New Jersey and Washington D.C./Baltimore/Virginia, even if the specific programs offered nothing extra special in terms of football. North Carolina and Duke would have given the league better "brands" (though not all that much in football), but they wouldn't have created as much potential areas for growth. It's also odd to me to suggest that league officials would regret the expansion decision when Rutgers and Maryland haven't even officially joined the conference yet.
March, 3, 2014
Mar 3
2:30
PM ET
We're taking snapshots of each position group with each Big Ten team entering the spring. Up next: the defensive lines.

Illinois:
This is a significant concern for the Illini, especially after
the recent departure
of
Houston Bates
, who started last season at the Leo (defensive end/outside linebacker) spot. Illinois also loses its other starting defensive end,
Tim Kynard
. The team will rely heavily on junior-college players such as
Jihad Ward
and
Joe Fotu
, but it also needs holdovers like
Dawuane Smoot
and
Paul James
III to step up on the perimeter. Illinois returns more experience inside with
Austin Teitsma
and
Teko Powell
, but there should be plenty of competition, especially with the juco arrivals, after finishing 116th nationally against the run.

Indiana:
The anticipated move to a 3-4 alignment under new coordinator Brian Knorr creates a different dynamic for the line this spring. Indiana must identify options at the all-important nose tackle spot, and possibilities include sophomores
Ralphael Green
and
Darius Latham
, both of whom are big bodies.
Nick Mangieri
had a nice sophomore season and should be in the mix for a starting job on the perimeter (end or outside linebacker), while
David Kenney
could be a good fit as a 3-4 end. Defensive end
Ryan Phillis
is the team's most experienced lineman, and
Zack Shaw
also has some starting experience.

Iowa:
This group should be the strength of the defense as Iowa returns three full-time starters -- tackles
Carl Davis
and
Louis Trinca-Pasat
, and end
Drew Ott
-- as well as
Mike Hardy
, who started the second half of the season opposite Ott. End
Dominic Alvis
departs, but Iowa brings back almost everyone else from a line that allowed only eight rushing touchdowns in 2013. Junior
Darian Cooper
could have a bigger role and push for more playing time inside, and
Nate Meier
provides some depth on the perimeter after recording two sacks in 2013. Iowa is in good shape here.

Maryland:
The Terrapins employ a 3-4 scheme and appear to be in good shape up front, as reserve
Zeke Riser
is the only rotation player to depart.
Andre Monroe
leads the way at defensive end after an excellent junior season in which he led Maryland in both sacks (9.5) and tackles for loss (17).
Quinton Jefferson
started at defensive end last season and recorded three sacks. There should be some good competition this spring at nose tackle between
Keith Bowers
and
Darius Kilgo
, both of whom had more than 30 tackles last season. The challenge is building greater depth with players such as end
Roman Braglio
.

Michigan:
If the Wolverines intend to make a big step in 2014, they'll need more from the front four, which didn't impact games nearly enough last fall. Michigan's strength appears to be on the edges as veteran
Frank Clark
returns after starting every game in 2013 and recording a team-high 12 tackles for loss.
Brennen Beyer
, who started the second half of last season, is back at the other end spot, and Michigan has depth with
Mario Ojemudia
and
Taco Charlton
. There are more questions inside as
Willie Henry
,
Chris Wormley
and others compete for the starting job. Young tackles such as
Henry Poggi
and
Maurice Hurst Jr
. also are in the mix, and
Ondre Pipkins
should be a factor when he recovers from ACL surgery.

Michigan State:
The Spartans return the best defensive end tandem in the league as
Shilique Calhoun
, a second-team All-American in 2013, returns alongside
Marcus Rush
, one of the Big Ten's most experienced defenders.
Joel Heath
,
Brandon Clemons
and others provide some depth on the perimeter. It's a different story inside as MSU loses both starters (
Micajah Reynolds
and
Tyler Hoover
), as well as reserve
Mark Scarpinato
.
Damon Knox
,
James Kittredge
and
Lawrence Thomas
, who has played on both sides of the ball, are among those who will compete for the starting tackle spots. If
Malik McDowell
signs with MSU, he could work his way into the rotation.

Minnesota:
Defensive tackles like
Ra'Shede Hageman
don't come around every year, and he leaves a big void in the middle of Minnesota's line. The Gophers will look to several players to replace Hageman's production, including senior
Cameron Botticelli
, who started opposite Hageman last season. Other options at tackle include
Scott Ekpe
and
Harold Legania
, a big body at 308 pounds. Minnesota is in much better shape at end with
Theiren Cockran
, arguably the Big Ten's most underrated defensive lineman. Cockran and
Michael Amaefula
both started every game last season, and
Alex Keith
provides another solid option after recording five tackles for loss in 2013.

Nebraska:
Other than MSU's Calhoun, Nebraska returns the most dynamic defensive lineman in the league in
Randy Gregory
, who earned first-team All-Big Ten honors in his first FBS season. If the Huskers can build around Gregory, they should be very stout up front this fall. Nebraska won't have Avery Moss, suspended for the 2014 season, and players such as
Greg McMullen
and junior-college transfer
Joe Keels
will compete to start opposite Gregory. The competition inside should be fascinating as junior
Aaron Curry
and sophomore
Vincent Valentine
both have starting experience, but
Maliek Collins
came on strong at the end of his first season and will push for a top job.

Northwestern:
It will be tough to get a clear picture of this group in the spring because of several postseason surgeries, but Northwestern should be fine at defensive end despite the loss of
Tyler Scott
.
Dean Lowry
,
Ifeadi Odenigbo
and
Deonte Gibson
all have significant experience and the ability to pressure quarterbacks. Odenigbo, who had 5.5 sacks as a redshirt freshman, could become a star. The bigger questions are inside as Northwestern must build depth.
Sean McEvilly
is a solid option but must stay healthy.
Chance Carter
and
Max Chapman
are among those competing for starting jobs at tackle.

Ohio State:
A total mystery last spring, the defensive line should be one of Ohio State's strengths in 2014.
Noah Spence
and
Joey Bosa
could become the Big Ten's top pass-rushing tandem, and the Buckeyes have depth there with
Jamal Marcus
,
Adolphus Washington
and others. Returning starter
Michael Bennett
is back at defensive tackle, and while
Joel Hale
might move to offense, there should be enough depth inside with
Tommy Schutt
,
Chris Carter
and Washington, who could slide inside. Nose tackle is the only question mark, but new line coach Larry Johnson inherits a lot of talent.

Penn State:
Like the rest of the Lions defense, the line struggled at times last season and now much replace its top player in tackle
DaQuan Jones
. The new coaching staff has some potentially good pieces, namely defensive end
Deion Barnes
, who won 2012 Big Ten Freshman of the Year honors but slumped as a sophomore. Barnes and
C.J. Olaniyan
could form a dangerous pass-rushing tandem, but they'll need support on the inside, where there should be plenty of competition.
Austin Johnson
will be in the mix for a starting tackle spot, and early enrollees
Tarow Barney
and
Antoine White
also should push for time.
Anthony Zettel
provides some depth on the perimeter.

Purdue:
The line endured a tough 2013 campaign and loses two full-time starters (tackle
Bruce Gaston
Jr. and end
Greg Latta
), and a part-time starter (end
Ryan Isaac
). Competition should be ramped up at all four spots this spring. Senior end
Ryan Russell
is the most experienced member of the group must take a step this offseason.
Evan Panfil
and
Jalani Phillips
will push for time at the end spots, along with Kentucky transfer
Langston Newton
.
The group at tackle includes Ryan Watson and Michael Rouse III, both of whom started games in 2013.

Rutgers:
Keep a close eye on this group in the spring as Rutgers begins the transition to the Big Ten. The Scarlet Knights lose two starters in end
Marcus Thompson
and tackle
Isaac Holmes
, as well as contributor
Jamil Merrell
at tackle.
Darius Hamilton
provides a building block on the inside after recording 4.5 sacks and 11.5 tackles for loss in 2013, and end
Djwany Mera
is back after starting throughout last season.
David Milewski
played tackle last year, but both he and Hamilton likely need to add weight for their new league. Rutgers has some talent in the younger classes and needs players such as
Sebastian Joseph
,
Kemoko Turay
and
Julian Pinnix-Odrick
to emerge.

Wisconsin:
Linebacker
Chris Borland
is the biggest single departure for the Badgers' defense, but the no position group loses more than the line. Wisconsin must replace several mainstays, most notably nose tackle
Beau Allen
, who performed well in the first year of the 3-4 set under coordinator Dave Aranda. Senior
Warren Herring
will step in for Allen after three years as a reserve.
Konrad Zagzebski
is a good bet to fill one of the end spots, but there will be plenty of competition with players such as
Jake Keefer
,
James Adeyanju
,
Arthur Goldberg
and
Chikwe Obasih
.
March, 3, 2014
Mar 3
12:00
PM ET
Alright, alright, alright ...
March, 3, 2014
Mar 3
9:00
AM ET
STATE COLLEGE, Pa. -- It's Monday, so you know what that means: the start of another countdown to help the offseason tick by a little faster.
Every day this week, we'll be looking at another position battle to keep an eye on this spring. Up Monday is a battle that returns one of the most inconsistent players Penn State has had in the last decade.
[+] Enlarge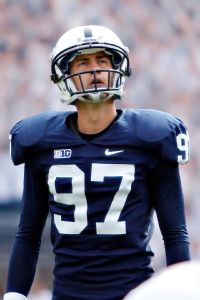 Justin K. Aller/Getty ImagesSam Ficken struggled down the stretch last season.
No. 5 position battle:
Kicker
Departures:
None
Returning players:
Sam Ficken
(15-of-23 field goals),
Chris Gulla
(one game played), Troy Stivason (incoming freshman),
Joe Julius
(incoming freshman)
Breaking it down:
Ficken is a two-year starter, but his job isn't exactly secure right now. It seemed like he had things figured out by Week 4 last season, making 15 consecutive field goals dating to 2012, but then his maddening inconsistency returned. He converted just half of his eight field goals in the last five games, and no attempt was longer than 37 yards.
When Penn State entered the red zone, there was no guarantee -- no matter how close -- that it would come away with three points. And, this summer with the addition of two walk-ons, there'll be more competition for Ficken than there has ever been. That being said, Gulla will be the man to challenge Ficken this spring. Gulla is a sophomore who boasted other walk-on offers from the likes of South Carolina, and he'll likely be the starting punter this season. However, field-goal kicking was Gulla's specialty when he first arrived at Penn State. He should at least push Ficken this offseason. The main key here, though? Consistency. If a kicker here can find consistency -- at any range -- it would go a long way in deciding this race.
Pre-camp edge:
Ficken. He has the experience, and Gulla's attention right now has to be focused on punting. Both he and his high school coach said at this time last season that punting was what Gulla had to work on the most, so James Franklin might not want to divide his attention -- as long as Ficken is serviceable. Ficken is truly a wild card; he could nail a 55-yard field goal on one possession and shank a 24-yard kick on the next. He holds the Penn State record for most consecutive made field goals (15), but he also has managed to record a career 65.2 percent field goal rate. If he finds his groove, just as he did during those 15 field goals, he could be an All-Big Ten kicker. Or he could be buried on the depth chart by August. There might not be a bigger question mark on the team, when it comes to performance, than Ficken.
February, 28, 2014
Feb 28
2:30
PM ET
We're taking snapshots of each position group with each Big Ten team entering the spring. Up next: the big uglies.

Illinois:
This is another group that appears to be in significantly better shape now than at the start of coach Tim Beckman's tenure. The Illini lose only one full-time starter in tackle
Corey Lewis
, as four other linemen who started at least eight games in 2013 return. Senior tandem
Michael Heitz
and
Simon Cvijanovic
are two of the Big Ten's most experienced linemen, and guards
Ted Karras
also has logged plenty of starts. Right tackle appears to be the only vacancy entering the spring, as
Austin Schmidt
and others will compete.

Indiana:
The Hoosiers have somewhat quietly put together one of the Big Ten's best offensive lines, and the same should hold true in 2014. Everybody is back, and because of injuries before and during the 2013 season, Indiana boasts a large group with significant starting experience.
Jason Spriggs
should contend for first-team All-Big Ten honors as he enters his third season at left tackle. Senior
Collin Rahrig
solidifies the middle, and Indiana regains the services of guard
Dan Feeney
, who was sidelined all of 2013 by a foot injury.

Iowa:
The return of left tackle
Brandon Scherff
anchors an Iowa line that could be a team strength this fall. Scherff will enter the fall as a leading candidate for Big Ten offensive lineman of the year. Iowa must replace two starters in right tackle
Brett Van Sloten
and left guard
Conor Boffeli
.
Andrew Donnal
could be the answer in Van Sloten's spot despite playing guard in 2013, while several players will compete at guard, including
Tommy Gaul
and
Eric Simmons
. Junior
Austin Blythe
returns at center.

Maryland:
Line play will go a long way toward determining how Maryland fares in the Big Ten, and the Terrapins will
make the transition with an experienced group
. Four starters are back, led by center
Sal Conaboy
, who has started games in each of his first three seasons. Tackles
Ryan Doyle
and
Michael Dunn
bring versatility to the group, and Maryland should have plenty of options once heralded recruit
Damian Prince
and junior-college transfer
Larry Mazyck
arrive this summer. Prince is the top Big Ten offensive line recruit in the 2014 class, according to ESPN RecruitingNation. New line coach Greg Studwara brings a lot of experience to the group.

Michigan:
The Wolverines' line is under the microscope this spring after a disappointing 2013 season. Michigan loses both starting tackles, including
Taylor Lewan
, the Big Ten's offensive lineman of the year and a projected first-round draft choice. The interior line was in flux for much of 2013, and Michigan needs development from a large group of rising sophomores and juniors, including
Kyle Kalis
,
Kyle Bosch
,
Jack Miller
,
Graham Glasgow
, and
Patrick Kugler
. Both starting tackle spots are open, although
Ben Braden
seems likely to slide in on the left side.
Erik Magnuson
is out for spring practice following shoulder surgery, freeing up opportunities for redshirt freshman
David Dawson
and others.

Michigan State:
The line took a significant step forward in 2013 but loses three starters, including left guard
Blake Treadwell
, a co-captain. Michigan State used an eight-man rotation in 2013 and will look for development from top reserves such as
Travis Jackson
(
Yes! Yes!
) and
Connor Kruse
.
Kodi Kieler
backed up Treadwell last season and could contend for a starting job as well. Coach Mark Dantonio said this week that converted defensive linemen
James Bodanis
,
Devyn Salmon
and
Noah Jones
will get a chance to prove themselves this spring. It's important for MSU to show it can reload up front, and the large rotation used in 2013 should help.

Minnesota:
For the first time since the Glen Mason era, Minnesota truly established the line of scrimmage and showcased the power run game in 2013. The Gophers return starters at four positions and regain
Jon Christenson
, the team's top center before suffering a season-ending leg injury in November. Right tackle
Josh Campion
and left guard
Zac Epping
are mainstays in the starting lineup, and players such as
Tommy Olson
and
Ben Lauer
gained some valuable experience last fall. There should be good leadership with Epping, Olson,
Marek Lenkiewicz
and
Caleb Bak
.

Nebraska:
Graduation hit the line hard as five seniors depart, including 2012 All-American
Spencer Long
at guard and
Jeremiah Sirles
at tackle. Nebraska will lean on guard
Jake Cotton
, its only returning starter, and experienced players such as
Mark Pelini
, who steps into the center spot. Senior
Mike Moudy
is the top candidate at the other guard spot, but there should be plenty of competition at the tackle spots, where
Zach Sterup
,
Matt Finnin
and others are in the mix. Definitely a group to watch this spring.

Northwestern:
Offensive line struggles undoubtedly contributed to Northwestern's disappointing 2013 season. All five starters are back along with several key reserves, and coach Pat Fitzgerald already has seen a dramatic difference in the position competitions this spring as opposed to last, when many linemen were sidelined following surgeries. Center
Brandon Vitabile
is the only returning starter who shouldn't have to worry about his job.
Paul Jorgensen
and
Eric Olson
opened the spring as the top tackles, and
Jack Konopka
, who has started at both tackle spots, will have to regain his position.

Ohio State:
Like Nebraska, Ohio State enters the spring with a lot to replace up front as four starters depart from the Big Ten's best line.
Taylor Decker
is the only holdover and will move from right tackle to left tackle. Fifth-year senior
Darryl Baldwin
could step in at the other tackle spot, while
Pat Elflein
, who filled in for the suspended
Marcus Hall
late last season, is a good bet to start at guard.
Jacoby Boren
and
Billy Price
will compete at center and
Joel Hale
, a defensive lineman, will work at guard this spring. Ohio State has recruited well up front, and it will be interesting to see how young players such as
Evan Lisle
and
Kyle Dodson
develop.

Penn State:
New coach James Franklin admits he's concerned about the depth up front despite the return of veterans
Miles Dieffenbach
and
Donovan Smith
on the left side. Guard
Angelo Mangiro
is the other lineman who logged significant experience in 2013, and guard/center
Wendy Laurent
and guard
Anthony Alosi
played a bit. But filling out the second string could be a challenge for Penn State, which could start a redshirt freshman (
Andrew Nelson
) at right tackle. The Lions have to develop some depth on the edges behind Nelson and Smith.

Purdue:
The Boilers reset up front after a miserable season in which they finished 122nd out of 123 FBS teams in rushing offense (67.1 ypg). Three starters return on the interior, led by junior center
Robert Kugler
, and there's some continuity at guard with
Jordan Roos
and
Justin King
, both of whom started as redshirt freshmen. It's a different story on the edges as Purdue loses both starting tackles. Thursday's addition of junior-college tackle
David Hedelin
could be big, if Hedelin avoids a potential NCAA suspension for playing for a club team.
Cameron Cermin
and
J.J. Prince
also are among those in the mix at tackle.

Rutgers:
Continuity should be a strength for Rutgers, which returns its entire starting line from 2013. But production has to be better after the Scarlet Knights finished 100th nationally in rushing and tied for 102nd in sacks allowed. Guard
Kaleb Johnson
considered entering the NFL draft but instead will return for his fourth season as a starter. Rutgers also brings back
Betim Bujari
, who can play either center or guard, as well as
Keith Lumpkin
, the likely starter at left tackle. It will be interesting to see if new line coach Mitch Browning stirs up the competition this spring, as younger players
Dorian Miller
and
J.J. Denman
could get a longer look.

Wisconsin:
There are a lot of familiar names up front for the Badgers, who lose only one starter in guard
Ryan Groy
. The tackle spots look very solid with
Tyler Marz
(left) and
Rob Havenstein
(right), and
Kyle Costigan
started the final 11 games at right guard. There should be some competition at center, as both
Dan Voltz
and
Dallas Lewallen
have battled injuries. Coach Gary Andersen mentioned on national signing day that early enrollee
Michael Deiter
will enter the mix immediately at center. Another early enrollee, decorated recruit
Jaden Gault
, should be part of the rotation at tackle. If certain young players develop quickly this spring, Wisconsin should have no depth issues when the season rolls around.
February, 28, 2014
Feb 28
12:00
PM ET
February, 28, 2014
Feb 28
9:00
AM ET
STATE COLLEGE, Pa. -- There'll be a lot of players and positions to watch closely this spring, but there's one name that comes up time and time again when it comes to these watch lists.
So, to finish off this week's countdown on the five players to watch, we have a player whom the most eyes will be on at Penn State.
[+] Enlarge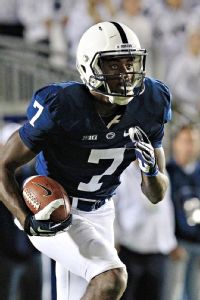 Matthew O'Haren/USA TODAY SportsWill this be the season Geno Lewis lives up to his potential?
No. 1 spring player to watch:
WR
Geno Lewis
2013 review:
The middle of the season -- outside of the six-catch Indiana game -- was a statistical desert for Lewis, as he sat behind both
Allen Robinson
and
Brandon Felder
in addition to playing second-fiddle behind the tight ends. Still, he showed great potential in the first and last games. In the opener against Syracuse, he made an athletic adjustment to catch an underthrown
54-yard TD pass
. And in the finale against Wisconsin, he reeled in an
over-the-shoulder 59-yard TD grab
. Those two games accounted for all of Lewis' three TD receptions and 65 percent of his season's receiving yards (153 of 234 yards). He overtook Felder in the lineup in the final two or three games of the year, but that finale is really what got people talking.
Why spring is so important:
This spring, and this season, are boom-or-bust time for Lewis. The Pennsylvania native headlined the 2012 recruiting class, and this will determine whether he's ready to step up and live up to that potential. With early enrollee
De'Andre Thompkins
and three talented incoming freshmen on their way, this is Lewis' time to assert himself. If it doesn't happen this season, then it's never going to happen. Someone needs to fill A-Rob's shoes, and Lewis is the top candidate. Wide receiver is a wild card for the Nittany Lions this season, because they have plenty of talent but not a whole lot of experience. Lewis could play a major role in this offense or he could flounder. There's really no telling where he might end up right now. So, if there's one player to watch this spring, it's him.
Best-case scenario:
No, he doesn't surpass Robinson in terms of talent or numbers. But he establishes himself as one of the Big Ten's better wideouts and finds a spot on the All-Big Ten's second-team offense. He finishes with more than 55 catches, and he becomes Christian Hackenberg's top weapon downfield. He might not lead the team in touchdowns since those 6-foot-7 tight ends are awfully hard to miss once in the red zone, but he's the big-play threat this offense needs. He leads the team -- by far -- in yards per catch, and at least one of his athletic catches makes an appearance on SportsCenter's top 10 plays.
Worst-case scenario:
He starts in the season opener but, as the freshmen develop, they quickly overtake Lewis. The redshirt sophomore becomes an offensive afterthought, much like Felder did late in the season, and he's buried on the depth chart behind at least two of the freshmen. Hackenberg relies on the tight ends and the young receivers, while Lewis struggles and finishes with about 25 catches. Because of the new recruits coming in, that ends up being a career high. He never lives up to expectations, and Penn State struggles while the young line and receivers take time to jell.
More players to watch:
No. 5:
DB
Adrian Amos
No. 4:
LB
Nyeem Wartman
No. 3:
DL
Anthony Zettel
No. 2:
OT
Andrew Nelson
The Early Offer: March 5
BIG TEN SCOREBOARD
Saturday, 12/21
Monday, 12/23
Tuesday, 12/24
Thursday, 12/26
Friday, 12/27
Saturday, 12/28
Monday, 12/30
Tuesday, 12/31
Wednesday, 1/1
Thursday, 1/2
Friday, 1/3
Saturday, 1/4
Sunday, 1/5
Monday, 1/6