April, 16, 2014
Apr 16
11:45
AM ET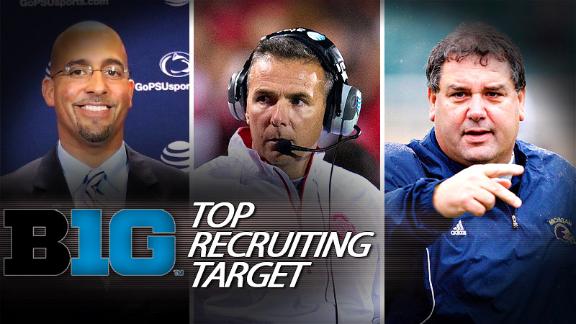 The top-ranked prospects tend to wait out the process, so there are still some huge names at the top of Big Ten recruiting boards. The top targets will be fought over by most teams within the conference, which will make for some interesting recruiting battles.
Here is a look at the top five targets within the Big Ten in the
2015 ESPN 300
.
DE Jashon Cornell
6-4, 270 pounds
ESPN 300 rank: No. 16
To continue reading this article you must be an Insider
April, 15, 2014
Apr 15
5:00
PM ET
It's tax day and you owe me some emails. No refunds granted here, unless you follow us
on Twitter
.
To the inbox ...
Brutus from The Ninth Circle writes:
What's your take on where B1G recruiting stands at the moment, and where do you think it will be, come signing day? I'm not sure which is more surprising, that Penn State is as strong as it is at the moment, or that Ohio State and Michigan aren't that high in the lists. Granted, there is still quite a bit of time to go until signing day, but momentum is important. Do you think this all evens out by signing day and Ohio State takes the No. 1 spot within the B1G?

Adam Rittenberg:
Brutus, although the recruiting cycle is accelerated, it's way too soon to draw conclusions about the
Big Ten recruiting for 2015
. Penn State's early surge is notable because coach James Franklin came in making bold declarations and so far has backed them up. Michigan typically has been a very fast starter and the Wolverines already have five verbals for 2015, led by ESPN 300 cornerback
Garrett Taylor
. Ohio State often makes its push later on, even before signing day, and has the luxury of being patient. There are
pros and cons to racking up a bunch of early commitments
.
It's a good thing for Penn State. As running backs coach Charles Huff recently told me, "We're the new girl in school, so a lot of guys want to date us." But I wouldn't worry about Ohio State and Michigan. They'll both be fine.
---
Brian from Atlanta writes:
Adam, I've often seen you support more weeknight and Saturday night games for the B10. On the other hand, I've seen the presidents and ADs in the P12 complain incessantly about how many weeknight and Saturday night games they have. In 2013, they played 33 night games to our 18 (both split equally between ESPN/FOX and BTN/P12N/FS1). Is this a case of the grass always being greener, or is there a sweet spot in the middle?
Adam Rittenberg:
Another great question, Brian. Keep 'em coming. It really comes down to what's best for each conference. The Big Ten boasts the biggest stadiums and some of the largest fan bases in college football. It still moves the needle even though on-field performance has been down for some time. The Big Ten should be competing for that Saturday night TV window as often as possible. Until recently, the league has been missing out.
The Pac-12, meanwhile, loses a huge audience when its games kick off after 5 p.m. local time. If you start a game at 7:30 p.m. Pacific time, most of the country has tuned out. There are pros and cons to weeknight games, and I understand the concern about an early weeknight kickoff -- like Oregon-Stanford -- as it's hard to fill the stands. But TV is king here, and the Pac-12 needs to showcase its product.
---
Josh C. from Atlantic City, N.J., writes:
Hey Adam, Big Rutgers fan here. Couldn't be more excited for the new season in the B1G. In fact lots of people in NJ are talking about the move and better competition. I've heard a lot of talk about "non-existent" RU fans. Do you think the rest of the B1G is underestimating the volume of fans? Whether it be quantity or quality.
Adam Rittenberg:
I hope so, Josh, and it's good to hear the buzz is building in the Garden State for Rutgers' Big Ten arrival. I sense that there's a portion of Rutgers fans waiting to come out and support the team when things improve on the field. We saw a lot of enthusiasm for the program during the breakout season in 2006 (Who can forget Jeremy Ito?). Rutgers followed up with several solid seasons before taking a step back in 2013. The Big Ten move should generate excitement and support, especially when teams such as Penn State, Michigan and Wisconsin visit Piscataway. But Rutgers needs to perform well to show the Big Ten that its fan base is significant.
---
Austin from Iowa writes:
What are the chances
Jake Rudock
has the best Career of any quarterback in the Ferentz era with two years to go and a stacked offense matched with a decent Iowa defense in a division with no real power team at the moment? Is it possible for Rudock to really make a name for himself nationally and lead Iowa to a couple of division, maybe conference titles?

Adam Rittenberg:
Austin, at first I thought it would be really tough for Rudock to eclipse other Kirk Ferentz-era quarterbacks Ricky Stanzi, Brad Banks or even Drew Tate. Banks had a phenomenal year in 2002 but struggled at times the previous season. Stanzi led Iowa to an 18-4 record as the starter in 2008 and 2009 and had his best statistical season by far in 2010, but the team massively underachieved that fall. Tate had good years in 2004 and 2005 but struggled in his final season in 2006. So yes, Rudock has a chance. I wouldn't say Iowa's offense is stacked, though, and the Hawkeyes must show more explosiveness at the skill positions. A favorable schedule gives Iowa a great chance to reach the Big Ten title game this year, which would put Rudock in the category with the other Hawkeyes QBs mentioned.
---
Tom from Lincoln, Neb., writes:
Adam -- a few months ago a local TV station ran an interview with FauxPelini, but agreed not to show his face or reveal his identity. Turns out he lives in the Chicago area. So I gotta ask: Is it you?
Adam Rittenberg:
I wish I were that funny, Tom. No, it's not me. But if I ever locate Faux in Chicago, I'm buying him a beer for bringing me a lot of laughs over the years. I'm quite happy that
Bo has regained custody of the cat
. I'm allergic to them.
April, 15, 2014
Apr 15
12:00
PM ET
Heading to Hawkeye Country later today. Any recommendations?
April, 15, 2014
Apr 15
11:00
AM ET
The most exciting day of the Big Ten offseason is here. OK, not really, but it's definitely in the top five.

The first portion of the Big Ten's prime-time schedule is out as ABC/ESPN made its six selections for games to be played under the lights. The Big Ten Network will announce its prime-time picks next week. Additional kickoff times could be announced later this spring or early in the summer.
Here's the ABC/ESPN schedule:
Sept. 6
Virginia Tech at Ohio State, 8 p.m. ET, ESPN
Sept. 20
Miami at Nebraska, 8 p.m. ET, ABC or ESPN or ESPN2
Oct. 4
Nebraska at Michigan State, 8 p.m. ET, ABC or ESPN or ESPN2
Oct. 11
Penn State at Michigan, 7 p.m. ET, ESPN or ESPN2*
Oct. 25
Ohio State at Penn State, 8 p.m. ET, ABC or ESPN or ESPN2
Nov. 1
Illinois at Ohio State, 8 p.m. ET, ABC or ESPN or ESPN2
*-previously announced
A few notes, quotes and observations:
November night games
Contrary to popular belief, the Big Ten never had a strict policy against playing prime-time games after Nov. 1, but most of its schools preferred to keep those games in the first two months of the season. League members have shown an increased willingness to schedule more prime-time games, and after discussing November night contests for several years, we finally have one.
[+] Enlarge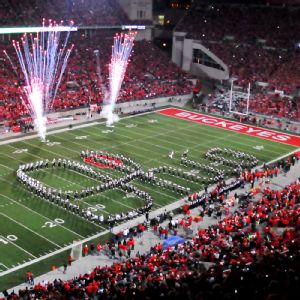 David Dermer/Getty ImagesOhio Stadium will host its first November night game in 2014.
Although the November matchup -- Illinois at Ohio State -- lacks a wow factor, this is still a positive step for the league. Also, this is
not the final list
for November prime-time games, as others will be announced in the future.
"There is a real recognition with our coaches, our athletic directors and our fans that prime-time football is very important," Mark Rudner, the Big Ten's senior associate commissioner for television administration, told ESPN.com. "It's important to the conference, it's important to recruiting, it puts you on a big stage.
"It's a big event whenever you have prime-time football."
Ohio State athletic director Gene Smith and coach Urban Meyer both have vocalized their desire for more night games. The Buckeyes get three of them on ABC/ESPN (two home, one road), and possibly more to come. It's the Urban Effect.
Huskers, Lions back in prime
No two Big Ten fan bases value night football at their home venues more than Penn State and Nebraska. The Nittany Lions and Huskers both host prime-time games on ABC/ESPN in 2014 (Nebraska didn't have an ABC/ESPN prime-time game in 2013) and make multiple appearances.
The Nebraska-Miami game should be a fun one, especially given the history between the two programs in bowl games (their last five meetings took place in major bowl games). Nebraska's visit to Michigan State is one of few must-see division crossover contests, so it makes sense in prime time.
Beaver Stadium will be rocking for the Ohio State game as former longtime Penn State assistant coach Larry Johnson makes his return to Happy Valley wearing scarlet and gray. Although Penn State remains ineligible for postseason play, the Lions' value is reflected here with East Division matchups against both Michigan and Ohio State. The Lions' consecutive winning seasons despite the bowl ban, plus the arrival of coach James Franklin, enhance the program's appeal for top TV slots.
No limits on prime-time appearances
Big Ten teams typically have had no more than three prime-time appearances per season, but like the November night games issue, this was more of a preference than a policy. As schools like Ohio State become increasingly more open to night football, the number of prime-time appearances will increase, and will occasionally exceed three.
Wisconsin played four prime-time games (two home, two road) in the 2011 season.
"That three [limit] was really self-imposed," Rudner said. "You could waive it if you wanted to. I don't know if that will be as hard and fast as it was before. They see the value in these big events, these big games."
Additional games/announcements
Some Big Ten prime-time games were previously announced, such as Michigan's Sept. 6 trip to Notre Dame and Purdue's Sept. 13 neutral-site game against Notre Dame. A game time has not been set for Wisconsin's season-opener against LSU on Aug. 30 in Houston, but the game will kick off in prime time and be televised by an ESPN network.
One thing to remember when predicting or analyzing night-game choices: other games being played in the same window. Prime-time kickoffs offer certain benefits, but teams don't like being overshadowed in the late window.
April, 14, 2014
Apr 14
5:00
PM ET
Sorry for the lack of a mailbag last Wednesday, but I was busy catching up with folks at Ohio State. Never fear: the Monday mailbag is back.
D.J. from Minneapolis writes:
What happens to the union story if the Northwestern players vote no?
Brian Bennett:
A great question, and based on media comments from several players -- most notably quarterback
Trevor Siemian
-- it sure seems like the Wildcats players are against the union and will vote no on April 25. But there might be a stronger undercurrent of support from players who are not as vocal in public. Given that the leader of the movement,
Kain Colter
, has already graduated and won't be eligible to vote, you wonder who on the team will take the baton and push for the union. All it takes, remember, is a simple majority.
So does a no vote mean this is the end of the story? I don't think it's that basic. Northwestern players would be able to try to unionize again next year. The regional National Labor Relations Board ruling has also set a precedent, at least for football players at private schools, and those who believe in the cause, such as CAPA president Ramogi Huma, would likely try to persuade players at other programs to follow Northwestern's lead. The school will continue to try to fight the original ruling, as well.
If the Wildcats' players vote no next week, we might not see any tangible results from the union movement for a while. If nothing else, however, it was another shot across the bow at the NCAA and another huge warning to the leaders of college sports that they had better make some changes before a judge or a legislature does it for them.
---
Kelly from Wilmington, N.C., writes:
Brian, I know you said in
your article
that you don't think "The Game" would ever be a prime-time game, but do you think Michigan will gauge this year's game vs. Penn State to consider using Penn State and Ohio State every other year for a night game? They went from "never" to yes with Notre Dame and are now using Penn State. Yes, they get a great spot every year on ABC, but could you imagine if they moved to it a night game? Is it possible that they have realized that at least one night game a year is great in so many ways, not just for Michigan, but the Big Ten as a whole?
Brian Bennett:
I shouldn't have written "never" to the idea of an Ohio State-Michigan night game, because so many things have changed in college football that anything is possible. I never thought we'd actually see a playoff, for instance. But both schools have said they're not in favor of moving "The Game" away from the afternoon and under the lights. Michigan athletic director Dave Brandon doesn't even want to play Michigan State at night and so I doubt he will budge on the idea of playing Ohio State in prime time. And I don't think this game needs any more attention, as evidenced by all the signs and reminders of the rivalry that I saw while visiting both Michigan and Ohio State earlier this month. So I wouldn't expect it to happen anytime soon, though never say never.
---
Rob NitLion from Morristown, N.J., writes:
Can any conclusions be drawn about the benefit of spring games based on some of the attendance numbers you guys have mentioned in your recaps? I'm not going to pull a
Braxton Miller
and brag about PSU's "domination" of spring game attendance in the B1G, but ... some schools can really use the spring game as a springboard for recruiting, while other schools ... under 10,000 at Maryland, Indiana, Illinois, Wisconsin and more might only be hurting their own image? Weather wasn't much of a factor this weekend, so what is the reasoning for the rather paltry attendance numbers, or is the annual spring game at other schools not nearly the weekend long "festival" that the Blue-White game is in State College every year?
Brian Bennett:
I've come to the conclusion that spring games just aren't as big a deal at some places as they are others. And that's OK. I don't have much of a tolerance for spring games and don't like watching them, because you learn less from those than you would from watching just about any other practice. Sure, it's a fun day for fans to see their teams and sit in the stadium and maybe get some autographs, and all that is great. But I also have no problem with people who feel like they have better things to do than watch football that often isn't really representative of the finished product, with many star players usually being held out.
I don't know if spring game attendance factors much into recruiting. It certainly can't hurt to sell that to recruits as evidence of intense interest and appreciation of your program. But Michigan hasn't gotten many big spring game crowds over the years and that doesn't seem to affect the Wolverines' recruiting very much. I doubt many prospects are basing their decisions on anything that occurs at a spring game, and if they are, that is misguided on their part.
---
Dalton from Cincinnati writes:
I've had some different debates with some of my friends on why Michigan hasn't been able to rebound and compete for a Big Ten championship since 2006. To clear things up, do you think it is because Michigan State is no longer "the little brother" in this rivalry, or because Ohio State has won all but two meetings against them since 2001? Or is it the fact MSU hasn't had as much coaching turnover, has had better coaching and better development of their recruits and has had more winning seasons? I think MSU becoming more constant under Mark Dantonio has led to this occurring than anything else. What is your take on this?

Brian Bennett:
I thought Michigan State clearly benefited during Rich Rodriguez's tenure in Ann Arbor, as the Wolverines' downturn and different approach to recruiting helped the Spartans begin to establish themselves. Certainly, the success of Michigan State and Ohio State hasn't done anything to help Michigan, and butting heads against both those programs now in the East won't be easy.
Still, in my view, the biggest thing holding back Michigan is not any external force but Michigan itself. The two coaching changes, and especially veering between very contrasting styles, caused some problems that current Wolverines coaches will tell you are still being felt today. More than anything, though, Michigan simply hasn't capitalized on its own enormous resources and fulfilled its potential. As noted a minute ago, recruiting has been strong under Brady Hoke, at least if you believe the scouting services. The Maize and Blue have never had much trouble attracting talent. Development of that skill has been an issue, though many of those players are still young.
Perhaps we overrate Michigan's history and tradition, since the program claims only one national title since 1948. But with the school's money, stadium size, fan support and access to players, the Wolverines have no one to blame but themselves for not winning a Big Ten title in what is fast approaching a decade's time.
April, 14, 2014
Apr 14
2:00
PM ET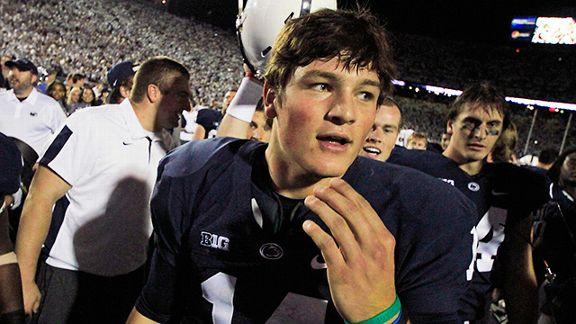 STATE COLLEGE, Pa. --
James Franklin
smiled one last time as he trotted beneath the tunnel, waving goodbye and shouting, "Thanks for coming" to the lingering fans who leaned over the railing.
There's been a lot of reasons for Franklin to smile lately. At the start of the fourth quarter, the PA announcer boomed that a little more than 72,000 fans attended the spring game, which featured fan favorite
Christian Hackenberg
for just three short series. So far, no scrimmage has garnered a higher attendance. And, before the game, ESPN 300 defensive lineman
Adam McLean
committed to Penn State
-- and half of the scouting services move the Nittany Lions' 2015 class to No. 1 in the nation.
Franklin, the
"Pennsylvania boy with the Penn State heart,"
arrived in Happy Valley just three months ago. And, as the past weekend showed, he hasn't wasted much time in making an impact.
[+] Enlarge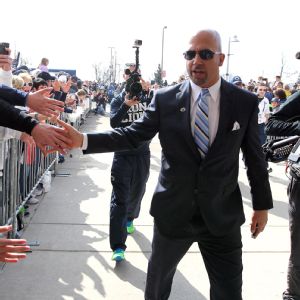 Matthew O'Haren/USA TODAY SportsAn announced crowd of 72,000 came out to see James Franklin and Penn State's 2014 team.
"I don't think there's any doubt that we're special," Franklin said, referring to Penn State, "and one of the big reasons that we're special is because of the support we get from the community. ... I couldn't be more excited."
Fans fired up their grills and began tailgating as early as five hours before the 1:30 p.m. kickoff. Some opted to stay in the parking lot during game time; about half the crowd left by halftime, once the skill players traded in their helmets for a spot on the bench. Hackenberg ended up appearing for about eight minutes, the top three running backs combined for five carries and the starting offense never once took on the defensive starters. The first team suited up in Blue and, unsurprisingly, beat the White team of backups 37-0.
But the sense of excitement surrounding Franklin and this program was unmistakable. Hundreds of fans,
maybe a dozen deep
, lined up for the arrival of Penn State's blue buses while several recruits pressed their noses close to the glass from the comfort of the lounge overlooking the scene. "No vacancy" signs dotted the hotels in the surrounding area. And fans literally took off in a sprint to greet players during a 45-minute autograph session; with a
crowd of about 5,000
, the line more closely resembled a mosh pit.
It was the biggest crowd for the Blue-White Game since 2009, when the Nittany Lions were just three months removed from a Rose Bowl appearance. Because of the current sanctions, Penn State still can't appear in the postseason for another two years -- which really made the excitement surrounding Saturday all the more surprising.
"I can only imagine what a regular season game is like," defensive coordinator Bob Shoop said. And a minute later: "We're trying to take this program to the next level and compete for Big Ten and national championships."
That last line is likely a big reason for the optimism in Happy Valley. Franklin took the dais on Day 1 and vowed a return to national prominence, in addition to
dominating the state and region in recruiting
. The staff has reminded the media and fans so much of those intentions that Franklin doesn't even need to finish his sentences once he broaches the topic.
Once Penn State's first-year coach talked Saturday about hitting the recruiting trail hard, he stopped abruptly. "We are going to ...," he said, pausing. "Dominate the state," recruits mumbled from the balcony above press row.
"Exactly right," Franklin said.
Franklin's first game at Beaver Stadium almost seemed secondary to the atmosphere surrounding it. There was some "Wildcat," a formation Vanderbilt loved last season but former Penn State coach Bill O'Brien loathed, and a 56-yard double-reverse pass that wideout
Geno Lewis
swore wasn't rehearsed in practice.
Conversely, some concerns only became magnified. The offensive line -- seemingly the weakest unit on the team -- surrendered nine sacks and the offense failed to find much rhythm. But the thin-rostered line also lost center
Wendy Laurent
and
Brian Gaia
to injury in the first half. Counting that pair, the Lions were missing four OL starters in the final two quarters.
But, as is usual with these scrimmages, the game wasn't as much an indicator of the future as it was a show for the fans. And, with Franklin as its ringleader, the game generated as much hype as offseasons filled with BCS aspirations.
"Great crowd, unbelievable support from this community," Franklin said in his opening statement. "I'm not surprised one bit."
April, 14, 2014
Apr 14
1:30
PM ET
Our
all-time Big Ten coaches tournament
has reached its conclusion, and a champion has been crowned.
The No. 4 seed in our 12-coach field, Penn State's Joe Paterno, emerged victorious in the title match against No. 3 seed Nebraska's Tom Osborne. With more than 31,000 votes cast, Paterno won with 63 percent of the vote.
[+] Enlarge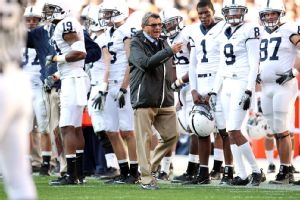 Ned Dishman/Getty ImagesPenn State's Joe Paterno was the runaway winner in the Big Ten coaches tournament.
I was surprised that Paterno won this tournament, considering the way his tenure ended and considering the normal power of the Huskers fan base in these voting situations. Some of you noted some potential irregularities in our voting, as Paterno received vast support from international voters the past couple rounds (more than half the votes in the title game came from outside the U.S., according to SportsNation, and Paterno won 87 percent of those votes). Are there that many people around the world who are JoePa fans, or is there some funny business going on? We have no real way of checking that, and I'm not sure why anyone would go to the trouble of cheating to win a contest like this.
Regardless, Paterno is our champion. Congratulations to Penn State fans. Here are some of your comments on the title game matchup:
Tony M. from Harrisburg, Pa.: I think Joe Paterno is the top coach of all time. His 409 wins will not be passed or topped in Division I, nor can the NCAA take away something that already happened. He won every major bowl, two national championships and should have won a third when his team won the Rose Bowl, beating Oregon, and going undefeated the same year Nebraska won the national championship. Penn State finished No. 2 that year despite being the top scoring team in college football with 47 points a game. Joe Paterno also gave back to Penn State millions in donations and helped build a library. ... No single coach has ever had as long a tenure at a major university and contributed more to its success. He was Sports Illustrated Sportsman of the Year in 1986 and is in the College Football Hall of Fame after 61 years at the same school.

Jim from Navarre, Fla.: As a native Nebraskan and lifelong Husker, I had to vote for Tom. He was and is the epitome of what college athletics should be about. However, in all fairness, if I was not a Husker I would have voted for JoePa, because despite the scandal at PSU and even though I'm still famous for throwing the rocker recliner across the living room in 1982, he was the greatest B1G coach in history.

Foster from Providence, R.I.: (Joe wins out because that's what he did in the majority of big games. His bowl record is second to none and I think that's what it comes down to. Penn State's victories over Hershel Walker-led Georgia and Vinny Testaverde-led Miami are great examples of Joe's ability to coach big games and win. If only the BCS had been around in 1994, Penn State would have had a shot at Nebraska and the answer would be more obvious... assuming Penn State would have won, which everyone in Happy Valley certainly believed would have been the case.

Phil T. from Hackettstown, N.J.: Not acknowledging Paterno as the all-time winningest coach is like not acknowledging Pete Rose as Hall of Fame worthy -- you can't erase history.

Rob from Ontario: Whenever it's Tom Osborne vs Joe Paterno, I will always think of the 1994 championship game that was never played. To me this is similar to the recent Super Bowl - offensive juggernaut (Denver/Penn State) vs. defense (Seattle/Nebraska). Well, we know what happened in the Super Bowl. I think Nebraska wins that game and I voted for Tom Osborne.

[+] Enlarge

Ronald C. Modra/Sports Imagery/Getty ImagesTom Osborne finished in second in the reader voting as the greatest coach at a Big Ten school.

Vance B from Lincoln: Dr. Tom was two plays away from five national titles, and he was the offensive coordinator for back-to-back national titles for Nebraska in 1970 and 1971. ... That's not only a lot of wins, but a lot of national championships. ... So, granted JoPa was the "face" at PSU for a very long time, which is why he's in the lead and he will probably win, but when it comes down to winning it all and/or playing for it all, which is what this game is all about, there's no other coach in the history of Big 8, Big Ten, Big 12 football like Dr. Tom, and there's a reason why he's called the Doctor. Since 1970, only Alabama can beat Nebraska for the crown of "title town."


Musky from Hamilton, Ontario: It's hard not to vote for TO. Team was very clean in the 20 years he ran the show. Win-lost record is outstanding. Then there is this big cloud hanging over Joe. I could not vote for him because of it.

William from N. Little Rock, Ark.: Growing up in Husker Nation, I looked forward to every fall Saturday. Tom Osborne made it even more special. No matter what team he put out there, you knew you were going to have a good team to a great team. When I moved out of Nebraska, I still had my Saturdays to look forward to. Winning three national titles in four years was the greatest feeling, and only Tom could take us there. I was greatly inspired when he ran out with the team and Bo Pelini for the last time. Heck, wouldn't be shocked if he could still coach and win.

Joel from Panama City Beach, Fla.: What's funny is that the two finalists for the Big Ten coaching title are from the last two teams to join the Big Ten... two outsiders defeated the best coaches with the best Big Ten legitimacy... Osborne never coached in the Big Ten and I love you, Joe, but in his years in the Big Ten were not even his best years. Woody Hayes should have won it. Where are all the true Big Ten fans?
April, 14, 2014
Apr 14
12:00
PM ET
I missed all the spring games this weekend because I was busy attending Joffrey's wedding.
April, 13, 2014
Apr 13
11:14
PM ET
ESPN.com news services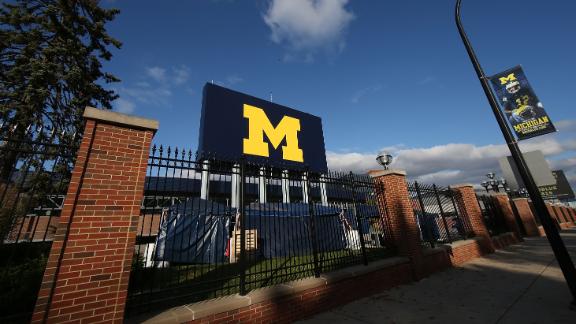 In the Ohio State-Michigan rivalry, it appears nothing is off-limits.
Buckeyes quarterback Braxton Miller took to Twitter to insult the Wolverines' turnout for their spring game after Saturday's OSU game drew more than 61,000 fans. Michigan, who held their spring game April 5, drew about 15,000 fans on April 15.
- BRAXTON MILLER (@BraxtonMiller5) April 13, 2014
Miller did not get to participate in the game, as Ohio State's All-Big Ten quarterback sat out spring workouts after surgery on his throwing shoulder. Also sitting out were wide receiver Evan Spencer (ankle), safety Vonn Bell (knee), tight end Jeff Heuerman, wideout Jalin Marshall, H-back Dontre Wilson and starting offensive tackle Taylor Decker.
April, 12, 2014
Apr 12
7:15
PM ET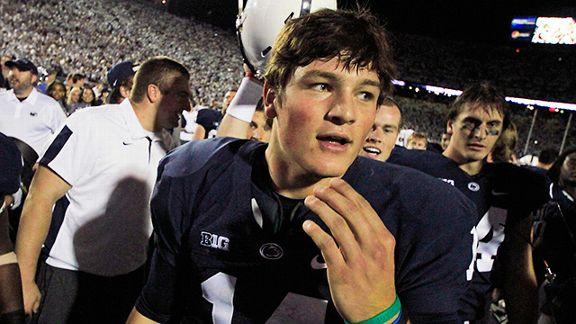 STATE COLLEGE, Pa. – James Franklin kept many of his skill players off the field for most of Penn State's
annual scrimmage
, but there were certainly still other aspects to glean from the game.
Christian Hackenberg
played in just three series, and
Michael O'Connor
took over for the rest of the game for the Blue team. Blue, which consisted mostly of starters, ended up with the 37-0 victory -- some players even tugged the victory bell -- as we learned a few more things about the Nittany Lions:
[+] Enlarge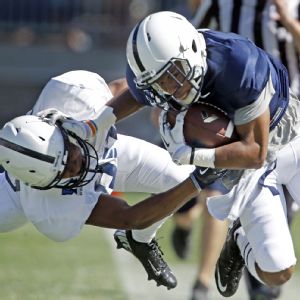 AP Photo/Keith SrakocicPenn State freshman De'Andre Thompkins caught one pass and had a 22-yard rush in the spring game.
1. This is an offense that's willing to do different things.
Bill O'Brien hated the Wildcat. Absolutely loathed it. But fans were treated to quite a bit of it Saturday afternoon. The direct snaps to the tailback actually seemed the most effective, as the longest run in the first quarter -- a 19-yard run by
Cole Chiappialle
-- came from that formation. Franklin was asked whether he had a new, catchy name for the formation. "Yeah, I think we're going to go with," he said, pausing slightly for dramatic effect, "Wildcat."
In the game's longest play, wideout
Geno Lewis
took a reverse and threw a ball to a wide-open
Matt Zanellato
, who sprinted in untouched for a 56-yard touchdown. Lewis said they didn't run the play once in practice. But Franklin didn't mind calling Lewis' name out of the blue -- and Lewis didn't mind much, either.
2. The offensive line could really be in trouble.
Penn State implemented a running clock from the second quarter on, but the gray-jerseyed offensive line gave up nine sacks. The running game also had trouble taking off in the beginning, as both the Blue and White teams combined for 21 yards on their first 16 carries. At one point, Penn State had 12 completions to 10 punts. And it was 0-for-12 on the first dozen third-down attempts. They fared better in the second half, but there was obviously still cause for concern.
Center
Wendy Laurent
went down with an injury in the second quarter and did not re-enter the game. The severity of Laurent's injury is unknown and, with Franklin's policy to not discuss injuries, clarity probably won't be lended to the situation anytime soon. Offensive guard
Anthony Alosi
, who is
facing criminal charges
, is also "suspended indefinitely," according to Franklin.
3. Penn State could utilize more nickel this season.
Minutes after the game, Franklin said the Nittany Lions could often operate under a "star" defense, which is similar to the nickel. Basically, he wants to use two true linebackers and a "big safety." It's something Franklin said he and the staff are going to evaluate over the offseason -- and that might be a reason why
Von Walker
moved to linebacker this spring. Walker could earn a role there, possibly as a backup, and he made a nice play in the third quarter by tipping a pass and then making a critical block once it was intercepted.
Defensive line coach Sean Spencer previously said the defense could use some four-DE looks this season, so fans could see some unique things on this unit. Overall, the defense appears to be in good shape. Franklin praised the defensive line several times this spring, and he said Saturday that it's certainly a little ahead of the offense right now.
4. Kicking game still needs some work.
Sam Ficken
missed an extra point and
Chris Gulla
averaged just 39.2 yards a punt on a dozen punts. Assistant Charles Huff said the return game has shown a lot of improvement since the spring, but that was one area that wasn't showcased Saturday. During punts, for example, the entire return team consisted of just one player making a fair catch. Penn State's special teams should still be improved from last season, as there's nowhere to really go but up. Huff wasn't sure what happened on the missed extra point. Regardless, the kicking game obviously needs to show consistency.
April, 12, 2014
Apr 12
7:01
PM ET
Associated Press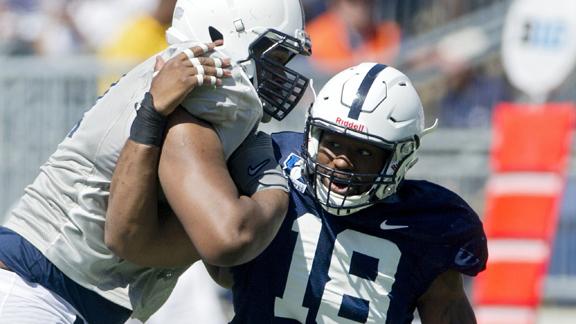 STATE COLLEGE, Pa. -- As he has been since he was hired as Penn State's head football coach in January, James Franklin was front and center Saturday during the Nittany Lions' Blue White Game, the scrimmage that marks the end of spring drills.
He positioned himself behind the offensive formation throughout the game "basically to control the quarterback" and between the first and second quarters addressed the crowd and led a We Are . Penn State cheer in front of a crowd announced at more than 72,000.
The Blue defeated the White, 37-0, which was no surprise since most of the expected starters were assigned to the Blue squad.
"I think the defense is ahead (of the offense)," Franklin said. "We have a little bit better depth, right now, on the defensive side of the ball, especially up front."
Because of that, and a lack of depth along the offensive line, offensive linemen donned gray jerseys and played for both offenses. It's probably the biggest concern, Franklin said, the team has moving forward.
"I think this is probably unique. I'm not sure I've ever been in a situation where you don't even have a scholarship two-deep," Franklins said. "We're going to find a way to make it work. We're going to have to rely on some freshmen, maybe at positions you don't typically rely on them at. That's going to be across the board."
With most of the starters limited to a handful of series, it was a day for backups, such as running back Cole Chiappialle.
The sophomore from Beaver Falls, Pa., was the game's leading rusher with nine carries for 63 yards and two touchdowns. He also caught two passes for 17 yards.
April, 11, 2014
Apr 11
10:49
PM ET
Associated Press
ORLANDO, Fla. -- Penn State offensive lineman John Urschel won the Sullivan Award on Friday night as the country's top amateur athlete.
The football star edged Florida track and field athlete Cory Ann McGee and Nebraska volleyball player Kelsey Robinson for the award presented by the Amateur Athletic Union.
The 6-foot-3, 315-pound guard was an all-Big Ten selection and third-team Associated Press All-American. He has a master's degree in math and won the William V. Campbell Trophy as college football's top scholar-athlete.
Swimmer Missy Franklin won the award last year.
Penn State 2015 Class Debuts At No. 3
BIG TEN SCOREBOARD
Thursday, 8/28
Saturday, 8/30