Penn State Nittany Lions:

SEC
June, 18, 2014
6/18/14
1:30
PM ET
Texas and Texas A&M might not be playing one another anytime soon.
But other schools around the league are interested in the prospects of rekindling rivalries that were destroyed by two rounds of conference realignment.


While the Longhorns and Aggies remain at odds, Texas Tech athletic director Kirby Hocutt told ESPN.com this week he's optimistic that he'll be able to get Texas A&M on the Red Raiders' schedule down the line again. Hocutt said there has been interest from Texas A&M's side, as well.
"Hopefully that's a series that at some point in time that could start again," Hocutt said. "Is that a game that won't happen again? No. We've had discussions about it. Hopefully we can reengage that in the coming years."
Oklahoma and Nebraska already have an agreement in place to play a home-and-home in 2021-22. Missouri coach Gary Pinkel
has reportedly said
he thinks his school will play Kansas again someday.


And West Virginia athletic director Oliver Luck, who has already added Penn State and Virginia Tech to future schedules, told ESPN.com he's hopeful he'll be able to revive the "Backyard Brawl" with Pitt at some point, as well.
"At some point we'll get Pitt back on the schedule," Luck said. "What I'm trying to do with our nonconference games is stay as regional as possible and rekindle some of our historical rivalries. Penn State is back on the schedule. Virginia Tech is back on the schedule. That game meant a lot to southern West Virginians. The Pitt game meant a lot to northern West Virginians. We've continued to play Pitt in many of the sports.
"We've both gone through transitions, so it's tough schedule-wise for both of us. But I think at some point we'll get Pitt back on the schedule. I see [Pitt athletic director] Steve Pederson every now and then at various conventions. And we've had some discussions about that. We just haven't been able to really eyeball the proper time to get it going again."
May, 30, 2014
5/30/14
4:30
PM ET
The next time we meet (barring breaking news), it will be June. One month closer to the season.
Follow us
on Twitter
.
Looks like I made a few friends down South after
this post
.
To the inbox ...
Jonathan from San Antonio writes:
While I get the irony of oversigning and then standing on "integrity" to complain about Franklin, do you get the irony of your article? You seem to defend Franklin's strategy based on the fact that others do it and that it's within the rules. Yet, you (Big Ten proponents and fans) complain about oversigning, when it too is a "others are doing it," and "it's within the rules" equally applies to that practice. So if you want the SEC to stop complaining about this particular issue (and join in), then the Big Ten needs to stop complaining about oversigning (and join in).
Adam Rittenberg:
Jonathan, you can't possibly be equating oversigning to guest-coaching at another program's camp? Only one of those tactics hurts players. Only one involves dishonesty. My post had a heavy dose of sarcasm, but just to be clear, I don't like oversigning. I have no problem with guest-coaching at camps. Who does it harm? It's a brilliant move by James Franklin, and other coaches either have or will follow. The SEC should get rid of its rule and guest-coach as well. No issue there. These are two extremely different tactics, and only oversigning does real damage, in my view.
---


Tracie from Manhattan, Kan., writes:
You obviously have a personal vendetta against the SEC and are using your public platform to voice your biased opinion. It's disappointing that ESPN allows this type of journalism to be on the website. The message that I received from this article is how jealous you are of the SEC and will try to put the conference down in order to make the Big Ten look better. What actually happened is you made the Big Ten look like all it can do to compete with the SEC is to try to find a loophole. Good luck in your future attempts at journalism, this was a complete fail. Go Hogs.
Adam Rittenberg:
It's kind of funny, Tracie, because every third email I receive states how ESPN promotes the SEC whenever possible. I don't have a vendetta against the SEC. It's a great league with great coaches. It's also a league that doesn't get called out enough for things like this. People might think I'm a Big Ten homer for writing that post. Those
who read me
know
that's far from the truth
. The Big Ten is justifiably criticized for its missteps. The SEC seems to get a pass because it wins national championships. It's not a jealousy issue. The Big Ten
is
way behind the SEC when it comes to recruiting and winning. That's why Franklin's guest-coaching plan makes complete sense. The funny part is that the SEC, a league very good at football but also very good at bending recruiting rules to its advantage, has a problem with it. Woo Pig Sooie!
---
Zac from Colorado Springs, Colo., writes:
No
Ezekiel Elliott
on your list? I know Meyer only has one 1,000-yard (running back) rusher all time, but Elliott is going to get the majority of the carries this year for the Buckeyes. He's more of a home-run threat than Hyde and I'm sure he'll get 1,000-plus this year.
Adam Rittenberg:
I like your confidence, but I need to see more from Elliott to include him on the list of likely 1,000-yard rushers. I can't include every player who eclipsed 250 yards last year. The list becomes pointless. Elliott is a talented back, but 162 of his 262 rushing yards last year came against Florida A&M. He had more than two carries in only one Big Ten game, against last-place Purdue. I also think Ohio State will mix and match backs. So while Elliott could reach 1,000 yards, he needs to prove himself this season.
---
Kevin from Fort Myers, Fla., writes:
Adam, I know there has been talk about [head coach Brady] Hoke being on the hot seat or even let go if there is another losing or unsatisfactory season. If this were to occur (knocking on wood), would there be a chance Coach [Doug Nussmeier] would take over, seeing how he has the résumé for it and that there was talk that his stop at U of M was just temporary until a college came for him as a head coach? Head coach of the Wolverines would be an attractive job for Nuss. ... Your thoughts?
Adam Rittenberg:
It would be an attractive job, Kevin, but it won't happen for several reasons. The biggest one is simple logic. If Michigan is to consider Nussmeier for the top job, Nussmeier would have to perform well as offensive coordinator this season. And if the offense performs better, the team seemingly will, too. Michigan's defense should be as good and likely better than it was in 2013. The team's big issues are on offense. If those are rectified, the win total goes up and Hoke stays. Athletic director Dave Brandon does not want to fire Hoke, whom he hired. Plus, I'd be surprised if Michigan would replace Hoke with a first-time head coach.
---

Anthony from Columbus, Ohio, writes:
It seems like whenever a Big Ten team has a successful year (aka beating Ohio State), that team always underperforms the next season. Penn State, Illinois, Wisconsin, and Michigan have all made it to BCS bowls after winning against Ohio State, but didn't have the same success the next year. Do you think this will happen with Michigan State?
Adam Rittenberg:
Interesting observation, Anthony, although I wouldn't say the 2011 Wisconsin team, which beat Ohio State in 2010 but repeated as Big Ten champion the following year, grossly underperformed. This seems more coincidental than anything else. Michigan State could take a step back if certain linebackers and defensive backs struggle, or if some of
Connor Cook
's near interceptions turn into actual interceptions. But I like how the Spartans, who have been very good at home under Mark Dantonio, get Ohio State, Michigan and Nebraska on their home field.
February, 13, 2014
2/13/14
5:30
AM ET
The Early Offer is RecruitingNation's regular feature, giving you a daily dose of recruiting in the mornings. Today's offerings: Snapchat is quickly becoming one of the most popular forms of social media around, but college football coaches won't be able to use it as a recruiting tool; keep an eye on Indianapolis, because the city again will be one of the top spots in the Midwest for recruiters; and one of the top 2015 prospects in Missouri has a busy spring on tap.


January, 8, 2014
1/08/14
11:35
AM ET
As Vanderbilt coach James Franklin's name continues to circulate for coaching vacancies, his boss is trying to make sure he stays put.
Vanderbilt athletic director David Williams
told CBSSports.com
that he expects to not only keep Franklin in Nashville, but also plans to revise his contract -- among other things -- in order to keep Franklin happy with the Commodores.
[+] Enlarge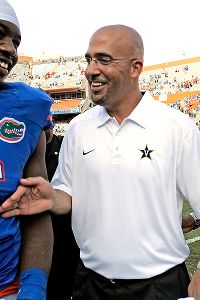 AP Photo/Phil SandlinHow long can Vanderbilt hang on to James Franklin?
"I expect James to be our football coach. I'm planning on it," Williams told CBSSports.com. "We're looking at facilities. We're working on some stuff. I have all thoughts that he's going to be our football coach. I'll do everything I can to make sure that he is."
Reports surfaced earlier this week that Franklin, who has led Vandy to back-to-back nine-win seasons for the first time in school history, was the front-runner for the Penn State opening.
It makes sense, really. Not only is Franklin a Pennsylvania native, he's become one of the hottest coaching names out there with his success at Vanderbilt. He's led the Commodores to bowl games in three consecutive seasons and back-to-back bowl victories. Both are firsts in school history. He can sell the program with the best of them and he's a hard-nosed worker and recruiter. He's also exceptional at developing talent.
It's tough to say how much we can put into what Williams is saying. Was he supposed to say anything different? Franklin has been on the short list of a few college jobs, including the Texas one, and NFL teams have come calling. When you talk to people around the program, it sounds like the NFL might not be Franklin's true calling. But it would be hard for him to turn down a big-time college job, such as Penn State.
Williams and Franklin have a very good relationship, but even Williams has to know how tough it would be for Franklin to turn down a much bigger job. It's how the world works, especially the world of coaching.
While there's no question that Franklin loves his current employer, but his head-coaching life is very young. With what he's done at Vandy, just imagine what he could do at a bigger school with more resources and more clout. With a bigger platform, Franklin might do wonders.
Whether Franklin stays at Vandy or not in 2014 is still unknown, but the reality of it all is that it's going to be very tough for the Commodores to keep him around for the long haul.
January, 1, 2014
1/01/14
9:00
AM ET
The more coaching talk heats up, the more you'll start to hear Vanderbilt coach James Franklin's name mentioned.
Such is the life of a hot coaching name in a business full of constant turnover.
Vandy fans might not want to hear about it, but Franklin is a hot commodity in the coaching world, and there's no surprise that high-profile programs looking to rebound tomorrow are very interested in the Commodores' young coach.
Reports have surfaced that Franklin's name has come up for the vacancy at Texas, and he could be the top choice at Penn State since it appears as though Bill O'Brien
has taken the Houston Texans job
. There has even been some talk that NFL teams could be interested in Franklin.
[+] Enlarge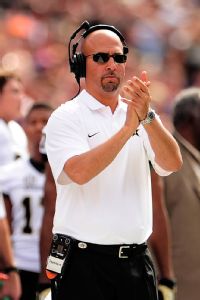 Stacy Revere/Getty ImagesJames Franklin has Vandy on the right track.
The fact of the matter is when you win 23 games in your first three years at Vanderbilt and make three straight bowl games (first time in school history), you're going to garner a lot of attention. When you win nine straight in the month of November, people will take notice. When you sweep Florida, Georgia and Tennessee in the same season, folks' ears perk up.
Franklin deserves the attention he's getting. He deserves for bigger schools around the country to have serious interest in him. He deserves to have his name up there with the top coaching names during these searches. He's a hard-nosed coach, a dynamic recruiter, a true players' coach and an exceptional developer of talent. He sold a program used to losing on top of losing, so imagine what he could do at a proven winner.
People went from being shocked that Franklin lifted the Commodores out of the SEC's cellar so quickly to being shocked that he's still in Nashville. How long he'll be there is a mystery, but Franklin isn't touching rumors. Honestly, he never discusses subjects not pertaining to his team or his team's next opponent.
When asked earlier this month about his name being linked to the Texas job made open by the resignation of longtime coach Mack Brown, Franklin did an amazing job of dodging the subject all together by putting the attention on his team and Saturday's BBVA Compass Bowl matchup against Houston.
On Monday, he seemed
very happy with everything Vandy related
.
"I love the Vandy fans. I love the Vandy nation. I love everything we're doing," Franklin said.
"I'm extremely excited to play Houston on the 4th and continue to build our program. … Just very, very, very proud. Just going around Christmas and shoppingü and there's excitement and a buzz, and you go to the airport and you see more black and gold and everything that's going on."
Vandy fans have to be happy to hear that. You know where your coach's focus is, despite all the potential distractions being thrown his way. But when Vandy's season ends on Jan. 4, get ready for more distractions … and no game to deflect them.
Speculation will only grow as vacancies go unfilled. Franklin has done an excellent job at Vanderbilt, but you have to wonder what he could do with more resources, a bigger recruiting market and a bigger program attached to his name.
It's likely coming one of these days, and we'll find out soon if that day is soon.
October, 26, 2013
10/26/13
10:25
PM ET
By
ESPN.com staff
| ESPN.com
Will UCLA score enough points to somehow beat Oregon? Will Missouri all but clinch the SEC East against South Carolina? Will Ohio State remain unbeaten against the rival Nittany Lions? Head on over to
Campus Connection
at 7 ET and follow the evening action along with 10 of our reporters, including Mark Schlabach at UCLA-UO, Chris Low at SC-Mizzou, Max Olson at Texas-TCU, Greg Ostendorf at FAU-Auburn and Austin Ward at PSU-OSU.
Post your comments and questions and we'll include as many of them as possible.
August, 14, 2013
8/14/13
3:00
PM ET
By
ESPN.com staff
| ESPN.com
This is the last year of the BCS, and our writers look at its impact on college football:
From Ivan Maisel
: The BCS has moved NCAA football forward in a way no system before it could and given it a national stage, but along with exposure comes greater pressure and expectations, which in the end the series couldn't overcome.
From Mark Schlabach
: As we prepare for the final season of the BCS, let's take a look back at its highs and lows.
From Brian Bennett
: Five of the last seven national champions have had at least one loss, and with a playoff looming, going undefeated will be harder than ever.
June, 24, 2013
6/24/13
9:00
AM ET
The RN Top 10 will appear throughout the camp and combine season and rank prospects based strictly on their on-field performance at that particular event. It does not reflect their overall prospect ranking.
BRADENTON, Fla. -- The IMG 7v7 National Championships brought in top talent from all over the country. Narrowing it to 10 was difficult, as top prospects such as linebacker
Clifton Garrett
(Plainfield, Ill./Plainfield South) and running back
Racean Thomas
(Oxford, Ala./Oxford) didn't make the list. It's not because they didn't play well, but because 7-on-7 events are geared more for wide receivers and quarterbacks on offense and the defensive backs on defense.
10. Chris Godwin
Middletown (Del.) High School | WR | 6-2, 203
Godwin, an Under Armour All-American, was one of the main reasons his Delaware team went 6-0 before finally losing a game. In this talent-filled tournament, Godwin showed why he is one of the top receivers in the country. He made several tough catches and displayed his 4.4 speed on a consistent basis. He displayed all the tools to be successful on the next level.
9. Sean White
Ft. Lauderdale (Fla.) Unversity School | QB | 6-1, 199
With receivers such as Ermon Lane and Travis Rudolph, it's hard for White not to look good, but he was extremely accurate throughout the tournament and made several big-time throws. White did a nice job of taking what the defense gave him underneath and also showed the arm strength to make several tough throws over the middle. White has seen his recruitment pick up lately and it will likely continue to increase with performances like this.
8. Tyler Queen (2015)
Kennesaw (Ga.) North Cobb | QB | 6-2, 237
North Cobb was one of the few that brought their high school team, instead of an All-Star team from their region. Queen led his team to several victories and showed pinpoint accuracy on a majority of his throws. He displayed great touch on his deep ball and completed several long touchdowns on the day. It was easy to see why he is already a highly recruited prospect.
7. George Campbell (2015)
Tarpon Springs (Fla.) East Lake | WR | 6-4, 184
Campbell proved why he might be the top receiver in Florida next year. He used his 6-foot-4 height to go up over defensive backs and come down with several long catches. It wasn't just the jump ball that impressed; his route running was good and he consistently got open. On top of his impressive offensive performance, Campbell made several plays at safety. This Under Armour All-American has a chance to be a special player as a senior.
6. Travis Rudolph
West Palm Beach (Fla.) Cardinal Newman | WR | 6-1, 186
To continue reading this article you must be an Insider
June, 23, 2013
6/23/13
6:31
PM ET
BRADENTON, Fla. -- The IMG 7v7 National Championships showcased some of the top talent from across the country. For the second consecutive year, Team Tampa won the national championship with a thrilling, one-point victory over a talented South Florida Express team.
The championship game featured at least 10 prospects with multiple scholarship offers. Here's a closer look at lessons learned over the course of the two-day event.
Team Top Recruits loaded in the secondary
Top Recruits, featuring players from Jacksonville and Orlando, had a secondary that could probably give some colleges trouble right now. Their secondary consisted of 2015 LSU cornerback commit
Kevin Toliver II
(Jacksonville, Fla./Trinity Christian), Florida cornerback commits
Duke Dawson
(Cross City, Fla./Dixie County) and
J.C. Jackson
(Immokalee, Fla./Immokalee), uncommitted safety
Kendall Gant
(Lakeland, Fla./Lake Gibson) and 2015 FSU safety commit
Derwin James
(Auburndale, Fla./Auburndale).
The Top Recruits offense couldn't match the talent of their defense and found it hard to score points as the tournament wore on. Toliver was quite possibly the best player at the event and will be one of the top players in the country next year.
Northern teams came to play
To continue reading this article you must be an Insider
June, 4, 2013
6/04/13
1:18
PM ET
Four-star quarterback
Michael O'Connor
(Bradenton, Fla./IMG Academy) will make his college selection this Saturday, June 8. The 6-foot-5, 223-pounder has not narrowed down his choices yet but has offers from schools such as Missouri, Vanderbilt, Penn State, USF, Rutgers, Mississippi State and Syracuse.
ESPN's No. 123-ranked player said he is ready to get the recruiting process over with.
"The recruiting process is starting to wear on me," O'Connor said. "I've made up my mind and I'm ready to move on and get ready for my senior season."
O'Connor, the No. 3-ranked pocket-passer in the ESPN 150, is originally from Canada but played at the Baylor School in Chattanooga, Tenn., last year. He transferred to IMG to work with former Heisman Trophy winner Chris Weinke, who is the head coach there.
To continue reading this article you must be an Insider
January, 10, 2013
1/10/13
3:28
PM ET
ST. PETERSBURG, Fla. -- ESPN Watch List wide receiver
Thaddeus Snodgrass
(Springfield, Ohio/Springfield) was set to make his final decision between Michigan State, Notre Dame, Ohio State, Penn State and Wisconsin in November, but that didn't happen.
The 6-foot-1, 175-pound athlete decided to postpone his announcement. He felt it wasn't the right time.
To continue reading this article you must be an Insider
September, 22, 2012
9/22/12
8:05
AM ET
By
ESPN.com staff
| ESPN.com
Welcome to Week 4! Join our ESPN.com college football experts as they get you ready for GameDay.
Contribute your thoughts and questions beginning at 10 a.m. ET.
Now's the time to hit us up with your best tailgate photos. Send your pictures
@ESPNCFB
or upload them through the chat. We can't wait to see what you're cooking up today. Here are
our previous tailgates
.
Big Ten Recruiting Classes Evaluated