Penn State Nittany Lions:

Navy Midshipmen
June, 11, 2013
6/11/13
1:00
PM ET
Darius Fullwood
(Olney, Md./Good Counsel) alternated between dozing off and visualizing the moves he planned to make against opposing linemen during his drive to Penn State's Saturday camp.
This was the 2015 defensive end's first-ever team camp, so he wasn't sure what to expect. He just repeated to himself, during a car ride that began before sunrise, "Hustle all the time, do the drills correctly, pay attention to detail".
If he followed his own advice and visualized success, Fullwood thought he'd have a good chance at an offer. And, as it turned out, he followed that all to a tee. It paid off.
December, 10, 2012
12/10/12
10:00
AM ET
NittanyNation will be counting down the top-5 moments of Penn State's season this week, starting with No. 5.
The No. 5 moment of the season
: Bill O'Brien's first career win
[+] Enlarge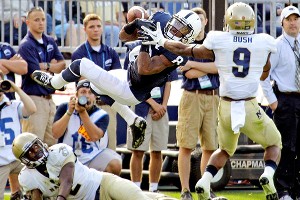 AP Photo/Gene J. PuskarAllen Robinson was one of many Nittany Lions that broke out in Penn State's 34-7 victory over Navy on Sept. 15.
After dropping two close games, Penn State needed a convincing win to save its season and show fans it wouldn't become a push-over. It needed a win to stave off disappointment after a turbulent offseason and show it wouldn't go quietly.
It did exactly that with a 34-7 drubbing against Navy on Sept. 15, O'Brien's first career win as a head coach.
Players dumped an orange tub of Gatorade over O'Brien, celebrating after two mentally draining losses. "It's more important for us to get it for Coach O'Brien than ourselves,"
Matt McGloin
said.
Several players offered glimpses of their blossoming talent during O'Brien's first win.
Deion Barnes
recorded his third sack in three games and forced his second fumble,
Allen Robinson
caught five passes for 136 yards and three touchdowns, and
Michael Mauti
had (to that point) a season-high 12 tackles.
Added
Stephon Morris
, shortly after that game: "Once we get that one win, we can keep things rolling."
They sure did. And that's why it's one of the top moments of the season.
October, 18, 2012
10/18/12
10:00
AM ET
HARRISBURG, Pa. -- Central Dauphin senior
Drew Scales
was told by Penn State's staff he might earn a scholarship offer -- or he might be asked to walk-on as a slot receiver.
They're not yet sure, but the shifty Scales didn't mind the wait-and-see approach. He doesn't plan on changing anything.
To continue reading this article you must be an Insider
September, 16, 2012
9/16/12
12:41
PM ET
STATE COLLEGE, Pa. --
Stephon Morris
just knew.
He knew before the final whistle, before the 20-0 halftime advantage and before opening the first quarter with a two-touchdown lead. He swore, before the opening kickoff, he knew this was Penn State's day.
[+] Enlarge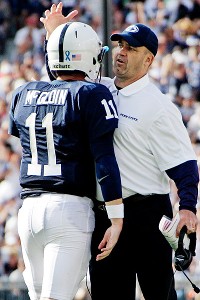 AP Photo/Gene J. PuskarDuring Saturday's win, QB Matt McGloin (left) secretly and excitedly plotted the first Gatorade bath for head coach Bill O'Brien.
Once he boarded one of the blue buses at Toftrees, a place surrounded by green firs and blue skies, he knew. He turned toward his teammates, and something just seemed different. They were relaxed, focused and confident. This wasn't like the bus rides with Virginia and Ohio.
"That bus ride, it was just special," the cornerback said, smiling. "Coming off the bus, it was just like a whole new air, and you'd never thought we were an 0-2 team. It felt different."
Morris said the practices Monday and Tuesday were OK. But, when Bill O'Brien spoke with the team and told his players his mind was filled with confidence instead of doubt, those players pressed all the more for a win.
Forget the crowd, forget the win/loss column. Players even forgot themselves Saturday. This win, they said, was for O'Brien.
"It's more important for us to get it for Coach O'Brien than ourselves,"
Matt McGloin
said. "He's been through a ton so far. ... We have his back 110 percent."
September, 16, 2012
9/16/12
9:00
AM ET
STATE COLLEGE, Pa. -- The good and the bad from Penn State's 34-7 win against Navy on Saturday:
THREE UP
1. Forcing turnovers
.
To continue reading this article you must be an Insider
September, 15, 2012
9/15/12
8:40
PM ET
STATE COLLEGE, Pa. -- With its two starting tailbacks sidelined with injuries, the Nittany Lions were expected to struggle running the ball.
Instead, the two bruising backup tailbacks --
Michael Zordich
and
Curtis Dukes
-- combined for 22 carries and 98 yards. Maybe that number isn't all that impressive, but the duo averaged a full yard more on each carry than Penn State's rushing attack managed in the first two games.
Dukes and Zordich grinded for about 4.5 yards a carry Saturday. Entering the game, PSU averaged about 3.3 yards per rushing attempt.
Bill O'Brien said Zordich, who usually plays fullback, was in his ear constantly this week about his ability to run the ball. "I used to the run the ball in high school, coach," O'Brien said Zordich kept reminding him. "I used to run the ball in high school, coach."
"He's like Ferris Bueller's teacher," O'Brien said with a laugh.
Zordich ran 11 times for 50 yards, and Dukes had 11 attempts for 48 yards. The statuses of starter
Bill Belton
and backup
Derek Day
remain uncertain.
September, 15, 2012
9/15/12
8:38
PM ET
STATE COLLEGE, Pa. -- A week after a 1-for-5 kicking performance,
Sam Ficken
struggled again Saturday.
He pushed an extra point wide right, and Bill O'Brien didn't seem to put a lot of trust into the sophomore kicker. The coach opted to throw in the end zone on a fourth-and-goal play -- instead of kick -- from the 8-yard line. The pass fell incomplete.
"I just felt good about the play call," O'Brien insisted. "It had nothing to do with Ficken."
Fans continued to show support for the scholarship kicker. Two signs near the end zone were dedicated to him. One read, "Stickin' with Ficken" and was positioned behind the south field goal posts.
And, on his first two extra points, the crowd roared when the the refs raised their arms to signal they were good.
Still, Penn State is starting to feel the sting from
Anthony Fera
's transfer to Texas. Ficken is making just 20 percent of his field goals, and he's nailed just 77 percent of his extra points this season.
Ficken was not made available to the media for the second consecutive week. He finished 4-of-5 on extra points Saturday and did not attempt a field goal. With walk-on
Matt Marcincin
's surprise departure this week,
Kevin DiSanto
is Penn State's only other option at placekicker.
September, 15, 2012
9/15/12
8:36
PM ET
STATE COLLEGE, Pa. --
Deion Barnes
is fast becoming the Nittany Lions' most feared pass-rusher.
Initially pegged as a situational defensive end, the redshirt freshman's time on the field has increased because of a variety of injuries to starter
Pete Massaro
. And Barnes has made the most of the added playing time.
Barnes recorded his third sack of the season Saturday and now leads the team. For the second consecutive game, he also forced a fumble by reaching for the ball when going after the quarterback.
"I'm very confident right now in my ability to be a big pass-rusher," Barnes said after the game.
Only one other Penn State player has more than one sack this season.
Anthony Zettel
recorded two Saturday and is No. 2 on PSU's sack list. But Barnes said he plans to remain the team leader in that statistical category.
"We all battle about it every week who's going to get the most sacks," he said. "I definitely did think before the season I was going to have the most."
Barnes has seven tackles this season and a team-high two forced fumbles.
September, 15, 2012
9/15/12
8:31
PM ET
STATE COLLEGE, Pa. --
Allen Robinson
stared at his hands last week when they failed him against Virginia. Twice he dropped the ball, and he mentioned all week he needed to maintain his focus.
Consider that mission accomplished.
[+] Enlarge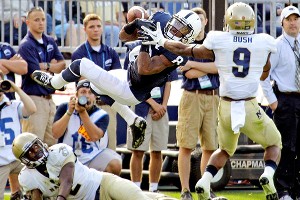 AP Photo/Gene J. PuskarAllen Robinson didn't hang on to this pass, but he did catch three TDs against Navy, the first Penn State player to accomplish that in three seasons.
On Saturday, the sophomore became the first Penn State player in three years to haul in a trio of touchdown catches. He finished with five receptions for a career-high 136 yards -- and enough big plays to splice together about a two-minute highlight tape.
"I just go out there and try to play football," Robinson said. "And Matt [McGloin] was able to hook up with me early."
Matt McGloin
found Robinson twice in the first quarter on a pair of 45-yard passes. On one throw, McGloin found the 6-foot-3 wideout 20 yards downfield. Robinson juked one defender, cut inside and sprinted another 25 yards for the score.
He averaged 27 yards a catch. Before the game, Penn State's longest pass traveled 30 yards.
"Usually if you're 6-3, you're not going to run a 4.3," receivers coach Stan Hixon said, "but with his route-running, he can create separation."
The 201-pound wideout entered this season as an unheralded player with just three career receptions next to his name. He's now fast becoming one of best receivers in the Big Ten.
Entering Saturday, he led the conference in receptions -- outcatching the No. 2, Purdue's
O.J. Ross
, by half-a-dozen. Robinson now has 24 receptions for 322 yards and four touchdowns.
Robinson said he spent the offseason working with any quarterback who would throw to him -- starter Matt McGloin, backup
Steven Bench
, QB-turned-TE
Paul Jones
-- to rehearse his route-running. Because of the constant repetition, Robinson said he made the jump from above-average route runner to a great one.
Cornerback
Stephon Morris
said a few weeks ago Robinson was his favorite receiver to line up against. He had trouble picking up the wideout's tendencies when he ran routes.
"I told you," Morris said Saturday." He's going to be hard to cover."
Robinson's final big play might have been the most impressive. Late in the third quarter, McGloin tossed a slightly high spiral over the middle to
Trevor Williams
. The true freshman deflected the ball into the air, and Robinson pulled down the volley about five yards deep in the end zone for a 25-yard touchdown.
That was his third touchdown, the most for a PSU receiver since
Graham Zug
hauled in three in 2009 against Michigan.
Robinson was told his phone would likely be ringing every few minutes from coaches hoping for an end-of-the-season transfer. But he said going elsewhere isn't a consideration.
"I'm definitely here with Coach O'Brien and Penn State," he said. "It's not really about playing in the Big Ten championships or playing in a bowl game."
September, 15, 2012
9/15/12
6:48
PM ET
STATE COLLEGE, Pa. -- Penn State rebounded from an 0-2 start behind a strong offensive effort and opportunistic defense Saturday.


The Nittany Lions (1-2) forced four turnovers and finished with 341 total yards in
a 34-7 victory over Navy
. The Midshipmen's secondary couldn't adjust to
Matt McGloin
, who found eight different receivers and threw for 231 yards.
The win comes at a critical time for Penn State, which hasn't started 0-3 since 2001. Navy drops to 0-2 with the loss.
It was over when
: McGloin connected with
Allen Robinson
on a 45-yard touchdown strike in the first quarter. McGloin threw the pass about 20 yards, but Robinson faked a defender, cut inside and sprinted another 25 yards for the score. That put Penn State ahead 14-0 and set the tone with PSU's passing game. Navy never recovered.
The game ball goes to
: Robinson. He made three big plays, all three of which occurred on touchdown drives, and helped PSU threaten with the deep ball -- something it hadn't yet done entering this game. He finished with five catches for 136 yards and three touchdowns.
Stat of the game
: Two, the number of turnovers that Penn State turned into touchdowns. The Nittany Lions couldn't capitalize last week off four turnovers but did better with four turnovers against Navy -- including a 74-yard fumble return by linebacker
Mike Hull
.
Unsung heroes
:
Curtis Dukes
and
Michael Zordich
. They weren't flashy, they didn't have a lot of stats, but they made the most out of each of their 22 combined carries. The bruising duo helped fill the void of Penn State's top two tailbacks,
Bill Belton
and
Derek Day
, who were both out with injuries. Dukes ran for 47 yards and averaged 4.3 yards per carry, and Zordich had 11 carries for 50 yards.
What it means
: Finishing around .500 remains a possibility. A loss here would have shut the door on Penn State finishing 6-6. It drove downfield against Virginia but couldn't find the end zone. Here, it finally put everything together and looked good against an overmatched Navy squad. Penn State showed it can impress offensively; the only question left is whether it can do that consistently.
BIG TEN SCOREBOARD
Thursday, 9/3
Friday, 9/4
Saturday, 9/5
Sunday, 9/6
Monday, 9/7