Penn State Nittany Lions:

Missouri Tigers
June, 30, 2014
6/30/14
9:00
AM ET
The Opening presented by Nike Football will take place July 7-10 at Nike World Headquarters in Oregon, with 162 of the nation's top high school football prospects set to compete. With four days of dynamic training, coaching and competition among the best of the best, The Opening is the perfect chance for recruits in the
Class of 2015
to make big jumps and shine on the national stage.
Here are five prospects with the most to gain at the prestigious event:
June, 18, 2014
6/18/14
1:30
PM ET
Texas and Texas A&M might not be playing one another anytime soon.
But other schools around the league are interested in the prospects of rekindling rivalries that were destroyed by two rounds of conference realignment.


While the Longhorns and Aggies remain at odds, Texas Tech athletic director Kirby Hocutt told ESPN.com this week he's optimistic that he'll be able to get Texas A&M on the Red Raiders' schedule down the line again. Hocutt said there has been interest from Texas A&M's side, as well.
"Hopefully that's a series that at some point in time that could start again," Hocutt said. "Is that a game that won't happen again? No. We've had discussions about it. Hopefully we can reengage that in the coming years."
Oklahoma and Nebraska already have an agreement in place to play a home-and-home in 2021-22. Missouri coach Gary Pinkel
has reportedly said
he thinks his school will play Kansas again someday.


And West Virginia athletic director Oliver Luck, who has already added Penn State and Virginia Tech to future schedules, told ESPN.com he's hopeful he'll be able to revive the "Backyard Brawl" with Pitt at some point, as well.
"At some point we'll get Pitt back on the schedule," Luck said. "What I'm trying to do with our nonconference games is stay as regional as possible and rekindle some of our historical rivalries. Penn State is back on the schedule. Virginia Tech is back on the schedule. That game meant a lot to southern West Virginians. The Pitt game meant a lot to northern West Virginians. We've continued to play Pitt in many of the sports.
"We've both gone through transitions, so it's tough schedule-wise for both of us. But I think at some point we'll get Pitt back on the schedule. I see [Pitt athletic director] Steve Pederson every now and then at various conventions. And we've had some discussions about that. We just haven't been able to really eyeball the proper time to get it going again."
February, 13, 2014
2/13/14
5:30
AM ET
The Early Offer is RecruitingNation's regular feature, giving you a daily dose of recruiting in the mornings. Today's offerings: Snapchat is quickly becoming one of the most popular forms of social media around, but college football coaches won't be able to use it as a recruiting tool; keep an eye on Indianapolis, because the city again will be one of the top spots in the Midwest for recruiters; and one of the top 2015 prospects in Missouri has a busy spring on tap.
To continue reading this article you must be an Insider
November, 5, 2013
11/05/13
5:30
AM ET
The Early Offer is RecruitingNation's regular feature, giving you a daily dose of recruiting in the mornings. Today's offerings: What a difference a few months make for the Missouri Tigers and their efforts to land top talent in St. Louis; one of the nation's top tight end prospects is slated to announce on Friday, and he still has everybody guessing; is Tennessee in line to steal a commitment away from one of the best defensive tackles in the junior college ranks?
Missouri comes up big in St. Louis
There has been a lot of grumbling by Missouri fans over the last year about a perceived lack of success in St. Louis by Gary Pinkel and the Tigers. However, after the Tigers' fast start on the field this season many of those worries diminished. They have all but evaporated now after St. Louis DeSmet four-star offensive lineman
Andy Bauer
committed on Monday. The Under Armour All-American had been a long-time commitment to Ole Miss after originally committing to the Tigers early in the process. He decided again on Monday to
reverse course
for what looks to be the final time, helping give the Tigers their first ESPN 300 commitment and second four-star prospect.



To continue reading this article you must be an Insider
October, 26, 2013
10/26/13
10:25
PM ET
By
ESPN.com staff
| ESPN.com
Will UCLA score enough points to somehow beat Oregon? Will Missouri all but clinch the SEC East against South Carolina? Will Ohio State remain unbeaten against the rival Nittany Lions? Head on over to
Campus Connection
at 7 ET and follow the evening action along with 10 of our reporters, including Mark Schlabach at UCLA-UO, Chris Low at SC-Mizzou, Max Olson at Texas-TCU, Greg Ostendorf at FAU-Auburn and Austin Ward at PSU-OSU.
Post your comments and questions and we'll include as many of them as possible.
October, 14, 2013
10/14/13
5:30
AM ET
The Early Offer is RecruitingNation's regular feature, giving you a daily dose of recruiting in the mornings. Today's offerings: Saturday's victories by Texas, Missouri, Penn State and Utah shook up the national championship race and also could change fortunes on the recruiting trail.
To continue reading this article you must be an Insider
October, 11, 2013
10/11/13
4:00
PM ET
Thanks for all your questions and answers. Enjoy the games this weekend.
Don't forget:
Twitter
is the best way to follow us on game days.
Phil from Vancouver, Wash., writes:
Lets assume Ohio State runs the table and goes undefeated. If Wisconsin can win out and end up 10-1-0-1 (W-L-T-Screwed), where do you see them ending up for a bowl? With the BIG No. 5 in AQ leagues, I don't see them in the BCS.
Adam Rittenberg:
It depends on so many factors, Phil. If Ohio State doesn't make the national title game and goes to the Rose Bowl, the chances of the Big Ten receiving an at-large BCS berth go down. If the Rose Bowl loses a Big Ten team to the national title game, it likely would look for a Big Ten replacement, as long as one is eligible. Would the Rose want Wisconsin for a fourth consecutive year? Tough to tell. There are also other conferences in play, and right now you'd have to expect the SEC and Pac-12 to each send two teams to BCS bowls. And as long as Clemson and Florida State don't both fall apart, both teams are likely BCS bowl bound as well. The advantage Wisconsin would have is a long win streak to end the season, as opposed to a possible loss in the league title game, which often is the kiss of death when it comes to at-large berths.
---
Ian from Tacoma, Wash., writes:
Adam, I know there has been some talk from you and Brian recently in regard to conference perception and how it shapes top-25 rankings and the national championship picture, but I think this is becoming more of an issue than most folks realize. Why does Georgia scraping by a pretty lousy Tennessee team (that got slaughtered by Oregon) constitute a "tough road win" by the so-called experts, yet Ohio State's road win against top-15 Northwestern gets ignored? Even further, why does Ohio State get lambasted every week for their schedule, while Oregon gets constant media praise, despite having played a MISERABLE slate of games so far? Oregon is getting credit for games they haven't played yet, while Ohio State gets punished for games it hasn't played yet. I'm getting pretty frustrated with the inconsistency and hypocrisy in how teams are portrayed, simply because of the conference in which they compete.
Adam Rittenberg:
Ian, I hear ya, and Ohio State should be getting more credit for finding ways to win against good teams despite making some mistakes along the way. Georgia's win at Tennessee was vastly overvalued because the Bulldogs had so many injuries. Tennessee is mediocre at best. The Oregon example is interesting, because while Virginia and Tennessee aren't any good, it looks like the Ducks at least tried to schedule major-conference teams. Those quick to criticize Ohio State for living in cupcake city probably don't realize Vanderbilt canceled this year's game in Columbus. Vandy is no Alabama, but the Commodores are comparable to Virginia and Tennessee right now. And it's not Ohio State's fault that Cal is going through transition. Could Ohio State have done a little more with scheduling? Perhaps. But the bigger problem for the Buckeyes is the Big Ten's lousy perception, something Georgia and Oregon don't have to worry about.
---
Dan from Watercooler writes:
True or false: Bo [Pelini's] long-term outlook with the Huskers should be more based on what he does this and maybe next season, vs. what happened last season. Reasoning: Bo's defense last season had all sorts of seniors, effectively meaning he had a cap on what he could draw from them talent-wise. We've seen glimpses of what the defense is capable of (see: first half UCLA, parts of Illinois) and can see the talent there, but it needs time to build. Counterpoint: Last year's defense consisted largely of talent he developed; he should have been able to recognize gaps in the defense and find ways to correct them.I'd give him the benefit of a doubt and say, with the seemingly more athletic players he has coming up, he should be judged more on what happens from here.
Adam Rittenberg:
A nice breakdown from the water cooler, Dan. Nebraska's defense might be both younger and more talented this season. Pelini has alluded to it throughout the offseason, and I already see signs of more difference-makers with the Huskers D, especially in the front seven. That said, Pelini shouldn't get a pass for the struggles on defense last season because he brought in all of those players. Although Nebraska's move to the Big Ten probably didn't help a defense that had been shaped for the Big 12, the breakdowns in big games were inexcusable. This year's defense has had and will continue to have some growing pains, but if the unit isn't better in November than now, it falls on Pelini and the staff.
---
Matt from Baltimore writes:
I was looking at
this map of AAU schools
, and I was trying to guess where the next Big Ten expansion could be. Assuming that any schools in the ACC, SEC, or Pac-12 will stay put, it looks like the most appealing school from a state bordering a Big Ten state is Kansas (a distant second is Iowa State). What do you think the odds are of a Big Ten land grab into Big 12 territory in the near future?
Adam Rittenberg:
Ah, Matt, we must be overdue for an expansion question. Keep in mind that the Big 12 also
has a grant of rights agreement
, just like the ACC does, which makes it very difficult for schools to leave the league. The Big 12 also has great leadership now with Bob Bowlsby as commissioner. Although Texas could still send things into flux, I'd be surprised if more Big 12 schools jumped ship. The one league the Big Ten could look to, believe it or not, is the SEC, which amazingly doesn't have a grant of rights agreement. Anyone else think Missouri is a much better fit in the Big Ten than the SEC? Still, Mizzou would be giving up a lot, and I don't think the Big Ten wants to expand West when it has talked so much about being bi-regional and trying to bring in the northeast corridor. Problem is, there aren't any great candidates on the East Coast.
---
Matt from Iowa writes:
Who will be the last to surrender a rushing touchdown, Iowa or Michigan?
Adam Rittenberg:
I'm going with Michigan, especially since Iowa is off this week and the Wolverines face a Penn State team that, while lagging in rushing offense, has 11 rushing touchdowns through the first five games. I have
Akeel Lynch
scoring the game-winning touchdown for Penn State on Saturday, so I think the Wolverines' run of zero rush touchdowns ends.
---
Mike from Minneapolis writes:
Thoughts on the selection committee? As a Nebraska fan, I'm not all that thrilled to see that if they come into the playoff discussion Osborne/Alvarez will have to leave the room and their fate will be decided by a group of southerners.
Adam Rittenberg:
I'm glad you asked, Mike, as I didn't get much chance to address this last weekend. While I understand your concern about Nebraska and the ties that both Tom Osborne and Barry Alvarez have to the school, I couldn't be happier with these choices to represent the Big Ten on the committee. They're both home runs: smart football men who have served as administrations and have thick enough skin to handle the job after coaching major programs for a long time. Alvarez was the overwhelming choice among sitting athletic directors to represent the Big Ten when
we conducted a poll back in July
, and it would have been a close race between Alvarez and Osborne if Osborne still served as Nebraska's AD. Big Ten fans should be really pleased with these two.
---
Jon from Columbus writes:
Adam, Michigan has allowed seven offensive TDs in five games so far, and yet ... and yet ... you're calling for PSU to score 38 on them on Saturday? I just don't see your reasoning based on any sound football analysis. Listen, Penn State might beat Michigan this week. But if it happens, it very likely won't come in a fireworks-filled offensive shootout.
Adam Rittenberg:
Jon, maybe the score prediction is a little high, but Michigan has faced only one decent offense (Notre Dame) through the first five games -- the other four are ranked 106th or worse nationally -- and hasn't done much defensively to stand out aside from allowing no rushing touchdowns.
Tommy Rees
made plays against Michigan's secondary but couldn't avoid the turnover.
Christian Hackenberg
has more natural ability than Rees and poses a bigger challenge for the Wolverines, who still don't have any standouts on defense (
Jake Ryan
comes back soon). This is a great chance for Michigan's defense to stand out against a good quarterback in a tough road setting. But I expect to see quite a few points scored at Beaver Stadium.
September, 19, 2013
9/19/13
2:00
PM ET
Just a few days after stubbing its toe on the field, the Big Ten conference will try to right the ship in the recruiting world.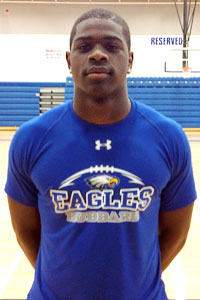 Brad Bournival/ESPNESPN Junior 300 running back Larry Scott will make an unofficial visit to the Horseshoe this weekend.
From official visits to commitments, here's a look at a few programs that highlight a busy time in this week's Big Ten storylines.
Buckeye leafs
The fact Ohio State opened as 57-point favorites against Florida A&M didn't scare off some big unofficial visitors, as ESPN Junior 300 running back
Larry Scott
-- L.J. for short -- out of Hubbard (Ohio) High School will lead a group of three big names with unofficial visits to the Horseshoe.
To continue reading this article you must be an Insider
September, 9, 2013
9/09/13
12:45
PM ET
The league office on Monday announced kickoff times and TV plans for Sept. 21 (Week 4) games around the league.
Details for Michigan's game at Connecticut won't be announced until next Monday, as the American Athletic Conference, which controls the game, will exercise a six-day pick. The American tells me the game will either kick off at noon ET or 8 p.m. ET, and be televised by ABC or ESPN. Final plans will be announced after Saturday's games.
Ready? Let's go ...
Noon ET
San Jose State at Minnesota, ESPN or ESPN2*
Western Michigan at Iowa, Big Ten Network
Florida A&M at Ohio State, Big Ten Network
3:30 p.m. ET
Michigan State at Notre Dame, NBC (previously announced)
Purdue at Wisconsin, ABC regional (ESPN or ESPN2 in outer markets)
Kent State at Penn State, Big Ten Network
Maine at Northwestern, Big Ten Network
South Dakota State at Nebraska, Big Ten Network
8 p.m. ET
Missouri at Indiana, Big Ten Network (previously announced)
*-final TV plan to be determined after Saturday's games
June, 4, 2013
6/04/13
1:18
PM ET
Four-star quarterback
Michael O'Connor
(Bradenton, Fla./IMG Academy) will make his college selection this Saturday, June 8. The 6-foot-5, 223-pounder has not narrowed down his choices yet but has offers from schools such as Missouri, Vanderbilt, Penn State, USF, Rutgers, Mississippi State and Syracuse.
ESPN's No. 123-ranked player said he is ready to get the recruiting process over with.
"The recruiting process is starting to wear on me," O'Connor said. "I've made up my mind and I'm ready to move on and get ready for my senior season."
O'Connor, the No. 3-ranked pocket-passer in the ESPN 150, is originally from Canada but played at the Baylor School in Chattanooga, Tenn., last year. He transferred to IMG to work with former Heisman Trophy winner Chris Weinke, who is the head coach there.
To continue reading this article you must be an Insider
May, 30, 2013
5/30/13
7:38
PM ET
Justin Hilliard
sees the ball and runs to it. Then he delivers a crushing blow.
That is the consensus on the 2015 Cincinnati St. Xavier linebacker who already holds 20 offers.
To continue reading this article you must be an Insider
September, 4, 2012
9/04/12
6:19
PM ET

The Experts discuss the top matchups from Week 2 of the college football season. Travis Haney talks Georgia-Missouri, Mike Bellotti discusses Florida-Texas A&M, Matt Stinchcomb breaks down Penn State-Virginia, Charles Arbuckle has UCLA-Nebraska and the group also assesses LSU-Washington.
BIG TEN SCOREBOARD
Thursday, 9/3
Friday, 9/4
Saturday, 9/5
Sunday, 9/6
Monday, 9/7