Penn State Nittany Lions:

Miami Hurricanes
December, 30, 2013
12/30/13
5:26
PM ET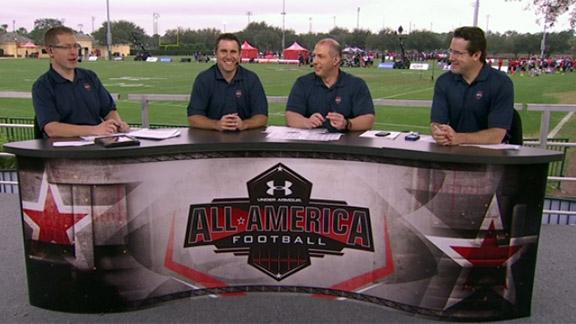 As expected, Day 2 at the Under Armour All-America practices were smoother, more concise and much more productive. The players are now starting to think less and play more. Natural ability is starting to come to the forefront, which allows for them to be more productive. There have been fewer dropped passes, fewer misses by the QBs and the offensive lines are starting to jell quicker than expected. Perhaps the most impressive thing about this group is there have not been any true letdowns. They have stepped up and been as advertised almost top to bottom for both squads. Let's hit the highlights of the day:
Top performers
WR Cameron Sims (Monroe, La./Ouachita Parish):
Sims might not wow anyone with his 40-yard dash time, but it may not matter. Sims is so similar to
Mike Evans
at Texas A&M. He just makes plays. He has extremely long arms and is outstanding when in contested matchups. The ball will look like it is uncatchable and then next thing you know he jumps out of nowhere, extends and makes a play and the defender is left scratching his head. When it comes down to it, the QBs for Team Highlight can trust that if they need to throw it up, Sims will make a play. The most basic thing about the position is catching the football and Sims has no problem doing that.
To continue reading this article you must be an Insider
August, 16, 2013
8/16/13
12:30
PM ET
By
RecruitingNation
| ESPN.com
Projecting the eventual success level of high school prospects is difficult in its own right, but forecasting which ones will play right away and make a big splash in college can be even more difficult. Sometimes, however, there are no-brainers such as South Carolina's
Jadeveon Clowney
and USC's
Leonard Williams
. But more often than not, there is no guarantee when it comes to freshmen making instant impacts. So many factors, from team needs to injuries to maturity, will determine who makes the biggest splash.
Headlined by Ole Miss DE
Robert Nkemdiche
and Penn State QB
Christian Hackenberg
, RecruitingNation takes a look at the Class of 2013 members who can make the biggest impact as freshmen.
To take a look at the team, click here

.
June, 24, 2013
6/24/13
9:00
AM ET
The RN Top 10 will appear throughout the camp and combine season and rank prospects based strictly on their on-field performance at that particular event. It does not reflect their overall prospect ranking.
BRADENTON, Fla. -- The IMG 7v7 National Championships brought in top talent from all over the country. Narrowing it to 10 was difficult, as top prospects such as linebacker
Clifton Garrett
(Plainfield, Ill./Plainfield South) and running back
Racean Thomas
(Oxford, Ala./Oxford) didn't make the list. It's not because they didn't play well, but because 7-on-7 events are geared more for wide receivers and quarterbacks on offense and the defensive backs on defense.
10. Chris Godwin
Middletown (Del.) High School | WR | 6-2, 203
Godwin, an Under Armour All-American, was one of the main reasons his Delaware team went 6-0 before finally losing a game. In this talent-filled tournament, Godwin showed why he is one of the top receivers in the country. He made several tough catches and displayed his 4.4 speed on a consistent basis. He displayed all the tools to be successful on the next level.
9. Sean White
Ft. Lauderdale (Fla.) Unversity School | QB | 6-1, 199
With receivers such as Ermon Lane and Travis Rudolph, it's hard for White not to look good, but he was extremely accurate throughout the tournament and made several big-time throws. White did a nice job of taking what the defense gave him underneath and also showed the arm strength to make several tough throws over the middle. White has seen his recruitment pick up lately and it will likely continue to increase with performances like this.
8. Tyler Queen (2015)
Kennesaw (Ga.) North Cobb | QB | 6-2, 237
North Cobb was one of the few that brought their high school team, instead of an All-Star team from their region. Queen led his team to several victories and showed pinpoint accuracy on a majority of his throws. He displayed great touch on his deep ball and completed several long touchdowns on the day. It was easy to see why he is already a highly recruited prospect.
7. George Campbell (2015)
Tarpon Springs (Fla.) East Lake | WR | 6-4, 184
Campbell proved why he might be the top receiver in Florida next year. He used his 6-foot-4 height to go up over defensive backs and come down with several long catches. It wasn't just the jump ball that impressed; his route running was good and he consistently got open. On top of his impressive offensive performance, Campbell made several plays at safety. This Under Armour All-American has a chance to be a special player as a senior.
6. Travis Rudolph
West Palm Beach (Fla.) Cardinal Newman | WR | 6-1, 186
To continue reading this article you must be an Insider
June, 10, 2013
6/10/13
1:00
PM ET
Cory Johnson
(Brooklyn, N.Y./ASA College) stood on the practice field in a light-blue T-shirt and jeans -- hardly the right uniform for Saturday drills -- but he told PSU's DL coach he needed to get a closer look at his pass-rush technique.
Larry Johnson obliged. So, with Cory's family looking on, the assistant motioned with his hands and began directing the junior college defensive tackle. Whenever Cory placed his hands on the coach, the coach batted them away. They repeated the exercise until it looked as if Cory became a boxer working on a speed bag.
To continue reading this article you must be an Insider
June, 6, 2013
6/06/13
9:00
AM ET
The evaluation period might have ended a few days ago, but that doesn't mean ESPN 150 DT
Thomas Holley
(Brooklyn, N.Y./Lincoln) has been able to get a break from recruiting.
He missed a call Wednesday night from a reporter but called back a few minutes later. Turns out he was on the other line -- picking up an offer from N.C. State, his 25th.
To continue reading this article you must be an Insider
May, 30, 2013
5/30/13
7:38
PM ET
Justin Hilliard
sees the ball and runs to it. Then he delivers a crushing blow.
That is the consensus on the 2015 Cincinnati St. Xavier linebacker who already holds 20 offers.
To continue reading this article you must be an Insider
May, 8, 2013
5/08/13
11:00
AM ET
John Reid
(Philadelphia, Pa./St. Joseph's Prep) still can't drive without the supervision of an adult -- he just earned his learner's permit last month -- but the rising junior already needs to keep track of his scholarship offers with his cell phone.
Those 10 offers are there on his notepad app in case friends or reporters ask. But he doesn't like to open that list. He knows he's still young -- and a verbal offer is a lot different from a written one.
To continue reading this article you must be an Insider
May, 7, 2013
5/07/13
9:42
PM ET
Defensive tackle
Jeremiah Clarke
(Alexandria, Va./T.C. Williams) took the next step in the recruiting process Tuesday night by announcing his top six on Twitter.
The 6-foot-4, 272-pound lineman said the schools on his short list now include Penn State, North Carolina, Wake Forest, Virginia, Miami (Fla.) and Tennessee. Clarke said in a text he's not yet sure whether he'll visit any of those schools again.
The Virginia product is currently hoping to commit somewhere by the end of the month, so his top-six announcement was expected. He holds 17 offers, and some of the bigger schools left off his top six included Maryland, Nebraska, Virginia Tech and West Virginia.
He finished his junior season with 11.5 sacks despite playing six games with a broken left hand. He also had 38 tackles, three forced fumbles, two fumble recoveries, one blocked kick and seven quarterback hurries through 10 games.
According to Clarke, Penn State's staff told him that his playing style was similar to third-round NFL draft pick Jordan Hill.
April, 22, 2013
4/22/13
9:58
AM ET
The RN Top 10 will appear throughout the camp and combine season and rank prospects based strictly on their on-field performance at that particular event. It does not reflect their overall prospect ranking.
ASHBURN, Va. – The East Coast and mid-Atlantic states represented well on Sunday as eight players earned invites to The Opening at the Nike Football Training Camp outside of Washington, D.C. Defense ruled the day, led by two five-star prospects from Virginia.
10. Nick Scott
Fairfax (Va.) Fairfax |RB| 5-11, 180
Scott stood out among a field of backs who were overshadowed by the prospects at nearly every other position. He earned the attention of coaches for his strong play and versatility but missed the MVP award, which went to
Vincent Lowe
(Chesapeake, Va./Grassfield), who also posted the top SPARQ score.
Scott committed to Penn State in February over an offer from Boston College.
ESPN national recruiting analyst Craig Haubert's take
: "He's got a great frame, and what I like about him as a Penn State verbal, he's a versatile player. He may not run by you, but he does a good job in route-running."
To continue reading this article you must be an Insider
January, 30, 2013
1/30/13
2:30
PM ET
Schools from all over the country are showing interest in a sophomore linebacker from Red Bank (N.J.) Catholic.
To continue reading this article you must be an Insider
December, 31, 2012
12/31/12
7:52
PM ET
LAKE BUENA VISTA, Fla. -– Team Nitro and Team Highlight took to the fields at Disney's ESPN Wide World of Sports on Monday for Day 1 of practice for Friday's Under Armour All-America Game (5 p.m. ET, ESPN). Two powerhouse programs in the Southeastern Conference look to battle it out for one of the standout running backs, and one of the top uncommitted offensive linemen is out with an injury.
Tide and Dawgs at top for RB Kamara
The Under Armour All-America Game boasts a bevy of talented running backs, and after the first practice ESPN 150 prospect
Alvin Kamara
(Norcross, Ga./Norcross) drew comparisons to one of the best.
[+] Enlarge
Miller Safrit/ESPN.comESPN 150 RB Alvin Kamara says Alabama defensive coordinator Kirby Smart and Georgia running backs coach Bryan McClendon have been key to his recruiting process.
"They say I play like
Percy Harvin
," Kamara said.
The 5-foot-10, 192-pound tailback has made a name for himself as a home-run threat out of the backfield or lined up in the slot, which makes it no surprise that programs across the country are pining for his commitment. Two from the SEC are in the lead.
"Alabama and Georgia are the front-runners, but I am still looking at Oregon -- and Tennessee too, with Butch Jones being there now," Kamara said.
The nation's No. 4 running back has yet to set any official visits, but plans to do so after he gets home from the UA Game. A decision will likely come after his visits.
"This is not going to be a busy month so much as it is just something I need to buckle down and do," Kamara said. "I am going to take these visits and base my decision off of that."
One factor in his decision will be the relationship he has with the coaches recruiting him. The Tide could have a slight advantage because they made first contact with Kamara.
"Kirby Smart and I are really close," Kamara said. "He was the first coach to ever talk to me. He snuck me his card after practice and I could not believe it. For a coach of his stature to be the first coach to talk to me is great. We have been in contact ever since, and we have a great relationship."
Georgia might counter that with their running backs coach being Kamara's recruiter of record.
"Coach [Bryan] McClendon and I have a great relationship too," Kamara said. "With him being my position coach, I could see myself playing for him. We are on a friend level and we do not even talk about football most of the time."
The in-state Bulldogs also have a few people in Kamara's ear this week, though he admits they have been putting the pressure on him for quite some time.
"Even when we are not in a big event like this, guys like
Shaq Wiggins
,
Brice Ramsey
, even
Reuben [Foster]
, even though he is not committed, are always asking where I am going," Kamara said. "They are joking, but they are on me pretty hard sometimes."
Newsworthy: OL Crowder deals with injury, sets officials
ESPN 150 offensive lineman
Tyrone Crowder
(Rockingham, N.C./Richmond) will be unable to play in Friday's UA Game after aggravating a hand injury he sustained a few weeks ago at the Shrine Bowl of the Carolinas. While he is disappointed, Crowder said today he is looking forward to the home stretch of his recruitment and choosing from one of two programs.
"It is Clemson No. 1 and Georgia No. 2, and I will decide on signing day," said Crowder, ranked the No. 2 OG in the country.
The Tigers have been after the 6-foot-1, 330-pound offensive lineman for more than three years now, and they have location and familiarity working in their favor.
"Clemson has been recruiting me since I was in ninth grade," Crowder said. "I like what they have going on and I have built a strong relationship with them. It is close to home and I have some family close to Clemson. I will take my official there Jan. 11."
Crowder has not been to Athens for six months, but he has fond memories of his visit.
"Georgia is a great powerhouse team in the SEC," Crowder said. "When I went down there during the summer I really liked the campus and enjoyed meeting the coaches. I spoke to them two weeks ago and set an official visit Jan. 18."
Trending
It was only the first day of practice, but Team Highlight (Black team) quarterbacks got off to an impressive start.
To continue reading this article you must be an Insider
December, 23, 2012
12/23/12
2:21
PM ET
Philadelphia Imhotep Charter running back
David Williams
is leaving the Mid-Atlantic.
The ESPN 150 prospect will announce his commitment on Jan. 4 at the Semper Fidelis All-American Bowl in Los Angeles.
"Me and my family talked about it after the recruiting period stopped and thought it'd be good," Williams said.
To continue reading this article you must be an Insider
December, 5, 2012
12/05/12
5:29
PM ET
Malcolm Cook
(Fork Union, Va./Fork Union) hasn't officially decommitted from Virginia following the firing of four assistants, but the safety said he's re-opening his recruitment.
In the last 48 hours, the prospect has received 11 offers and entertained visits and phone calls from the likes of Michigan, Notre Dame, Ohio State, Penn State and USC. He planned to speak with the Trojans after basketball practice Wednesday, and he chatted in-person with Penn State assistant Charles London on Tuesday.
"It doesn't really matter to me about other schools looking at me," he said, when asked whether this new attention was a consolation. "The reason I committed to Virginia was because of the defensive coordinator, Coach [Jim] Reid. So I was really hurt by Coach Reid not being there.
To continue reading this article you must be an Insider
December, 4, 2012
12/04/12
1:25
PM ET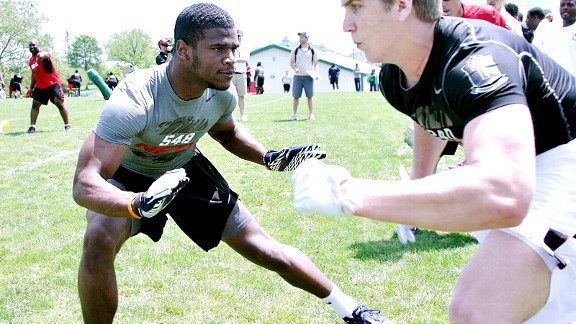 Scott Fink/ESPNHSDavid Williams said he is waiting until his season is complete before going on any recruiting visits.
First-year program Imhotep Charter (Philadelphia) is in the semifinals of the state championships, and the program is riding ESPN 150 running back
David Williams
to an undefeated season.
Colleges are coming through Philadelphia daily to meet with Williams, and Arizona State, Miami (Fla.), Penn State and South Carolina have all either come by the school or will be visiting this week, Williams said.
Penn State running backs coach Charles London met with Williams on Tuesday at the school and also had a chance to speak with his mother.
To continue reading this article you must be an Insider
Penn State 2015 Class Debuts At No. 3
BIG TEN SCOREBOARD
Thursday, 8/28
Saturday, 8/30