Penn State Nittany Lions:

Kent State Golden Flashes
October, 1, 2013
10/01/13
10:15
AM ET
Andrew Dowell
(Lakewood, Ohio/St. Edward) had the hit heard 'round Ohio during a camp this summer in Columbus.
David Dowell
is the flashy wideout with offers that have landed him on the ESPN Junior 300.
No matter how fans look at it, the two brothers for St. Edward are the oars that row the boat for the Eagles.
September, 21, 2013
9/21/13
9:05
PM ET
STATE COLLEGE, Pa. -- Bill O'Brien, the offensive guru who's had to insist on more than one occasion that he's no rock star, took to the dais Saturday evening and cut himself short as he waxed poetic on the Lions' improved rushing attack.
"You guys need to ask me some defensive questions. They're all offensive questions right now," Penn State's head coach said following a 34-0 victory over Kent State. "The defense just pitched a shutout, and you guys were all over them last week and they just pitched a shutout. So, can we get some defensive questions or what? No?"
O'Brien, with a blue cap pulled close to his eyes, waited a moment and then continued on between scattered laughter.
"I thought the defense played a helluva football game. They pitched a shutout, and I think John Butler and that crowd of coaches over there and that crowd of football players over there did a f- …" said O'Brien, pausing to change words in midstream. "… hell of a job."
For a minute there, one reporter told him, it sure sounded like O'Brien was going to say
he had a bunch of "fighters."
"You know what?" O'Brien said with a smile. "I do. We have a bunch of fighters and fantastic kids. Anyone that debates me on that -- it's like my mom, she still doesn't believe I said 'fighters.' Do I look like a guy who swears? You're kidding me."
[+] Enlarge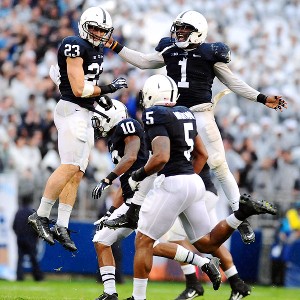 Evan Habeeb/USA TODAY SportsThe Penn State defense had plenty to celebrate as it notched its first shutout since 2010.
O'Brien's mood told the tale of the day. Last week, after his defense surrendered 34 points and 507 yards, he crossed his arms and countered most questions by saying he'd have to watch the film. He glared, and his anger was evident. This time, he laughed and smiled -- and his players shared that sentiment.
Cornerback
Jordan Lucas
pumped his fist as he jogged underneath the tunnel. Linebacker
Nyeem Wartman
embraced DT
Tyrone Smith
, and the dimple-chinned coach didn't have to stop any players from prematurely jogging into the locker room. They stayed and swayed to the alma mater.
O'Brien even lingered a bit and high-fived students who leaned over the rail. Last week, the players stared at their feet and looked as if they had heard a eulogy just minutes before. This week? It seemed as if the Lions were in the midst of a celebration -- probably because they were.
This marked the first Penn State shutout since Sept. 18, 2010, which also just so happened to come against the Golden Flashes. It was also a statement game, one that said the defense wasn't a pushover liked it seemed last week.
PSU surrendered 15 plays of 10 yards or more last week. It gave up just 190 total yards this week.
"It feels good for our defense. But we can't stop there, man," linebacker
Stephen Obeng-Agyapong
said. "We got to keep striving because we definitely made mistakes today, and we just have to keep improving."
Of course, comparing UCF's offense to Kent State might just be like comparing Ohio State to Ohio. Some players believed last week didn't seem as bad as the media made it out to be. But, by the same token, this week's shutout likely isn't the watershed moment for the defense either.
It's more of a confidence boost for the defense than an indicator -- even if some defensive players seemed to take offense at that notion.
"I don't think it was the opponent," Wartman said. "I think it was more us."
Defensive players didn't believe there were big changes between last Saturday and this Saturday. Obeng-Agyapong just chalked the loss to UCF up to one of those days when nothing goes right.
This shutout doesn't mean the Nittany Lions will enter the conference season and limit Indiana's high-powered offense to 200 yards. But it does give Penn State something to build on, something for the defensive players to smile about and something for the fans to look forward to.
The shutout was undoubtedly important to this Penn State team, Kent State or not. And, heading into the bye week, it sure makes a 3-1 record easier to swallow.
"When you can shut any team out, it feels good," Obeng-Agyapong said, "because you stop them from scoring the whole game. That's pretty difficult at times, you know?
"You always feel good when you win. When you lose, you feel crappy. It's as simple as that."
September, 21, 2013
9/21/13
7:00
AM ET
The Nittany Lions' defense will seek redemption at Beaver Stadium after a disappointing performance last week. Here's what we'll be watching in Penn State's final non-conference game before the Big Ten season.
Turning around the defense:
PSU surrendered more than 500 yards to UCF, but the defense's test should be markedly easier this week. Kent State's top player, Darren Sproles-clone
Dri Archer
, is doubtful, and the Golden Flashes rank No. 108 in scoring. Kent State doesn't have much of a passing game, and its offensive line is overmatched. This is either the game that helps get PSU back on track ... or shows that PSU will be in for a long Big Ten season.


Hackenberg Fever:
Christian Hackenberg
has already won two Big Ten freshman of the week honors, and he could be in for a third this week. He has
continually evolved since Week 1
, and even Adam Rittenberg decided to
drop
Taylor Martinez
on his fantasy team
in favor of Hackenberg. The true freshman is completing more than 70 percent of his passes, and he'll likely pad his stats some against a not-so-good Kent State defense. At his current pace, he'd surpass Matt McGloin's single-season record of 3,266 passing yards in the final game.
Three-headed running attack:
Who will lead the Nittany Lions in rushing this game? Well, you have about a one-in-three chance of being correct. PSU likes to involve each of its three scholarship tailbacks, and Bill O'Brien tends to go with the hot hand.
Zach Zwinak
gets most of the carries as the bruising, 240-pound back -- but
Akeel Lynch
is a one-cut, speedy change-of-pace runner. And
Bill Belton
actually leads the team in average yards per carry with 8.1. The trio has combined for 535 yards and eight touchdowns through the first three weeks.
Gambling O'Brien:
For those who know the Penn State head coach, it comes as no surprise that only three teams this season have gone for it more on fourth down. It's expected. Of the 26 fourth downs that Penn State has faced, it has opted to go for the first down six times, punt 14 times and attempt a field goal six times. The Lions have converted all but one of their fourth-down attempts, which ties them for 10th in the country in conversion percentage. It's a strategy that has paid off for O'Brien, and it's a trend that doesn't look to end anytime soon.
Especially special teams:
The Nittany Lions ranked near the bottom of the Big Ten in every special teams category in 2012 but are at the middle or near the top this season. PSU is No. 6 in kickoff return average (22.7 yards), No. 3 in punt return average (14.6 yards) and has missed only one field goal -- a 57-yard attempt that fell just short.
Eugene Lewis
has added a lot to the return game and seems poised to break one eventually, while kicker
Sam Ficken
is the most improved player since last season. If
Alex Butterworth
can improve his leg strength and/or consistency, these special teams would be in great shape.
September, 19, 2013
9/19/13
7:00
PM ET
By
ESPN.com staff
| ESPN.com

Josh Moyer talks with Penn State right tackle Adam Gress about the offensive line's improvement, upcoming opponent Kent State -- and why teammates call him "Sasquatch."
September, 19, 2013
9/19/13
8:00
AM ET
STATE COLLEGE, Pa. – Cornerback
Jordan Lucas
swears it's not as bad as it sounds.
Yes, UCF compiled 507 yards and 34 points in shocking Penn State last week. But that's last week. And Lucas said his team was looking forward to Saturday's game against Kent State and a shot at some redemption.

"We just need to make plays," the first-year starter said. "We need to tackle better, as everybody knows. And when we have a guy wrapped up, we need to bring him down. That's really it. We need to execute."
The Golden Flashes don't have the same firepower as UCF. And their best player,
Dri Archer
, who's been compared to NFL tailback Darren Sproles, is
"unlikely" to play this weekend
. That creates the perfect recipe for a confidence-boost with this Penn State defense.
Kent State tailback
Trayion Durham
has averaged just 3 yards a carry so far this season. The Flashes are just 1-2 -- with their lone win coming against FCS school Liberty. And that was still a 17-10 struggle.
"We're just going to play a little bit more aggressively and stick to our keys," Lucas said.
This might offer Penn State's defense a bit more closure, or more confidence, but it won't do much to answer any lingering questions. Central Florida boasted a high-powered attack, which should help PSU prepare for the Big Ten season -- seeing as their three October opponents are averaging at least 42 points per game.
But Kent State? With a defense that surrendered 41 points to Bowling Green and an offense that's ranked No. 108 in scoring, the Flashes aren't exactly the best measuring stick for the Nittany Lions.
PSU is nearly a three-touchdown favorite this weekend. Will the Lions be tested? Probably not. But it should be a good pick-me-up after a loss.
"We just got to continue to lift each other up," safety
Ryan Keiser
said. "We just have to continue to do what we do."
This is Penn State's final game before a bye and the start of the conference season. It's a chance for
Deion Barnes
to pick up his first sack and start answering some questions about his play, another game for the outside linebackers to gain experience and a shot for Lucas and Co. to improve the secondary.
It's a different kind of game than Central Florida. But it's important for PSU to win this one big so it can be more self-assured in preparing against Indiana. This team knows what it has to do; it's just a matter now of executing.
"We have to do better," Bill O'Brien said, "and will do better."
July, 23, 2013
7/23/13
11:00
AM ET
Every weekday over the next two weeks, NittanyNation will take a closer look at a different game this season and how the matchup stacks up for PSU. Up today: Kent State.
The Golden Flashes boast one of the most dynamic tailbacks in all of college football.
If we believed what our mothers told us -- and didn't say anything unless we had something nice to say -- that would be the end of this preview, however. After a Cinderella season where Kent State came within a heartbeat of the Orange Bowl, the Flashes' luck has run out.
Gone is head coach Darrell Hazell, who left for Purdue. Gone are three offensive linemen who combined for more than 120 starts. Gone is the four-year starting QB. Gone is three-quarters of the secondary.
Gone is just about every reason Kent State could be considered a threat. Except for tailback/slot receiver
Dri Archer
. This team was a threat last season -- but this season? The Flashes are somewhere between Eastern Michigan and Syracuse in terms of talent.
To continue reading this article you must be an Insider
April, 2, 2013
4/02/13
11:00
AM ET
Marcus Whitfield
(Massillon, Ohio/Washington) crossed his arms and closely watched the defensive backs during last week's unofficial visit to Penn State.
To continue reading this article you must be an Insider
February, 16, 2013
2/16/13
7:26
PM ET
L.J. Scott
saw his recruitment pick up in January.
After posting the fourth-best rating at the SPARQ Combine in Massillon, Ohio on Saturday, it should blow through the roof.
The 6-foot-1, 190-pound running back from Marion (Ohio) Harding posted a 110.82, leaving many others in his dust.
To continue reading this article you must be an Insider
October, 24, 2012
10/24/12
9:00
AM ET
Sweat dripped from
De'Quan Render
's forehead right before he was about to recline for another set of bench presses.
"De'Quan!" his coach yelled during a stuffy August afternoon. "Come over here."
The 2013 safety out of Cincinnati (Ohio) Northwest noticed a a stranger standing next to his coach, a shorter man wearing a navy-blue jacket. The man smiled, extended his hand and introduced himself as Penn State assistant John Butler.
To continue reading this article you must be an Insider
October, 9, 2012
10/09/12
10:00
AM ET
LITITZ, Pa. --
Roman Clay
pinballed off defenders Friday, juking with hot-pink cleats and rumbling for a first down nearly every time he touched the ball.
His Lancaster (Pa.) Catholic teammates, who have long grown accustomed his penchant for big plays, applauded while the three-star tailback dragged defenders and broke tackles for extra yards -- especially on a 25-yard scamper that saw him bounce off three tacklers.
To continue reading this article you must be an Insider
August, 17, 2012
8/17/12
4:28
PM ET
Cincinnati Northwest defensive back
De'Quan Render
has an offer from Kent State, but his top two teams at this point are still evaluating him.
Akron and Penn State are at the top for the 6-foot-1, 180-pound Render, who will play some safety and cornerback this season.
Penn State defensive back John Butler has spoken to Render recently.
To continue reading this article you must be an Insider
BIG TEN SCOREBOARD
Thursday, 9/3
Friday, 9/4
Saturday, 9/5
Sunday, 9/6
Monday, 9/7