Penn State Nittany Lions:

Big 12
June, 18, 2014
6/18/14
1:30
PM ET
Texas and Texas A&M might not be playing one another anytime soon.
But other schools around the league are interested in the prospects of rekindling rivalries that were destroyed by two rounds of conference realignment.


While the Longhorns and Aggies remain at odds, Texas Tech athletic director Kirby Hocutt told ESPN.com this week he's optimistic that he'll be able to get Texas A&M on the Red Raiders' schedule down the line again. Hocutt said there has been interest from Texas A&M's side, as well.
"Hopefully that's a series that at some point in time that could start again," Hocutt said. "Is that a game that won't happen again? No. We've had discussions about it. Hopefully we can reengage that in the coming years."
Oklahoma and Nebraska already have an agreement in place to play a home-and-home in 2021-22. Missouri coach Gary Pinkel
has reportedly said
he thinks his school will play Kansas again someday.


And West Virginia athletic director Oliver Luck, who has already added Penn State and Virginia Tech to future schedules, told ESPN.com he's hopeful he'll be able to revive the "Backyard Brawl" with Pitt at some point, as well.
"At some point we'll get Pitt back on the schedule," Luck said. "What I'm trying to do with our nonconference games is stay as regional as possible and rekindle some of our historical rivalries. Penn State is back on the schedule. Virginia Tech is back on the schedule. That game meant a lot to southern West Virginians. The Pitt game meant a lot to northern West Virginians. We've continued to play Pitt in many of the sports.
"We've both gone through transitions, so it's tough schedule-wise for both of us. But I think at some point we'll get Pitt back on the schedule. I see [Pitt athletic director] Steve Pederson every now and then at various conventions. And we've had some discussions about that. We just haven't been able to really eyeball the proper time to get it going again."
February, 13, 2014
2/13/14
5:30
AM ET
The Early Offer is RecruitingNation's regular feature, giving you a daily dose of recruiting in the mornings. Today's offerings: Snapchat is quickly becoming one of the most popular forms of social media around, but college football coaches won't be able to use it as a recruiting tool; keep an eye on Indianapolis, because the city again will be one of the top spots in the Midwest for recruiters; and one of the top 2015 prospects in Missouri has a busy spring on tap.


November, 13, 2013
11/13/13
5:00
AM ET
Jake Trotter here. I cover the Big 12 for ESPN.com. But I won't be in Big 12 Country this weekend. I'll be in Nittany Lion Land.
It's Flip Week at ESPN.com, where several of our conference reporters are traveling outside their areas of expertise to experience a different culture of college football.
[+] Enlarge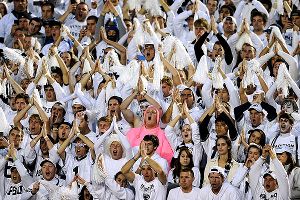 Patrick Smith/Getty ImagesPenn State fans cheer on the Nittany Lions.
And Thursday, I'm headed to Happy Valley for the weekend.
I've been to every locale in the Big 12, from Ames, Iowa, to Lubbock, Texas.
I've brandished The Mountaineer's rifle. I've eaten countless corny dogs from the Texas State Fair. I've even been eye-to-eye with Bevo -- and trust me, he's more intimidating in person than he looks on TV.
But as a native of Oklahoma City, I have never been to State College, Pa. In fact, the only game I've ever seen in a Big Ten stadium was at Ohio State years ago.
So what makes Penn State special?
What makes it different from Texas or Oklahoma?
Does Penn State really have the best tailgating in the country? Or the craziest student section?
This weekend, I get to find out.
But to get the true Penn State experience, I'm looking for suggestions.
I'm planning to check out Nittanyville. And I'm going to visit the Nittany Lion Shrine.
But where else should I go? What else should I see?
Adam, our Big Ten reporter, what say you?
Adam Rittenberg:
Jake, you're in for a treat at Penn State. It's a unique place to see a game, probably the most unique setting in the Big Ten. Huge stadiums are common in the Big Ten, but Beaver Stadium, rising up in from the mountains in central Pennsylvania, is quite a spectacle. The tailgating scene is huge in Happy Valley, so definitely spend some time roaming the massive grounds around the stadium. Check out the RV lots south of the stadium, and give yourself a lot of time to roam around one of the best campuses in the country.
The Lion Shrine should be on your list, and definitely check out the Berkey Creamery for some of the best ice cream you'll ever have. Stroll through the historic Nittany Lion Inn, which is always buzzing on football weekends. If you have time, you could take a full campus tour -- guides often shout out, "We are!" and wait for the echoing, "Penn State!"
Nittanyville, the tent city outside Gate A is a great spectacle, especially before big games. Penn State's student section -- the S-zone -- has earned national recognition, and for good reason. It's incredibly organized, with each class assigned areas and some clever signs for players and coaches (BO'B The Builder was one of my favorites from last season). Although your game is a whiteout and not under the lights, you'll be able to envision what those scenes look like.
Save some time to walk down College Avenue, which flanks campus, and stop in The Corner Room for some food and drink. Otto's Pub & Brewery is a little farther away but not a bad place to eat, either. But the area near campus has a bunch of cool shops with Penn State memorabilia.
Make sure you're at the north end of the stadium for the team's arrival on the blue buses. Always a great moment. And the Blue Band's pregame performance at the Bryce Jordan Center, Tailgreat, is excellent, along with the drum major's flips as the band takes the field. During the game, you'll hear staple songs like "Zombie Nation" and "Sweet Caroline."
Bottom line: There's a lot to see and do, and bring your walking shoes. It's a big campus, a big stadium and a big tailgating scene. Penn State fans have a unique connection to their program, and you'll see why after this weekend.
Travel safe and enjoy!
To send Jake other suggestions about what to do, see and eat at Penn State, send them to his mailbag.
October, 26, 2013
10/26/13
10:25
PM ET
By
ESPN.com staff
| ESPN.com
Will UCLA score enough points to somehow beat Oregon? Will Missouri all but clinch the SEC East against South Carolina? Will Ohio State remain unbeaten against the rival Nittany Lions? Head on over to
Campus Connection
at 7 ET and follow the evening action along with 10 of our reporters, including Mark Schlabach at UCLA-UO, Chris Low at SC-Mizzou, Max Olson at Texas-TCU, Greg Ostendorf at FAU-Auburn and Austin Ward at PSU-OSU.
Post your comments and questions and we'll include as many of them as possible.
August, 14, 2013
8/14/13
3:00
PM ET
By
ESPN.com staff
| ESPN.com
This is the last year of the BCS, and our writers look at its impact on college football:
From Ivan Maisel
: The BCS has moved NCAA football forward in a way no system before it could and given it a national stage, but along with exposure comes greater pressure and expectations, which in the end the series couldn't overcome.
From Mark Schlabach
: As we prepare for the final season of the BCS, let's take a look back at its highs and lows.
From Brian Bennett
: Five of the last seven national champions have had at least one loss, and with a playoff looming, going undefeated will be harder than ever.
September, 22, 2012
9/22/12
8:05
AM ET
By
ESPN.com staff
| ESPN.com
Welcome to Week 4! Join our ESPN.com college football experts as they get you ready for GameDay.
Contribute your thoughts and questions beginning at 10 a.m. ET.
Now's the time to hit us up with your best tailgate photos. Send your pictures
@ESPNCFB
or upload them through the chat. We can't wait to see what you're cooking up today. Here are
our previous tailgates
.
BIG TEN SCOREBOARD
Thursday, 9/3
Friday, 9/4
Saturday, 9/5
Sunday, 9/6
Monday, 9/7