Ohio State Buckeyes:

Zach Domicone
October, 15, 2012
10/15/12
5:25
PM ET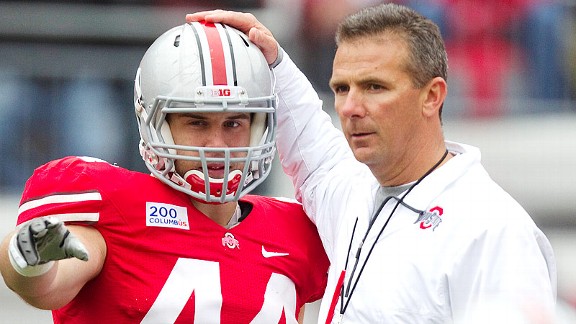 Greg Bartram/US PresswireAfter leading the Buckeyes in tackles against Indiana, it looks as if senior Zach Boren will continue to see time at linebacker.
COLUMBUS, Ohio -- Quick hitters from Ohio State's media luncheon on Monday as it prepares for a visit from Purdue on Saturday.
Shake it up:
For the time being,
Zach Boren
shouldn't make any plans to return to offense after shifting from fullback to linebacker and then leading the team in tackles against the Hoosiers.
Expecting somebody else to have that same kind of instant impact at a new position might be asking a lot in the middle of the season, but that doesn't mean the Ohio State won't consider more personnel shakeups in response to its lack of depth on defense.
Buckeyes coach Urban Meyer confirmed there "are conversations" as the coaching staff evaluates all its options, though the only player identified specifically when he was asked about tweaks to the lineup during his Monday press conference was freshman defensive end
Noah Spence
-- but he won't be playing offense any time soon.
"Options are very limited right now, so that's one thing," Meyer said. "The guy that played very well is Noah Spence, so the thing you have to ask yourself, 'OK, Noah Spence and
Nathan Williams
play the same position, so let's have a conversation about that' -- and we are. How do you get them both on the field at the same time is the conversation.
October, 15, 2012
10/15/12
5:12
PM ET
COLUMBUS, Ohio -- The fire inside is burning hot enough as it is.
[+] Enlarge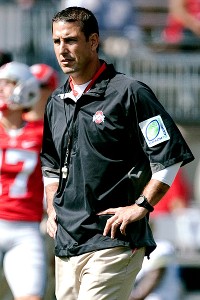 Greg Bartram/US PRESSWIREThe pressure Luke Fickell puts on himself for Ohio State's defensive struggles are greater than the pressure he's feeling from the outside world.
Reflecting all the way back to his days as a youth wrestler, Luke Fickell has always tried to put more pressure to perform on himself than anybody could place on him on the outside.
So the Ohio State defensive coordinator isn't about the change his approach after his unit allowed 49 points in a narrow win over Indiana on Saturday, though he joked that he might seek out some of the public opinions of his work if he thought it might dial up the internal temperature even further.
"If you can put more pressure on me than I put on myself -- I don't how you could," Fickell said during his Monday press conference. "We could give up 14 points and for some reason I'm not going to sleep at night thinking, 'Wow, what could we have done better.'
"The outside pressures, I don't know, I don't feel it. If they're harder or stronger than what I put on myself, maybe I should go read about it."
The Buckeyes provided plenty to write about defensively after a second sloppy outing in as many games, following up the 38 points they gave up against Nebraska with a trip to Indiana that included 481 yards allowed and a much tighter score than expected.
The program is still undefeated and the offense has certainly contributed greatly on the way to those seven wins and a spot in the top 10. But the defense currently ranks No. 10 in the conference in total defense, and the recent troubles haven't gone unnoticed by coach Urban Meyer -- who vowed to take a more active approach in getting that corrected and gave a speech to the entire unit and the coaching staff during a meeting on Sunday.
Fickell had no complaints about that appearance to start the week from Meyer, and he indicated it was a positive to have him more involved. But just like with the exterior conversations about the Buckeyes, he also didn't really need to be told that improvements were mandatory if they're going to stay perfect or contend for titles down the road.
"If we would have walked out of there after giving up 31, to be honest with you, I'd have had the same pit in my stomach," Fickell said. "We're never satisfied with what we've got, but we can't lose sight of the No. 1 most important thing is to win and get better.
"Is there a pit? Yes. Does it make it hard to sleep? Yes. But what do you do? You can whine, you can fold up your tent, start to complain or you can go back to work and find a way to get better."
October, 8, 2012
10/08/12
4:49
PM ET
COLUMBUS, Ohio -- The defense is down to two healthy starters at linebacker.
That might be all Ohio State needs this week.
The loss of
Etienne Sabino
for at least three games due to a broken bone in his right leg will test the depth at a position that was already perhaps the most inexperienced on the roster. But as the Buckeyes prepare for a trip to Indiana on Saturday, they might be in position to survive for a week without the senior captain given the amount of Nickel they're likely to be playing against a pass-happy offense.
"Tremendous blow," Buckeyes coach Urban Meyer said. "Very good player ... and we're going to miss him.
[+] Enlarge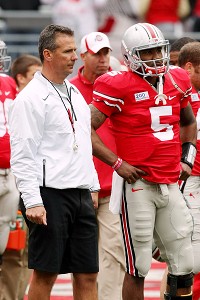 Khris Hale/Icon SMIUrban Meyer isn't quite ready to call Braxton Miller a Heisman finalist.
"We're also dealing with [this offense], and this week will probably be a lot of Nickel. You've got
Storm [Klein]
and
[Ryan] Shazier
-- a couple older linebackers and the rest of them are freshmen."
The Buckeyes are going to need at least one of those young guys to contribute in the base personnel package, and
Joshua Perry
is in line for the start in place of Sabino.
They're also looking for more contributions from guys like
David Perkins
,
Jamal Marcus
and
Camren Williams
, who are much more likely to see action on defense now that the team's third-leading tackler is on the shelf for an extended period of time. But when Ohio State puts an extra defensive back on the field to match up with a passing attack that is throwing for more than 300 yards per game, it will be sticking with its veterans -- even if Shazier just barely counts as one as a sophomore.
"Any time one of your captains goes down, especially a big leader on the team, you need a lot of guys to step up," defensive end
John Simon
said. "[Sabino] gave a pretty good speech there in the locker room, and he just kind of laid it out for us.
"We've got a lot of guys who need to step up this week, and I think we're starting to prepare for that task and looking forward to it."
Awards talk:
Meyer still isn't ready to anoint
Braxton Miller
as a Heisman Trophy candidate. But the time appears to be getting closer.
The sophomore was named the Davey O'Brien National Quarterback of the Week after another wildly productive outing in a win over Nebraska on Saturday, and his work on the ground over the last two games to open Big Ten action has only strengthened his case as a potential option for Heisman voters at the end of the season.
But Meyer isn't ready to do any campaigning for his guy just yet.
"I don't think Braxton is a Heisman candidate right now," Meyer said. "I think he's certainly one to watch, he's got the ability, but I don't know who is [a candidate now]. We're only halfway through the season, in two or three games I think you can start talking about it.
"I'm not talking to Braxton about it. We're trying to win some games. I think at the right time, he will be a candidate if he continues to play very well."
Bumps and bruises:
C.J. Barnett
appeared to have a chance to get back on the field since he was in uniform for the win over the Huskers, though his high-ankle sprain again kept him on the sideline.
The Buckeyes might finally be able to turn the safety loose again this week at Indiana.
"Good sign yesterday, he was out there running around," Meyer said. "We need to have him back for obvious reasons."
The Buckeyes could use
Jordan Hall
back to add depth to the backfield as well, though they didn't exactly have any problem running all over the Huskers without him. Meyer didn't give an indication either way about the senior's availability for the meeting with the Hoosiers other than confirming the partial tear of a knee ligament "is not right yet."
Champions club: Running down the players who graded out the highest according to the film review of the 63-38 win over the Huskers by the coaching staff.
Offense: Running back Carlos Hyde (player of the game), fullback Zach Boren, wide receiver Corey "Philly" Brown, left tackle Jack Mewhort, left guard Andrew Norwell, center Corey Linsley
Defense: Cornerback Bradley Roby and defensive end John Simon (co-players of the game), safety Christian Bryant
Special teams: Corey "Philly" Brown (player of the game), kicker Drew Basil, Armani Reeves, Zach Domicone, Devan Bogard and Rod Smith
He said it:
"We're getting ready to play a big-time game in that great stadium and I get a bunch of text messages and phone calls, 'Did you hear?' We suspended him immediately for the game, a very ignorant comment. That's exactly what it is, a 19-year-old kid making an ignorant comment, which makes him 1 of 460 million. We're moving on, we moved on already, had a good chat and he's very apologetic. He does go to class and he's actually a heck of a kid." -- Meyer on
Cardale Jones
and his tweet about the value of classes last week
Did Ohio State Cheap Out On Championship Rings?
BIG TEN SCOREBOARD
Thursday, 9/3
Friday, 9/4
Saturday, 9/5
Sunday, 9/6
Monday, 9/7