Ohio State Buckeyes:

Woody Hayes
April, 8, 2014
4/08/14
11:00
AM ET
The NCAA men's tournament is all over, but we've still got the title match in our
all-time Big Ten coaches' tournament
.

Like that other madness, we had some lower seeds advancing all the way to the championship, though the upsets weren't huge. In our
second semifinal matchup
, No. 4 seed Penn State's Joe Paterno edged No. 1 seed Ohio State's Woody Hayes by a 53-47 count in your voting, with more than 21,000 votes cast.
So Paterno advanced to face No. 3 seed Nebraska's Tom Osborne. An all-time Big Ten coaches tournament final with no Woody or Bo? It is surprisingly so, though the two finalists are no slouches either.
We'll open the tournament final on Thursday. For now, here are some of your comments on this matchup:
Brian from Smyrna: I voted for Joe Paterno over Woody Hayes. There's no arguing that Hayes has a better Big Ten résumé than JoePa. But Paterno has a better career than any other Division 1 coach ever. No one won more games than he did and even his 2 championships are short changing him (he went undefeated 4 other times without being awarded a championship). He won during all kinds of eras of the game. No one will ever top the greatest coach of all time.

Sean J. from Philadelphia: Yes, many coaches have won a plethora of games, fund-raised for their universities, and built the brand of their schools. However, none have had the same impact that Joe Paterno had both on and off the field. Not many fans can attribute their coach for the success of the team and their own personal success. Whether it's the national recognition your degree gets, the time spent in the library with his name on it, or the visit he made to your tent in Paternoville the night before a big game, Joe Pa impacted many of our lives. Despite accusations from the scandal, generations of alumni know they owe Joe a debt gratitude for the education they received at Penn State. That is why he deserves to win this tournament.

David S. from Virginia Beach: Quite simply, Joe Paterno coached and won 409 games regardless of the dumbest part of the NCAA sanctions Penn State had... NO ONE BETTER

Brian B. from Atlanta: I voted for Joe Paterno for two reasons: 1. Joe Pa was the greatest coach of all time. 2. I hate Ohio State and would vote for anything opposite them. Obviously a no-brainer.

Dave from Columbus: Great matchup here. Two towering figures of the B1G. Okay, so JoePa wasn't part of the B1G until the last 20 years of his career, but still. Both coaches' legacies were ended in disgusting tarnish. My favorite team being tOSU, Woody gets my vote. But it's deeper than that. Woody's been immortalized throughout campus, the B1G and beyond. I just don't see JoePa's legacy ever recovering from what happened there. I have a feeling a lot of folks are voting for JoePa out of their disdain for Woody.

James from Nashville: Many people are overlooking the fact that Paterno had the benefit and being independent and setting up a lot of cupcakes. Hayes was the better coach, and would have won more titles if not for facing off against Bo for a decade, and playing Rose Bowls against several exceptional USC teams. Even so, he still won more titles, more conference titles, and indeed a higher percentage of Big Ten games that Paterno. Anyone who votes Paterno is clearly someone who does not know much about the history of the Big Ten.

Larry P. from Mansfield, Ohio: Woody Hayes won 13 Big Ten titles and 5 national championships. Joe Paterno won 2 Big Ten titles and 2 national championships. Not a tough call.

Tom from Cuyahoga Falls, Ohio: The Big Ten term 3 yards and a cloud of dust came because of Woody. Yes, when you think of Penn State, you think of Joe Pa. When you think of Ohio State, you think of Woody. The difference is when you think of the Big Ten, you also think of Woody. My vote goes to Woody Hayes.
April, 4, 2014
4/04/14
1:30
PM ET
Who is the greatest Big Ten coach of all time?
Our
all-time Big Ten coaches tournament
is attempting to answer that question, and we're down to our final four candidates. Our first semifinal opened yesterday with No. 3 seed Nebraska's Tom Osborne taking on No. 2 seed Michigan's Bo Schembechler.
Now it's time to take a look at our other Final Four showdown ...
No. 4 Penn State's Joe Paterno vs. No. 1 Ohio State's Woody Hayes
Tournament résumés:
Paterno: For nearly half a century, JoePa was Penn State football. He won a record 409 games, plus two national championships (1982, 1986) and had four other undefeated seasons. He won all four major bowl games -- the Rose, Orange, Fiesta and Sugar -- and was the AFCA national Coach of the Year five times. Yes, his career ended in scandal and a huge chunk of his wins were vacated by the NCAA. You have to decide for yourself how much that affects his legacy.
Hayes: He's the No. 1 seed in the tournament for a reason. Hayes won 205 games, the most of any coach while a member of the Big Ten, and a record 152 league games. He also captured 13 Big Ten championships, tying him for the most all time, and five national titles (1954, 1957, 1961, 1968 and 1970). He was irascible, unyielding and one of a kind, and some of those qualities led to his downfall. But he is virtually synonymous with Ohio State and the Big Ten.
Which coach moves on to the title game? Voting will be open through the weekend, and make sure to
drop us a note
saying why you voted the way you did. The best responses will run in our results posts.
April, 1, 2014
4/01/14
1:00
PM ET
The Final Four of our
all-time Big Ten coaches tournament
is all set.
On Monday, we announced that Penn State's Joe Paterno and Nebraska's Tom Osborne both advanced to the semifinals. Now it's time to find out the rest of our field.
Our seventh game pitted No. 2 seed Michigan's Bo Schembechler against No. 10 seed Barry Alvarez of Wisconsin. Alvarez made this closer than expected for a while, but Schembechler finished as the victor, earning 61 percent of your vote to 39 percent for the Badgers' Hall of Famer.
Game 8 was an all-Buckeyes affair between No. 1 overall seed Woody Hayes and No. 9 seed Jim Tressel. Hayes won that one going away, by a count of 82 percent to 18.
So our Final Four matchups will look like this:
No. 4 Joe Paterno vs. No. 1 Woody Hayes
No. 3 Tom Osborne vs. No. 2 Bo Schembechler
We'll open up the voting for these semifinals on Thursday. This should be a lot of fun.
Curiously, we didn't really get a lot of responses on the Alvarez-Schembechler match. Don't forget to
send in your comments
(especially you Bo backers). Here are a couple of your thoughts on the Hayes-Tressel showdown:
Matt from Cape Coral, Fla.: I grew up a huge Tress fan and the 2002 national title game is what finally sold me on football as a kid, but when it comes down to it, Woody is Ohio State football and you cannot argue with five national championships. I voted for Woody.

Robert B. from Logan, Ohio: Brian, in 1964, I was 14. We were in Canton for the North-South game. Woody was recruiting the son of my parents' best friends and we were at a local restaurant for lunch. My father had died less than a month before. Now I don't know if Stein, the boy's father, asked him to, or not, but Woody came over to the table and sat down and talked to me for about 15 minutes. There are hundreds, maybe thousands of stories just like mine that prove that Woody Hayes was more of a hero off the field than on. His record speaks for itself, but I am one speaking to his compassion. To me, he was a soft-spoken, kind man. I bleed scarlet and gray, as my father did, my children do, and my grandchildren do. Woody Hayes was a complete person and that's why I vote for him, even over Tressel.
March, 28, 2014
3/28/14
3:00
PM ET
Our
Big Ten coaches tournament
is down to eight legends, and only four of them will be marching on next week to the semifinals.
We come now to the last of our four second-round games. And it's an all-Buckeyes battle.
No. 1 Ohio State's Woody Hayes vs. No. 9 Ohio State's Jim Tressel

Tournament résumés:
Tressel: He coached exactly 10 years in the Big Ten before he left under a cloud of scandal, but few coaches have had better 10-year runs. Ohio State dominated the league under The Vest, winning or sharing seven Big Ten titles (though the last one was vacated) and the 2002 BCS championship. Tressel owns the second-highest winning percentage, both overall and in league play, for coaches who spent at least 10 years inside the conference.
Hayes: He's the No. 1 seed in the tournament for a reason. Hayes won 205 games, the most of any coach while a member of the Big Ten, and a record 152 league games. He also captured 13 Big Ten championships, tying him for the most all time, and five national titles (1954, 1957, 1961, 1968 and 1970). He was irascible, unyielding and one of a kind, and some of those qualities led to his downfall. But he is virtually synonymous with Ohio State and the Big Ten.
Which coach advances? Voting is open through Monday morning, and
drop us a note
as to why you voted the way you did. The best responses will run in our results posts.
March, 19, 2014
3/19/14
1:00
PM ET
We're a 24/7/365 football blog around here, but it's impossible to not get caught up in the excitement of the NCAA men's basketball tournament.
But while football will have its own, smaller version of March Madness with the College Football Playoff this season, we don't want to wait that long. Why let the basketball guys have all the fun when we can hold our own tournament?
In past years, we did this with
the top players
and
championship teams
of the past 15 years. This time around, we're going to pit the best coaches in Big Ten history against one another in a winner-take-all bracket.
The Big Ten has an incredible roster of accomplished coaches in its lore. (And, yes, we're including all current Big Ten member schools, regardless of how long they've been in the league. We're inclusive here. Deal with it.). Narrowing the field to our customary eight was difficult, if not downright unthinkable. So we've expanded the bracket to 12 this time, with the top four seeds getting byes and the others trying to play their way in. Be on standby, Dayton.
We're looking for coaches who have won Big Ten titles and national championships, those who stuck around long enough to pile up Hall of Fame résumés and build unmistakable legacies. No current coaches are involved, as we'll let them finish their careers before we start stacking them up against the all-timers.
The tournament will kick off Thursday with the first couple of matchups. But first, here is a look at the entire field, in alphabetical order:
Barry Alvarez, Wisconsin: Alvarez revived the Badgers program during his 16 years at the helm in Madison, compiling 118 wins. He also earned three Rose Bowl victories and is the only league coach to ever win back-to-back Rose Bowls. He was inducted into the College Football Hall of Fame in 2010.
Bernie Bierman, Minnesota: The Gophers claimed five national titles under Bierman (1934, 1935, 1936, 1940 and 1941) and won seven Big Ten championships from 1932-41. He went 93-35-6 at Minnesota and also won a national title as a player with the Gophers.
Duffy Daugherty, Michigan State: Daugherty coached the Spartans from 1954 to 1972 and led them to back-to-back national titles in 1965 and 1966. The rest of his tenure didn't go as well, but Daugherty is tied for the sixth-most Big Ten wins ever.
Hayden Fry, Iowa: The Hawkeyes hadn't had a winning season in 17 years before Fry arrived before the 1979 season. He proceeded to go 143-89-6 in Iowa City, claiming three Big Ten titles. His 98 Big Ten wins are fourth-most ever.
Woody Hayes, Ohio State: Few coaches are as synonymous with a school as Hayes is with Ohio State. He won 205 games, the most of any coach while a member of the Big Ten, and a record 152 league games. Hayes also won 13 Big Ten championships, tying him for the most all time, and five national titles (1954, 1957, 1961, 1968 and 1970).
Tom Osborne, Nebraska: There aren't many coaches more beloved and universally respected than Osborne, who went 255-49-3 while leading the Huskers to three national titles in a four-year span (1994, 1995 and 1997). How about this: His teams never won fewer than nine games in a season, and this was before 12-, 13- and even 14-game seasons became the norm.
Joe Paterno, Penn State: JoePa won a record 409 games, plus two national championships (1982, 1986) and four other undefeated seasons. He won all four major bowl games -- the Rose, Orange, Fiesta and Sugar -- and was the AFCA national coach of the year five times. His career ended in scandal and a huge chunk of his wins were vacated by the NCAA.
Bo Schembechler, Michigan: Bo and Woody. Woody and Bo. Two coaches really defined the Big Ten for decades, and Schembechler was one of them. He is tied with Hayes for the most Big Ten titles ever (13) and his 143 Big Ten victories are the second-most all time. Schembechler has the highest conference winning percentage (.850) of any coach who competed in the Big Ten for at least 10 years. But he never won a national title.
Amos Alonzo Stagg, Chicago: Listen up, youngsters. The University of Chicago was a charter member of the Big Ten, and Stagg was its sports titan. He won 199 games, including 116 Big Ten victories, as well as two national championships (1905, 1913). Stagg is credited with innovating many plays and formations used in modern football, and he was also named to the Basketball Hall of Fame for his contributions to that sport.
Jim Tressel, Ohio State: Tressel coached exactly 10 years in the Big Ten before he was forced to resign, but what a decade it was. He has the second-highest winning percentage both overall and in league play for coaches who spent at least 10 years inside the conference, and he won or shared seven league titles (though the 2010 co-championship was later vacated). Tressel is the last Big Ten coach to win a national title, in 2002.
Fielding Yost, Michigan: The Wolverines won six national titles under Yost (1901, 1902, 1903, 1904, 1918 and 1923) and his 10 Big Ten titles trails only Hayes and Schembechler. His career winning percentage of .888 while a Big Ten head coach is the best all time among those who coached at least a decade in the league.
Bob Zuppke, Illinois: He was the Illini head coach from 1913 to 1941 and won four national titles (1914, 1919, 1923, and 1927). Zuppke is credited for inventing the huddle, which is kind of a big deal, and he also coached the legendary Red Grange. He is tied with Daugherty for the sixth-most Big Ten wins of all time, and he captured seven Big Ten titles.
As you can see, this is an impressive field. We couldn't even include all the amazing coaches from history, including Michigan's Fritz Crisler, Nebraska's Bob Devaney or Minnesota's Henry Williams, to name just a few. (Sorry, Huskers fans, but while Osborne has a tenuous connection to the Big Ten as the athletic director who ushered the school into the league, Devaney's great career had no Big Ten ties. Don't worry. You can simply throw all your considerable voting power behind Osborne if you desire.)
Stay tuned for the opening matchups.
"The ball is tipped ..."
December, 8, 2013
12/08/13
8:45
PM ET
The Big Ten bowl lineup is all set. Here it is:
Rose Bowl Game Presented by VIZIO, Jan. 1:
Michigan State vs. Stanford
Discover Orange Bowl, Jan. 3:
Ohio State vs. Clemson
Capital One Bowl, Jan. 1:
Wisconsin vs. South Carolina
Outback Bowl, Jan. 1:
Iowa vs. LSU
Buffalo Wild Wings Bowl, Dec. 28:
Michigan vs. Kansas State
TaxSlayer.com Gator Bowl, Jan. 1:
Nebraska vs. Georgia
Texas Bowl, Dec. 27:
Minnesota vs. Syracuse
Here's a
complete schedule
for all the bowls, along with kickoff times and TV information.
Rapid reaction:
The Big Ten lineup is never easy and will be challenging again this time around. Wisconsin and Iowa in particular will have to play at their best against talented SEC teams.
Nebraska fans can't be too pleased about a rematch with Georgia, the Huskers' opponent in the 2013 Capital One Bowl. Both teams are playing without their quarterbacks and the game represents a chance for Bo Pelini to quiet his critics momentarily. We likely won't see such rematches next year, as the Big Ten takes more control in the bowl pairings. Nebraska goes bowling in Florida for the third consecutive season.
The league matches up well in its two BCS games, although Stanford and Clemson are both outstanding when they bring their 'A' games. Ohio State faces Clemson for the first time since the infamous Woody Hayes punch in the 1978 Gator Bowl.
Minnesota will be favored to beat Syracuse and finish with nine wins as it returns to Houston, and Michigan also could end its season on a positive note if it builds on its performance in The Game against Ohio State.
We'll have much more to come on these bowls.
October, 30, 2013
10/30/13
5:00
AM ET
1. BYU is 6-2, has an invitation to the Kraft Fight Hunger Bowl in San Francisco, and after a bye week will play at No. 24 Wisconsin. Two weeks after that comes a road trip to No. 25 Notre Dame. In pointing out the home games the Cougars have played (and won) against Texas, Georgia Tech and Boise State, BYU head coach Bronco Mendenhall said, "It's really what we were hoping when we became independent." That's rough scheduling for the Badgers, who must take their focus away from the Big Ten for a non-conference game that will be no pushover.

2. The last two times Boston and St. Louis faced one another in the World Series -- 1967 and 2004 -- USC won the national championship a few weeks later. So much for an omen this year. However, in 1946, when the Red Sox and Cardinals first played in the Fall Classic, USC finished 6-4. Right now, the Trojans are 5-3 and have consecutive road games at Oregon State and California. They very easily could be 6-4 after those two games.

3. Ohio State pointed out over the weekend that Urban Meyer is the first FBS head coach to have three 20-game winning streaks in his career. Meyer is 19-0 with the Buckeyes and won his final game at Florida in 2010. Over 28 seasons at Ohio State, the legendary Woody Hayes won 20 consecutive games only once. From 1967 through the next-to-last game of 1969, Ohio State won 22 straight, but Hayes' winning streak stopped at Michigan. If Meyer is to break Hayes' school record, victory No. 23 will come, yes, at Michigan.
August, 12, 2013
8/12/13
8:00
AM ET
The Big Ten has its share of rivalries, but not all are created equal. Here's a closer look at the best, the worst and the rivalries on the rise:


Top rivalry:
Ohio State versus Michigan. We didn't have to think too hard on this one. Few rivalry games currently have the
cheapest nosebleeds going for $175
when the stadium seats more than 100,000. Fewer rivalries have their own
hour-long HBO-produced documentaries
. And of course, only one rivalry earned the top spot when it came to
ESPN ranking the century's overall best
. (Ali-Frazier finished No. 2, behind OSU-UM.)
Tradition, quality and history makes this rivalry one of the greatest in all of sports. The two teams first met in 1897, have combined for more than 70 conference titles and are both ranked in the top six when it comes to overall program wins. Usually, the only thing stopping one of these teams from heading to the Rose Bowl or another major bowl is just the other team.
Of course, what really makes this rivalry special is how much these teams have historically hated each other. And yes, we do mean hate. The series heated up in 1969 when Bo Schembechler's Wolverines upset Woody Hayes' undefeated Buckeyes -- and Hayes' hatred of all things Michigan wasn't exactly a secret. According to one anecdote, while in Michigan, the coach
once refused to fill up his sputtering car with gas
because he hated the idea of giving any money to the Wolverine State.
That tradition still continues. Michigan added to the back-and-forth this spring by
stamping its footballs with the words "Made in USA/Not in Ohio."
So it's pretty clear: This isn't just the best rivalry in the Big Ten; it's one of the best in all of sports.
Rivalry on the rise:
There are quite a few worthy selections to choose from, but two immediately spring to mind: Michigan versus Michigan State and Wisconsin versus Nebraska.
The in-state Spartans-Wolverines rivalry is on the upswing because the teams have been more evenly matched in the 2000s -- and it doesn't hurt that the two schools are just about an hour's drive from one another. Since 1999, the Wolverines have only a slight 8-6 edge. Of those 14 contests, eight were decided by one score and at least six could be considered upsets (i.e., unranked MSU beats No. 6 UM 26-24 in 2001, unranked UM beats No. 11 MSU 34-31 in 2005). Also, last year's 12-10 Wolverines victory was
decided on a last-second field goal
and is a series classic. Michigan won after losing to the Spartans four straight years.
As far as Wisconsin-Nebraska, Cornhuskers fans would love to see the Badgers as their season-ending foe instead of Iowa. These will be the best teams in the 2014 season's West Division, so this new rivalry should soon become an intense one. Wisconsin dominated Nebraska 48-17 in 2011 -- but the Huskers rubbed Wisconsin fans the wrong way when the offense called a timeout with 12 seconds left on the 1-yard line. Nebraska responded in 2012 with a 30-27 win. This rivalry is just getting started and has a lot of potential.


Rivalry fading:
Wisconsin-Minnesota. The game for Paul Bunyan's Axe has become less a battle and more a certainty as of late. The Golden Gophers last won in November 2003, two months after current quarterback
Philip Nelson
celebrated his 10th birthday.
The Badgers have won the last nine meetings by an average margin of 17 points and, put simply, this "rivalry" just isn't very fun to watch. What's left to say? Wisconsin rushed for 620 yards in the last two meetings, Minnesota made just one third-down conversation in the game last season, and Wisconsin has scored on every red zone opportunity in the last four meetings. Minnesota needs to bounce back in a big way to renew interest in a rivalry that traces its roots to 1890 and has had a trophy in place since 1948.
July, 19, 2013
7/19/13
11:00
AM ET
ANN ARBOR, Mich. -- The Michigan-Ohio State rivalry has a ton of individual moments which stick out in the memories of fans, be it individual performances or games or sometimes even the hoopla surrounding it.
Considering this rivalry is among the biggest, longest and best in sports, there is an overflow of Michigan-Ohio State moments to pick from when it comes to selecting the five most memorable, from a Michigan perspective.
Here's one man's look at five signature moments in the Michigan-Ohio State rivalry.
1. Michigan upsets Ohio State in 1969
: The game which turned the rivalry from just another rivalry into one of the most celebrated rivalries regardless of sport in the nation. First-year head coach Bo Schembechler and Michigan upset Ohio State, 24-12, snapping a 22-game winning streak for the Buckeyes. The win sparked the "Ten-Year War" between Michigan and Ohio State and its legendary coaches, Schembechler and Woody Hayes. At the time it was considered among the biggest upsets in college football history.
[+] Enlarge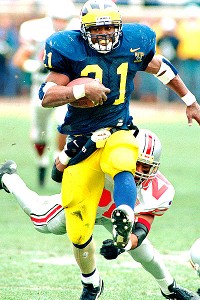 AP Photo/Tom PidgeonMichigan running back Tim Biakabutuka high steps past an Ohio State defender to gain some of his career-high 313 yards.
2. Tim Biakabutuka, 1995:
Perhaps the single-most impressive individual performance from a Michigan player in the history of the rivalry. While Biakabutuka only scored once in a 31-23 win over then-No. 2 Ohio State, ruining the Buckeyes' national title hopes, he gained 313 yards, slashing through the entirety of the OSU defense. It was the second-best single-game rushing performance in Michigan history and one of two 300-plus yard rushing games in school history.
3. Snow Bowl, 1950:
Like most seasons, the Big Ten title was on the line when these teams played in what the Ohio State library website quotes the Ohio State University Monthly as a "full-scale blizzard." Michigan won, 9-3, in a game where Wolverines punter Chuck Ortmann punted 24 times. The game's only touchdown, according to the OSU library site, came after a blocked Ohio State punt in the end zone was recovered by Michigan.
4. Punt returns. So many punt returns:
Stop in the end zone. Look around. Pose. When Desmond Howard finished off a 93-yard punt return for a touchdown in 1991, he struck the iconic Heisman pose still replayed more than 20 years later. The return -- and the pose against Ohio State -- helped cinch his Heisman Trophy. Six seasons later, with another potential statue there for the taking, Charles Woodson caught a punt of his own and returned it 78 yards for a touchdown to help Michigan knock off the Buckeyes. Woodson didn't pose after his return, but the win pushed Michigan to the Rose Bowl and eventual national championship. Oh, and for Woodson, the first and only primarily defensive player to win the Heisman.
5. The day after Bo Schembechler's death:
The day before the biggest game in the history of this rivalry, one of its biggest icons collapsed and died of a heart attack. Bo Schembechler, the architect of a lot of what has turned into the Michigan football of today, had passed away. The
last 24 hours of his life included a funeral for a former player, speaking to the 2006 Michigan team and a dinner with old friends
. While Michigan lost the next day in Columbus, it turned what would usually have been one of the more intense atmospheres of the year into a somber remembrance. Ohio State honored Schembechler, a former assistant, before the game. His death also transformed Michigan's program for a handful of years until Brady Hoke's hire in 2011.
July, 19, 2013
7/19/13
10:00
AM ET
COLUMBUS, Ohio -- There were looks back, forward and even into a
fictional fantasy land
where rivals could trade players.
To wrap up a week of "The Game," though, the focus is once again on the past. BuckeyeNation is taking a look at five of the most memorable moments in the storied history between Ohio State and Michigan. They will have a chance to provide yet another chapter on Nov. 30 with what figures to be plenty on the line.
Of course, that's hardly an exception for the Buckeyes and Wolverines. And there's no shortage of evidence even on an abbreviated list to prove that point.
2002: Ohio State 14, Michigan 9
Jim Tressel turned the tide a year earlier, famously setting the tone for his successful tenure by backing up his claims that Ohio State fans would be proud of their team in his first meeting with Michigan in 2001 with an upset victory. But it was his narrow victory the next year with freshman Maurice Clarett supplying one of only two touchdowns in the game that propelled the Buckeyes to the national championship game against Miami -- ultimately bringing a crystal football back to campus to rub a little extra salt in Michigan's wounds.
1975: Ohio State 21, Michigan 14
The memories still come back easily to Cornelius Greene, but even if there were some details now of the 80-yard, 11-play drive to tie the game during a fourth-quarter comeback, he'd surely get plenty of help from the Ohio State fans who sweated out a heated meeting with then-unbeaten Michigan. The multipurpose quarterback didn't do all the work in clawing back to edge the Wolverines, though, and Ray Griffin's late interception and return to the 3-yard line helped set up the go-ahead score and clinch a Big Ten title.
1972: Ohio State 14, Michigan 11
In another low-scoring slugfest, an Ohio State defense that bent for most of the game refused to break near the end zone, and some clutch defensive stands tipped the scales for Woody Hayes, clinching a share of the Big Ten title and keeping Michigan out of the Rose Bowl. The Buckeyes were outgained by more than 150 yards by the Wolverines, but when what appeared to be a fourth-quarter touchdown for Harry Banks was ruled short of the goal line, and a run of rattling off at least a piece of six consecutive conference championships began.
[+] Enlarge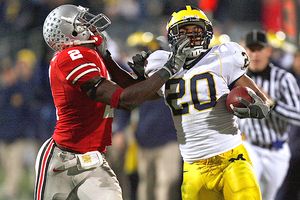 Gregory Shamus/Getty ImagesMichigan's Mike Hart and Ohio State's Malcolm Jenkins battle in the 2006 showdown, when Ohio State and Michigan were unbeaten and ranked No. 1 and No. 2 in the country.
2006: Ohio State 42, Michigan 39
In one of the most anticipated meetings ever in the series and among the most hyped college football games ever, the Buckeyes rode an incredible performance from Troy Smith into another bid for a national title -- and the Ohio State quarterback locked up a Heisman Trophy in the process. The No. 1-vs-No. 2 matchup lived up to its competitive billing, with both offenses supplying fireworks and the hated rivals trading punches until the closing minutes. But it was Smith who supplied the knockout, throwing four touchdowns to set off a raucous celebration at Ohio Stadium.
2012: Ohio State 26, Michigan 21
Maybe everything that came before the final game of the regular season wouldn't have been for naught, but with a perfect record on the line and no chance of competing for the national title because of NCAA sanctions, there was certainly more than bragging rights on the line last November. Urban Meyer's appreciation for the feud with the Wolverines only heightened the stakes in his first shot leading the Buckeyes in the rivalry, and he launched another massive celebration at The Shoe with a victory that locked up an undefeated campaign and gave the program plenty to feel good about even while having to watch the postseason from home.
July, 15, 2013
7/15/13
9:30
AM ET
The rivalry never sleeps, even in the middle of summer as the final days tick away until camp opens in August.
But just in case a little offseason kick was needed to get the juices flowing for the next edition of "The Game," BuckeyeNation and WolverineNation are teaming up for a week of content looking at some moments from the past and forecasting what will happen a few short months into the future.
Today, we peek back into series history and identify some of the top heroes and villains from the blood feud. Here are Ohio State's villains for the Wolverines:
1. Jim Tressel, coach:
From the moment he was introduced and grabbed a microphone to address the Ohio State faithful, Tressel's mission was clear -- get the program back on top in The Game. The Buckeyes backed up their new coach with a road upset in 2001, and the next decade was completely dominated by The Vest, who posted a 9-1 record before scandal ended his run on the sideline. Even his exit might have twisted the knife in the Wolverines since it helped Ohio State land Urban Meyer, who knocked off Michigan in his first Game to finish an unbeaten season in 2012.
2. Troy Smith, quarterback:
At the height of that dominant run under Tressel, it was the prolific signal-caller inflicting the majority of the damage on the Wolverines. Smith became just the second Ohio State quarterback to beat Michigan three times, with the last couple coming in unforgettable fashion. There was the late comeback in 2005 keyed that included 386 passing yards from Smith, and another virtuoso performance in the epic showdown in 2006 that individually clinched a Heisman and sent the Buckeyes to the national title game.
[+] Enlarge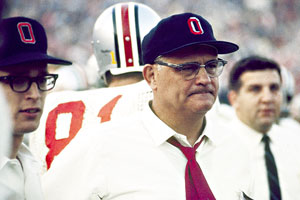 George Long/Getty ImagesIt was during Woody Hayes' 27 years as Ohio State head coach that the blood feud with Michigan truly took shape.
3. Woody Hayes, coach:
The rivalry became firmly entrenched among the most passionate, competitive series in the country when Hayes was at the top of his coaching game and matching wits -- and trading barbs -- with Bo Schembechler. Tressel's gaudy record might have diminished some of hatred for Hayes, however slightly, but his 16 wins in The Game, an infamous decision to go for a 2-point conversion "because he couldn't go for 3" and his place in Ohio State history will always get some Michigan blood boiling.
4. Mike Doss, safety:
Working on a 14-year drought in Ann Arbor and trying to live up to the goal Tressel established when he took over, Doss was instrumental in snapping the skid and setting the tone under Ohio State's new coach in 2001. A pair of interceptions helped set up scoring drives, and an unranked group of Buckeyes snatched a 26-20 win over the No. 11 Wolverines to start building the momentum that would last for pretty much the entire decade.
5. David Boston, wide receiver:
After coming up short in 1997 and hearing all about it from Charles Woodson, Boston exacted some revenge a year later with a massive individual performance as the Buckeyes knocked off the Wolverines 31-16 for one of John Cooper's two wins in the series. Boston was already an enemy for his brash comments before his final season with the Buckeyes, but he could be easily dismissed without ever winning a game. He changed that with 10 catches for 217 yards and two touchdowns, finally backing up his mouth and getting the best of Michigan where it counted -- on the field.
Bonus pick -- Bob Ferguson, fullback:
The message apparently hadn't been delivered emphatically enough, despite Ferguson already having scored three times. He would finish the game with 151 yards. The fourth touchdown by the All-American rusher, though, set the table for the Buckeyes to rub a 50-20 win and a national championship in Michigan's face in 1961 by going for a 2-point conversion with the outcome well in hand.
February, 12, 2013
2/12/13
1:00
PM ET
The legend of Woody Hayes needs no further embellishment at this point. Stories about the iconic Ohio State coach and his approach to the game and life abound.

But there might not be another story quite like the one Urban Meyer recently shared about Hayes.
The current Buckeyes coach attended the Ohio coaches convention over the weekend, and CoachingSearch.com's Chris Vannini
transcribed this tale
that Meyer spun for the crowd.
"So I guess Ohio State had lost the bowl game, so Earle Bruce brings in Woody Hayes. I had been there just a week and I'm thinking, 'Holy, this is Coach Hayes.' I'm sitting in the back. Coach Hayes was not healthy at the time, but stands up and starts laying into the coaching staff about toughness. That we have no toughness in the program. That's why we lost the game. On and on and screaming, this old guy pounding the table. He says, 'We have no toughness, and the reason is because you're not tough. No one on this staff is tough enough, and that's a problem.'

"He reaches down and grabs this box, slides the top and there was something in the box moving around. He reaches in and he pulls out this turtle. He reaches down, this turtle's snapping and he says, 'I'm going to show you toughness.' He unzips his pants and takes out whatever he takes out. The turtle reaches up and snaps at him. You see the veins and the sweat [on Hayes]. He screams at the coaches, 'That's toughness! That's eff'n toughness!' He reaches down, pokes the turtle right in the eye and it falls off. He wipes the sweat off his forehead and says, 'That's the problem. We don't have anybody in this room tough enough to do that right there.

"[One assistant] raises his hand and says, 'Coach, I'd do this. Just promise not to poke me in the eye.'"
Click on the link above for video proof of Meyer telling the story. It's around the 3:00 mark.
We don't have much to add to this except: Wow.
Did Ohio State Cheap Out On Championship Rings?
BIG TEN SCOREBOARD
Thursday, 9/3
Friday, 9/4
Saturday, 9/5
Sunday, 9/6
Monday, 9/7