Ohio State Buckeyes:

Tracy Claeys
March, 3, 2014
Mar 3
12:00
PM ET
Alright, alright, alright ...
December, 16, 2013
12/16/13
12:00
PM ET
Big Ten bowl season is less than two weeks away.
December, 12, 2013
12/12/13
2:30
PM ET
USA Today has released its annual
database of assistant coach salaries
throughout college football so let's see how the Big Ten aides stack up. Ten of the 12 Big Ten schools report coaches' salaries (Northwestern and Penn State do not).

Once again, Michigan defensive coordinator Greg Mattison leads Big Ten assistants in pay at $851,400, which ranks fourth nationally behind million-dollar coordinators Chad Morris of Clemson, Kirby Smart of Alabama and John Chavis of LSU.
Michigan offensive coordinator Al Borges is the only other Big Ten assistant in the top 10 nationally in total pay ($709,300). Nebraska offensive coordinator Tim Beck ($700,000) is next, followed by Ohio State defensive coordinators Luke Fickell ($610,000) and Everett Withers ($585,000), Michigan State defensive coordinator Pat Narduzzi ($558,908) and Ohio State offensive coordinator Tom Herman ($555,000).
On the whole, the Big Ten has fewer assistants making top-20 salaries than the SEC. There's also a decent drop-off in salary after Herman, as no others make more than $500,000 (Wisconsin coordinators Dave Aranda and Andy Ludwig both make $480,000).
Here are the highest-paid assistants for the 10 Big Ten squads reporting salary:
Michigan:
Defensive coordinator Greg Mattison ($851,400)
Nebraska:
Offensive coordinator Tim Beck ($700,000)
Ohio State:
Defensive coordinator Luke Fickell ($610,000)
Michigan State:
Defensive coordinator Pat Narduzzi ($558,908)
Wisconsin:
Defensive coordinator Dave Aranda and offensive coordinator Andy Ludwig ($480,000)
Purdue:
Offensive coordinator John Shoop ($400,000)
Illinois:
Offensive coordinator Bill Cubit and defensive coordinator Tim Banks ($400,000)
Indiana:
Offensive coordinator Seth Littrell ($356,500)
Minnesota:
Defensive coordinator Tracy Claeys ($346,800)
Iowa:
Defensive coordinator Phil Parker ($325,500)
Claeys clearly is the best value in the league, as he served as Minnesota's acting head coach during Jerry Kill's health-related absence and remained as the main sideline coach even after Kill returned to duty. Iowa's Parker, along with OC Greg Davis ($325,000) also earned their keep and then some as the Hawkeyes flipped their record from 4-8 to 8-4.
Some Michigan fans will scoff at Borges' salary after the Wolverines offense struggled for much of Big Ten play. Fickell, Shoop and Banks also directed units that had forgettable seasons.
One thing to keep in mind when some of these assistants are mentioned for head-coaching jobs is the pay cuts they'd likely take to lead teams in smaller conferences.
In terms of total staff pay, Ohio State leads the Big Ten and ranks sixth nationally at $3,474,504, trailing LSU, Alabama, Clemson, Texas and Auburn. Michigan comes in next at $3,072,000, which ranks 14th nationally.
Bret Bielema left Wisconsin for Arkansas in part because he had lost so many assistants in his final two years in Madison. Bielema's staff at Arkansas ranks 10th nationally in total staff pay ($3,233,000), while Gary Andersen's staff at Wisconsin ranks 28th ($2,495,000)
Here are the Big Ten teams sorted by total staff pay:
Ohio State:
$3,474,504
Michigan:
$3,072,000
Nebraska:
$2,648,500
Wisconsin:
$2,495,000
Michigan State:
$2,410,483
Iowa:
$2,367,500
Minnesota:
$2,152,350
Indiana:
$2,074,780
Illinois:
$2,066,400
Purdue:
$2,010,000
We can have an endless about debate whether college football coaches make too much money in general, but these numbers remain problematic for the Big Ten in my view. Only two teams are truly paying top dollar for their staffs, and some groups are undervalued.
Michigan State's staff obviously jumps out after the Spartans just won the Big Ten championship. MSU co-offensive coordinators Dave Warner ($280,800) and Jim Bollman ($262,000) are among the lowest-paid coordinators in the league, as several position coaches make more than them. Athletic director
Mark Hollis said last week that raises are coming
for head coach Mark Dantonio and his assistants.
Minnesota's staff also deserves a nice bump after handling such a tough situation this season. I also wonder whether Iowa's coordinators get a raise, especially considering what head coach Kirk Ferentz makes.
Purdue's Marcus Freeman and Jafar Williams are the Big Ten's lowest-paid assistants at $120,000. Only one SEC assistant, Kentucky's Derrick Ansley, makes less than $140,000.
November, 20, 2013
11/20/13
4:00
PM ET
Earlier today, the Maxwell Football Club named 16 semifinalists for its national coach of the year award. That list included three Big Ten coaches: Wisconsin's Gary Andersen, Michigan State's Mark Dantonio and Ohio State's Urban Meyer.
All three have done tremendous work. Meyer, of course, has won all 22 of his games with the Buckeyes, including this season's 10-0 start. While coach of the year awards typically go to those who exceeded expectations, what Meyer has done in maintaining perfection is a remarkable achievement worthy of reward.

Dantonio has guided a team with some serious questions on offense to a 9-1 overall record and undefeated mark in the Big Ten. After being criticized for riding the quarterback carousel earlier in the year, Dantonio looks smart for going with
Connor Cook
, who has helped stabilize the entire unit. That maligned offense is averaging better than 30 points per game, and the defense remains one of the best in the country.
Andersen is 8-2 in his first year as head coach of the Badgers, a record that could be even better with a little competency from Pac-12 officials. He wisely did not reinvent the wheel for the Wisconsin offense, sticking with a power running game that has his team employing one of the best rushing and scoring attacks in the nation. And the Badgers' defense is a top-10 national unit.
So all three are very worthy candidates for Big Ten coach-of-the-year honors. But there's one team missing from that list: Minnesota.
No one expected the Gophers to be 8-2 and in the Top 25 at this point, especially not after head coach Jerry Kill took a leave of absence to deal with his epilepsy. Acting head coach Tracy Claeys has guided the team to four straight Big Ten wins for the first time in 40 years. Kill has returned to work and is coaching from the press box on game days while providing inspiration to the players.
In a normal year, the head coach of a team that has exceeded projections as much as Minnesota has might run away with the coach-of-the-year award. But who do you vote for when considering these Gophers? Is it Claeys, who after all has taken over the reins on game day? Or is it Kill, who built the foundation for this team and still surely has enormous input on the weekly game plan?
This situation is reminiscent of the 2012 NFL coach-of-the-year voting. Bruce Arians won the award for filling in for Chuck Pagano and helping lead the Indianapolis Colts to the playoffs while Pagano battled leukemia. Pagano finished second in the voting.
Big Ten voters for the Dave McClain/Hayes–Schembechler coach of the year could have a similar choice to make between Kill and Claeys. They could end up splitting votes. [
UPDATE:
Minnesota says Kill's name will be the only one from the Gophers on the ballot, not Claeys]. Or voters could simply decide that they prefer the jobs turned in by Dantonio, Andersen or Meyer. And, of course, there are two more weeks for each coach to build his case.
But we want to know who you think the Big Ten coach of the year through 12 weeks. Vote now in our poll.
November, 5, 2013
11/05/13
1:00
PM ET
The deciding weeks of the season are upon us, and after one November Saturday, we have new leaders in the races for offensive and defensive player of the year. Let's take a look at where some awards competitions stand:
Graham–George Offensive Player of the Year
[+] Enlarge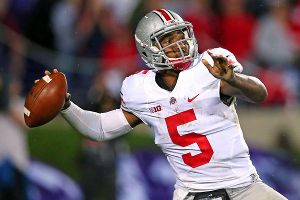 Jonathan Daniel/Getty ImagesBraxton Miller has 13 TD passes and two interceptions in B1G play.
1. Ohio State QB Braxton Miller (Last week: 2):
The preseason leader resumes his perch. It will be interesting to see if Miller's missed time in the nonconference season will hold him back for this award. But in league play he has been dynamite, completing 72.8 percent of his passes for 1,108 yards and 13 touchdowns, with only two interceptions. He has run for 328 yards and two scores in five conference games.
2. Nebraska RB Ameer Abdullah (LW: 3):
Abdullah took over the Big Ten rushing lead last week, with 1,108 yards in eight games. He is without a doubt the leader of the Nebraska offense right now.
3. Wisconsin RB Melvin Gordon (LW: 1):
Gordon had been No. 1 for several weeks but had only 62 yards on 17 carries at Iowa. That makes two subpar performances in conference play, to go along with his showing at Ohio State. Gordon can still get back on top with a big finish, and the battle for the title of best Big Ten back among him, Abdullah and Ohio State's
Carlos Hyde
is one to watch down the stretch.
4. Penn State WR Allen Robinson (LW: NR):
The Nittany Lions star is second nationally in receiving yards per game (130.4) and went over 1,000 yards for the season on Saturday. He's on pace for a 1,500-yard year and should claim his second straight Big Ten receiver of the year trophy.
Nagurski–Woodson Defensive Player of the Year
1. Ohio State LB Ryan Shazier (LW: 2):
Shazier takes over the lead after a seven-tackle, two-sack performance against Purdue. He is tied for the Big Ten lead with 11 tackles for loss, and it doesn't hurt that the Buckeyes defense is starting to take off.
2. Michigan State DE Shilique Calhoun (LW: NR):
He's tied with Ohio State's
Noah Spence
for the Big Ten sacks lead (6.5) and for the lead in TFLs while leading the conference with three fumble recoveries. His pass rushing ability has taken Michigan State's defense to a new level.
3. Wisconsin LB Chris Borland (LW: 1):
Borland missed last week's Iowa game with a hamstring injury after sitting out most of the previous game against Illinois. He has had a tremendous season, but missing conference games is costly in a tight battle for top defensive honors.
4. Michigan State LB Denicos Allen (LW: NR):
The reigning Walter Camp national defensive player of the week, Allen is tied with Shazier and Calhoun with 11 tackles for loss and has been an integral part of the Spartans' dominating defense.
5. Michigan State CB Darqueze Dennard (LW: 3):
You might say there are too many Spartans on this list. To which we'd respond: Have you seen that defense?
Dave McClain/Hayes–Schembechler Coach of the Year
1. Ohio State's Urban Meyer:
Can Meyer break through and earn a coach of the year award, unlike Jim Tressel? It's pretty hard to argue with 21 straight wins.
2. Michigan State's Mark Dantonio:
The Spartans are 8-1 and 5-0 in the Big Ten. Dantonio took some heat early on for his quarterback decisions, but they have worked out quite nicely.
3. Minnesota's Tracy Claeys:
Here's an interesting case. Claeys is the interim coach for the Gophers while Jerry Kill is focusing on his epilepsy treatment. The Gophers are 3-1 with a three-game winning streak under Claeys. If the team finishes the year out strong, Claeys might get some support for this award.
October, 31, 2013
10/31/13
12:00
PM ET
October, 31, 2013
10/31/13
10:15
AM ET
Storylines to watch this week in the Big Ten:
1. The long October is over
. Has it really been five weeks since Ohio State and Wisconsin played? In some ways, it feels like 10. The Big Ten's October schedule was downright scary -- and not in a Happy Halloween kind of way. Well, the league slate turns interesting again this week as No. 21 Michigan visits No. 22 Michigan State and No. 24 Wisconsin visits resurgent Iowa. Even Minnesota's visit to Indiana holds some intrigue. So long to mismatches like Ohio State-Purdue. That's this week, too? OK, they can't all look good.
[+] Enlarge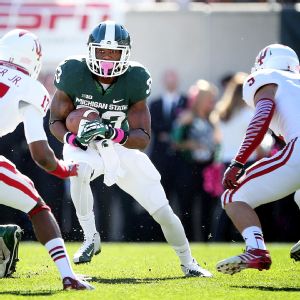 Mike Carter/USA TODAY SportsJeremy Langford and Michigan State can all but run away with the Legends division with a win over Michigan on Saturday.
2. Michigan State might run away with the Legends division.
We'll find out this week. If the Spartans beat Michigan and Northwestern snaps its four-game skid at Nebraska, MSU can book its tickets to Indy. With five straight wins, Michigan State is clearly playing the best football in the Legends. Other than the Spartans, only Minnesota has won consecutive games to enter November. And really, looking at Nebraska's schedule and the way it played last week, it's hard to consider the Huskers a contender at this stage.
3. Let's go bowling.
Friday is Nov. 1, so it's OK to discuss bowl lineups. Taking a peak at the Big Ten, Ohio State, Michigan State, Michigan and Minnesota are bowl eligible. Wisconsin or Iowa will join the mix Saturday, as can Nebraska with a victory over Northwestern. As for the Wildcats, after going 0 for October, it will be getting late in their bid to get back to the postseason without a victory in Lincoln. Indiana has some serious work to do, and Illinois ... the Illini just need to win for the first time in 18 Big Ten games.
4. That's offensive.
Five Big Ten teams rank among the top 16 nationally in scoring. Thirty-six times this year, a Big Ten team has scored 40 or more points -- already up from 27 times all of last season. This week, two of the league's best offensive units face stern tests. Notably, Michigan, which averages 42.4 points, faces a Michigan State defense that allows only 12.3 points, third nationally. Wisconsin, averaging 39.9, visits Iowa and its 12th-ranked scoring defense, giving up 18.1. What will give? Answer that, and you've got your story of the weekend.
5. Braxton Miller needs to do something for an encore.
The Ohio State quarterback is playing the best football of his career after a super-efficient effort last week in the Buckeyes' stomping of Penn State. Miller accounted for 320 yards and five touchdowns on only 35 total-offense attempts in less than three quarters. Up next, Purdue. You've got to wonder when the Boiler D caves, getting no help from the dismal Purdue offense. Maybe it's this week against an Ohio State juggernaut that's scoring 47.3 points per game.
6. Nebraska is searching for defensive answers.
The Huskers expected growing pains with this defense, but they did not expect to be remain so unsettled in the 10th week of the season. Particularly at linebacker, Nebraska has developed little consistency. This week, apparently, freshmen
Josh Banderas
and
Michael Rose
return as starters. Coach Bo Pelini stripped the top-unit players of their Blackshirt practice jerseys. Juggling personnel won't work, though, if the Huskers can't develop a more physical presence.
7. Minnesota coach Jerry Kill is moving toward a return.
Kill, since taking a medical leave of absence following his fifth game-day seizure on Oct. 5, has resumed more coaching responsibilities over the past two weeks. He watched from the press box as the Gophers beat Northwestern, and coached a bit from the booth in Minnesota's upset win over Nebraska. On the road against Indiana on Saturday, Kill plans to do more of the coaching, though he continues to leave control of the sideline to Tracy Claeys, acting head coach and defensive coordinator.
8. Big test for Iowa
. It's time to find out if the Hawkeyes are just a nice story, with their competitive play against Michigan State and Ohio State, followed by an overtime win over Northwestern, or if coach Kirk Ferentz's club is going to make some real noise this fall. Wisconsin presents a stiff challenge, but Iowa's solid rush defense and physical offensive play might make this a good matchup for the Hawkeyes. The schedule sets up well this month for Iowa to turn into perhaps the Big Ten's biggest surprise.
9. Penn State needs to find a fast defensive fix.
The past two losses have turned ugly for the Nittany Lions, who surrendered more points to Ohio State last week than in any game since the 19th century. In its other October games, PSU allowed 84 points, splitting with Michigan and Indiana. All of it has led to scrutiny of defensive coordinator John Butler, defended adamantly this week by coach Bill O'Brien. The Nittany Lions get some relief Saturday against Illinois. Butler shifted a few bodies in the secondary, but he can only work with the talent on hand, and it's not great after key losses to graduation and low numbers because of probation.
10. Michigan is trying to shake its road woes
. Even with that forgettable escape at Connecticut in September, Michigan remains just 6-8 away from the Big House under coach Brady Hoke. He's 19-0 at home, but that won't do any good on Saturday in East Lansing, where Michigan State sacked Michigan quarterbacks seven times in a 28-14 win two years ago. The Wolverines said this week they embrace the hostile environments at their rivals' stadiums. Numbers tell a different story.
October, 17, 2013
10/17/13
10:15
AM ET
Ten things to keep your eyes on in the five Big Ten games on Saturday:
[+] Enlarge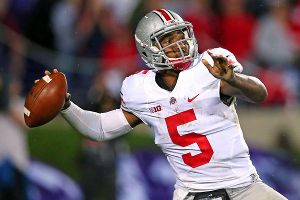 Jonathan Daniel/Getty ImagesCan Braxton Miller and Ohio State's high-powered offense move the ball against Michigan State's stingy defense?
1. Can Iowa's defense slow down Braxton Miller and the Buckeyes?
The Hawkeyes boast a solid group of linebackers, and the Hawkeyes are ranked ninth in the country in total defense and 12th in scoring defense. Still, they haven't faced an offense anywhere close in talent to Ohio State, and it'll be interesting to see how Kirk Ferentz's squad matches up. For Ohio State, it hasn't mattered who's lined up under center or in the backfield. The Buckeyes have posted at least 31 points in every game -- and 40 points in five out of six. Iowa hasn't allowed more than 30 points all season. Something has to give.
2. Big injuries at Northwestern:
The Wildcats' read-option could be in trouble Saturday. Both quarterback
Kain Colter
and tailback
Venric Mark
are nursing injuries, and they're both listed as questionable. Even if they do return, neither will be at 100 percent -- and both are crucial to a team that's been forced to rely on a high-scoring offense to win.
3. Different head coach, different starting quarterback:
A lot has changed for Minnesota in the past few weeks. In Week 1, it looked as if
Philip Nelson
was the quarterback of the future and head coach Jerry Kill would lead this team to continued improvement. Now? Well,
Mitch Leidner
has been promoted to starting quarterback, while Kill has taken a leave of absence due to seizures. Defensive coordinator Tracy Claeys will take over for Kill on Saturday, and Claeys will be coaching from the sideline -- he usually coaches from the press box -- against Northwestern. Claeys still plans to call the defensive plays, so he'll have to spend some time committing those play calls to memory. He won't have those charts in front of him anymore.
4. Michigan's response:
The Wolverines suffered a heartbreaker in Happy Valley, as they couldn't put the game away despite several chances. They're now set to face the team, Indiana, that bounced the Nittany Lions. Michigan may have five wins already on the season, but it's been extremely shaky. A convincing win against the Hoosiers -- and their Big Ten-best passing attack -- could go a long way in showing this team is still a contender. And, of course, that all starts with
Devin Gardner
.
5. Inexperience no problem for this defensive line:
The Buckeyes had to rebuild their defensive line from scratch this season as no starters returned, but these young players have stepped up in a big way. They slowed down Wisconsin's running attack and have contributed to the sixth-best run defense in the nation. True freshman DE
Joey Bosa
is listed as the starter against Iowa this week, and he already has four tackles for loss and a touchdown listed next to his name.
Mark Weisman
and the Hawkeyes will face a stiff test Saturday.
[+] Enlarge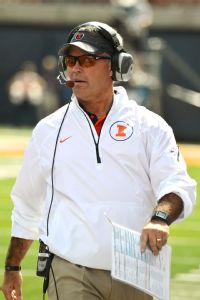 Keith Gillett/Icon SMIIllinois coach Tim Beckman says the players believe and are no longer saying "Can we do it" but instead are now saying "When we do it."
6. Illini still riding a conference-worst streak:
Illinois has
dropped 15 straight Big Ten games
, which means it last won a conference game on Oct. 8, 2011, against Indiana. Illinois plays Purdue on Nov. 23 but, before then, there will be no easy victories. The Illini will play Wisconsin this weekend, followed by Michigan State, Penn State, Indiana and Ohio State. Luckily for Tim Beckman's crew, it's still nowhere close to the Big Ten record for the worst conference losing streak. That unfortunate record-holder would be Northwestern, which lost 38 straight Big Ten games between 1978 and 1982.
7. Spartans' offense in the midst of a turnaround:
Early on, it seemed as if Michigan State's offense would be a liability all season. After all, in the first two games, the defense scored more touchdowns while Mark Dantonio couldn't settle on a quarterback. But
Connor Cook
has since taken over and the running game has taken off. Cook's QBR has taken a step up each week against the FBS, from 17.1 to 27.8 to 68.1 and, last Saturday, to 83.1.
Jeremy Langford
is also starting to make a name for himself, with four touchdowns this past week. The Spartans are trending upward, and they might be difficult to stop. It won't be easy for Purdue.
8. MGIII might be unstoppable the rest of the way:
Yes, the Buckeyes limited Wisconsin's
Melvin Gordon
to 74 yards on 15 carries -- but he'll face just one more top-10 defense the rest of the regular season. He's third in the FBS with 870 rushing yards, ranks second nationally in yards per carry (9.7) among tailbacks and is 10th in the nation in rushing touchdowns (8). He's one of the most exciting players in the Big Ten, and every team going forward will likely struggle stopping him. His next opponent, Illinois, is allowing nearly 200 rushing yards a game.
9. Can Purdue do anything right?
Nothing's been easy for Darrell Hazell's Boilermakers. They just scooted past FCS team Indiana State 20-14, and four of their five losses were decided by 31 points or more. Purdue's future hopes are pinned to true freshman quarterback
Danny Etling
. But, for now, there's no guarantee that Purdue will escape the 2013 season with another win. It's ranked No. 118 in scoring offense and, in scoring defense, it's ranked No. 114. At this point, Purdue would just be fortunate to hang in tough against Michigan State.
10. Home of inconsistent quarterbacks and good defenses:
Welcome to the Big Ten! The conference boasts three teams (Michigan State, Iowa, Wisconsin) that are nationally ranked in the top 10 in total defense, and three more (Michigan, Ohio State, Penn State) that are within the top 20. Still, the passing offenses haven't exactly taken off as planned. The Big Ten's top QBs entering this season -- arguably
Taylor Martinez
, Gardner and Miller -- have either missed time due to injury or have been on the receiving end of some quarterback controversy.
October, 16, 2013
10/16/13
12:00
PM ET
One more win, and it's on to the World Series.
May, 20, 2013
5/20/13
9:00
AM ET
Ohio State already had started paying more competitive salaries for assistant coaches before Urban Meyer arrived in November 2011.
But when Meyer and athletic director Gene Smith sat down to discuss staff pay, Smith soon realized he needed to do more.
"I think Michigan had stepped up with their coordinators," Smith recalled last week during Big Ten spring meetings in Chicago. "So we were already going to that before Urban Meyer came, but we bumped it up a little more. Any time there's change, you have that opportunity."
[+] Enlarge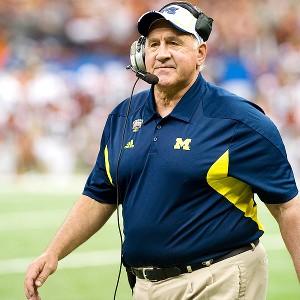 Lon Horwedel/Icon SMIMichigan DC Greg Mattison ranks as the highest-paid assistant coach in the Big Ten for the 2013 season.
"Everyone's always focused on head coaches' salaries," Smith continued. "That's always the thing. But really when you look at the changes, it's really been assistants' salaries across the country -- not just in the SEC, but the Big 12, Pac-12, all across the country."
The Big Ten is part of the change, too, as the league is allocating more money toward football assistants than ever before. The Detroit Free Press has an
excellent look at Big Ten assistants' salaries
, complete with a
database
that includes 10 of the 12 current members (Northwestern doesn't submit salaries as a private institution, and Penn State doesn't have to because of state laws).
The Free Press found that eight of the 10 schools are paying more for assistants in 2013 than they did in 2012 (only Indiana and Illinois are not). There are some significant total increases, such as Wisconsin (up $558,000), Nebraska (up $518,500), Purdue ($400,000) and Minnesota ($355,000). Staff pay had been an issue at Wisconsin, which lost six assistant coaches following the 2012 Rose Bowl, and at Purdue, which paid less for its staff during the Danny Hope era than any Big Ten school.
The total trend among the 10 schools is an increase of $1,720,852.24 for 2013.
Ohio State and Michigan remain No. 1 and No. 2 in Big Ten staff salary, as the Buckeyes allocate $3.416 million and the Wolverines allocate $2.805 million. Nebraska and Wisconsin make the biggest moves in the league for 2013, as the Huskers rise from sixth to third and the Badgers rise from seventh to fourth.
Illinois, which replaced five assistants from the 2012 team, including co-offensive coordinators Chris Beatty and Billy Gonzales, dropped from third in staff pay ($2.314 million) to eighth ($2.065 million).
The database shows that nearly every Big Ten assistant with "coordinator" in his title -- whether he's the sole coordinator or a co-coordinator -- will earn north of $300,000 for 2013. Only 18 assistants listed will make less than $200,000 in 2013 -- 15 work for Minnesota, Illinois, Purdue and Indiana.
Some notes:
Although Wisconsin paid former offensive coordinator Paul Chryst good coin, the school has increased its commitment for Gary Andersen's staff, not only with the coordinators but with some coveted position coaches like running backs coach Thomas Hammock ($300,000).

All of Nebraska's assistants are earning $200,000 or more for 2013, but there's a huge drop-off between Beck and the next highest-paid assistant (defensive coordinator John Papuchis at $310,000).

Michigan State has a similar drop off between Narduzzi and co-offensive coordinators Dave Warner ($270,000) and Jim Bollman ($260,000). Warner will be the primary offensive play-caller and has been on Mark Dantonio's staff since 2006, while Bollman is a newcomer.

Although Michigan is paying top dollar for its coordinators, the school gets its assistants for a relative bargain. Receivers coach/recruiting coordinator Jeff Hecklinski will earn $225,000 in 2013, while the others all will earn $205,000. Ohio State, meanwhile, pays all but one of its assistants $286,000 or more.

The Big Ten's three lowest-paid assistants all are in their first years: Illinois wide receivers coach Mike Bellamy ($125,000) and Purdue linebackers coach Marcus Freeman and running backs coach Jafar Williams (both at $120,000).

Although schools like Illinois, Wisconsin and Iowa ($325,000) pay their coordinators the exact same amount, others have slight differences in salary. Purdue's Shoop makes $5,000 more than defensive coordinator Greg Hudson. Minnesota defensive coordinator Tracy Claeys ($340,000) makes $5,000 more than offensive coordinator Matt Limegrover. Wonder if that leads to any underlying jealousy?

Most Big Ten schools have assistant salaries in round numbers, but there are some interesting totals from Indiana, which pays co-offensive coordinators Seth Littrell and Kevin Johns $255,500.04 and new recruiting coordinator/assistant defensive line coach James Patton $173,740.08. Never know when that change can come in handy.
The Big Ten still lacks some of the OMG totals seen in the SEC -- LSU is
paying new offensive coordinator Cam Cameron $3.4 million
in the next three years -- but the overall trend puts the league more on par with what we're seeing nationally.
December, 12, 2012
12/12/12
9:00
AM ET
Head coaches are like quarterbacks. They get too much credit and too much blame.

Assistant coaches are like nose tackles. They don't get nearly enough credit despite playing vital roles.

Today, we'll change it up and give some recognition to Big Ten assistant coaches who did exemplary jobs with their position groups or, in some cases, units in 2012. Each of these coaches fostered improvement this season. Some took units in bad shape and made them better. Others took units in decent shape and made them very good. Some entered the season with skeptics and quieted them.

We came up with 13 assistants who deserve recognition. Yes, we realize we're leaving out some quality folks, but we had to cap it somewhere and wanted to spread the love around to the different teams.
New ESPN 300 Top 10 Revealed
BIG TEN SCOREBOARD
Thursday, 8/28
Saturday, 8/30