Ohio State Buckeyes:

Tim Beck
October, 30, 2013
Oct 30
12:00
PM ET
The head of state has called for me by name. But I don't have time for him. It's going to be a glorious day. I feel my luck could change.
October, 3, 2013
Oct 3
12:00
PM ET
September, 9, 2013
Sep 9
12:00
PM ET
I think the Bengals defense just called another timeout. Sorry, couldn't resist #bears.
To the links ...
August, 19, 2013
Aug 19
5:00
PM ET
Next Monday will be game week. So excited. For now, more of your Monday mail.
[+] Enlarge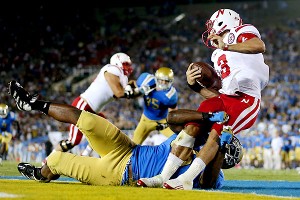 Stephen Dunn/Getty ImagesDon't expect Nebraska's Taylor Martinez to play anywhere but the QB position this fall.
Jeremy from Jenison, Mich., writes:
Which Big Ten team, outside of Ohio State, do you feel has the best chance to make the Rose Bowl? Personally, I think its either Michigan or Nebraska, or Michigan State could possibly sneak in. But what do you think?
Brian Bennett:
Jeremy, I think it's between Michigan and Nebraska. The Huskers benefit because they don't have to play Ohio State in the regular season, while Michigan has the advantage of playing Nebraska in Ann Arbor. I wouldn't be shocked to see Michigan State, Wisconsin or Northwestern sneak up and get to Pasadena (and we are talking about this while assuming Ohio State doesn't go to the BCS title game), but I think the Wolverines and Huskers have better chances because of their talent and schedule. While I rank both below the Buckeyes, either of them could beat Ohio State in a one-game shot -- or in Michigan's case, a second-game-in-two-weeks shot.
Jerry Fan from Minneapolis writes:
Jerry Kill has stated his program needs a signature win this season. Do you think that will happen, and if so, what game do you think it would be?
Brian Bennett:
That's been a consistent theme for Kill this summer, that Minnesota needs to notch a signature win. He hasn't defined exactly what that would look like, but these seem to be the best chances for the Gophers to accomplish that this fall:
Oct. 5: at Michigan
Oct. 19: at Northwestern
Oct. 26: Nebraska
Nov. 9: Penn State
Nov. 23: Wisconsin
Nov. 30: at Michigan State
You could argue whether beating Northwestern or probation-saddled Penn State is really a signature win, but I think Kill would gladly take either of those. Beating Wisconsin would be tremendous for the program because that rivalry has been so one-sided, and the same could be said about Michigan. I'll go out on a limb and say Kill's team does win one of those games, though it won't be against Michigan or Nebraska.
OblioCat from Andersonville, Chicago, writes:
Northwestern wins the Legends Division. Win or lose in the Big Ten Championship Game, is the Big Ten down (even more), or is Northwestern actually a good team? Will the journalists wait for bowl game results to rip on the Big Ten? Granted, when NU beats LSU in its bowl game, part of the South will crumble.
Brian Bennett:
Lot of ifs there, but I doubt too many people would criticize the league for being down if Northwestern wins the Legends Division, unless they finish 8-4 or something and everybody else tanks. The Wildcats are getting plenty of respect this offseason and are ranked in both major polls, so people know how good they are. Heck, the LA Times' Chris Dufresne ranked Northwestern No. 10. The Big Ten's reputation will be based on how the league performs in the nonconference games, but with so few marquee matchups, the Big Ten has more opportunities to reinforce negative perceptions by losing than it does to change them by winning.
Brian from Whiteman Air Force Base writes:
So I was thinking about my Huskers' upcoming season, and thought about Taylor Martinez's future beyond Lincoln. I think it's pretty obvious he won't be drafted as a QB, but more likely as a WR. So I was thinking, how awesome would it be to see him line up at WR a bit for Nebraska, and let our young stub backup QBs (
Tommy Armstrong
and
Johnny Stanton
) get some game experience?? Tim Beck could have a field day with that much talent on the field at one time! That could make for some serious excitement and a terror for defenses!
Brian Bennett:
I'd argue that Nebraska already has a serious amount of talent on offense, and one of the deepest and best receiving corps around.
Taylor Martinez
is so essential to the team's success that I would be stunned to see Beck risk anything by putting him at another position. But I do think playing one of the young guys is going to be important this season for the Huskers as they transition to the post-Martinez era next year. Luckily, the early schedule is such that Martinez could be getting some early rest in September and October, allowing one of those youngsters to get some in-game training.
Kevin from Fairfax writes:
Brian, you missed the most obvious
Heisman sleeper in the Big Ten
:
Akeel Lynch
if he can get on the field early enough. Penn State has the best line in the Big Ten (and maybe the nation) blocking for its running backs, the Nittany Lions have the best collection of skill position players in the league pulling defenders off the line of scrimmage (No PSU back will see a seven or eight man front this year except for in short yardage situations) and the best offensive coaching in the nation.
Brian Bennett:
Eh, sorry, I don't see it.
Zach Zwinak
had a really nice and surprising year last season for Penn State, but it wasn't anything that was remotely Heisman worthy, especially with a 4.9 yards per carry average and only six touchdowns. Plus, coach Bill O'Brien has said that he plans to get carries for Lynch and
Bill Belton
. If anybody is going to attract Heisman attention on the Nittany Lions -- and that in itself is a big question mark because of probation and the lack of roster depth -- I think it will be the quarterback.
Allen Robinson
might be the team's best player, but it's nearly impossible for receivers to win the award. If O'Brien can turn Matt McGloin into the Big Ten's top passer, imagine what he can do with a talent like
Christian Hackenberg
.
Jack from Illinois writes:
While reading your last Big Ten mailbag, I saw your thoughts on Illinois, despite competing and being better, finishing the season at with a record of 3-9. I realize as an Illini fan that we may not be the best team, but should I really be expecting us to be that bad? As daunting as the Illini's schedule looks, it appears there are some games they can really pull an upset in (don't get me wrong though, I don't exactly have much hope in our game against Nebraska). I'm not saying we get bowl eligible, but is it crazy for me to think we get to a record like 5-7?
Brian Bennett:
It's not completely crazy, but Illinois will have to make major strides on offense, defense and special teams to win five games. There are teams on the schedule that the Illini should be able to compete with, like Indiana and Purdue, and they should be favored against Southern Illinois and Miami. Win those four, and it only takes one upset to get to five wins. Still, it seems like an uphill battle given the lack of elite players and depth on the roster.
Dave from Marietta, Ohio, writes:
Regarding the
B1G football bucket list
... I've done all those. Does that mean I'm going to die tomorrow?
Brian Bennett:
I sure hope not, Dave. But whenever you do kick the bucket, you should be pretty happy.
August, 19, 2013
Aug 19
1:14
PM ET
We are here to do a job, not channel Scrooge McDuck.
May, 20, 2013
May 20
9:00
AM ET
Ohio State already had started paying more competitive salaries for assistant coaches before Urban Meyer arrived in November 2011.
But when Meyer and athletic director Gene Smith sat down to discuss staff pay, Smith soon realized he needed to do more.
"I think Michigan had stepped up with their coordinators," Smith recalled last week during Big Ten spring meetings in Chicago. "So we were already going to that before Urban Meyer came, but we bumped it up a little more. Any time there's change, you have that opportunity."
[+] Enlarge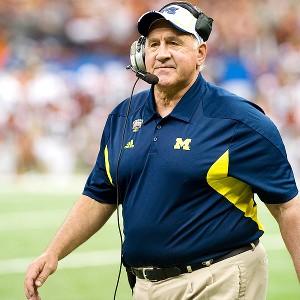 Lon Horwedel/Icon SMIMichigan DC Greg Mattison ranks as the highest-paid assistant coach in the Big Ten for the 2013 season.
"Everyone's always focused on head coaches' salaries," Smith continued. "That's always the thing. But really when you look at the changes, it's really been assistants' salaries across the country -- not just in the SEC, but the Big 12, Pac-12, all across the country."
The Big Ten is part of the change, too, as the league is allocating more money toward football assistants than ever before. The Detroit Free Press has an
excellent look at Big Ten assistants' salaries
, complete with a
database
that includes 10 of the 12 current members (Northwestern doesn't submit salaries as a private institution, and Penn State doesn't have to because of state laws).
The Free Press found that eight of the 10 schools are paying more for assistants in 2013 than they did in 2012 (only Indiana and Illinois are not). There are some significant total increases, such as Wisconsin (up $558,000), Nebraska (up $518,500), Purdue ($400,000) and Minnesota ($355,000). Staff pay had been an issue at Wisconsin, which lost six assistant coaches following the 2012 Rose Bowl, and at Purdue, which paid less for its staff during the Danny Hope era than any Big Ten school.
The total trend among the 10 schools is an increase of $1,720,852.24 for 2013.
Ohio State and Michigan remain No. 1 and No. 2 in Big Ten staff salary, as the Buckeyes allocate $3.416 million and the Wolverines allocate $2.805 million. Nebraska and Wisconsin make the biggest moves in the league for 2013, as the Huskers rise from sixth to third and the Badgers rise from seventh to fourth.
Illinois, which replaced five assistants from the 2012 team, including co-offensive coordinators Chris Beatty and Billy Gonzales, dropped from third in staff pay ($2.314 million) to eighth ($2.065 million).
The database shows that nearly every Big Ten assistant with "coordinator" in his title -- whether he's the sole coordinator or a co-coordinator -- will earn north of $300,000 for 2013. Only 18 assistants listed will make less than $200,000 in 2013 -- 15 work for Minnesota, Illinois, Purdue and Indiana.
Some notes:
Although Wisconsin paid former offensive coordinator Paul Chryst good coin, the school has increased its commitment for Gary Andersen's staff, not only with the coordinators but with some coveted position coaches like running backs coach Thomas Hammock ($300,000).

All of Nebraska's assistants are earning $200,000 or more for 2013, but there's a huge drop-off between Beck and the next highest-paid assistant (defensive coordinator John Papuchis at $310,000).

Michigan State has a similar drop off between Narduzzi and co-offensive coordinators Dave Warner ($270,000) and Jim Bollman ($260,000). Warner will be the primary offensive play-caller and has been on Mark Dantonio's staff since 2006, while Bollman is a newcomer.

Although Michigan is paying top dollar for its coordinators, the school gets its assistants for a relative bargain. Receivers coach/recruiting coordinator Jeff Hecklinski will earn $225,000 in 2013, while the others all will earn $205,000. Ohio State, meanwhile, pays all but one of its assistants $286,000 or more.

The Big Ten's three lowest-paid assistants all are in their first years: Illinois wide receivers coach Mike Bellamy ($125,000) and Purdue linebackers coach Marcus Freeman and running backs coach Jafar Williams (both at $120,000).

Although schools like Illinois, Wisconsin and Iowa ($325,000) pay their coordinators the exact same amount, others have slight differences in salary. Purdue's Shoop makes $5,000 more than defensive coordinator Greg Hudson. Minnesota defensive coordinator Tracy Claeys ($340,000) makes $5,000 more than offensive coordinator Matt Limegrover. Wonder if that leads to any underlying jealousy?

Most Big Ten schools have assistant salaries in round numbers, but there are some interesting totals from Indiana, which pays co-offensive coordinators Seth Littrell and Kevin Johns $255,500.04 and new recruiting coordinator/assistant defensive line coach James Patton $173,740.08. Never know when that change can come in handy.
The Big Ten still lacks some of the OMG totals seen in the SEC -- LSU is
paying new offensive coordinator Cam Cameron $3.4 million
in the next three years -- but the overall trend puts the league more on par with what we're seeing nationally.
December, 12, 2012
12/12/12
9:00
AM ET
Head coaches are like quarterbacks. They get too much credit and too much blame.

Assistant coaches are like nose tackles. They don't get nearly enough credit despite playing vital roles.

Today, we'll change it up and give some recognition to Big Ten assistant coaches who did exemplary jobs with their position groups or, in some cases, units in 2012. Each of these coaches fostered improvement this season. Some took units in bad shape and made them better. Others took units in decent shape and made them very good. Some entered the season with skeptics and quieted them.

We came up with 13 assistants who deserve recognition. Yes, we realize we're leaving out some quality folks, but we had to cap it somewhere and wanted to spread the love around to the different teams.
July, 16, 2012
7/16/12
10:25
PM ET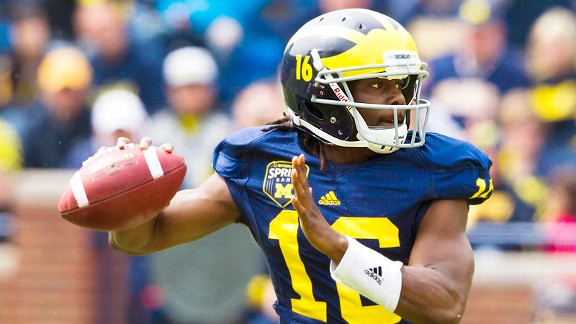 Rick Osentoski/US PresswireLast season, Michigan quarterback Denard Robinson passed for 20 touchdowns and rushed for 16.
Last week, Adam kicked off the preseason position rankings by looking at
running back
, the league's most star-studded position in 2012.
Today, we're going to take a look at the position that puts every player under the spotlight: quarterback. We're ranking the top 10 individual players at each spot and then offering team rankings a little later on. These rankings are based on past performance and potential for the 2012 season, placing a bit more emphasis on their track record to this point.
Quarterback is an intriguing group heading into '12. Here's our Top 10:
1. Denard Robinson, Michigan, senior:
Say what you will about Robinson's faults -- and we've said plenty about his sometimes erratic throws and Big Ten worst 15 interceptions in 2011. Robinson remains one of the best playmakers in the country and a three-year starter who's got plenty of heroic moments under his belt. He showed improved passing mechanics this spring and should benefit from his second year under Al Borges. And we all know what he can do with his feet. With the league's top precision passers from 2011 all having moved on, Robinson inherits the top spot.
2. James Vandenberg, Iowa, senior:
Only 17 returning players in the FBS threw for more yards in 2011 than Vandenberg, who had 3,022, plus 25 touchdowns. His completion percentage needs to improve, as does his road performance, and he won't have Marvin McNutt around anymore. But he's easily the most polished pocket passer in the league heading into the season.
3. Braxton Miller, Ohio State, sophomore:
Miller still has a lot to learn and he'll be doing so in an entirely new offensive system. Yet he showed flashes of brilliance last year, such as his performance against Michigan or his game-winning play versus Wisconsin. He's got the athleticism to be a tremendous dual threat quarterback. Matched with Urban Meyer's creativity, Miller has enormous potential.
4. Taylor Martinez, Nebraska, junior:
Martinez put in a lot of time this offseason working on his throwing motion. His dedication to self-correction is very encouraging, and a better understanding of Tim Beck's offense plus more experienced receivers could lead to a higher completion percentage than last year's 56.3. If Martinez can become a reliable passer to go along with his explosive running skills, look out.
5. MarQueis Gray, Minnesota, senior:
Gray had a rocky beginning to the season as he adjusted back to the quarterback position and a new coaching staff. But in his last five games, he averaged 255 yards of total offense. Of returning Big Ten players, only Robinson, Vandenberg and Martinez were responsible for more total yardage than Gray last season. Like many on this list, Gray has worked on improving his mechanics and accuracy. There isn't a more impressive physical specimen at quarterback than this 6-foot-4, 240-pounder.
[+] Enlarge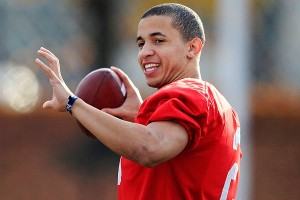 Marcio Jose Sanchez/AP PhotoCan QB Nathan Scheelhaase lead the Illini to a better end-of-season performance this year?
6. Danny O'Brien, Wisconsin, junior:
O'Brien has yet to play a down of Big Ten football but is the presumed starter for Wisconsin. The Badgers hope the Maryland transfer is more like the player of 2010 (2,438 passing yards, 22 touchdowns, eight interceptions) than 2011 (1,648 passing yards, seven touchdowns, 10 interceptions). Wisconsin's offensive line and running game should create plenty of open passing lanes, and if O'Brien takes advantage of that he could quickly and easily climb this list.
7. Nathan Scheelhaase, Illinois, junior:
After a promising freshman campaign and solid start to 2011, Scheelhaase struggled along with the entire Illini offense. He bounced back with a good bowl game performance against UCLA and now must master the new spread attack under Tim Beckman. There are always going to be questions about Scheelhaase's size and arm strength but not about his intelligence and toughness. Does he have enough skill position complements this year?
8. Kain Colter, Northwestern, junior:
Is Colter simply an athlete playing quarterback? Or can he become much more than that? Those are big questions heading into the year for a guy who filled in quite nicely for
Dan Persa
last year. Colter has elite athleticism but only attempted 22 passes in Northwestern's final 10 games. He could be helped by perhaps the league's deepest receiving corps.
9. Caleb TerBush, Purdue:
Though he's being pushed by veterans
Robert Marve
and
Rob Henry
, TerBush got the vote of confidence as the starter from Danny Hope after spring ball. Thrust into a starter's role because of injuries to start last season, he improved as the year went on. He'll need to continue working on his decision-making, because the Boilermakers won't hesitate to go to one of their other options.
10. Andrew Maxwell, QB, Michigan State:
Maxwell has attempted only 51 career passes in mostly mop-up duty. But he has spent four years in the Spartans' system, being groomed under Kirk Cousins. At 6-foot-3 and 212 pounds, he's got the physical and mental makeup needed to be a standout Big Ten quarterback. He just needs more experience.
Clemson, Ohio St. Looking For Redemption