Ohio State Buckeyes:

Silas Redd
October, 4, 2013
10/04/13
4:00
PM ET
Finishing out the week before an exciting slate of Big Ten games. Don't forget to follow us
on Twitter
, especially on Saturdays.
Let's get to that mail ...
Mikey from Seattle writes:
Great
piece on B1G football revenue
not translating to championships. I don't disagree with Dave Brandon's comment that football success is driven by things like tradition, culture, momentum, luck, recruiting, and consistency. However, if you look at all BCS National Champs, all but one (Oklahoma in 2000) come from traditional high school "hotbeds" -- Southeast, Texas, California, Ohio. (Note: most of the losing teams come from these areas, too.) So why doesn't the B1G use its significant revenue and resources to develop THE best youth/HS football programs in the country? While B1G can't influence demographic trends, it seems like it would be in their best long-term interests, increase athletic revenues, decrease escalating recruiting expenses, elevate conference perception to invest in their cash cow while giving back to their communities.
Adam Rittenberg:
Some interesting thoughts, Mikey. Keep in mind that the Big Ten distributes almost all of its revenue to the schools, which all would have to be on board with such a program to make it work. Most of these schools have athletic departments that are losing money or receiving subsidies, so it would be hard for them to part with revenue just for the off chance that it boosts one sport (football). I also wonder how much a college athletic conference could affect the way high school/youth programs do things in an entire region of the country. Would we see more spring football programs? More 7-on-7 football like there is in Texas and Florida? I think the better investment is for recruiting the South and Southeast. Big Ten schools must devote more of their recruiting budget toward those areas of the country and hire and pay assistants who can pluck some good players from states such as Georgia, Texas and Florida year after year.
---
Jim from New Jersey writes:
I do not say this is the only difference between the Big Ten and the SEC, but someone needs to be brave enough to say it in the press and no one does! The quality and type of kid that goes to an SEC school is not the same quality of a Big Ten kid academically. Bottom line. The SEC schools have much looser admission programs and standards and the kids are not the same. Bottom line, the Big Ten chooses to not take the same type of player. If the Big Ten wants a crystal ball, they need to lower admission standards.
Adam Rittenberg:
Jim, I've alluded to this before, and I agree that on the whole, Big Ten schools have tougher admissions standards for football players than SEC schools. But there are enough elite athletes with strong academic profiles to win at the national level. Look at what Stanford has done and continues to do. A lot of the SEC's top players had Big Ten offers, so they would have been admitted to Big Ten schools but chose to go elsewhere. Big Ten fans often cite admission standards and oversigning as two big differences between the Big Ten and the SEC. I agree they're factors, but the Big Ten's larger issue, in my view, is more strategic. Big Ten schools must continually examine where they're investing time and energy in recruiting and how they're branding themselves to recruits.
---
Megan from Columbus, Ohio, writes:
Hi Adam, love the work that you and Brian do! You have helped me discover what I want to do when I go to college. Anyway, I was wondering if you think
Braxton Miller
will be coming back for his senior year or not? Since his injury has him out of the Heisman talk (for now), do you think that will play a part of his decision?
Adam Rittenberg:
Thanks, Megan. Is it too late to talk you out of it? Kidding, kidding. I expect Miller to return next season and continue to develop his game. Ohio State offensive coordinator Tom Herman told me this summer that Miller likely won't reach his full potential until the 2014 season, as he continues to evolve as a passer and as a decision-maker. He's not considered a top NFL draft prospect at quarterback right now, but he could become one depending on how he improves. Unless you're a clear first-round pick or play a position like running back with a short shelf-life because of injury risk, you probably should stay in school. I believe Miller will.
---
Ryan from Crooksville, Ohio, writes:
All right, of all the things people could criticize the last few weeks about Michigan, why is it that the worst criticisms are about the defense? I mean, honestly, if our quarterback wasn't giving away seven points a game (and that's just the points the other teams got directly from him) and setting the opponents up in great field position a lot, Michigan's points allowed would conceivably be a lot less than they are. I honestly don't understand why the defense is taking as much heat as some people are giving it. They make key stops when they need to and they seem to play better red-zone defense than any other team I've seen this year. And as a Wolverines fan living in Buckeye country, I have to hear it more than most. Hoping to get your thoughts on it.
Adam Rittenberg:
Ryan, I guess we've been reading/hearing different things about Michigan, because
Devin Gardner
's turnover issues have been the top story line about the Wolverines the past two weeks. Every radio show I've been on has asked what's wrong with No. 7/98 and whether he can reclaim the form he showed against Notre Dame. Michigan's defense has been OK -- not great, but adequate -- and hardly the team's biggest issue. I'm a little concerned about the lack of star power on the Wolverines' defense. Who will be the reliable playmakers game in and game out? Linebacker
Jake Ryan
could be that guy when he returns from injury later this month.
---
Doc from Phoenix writes:
Adam, as an unapologetic Huskers fan and forever the optimist, I am curious about your current best-case scenario for Nebraska the rest of the way out. I see the best case for the Huskers as running the regular season table (despite some shaky defensive performances) and losing to OSU in the Big Ten championship. If that scenario plays out, do you see Nebraska getting an at-large bid to a BCS bowl? Whether or not OSU makes the National Championship game, Nebraska would be 11-2 with their only losses being to Ohio State and UCLA (a potential top-10 team). I could see the Rose Bowl reaching for Nebraska if Ohio State made the National Championship game to keep the Big Ten presence in the game, but I have doubt if other BCS bowl would feel the same way with the national perception of the Nebraska program being down of late. Given the reaching "best-case scenario," where would you put the Huskers come December/January?
Adam Rittenberg:
Doc, while I could see Nebraska running the table, I highly doubt it. The Huskers crumbled against the only really good team they've faced so far, and their November schedule features Northwestern, Michigan, Michigan State, Penn State and a clearly improved Iowa team on Black Friday. While I expect Nebraska to beat Illinois on Saturday, Purdue next week and Minnesota on Oct. 26, the Huskers will have to elevate their play consistently in November for one of the more brutal stretches any Big Ten team will face. Can they win out? Sure. But I don't see it. If the scenario plays out as you present it, a lot would depend on if there are other Big Ten teams eligible for BCS at-large selection. We've seen in the past that the league title game loser often is in a worse sport for at-large selection than a team that finishes the season, say, 10-2 on a roll.
---
Rob from Morristown, N.J., writes:
Adam, is Michigan State's defense REALLY as good as you and Brian make them out to be on a weekly basis (in every one one of your blog posts that mentions MSU, you talk about their stellar defense). Is it possible that their very good defensive numbers are due to the fact that they have played an FCS team, two of the worst offensive FBS teams in the country in USF and Western Michigan (ranked Nos. 121 and 122 in scoring offense, respectively) and a ND team starting a senior QB who lost the starting job to a freshman last season and lost their top two rushers off last year's BCS team? Maybe the "hype" is based off of last year's squad and is not necessarily indicative of this year's defense? I admit I have not watched much MSU football, but I think there is a good chance we realize the MSU defense isn't actually THAT good once they start playing some of the better offensive B1G teams. Your witness...
Adam Rittenberg:
Rob, you make a lot of fair points here. Michigan State has faced some of the weaker offensive teams in the country. But to this point, the Spartans can only be evaluated on who they face, and they're showing the suffocating play we've grown accustomed to from that unit. If this defense hadn't been among the nation's elite the past two seasons, we're probably not having this discussion. So yes, past performance plays a role because Michigan State has established a culture of elite defense that appears, albeit against weak competition, to be continuing this season. Context is important here, but I also should be careful not to overvalue Michigan State's defense until it faces better offense. But I really like the personnel and the coaching the Spartans have on that side of the ball. We'll certainly learn more in the coming weeks.
---
Chris from Middleton, Wis., writes:
Adam, which do you believe in when it comes to Wisconsin losing close games and their continued battle to go from good to great? 1) It shows how difficult it is to compete with the likes of Michigan and Ohio State's established programs. 2) Wisconsin is more closely scrutinized for penalties thus their success is handcuffed. 3) The gods are critical of football in general at Wisconsin. 4) Wisconsin players are overachievers that have reached their own personal mountain top. 5) If Wisconsin played ASU and Ohio State at home this year, they would be headed for the national championship game.
Adam Rittenberg:
Is there an option 6? If so, I would go with Wisconsin being a team not built to play from behind. The Badgers are a methodical, power-driven offense focused on the run game. They bleed clock and their opponents' will by pounding away with huge offensive linemen and talented ball carriers. But they're not a team that runs the two-minute drill well. They don't have enough at receiver -- a problem for several years. The Arizona State game was an odd and unfortunate case because the officials totally botched the call at the end. The football gods aren't out to get Wisconsin, and the Badgers have shown they can win big games. But they're a team better off grabbing the lead and holding on than mounting a late comeback.
---
Andrew from Hilldale, Mich., writes:
Recently there was an ESPN video posted on the blog suggesting that Ohio State's rep has been hurt by weak conference competition. One of the analysts also argued that OSU has beaten up the B1G only to get "slaughtered" in big games against faster nonconference opponents. Is that really a fair argument considering that the last two big bowl games they played -- the Rose Bowl against a very fast Oregon and forfeited Sugar Bowl against the SEC's very own Arkansas -- were solid wins on the field. It seems to me that, since the 2011 Sugar Bowl, they haven't really played any big nonconference games, and certainly none that would count as slaughters.
Adam Rittenberg:
Unfortunately, Ohio State still gets painted as a bad big-game team because of the losses to Florida and LSU in the 2007 and 2008 BCS championship games. It's a lazy argument, quite frankly, because those games occurred more than half a decade ago, which is an eternity in college football. If you want to argue that Ohio State won't get into the national title game because the Big Ten is so weak, that's fine. The Big Ten has done little to change its national perception this season. But don't blame it on games that happened so long ago, just because you weren't entertained for the national championship. Vacated wins or not, Ohio State has won its past two big games, as you point out. And I expect the Buckeyes to be a better team than they are now when early January rolls around. Whether they make it to Pasadena for the big one remains to be seen.
---
Joe from Central PA writes:
Hi, Adam. I'm a big PSU fan and although I didn't blame
Silas Redd
one bit for the decision he made to transfer, you have to wonder if he's second-guessing that now. If he was looking for a pro football career, I would think B'OB was more the coach to help him with that. It's a shame ... all of it really because I believe Silas is a nice/good kid. I really do hope he makes it to the NFL if that is what he wants to do.
Adam Rittenberg
: Joe, I couldn't agree more about Silas being a really nice guy, and I still expect him to go on and have a good NFL career. But you have to wonder whether he'd be better off at Penn State, working in O'Brien's pro-style offense. Look at what Penn State has done with a running back like
Zach Zwinak
, who isn't as naturally gifted as Redd. From a coaching standpoint, he definitely took a step back by leaving Penn State for USC. Then again, it's hard to blame a guy for going to a team that entered the 2012 season with national title aspirations.
---
John from New York writes:
Do you think that the reason that
Venric Mark
has been out these last three weeks relates solely to his injury? Pat Fitzgerald has seemed a little shifty when discussing Mark's status, including an assertion that Mark was "day-to-day" about one hour before the kickoff against Maine. I can see Fitzgerald wanting to spring Mark on OSU, depriving them of video of Mark from this season.
Adam Rittenberg:
John, Mark never was going to play against Maine, although he probably could have. Northwestern wanted to get his hamstring issue as close to 100 percent as possible before the Big Ten season kicked off against Ohio State. Once the Wildcats got through the Syracuse game, they really didn't need Mark to go 4-0, although it would have been nice for him and
Kain Colter
to get some more game reps together. It will be interesting to see how much the Colter-Mark zone read game can boost Northwestern's offense against the Buckeyes.
November, 28, 2012
11/28/12
1:00
PM ET
Former Ohio State coach Jim Tressel was a victim of his own success when it came to winning Big Ten Coach of the Year honors.
Tressel never claimed the award despite dominating the league during most of his Buckeyes tenure. If Tressel had a down year midway through his run at Ohio State, only to get the team back to a league title or a BCS bowl the following year, he would have had a better chance.
In many ways, the Big Ten Coach of the Year award is about what happened the previous season or the previous offseason rather than the actual season for which the honor is presented. Recent history also shows first-year coaches who bolster programs have a good chance for the award.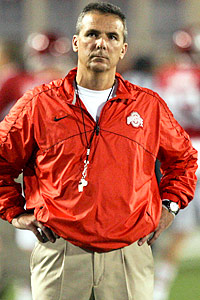 Pat Lovell/US PresswireUrban Meyer led the Buckeyes to a rare 12-0 season in his first season at Ohio State.
And that's why Ohio State coach Urban Meyer might never win it.
Penn State's
Bill O'Brien on Tuesday swept the Big Ten Coach of the Year honors
-- the Hayes-Schembechler award (voted by the coaches) and the Dave McClain award (voted by the media). O'Brien guided Penn State to an 8-4 record in his first season.
He beat out another first-year Big Ten coach, Meyer, who went 12-0 in his first season in Columbus, including a road win against O'Brien's Lions. Buckeye fans were hopeful Meyer would be the first Ohio State boss to win Big Ten Coach of the Year honors since Meyer's mentor Earle Bruce got it in 1979.
O'Brien's selection stems primarily from the way he kept Penn State afloat after a turbulent summer that brought severe NCAA sanctions on the program, followed by the departures of several key players, including star running back
Silas Redd
. After an 0-2 start that had many writing off Penn State for the foreseeable future, O'Brien guided Penn State to wins in eight of its final 10 games (6-2 in Big Ten play).
Although Penn State actually won more games in the previous season -- the Lions' nine wins later were vacated -- O'Brien's work under such unusual circumstances made him a deserving candidate.
But it begs the question: Will Meyer ever win the award?
Unless Ohio State takes a surprising step backward during his tenure, probably not.
Let's look at the recent winners of the McClain Award.
Brady Hoke, Michigan, 2011
Backstory: Michigan went 7-6 in 2010 under coach Rich Rodriguez, who was fired following the Gator Bowl after a historically poor three-year run. Hoke came in from San Diego State and guided Michigan to an 11-1 record and a Sugar Bowl championship.
Mark Dantonio, Michigan State, 2010
Backstory: Michigan State tumbled to a 6-7 finish in 2009 and had a highly publicized off-field issue that decimated its roster for the Alamo Bowl. Dantonio guided the Spartans to an 11-1 regular-season mark in 2010.
Kirk Ferentz, Iowa, 2009
Backstory: Iowa improved from 9-4 in 2008 to 11-2 in 2009 and won an Orange Bowl championship. The 2009 season truly showed the Hawkeyes had escaped a down stretch from 2005-07.
Joe Paterno, Penn State, 2008
Backstory: Penn State went from 9-4 the previous season to an 11-1 regular-season mark, a Big Ten title and a spot in the Rose Bowl (all wins later were vacated). The Lions were in the national title talk for much of the 2008 campaign.
Ron Zook, Illinois, 2007
Backstory: Illinois went from 2-10 in 2006 (4-19 in Zook's first two seasons) to a Rose Bowl berth in 2007. The Illini knocked off then-No. 1 Ohio State in Columbus.
Bret Bielema, Wisconsin 2006
Backstory: Bielema was in his first year as a head coach and led Wisconsin to an 11-1 record in the regular season (12-1 following a bowl victory).
Joe Paterno, Penn State, 2005
Backstory: The Lions had endured losing seasons in three of the previous four years, and calls for Paterno's retirement had increased. He then shocked everyone by guiding Penn State to a Big Ten championship and an Orange Bowl title (both later vacated).
See the pattern here?
The award either goes to first-year coaches or coaches who have bolstered a team's win total from the previous season.
Meyer did both at Ohio State, which went from 6-7 in 2011 to 12-0 this season. But O'Brien ultimately was judged to have overcome more challenges at Penn State.
Tressel's best chance for the award came in 2002, when Ohio State went from 7-5 in his first season to a 13-0 regular-season mark (and an eventual national title). But Iowa's Kirk Ferentz instead earned Big Ten Coach of the Year honors for guiding Iowa to a share of the Big Ten title a year after going 7-5.
Ferentz topping Tressel in 2002 reminds me a lot of O'Brien topping Meyer this season.
Given the trajectory of Ohio State's program under Meyer and the standard set by the 2012 team, it seems unlikely the Buckeyes will take a big step backward -- so Meyer can then bring them forward and win the award -- any time soon.
Meyer has won two national titles and several top coaching honors, including the Eddie Robinson National Coach of the Year award in 2004. But don't be surprised if like Tressel, he'll go through his Ohio State career without ever being named Big Ten Coach of the Year.
November, 25, 2012
11/25/12
10:00
AM ET
Five lessons from the week that was in Big Ten football.
1. The Ineligibles overachieved under great coaches:
We won't see Ohio State or Penn State until next fall, but both teams went out on positive notes to end seasons in which they overachieved. Aside from die-hard Buckeyes believers, who expected Ohio State to go 12-0 and record just the sixth unbeaten, untied season in team history? Even fewer people expected Penn State to go 8-4 after a tumultuous offseason that featured the exodus of running back
Silas Redd
and other key players. And when the Lions started 0-2, most folks wrote them off. But Bill O'Brien and his team never lost faith and surged through most of the Big Ten season. It was fitting that kicker
Sam Ficken
, whose struggles at Virginia led to Penn State's loss, had the game-winning field goal Saturday as the Lions beat Wisconsin in overtime. O'Brien exceeded all expectations in his first season as a head coach, recording the most wins ever by a first-year Lions boss. Will he be Big Ten Coach of the Year? The only other worthy candidate is Urban Meyer, who took a seven-loss Buckeyes team with significant depth issues and transformed it into one of the nation's best.
[+] Enlarge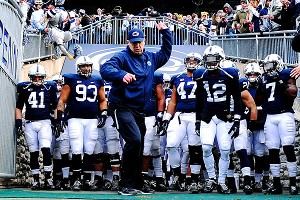 Evan Habeeb/US PresswireBill O'Brien faced tough questions from prospective recruits, but the Penn State coach and his staff kept a top-25 recruiting class together.
2. Michigan isn't really back:
Sure, the Wolverines have dug themselves out from the Rich Rodriguez-created crater, and they had a charmed season end in a Sugar Bowl title last season. But in terms of beating really good teams, the ones that signify Michigan once again has a place among the nation's elite, Brady Hoke's crew is still looking for a breakthrough. Michigan won a respectable eight games, but its four losses in the regular season -- Alabama, Notre Dame, Nebraska and Ohio State -- came against the best four teams it played. The Wolverines were extremely fortunate to beat a good Northwestern team and a mediocre Michigan State squad on their home field. While it was nice to end the losing streak against Ohio State last season, Michigan beat the worst Buckeyes team we've seen in more than a decade. The offense still seems hamstrung in some ways by the
Denard Robinson
era, though the emergence of
Devin Gardner
is promising for the future. There are signs Michigan is close, and the renaissance on defense under Hoke and Greg Mattison can't be denied. But it'll take a bit longer for Michigan to truly claim it is back, although a Jan. 1 bowl victory against an SEC foe would help.
3. Rex Burkhead still can make an impact:
This hasn't been the season the Nebraska senior running back envisioned, but he can still play a major role in how it turns out for Big Red. Burkhead returned to the field in the second half Friday against Iowa after Nebraska's offense stumbled and fell behind 7-3. In his first appearance since Oct. 20, Burkhead racked up 69 yards and Nebraska's only touchdown on 16 carries. He might not be 100 percent, but he showed the skills that make him beloved in the Cornhusker State, particularly on a grinding 9-yard run to pick up a first down after Nebraska was pinned inside its own 1-yard line early in the fourth quarter. Nebraska had hoped to get through the Iowa game without Burkhead, but when the team needed him, he delivered. He likely will play a bigger role this week against Wisconsin in the Big Ten title game. Burkhead had 86 rush yards against the Badgers in the Big Ten opener, the only full game he has played this season. He could be the boost Nebraska needs to win its first league title since 1999 and possibly win the Rose Bowl, too.
4. Danny Hope's players didn't quit on him:
Many Purdue fans have seen enough of fourth-year coach Danny Hope, but Hope has plenty of allies in his locker room. The Boilers easily could have quit after dropping their first five Big Ten games -- four blowouts (three at home) plus the heartbreaker at Ohio State. Some teams projected to do much more would have gone in the tank. But Purdue rallied behind Hope and gutsy quarterback
Robert Marve
, who played despite a torn anterior cruciate ligament, and won its final three games to secure a bowl berth. The product rarely looked pretty, and even Saturday's Bucket game against Indiana featured some bang-your-head-against-the-wall moments. But Purdue's players never stopped fighting and will head somewhere warm for the holidays. Whether Hope joins them remains to be seen, but he deserves some credit for keeping the team afloat during such a difficult stretch.
5. Bowl practices will be crucial for Big Ten teams:
We don't know the bowl matchups yet, but they will be daunting for the Big Ten, which will be without two of its best teams (Ohio State and Penn State) in the postseason. For the league to avoid another bad bowl performance, several teams must take significant steps during bowl practices. Michigan State has the defense and the running back (
Le'Veon Bell
) to win its bowl game, but it needs quarterback
Andrew Maxwell
and a young receiving corps to develop. Coach Mark Dantonio hinted this week that his offense needed an update to keep up with the times. Maybe that can start next month in earnest. Minnesota has to get healthy and re-establish its offensive identity behind true freshman quarterback
Philip Nelson
, who will benefit from the 15 practices. Wisconsin also will have a chance to iron out its offensive issues, while a young Northwestern team that made major strides this fall must make another before facing what should be a heavily favored SEC foe in Florida. Michigan also gets some extra time to figure out its vision on offense with Gardner and Robinson.
Scene and Heard: Top 10 Predictions
BIG TEN SCOREBOARD
Thursday, 8/28
Saturday, 8/30