November, 28, 2012
11/28/12
1:00
PM ET
Former Ohio State coach Jim Tressel was a victim of his own success when it came to winning Big Ten Coach of the Year honors.
Tressel never claimed the award despite dominating the league during most of his Buckeyes tenure. If Tressel had a down year midway through his run at Ohio State, only to get the team back to a league title or a BCS bowl the following year, he would have had a better chance.
In many ways, the Big Ten Coach of the Year award is about what happened the previous season or the previous offseason rather than the actual season for which the honor is presented. Recent history also shows first-year coaches who bolster programs have a good chance for the award.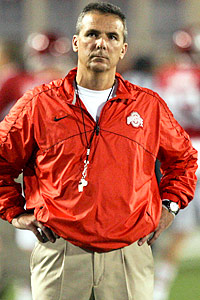 Pat Lovell/US PresswireUrban Meyer led the Buckeyes to a rare 12-0 season in his first season at Ohio State.
And that's why Ohio State coach Urban Meyer might never win it.
Penn State's
Bill O'Brien on Tuesday swept the Big Ten Coach of the Year honors
-- the Hayes-Schembechler award (voted by the coaches) and the Dave McClain award (voted by the media). O'Brien guided Penn State to an 8-4 record in his first season.
He beat out another first-year Big Ten coach, Meyer, who went 12-0 in his first season in Columbus, including a road win against O'Brien's Lions. Buckeye fans were hopeful Meyer would be the first Ohio State boss to win Big Ten Coach of the Year honors since Meyer's mentor Earle Bruce got it in 1979.
O'Brien's selection stems primarily from the way he kept Penn State afloat after a turbulent summer that brought severe NCAA sanctions on the program, followed by the departures of several key players, including star running back
Silas Redd
. After an 0-2 start that had many writing off Penn State for the foreseeable future, O'Brien guided Penn State to wins in eight of its final 10 games (6-2 in Big Ten play).
Although Penn State actually won more games in the previous season -- the Lions' nine wins later were vacated -- O'Brien's work under such unusual circumstances made him a deserving candidate.
But it begs the question: Will Meyer ever win the award?
Unless Ohio State takes a surprising step backward during his tenure, probably not.
Let's look at the recent winners of the McClain Award.
Brady Hoke, Michigan, 2011
Backstory: Michigan went 7-6 in 2010 under coach Rich Rodriguez, who was fired following the Gator Bowl after a historically poor three-year run. Hoke came in from San Diego State and guided Michigan to an 11-1 record and a Sugar Bowl championship.
Mark Dantonio, Michigan State, 2010
Backstory: Michigan State tumbled to a 6-7 finish in 2009 and had a highly publicized off-field issue that decimated its roster for the Alamo Bowl. Dantonio guided the Spartans to an 11-1 regular-season mark in 2010.
Kirk Ferentz, Iowa, 2009
Backstory: Iowa improved from 9-4 in 2008 to 11-2 in 2009 and won an Orange Bowl championship. The 2009 season truly showed the Hawkeyes had escaped a down stretch from 2005-07.
Joe Paterno, Penn State, 2008
Backstory: Penn State went from 9-4 the previous season to an 11-1 regular-season mark, a Big Ten title and a spot in the Rose Bowl (all wins later were vacated). The Lions were in the national title talk for much of the 2008 campaign.
Ron Zook, Illinois, 2007
Backstory: Illinois went from 2-10 in 2006 (4-19 in Zook's first two seasons) to a Rose Bowl berth in 2007. The Illini knocked off then-No. 1 Ohio State in Columbus.
Bret Bielema, Wisconsin 2006
Backstory: Bielema was in his first year as a head coach and led Wisconsin to an 11-1 record in the regular season (12-1 following a bowl victory).
Joe Paterno, Penn State, 2005
Backstory: The Lions had endured losing seasons in three of the previous four years, and calls for Paterno's retirement had increased. He then shocked everyone by guiding Penn State to a Big Ten championship and an Orange Bowl title (both later vacated).
See the pattern here?
The award either goes to first-year coaches or coaches who have bolstered a team's win total from the previous season.
Meyer did both at Ohio State, which went from 6-7 in 2011 to 12-0 this season. But O'Brien ultimately was judged to have overcome more challenges at Penn State.
Tressel's best chance for the award came in 2002, when Ohio State went from 7-5 in his first season to a 13-0 regular-season mark (and an eventual national title). But Iowa's Kirk Ferentz instead earned Big Ten Coach of the Year honors for guiding Iowa to a share of the Big Ten title a year after going 7-5.
Ferentz topping Tressel in 2002 reminds me a lot of O'Brien topping Meyer this season.
Given the trajectory of Ohio State's program under Meyer and the standard set by the 2012 team, it seems unlikely the Buckeyes will take a big step backward -- so Meyer can then bring them forward and win the award -- any time soon.
Meyer has won two national titles and several top coaching honors, including the Eddie Robinson National Coach of the Year award in 2004. But don't be surprised if like Tressel, he'll go through his Ohio State career without ever being named Big Ten Coach of the Year.
November, 25, 2012
11/25/12
10:00
AM ET
Five lessons from the week that was in Big Ten football.
1. The Ineligibles overachieved under great coaches:
We won't see Ohio State or Penn State until next fall, but both teams went out on positive notes to end seasons in which they overachieved. Aside from die-hard Buckeyes believers, who expected Ohio State to go 12-0 and record just the sixth unbeaten, untied season in team history? Even fewer people expected Penn State to go 8-4 after a tumultuous offseason that featured the exodus of running back
Silas Redd
and other key players. And when the Lions started 0-2, most folks wrote them off. But Bill O'Brien and his team never lost faith and surged through most of the Big Ten season. It was fitting that kicker
Sam Ficken
, whose struggles at Virginia led to Penn State's loss, had the game-winning field goal Saturday as the Lions beat Wisconsin in overtime. O'Brien exceeded all expectations in his first season as a head coach, recording the most wins ever by a first-year Lions boss. Will he be Big Ten Coach of the Year? The only other worthy candidate is Urban Meyer, who took a seven-loss Buckeyes team with significant depth issues and transformed it into one of the nation's best.
[+] Enlarge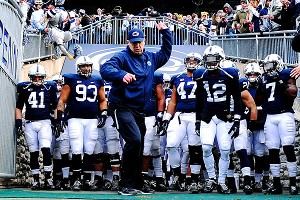 Evan Habeeb/US PresswireBill O'Brien faced tough questions from prospective recruits, but the Penn State coach and his staff kept a top-25 recruiting class together.
2. Michigan isn't really back:
Sure, the Wolverines have dug themselves out from the Rich Rodriguez-created crater, and they had a charmed season end in a Sugar Bowl title last season. But in terms of beating really good teams, the ones that signify Michigan once again has a place among the nation's elite, Brady Hoke's crew is still looking for a breakthrough. Michigan won a respectable eight games, but its four losses in the regular season -- Alabama, Notre Dame, Nebraska and Ohio State -- came against the best four teams it played. The Wolverines were extremely fortunate to beat a good Northwestern team and a mediocre Michigan State squad on their home field. While it was nice to end the losing streak against Ohio State last season, Michigan beat the worst Buckeyes team we've seen in more than a decade. The offense still seems hamstrung in some ways by the
Denard Robinson
era, though the emergence of
Devin Gardner
is promising for the future. There are signs Michigan is close, and the renaissance on defense under Hoke and Greg Mattison can't be denied. But it'll take a bit longer for Michigan to truly claim it is back, although a Jan. 1 bowl victory against an SEC foe would help.
3. Rex Burkhead still can make an impact:
This hasn't been the season the Nebraska senior running back envisioned, but he can still play a major role in how it turns out for Big Red. Burkhead returned to the field in the second half Friday against Iowa after Nebraska's offense stumbled and fell behind 7-3. In his first appearance since Oct. 20, Burkhead racked up 69 yards and Nebraska's only touchdown on 16 carries. He might not be 100 percent, but he showed the skills that make him beloved in the Cornhusker State, particularly on a grinding 9-yard run to pick up a first down after Nebraska was pinned inside its own 1-yard line early in the fourth quarter. Nebraska had hoped to get through the Iowa game without Burkhead, but when the team needed him, he delivered. He likely will play a bigger role this week against Wisconsin in the Big Ten title game. Burkhead had 86 rush yards against the Badgers in the Big Ten opener, the only full game he has played this season. He could be the boost Nebraska needs to win its first league title since 1999 and possibly win the Rose Bowl, too.
4. Danny Hope's players didn't quit on him:
Many Purdue fans have seen enough of fourth-year coach Danny Hope, but Hope has plenty of allies in his locker room. The Boilers easily could have quit after dropping their first five Big Ten games -- four blowouts (three at home) plus the heartbreaker at Ohio State. Some teams projected to do much more would have gone in the tank. But Purdue rallied behind Hope and gutsy quarterback
Robert Marve
, who played despite a torn anterior cruciate ligament, and won its final three games to secure a bowl berth. The product rarely looked pretty, and even Saturday's Bucket game against Indiana featured some bang-your-head-against-the-wall moments. But Purdue's players never stopped fighting and will head somewhere warm for the holidays. Whether Hope joins them remains to be seen, but he deserves some credit for keeping the team afloat during such a difficult stretch.
5. Bowl practices will be crucial for Big Ten teams:
We don't know the bowl matchups yet, but they will be daunting for the Big Ten, which will be without two of its best teams (Ohio State and Penn State) in the postseason. For the league to avoid another bad bowl performance, several teams must take significant steps during bowl practices. Michigan State has the defense and the running back (
Le'Veon Bell
) to win its bowl game, but it needs quarterback
Andrew Maxwell
and a young receiving corps to develop. Coach Mark Dantonio hinted this week that his offense needed an update to keep up with the times. Maybe that can start next month in earnest. Minnesota has to get healthy and re-establish its offensive identity behind true freshman quarterback
Philip Nelson
, who will benefit from the 15 practices. Wisconsin also will have a chance to iron out its offensive issues, while a young Northwestern team that made major strides this fall must make another before facing what should be a heavily favored SEC foe in Florida. Michigan also gets some extra time to figure out its vision on offense with Gardner and Robinson.