Ohio State Buckeyes:

ohio state basketball
November, 20, 2012
11/20/12
12:05
AM ET
ESPN 60 small forward
Jae'Sean Tate
(Pickerington, Ohio/Central) committed to Ohio State Monday, joining ESPN 60 power forward
Keita Bates-Diop
(Bloomington, Ill./University High) to get the Buckeyes off to a tremendous start tin the Class of 2014.

At 6-foot-5 and 190 pounds, Tate brings toughness and competitiveness to the floor. He runs the floor hard and finishes above the rim with power in transition. He is a slasher in the half court and finishes through contact with ease. He rebounds and blocks shots in and out of his area and is capable of defending all three perimeter positions. Tate plays hard and is not afraid to do the dirty work help his team. As his skill develops, his offensive production will increase rapidly.
November, 6, 2012
11/06/12
12:28
PM ET
There is a battle brewing between a pair of Big Ten squads for the services of power forward
Nigel Hayes
(Toledo, Ohio/Whitmer). The 6-foot-7 post recently eliminated Minnesota and Stanford from his list, leaving Wisconsin and Ohio State left in the running.
Hayes is the No. 4-ranked senior player in Ohio and is on the cusp of being a Top 100 talent after enjoying a strong spring and an even better summer on the hardwood. He has continued to make strides this fall and could be in line for a huge senior campaign.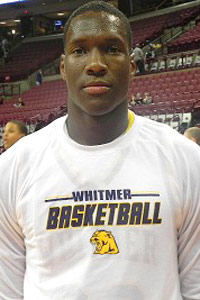 Courtesy Corey Albertson/Cincyprephoops.comFour-star power forward Nigel Hayes, a fringe ESPN 100 prospect, chose Wisconsin over Ohio State.
Hayes is a combo forward who is more of a power forward at this stage of his career. His versatility is what is so attractive to college coaches. Hayes runs the floor well on the break and is a good finisher. He has a solid offensive scoring package that allows him to score inside the paint and from the perimeter. Hayes can post smaller defenders, scoring over his left shoulder or using his quickness to spin off of defenders playing him too tightly. On the perimeter he makes plays from about 20 feet and in.
To continue reading this article you must be an Insider
October, 31, 2012
10/31/12
12:44
PM ET
COLUMBUS, Ohio -- Quick hitters from Ohio State's exhibition win Tuesday night over Walsh at Value City Arena:
For starters:
Thad Matta did plenty of tinkering with the rotation, and he didn't even stick with the same first unit for both halves of the exhibition against Walsh.
But the Buckeyes coach had to send out a starting five, and the group included one mild surprise:
LaQuinton Ross
got the nod over
Sam Thompson
. The sophomore forward was solid on both ends of the floor and finished with 13 points and 5 rebounds in 21 minutes of action, while Thompson was effective as well, with 11 points and 4 assists -- and he wound up with more playing time.
To continue reading this article you must be an Insider
October, 11, 2012
10/11/12
5:52
PM ET
COLUMBUS, Ohio -- Quick-hitters with the Ohio State basketball team, which hosted its media day on Thursday ahead of the first practice of the preseason.
Back on point:
Aaron Craft hadn't taken two weeks off since he was in middle school, and if it had been solely up to him, that streak would still be alive.
[+] Enlarge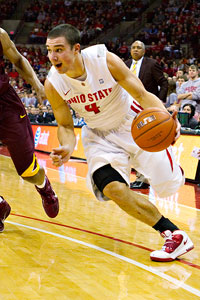 Greg Bartram/US PresswireThe Bucks are hoping a healthier Aaron Craft can deliver more offense this season.
But surgery on his nagging ankle injury in June and the cast that was subsequently slapped on it kept the tireless Ohio State point guard off his feet and forced him to actually take a bit off time to rest his body over the summer. And while Craft recognized the value of that recovery time and admitted he came back rejuvenated, he still doesn't seem eager to take another vacation moving forward.
"I couldn't do anything because I was in a cast, so that was very interesting and challenging for me, watching these guys work out and shoot and play," Craft said. "That was probably the toughest thing. Getting back, it was good for my entire body to take time off. I wouldn't have done that on my own.
"I felt reenergized and ready to go when I got back, and ultimately it was probably the best thing for me."
The relentless junior has never been accused of running low on energy, and a fresher, healthier version of Craft could make life even more difficult for opponents battling the lockdown defender on the offensive end.
The Buckeyes are likely counting on him to provide a bit more scoring when they have the ball as well as they try to replace the production of Jared Sullinger and William Buford, and it certainly won't hurt if Craft doesn't have to spend much time this season limping from the pain that used to shoot through his ankle.
"The rest probably helped him," coach Thad Matta said. "He's a guy that doesn't like to take days off, when he's in here he's going 100 miles an hour. From that perspective, it's probably good.
"I haven't noticed [a change in his approach], what I have noticed is he doesn't trip on his foot and then limp for the next minute. He seems to be perfectly fine."
Old hands:
The Buckeyes aren't exactly loaded with seniors.
But they've got one more of those upperclassmen than they do freshmen with only one of the latter on the roster, which might actually qualify Ohio State as a veteran outfit. And that could make for a much smoother experience when the Buckeyes hit the practice court as a full unit on Friday.
"It's very valuable," junior Deshaun Thomas said. "We all know what coach Matta wants out of us in practice, and we've got one freshmen, so the other guys should already know what he wants and what it takes to win.
"Coach Matta preaches toughness. Once you're out there in a drill and you show him you're doing it right, he'll cut the drill short. Everybody on this team should know what he wants and give it their all. We don't have to help a lot of freshmen pick it up and understand what to do, so everybody should know what's expected tomorrow."
High five:
Matta didn't tip his hand on a starting lineup, preferring instead to let practice play out and then go from there.
But it's no secret how he'll figure out that group when the time comes.
"I told them the other day, I'm going to start the five best defenders," Matta said. "I think from the standpoint of trying to get those guys to understand where I'm coming from, with what we have, I think we'll have great depth this year.
"There's a lot of quality out there, and I'm excited to see these guys compete in four-day increments as we're getting ready to practice."
September, 2, 2012
9/02/12
9:00
AM ET
Welcome to Across The Field, a regular feature on BuckeyeNation where we point you to noteworthy Buckeyes coverage here and elsewhere. Think something should be included? Send it to espnkendrick@gmail.com.
Ohio State 56, Miami 10
BuckeyeNation Week in Review
Football
Basketball
The Gang's All Here
August, 30, 2012
8/30/12
12:40
PM ET
COLUMBUS, Ohio -- There is no easing into the schedule for a team aiming for another appearance in the Final Four.
Ohio State will open the season with a neutral-site game against an opponent that went to the NCAA Tournament as well last year, and taking on Marquette right off the bat sets the tone for a slate featuring plenty of potential matchups of teams headed to the postseason.
The first against the Golden Eagles is set for Nov. 9 in the Carrier Classic in Charleston, S.C., and the dates were also confirmed for showdowns at Duke (Nov. 28), at home in a rematch against Kansas (Dec. 22) and every conference game with the school releasing the full schedule on Thursday morning.
"Our team has been hard at work since our appearance in the Final Four last March," Buckeyes coach Thad Matta said in a release. "I like the mix of veteran and underclassmen on our roster. They will be challenged throughout the year as we prepare for Big Ten competition.
"Our league will be extraordinary once again, and our team will be tested both in our non-conference and conference schedule."
When combined, the action inside and outside the Big Ten will include at least 14 games against 10 teams that went to the NCAA Tournament last season and five more opponents who appeared in the NIT.
The highlights of the schedule:
Nov. 9: Marquette in Charleston, S.C.
Nov. 28: at Duke
Dec. 22: Kansas
Jan. 2: Nebraska (conference opener)
Jan. 8: at Purdue
Jan. 13: Michigan
Jan. 19: at Michigan State
Jan. 29: Wisconsin
Feb. 5: at Michigan
Feb. 10: Indiana
Feb. 17: at Wisconsin
Feb. 24: Michigan State
March 5: at Indiana
July, 24, 2012
7/24/12
12:55
PM ET
Ohio State basketball coach Thad Matta has been busy stockpiling offers in the classes of 2013, 2014 and 2015.
Along with an offer to 2015 shooting guard
Franklin Howard
(Washington D.C./Gonzaga College), the veteran coach dipped into the class of 2014 with an offer to small forward
Jae'Sean Tate
(Pickerington, Ohio/Pickerington Central) and another to 2013 shooting guard
Kendrick Nunn
(Chicago, Ill./Simeon).
Nunn's name should sound familiar as he is the teammate of
Jabari Parker
-- the No. 1 ranked player in the ESPN 100. Nunn is ranked 54th.
To continue reading this article you must be an Insider
July, 20, 2012
7/20/12
5:53
PM ET
July, 18, 2012
7/18/12
1:45
PM ET
Ohio State will soon find out whether it has landed another recruit from the 2013 class.
Wide receiver
Taivon Jacobs
(Forestville, Md./Suitland) told BuckeyeNation he will announce his decision at noon ET Thursday.
To continue reading this article you must be an Insider
July, 11, 2012
7/11/12
7:02
PM ET
At his school,
Aaron Craft
had his share of company.
Overall, the Ohio State athletic department put 58 student-athletes on the Big Ten Distinguished Scholars list.
But on his team, Craft was all by himself. And that would have been the case regardless of whether the junior was wearing a Buckeyes uniform or that of any other team in the conference.
On Wednesday the league announced all the athletes that fit the criteria for its elite honor roll, which requires a 3.7 grade point average for letterwinners in at least their second year at the school. Craft was the only men's basketball player in the Big Ten to make the cut -- adding one more impressive entry to his growing resume with the program.
Other notable numbers for the Buckeyes:
Five student-athletes posted perfect 4.0 GPAs -- Nina Passen (field hockey), Michael Newburger (men's gymnastics), Melissa Rennie (softball), Katie Simonton (softball), Chelsea Aton (synchronized swimming)
Women's swimming and diving had eight representatives, tops in the athletic department
Women's soccer and fencing each had five players honored by the league
To continue reading this article you must be an Insider
July, 2, 2012
7/02/12
4:30
PM ET
The toughness has never been in question.
The work ethic is becoming a thing of legend.
But in a way, Aaron Craft had to dial both of those back this summer to perhaps take another step forward heading into his junior season with Ohio State. It also apparently took some persuading for the Buckeyes point guard to finally agree to a recent surgery to remove a bone chip in his left ankle, according to the Columbus Dispatch.
"His attitude was, 'I want to get better this summer,' " Craft's father, John, told the paper. "That's admirable, but I told him, 'You've got to look at the big picture. You owe it to the team to be ready for them in August.' "
The procedure should allow Craft to be just fine by then, and with the issue taken care of in his ankle, he could be ready to take things to another level without having to worry about the stinging pain that often produced a limp during games last season.
According to the Dispatch, Craft is scheduled to have his cast removed Tuesday and will begin a rehabilitation process that could have him ready to resume working out at full speed in three or four weeks.
June, 20, 2012
6/20/12
4:27
PM ET
There are eight days until the NBA draft, and former Ohio State All-American Jared Sullinger has become one of the bigger stories surrounding it, with
reports that teams are queasy
about his back. He was presumed to be a lottery pick before this. How far will he fall? Video from ESPN.com senior writer Andy Katz.
Did Ohio State Cheap Out On Championship Rings?
BIG TEN SCOREBOARD
Thursday, 9/3
Friday, 9/4
Saturday, 9/5
Sunday, 9/6
Monday, 9/7