OSU Buckeyes:

Nick Vannett
May, 14, 2013
May 14
9:45
AM ET
The day could come soon when Urban Meyer and Thad Matta will compete for the same recruit.
Such is the nature of the "new" tight end in football.
To continue reading this article you must be an Insider
April, 24, 2013
Apr 24
12:30
PM ET
ESPN 150 tight end
Jeb Blazevich
(Charlotte, NC/Charlotte Christian) went flying off the board to Georgia on Tuesday.
Ian Bunting
(Hinsdale, Ill./Hinsdale Central) followed suit to Michigan, and
Nic Weishar
(Chicago/Marist) took his talents to Notre Dame.
With all three committing -- and holding scholarship offers from Ohio State -- what does it all mean for the Buckeyes?
To continue reading this article you must be an Insider
April, 22, 2013
Apr 22
10:30
AM ET
COLUMBUS, Ohio -- With spring practice in the books and Ohio State now heading into its offseason conditioning program, BuckeyeNation is looking back at the players who boosted their stock with the program the most during those 15 invaluable workouts. The offense will go first this week, followed by a handful of defenders who will be in line for heavy workloads this fall as well.
[+] Enlarge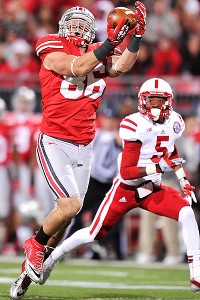 Jamie Sabau/Getty ImagesSix-foot-6, 250-pound tight end Jeff Heuerman looks to be a major factor in the Buckeyes offense in 2013.
No. 5: Jeff Heuerman
Who: The junior tight end was already a relatively known quantity for the Buckeyes after providing some rugged blocking and some occasional assistance as a receiving threat last season. But Heuerman had to cede some of the responsibility to Jake Stoneburner in terms of the passing attack. But Stoneburner's departure, Heuerman's continued development and added comfort in the spread system has the 6-foot-6, 250-pound tight end in position to be a major factor for the Buckeyes.
Spring progress: Given his particular role a year ago and his huge frame, Heuerman might not have had much to prove as a blocker this spring. But coach Urban Meyer and offensive coordinator Tom Herman love to create mismatches with their tight ends and use them in a variety of ways to keep a defense off balance. Showing more familiarity with the playbook went a long way for Heuerman and could help keep him on the field for almost any scenario -- from short-yardage to third-and-long.
Jockeying for position: Heuerman already owned a starting job at tight end, a spot he shared last year with Nick Vannett. The sophomore was impressive in his own right during camp, and he'll likely stay bracketed with Heuerman as the official first-teamers and keep giving Meyer a couple reasons to feel good about the amount of flexibility he'll have on offense.
He said it: "I'm just excited about being more of an every-down tight end, rather than last year where third-and-long, third-and-7, Jake's in there running routes. That's the big thing they've been working on this spring, being the every-down tight end. [Position coach Tim] Hinton and coach Meyer, coach Herman, they've been doing great getting me ready for that, and I'm excited for that."
Closing number: Heuerman generated most of his excitement before the spring game, but he still wrapped up camp by tacking on a catch for 6 yards in the exhibition win for his Scarlet team. He finished last season with 8 catches for 94 yards and a touchdown.
April, 13, 2013
Apr 13
6:07
PM ET
CINCINNATI -- The work in the backfield was a little bit easier since their targets couldn't actually be taken to the ground, lowering the degree of difficulty for defensive linemen hunting for a sack.
Adolphus Washington
and
Noah Spence
still had to do the hard part and get there first, but that didn't appear to be too taxing for the talented sophomores, either.
[+] Enlarge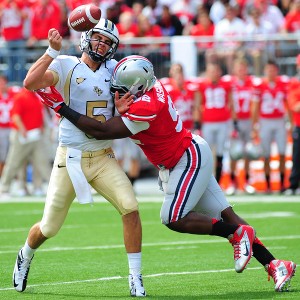 David Dermer/Diamond Images/Getty ImagesAdolphus Washington, shown making a hit against UCF last season, had four sacks in Ohio State's spring game.
Over and over, the heirs to the starting bookend spots on the line took turns abusing blockers and forcing officials to blow early whistles to save quarterbacks from potential punishment. It made it difficult for anybody to track exactly how many sacks they should be credited for in Ohio State's spring finale on Saturday at Paul Brown Stadium.
"38 or something?" Buckeyes coach Urban Meyer joked. "I'm very pleased with Noah Spence and Adolphus Washington."
That might have been something of an understatement, with Washington piling up four sacks and Spence tacking on three more, consistently wreaking havoc and showing the kind of potential that has excited the Buckeyes throughout camp.
Heading into the offseason, the emergence of the tandem up front has eased some concerns for a defense that is replacing six starters in the front seven -- including the entire group of linemen.
There might still be some issues with depth that will need to be answered when practice resumes in August, but there isn't any question at this point who will be sliding in to replace departed seniors
John Simon
and
Nathan Williams
on the edge.
"I just went out there and played football," Washington said. "I did what my coaches told me to do, and it just happened that I got four sacks."
Moving forward:
The Buckeyes aren't caught up yet. But "The Chase" is on, and the margin is shrinking.
Meyer has stressed the need for Ohio State to find a way to make up for the 15 bowl practices missed because of the NCAA sanctions that barred the Buckeyes from the postseason last year, which led to the development of the "Chase" area in the practice facility where players can work out on their own doing football-specific drills. At this point, the Buckeyes have apparently scratched off seven of the dates they missed.
April, 11, 2013
Apr 11
9:30
AM ET
COLUMBUS, Ohio --
Jeff Heuerman
has jokes.
Such as, where do the tight ends rank among the numerous weapons in Ohio State's dangerous spread offense, led by the reigning Big Ten Player of the Year?
"First," a smiling Heuerman said. "Ahead of Braxton [Miller]."
Heuerman has pranks.
His position coach spent a panicked afternoon worrying about a potential arrest after a story was concocted with a pair of staff members about a late-night incident for Heuerman, who then strung Tim Hinton along straightfaced for an extra 10 minutes before pointing out it was April Fool's Day.
Heuerman also has size, strength and the ability to handle a wide variety of assignments on the field.
[+] Enlarge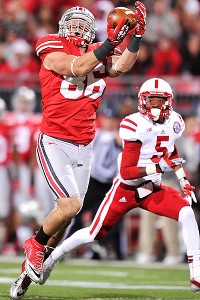 Jamie Sabau/Getty ImagesJeff Heuerman is a known commodity as a blocker, but coaches hope to expand his role as a receiver.
And it's that blend of a fun-loving attitude and mismatch-producing athleticism that has had some Buckeyes comparing the junior to the tight end who made that combination famous in the NFL.
So, is Heuerman really the second coming of Rob Gronkowski?
"Oh, geez," Heuerman said. "That's not hard to live up to or anything."
That standard might be a bit tough to match, and Heuerman has his roommate and former Ohio State tight end-turned-right tackle
Reid Fragel
to thank for publicly comparing the two and dialing up the hype heading into spring practice. But the Buckeyes do have greater expectations on offense heading into their second season in the spread, and the versatility Heuerman provides is among the biggest reasons why.
At 6-foot-6, 250 pounds, Heuerman was seemingly born to block in the running game and has proven he can handle that job in the Big Ten. But he also has strong hands and perhaps underrated speed as a target in the passing game. The coaches have kept an eye in his receiving skills in the spring, and that could lead to a larger role in the fall coming off a season that included just eight catches for 94 yards and a touchdown.
That doesn't necessarily mean his numbers will be jumping to Gronkowski levels, particularly since the Buckeyes have another valuable option at the same position and with similar skills in
Nick Vannett
, not to mention Miller and one of the most effective rushing attacks in the country. But Heuerman does appear to fit the blueprint Gronkowski has helped provide and Ohio State wants to use with its tight ends -- using a multi-talented athlete who never has to leave the field regardless of the situation.
As long as they stay out of trouble, real or imagined.
"He's a little bit of a jokester," Hinton said. "But he almost died [that day]. Coach [Urban] Meyer almost had to kick him off the team because I was ready to kill him.
"Needless to say, he didn't play at all in the scrimmage."
Hinton got even a bit by returning fire with his own joke about playing time, but the reality is Heuerman and Vannett will be on the field plenty thanks to the options they provide for the rushing and passing games.
Heuerman has already been used plenty for the former, but after taking a bit of a backseat to
Jake Stoneburner
last season as a receiving threat, it's the latter that should allow him to make a more noticeable impact this fall. And while his one-liners, ability to pull off a prank and his position might have started the conversation, it's the production that will truly determine whether he's following in those famous footsteps.
"Gronkowski, he's a great, great player," Heuerman said. "I don't really know all his things off the field, but I hear he likes to have fun."
Heuerman already has that part nailed.
April, 2, 2013
Apr 2
8:23
PM ET
COLUMBUS, Ohio -- The stakes are high, even if somebody doesn't have pads on during the scrimmage.
In case the physical, hard-hitting action didn't clarify how seriously Ohio State takes its live work even during spring practice, the group that had to line up for sprints after coming up on the losing end left little doubt.
[+] Enlarge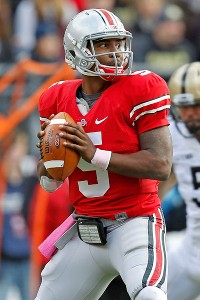 Kirk Irwin/Getty ImagesBraxton Miller showed a fiery side in practice Tuesday that wasn't seen much last season.
Anybody involved with the defensive effort closed the practice on Tuesday afternoon running from one sideline to the other as punishment after
Kenny Guiton
ended a two-minute drill with a touchdown pass to
Nick Vannett
-- including the coaching staff and hobbling coordinator Luke Fickell.
"Academic people, coaches, everybody," Buckeyes coach Urban Meyer said. "It was good to see some competition.
"I'm not sure we have any answers yet, other than Kenny did a nice job leading that second group on a nice touchdown drive. Good day."
There was plenty for Meyer to like even before that final play, a deft pass from Guiton to the right-corner of the end zone where Vannett fought through a hold to haul in the score.
Guiton continued to provide reliability as the backup option at quarterback. Both lines had encouraging performances and largely played to a draw. A handful of receivers made eye-catching grabs, and the defense had success at times with a more blitz-happy approach than it showed a year ago.
And among those performances, these four also stood out as the Buckeyes start heading into the final workouts before the spring game on April 13.
February, 15, 2013
Feb 15
9:00
AM ET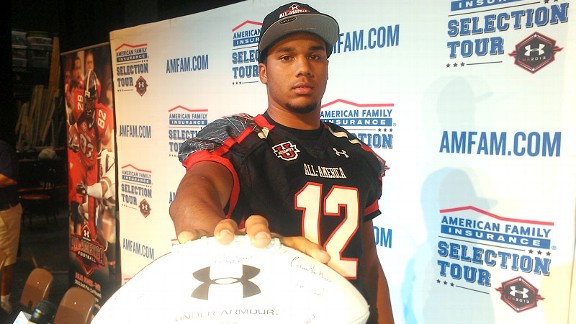 Erik McKinney/ESPN.comESPN 150 tight end Marcus Baugh hopes to battle for playing time in 2013.
With national signing day in the books, the next big date on the Ohio State calendar as it continues working toward an encore for an undefeated season in 2013 is spring practice. Before those workouts begin, BuckeyeNation will take a look at each position to see where the roster is at -- and where it's going.
TIGHT ENDS
Who's back: The Buckeyes had enough confidence in two young guys to make one slight adjustment in moving Jake Stoneburner from tight end to wide receiver. That move paid off so well, the coaching staff made an even bigger change thanks to the development and contributions of sophomore Jeff Heuerman and freshman Nick Vannett, handing them additional responsibilities formerly held by fullback Zach Boren when the senior was shifted over to linebacker in the middle of the year. The young tight ends proved to be stout blockers and were reliable targets in the passing game in complementary roles, and with two years of eligibility left for Heuerman and three for Vannett, that position is in great shape moving forward with the spread offense.
New face: After a year on the sideline, former three-star recruit Blake Thomas doesn't qualify as new to the program, but he's looking at perhaps his first real shot to try to crack the rotation this spring. The Buckeyes landed a signature from ESPN 150 tight end Marcus Baugh on signing day, but he won't be on the field with the team until fall.
December, 31, 2012
12/31/12
9:00
AM ET
Heading into the new year and offseason workouts, BuckeyeNation will look at some holes left by the departing Ohio State veterans and potential candidates to fill them.
WIDE RECEIVER
[+] Enlarge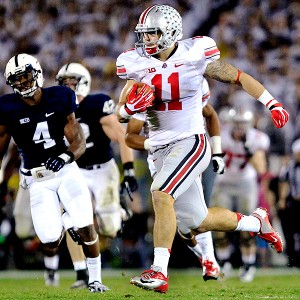 AP Photo/Gene J. PuskarJake Stoneburner picked up 27 percent of his yardage on this 72-yard touchdown reception in the fourth quarter at Penn State.
Who: The transformation into the ultimate mismatch didn't quite materialize after Jake Stoneburner moved from tight end to wide receiver, and he wasn't able to equal his dynamic red-zone production from his junior season during his senior campaign with Ohio State. But while Stoneburner went through some rough patches and perhaps didn't give the Buckeyes everything they might have hoped for after moving him around the formation, he was still dangerous at times as a target with 16 catches and four touchdowns and leaves a 6-foot-5 hole to fill on the perimeter. And even when his own statistics weren't all that impressive, Stoneburner still found ways to make an impact by throwing around his 245-pound frame and improving as a run-blocker to help the Buckeyes explode on the ground.
By the numbers: Not exactly known for his speed, Stoneburner still tied for the longest reception of the season after darting down the middle of the field for a 72-yard touchdown that effectively sealed a road victory at Penn State in October. That huge strike offered a reminder of the big-play ability Stoneburner brought to the position, which prompted the move in the first place. It was maybe also somewhat bittersweet for the Buckeyes, who might have liked to see it more often -- that dash against the Nittany Lions represented 27 percent of his yardage for the season.
Job description: The Buckeyes need somebody capable of stressing coverage in the middle of the field, keeping defenses honest against both the threat of the run and allowing Devin Smith and Corey "Philly" Brown room to operate on the outside. Ohio State had few problems putting up points and obviously finished with a perfect record, but the offense could potentially become even more prolific if it can tap into some space across the middle of the field with a big, fearless target who can offer a reliable set of hands for quarterback Braxton Miller and the ability after that to do something extra with the football in his grasp.
Top candidates: Given his responsibilities previously when exclusively at tight end or the diverse package of duties he had as a senior, it might take a combination of guys to fill Stoneburner's void. At tight end, the Buckeyes already know what they have in Nick Vannett and Jeff Heuerman and have plenty to feel good about there. Chris Fields flashed in a limited role as Stoneburner's official backup at the "H" wide receiver, but Michael Thomas could be an option to watch after breaking into the rotation more regularly at the end of his freshman season. The rising sophomore has a good relationship with Miller and the kind of size at 6-foot-2 that combines with impressive athleticism to make for a difficult defensive assignment, which gives him a shot at becoming the No. 3 option statistically.
One to watch: Evan Spencer won't exactly be emerging from nowhere after finishing fourth on the team with 12 catches during the perfect season, particularly after finishing strong down the stretch with the majority of his production coming in the final five games. That late burst offered a glimpse at the kind of weapon Spencer could be in the passing game, and while he obviously doesn't have the same body type as Stoneburner, he should still be able at 6-foot-2 and 205 pounds to chip in some blocks for the run game and win his share of matchups after another offseason to build his game.
November, 30, 2012
11/30/12
9:30
AM ET
COLUMBUS, Ohio -- A position-by-position look at a perfect season for Ohio State, continuing today by rewinding to look at the physical blockers who doubled as extra weapons in the passing game for the high-powered spread attack.
TIGHT ENDS
Most valuable player: The conversion of the projected starter at the position left more work for the two guys left over at tight end, and both of them were able to step up and make a mark. The receiving statistics are essentially a dead heat, and each did some notable work to help the rushing attack get rolling -- but the slight edge goes to Jeff Heuerman over Nick Vannett. Heuerman drew some of the highest praise of the season when coach Urban Meyer identified him as one of the best blockers he's ever had at tight end, and while Vannett's emergence was just as critical, it's the sophomore who gets the nod this season.
By the numbers: Throwing to the big targets wasn't exactly a staple of the passing game, though maybe it could become a more regular feature given the success the Buckeyes had with either tight end. Or perhaps it was the element of surprise that made them so effective. Either way, the 17 combined catches for Vannett and Heuerman averaged nearly 13 yards per completion -- and both flashed the ability to make something big happen down the field by posting plays of 32 yards or longer.
To continue reading this article you must be an Insider
October, 31, 2012
10/31/12
9:00
AM ET
COLUMBUS, Ohio -- There have been no breathers, no chances to go back to basics or work on fundamentals they way they could in training camp. Ohio State has rolled right through nine games in as many weeks, and it still won't have a bye until after it takes on Illinois on Saturday at home.
Could that be a factor in not allowing as many freshmen to have an impact this season as might have been expected originally? That certainly seems like a possibility, and a run of injuries to younger players obviously hasn't helped the Buckeyes as they try to power through the development phase the same way they have nine opponents.
A chance to regroup is coming up quickly, but a handful of young guys continued to flash their potential anyway in the impressive 35-23 win over Penn State. And this week, the rules were bent just a bit to accommodate a redshirt freshman who has been invaluable on offense.
Adolphus Washington
Position: Defensive lineman
Stats sheet: 3 tackles
To continue reading this article you must be an Insider
August, 20, 2012
8/20/12
8:26
PM ET
COLUMBUS, Ohio -- The true answer won't come for more than a month.
The data Urban Meyer relies on year after year to gauge how successful a training camp was isn't available until four games are in the books, so the grades are still incomplete from the Ohio State coach for now.
But he wanted physical practices, and Meyer seemed pleased with the intensity the Buckeyes delivered. He also wanted a team that survived that style of play with its health intact, and after knocking on wood, Meyer appears to have got what he wanted there as well.
"Unbelievable," Meyer said after a workout on Monday evening. "I mean, the way we practiced and I don't think we've lost a guy, have we?"
The only potential losses from the lineup for the opener on Sept. 1 already existed before camp, with
Jordan Hall
's foot injury and the surgically repaired knee of defensive end
Nathan Williams
currently looming as the only possible absences of significance.
The Buckeyes have dealt with a few minor health issues through camp, with contributors such as tight end
Jeff Heuerman
missing time with a tight hamstring and starting linebacker
Ryan Shazier
briefly on the shelf with an undisclosed ailment as well.
But aside from season-ending surgery for true freshman offensive lineman Joey O'Conner, a knee scope for reserve safety
Zach Domicone
and a hamstring injury for freshman wide receiver
Frank Epitropoulos
, the Buckeyes appear to have a full deck heading into the season.
And four weeks after it begins, Meyer will know if he should have pushed the Buckeyes even harder or dialed it back.
"The only thing I worry about is the health in the heat, you know, I'm scared to death of the heat," Meyer said. "We've been fortunate. We try to push them as hard as we possibly can, and how you evaluate that is just over the last 10 years how we do in the first four games. We've gone, I think we're 39-1 or something like that in our first four games and we have really hard camps.
"Sometimes you play teams you're better than, and sometimes you don't. That's how I try to evaluate every year if we're going too hard, but we're fine."
PASSING GRADE:
Walking off the field, Meyer admitted he wasn't really aware of what the offense had just done.
But once he popped in the film of Saturday's closed scrimmage, there was clear evidence of the improvement he's been emphasizing in the Ohio State passing game. And while statistics have not been released publicly, Meyer tallied one up for
Braxton Miller
that surely validated his progress leading the attack at quarterback.
"He threw for 350 yards in the scrimmage, so he had a good day," Meyer said. "Really good day. I didn't realize it until after the scrimmage.
"The area where we're much improved is throwing and catching, much improved. We couldn't have gone much the other way, but they are much improved. The receivers have stepped up."
They were clearly making the most of a lot of balls thrown their way from Miller in a session that Meyer indicated was largely the first-team offense against the second-team defense.
Corey "Philly" Brown was likely the biggest beneficiary after being designated as Ohio State's "No. 1 receiver right now" by Meyer, with
Devin Smith
apparently not far behind. But
Jake Stoneburner
,
Michael Thomas
and
Nick Vannett
also drew praise for their recent work by Meyer, who hasn't been shy in the past about criticizing his targets.
"I feel right now the offense will be fairly competent," Meyer said. "I can't say great because I don't see that yet. But I see competency, I see the ball being snapped correctly, I see an offensive line protecting and doing the right things and the skill [players] are starting to improve.
"It didn't look that way for the first two weeks in the spring."
UP FOR GRABS:
The Buckeyes didn't leave the scrimmage with a resolution at right tackle.
Their workout on Monday certainly didn't provide an answer either.
The other four spots on the offensive line are seemingly locked in for the opener against Miami (Ohio), but converted tight end
Reid Fragel
and freshman
Taylor Decker
are still jockeying for the fifth one -- and it appears neither did anything to win it during the latest practice session.
"We can't name a starter right now," Meyer said. "... Right tackle has got to be a little better. They're trying, but one at times looks like a freshman because he is and one looks like a guy that just moved from tight end.
"It's fresh in my mind because they got slapped around a little bit today."
KLEIN TRIAL PUSHED BACK:
Former Ohio State linebacker Storm Klein's trial date, originally scheduled for Monday, has been pushed back to Sept. 24, according to Franklin County Municipal Court documents.
The senior was dismissed from the team in July after being charged with domestic violence and assault for an alleged incident with the mother of his child.
August, 13, 2012
8/13/12
5:49
PM ET
Checking in on some notable developments during training camp for Ohio State, which hit its 10th practice on Monday with a two-a-day session.
ON THE MOVE:
No matter what position he is listed at when the season opens,
Jake Stoneburner
was going to see plenty of passes.
The senior also figured to be lining up all over the field as Buckeyes coach Urban Meyer tries to generate mismatches in personnel.
But Meyer's move to officially designate Stoneburner a receiver could be meaningful for a handful of reasons as Ohio State tinkers with the spread offense and the weapons on hand.
First, it shows continued confidence in Stoneburner that he's got the physical tools to play all over the field and handle all the different responsibilities that come with playing on the perimeter. In the open workouts last week, Stoneburner hooked up with
Braxton Miller
twice for big gains deep down the field along with a knack for finding open space when his quarterback scrambled.
The receiving corps has earned praise for its progress since camp opened, with
Devin Smith
,
Corey "Philly" Brown
and
Evan Spencer
drawing regular mention from Meyer so far. But that has been a position of emphasis dating back to spring for Meyer, and if the depth perhaps still wasn't where the Buckeyes wanted it, Stoneburner gave them an easy fix for that.
But perhaps most important, the swap suggests Meyer has enough confidence in
Jeff Heuerman
and
Nick Vannett
to carry the load at tight end this fall. Vannett, in particular, hadn't done much to impress the coaching staff during spring and was rarely mentioned as a contributor, but that certainly appears to have changed over the summer and during the early part of camp for the redshirt freshman.
FRESH FACES:
Not all the black stripes have been removed on the defensive line yet, but no matter what's on the headgear, the freshmen look like they belong.
Even on a unit that could be among the most elite in the nation.
During the two open workouts,
Noah Spence
,
Adolphus Washington
and
Se'Von Pittman
all flashed their athleticism and appeared physically ready for life in the Big Ten -- even before putting on pads.
The problem for the coaching staff could be finding playing time for so many guys up front, because there are talented veterans at every spot that could stand in the way of the newcomers this fall. That's certainly an issue the Buckeyes don't mind having, of course, but it will be interesting to see how the rotation pans out as camp progresses.
Spence's quickness makes him a handful on the edge, though he's got guys like
John Simon
,
Michael Bennett
and
Steve Miller
to contend with now and
Nathan Williams
at some point soon.
Washington has bulked up to 288 pounds and moved inside, but even there the Buckeyes aren't short of older options in
Johnathan Hankins
,
Garrett Goebel
and
Joel Hale
.
The new kids are going to get some live action, there doesn't appear to be much doubt about that. But the Buckeyes probably won't have to rush it.
STRONG HYDE:
The challenge couldn't have been more clear from Meyer.
With or without
Jordan Hall
at running back, a turning point for
Carlos Hyde
was coming in the Ohio State backfield.
Early in camp, it appears the junior is heading down the right path.
The true test is coming when the calendar turns and the games start counting, but Hyde's name was the first out of Meyer's mouth as a standout performer in camp. And with the Buckeyes in need of somebody to handle the north-south workload in the rushing game, Hyde could be carving out a role in the offense that wouldn't be affected by the return of Hall in the middle of September.
August, 12, 2012
8/12/12
4:59
PM ET
Notes and quotes from Ohio State coach Urban Meyer's press conference on Sunday afternoon during the program's annual Media Day.
STONE TURNED:
The depth at tight end might not qualify as a surplus, but it certainly allowed for some flexibility.
[+] Enlarge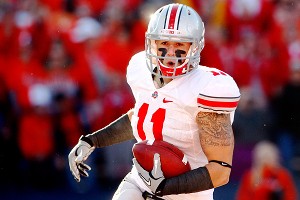 Jerry Lai/US PRESSWIRE"You don't want to go out there and look sloppy and lose a bunch of games and have a lost season," Ohio State senior Jake Stoneburner said.
And with perhaps a more pressing need at wide receiver, Ohio State is planning to lean on the options in reserve and sending its projected started at tight end elsewhere to lend a set of hands.
The Buckeyes had hinted at a different role for senior
Jake Stoneburner
during the first week of camp as he lined up all over the field and turned in some big plays deep down the field. And while he'll still line up at times in his more familiar position, Stoneburner is officially listed at a new one.
"He meets with the receivers," Meyer said. "He'll practice (tight end) at times, because we'll use him as a surface tight end, but we have two very good tight ends in
[Jeff] Heuerman
and
Nick Vannett
, so he's going to be our [Aaron] Hernandez-type guy, the guy that can do some things."