OSU Buckeyes:

mike vrabel
May, 23, 2013
May 23
10:25
AM ET
With spring in the books for more than a month, the long march through the offseason and back to football is only beginning. But BuckeyeNation is going to keep doing its part to speed up the journey -- or at least make it more interesting. This week, that means a bunch of countdown lists, continuing today with a look at the most valuable Buckeyes coming out of spring practice and how it compares to the last breakdown of the 2012 season.
Ohio State 10: Post-spring power rankings, 6-10
[+] Enlarge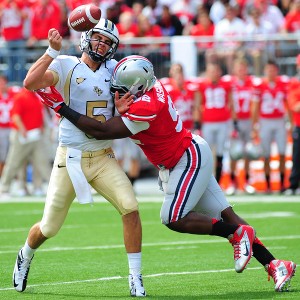 David Dermer/Diamond Images/Getty ImagesBig things are expected of defensive end Adolphus Washington.
No. 6: DE Adolphus Washington
Last ranking: None
Last No. 6: DE John Simon
Spring movement: The sophomore isn't yet a proven commodity on a game-by-basis in the Big Ten, but he's stepping into big shoes and looks more than capable of putting his own footprints all over the league in his first season as a starter. Washington closed his camp with a flourish thanks to four sacks in the exhibition game in Cincinnati, but it was actually his sack and forced fumble in the win over Michigan last fall that really started to build the buzz for the physical, nimble big man on the edge. The Buckeyes are counting on him to deliver on some expectations that are pretty high heading into summer.
Key stat: Washington was largely limited to a supporting role during his first year on campus, but he made the most of his chances by chipping in three sacks off the bench -- turning them into a combined loss of 27 yards for opponents.
No. 7: WR Philly Brown
Last ranking: No. 5
Last No. 7: FB/LB Zach Boren
Spring movement: The Buckeyes have plenty of new faces coming in to lend a hand in the passing game, but Brown will again be the guy Braxton Miller looks for first after the two hooked up 60 times last fall. The big difference for Brown as a senior, though, figures to be how much more he can do with the football once he gets it. Urban Meyer gave the receiver a hard time early last season for his inability to make a defender miss, but that steadily improved throughout the season and doesn't look like it will be a factor again moving forward based on his agility and decisive cuts in camp.
Key stat: He definitely kept the chains moving, but among the Buckeyes who finished with double-digit receptions last fall, Brown ranked last in that group of four in terms of yards per catch at 11.1 yards. As that total goes up, so will the point total for Ohio State.
No. 8: DE Noah Spence
Last ranking: None
Last No. 8: DT Johnathan Hankins
Spring movement: The Buckeyes only had a glimpse at what the freakishly fast Spence could do as a freshman, but that was enough for them to feel good about plugging him in as a starter on the first day of spring camp. By the end of it, the defensive staff had even less reason to worry after the sophomore flashed his athleticism with three sacks in the spring game -- a performance that defensive line coach Mike Vrabel indicated wasn't even his best during camp. Ohio State appears locked and loaded on both edges, and it needs both Spence and Washington to live up to the hype for a completely rebuilt defensive line.
Key stat: The Buckeyes had no shortage of guys contribute at least one sack, but among the linemen, Washington actually finished second in that group with just three quarterback takedowns -- well behind Simon's nine. Spence offered up one as a freshman, but that number should improve dramatically and help the Buckeyes find a tandem capable of balancing the pass rush on both sides.
No. 9: FS Christian Bryant
Last ranking: No. 9
Spring movement: The experience on defense is stockpiled in the secondary, and no voice figures to carry as easily to the front as that of the senior safety. Bryant has made plenty of noise in the past with his vicious hits and a couple notable penalty flags, but there were few players more steady from the start of the undefeated season to the end of it as the ball hawk in the back end. The challenge for Bryant as he takes the next step is turning a few more of his passes defended into interceptions, and off the field he's embracing the fact that the pressure to mold a young defense is partially falling on his shoulders.
Key stat: Bryant did his part to create some turnovers with two forced fumbles, a recovery and an interception. But it's the last number where the Buckeyes see the most room for improvement. He broke up 12 passes in 2012 but only kept his hands on one.
No. 10: DT Michael Bennett
Last ranking: None
Last No. 10: CB Travis Howard
Spring movement: Bennett won't be approaching his position on the interior the same way his predecessor did, for obvious reasons. But what the junior might lack in size compared to big Johnathan Hankins, he can make up for with technique and speed on the interior. The Buckeyes aren't expecting that change in style to be an issue, and after Bennett was able to stay healthy throughout the spring, that potential doubt about him might be erased as well.
Key stat: A nagging groin injury limited Bennett to just eight games, and even when he was on the field, his workload was lighter than expected for somebody who entered the year as a potential starter. The Buckeyes will need a full season from Bennett, and definitely could use more than the 11 tackles he contributed as a sophomore.
May, 16, 2013
May 16
9:00
AM ET
COLUMBUS, Ohio -- There wasn't much question about talent.
Ohio State perhaps wasn't even too concerned about finding
Michael Bennett
a position.
The Buckeyes didn't really need much evaluation of his technique, didn't have to figure out if the junior understood his assignments or see how well he interacted with teammates as a potential leader for a rebuilt defensive line.
All they needed to see was Bennett healthy throughout the spring, ready to provide the type of production that was expected of him a year ago before nagging injuries largely robbed him of the chance in what amounted to a lost season.
"That was not what I wanted," Bennett said during spring practice. "But, I mean, you can't dwell on the negative things that happened to you. You've got to keep trying to push forward and just weather the storm."
The Buckeyes survived the rough patch just fine a year ago, when the versatile Bennett wasn't available. Even when he returned from a groin issue that he never appeared to truly shake, they kept chugging along to a perfect record thanks to the steady group of veterans on hand.
Bennett was supposed to be an integral part of the unit a year ago, bringing enough size at 6-foot-3, 285 pounds to push for playing time on the inside while adding the kind of athleticism needed to rush the passer on the edge. He left spring practice a year ago technically listed as a backup to defensive tackle Johnathan Hankins, but the praise for his skills came from the very top of the program, with Urban Meyer making it clear that Bennett was one of the "four best" linemen heading into the offseason.
Had Bennett stayed healthy and remained on that path, the Buckeyes might not be looking at replacing all four starters. Had Bennett not struggled to get back on the practice field or return to full strength, his numbers surely would have looked a bit different than the 11 tackles, one sack, one forced fumble and one recovery that he recorded in eight games.
But Bennett is the first to admit there's nothing he can do to change that now. And after 15 complete workouts, there's also even less reason for the Buckeyes to dwell on it.
"Michael had a good spring," Ohio State defensive line coach Mike Vrabel said. "It was consistent, he was there every day, he didn't miss any time with bumps and bruises, which is something that he's done in the past. He hadn't been able to string a whole bunch of practices together, Michael did that and he was a leader for us. He was a physical presence for us inside, his understanding was very high with what he was being asked to do.
"I think Michael Bennett -- by being out there and being consistent, his message and his toughness and his play -- helps with leadership. To me, leadership is about being consistent in your message and demanding it from other players. But first and foremost, you have to do it yourself, and he did."
The next step will be doing it throughout the grind of a season, and the task doesn't get any easier when Bennett's new position is taken into account.
The Buckeyes are now more settled on the edge thanks to rising sophomores
Noah Spence
and
Adolphus Washington
, leaving little need for Bennett to prove he can be as effective outside as inside. But there's an enormous hole to fill at three-technique thanks to Hankins' decision to skip his senior season and turn pro, and if nothing else, having one spot to consistently line up at will make it easier to make sure Bennett is on the field and back in the rotation.
"We need Michael Bennett, we do," Vrabel said. "Michael Bennett needs some confidence in himself, and he's gaining it. Michael has also got to stay healthy.
"He understands he's got to stay healthy, he's got to take care of his body. It's not easy in there, but we expect him to do that."
Bennett met that standard throughout spring. The Buckeyes could certainly use a repeat in the fall.
May, 3, 2013
May 3
11:00
AM ET
With spring practice in the books and Ohio State heading into its offseason conditioning program, BuckeyeNation is looking at the players who boosted their stock with the program during spring workouts. Last week it was the offense, and now we'll look at a handful of defenders who will be in line for heavy workloads this fall.
No. 1: Adolphus Washington
Who: Early in camp, the practice-field highlights of fellow sophomore defensive end Noah Spence overshadowed Washington. Even midway through camp, Buckeyes coach Urban Meyer wasn't quite seeing the consistent dominance he was hoping for from a well-built pass-rusher with so much potential. But down the stretch Washington consistently put everything together, stamping himself as a potential worthy heir to John Simon and a developing force with whom the Big Ten will have to contend for at least the next season. With his strength and a frame that tips the scales at nearly 300 pounds, Washington already has seen time on both the inside and the outside of the line. The sack and forced fumble from the edge last year against Michigan provided some evidence that position suits him best, though, and with Washington figuring out how to play with that urgency more regularly, he's clearly got some momentum at that spot moving forward.
Spring progress: Washington essentially showed up on campus last year physically ready for the game at this level, and he's only going to get stronger as he spends more time in Ohio State's rigorous offseason conditioning program. So that's not an area that will force position coach Mike Vrabel to worry much. Instead he can emphasize fine-tuning technical issues with Washington and motivating him to tap further into his vast potential. The Buckeyes might not have seen instant results, but by the 15th and final workout of camp there might not have been another player on the roster who had done more to win over the coaching staff.
Jockeying for position: With speed that is almost frightening given his stature, Washington is more than capable of getting to the quarterback off the edge while providing plenty of support against the run, thanks to his 292 pounds. That package will continue to give the Buckeyes flexibility, as he can easily transition from tackle to end, and vice versa. At this point, Washington appears best suited to playing outside, particularly with Michael Bennett, Joel Hale, Chris Carter and Tommy Schutt available to fill out the rotation on the interior. But depending on the situation and the formation, Washington's set of skills could be put to use in a variety of ways.
He said it: "Adolphus Washington has really raised his level of play, he's a legitimate player, he's a starter at Ohio State. You saw him today just have his way with our offensive line at times, and he could be a very good player." -- Meyer, after the spring game
Closing number: The sacks were easier to come by with quarterback Braxton Miller in a black, non-contact jersey, and his offensive line was also missing a couple starters. But regardless of the degree of difficulty or who was blocking, racking up four sacks in the spring game while making it look routine to get in the backfield offered some public evidence of how destructive Washington could become for the Buckeyes -- validating Meyer's claim a few days before the exhibition that the sophomore's stock was worth buying.
March, 22, 2013
Mar 22
11:00
AM ET
Mike Vrabel enters only his third season in coaching following a 14-year NFL playing career, but the Ohio State assistant might never again face a challenge like the one that sits before him.
It's rare when a defensive line coach steps on the practice field and doesn't see a single starter from the previous season. How rare? According to Ohio State's athletics communications staff, the Buckeyes haven't had a complete overhaul of their starting defensive line since the 1985 season, when all three top spots had to be filled. Although Ohio State ended up starting four new linemen in 1998, it had a returning starter from 1997 (end Matt LaVrar) on the roster.
All four starters from the 2012 team -- ends
John Simon
and
Nathan Williams
, and tackles
Johnathan Hankins
and
Garrett Goebel
-- have moved on. The effort to replace them is arguably Ohio State's top offseason story line, as the Buckeyes could be a defensive line away from contending for a national title in 2013.
[+] Enlarge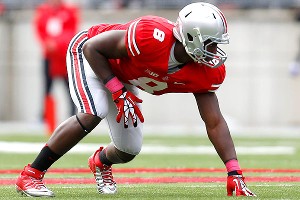 Kirk Irwin/Getty ImagesOhio State is counting on players like Noah Spence to deliver for an inexperienced defensive line.
"We're not going to claim to be experienced," Vrabel told ESPN.com on Thursday, "but we're going to go out and continue to improve. They work, and they're committed to being great."
Vrabel is stressing three areas for the linemen this spring -- attitude, effort and toughness. If all three are achieved, Vrabel thinks the players can "let their God-given ability to take over."
The Buckeyes' linemen boast plenty of ability. Ohio State had arguably the nation's top defensive-line haul in the 2012 recruiting class, signing four ESPN 150 defensive linemen, three of whom --
Noah Spence
,
Adolphus Washington
and
Tommy Schutt
-- saw the field as true freshmen. More help is on the way from the 2013 class with standouts like tackle
Joey Bosa
, an ESPN 150 selection. Two incoming line recruits,
Tyquan Lewis
and
Tracy Sprinkle
, enrolled early and are participating in spring ball.
But the group has only nine combined career starts, five from junior end
J.T. Moore
. Its career tackles leader, junior tackle
Michael Bennett
, has a whopping 28 stops in 21 games.
"The guys we've got have a little bit of experience with Adolphus and Noah and Tommy," Vrabel said. "Michael Bennett and
Joel Hale
,
Steve Miller
, those guys have been here, contributing and giving us some leadership. And Tracy and Tyquan are just trying to figure their way through this thing.
"We're learning every day."
Although Ohio State's defensive line undoubtedly will be younger, Vrabel also thinks it will be faster with players like Spence and Washington, who finished third on the team with three sacks in 2012. Again, talent isn't a problem, but the line needs leadership after losing two-time captain John Simon.
Head coach Urban Meyer challenged several of the older linemen at the start of the spring, saying, "Steve Miller's been here for a while. It's time to go play.
Chris Carter
, how long has he been here? At some point you can't redshirt anymore." At the very least, Ohio State needs the veterans to fill out the line rotation.
Ideally, they can take the reins.
"No one's going to replace what John Simon provided for this program," Vrabel said. "We can only hope that we find guys who are willing to lead, be the same person every day, be competitive, play with some toughness and play with some effort. We'll have guys step up."
Vrabel should get an accurate gauge on his group this spring because of the men they'll be lining up against. What the Buckeyes lack in defensive-line experience, they make up for on their offensive line, which returns four starters with 81 combined career starts.
"If we can compete against them," Vrabel said, "we feel like we're going to be OK."
Spence evidently has been competing well,
impressing Buckeyes offensive line coach Ed Warinner
with his edge-rushing speed.
Vrabel's return to his alma mater in 2011 generated tremendous excitement, and he made an
immediate impact on the recruiting trail
. But his coaching skills will be under the microscope as he works with a group that, for now, is Ohio State's biggest question mark.
"I'm a young coach, I'm new to this, so every day is a challenge," he said. "I enjoy it, I embrace the challenge and try to do my best."
February, 21, 2013
Feb 21
9:00
AM ET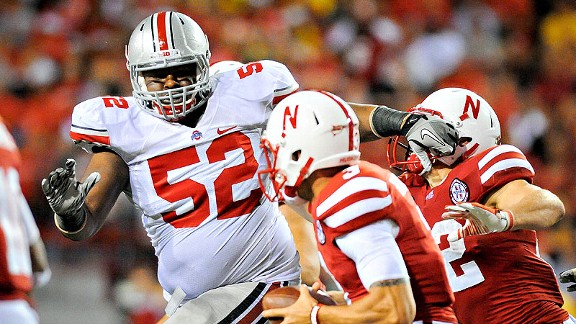 Eric Francis/Getty ImagesOhio State will have to find a way to replace Johnathan Hankins.
With national signing day in the books, the next big date on the Ohio State calendar as it continues working toward an encore for an undefeated season in 2013 is spring practice. Before those workouts begin, BuckeyeNation will take a look at each position to see where the roster is at -- and where it's going.
DEFENSIVE TACKLES
Who's back: The void in the middle of the defensive line is substantial, but that doesn't mean it's likely to become a black hole for Ohio State as it transitions to life without Johnathan Hankins and Garrett Goebel. Losing a talent like Hankins early to the NFL draft was a major blow to the defense even if it was expected, and Goebel's senior season was quietly productive and steady even if it wasn't flashy as the combination of the two big guys plugged gaps and often made rushing up the middle a fruitless proposition for opponents. But there are talented guys in reserve up front, even if there doesn't appear to be all that much depth heading into spring practice. Michael Bennett and his versatile set of skills will be put to use on the interior, and junior Joel Hale and sophomore Tommy Schutt both have the ability to handle the first-team load after filling in off the bench a year ago. Those three guys will be the focal point, charged with picking up where Hankins and Goebel left off.
New face: The Buckeyes have two recent signees already on campus and ready to go to work in the spring, though both are listed as defensive ends and don't appear to have the size needed to battle at the interior spots. But either way, Tracy Sprinkle (6-foot-2, 241 pounds) and Tyquan Lewis (6-foot-3, 223) could potentially allow line coach Mike Vrabel to tinker with his rotation a bit, particularly with somebody like inside-outside guy Adolphus Washington who is capable of playing multiple positions. Natural tackles Michael Hill, Joey Bosa, Billy Price and Donovan Munger will bulk up the group in August.
February, 20, 2013
Feb 20
9:00
AM ET
With national signing day in the books, the next big date on the Ohio State calendar as it continues working toward an encore in 2013 of an undefeated season is spring practice. Before those workouts begin, BuckeyeNation will take a look at each position to see where the roster is at -- and where it's going.
DEFENSIVE ENDS
Who's back: The Buckeyes don't exactly have a shortage of talented defenders returning to the fold up front, but it's what they're missing that will dominate the discussion heading into spring and the summer workouts. The storied career of John Simon is over after one more dynamic season on and off the field, and after battling back from injuries to contribute on the other end of the line, Nathan Williams is out of eligibility also. There's never been much doubt about how bright the futures are for Noah Spence and Adolphus Washington, and in limited action as true freshmen last fall, they showed flashes what they can do. But the Buckeyes won't need potential when September rolls around -- they'll need production, and those two and rising junior Steve Miller are at the head of the line and waiting for redshirt freshman Se'Von Pittman to join them.
January, 25, 2013
Jan 25
9:00
AM ET
The work for the 2013 season is already underway for Ohio State with the strength program in full swing, but the first moves that started shaping the potential encore effort from a perfect campaign began almost two months ago. BuckeyeNation is counting down the five biggest early developments for the team since last season ended and how they will impact the Buckeyes moving forward.

No. 1:
Urban Meyer keeps his staff in one piece
Development: Jobs of all kinds were open all over the country during a busy offseason in the coaching ranks, and on the heels of an undefeated season, the Buckeyes had plenty of guys in demand to fill them. There were apparently four of them, in fact, who had opportunities to move on and lead their own programs elsewhere. But there apparently wasn't anything tempting enough to prompt anybody on Urban Meyer's first staff to walk away from what Ohio State has going now, and every member of that group will be back to honor the two-year commitment the boss asked for when he took over -- and potentially make a run at a championship it couldn't compete for last season.
What it means: There is no shortage of benefits for Meyer in keeping his collection of assistants intact for a second season, starting with the continuity it provides for the players already on campus and extending to the class of recruits that the coaches built relationships with while representing the Buckeyes. In the short term, keeping offensive coordinator Tom Herman and giving him another season to help install the uptempo spread offense should help take it to a higher level as the players get more familiar with the playbook and the pace of play. On defense, the Buckeyes won't have as many experienced players returning as the other side of the ball will have, but there's plenty of young talent and they won't have to learn a different way of doing things with Luke Fickell, Everett Withers, Mike Vrabel and Kerry Coombs all back for another season trying to restore the proud tradition of the Silver Bullets. And while maintaining the same sort of communication that had been expected by recruits from the staff is invaluable as well, there also figures to be a stronger bond and more understanding between all the members of the staff just within the meeting rooms at Ohio State. Chemistry doesn't typically happen instantly, and the coaches should be plenty comfortable with each other now.
He said it: "The fact that our coaching staff remains intact is important. We had four guys that had some people trying to discuss head coaching opportunities for them, and I hope that happens for some of them, kind of glad it doesn't happen after just one year. After two years -- I always ask for just a two-year commitment -- I think that's fair." -- Meyer
October, 31, 2012
10/31/12
9:00
AM ET
COLUMBUS, Ohio -- There have been no breathers, no chances to go back to basics or work on fundamentals they way they could in training camp. Ohio State has rolled right through nine games in as many weeks, and it still won't have a bye until after it takes on Illinois on Saturday at home.
Could that be a factor in not allowing as many freshmen to have an impact this season as might have been expected originally? That certainly seems like a possibility, and a run of injuries to younger players obviously hasn't helped the Buckeyes as they try to power through the development phase the same way they have nine opponents.
A chance to regroup is coming up quickly, but a handful of young guys continued to flash their potential anyway in the impressive 35-23 win over Penn State. And this week, the rules were bent just a bit to accommodate a redshirt freshman who has been invaluable on offense.
Adolphus Washington
Position: Defensive lineman
Stats sheet: 3 tackles
To continue reading this article you must be an Insider
October, 3, 2012
10/03/12
10:36
AM ET
COLUMBUS, Ohio -- The names to watch as Ohio State moves into the future haven't changed.
For the moment, though, the old guys are simply making it hard for the freshmen to contribute in the present.
Camren Williams
went on the road and contributed another tackle on special teams, but steady play from a couple of seniors is making hard for reps to be found at linebacker.
Noah Spence
and
Adolphus Washington
both have sacks early in their careers, but
Nathan Williams
has returned from injury and is looking stronger every week in keeping the youngsters on the sideline.
Taylor Decker
competed all through camp at right tackle, but
Reid Fragel
has developed into one of the most steady contributors on the line since then to keep another freshman on the sideline.
So while this space would normally look at the contributions the most recent signing class has made and tracked the development of the new guys, the contributions from a few seniors who qualify as surprises couldn't be ignored after Ohio State's 17-16 win over Michigan State. And this week, the focus is on them.
NATHAN WILLIAMS
Position: Defensive end
Stats sheet: 5 tackles, 2 quarterback hurries and a sack
To continue reading this article you must be an Insider
September, 7, 2012
9/07/12
11:46
AM ET
COLUMBUS, Ohio -- Areas of importance for Ohio State as the level of competition gets taken up a notch or two with Central Florida visiting the Horseshoe on Saturday (ESPN2, noon).
FIRST DOWN
Catching crew:
The season-high in receptions from a year ago might be in jeopardy before Ohio State even gets to its third game this season.
To continue reading this article you must be an Insider
August, 17, 2012
8/17/12
2:36
PM ET
COLUMBUS, Ohio -- Quick hitters from the last two-a-day session for Ohio State during its training camp.
Adam Bellamy gone:
Once a projected starter,
Adam Bellamy
now isn't even with the team.
The defensive lineman has been absent from workouts dating back more than a week, and position coach Mike Vrabel confirmed on Friday that the junior had left the program for personal reasons.
Vrabel didn't provide any additional details on the issue, but he did suggest a return was possible for a player who was listed as a bracketed starter at defensive end on the pre-camp Ohio State depth chart.
"Adam is working through some personal family matters right now," Vrabel said after practice. "When he gets that taken care of, we will welcome him back with open arms.
"We miss him in our room, and when Adam gets those things taken care of, he's going to be able to come back."
No timetable for a return was addressed, but Bellamy's presence would certainly add to the depth and experience of a unit that's expected to be among the best in the country this fall.
A 10-game starter in his career, he contributed 25 tackles with a sack for the Buckeyes up front a season ago.
Camp grind:
Walking off the practice field on Friday morning, the Buckeyes still had one more workout to go to cap off the last two-a-day session of training camp.
Before the week started, the coaching staff had identified this week as the most pivotal and difficult the team would face. If it was a make-or-break moment for Ohio State, it appears to still be in one piece.
"I think the kids are surviving, and I think that's an awesome thing," cornerbacks coach Kerry Coombs said. "I've coached for a long time, and I've never seen a training camp that is this tough, this hard, this physical, this demanding. It's very exciting to watch how our kids respond. We have great kids.
"I don't think you can break them, so I would hope that would mean that we've been made. I don't think we're done yet, we're by no means a finished product, but our kids are working really hard."
Catching eyes:
Zach Smith isn't ready to lock in his rotation yet.
The wide receivers coach wouldn't even commit to how many guys would be included in it when the season opens.
But based on his assessment of the personnel on Friday, there are at least two guys Smith will clearly be counting on as the Buckeyes work to improve a passing game that was anemic last season.
"Right now the guys that have had really solid fall camps are [
Corey] 'Philly' Brown
, he's done an unbelievable job, different player than he was in the spring," Smith said. " ... And then
Devin Smith
is a guy that's really come along.
"Really the group as a whole has taken the right steps. Are they there yet? No. But Practice 15, 16, they're about where they should be. We've got to get them right in the next week for the first game, but they're coming. I feel good about the guys we have and where we're going to be."
Bumps and bruises:
There were already concerns about
Joey O'Connor
's knee heading into the training camp.
Surgery on it earlier this week has officially ended his season before it started.
The Buckeyes confirmed after practice that true freshman lineman had a knee operation on Monday that will keep him on the sideline all year and force him to redshirt.
June, 13, 2012
6/13/12
8:41
PM ET
DETROIT -- Ohio State made itself right at home in enemy territory.
It apparently has plans to come back often as well, preferably with some recruits in tow.
Starting with an appearance by new coach Urban Meyer in the morning and followed by the majority of the staff getting to lead workouts in the afternoon at the Sound Mind Sound Body Academy at Southfield (Mich.) High School, the Buckeyes were almost impossible to miss on Wednesday.
To continue reading this article you must be an Insider