Ohio State Buckeyes:

Michael Carter
August, 30, 2013
8/30/13
4:00
PM ET
My mailbag will come to you just once a week from here on out, right around this time on Fridays. Don't forget to follow us
on Twitter
.
Have a great first football weekend! To the inbox ...
---
Craig from Braintree, Mass., writes:
Hi Adam. Just reviewed
your chat
today. In general, agree with your comments on Minnesota except the lack of depth. Yes they have areas of lack of depth -- LB, CB, WR -- but elsewhere they are deeper than last year. That depth, plus Nelson's additional experience, plus their bowl experience, is why I like the team better. I also think Kill's health is better and that can't hurt.
Adam Rittenberg:
Some good points here, Craig. I think we saw in
Thursday's opener against UNLV
how Nelson's experience last year paid off. He looked very comfortable moving around in the pocket, and his athleticism on designed runs also gives Minnesota a good weapon in the ground game. I'm still a little concerned at whether Minnesota's skill players will make an impact against good Big Ten opponents. The Gophers line struggled to dominate UNLV for much of the game and didn't show the physical play we saw in the bowl game against Texas Tech.
You're right that I overlooked some of the depth in the secondary despite losing corners Michael Carter and Troy Stoudermire. The Gophers have some playmakers back there. The good news is Minnesota won its opener easily and still has a lot of room for improvement. And we're all pleased that Coach Kill seems to have his health more under control.
---
John from Au Gress, Mich., writes:
As far as Defensive POY is concerned, it was interesting to see what a rival network found when it polled BIG players and coaches.
Max Bullough
was the runaway choice. Two things work against Max for this award (1) few journalists take enough time to recognize the value of a defensive quarterback like Bullough and (2) with all the "3 and outs" the MSU defense will force, he won't have enough tackles to get his due. Total tackles is an overhyped stat too. My first thought is the overall defense must stink if you get that many opportunities. Borland will probably lead the BIG with around 150 tackles and he would probably like to stay around 100. He seems like a great team guy, and would rather have the defense get off the field.
Adam Rittenberg:
John, some good points here, and I couldn't agree more about tackles being an overrated statistic, especially when it comes to linebackers. I would hope the award isn't given based on total tackles, as some standout defenders will be on the field a lot less than others. For me, it's between Borland and Bullough for this award. Both are the nerve centers of their respective defenses. If the Spartan Dawgs once again finish in the top five nationally, I'd have no issue with Bullough getting the hardware. Ultimately, Borland makes more impact plays than Bullough -- or any Big Ten defender, for that matter. Borland is just a freak in that way. Does it mean he's more valuable to his defense than Bullough? It's up for debate. Both are exceptional players, and
as I recently wrote
, both have a ton of respect around the Big Ten.
---
Curtis from San Angelo, Texas, writes:
You wrote, "Bad calls shouldn't be hidden from fans in the stadium when those at home see them replayed over and over." No, they probably shouldn't. On the other hand, replays of bad calls shouldn't be used like gasoline being poured on a fire, either. Not everyone enjoys going to a sporting event and hearing "fans" yell obscenities (sometimes en masse) at the officials for missing a call. As long as humans are involved, calls will be missed. Hopefully this won't backfire and lead to egging on rude behavior.
Adam Rittenberg:
Curtis, I think there's a compromise here, although the replays will be at the discretion of each Big Ten school. I agree that a controversial call shouldn't be replayed 20 times in super slo-mo in the stadium, but fans who pay good money to watch those games have the right to see what everyone else does at home. Big Ten officiating chief Bill Carollo wants his crews to be held accountable. He puts a lot of pressure on them to get it right. Sure, some fans will act like idiots, but the yelling at the officials is going to be there with or without the replays. It's important to enhance the game-day experience at a time when attendance is dropping a bit and the modern-fay fan wants more out of his/her Saturday afternoon.
---
Lone Wolf McCaw from Siberia, USSR:
I don't get it Adam, I don't. I see there are a lot of coaches that won't name who their starters are. Why? I get there are players and positions where you just don't know who is better, or want to see how they perform in a real game. But you can't tell me that, that is the case with all the teams that won't give out a depth chart. Are the coaches writers for a mystery TV show or something, and want to keep us guessing til the end? How does not revealing who your starters are benefit the team in any way, shape or form? I will hang up now and listen to your answer.
Adam Rittenberg:
Lone Wolf, as a media member in the business of information, you're preaching to the choir, brother. Some coaches think concealing their starting quarterback provides an advantage because opponents have to prepare for more than one player. I'm not sure I buy that. Teams have so much time to prepare for the opener that they almost overprepare. I think the secrecy has more to do with taking pressure off of the starter, and even the player or players who lose the competition. When you have a true freshman starter, as Penn State likely will with
Christian Hackenberg
, you can delay the heavy scrutiny until after he plays his first game. But I'm not a fan of keeping this under wraps.
---
Steve from Washington, D.C., writes:
Count me among the many Northwestern fans who are incredibly psyched for this season. I'm stoked to see the speed and talent that we have lined up on the defensive side of the ball. What keeps me up at night, though, is that we play in a conference known for power football, big linemen pushing up the middle with a big RB running behind them. Do you think NU will struggle to stop an up-the-gut power run game? Which matchups should I be particularly worried about in this regard?
Adam Rittenberg:
Steve, I think this is a fair concern, although Northwestern's run defense improved significantly in 2012, going from 84th in 2011 to 21st last year (127.6 ypg). The big issue is the loss of defensive tackle Brian Arnfelt, hardly a household name around the Big Ten but a huge part of Northwestern's success against the run. The Wildcats lack depth at defensive tackle and need
Sean McEvilly
to stay healthy and others (
Will Hampton
,
C.J. Robbins
) to step up. Standout safety
Ibraheim Campbell
also plays a huge role in stopping the run. Campbell might be Northwestern's most valuable player, especially against teams like Wisconsin that run the power.
---
Adam from DC writes:
Ohio State lost seven starters from last year's squad, including all four defensive linemen and two of their three linebackers. OSU also won some close games last year and didn't exactly lead the conference in defense.You picked the OSU Defense for your fantasy team. Why so much faith in the 2013 OSU defense?
Adam Rittenberg:
Adam, it has more to do with how fantasy points are awarded for defense, at least in the
ESPN College Football Challenge
, which Brian and I use. Ohio State's defense actually recorded the most fantasy points (149) in the Big Ten last year, while Michigan State's defense, undoubtedly the best in the league, finished sixth in fantasy points (105). Defenses are
awarded points
for team wins, of which Ohio State will have plenty, and can pile up points for scoring touchdowns and forcing turnovers. Ohio State might not be the most stifling Big Ten defense, but I expect the Buckeyes to make a bunch of plays, even with all of their youth. The Buckeyes feature several big-play defenders like linebacker
Ryan Shazier
and cornerback
Bradley Roby
.
---
Jeff from San Diego writes:
I had a slew of Hawkeye questions for you, but really you can answer them all by responding to this one question; will Kirk Ferentz still be Iowa's coach in three years?
Adam Rittenberg:
In three years? Hmm, that's a very tough one. I'm inclined to say yes, but I'm not confident in my answer. That would put Ferentz in his 17th season at Iowa. Obviously, he has a
hefty contract that goes for much longer
, and maybe he'd like to keep coaching the Hawkeyes for another eight years. Still, it's a long time, and if the momentum doesn't turn soon, Iowa will face a tough decision with its highly paid coach. I don't think Ferentz is in danger this season, but he has to show some positive signs soon. The move to the West division and the soft schedules the next few years should help him.
---
Ben from Ann Arbor, Mich., writes:
Adam, where would you have put
Jake Ryan
in your preseason rankings had he been healthy? I'm thinking between Roby and Dennard, but I'd appreciate your unbiased opinion.
Joe from Columbus, Ohio, writes:
Really? No
Carlos Hyde
in the top 25? Does his three-game suspension (no charges by the way) really merit that much of a drop? Where would he have ranked had he not been suspended? I figured he would have be top 10/ top 15 for sure.
Adam Rittenberg:
Ben, I think we would have had Ryan around No. 11 or No. 12, behind both Roby and Dennard, who have a little more potential to be nationally elite than Ryan does. I'm a big fan of Ryan's playmaking ability, though, and can't wait to see him back on the field for the Maize and Blue. Joe, we were in a bit of a bind with Hyde because when we kicked off the rundown, his status for the season was very much in doubt and there had been some chatter that he wouldn't play this fall. We had to make
our full list
on the assumption that he wouldn't play. If the Hyde situation hadn't happened, you'd probably see him right around the No. 15 spot.
November, 26, 2012
11/26/12
1:40
PM ET
The 2012 All-Big Ten teams and individual award winners will be revealed at 7 p.m. ET tonight on the Big Ten Network. We'll post the full lists shortly thereafter as well as reaction.

The four major awards -- Offensive Player of the Year, Defensive Player of the Year, Coach of the Year and Freshman of the Year -- will be revealed Tuesday night. We will have our official blog endorsements for each of these throughout Tuesday, so be sure to check in.

To clarify, we don't have official votes for All-Big Ten (not like we cover the league closer than anyone year-round or anything, but we're not bitter), but we will reveal our own all-conference team at a later date.

For now, we're going to give our opinions on some of the key debates surrounding this year's all-conference team.
October, 29, 2012
10/29/12
9:00
AM ET
There's no more debate. Quarterback
Braxton Miller
and the
Ohio State Buckeyes
made sure everyone knows they're the best team in the Big Ten.
The so-called Ineligi-bowl on Saturday night in State College paired the top two teams in the most recent power rankings. Penn State came in brimming with confidence following five straight wins, but it missed several big opportunities early in the game. Ohio State took over behind Miller and a surprisingly good defense, showing that it remains the class of the Big Ten.
Nebraska moves up to the No. 2 spot after keeping Michigan out of the end zone, while Michigan, Wisconsin, Penn State and Iowa all drop. Wisconsin looks very shaky without top quarterback
Joel Stave
, and Iowa is a mess after being outclassed for the second straight week. Aside from Wisconsin's and Iowa's drops, and Minnesota's and Indiana's rises, there's not a ton of movement. Purdue and Illinois remain at the bottom of the barrel.
As a reminder, the power rankings are a snapshot of a team's current state -- how it is performing in real time. Injuries are considered.
Here's the rundown ...
1. Ohio State (9-0, 5-0 Big Ten, last week: 1):
The Buckeyes have the Big Ten's best player in Miller and the league's best team, period. They racked up 234 rush yards and three touchdowns against a stout Penn State defense and controlled the line of scrimmage on both sides of the ball. Ohio State's defense had one of its best efforts, keeping Penn State out of the end zone for more than three quarters. Urban Meyer's squad had looked shaky the previous two weeks, but it cranked things up in the second and third quarters and never looked back. A perfect season seems much more realistic with three games to play.
2. Nebraska (6-2, 3-1, last week: 5):
Three weeks after being crushed by Ohio State in Columbus, Nebraska has new life and control of the Legends Division. The Huskers have regained their swagger on defense and capitalized on a
Denard Robinson
-less Michigan team in the second half Saturday night, allowing just 52 yards. Nebraska has survived almost two full Big Ten games without top running back
Rex Burkhead
, who should be back this week at Michigan State. Bo Pelini challenged his team to win out after Ohio State, and the players have responded. Another test awaits this week against the Spartans.
3. Penn State (5-3, 3-1, last week: 2):
Bill O'Brien's team had been efficient and opportunistic in its first three Big Ten games. The Lions were neither against Ohio State, failing to build a bigger first-half lead and making too many mistakes in the middle part of the game. Penn State had too many penalties, not enough third-down conversions, not enough in the run game and not enough third-down stops against Ohio State. The Lions took a big step up in class but couldn't match the Buckeyes despite an electric atmosphere in State College. They aim to get back in the win column this week at Purdue.
4. Michigan (5-3, 3-1, last week: 3):
No Robinson equaled big, big problems for Michigan against Nebraska. Backup quarterback
Russell Bellomy
struggled mightily, and Michigan could have a tough time in the coming weeks if No. 16 doesn't return to the field. The defense still performed well against Nebraska, at least until the fourth quarter, but Michigan is too invested in Robinson on offense and has very few answers without him. The Jug Game becomes a lot more interesting as Michigan visits a Minnesota team coming off of its best performance in Big Ten play.
5. Northwestern (7-2, 3-2, last week: 6):
After three very shaky weeks on offense, Northwestern finally established its identity behind junior quarterback
Kain Colter
and the option game. Iowa had no answers for Colter and the Wildcats' ground attack, as Northwestern piled up 349 rush yards, averaging 7.1 yards per attempt. Northwestern's defense once again allowed some yards but limited points and big plays, making Iowa work for every point it scored. Pat Fitzgerald's team got through October, a month when it typically struggles, at 2-2, and enters November with some momentum.
6. Michigan State (5-4, 2-3, last week: 7):
There's new life in Sparta as Michigan State's beleaguered offense showed up just in time and helped the Spartans rally past Wisconsin in Madison. Pat Narduzzi's defense has been elite for most of the season but cranked things up a notch at Camp Randall Stadium, limiting Wisconsin to 10 first downs and 19 net rushing yards, and racking up five sacks and 12 tackles for loss. Defensive end
William Gholston
finally had a breakout game, and linebacker
Max Bullough
and others were fabulous. The Spartans now return home to play the spoiler role as they host Legends Division front-runner Nebraska.
7. Wisconsin (6-3, 3-2, last week: 4):
The Badgers lost their first home game since 2009 and also their top quarterback, Stave, to injury. All the mojo generated from three consecutive impressive wins is gone, as Wisconsin's offense reverted to its early September form under backup
Danny O'Brien
. Wisconsin still has the inside track to represent the Leaders Division in Indianapolis, but Indiana is now in the running, too, and the Badgers must get things together offensively during a much-needed open week before heading to Bloomington.
8. Minnesota (5-3, 1-3, last week: 10):
The future is now, and his name is
Philip Nelson
. Minnesota's freshman quarterback dazzled before the home faithful Saturday against Purdue, firing three first-half touchdown passes and finishing with 246 pass yards, 37 rush yards and no interceptions. With Nelson at the controls, Minnesota scored more points (44) against Purdue than it had in its first three Big Ten contests (39). An improved defense shut down Purdue until garbage time and received a nice lift from cornerback
Michael Carter
. Minnesota looks to make a major statement and regain the Little Brown Jug this week against Michigan.
9. Indiana (3-5, 1-3, last week: 11):
Kevin Wilson and his team finally celebrated a Big Ten win Saturday, and several more could be coming in the next few weeks. Indiana -- yes, Indiana -- controls its own fate in the Leaders Division and has two huge home games coming up against Iowa and then Wisconsin, the only other team that can represent the Leaders in Indianapolis. The Hoosiers made fewer mistakes than Illinois, received a nice lift from their defense at times and seemed to identify their top quarterback in freshman
Nate Sudfeld
. IU has been in every game this season and could be tough to beat down the stretch.
10. Iowa (4-4, 2-2, last week: 8):
The frustration is mounting in Hawkeye Country as Iowa received a thorough beating for the second straight week. The Hawkeyes lost by only 11 at Northwestern, but they never stopped the Wildcats' rushing attack and couldn't attack a shorthanded secondary down the field. The offense piled up 336 yards but couldn't translate them into nearly enough points. A bigger concern is a defense that has surrendered 937 yards the past two weeks. If Iowa can't rebound this week against Indiana, it could be staring at a bowl-less season.
11. Purdue (3-5, 0-4, last week: 11):
The Boilers' season is on life support, and
Danny Hope's tenure as head coach could be, too
. Billed by Hope as his best team, Purdue hasn't shown up for three of its first four Big Ten contests. The Boilers' defense, featuring several future NFL players, let Minnesota's Nelson have his way with them Saturday at TCF Bank Stadium.
Caleb TerBush
clearly isn't the answer at quarterback, but it has taken too long for Hope to figure that out. Purdue has replaced Michigan State as the Big Ten's biggest disappointment, and it'll be tough for the Boilers to get bowl-eligible with four games to play.
12. Illinois (2-6, 0-4, last week: 12):
Illinois had more first downs (23-14) and total yards (372-292) than Indiana, and held the ball for more than 33 minutes Saturday. But a flurry of mistakes -- penalties, turnovers, sacks, you name it -- allowed Indiana to score 24 of the game's final 27 points.
Nathan Scheelhaase
did some good things and
Donovonn Young
(124 rush yards) provided a boost in the ground game, but Illinois makes far too many errors to win games right now. It only gets tougher for Tim Beckman's crew as it heads to Columbus.
September, 17, 2012
9/17/12
10:00
AM ET
Run it back ...
Team of the week:
Penn State. No matter what you might think about the school and the football program after the Jerry Sandusky scandal, it was hard not to root for the current Nittany Lions players to finally get a win after so many obstacles. Penn State busted out with an easy, feel-good 34-7 win over Navy. The Midshipmen are hard to root against as well, but this one time was OK.
Game of the week:
You might have missed it, because it ended late and was on at the same time as much bigger games. And, OK, it was Indiana. But the Hoosiers' game against Ball State was the most exciting Big Ten contest of the weekend. The teams traded touchdowns in the first half, with Ball State leading 25-24 at the break. Indiana looked done when it trailed 38-25 late in the fourth quarter and starting quarterback
Cameron Coffman
went out with a hip pointer. But freshman
Nate Sudfeld
threw a 70-yard touchdown pass and then led the team on another scoring drive with 49 seconds left. Ah, but the Hoosiers made the PlayStation mistake of scoring too fast. Ball State completed a controversial, hard-to-believe pass to the IU 25 with one second left, and
Steven Schott
booted the game-winner as time expired. It was a tough, tough loss for Kevin Wilson's team, but a fun game to watch.
[+] Enlarge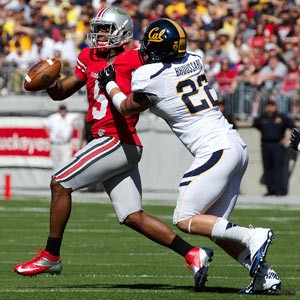 Greg Bartram/US PresswireBuckeyes quarterback Braxton Miller tries to evade California linebacker Nathan Broussard on Saturday.
Biggest play:
If it's late in a close game, the last thing a defense wants to see is
Braxton Miller
scrambling. The Ohio State quarterback burned Wisconsin with a long touchdown throw after things broke down last year, and he did so against Cal on Saturday with a 72-yard strike to an unbelievably open
Devin Smith
for the game with 3:26 left. Safeties have to respect Miller's explosive running ability, but they get can burned when they leave their receivers. That's why the Miller scramble is becoming one of the most dangerous late-game plays to defend.
Best call:
Wisconsin was supposed to be in punt safe mode in the third quarter against Utah State, and its returners would usually call for a fair catch in the situation
Kenzel Doe
found himself in. But Doe, who was only returning punts because
Jared Abbrederis
was injured, saw a small opening on the sideline and decided to go for it. He was in the end zone 82 yards later, finally giving the Badgers the spark they needed to eventually beat the Aggies 16-14. Doe? More like Woo-Hoo!
Big Men on Campus (Offense):
How about some love for the backups this week? Minnesota's
Max Shortell
stepped in for the injured
MarQueis Gray
and threw for 188 yards and three touchdowns, helping the Gophers fend off Western Michigan for a 3-0 start. And as Iowa's running back curse reached new, ludicrous heights, walk-on
Mark Weisman
came out of nowhere to run for 113 yards and three touchdowns as part of the Hawkeyes' much-needed win over Northern Iowa.
Big Man on Campus (Defense):
Minnesota cornerback
Michael Carter
had an 18-yard interception return to set up a touchdown early. He also broke up Western Michigan quarterback
Alex Carder
's pass late to help preserve the 28-23 victory.
Big Man on Campus (Special teams):
It's hard to run 99 offensive plays before scoring your first touchdown, but that's what Northwestern did against Boston College. Luckily, they had kicker
Jeff Budzien
, who made all five of his field goal attempts to give the Wildcats all the points they'd need in a 22-13 victory.
Worst hangover:
Michigan State, by a mile. The Spartans were carrying the banner for the Big Ten for one week before they tripped, broke the pole and set the flag on fire against Notre Dame. Although Michigan State bounced back from a bad loss to the Irish last year, Saturday's offensive showing was so inept that it makes you wonder if this team can overcome those limitations going forward. Just a bad, bad performance on a national stage.
Strangest moment:
Playing UMass is good for your offense, and just about everyone got involved in Michigan's 63-13 win. That included left tackle
Taylor Lewan
, who got to live out an offensive lineman's dream by recovering a
Denard Robinson
fumble for a touchdown. Or did he? At least one teammate claimed that center
Elliott Mealer
actually recovered the ball. And Robinson said Lewan was mad about his score because the play broke down and he didn't get to complete his block. But the box score says it was a Lewan touchdown, and that's something we probably won't see again.
Easiest Path To The 2015 College Football Playoff
BIG TEN SCOREBOARD
Thursday, 9/3
Friday, 9/4
Saturday, 9/5
Sunday, 9/6
Monday, 9/7