OSU Buckeyes:

Mark Dantonio
May, 20, 2013
May 20
9:00
AM ET
Ohio State already had started paying more competitive salaries for assistant coaches before Urban Meyer arrived in November 2011.
But when Meyer and athletic director Gene Smith sat down to discuss staff pay, Smith soon realized he needed to do more.
"I think Michigan had stepped up with their coordinators," Smith recalled last week during Big Ten spring meetings in Chicago. "So we were already going to that before Urban Meyer came, but we bumped it up a little more. Any time there's change, you have that opportunity."
[+] Enlarge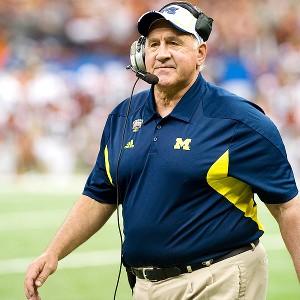 Lon Horwedel/Icon SMIMichigan DC Greg Mattison ranks as the highest-paid assistant coach in the Big Ten for the 2013 season.
"Everyone's always focused on head coaches' salaries," Smith continued. "That's always the thing. But really when you look at the changes, it's really been assistants' salaries across the country -- not just in the SEC, but the Big 12, Pac-12, all across the country."
The Big Ten is part of the change, too, as the league is allocating more money toward football assistants than ever before. The Detroit Free Press has an
excellent look at Big Ten assistants' salaries
, complete with a
database
that includes 10 of the 12 current members (Northwestern doesn't submit salaries as a private institution, and Penn State doesn't have to because of state laws).
The Free Press found that eight of the 10 schools are paying more for assistants in 2013 than they did in 2012 (only Indiana and Illinois are not). There are some significant total increases, such as Wisconsin (up $558,000), Nebraska (up $518,500), Purdue ($400,000) and Minnesota ($355,000). Staff pay had been an issue at Wisconsin, which lost six assistant coaches following the 2012 Rose Bowl, and at Purdue, which paid less for its staff during the Danny Hope era than any Big Ten school.
The total trend among the 10 schools is an increase of $1,720,852.24 for 2013.
Ohio State and Michigan remain No. 1 and No. 2 in Big Ten staff salary, as the Buckeyes allocate $3.416 million and the Wolverines allocate $2.805 million. Nebraska and Wisconsin make the biggest moves in the league for 2013, as the Huskers rise from sixth to third and the Badgers rise from seventh to fourth.
Illinois, which replaced five assistants from the 2012 team, including co-offensive coordinators Chris Beatty and Billy Gonzales, dropped from third in staff pay ($2.314 million) to eighth ($2.065 million).
The database shows that nearly every Big Ten assistant with "coordinator" in his title -- whether he's the sole coordinator or a co-coordinator -- will earn north of $300,000 for 2013. Only 18 assistants listed will make less than $200,000 in 2013 -- 15 work for Minnesota, Illinois, Purdue and Indiana.
Some notes:
Although Wisconsin paid former offensive coordinator Paul Chryst good coin, the school has increased its commitment for Gary Andersen's staff, not only with the coordinators but with some coveted position coaches like running backs coach Thomas Hammock ($300,000).
All of Nebraska's assistants are earning $200,000 or more for 2013, but there's a huge drop-off between Beck and the next highest-paid assistant (defensive coordinator John Papuchis at $310,000).
Michigan State has a similar drop off between Narduzzi and co-offensive coordinators Dave Warner ($270,000) and Jim Bollman ($260,000). Warner will be the primary offensive play-caller and has been on Mark Dantonio's staff since 2006, while Bollman is a newcomer.
Although Michigan is paying top dollar for its coordinators, the school gets its assistants for a relative bargain. Receivers coach/recruiting coordinator Jeff Hecklinski will earn $225,000 in 2013, while the others all will earn $205,000. Ohio State, meanwhile, pays all but one of its assistants $286,000 or more.
The Big Ten's three lowest-paid assistants all are in their first years: Illinois wide receivers coach Mike Bellamy ($125,000) and Purdue linebackers coach Marcus Freeman and running backs coach Jafar Williams (both at $120,000).
Although schools like Illinois, Wisconsin and Iowa ($325,000) pay their coordinators the exact same amount, others have slight differences in salary. Purdue's Shoop makes $5,000 more than defensive coordinator Greg Hudson. Minnesota defensive coordinator Tracy Claeys ($340,000) makes $5,000 more than offensive coordinator Matt Limegrover. Wonder if that leads to any underlying jealousy?
Most Big Ten schools have assistant salaries in round numbers, but there are some interesting totals from Indiana, which pays co-offensive coordinators Seth Littrell and Kevin Johns $255,500.04 and new recruiting coordinator/assistant defensive line coach James Patton $173,740.08. Never know when that change can come in handy.
The Big Ten still lacks some of the OMG totals seen in the SEC -- LSU is
paying new offensive coordinator Cam Cameron $3.4 million
in the next three years -- but the overall trend puts the league more on par with what we're seeing nationally.
May, 10, 2013
May 10
11:52
AM ET
Inspired by
Florida's "#ComePlayWRFortheJoker" campaign
, our recruiting writers looked at other ways schools can sell themselves on the trail. Here's a look at recruiting pitches for the Big Ten:

Illinois Illini
What they're selling:
A chance to rebuild a program from the ground up, beginning with four-star quarterback
Aaron Bailey
, who signed in 2013.
What they're missing:
Just about all of the top prospects from their own state.

Indiana Hoosiers
What they're selling:
Indiana coach Kevin Wilson
embraces the idea of a college spring break
and is ready to head to Cancun with some of his players.
What they're missing:
Wilson looks like he might hold the group up in Mexico, however, as he still needs the assistance of a flotation device. Points that it is in the shape of a turtle, though.

Iowa Hawkeyes
What they're selling:
Iowa boasts one of the few staffs that can say they will be there all four years of a recruit's career and has the history to back it up. Kirk Ferentz is the longest tenured coach in the Big Ten and it's not even close.
What they're missing
: Out-of-state prospects tend to think Iowa is all cornfields, leaving the staff to battle that misconception countless times throughout the recruiting cycle.

Michigan Wolverines
What they're selling:
Michigan coach Brady Hoke looks like an outlaw patrolling the sideline on Saturdays without a headset.
What they're missing:
The player who graces the NCAA Football 2014 cover Denard Robinson. "Shoelace" was one of the Wolverines' best recruiting tools.

Michigan State Spartans
What they're selling:
Michigan State coach Mark Dantonio is the
man behind Little Giants
, one of the greatest trick plays of the last few decades.
What they're missing:
A trip to a Rose Bowl under Dantonio would put Michigan State over the top when it comes to recruiting. There is already a significant difference in the caliber of player the Spartans are now getting compared to just a few seasons ago.

Minnesota Gophers
What they're selling:
The Gophers boast the biggest locker room in college football.
What they're missing:
They have not had a winning season since 2008.

Nebraska Cornhuskers
What they're selling:
Bo Pelini whipped out
"The Bernie" in the Huskers' Harlem Shake video
. Harlem Shake equals instant credibility with recruits.
What they're missing:
A lack of a strong base of in-state talent makes it tough to recruit at Nebraska, and a Harlem Shake video can overcome only so much.

Northwestern Wildcats
What they're selling:
The new facilities are right near Lake Michigan, which, as assistant Bob Heffner is telling recruits, is a great spot for fishing.
What they're missing:
Not too many high schoolers in New Jersey have taken up fishing as a hobby. At least not yet.

Ohio State Buckeyes
What they're selling:
Urban Meyer is bringing SEC speed to the Big Ten.
What they're missing:
Has anyone actually clocked Meyer in the 40-yard dash? How fast is he really?

Penn State Nittany Lions
What they're selling:
Beaver Stadium fits more than 106,000 on Saturdays, making it the second largest stadium in the country. Inside is also one of the country's most passionate fan bases, and ESPN analyst Kirk Herbstreit once listed Penn State's student section as "simply the loudest, most supportive student section in college football."
What they're missing:
A full slate of scholarships and a chance to play for a Big Ten title the next few years.

Purdue Boilermakers
What they're selling:
Few programs have the history Purdue does at quarterback, and former Boilermakers Drew Brees, Kyle Orton and Curtis Painter are all on NFL rosters. The Boilermakers just signed ESPN 300 QB
Danny Etling
, too.
What they're missing:
Brees, Orton and Painter.

Wisconsin Badgers
What they're selling:
The Badgers have been to three straight Rose Bowls.
What they're missing:
The coach who took them there.
January, 8, 2013
Jan 8
10:08
AM ET
Alabama and Notre Dame put a bow on the 2012 college football season Monday night. Most of the Big Ten would just as soon douse it with gasoline and light a match.
But before a largely forgettable 2012 Big Ten season goes up in flames, let's take one final look at the power rankings following the bowls. Ohio State not surprisingly remains on top, and the bottom three teams stay the same as well. There's a bit of shuffling among the seven bowl teams after varying performances. As has been the case most of the season, very little separates Nos. 2-6.
Here's a look at the
pre-bowl power rankings
.
Let's get to it ...
1. Ohio State (12-0; previously: 1):
The Buckeyes will occupy this spot until they lose a game, which might be a while under coach Urban Meyer. After recording just the sixth unbeaten, untied season in team history, Ohio State sets its sights on even bigger goals as it emerges from NCAA sanctions. The Buckeyes showed major strides on offense behind sophomore quarterback
Braxton Miller
and improved on both lines as the season went on. Meyer exceeded most expectations in Year 1, but they'll be much higher in 2013.
2. Northwestern (10-3; previously: 5):
Pat Fitzgerald's team moves up three spots after claiming its first bowl victory in 64 years. There was surprisingly little drama as Northwestern capitalized on Mississippi State's errors and won the TaxSlayer.com Gator Bowl by two touchdowns. The Wildcats recorded just the third 10-win season in team history and easily could have won another game or two despite a young roster. Things are headed in the right direction in Evanston.
3. Michigan (8-5; previously: 2):
The Wolverines were one defensive stop away from recording the most impressive win in the Big Ten's bowl season and in the Brady Hoke era. They paced a very talented South Carolina team in the Outback Bowl and received big performances from wideout
Jeremy Gallon
, running back
Denard Robinson
and quarterback
Devin Gardner
. Unfortunately for Michigan, an elite pass defense couldn't get it done in the end. Four of Michigan's five losses came against top-10 teams, but an 8-5 record isn't what Hoke or his players had in mind this fall.
4. Penn State (8-4; previously: 3):
Penn State and Michigan are similar in that both teams have "good" losses on their résumés (Michigan a few more than Penn State). Both teams rallied to beat Northwestern at home, while Penn State has another quality win against Wisconsin. The Lions and Wolverines didn't play one another, and we'll never know how Penn State would have fared against a team like South Carolina. Michigan gets the slight edge here, but Penn State had a terrific season behind a dramatically improved offense and a defense led by senior stars
Michael Mauti
,
Jordan Hill
and
Gerald Hodges
.
5. Nebraska (10-4; previously: 4):
The Huskers beat the three teams ahead of them in the rankings, but the power rankings place more weight on recent results, and Nebraska finished the season with a thud. Bo Pelini's team surrendered 105 points in its last two games -- losses to Wisconsin in the Big Ten championship game and to Georgia in the Capital One Bowl. Nebraska showed it could move the ball and score against anyone, despite being turnover-prone. But the defense was abysmal in the four losses and raises serious concerns for Pelini's program going forward.
6. Wisconsin (8-6; previously: 6):
The Barry Alvarez-led Badgers showed they could hang with Stanford, but they couldn't take advantage of the unique opportunity to play in the Rose Bowl Presented by Vizio despite finishing third in the Leaders Division. The inconsistent offensive execution that plagued Wisconsin throughout the season surfaced once again against a tough and talented Stanford defense. Wisconsin just didn't have enough firepower to get over the hump, which was really the story of its season.
7. Michigan State (7-6; previously: 7):
A come-from-behind win against TCU in the Buffalo Wild Wings Bowl takes the sting off of a season that didn't go according to plan for Michigan State. The Spartans leaned on their defense and received just enough offense from backup quarterback
Connor Cook
and Co. to get past a young Horned Frogs team in Tempe, Ariz. Michigan State posted its second straight bowl win under coach Mark Dantonio and said goodbye to three juniors -- running back
Le'Veon Bell
, tight end
Dion Sims
and defensive end
William Gholston
-- in the days following the game.
8. Minnesota (6-7; previously: 9):
Minnesota appeared poised to give the Big Ten a surprising 1-0 start to the bowl season. The Gophers made strides on offense between the end of the regular season and the Meineke Car Care Bowl of Texas, as young quarterback
Philip Nelson
and the offensive line looked a lot better against Texas Tech. But Minnesota still doesn't know how to finish and suffered breakdowns down the stretch in a tough loss to the Red Raiders. The team still doubled its win total in Jerry Kill's second season and could make some noise in a tough Legends Division next fall.
9. Purdue (6-7; previously: 8):
The Boilermakers and Minnesota swap places after Minnesota performed much better in its bowl game than Purdue did. A mismatch on paper turned into a total whitewash on the field as Oklahoma State, which had no business being in the Heart of Dallas Bowl, outclassed Purdue from the get-go. Purdue's once-promising season ended with a thud as a veteran-laden Boilers team that kept pace with both Notre Dame and Ohio State struggled mightily against most of the good-to-great teams it faced this season.
10. Indiana (4-8; previously: 10):
After going 1-11 in Kevin Wilson's first year, Indiana could only get better, and took some important steps this season. The Hoosiers showed they can score points on just about every defense in the Big Ten, and their group of skill players is among the league's best. IU's defense still isn't at a Big Ten level, and improving the talent and depth on that side of the ball is the chief challenge for Wilson and his staff entering the 2013 season.
11. Iowa (4-8; previously: 11):
A bowl appearance looked like a guarantee before the season as the schedule set up favorably for eight or more wins. But the offense took a giant step backward, and injuries hurt the unit throughout the season. Iowa's defense kept it in quite a few games but also let down against better offenses like Northwestern and Michigan. The Hawkeyes will look for more cohesion on offense and more playmakers to emerge. The Legends Division seems to be getting only tougher.
12. Illinois (2-10; previously: 12):
No team and no coach wants to turn the page on 2012 more than Illinois and Tim Beckman. Almost nothing went right in Beckman's first season, as the offense stalled and the defense struggled against spread offenses. The Illini dropped all eight of their Big Ten contests and lost by fewer than 14 points just once. Perhaps new offensive coordinator Bill Cubit can get the offense on track. The defense, meanwhile, must fill holes up front and in the secondary. At least Illinois gets a fresh start in 2013.
November, 28, 2012
11/28/12
1:00
PM ET
Former Ohio State coach Jim Tressel was a victim of his own success when it came to winning Big Ten Coach of the Year honors.
Tressel never claimed the award despite dominating the league during most of his Buckeyes tenure. If Tressel had a down year midway through his run at Ohio State, only to get the team back to a league title or a BCS bowl the following year, he would have had a better chance.
In many ways, the Big Ten Coach of the Year award is about what happened the previous season or the previous offseason rather than the actual season for which the honor is presented. Recent history also shows first-year coaches who bolster programs have a good chance for the award.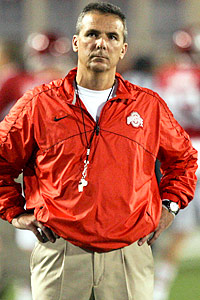 Pat Lovell/US PresswireUrban Meyer led the Buckeyes to a rare 12-0 season in his first season at Ohio State.
And that's why Ohio State coach Urban Meyer might never win it.
Penn State's
Bill O'Brien on Tuesday swept the Big Ten Coach of the Year honors
-- the Hayes-Schembechler award (voted by the coaches) and the Dave McClain award (voted by the media). O'Brien guided Penn State to an 8-4 record in his first season.
He beat out another first-year Big Ten coach, Meyer, who went 12-0 in his first season in Columbus, including a road win against O'Brien's Lions. Buckeye fans were hopeful Meyer would be the first Ohio State boss to win Big Ten Coach of the Year honors since Meyer's mentor Earle Bruce got it in 1979.
O'Brien's selection stems primarily from the way he kept Penn State afloat after a turbulent summer that brought severe NCAA sanctions on the program, followed by the departures of several key players, including star running back
Silas Redd
. After an 0-2 start that had many writing off Penn State for the foreseeable future, O'Brien guided Penn State to wins in eight of its final 10 games (6-2 in Big Ten play).
Although Penn State actually won more games in the previous season -- the Lions' nine wins later were vacated -- O'Brien's work under such unusual circumstances made him a deserving candidate.
But it begs the question: Will Meyer ever win the award?
Unless Ohio State takes a surprising step backward during his tenure, probably not.
Let's look at the recent winners of the McClain Award.
Brady Hoke, Michigan, 2011
Backstory: Michigan went 7-6 in 2010 under coach Rich Rodriguez, who was fired following the Gator Bowl after a historically poor three-year run. Hoke came in from San Diego State and guided Michigan to an 11-1 record and a Sugar Bowl championship.
Mark Dantonio, Michigan State, 2010
Backstory: Michigan State tumbled to a 6-7 finish in 2009 and had a highly publicized off-field issue that decimated its roster for the Alamo Bowl. Dantonio guided the Spartans to an 11-1 regular-season mark in 2010.
Kirk Ferentz, Iowa, 2009
Backstory: Iowa improved from 9-4 in 2008 to 11-2 in 2009 and won an Orange Bowl championship. The 2009 season truly showed the Hawkeyes had escaped a down stretch from 2005-07.
Joe Paterno, Penn State, 2008
Backstory: Penn State went from 9-4 the previous season to an 11-1 regular-season mark, a Big Ten title and a spot in the Rose Bowl (all wins later were vacated). The Lions were in the national title talk for much of the 2008 campaign.
Ron Zook, Illinois, 2007
Backstory: Illinois went from 2-10 in 2006 (4-19 in Zook's first two seasons) to a Rose Bowl berth in 2007. The Illini knocked off then-No. 1 Ohio State in Columbus.
Bret Bielema, Wisconsin 2006
Backstory: Bielema was in his first year as a head coach and led Wisconsin to an 11-1 record in the regular season (12-1 following a bowl victory).
Joe Paterno, Penn State, 2005
Backstory: The Lions had endured losing seasons in three of the previous four years, and calls for Paterno's retirement had increased. He then shocked everyone by guiding Penn State to a Big Ten championship and an Orange Bowl title (both later vacated).
See the pattern here?
The award either goes to first-year coaches or coaches who have bolstered a team's win total from the previous season.
Meyer did both at Ohio State, which went from 6-7 in 2011 to 12-0 this season. But O'Brien ultimately was judged to have overcome more challenges at Penn State.
Tressel's best chance for the award came in 2002, when Ohio State went from 7-5 in his first season to a 13-0 regular-season mark (and an eventual national title). But Iowa's Kirk Ferentz instead earned Big Ten Coach of the Year honors for guiding Iowa to a share of the Big Ten title a year after going 7-5.
Ferentz topping Tressel in 2002 reminds me a lot of O'Brien topping Meyer this season.
Given the trajectory of Ohio State's program under Meyer and the standard set by the 2012 team, it seems unlikely the Buckeyes will take a big step backward -- so Meyer can then bring them forward and win the award -- any time soon.
Meyer has won two national titles and several top coaching honors, including the Eddie Robinson National Coach of the Year award in 2004. But don't be surprised if like Tressel, he'll go through his Ohio State career without ever being named Big Ten Coach of the Year.
November, 25, 2012
11/25/12
10:00
AM ET
Five lessons from the week that was in Big Ten football.
1. The Ineligibles overachieved under great coaches:
We won't see Ohio State or Penn State until next fall, but both teams went out on positive notes to end seasons in which they overachieved. Aside from die-hard Buckeyes believers, who expected Ohio State to go 12-0 and record just the sixth unbeaten, untied season in team history? Even fewer people expected Penn State to go 8-4 after a tumultuous offseason that featured the exodus of running back
Silas Redd
and other key players. And when the Lions started 0-2, most folks wrote them off. But Bill O'Brien and his team never lost faith and surged through most of the Big Ten season. It was fitting that kicker
Sam Ficken
, whose struggles at Virginia led to Penn State's loss, had the game-winning field goal Saturday as the Lions beat Wisconsin in overtime. O'Brien exceeded all expectations in his first season as a head coach, recording the most wins ever by a first-year Lions boss. Will he be Big Ten Coach of the Year? The only other worthy candidate is Urban Meyer, who took a seven-loss Buckeyes team with significant depth issues and transformed it into one of the nation's best.
[+] Enlarge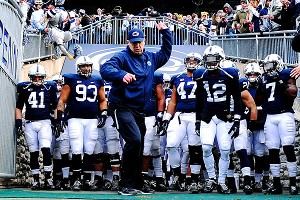 Evan Habeeb/US PresswireBill O'Brien faced tough questions from prospective recruits, but the Penn State coach and his staff kept a top-25 recruiting class together.
2. Michigan isn't really back:
Sure, the Wolverines have dug themselves out from the Rich Rodriguez-created crater, and they had a charmed season end in a Sugar Bowl title last season. But in terms of beating really good teams, the ones that signify Michigan once again has a place among the nation's elite, Brady Hoke's crew is still looking for a breakthrough. Michigan won a respectable eight games, but its four losses in the regular season -- Alabama, Notre Dame, Nebraska and Ohio State -- came against the best four teams it played. The Wolverines were extremely fortunate to beat a good Northwestern team and a mediocre Michigan State squad on their home field. While it was nice to end the losing streak against Ohio State last season, Michigan beat the worst Buckeyes team we've seen in more than a decade. The offense still seems hamstrung in some ways by the
Denard Robinson
era, though the emergence of
Devin Gardner
is promising for the future. There are signs Michigan is close, and the renaissance on defense under Hoke and Greg Mattison can't be denied. But it'll take a bit longer for Michigan to truly claim it is back, although a Jan. 1 bowl victory against an SEC foe would help.
3. Rex Burkhead still can make an impact:
This hasn't been the season the Nebraska senior running back envisioned, but he can still play a major role in how it turns out for Big Red. Burkhead returned to the field in the second half Friday against Iowa after Nebraska's offense stumbled and fell behind 7-3. In his first appearance since Oct. 20, Burkhead racked up 69 yards and Nebraska's only touchdown on 16 carries. He might not be 100 percent, but he showed the skills that make him beloved in the Cornhusker State, particularly on a grinding 9-yard run to pick up a first down after Nebraska was pinned inside its own 1-yard line early in the fourth quarter. Nebraska had hoped to get through the Iowa game without Burkhead, but when the team needed him, he delivered. He likely will play a bigger role this week against Wisconsin in the Big Ten title game. Burkhead had 86 rush yards against the Badgers in the Big Ten opener, the only full game he has played this season. He could be the boost Nebraska needs to win its first league title since 1999 and possibly win the Rose Bowl, too.
4. Danny Hope's players didn't quit on him:
Many Purdue fans have seen enough of fourth-year coach Danny Hope, but Hope has plenty of allies in his locker room. The Boilers easily could have quit after dropping their first five Big Ten games -- four blowouts (three at home) plus the heartbreaker at Ohio State. Some teams projected to do much more would have gone in the tank. But Purdue rallied behind Hope and gutsy quarterback
Robert Marve
, who played despite a torn anterior cruciate ligament, and won its final three games to secure a bowl berth. The product rarely looked pretty, and even Saturday's Bucket game against Indiana featured some bang-your-head-against-the-wall moments. But Purdue's players never stopped fighting and will head somewhere warm for the holidays. Whether Hope joins them remains to be seen, but he deserves some credit for keeping the team afloat during such a difficult stretch.
5. Bowl practices will be crucial for Big Ten teams:
We don't know the bowl matchups yet, but they will be daunting for the Big Ten, which will be without two of its best teams (Ohio State and Penn State) in the postseason. For the league to avoid another bad bowl performance, several teams must take significant steps during bowl practices. Michigan State has the defense and the running back (
Le'Veon Bell
) to win its bowl game, but it needs quarterback
Andrew Maxwell
and a young receiving corps to develop. Coach Mark Dantonio hinted this week that his offense needed an update to keep up with the times. Maybe that can start next month in earnest. Minnesota has to get healthy and re-establish its offensive identity behind true freshman quarterback
Philip Nelson
, who will benefit from the 15 practices. Wisconsin also will have a chance to iron out its offensive issues, while a young Northwestern team that made major strides this fall must make another before facing what should be a heavily favored SEC foe in Florida. Michigan also gets some extra time to figure out its vision on offense with Gardner and Robinson.
October, 25, 2012
10/25/12
9:00
AM ET
Some weeks are better than others, and Week 9 in the Big Ten is a very good one. All six games pair fairly evenly matched teams, and there's something at stake in all six contests (yes, even Indiana-Illinois).
These might be our most challenging picks of the season, which could be a good thing for Brian Bennett, who trails Adam Rittenberg by a whopping five games in the season standings.
Without further ado, let's get to the picks ...
IOWA at NORTHWESTERN
Brian Bennett: Both teams are searching for some answers on defense, but the Wildcats are much healthier than the Hawkeyes, who are banged up at offensive line and running back. I think we'll see Northwestern get back to running the ball more with
Kain Colter
and
Venric Mark
this week, which works well enough to hold back an Iowa team whose quarterback is under fire.
... Northwestern 23, Iowa 17
Adam Rittenberg: Northwestern does have some injury issues of its own at cornerback, but
James Vandenberg
hasn't been able to take advantage of much this season. I like this matchup for Northwestern, even though
the Wildcats have an identity crisis on offense
right now. Iowa takes the early lead, but Northwestern finally puts the ball in Colter's hands, and he rushes for two second-half touchdowns.
Mark Weisman
bullies his way to 100 rush yards, but Northwestern gets it done on Homecoming.
... Northwestern 24, Iowa 20
INDIANA at ILLINOIS
Adam Rittenberg: I really think Illinois will be better following the open week -- the Illini can't get much worse -- and should capitalize on Indiana's defensive woes. But Indiana's spread offense matches up very well against an Illinois defense that, while talented, struggles mightily against spread teams. Hoosiers receivers
Shane Wynn
,
Cody Latimer
and
Kofi Hughes
each catch touchdowns and Indiana finally finds a way to hold on for its first Big Ten win under Kevin Wilson.
... Indiana 31, Illinois 27
Brian Bennett: I guess I can't pick both to lose this week, huh? The Hoosiers have been much more competitive for the past several weeks than Illinois has, and their offense is better than any unit the Illini can put out there right now. Expect some new wrinkles from Tim Beckman after the bye week, but Indiana's passing game is too much as
Nate Sudfeld
comes off the bench for a pair of second-half touchdown passes.
... Indiana 28, Illinois 27
PURDUE at MINNESOTA
Brian Bennett: One of these teams has to get itself off the mat, and I think it's going to be Minnesota. Purdue has to be feeling a bit of a hangover from last week's heartbreaking loss to Ohio State, and another week of experience will do wonders for Gophers freshman quarterback
Philip Nelson
. He throws a key touchdown pass to
MarQueis Gray
, and a late field goal wins it.
... Minnesota 20, Purdue 19
Adam Rittenberg: This game is all about Purdue's demeanor after last week's heartbreaker. If we see the team that showed up in Columbus, the Boilers will win. If not, Nelson and the Gophers will get it done. I've been burned before, but I don't think Purdue is finished just yet. The Boilers' defense pressures Nelson, forces some takeaways and limits a low-scoring Gophers offense to 17 points. Purdue hits on some big plays to
Gary Bush
and
Antavian Edison
and gets a win it absolutely has to have.
... Purdue 23, Minnesota 17
MICHIGAN STATE at No. 25 WISCONSIN
Adam Rittenberg: I nearly went with the Spartans here, as I just can't believe Mark Dantonio's squad is on the verge of falling below .500. Then again, Wisconsin doesn't lose at Camp Randall Stadium, especially to teams that have no offense. This game follows a familiar script for Michigan State, which hangs around for a while behind its defense but allows a late score.
Le'Veon Bell
has 120 rush yards, but both
Montee Ball
and
James White
score in the second half as Wisconsin prevails.
... Wisconsin 20, Michigan State 13
Brian Bennett: Pretty simple here: Michigan State can't score, and I don't see how that changes this week against an underrated Wisconsin defense that's playing well. Ball & Co. won't find as much running room as normal against this Spartans defense, so quarterback
Joel Stave
will have to play well. He does well enough to get the win, hitting big passes to
Jared Abbrederis
and
Jacob Pedersen
to set up scores in a close one.
... Wisconsin 17, Michigan State 14
OHIO STATE at PENN STATE
Brian Bennett: I learned my lesson in picking against Penn State last week. Ohio State is getting thinned by injuries, and quarterback
Braxton Miller
might not be at full strength after last week's brief hospitalization.
Bill O'Brien's offense will pick apart the Buckeyes' questionable back seven as Matt McGloin throws three TD passes. That and a crazed home-field atmosphere are enough to ruin Ohio State's perfect season. ... Penn State 28, Ohio State 21

Adam Rittenberg: The Buckeyes' slow starts, Miller's injury issues and Ohio State's lack of depth at linebacker are real concerns here. Penn State tight ends
Kyle Carter
and
Jesse James
find enough gaps in Ohio State's defense, and
Bill Belton
racks up 115 rush yards and two scores. Miller plays and keeps his team in the game, but Penn State has too much offense and a huge edge with the Beaver Stadium crowd. Buckeyes go down for the first time.
... Penn State 27, Ohio State 24
No. 22 MICHIGAN at NEBRASKA
Adam Rittenberg: I know Nebraska plays much better at home, and quarterback
Taylor Martinez
has made obvious improvement this season. But Michigan is the steadier team right now, and the better defensive squad. The Wolverines got over the hump last week against rival Michigan State, and they'll find a way to record a signature road win. Linebacker
Jake Ryan
recovers two Nebraska fumbles and
Denard Robinson
breaks off a long touchdown run in the fourth quarter as the Wolverines silence the Sea of Red.
... Michigan 26, Nebraska 24
Brian Bennett: The Legends Division race could get pretty boring if Michigan wins in Lincoln. One thing this league has not been this year is predictable. The Wolverines' recent conservative ways on offense will play into the hands of a Huskers defense that plays better when it knows what to expect. Martinez will pick on Michigan cornerbacks and turn in one of the finest moments of his career as Nebraska roars back from an early double-digit deficit to win.
... Nebraska 28, Michigan 23
Season records
Adam Rittenberg:
54-14 (.794)
Brian Bennett:
49-19 (.721)
October, 22, 2012
10/22/12
2:22
PM ET
Take that and rewind it back.
Team of the week:
Penn State. Plenty of candidates this week, as Michigan ended Michigan State's four-game winning streak in the rivalry, Nebraska got a much-needed road victory and Wisconsin kept chopping in the Axe series. But no team was as impressive as the Nittany Lions, who went on the road in a hostile atmosphere and simply dismantled Iowa from start to finish in a 38-14 win. That was as complete a performance as you're going to see in this league, and as Adam wrote on Saturday, Bill O'Brien's team is no longer
just a nice little story
.
[+] Enlarge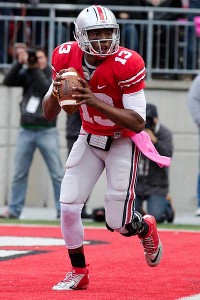 Greg Bartram/US PresswireBackup quarterback Kenny Guiton led the Buckeyes to an overtime win against Purdue on Saturday.
Game of the week:
Lots of good ones, including Michigan's nailbiter over Michigan State, Nebraska's comeback over Northwestern and even Indiana's loss at Navy. But for pure drama, it's hard to beat the Ohio State-Purdue game and how it ended. To review: the Buckeyes trailed by eight points and took possession at their 39-yard line with less than a minute to go.
Braxton Miller
was in the hospital and backup
Kenny Guiton
was at quarterback. Somehow, Ohio State made it work, driving for a touchdown and then the tying two-point conversion on a beautifully designed play. There seemed to be little doubt who would win in overtime after that, though Urban Meyer seemed stunned after the 29-22 decision. "I'm still trying to figure this bad boy out," he said. "We won, right?"
Biggest play:
The first play of that Ohio State tying drive was a 39-yard completion from Guiton to
Devin Smith
that made everything else possible. It was a slow-developing play that the Buckeyes were a little hesitant to call because it demands such good protection by the O-line. Maybe too good, as Purdue coach Danny Hope complained that his defense "probably would have [gotten to Guiton] if we didn't have quite so many hooks and so many hands on our jerseys." Regardless, it was still a play that will go down in Ohio State lore.
October, 4, 2012
10/04/12
10:15
AM ET
Ten items to track on the first October Saturday of Big Ten football:
1. Miller Time, T-Magic on display:
Ohio State's
Braxton Miller
and Nebraska's
Taylor Martinez
might not be traditional Big Ten quarterbacks, but they're the faces of the quarterback position in the league these days. Both are dynamic dual threats who have made significant strides from the 2011 season. Miller aims to continue his Heisman Trophy campaign Saturday night against a Nebraska defense that struggled to contain him last year before he left the game with an ankle injury. Martinez led the biggest comeback in Huskers history last year against Ohio State and has accounted for eight touchdowns (6 pass, 2 rush) in his past three games.
2. Boiling point:
Purdue coach Danny Hope says he already knows a lot about his team after three non-league wins and a 3-point road loss at Notre Dame. The rest of us aren't quite as sure about what the Boilers will be this season. The good news: Everyone will find out in the next three weeks, as Purdue opens Big Ten play with its defining stretch of the season. Before hosting Wisconsin and visiting Ohio State, Purdue hosts Michigan on Saturday in its most anticipated game since perhaps Wisconsin in 2004. The Boilers average 51 points per game on their home field, where they open league play against the Wolverines for the first time since 1970.
3. Oktoberfest:
Northwestern coach Pat Fitzgerald made October a major point of emphasis as far back as the summer, mindful of his team's struggles in the season's middle month. The Wildcats have done well in September (20-9) and November (13-8) under Fitzgerald, but they've had their difficulties in October (10-15), including a 1-4 mark in 2011. Northwestern is 5-0 for the third time in five seasons and takes a national ranking to Happy Valley, where it faces a streaking Penn State squad. It's a good chance for Northwestern to change its October fortunes against its most challenging opponent to date.
4. Seeking mojo in Mad City:
Austin Powers
would steer clear of the Illinois-Wisconsin game Saturday. Both teams are looking for their mojo after the first five weeks. Illinois tries to find it in a very tough place (Camp Randall Stadium) after being embarrassed on its home field in back-to-back weeks. Asked this week about boosting team morale, first-year coach Tim Beckman said, "That's what we're dealing with each and every day." Wisconsin appeared to make strides last week against Nebraska before collapsing down the stretch. Coach Bret Bielema is encouraged with his team's progress amid transition, but Wisconsin can't start Big Ten play at 0-2. Wide receiver
Jared Abbrederis
called the Illinois game a must-win for Wisconsin.
5. MSU offense looks for green flag:
After puttering around the track in the first five games, Michigan State's offense heads to the Crossroads of America (Indiana) hoping to finally shift into fifth gear. Coach
Mark Dantonio shuffled the depth chart a bit
this week, as freshman wide receiver
Aaron Burbridge
will start and other young players like freshman receiver
Macgarrett Kings Jr.
should see increased time. Michigan State can't neglect the run game, though, as it boasts a 15-1 record when
Le'Veon Bell
scores at least one rush touchdown. Indiana surrendered 704 yards to Northwestern last week (394 rushing). Saturday is the time for Michigan State to finally put it all together on offense.
[+] Enlarge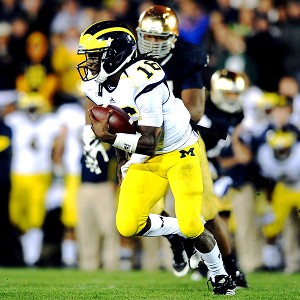 Chris Williams/Icon SMIDenard Robinson and Michigan look to break out of their away-from-home scoring malaise at Purdue.
6. Michigan wants better road show:
The last time we saw Michigan,
Denard Robinson
was turning over the ball and the Wolverines weren't crossing the goal line at Notre Dame. Michigan's 13-6 setback in South Bend continued a troubling trend for the Wolverines offense, which has
averaged just 20.9 points away from Ann Arbor
(as opposed to 40.1 points at home) in the past two seasons. With future road tests against Nebraska and Ohio State, it's important for the Wolverines to get on track Saturday at Purdue. The Boilers defense has been solid most of the season but surrendered 41 points and 534 yards last week against Marshall.
7. Whiteout in Happy Valley:
Sparked by their team's three-game win streak,
Penn State students are planning a whiteout
at Beaver Stadium for Saturday's game against Northwestern. The Lions aim for their first home win against a ranked opponent since the 2008 season, and several players
called the contest a must-win
. Senior quarterback
Matt McGloin
has owned Northwestern in his career (417 pass yards, 6 TDs, 0 INTs in two games), and McGloin is a much better quarterback in Bill O'Brien's offense. After an ominous start, Penn State can enter an off week with a ton of momentum with a victory.
8. Bo heads home:
While his team
aims for a signature road win in the Big Ten
, Nebraska coach Bo Pelini makes a homecoming of sorts Saturday at Ohio Stadium. Pelini played safety for the Buckeyes from 1987 to '90 and hails from Youngstown, Ohio. Not surprisingly, the Huskers' boss
downplayed his Ohio State roots
this week, saying he's "at a different time in my life, a different place" and "has a job to do." It's wise for Pelini to keep himself out of the spotlight as much as possible, but he'll likely experience some emotion when Nebraska takes the field at The Shoe. And a victory against his alma mater will mean a little extra.
9. Two Hoosiers take aim:
Indiana coach
Kevin Wilson
doesn't see much separating quarterbacks
Cameron Coffman
and
Nate Sudfeld
, and he'll likely use both against Michigan State. Coffman has started the past two games, while Sudfeld has finished them, providing a spark down the stretch.
Wilson likes the competition
and plays down the other C-word (controversy), but the picture could clear up Saturday as the two quarterbacks face by far the best defense they've seen this season. Whoever better commands the IU offense -- and gets the ball to talented receivers
Kofi Hughes
and
Cody Latimer
-- will take a step closer to locking up the top job.
10. Badgers' 2-minute drill:
Joel Stave
is Wisconsin's starting quarterback, and he looked the part last week against Nebraska in his first career road start. But in crunch time, after Stave got a bit shaken up, the Badgers followed their plan and went with veteran
Danny O'Brien
under center rather than Stave. O'Brien moved Wisconsin to midfield but botched the call on a fourth-and-1 play, leading to a fumble that clinched the victory for the Huskers. It'll be interesting how the Badgers proceed should a two-minute situation come up against Illinois.
Will they turn to O'Brien or give Stave a shot
? Stay tuned.
October, 4, 2012
10/04/12
9:00
AM ET
It's that time again. Thankfully, there's only one nonleague game left to predict (Indiana-Navy) and it's not this week.
Five games on tap, all in the Big Ten, and several that could play a huge role in which teams end up in Indianapolis. The games are getting tougher, and so are the predictions, especially this week with several toss-up games.
Adam Rittenberg holds a four-game lead on Brian Bennett entering Week 6, but things can change in a hurry.
Prediction time ...
MICHIGAN STATE at INDIANA
Brian Bennett: Mark Dantonio says he wants to see his team come out and make a statement, and I think the Spartans will. Indiana's defense should be just what Michigan State's scuffling passing game needs, as
Andrew Maxwell
fires two touchdown passes and
Johnny Adams
has a pair of interceptions.
... Michigan State 28, Indiana 13
Adam Rittenberg: A nonfactor a week ago, Michigan State running back
Le'Veon Bell
gets back into the mix in a big way in Bloomington. The Spartans junior goes for 200 rushing yards and three touchdowns. Indiana once again has some success in the passing game early, but Michigan State takes control in the third quarter as
Aaron Burbridge
hauls in a touchdown catch in his first start.
... Michigan State 34, Indiana 20
No. 24 NORTHWESTERN at PENN STATE
Adam Rittenberg:
Matt McGloin
has torched Northwestern while quarterbacking a bad offense, and though the Wildcats are better defensively, so is McGloin. The Penn State senior connects for three touchdown passes to three different receivers.
Trevor Siemian
and
Kain Colter
keep Northwestern in this one, but McGloin leads the way in the fourth quarter.
... Penn State 28, Northwestern 24

Brian Bennett: I'm way behind in the standings, so I need to take some chances. And while Penn State's defense has been playing very well, the Lions haven't exactly played stellar offenses the past three weeks. Northwestern's two-headed quarterback monster and
Venric Mark
will get their yards and points, and an improving Wildcats defense comes up with an interception of McGloin in the final minute to seal the deal.
... Northwestern 23, Penn State 17
ILLINOIS at WISCONSIN
Brian Bennett: Wisconsin has its share of issues but looks like a top-10 team compared to the hot mess at Illinois.
Jared Abbrederis
hauls in two touchdown passes, and the Badgers stuff the wobbly Illini offense to get a much-needed Leaders Division victory.
... Wisconsin 31, Illinois 14
Adam Rittenberg: Both teams need a win, and while Illinois can't be this bad week after week, I can't see the Illini pulling off the upset. Wisconsin gets multiple backs involved and gets three rushing touchdowns, two from
Montee Ball
.
Joel Stave
gets
Jacob Pedersen
more involved as Wisconsin pulls away in the third quarter.
... Wisconsin 28, Illinois 17
MICHIGAN at PURDUE
Adam Rittenberg: Tough one to call, and I've been going back and forth on it all week. Purdue will be geared up for its biggest game in recent memory and take an early lead. But
Denard Robinson
eventually finds enough gaps in the Boilers' defense and records two fourth-quarter touchdowns to rally the Wolverines.
Caleb TerBush
fires two early touchdown passes, but his interception in the closing minutes seals it for Michigan.
... Michigan 27, Purdue 24
Brian Bennett: I agree that this is an intriguing game. My biggest question: Is Purdue ready to take that next step? I think the Boilermakers are close, but ultimately not quite there yet. As disastrous as Michigan's turnovers were against Notre Dame, I saw improvement on both lines in that loss. And after a week off, I expect the Wolverines to come out with a better game plan, and to feature Robinson's legs much more. Robinson runs for 175 and three scores as Michigan gets a badly needed win.
... Michigan 35, Purdue 28
No. 21 NEBRASKA at No. 12 OHIO STATE
Brian Bennett: It seems like most weeks I'm wondering how Ohio State just won. The Buckeyes have been getting by on a little good fortune and a whole lot of
Braxton Miller
in their 5-0 start. Nebraska will be by far the best offense Ohio State has faced. But the Huskers still seem a little too loose with the ball and too susceptible to mobile quarterbacks. Miller gets it done again with 350 yards and four total touchdowns as the Buckeyes work their magic once more.
... Ohio State 31, Nebraska 30
Adam Rittenberg: Ohio State took a nice step in Week 5, but the Buckeyes have been a pretty fortunate team so far this season. They've survived turnovers on the road and defensive breakdowns at home. Saturday night, their luck runs out as Nebraska records its first true signature road win in the league. Miller does his thing and records two rush touchdowns and a passing touchdown, but he also throws a costly interception in the fourth quarter.
Taylor Martinez
rebounds from an early turnover to spark the Huskers against the Buckeyes, who haven't seen an offense like this. Martinez records his second consecutive 100-yard rushing performance and
Brett Maher
nails a 50-yard field goal to win it for Big Red.
... Nebraska 30, Ohio State 28
Iowa and Minnesota both are off this week.
Season records
Adam Rittenberg:
41-11 (.788)
Brian Bennett:
37-15 (.712)
September, 29, 2012
9/29/12
9:49
PM ET
Ohio State coach Urban Meyer has been accused of bringing SEC-style recruiting tactics to the Big Ten.


Now Meyer's approach to video-tape exchange with opponents is under the microscope.
According to
the Detroit Free Press
, Michigan State's coaches had an issue about the game film Ohio State sent to them in advance of Saturday's game in East Lansing, Mich. The newspaper initially reported that Michigan State filed a complaint to the Big Ten, and later reported that athletic directors Mark Hollis (MSU) and Gene Smith (OSU) had settled the issue without Big Ten involvement.
September, 29, 2012
9/29/12
7:45
PM ET
Ohio State overcame a minus-3 turnover margin, some key injuries, a premature whistle and a plucky Michigan State squad to hold off the Spartans
17-16 at Spartan Stadium
. The 14th-ranked Buckeyes remain perfect at 5-0, while No. 20 Michigan State dropped its second game in three weeks.
Here are some quick thoughts on the game ...


It was over when:
Carlos Hyde
moved the chains with a 5-yard run on third-and-4 with just about two minutes remaining. Ohio State, which had stopped Michigan State moments earlier, then ran out the clock and celebrated a hard-fought win.
Game ball goes to:
Ohio State quarterback
Braxton Miller
. He committed three turnovers (2 fumbles, 1 interception) but made more big plays than Michigan State and fought through some tough hits. The sophomore completed 16 of 23 passes for 179 yards with a touchdown and an interception. Miller also recorded game-highs in both carries (23) and rush yards (136), displaying tremendous footwork to keep Michigan State's defense off balance.
Stat of the game:
Ohio State averaged 4.6 yards per carry on 44 attempts. Michigan State, despite boasting the Big Ten's top rusher in
Le'Veon Bell
, had just 1.5 yards per carry (just 22 attempts).
Worst call:
The officials at Spartan Stadium weren't replacements, but they made a rookie mistake early in the fourth quarter after Miller fumbled near the sideline. The officials ruled Miller down and blew the whistle, ending the play. The replay crew correctly reversed the call and awarded the ball to Michigan State, but the blown whistle prevented the Spartans from potentially scoring a touchdown on a fumble return. Michigan State had other chances to win, but the blown whistle really hurts in a 1-point game.
Unsung hero of the game:
Ohio State senior linebacker
Etienne Sabino
. The former blue-chip recruit, who admits he has underachieved a bit in his career, stepped up in a big way Saturday. He recorded a second-half sack of
Andrew Maxwell
and pressured Maxwell on a third-and-9 play in the closing minutes, forcing a punt. Michigan State never regained possession.
What it means:
Ohio State showed it can win on the road and overcome a lot of adversity. It's not easy to win when you're minus-3 in turnovers, but the Buckeyes received a better defensive effort than they've had in recent weeks, shutting down Bell, and their offensive line stepped up big late to salt away the game. Miller once again showcased big-play ability, making a perfect throw to
Devin Smith
for a 63-yard touchdown after Michigan State had taken the lead. The Spartans showed improvement in their passing game and generated more takeaways on defense, but they simply haven't put it all together against good teams. It has to be frustrating to lose on your home field when you're plus-3 in turnovers. Bell was a surprising nonfactor in the game, and the defense couldn't get a stop in the closing minutes. Michigan State can still make a run in the Legends division, but it will need to do well on the road after dropping two marquee home games.
September, 27, 2012
9/27/12
1:00
PM ET
The Michigan State defense has few weakness. It is powered by talented, veteran players and led by a defensive coaching staff that has stuck together for nearly a decade. The defense is well thought-out and masterminded by head coach Mark Dantonio, who learned under such coaches as Earle Bruce and Nick Saban.
Dantonio describes his defense as being "tied together," meaning every piece works in unison. Little is left to chance. So it makes sense that one of Dantonio's biggest concerns heading into this week's game against Ohio State is
Braxton Miller
's ability to improvise.
[+] Enlarge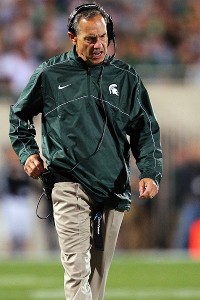 Mike Carter/US PresswireCoach Mark Dantonio has his Spartans gameplanning for the likes of Ohio State QB Braxton Miller this week.
Miller has excelled at making major plays out of seemingly broken plays, like when he scrambled away from pressure against Cal before finding
Devin Smith
for the game-winning 72-yard touchdown. He did the same to beat Wisconsin last year and can break off a huge run at any time.
"That's the biggest thing you're trying to eliminate, what we always call 'loose' plays," Dantonio told ESPN.com. "Those are the toughest ones. You sort of hold your breath, because at that point you're sort of loose and both sides are sort of loose and what's going to happen? Those are the things [Miller] brings to the table, so it's a big concern of ours."
The Spartans' defense has allowed three touchdowns so far this season. Two of those came in the Notre Dame game when quarterback
Everett Golson
got outside the pocket and created a play on his own.
That brings up a dilemma for this week: how much do you try to pressure a quarterback who can burn you with his feet? Michigan State has excelled at both bothering and containing Michigan's
Denard Robinson
the past two years, but Miller is a little different breed of cat with his ability to run with power and moves.
"Braxton is a tailback playing quarterback," Dantonio said. "When he gets outside, he looks like a tailback running the football, but yet he can throw it. Our main focus is going to be containing him and limiting his opportunities, but that's easier said than done."
Michigan State had an easy time of doing so in last year's 10-7 victory at the Horseshoe. They registered nine sacks, and Miller's longest run of the day was three yards. Yet he was making just his second career start as a true freshman, and Ohio State's offense has changed considerably under Urban Meyer.
Dantonio hasn't coached against a Meyer-style offense since the second game of his first season as Spartans head coach in 2007. Michigan State beat Bowling Green and former Meyer offensive coordinator Gregg Brandon 28-17. But Dantonio said several opponents have incorporated aspects of Meyer's offense, and his defenses have been pretty good over the years against high-tempo spreads.
"We've worked at it, and [defensive coordinator Pat] Narduzzi has played against it going back to when we played Michigan with Rich Rodriguez," Dantonio said. "We even had that experience when we were at Cincinnati, going against teams like West Virginia. So it's not something that is completely foreign. I think we have a pattern of how to practice it and the way we work on things with our guys."
Michigan State ranks No. 6 nationally in total defense, which is where it finished last season. The Spartans are also No. 6 in pass efficiency defense, No. 10 in rush defense and 11th in points allowed (11.75 per game). Yet, curiously, they have only three sacks this season, a year after finishing with a Big Ten-best 44.
"We've gotten pressure, but teams have either eluded us or gotten the ball out quickly," Dantonio said. "We have gotten tackles for loss, and we're tough to score against. So as long as that remains true, especially in that scoring aspect, you can't argue with the results."
The results are usually predictable for Michigan State's defense. The question is, what happens when an unpredictable force like Miller tests it?
July, 10, 2012
7/10/12
3:25
PM ET
Our week-long series on college football coaches continues with a look at the best jobs in the country.
What makes a job great? Tradition, administrative/fan support, facilities, recruiting location, championship expectations, recent track record, college town and brand name all play key parts. Most Big Ten schools can be viewed as destination jobs for certain coaches, but only a select few are destination jobs for most coaches around the country.

In ranking the Big Ten's coaching jobs, I placed the most emphasis on the following four factors: tradition, facilities, recruiting location and recent track record. As a reminder, this isn't a ranking of Big Ten coaches, but of the jobs they occupy.
Here's the rundown ...
1. Ohio State:
There's a reason Ohio State can go through a year like 2011 and then hire a coach like Urban Meyer. Most programs would have been in big trouble. From winning tradition to tremendous facilities to a location in the Big Ten's most fertile recruiting state, Ohio State has it all. It is one of the sport's best brands.