Ohio State Buckeyes:

Joshua Alabi
November, 27, 2013
Nov 27
9:00
AM ET
It's called The Game for a reason. The rivalry between Michigan and Ohio State is intense and is always a fan favorite. That holds true with recruits as well, so it's only natural that there will be a ton of top targets on hand for this game.
Here is a look at 10 prospects who will be visiting Ann Arbor, Mich., to watch these rivals face off.
DE Malik McDowell (Southfield, Mich./Southfield):
It still isn't 100 percent this ESPN 300 prospect will be in for the game, according to his father. It is likely, though, that he will be there, which is a good thing because he is one of the few remaining top targets in the 2014 class. McDowell is the No. 68 player in the country and an in-state kid, so it's imperative that Michigan land him in this class.
To continue reading this article you must be an Insider
November, 19, 2013
Nov 19
7:00
PM ET
The newest version of the
ESPN Junior 300
is out and there was plenty of movement within the list to interest Big Ten fans. Here is a look at what changes were made from a Big Ten perspective.
To continue reading this article you must be an Insider
August, 14, 2013
Aug 14
10:00
AM ET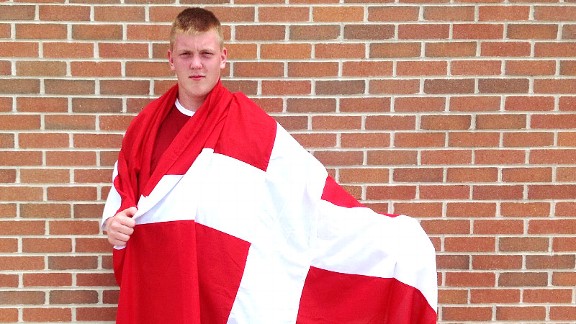 Brad Bournival/ESPNHjalte Froholdt, the No. 14 player in the ESPN Junior 300, will be playing his junior season in his native Denmark but will have plenty of suitors waiting for his return to the United States.
There are currently 34 Midwest prospects -- 15 from Ohio -- within the ESPN Junior 300. Not a single one of them has pledged an allegiance to a school as of yet.
That means the dogfight is already on, as Big Ten schools and others around the country prepare for an 18-month battle for some of the best.
As is usually the case, the Midwest will bring some interesting storylines over the next few years as the focus will shift to the heartland for some of the biggest names at the high school level.
In keeping with Tuesday's theme, here are the top 11 prospects out of the Midwest and where they're at in the process.
To continue reading this article you must be an Insider
August, 9, 2013
Aug 9
11:00
AM ET
By
Brad Bournival & Tom VanHaaren
| ESPN.com
It's time to dip into the Big Ten recruiting mailbag and answer some of your questions. We'll try to give everyone a chance to get their questions answered. We encourage you to send your questions by Twitter to
@bbournival
or
@TomVH
. Feel free to email us as well at
brad.bournival.espn@gmail.com
or
TomVHESPN@gmail.com
.

@BeerTheDeer:
What are Wisconsin's chances with Joe Mixon and Damien Mama? If the Badgers can pull them both, does that do anything to raise Wisconsin's recruiting pull?
Brad Bournival:
Absolutely. You have to consider that seniors only get five official visits, so the Badgers are already way ahead of the game when it comes to landing the duo. Wisconsin's offensive line legacy and strong education isn't lost on Mama. The Badgers' ability to turn running backs into stars isn't lost on Mixon either. As far as what it would do to help Wisconsin in the recruiting scene, history shows that teams on a roll stay on a roll, especially on a year-to-year basis. Once a team gets hot with top recruits, others start taking a look.
@McArthurMatt:
Will Michigan State start putting the pinch on Michigan's Detroit Cass Tech pipeline with the commitment of Jayru Campbell?
Tom VanHaaren:
It depends on what you mean by pinch. Campbell didn't have a Michigan offer, so I don't know if you can consider that in your question. I think Michigan will still land players from Cass Tech, but Michigan State hiring Curtis Blackwell will certainly make for more competition.
Blackwell was involved with a lot of prospects in Detroit, so his relationship with the prospects and their families is a big bonus. I do think Michigan State has a shot with Cass Tech defensive end Joshua Alabi, who does have an offer from the Wolverines.
If Michigan State lands Alabi, then this is an argument that can be talked about. That would be a big win for the Spartans if they were to land him, but that's yet to be seen.
Michigan State will be a player for a lot of the local prospects now, but I don't think it will have a huge impact overall on Michigan's recruiting efforts.
@roberthendricks:
What do you think about Damian Prince? Where is he headed?
Bournival:
The three teams that look to be separating themselves are Florida State, Maryland and Ohio State, but I think this is a two-team battle between the Terrapins and Buckeyes. Maryland might be selling the in-state angle, but it's more than that as the Terrapins wouldn't mind having him be the face of the program. With 13 offensive linemen under scholarship next season and four starters leaving after this season, the Buckeyes can sell playing time and depth chart to the ESPN 300 offensive tackle. In the end, I think Prince stays home and becomes a part of Maryland's 2014 class.
@Paul_Zinn24:
Overall, how is the Big Ten stacking up in recruiting to other major conferences?
VanHaaren:
Not great. Michigan and Ohio State are holding the fort down with the No. 6 and 12 ranked classes, respectively and Penn State (20) and Northwestern (24) are in the top 25.
Outside of those four teams it doesn't look good. The Big Ten has 25 commitments in the ESPN 300 and 20 of those come from Michigan, Ohio State, Penn State and Northwestern. If you don't feel like doing the math, that means that the other eight teams have five ESPN 300 commitments combined.
The SEC has 77 ESPN 300 commits and the ACC has 35, so the Big Ten is behind significantly.
With that being said, there is still plenty of time left and there are a lot of ESPN 300 prospects that could pick Big Ten schools. Northwestern, Michigan, Penn State and Ohio State are all in on some top targets, so that number could still go up.
@dcarey71:
Is it true because of early enrollments that Penn State will be allowed to offer 17 scholarships instead of 15 this year?
Bournival:
That is correct with a couple of stipulations. The Nittany Lions need to stay at 15 scholarships a year, but it can also count early enrollees toward the class before it. So, since there's some wiggle room in the 2013 class, Penn State can sign 17 prospects in the 2014 class -- as long as two enroll early. Those numbers would meet the NCAA requirements under the sanctions, including the 65-maximum scholarship stipulation as well.
Incidentally, quarterback Michael O'Connor and defensive tackle Antoine White have both stated they want to enroll in January.
August, 8, 2013
Aug 8
9:00
AM ET
By
Brad Bournival & Tom VanHaaren
| ESPN.com
Big Ten fodder is never hard to find, especially in recruiting. Here's a look at a few programs that highlighted a busy week in this week in Big Ten recruiting:
Another Wangler on campus
When 2014 linebacker
Jared Wangler
(Warren, Mich./De La Salle) was offered by Michigan it struck a chord. His father played quarterback for the Wolverines, his older brother and sister are both currently at Michigan and now he has the opportunity to do the same.
To continue reading this article you must be an Insider
July, 18, 2013
Jul 18
10:00
AM ET
Since 2008, Detroit Cass Tech High School has sent 10 of its football players to the University of Michigan. Wolverines fans think of the Technicians as locks to Michigan and a pipeline school.
That probably isn't for naught, as Cass has produced a lot of athletes that end up choosing Michigan. Head coach Thomas Wilcher is a former Wolverine himself, so that only adds to the fans' sense.
Adding to that, in the same period of time Ohio State has signed exactly zero prospects from the Detroit school. So when 2014 Cass Tech defensive back
Damon Webb
came along, naturally Michigan fans were excited.
To continue reading this article you must be an Insider
April, 29, 2013
Apr 29
5:16
PM ET
The last Minnesotan to commit to Ohio State is believed to be Eden Prarie defensive tackle
Willie Mobley
.
The year was 2008. Mobley was injured and took a redshirt season before transferring to Orange Coast College and eventually showing up at Arizona.
Could 2015 defensive end
Jashon Cornell
(St. Paul, Minn./Cretin-Derham) be the next Buckeye from the Land of 10,000 Lakes?
To continue reading this article you must be an Insider
April, 8, 2013
Apr 8
10:00
AM ET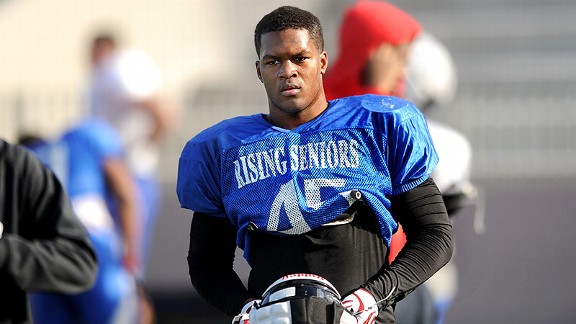 Radi Nabulsi/ESPN.comOhio State re-established its lead for ESPN Watch List linebacker Raekwon McMillan after McMillan spent three days in Columbus this past week.
It had all the makings of a huge week of recruiting for Ohio State with a slew of visitors spending part of their spring breaks in Columbus, Ohio. What followed was a commitment from outside linebacker
Sam Hubbard
and offers to some big names from around the country.
Here's a look at a very busy week for the scarlet gray:
To continue reading this article you must be an Insider
April, 6, 2013
Apr 6
7:35
PM ET
Ohio State isn't done invading Detroit Cass Tech High School.
In fact the Buckeyes are far from it.
With 2014 cornerback
Damon Webb
already in the fold, the Buckeyes offered two more Technicians Saturday. But this time they went to the sophomore class, offering running back
Mike Weber
and defensive end
Joshua Alabi
.
To continue reading this article you must be an Insider
April, 5, 2013
Apr 5
10:05
AM ET
Some very strong names have been on Ohio State's campus over the past week --
Raekwon McMillan
(Hinesville, Ga./Liberty County) and
Demarre Kitt
(Tyrone, Ga./Sandy Creek) most notably.
Kitt is on campus until Sunday, but he'll have plenty of company. To be blunt, Buckeyes fans won't be able to trip and fall without landing on an ESPN Watch List recruit or big-time target on Saturday.
To continue reading this article you must be an Insider
March, 21, 2013
Mar 21
7:06
PM ET
The annual adidas Invitational is set to take place on Sunday, March 24, at Grand Valley State University, and as usual some of the top Midwest and national prospects will be on hand.
The camp, put on by Maximum Exposure, already has more than 40 prospects with offers on its roster and ready to compete. The event will put the athletes through individual events and one-on-one drills in the indoor facilities at Grand Valley.
As usual, Cass Tech High School will be represented well with 2014 prospects
Damon Webb
,
Gary Hosey
and
William White
. The underclassmen also will be on display for the Technicians, with 2015 quarterback
Jayru Campbell
,
Joshua Alabi
and running back
Mike Weber
on the roster.
The 2015 class might have a shot to steal the show at the event, with big names including wide receivers
Brian Cole
(Saginaw, Mich./Heritage) and
Ray Buford
(Southfield, Mich./Southfield), defensive end
Jashon Cornell
(St. Paul, Minn./Cretin-Derham) and defensive backs
Tymeon Ollison
(Akron, Ohio/Buchtel) and
Tyriq Thompson
(Detroit/King).
Thompson is the son of former Michigan standout Clarence Thompson and by all accounts could be a great player in his own right. Thompson will be joined by his teammates, 2014 linebacker
Carl Fuller
and defensive back
Avonte Maddox
, as well.
Defensive end
Lawrence Marshall
(Southfield, Mich./Southfield) has nothing really to prove with offers from Michigan, Ohio State, Oklahoma, Ole Miss and Tennessee, among others, but he will be in attendance nonetheless.
March, 18, 2013
Mar 18
1:55
PM ET
It's going to be one heck of a busy month for Ohio State as unofficial visitors pour into Columbus, Ohio, for a look at the Buckeyes.
We've already talked about many of the big names set to visit the Horseshoe, but the visitors keep coming.
To continue reading this article you must be an Insider
February, 14, 2013
Feb 14
10:00
AM ET
It's time to camp.
With the signing period over, the need for the Class of 2014 to get noticed becomes paramount. This weekend, three big combines take place.
To continue reading this article you must be an Insider
February, 8, 2013
Feb 8
2:15
PM ET
Urban Meyer sleeps with both eyes open. Why? Because things can change on the fly in the world of recruiting.
To continue reading this article you must be an Insider
30 for 30: Youngstown Boys Clarett in High School