Ohio State Buckeyes:

Joel Hale
September, 26, 2013
Sep 26
11:00
AM ET
COLUMBUS, Ohio -- The clues started popping up in the form of ferocious pass-rushing ends who were dominating spring practice.
By the time training camp and the start of the season rolled around, a couple new bodies were added into the rotation, and Ohio State was starting to show signs that what was thought to be a potential problem was about to be solved.
[+] Enlarge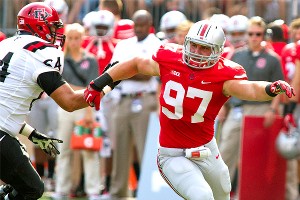 Jason Mowry/Icon SMITrue freshman Joey Bosa has been pressed into action and has performed admirably.
Now with four games under their belt, the Buckeyes are reasonably certain that an entirely rebuilt defensive line has gone from possible weakness to legitimate strength.
But even with all the information they've compiled -- dating to the end of last season and through an impressive start outside of Big Ten play -- all No. 4 Ohio State really has at this point is a hypothesis. The true test is coming Saturday, with No. 23 Wisconsin and its powerful rushing game visiting Ohio Stadium to provide a more concrete answer about just how good the Buckeyes are up front.
"They have not received the challenge yet like this one," Ohio State coach Urban Meyer said. "This will be the biggest challenge to this point, maybe the rest of the year, for our defensive front seven.
"I know we've had conversations about this outfit before, because the run game is real. You can get embarrassed real fast if you're not gap-sound and handling your business."
The Buckeyes went about their nonconference business with ruthless efficiency and relative ease, relaxing some of the concerns about filling the void left by three graduated seniors and a junior who left early for the NFL draft. But given the level of competition a largely inexperienced unit has faced compared to what it will encounter in the trenches against the Badgers, it's difficult to reach much of a conclusion until after this weekend's prime-time matchup.
Ohio State hasn't been at full strength on the line yet either, with
Adolphus Washington
missing two games due to a groin injury that has kept him from forming what appears to be a terrific tandem with fellow sophomore
Noah Spence
. Defensive tackle
Michael Bennett
was held out of last week's blowout over Florida A&M, and Ohio State has yet to get a snap out of
Tommy Schutt
at the position this season due to a preseason foot injury. Those issues have pressed a true freshman into an expanded role at end, where
Joey Bosa
has shined, and it also forced Meyer to move offensive lineman
Chase Farris
back over to defense to provide more depth and talent on the interior alongside veteran
Joel Hale
.
But even with those limitations, the way the Buckeyes have played might give them a bit of extra credit, considering they still rank No. 9 in the nation against the rush and No. 13 in total defense, which also represents marked improvement from some early struggles a year ago in Meyer's first season with the program. But those numbers haven't come against teams that can block as physically or run as dangerously as the Badgers, and the nation's third-ranked rushing attack is the measuring stick that counts for a defense looking to live up to the proud tradition of the Silver Bullets.
"I know people are going to say that it's going to come down to making tackles and stopping big plays and things like that," defensive coordinator Luke Fickell said. "But if we do a great job up front, we'll be in good shape. If we don't do a great job up front, we'll have a tough time.
"That doesn't mean the back seven don't have to play well. The linebackers and [secondary] are every bit a part of stopping and fitting that run and being a part of that effort as the front seven. But those guys up front are where the game is won and lost."
Testing a hypothesis doesn't get much easier than that.
August, 29, 2013
Aug 29
9:00
AM ET
COLUMBUS, Ohio -- Breaking down the positions and players who have the most to prove as No. 2 Ohio State opens the season on Saturday against Buffalo (TV: ESPN2, noon).
FIRST DOWN: Defensive tackles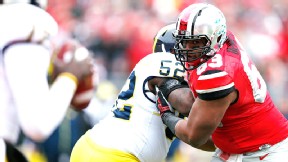 Joe Robbins/Getty ImagesThe Buckeyes feel good about their DEs, but Michael Bennett and the rest of the Ohio State DTs have something to prove.
The broken bone in
Tommy Schutt
's foot has thrown another wrench in the rebuilding project for the Buckeyes up front, and they reacted to it swiftly by shuffling
Chase Farris
back over to defense from the offensive line.
Schutt wasn't listed as a starter on the depth chart for the opener, but the sophomore impressed in limited action last season and had turned in a productive training camp before the injury bug bit him again on Monday. The Buckeyes know what life is like without Schutt after ankle issues limited him throughout spring, but for a unit that is replacing all four starters, having everybody healthy and ready to contribute was obviously important.
Ohio State has no shortage of confidence in
Noah Spence
and
Adolphus Washington
at end, but in some respects
Joel Hale
and
Michael Bennett
are still unknown quantities despite having been in the program for a couple years. Now with Schutt out and Farris moving to fill the void, the pressure is ramped up for a newcomer such as
Michael Hill
or sophomore
Chris Carter
.
SECOND DOWN: Freshmen skill players
The Buckeyes have no shortage of pieces returning from the Big Ten's best offense a season ago, but it's the fresh additions that figure to allow Urban Meyer to truly unleash his spread attack this fall.
They still have to prove themselves in a game though, and
Dontre Wilson
,
Ezekiel Elliott
and
Jalin Marshall
are all likely to touch the ball a few times as the Buckeyes evaluate what they have in what is shaping up to be an offensive class capable of making an early impact.
Wilson, in particular, could get his hands on the football right away with Ohio State trotting him out to return kickoffs. His electric speed could be put on display early, but the Buckeyes will really be watching him closely in the H-back role as they try to add more diversity to the playbook.
THIRD DOWN: Cornerbacks
The starting job
Armani Reeves
is filling this week is only temporary, and the sophomore is well aware of that. But he's got a huge opportunity to impress with
Bradley Roby
sitting out his one-game suspension, and potentially down the road it might help him make a push for the other first-team job at cornerback.
Doran Grant
has something to prove himself after playing minimally in reserve of Roby and Travis Howard a year ago, so the junior bears monitoring as well as he transitions into the starting lineup. There hasn't been any question about the pecking order since spring -- with Roby and Grant leading the way for a talented, deep secondary -- but only one career start separates Grant from Reeves. Both would benefit from making a strong first impression against the Bulls.
FOURTH DOWN: Braxton Miller's arm
The reviews have been overwhelmingly positive for the junior's development as a passer, and he publicly lobbied after practice to air the ball out at least 25 times -- then joked that he would call his own plays to get to 30.
If Miller is eager to show off the improvements he's made mechanically both in terms of accuracy and his footwork, the Buckeyes would certainly like to get a gauge of how far he's come in a meaningful setting as well.
There's been little doubt since a productive spring game that Miller is sharper and more confident delivering the football, and he's only had more time to fine tune his arm since then. The Buckeyes were far from a balanced offense last season, rushing twice as often as they passed, with Miller's skills as a runner helping drive up the margin.
But if his arm has managed to make up some ground with his feet, the offense could be unpredictable with what it could do on any down, making it a nightmare to try to defend.
August, 21, 2013
Aug 21
11:00
AM ET
Breaking down the Ohio State roster as training camp winds down and the program turns its attention to the opener on Aug. 31 against Buffalo.
DEFENSIVE LINE
Top of the depth chart:
Adolphus Washington
and
Noah Spence
at end with
Michael Bennett
and
Joel Hale
on the interior
Next in line:
Ankle injuries in spring practice kept
Tommy Schutt
from making it a three-man rotation in the middle, but he is healthy now and pushing for work at tackle along with the more veteran starters.
Chris Carter
isn't exactly slim and probably never will be, but he has shed some weight and could be a valuable run-stopper when the situation is right.
Rashad Frazier
has emerged as a viable option at end, and the transition of
Jamal Marcus
from linebacker a year ago to pass-rushing threat on the edge has apparently been a success as he and
Steve Miller
offer two more useful bodies off the bench.
New faces:
For all of Urban Meyer's history on offense, he long has made an emphasis on stocking his team with athletes on the defensive line capable of wreaking havoc on opposing quarterbacks. After losing all four starters from the 2012 line, the Buckeyes were perhaps more intent than usual on stocking up for the future in the trenches, and freshmen such as
Joey Bosa
,
Michael Hill
,
Tracy Sprinkle
and
Tyquan Lewis
all could play a role in the rebuilding of the unit as early as this season.
Recruiting trail:
Even with all four projected starters set to return after this season, the focus on finding more potential game-changers up front hasn't changed at all for Meyer. The class of commits already includes a pair of linemen, including ESPN300 end Jalyn Holmes (Norfolk, Va./Lake Taylor), a versatile athlete who checks in at 6-foot-5 and has enough mobility to play on either side of the ball potentially.
Flexibility:
The plan heading into the season is to rotate through about eight guys up front, which wasn't something the Buckeyes ever could really do a year ago while still easing Spence and Washington into the mix during their first seasons on campus. Ohio State can't lean on a group of veterans to carry the load this time, though, and the development of the second unit could be critical as the season progresses. There's no real question about who the starters are, but for all the talent Spence and Washington bring to the lineup, this will still be their first full year in the Big Ten grind as regulars.
Notable numbers:
Despite his relatively limited role a year ago, Washington's three sacks represent the highest returning total among linemen. John Simon's nine takedowns led the team, and linebacker Ryan Shazier finished second with five -- so the Buckeyes are certainly looking for more individual production from the next wave up front.

Bennett appeared in only eight games and chipped in just 11 tackles due to a nagging groin injury, but before his health became a concern, the Buckeyes had big plans for him as a sophomore with Meyer labeling him as one of his top four linemen. Ohio State will need him to live up to that billing on the inside this fall.
Big question:
How good can the super sophomores be?
There may have been some uncertainty heading to spring practice as the Ohio State staff faced the daunting task of replacing six starters in the front seven -- including the entire defensive line. But it didn't take long for Spence and Washington to start easing some minds and allowing the coaches to get some sleep. The two are freakishly talented and perfect complements to each other, with Spence a speedy blur off the edge and Washington a powerful force capable of bulling over blockers on the way to the quarterback. Neither has been called on for regular work over a complete season at this level, though, so despite the high expectations, there's still plenty left to prove on the field. The way the two of them hold up physically as they tap into that enormous potential will be critical in determining just how much of a threat the Buckeyes can pose to opposing offenses this season.
July, 17, 2013
Jul 17
9:38
AM ET
Trades aren't happening in college football any time soon. Even if they were legalized, the thought of two hated rivals doing anything to potentially help each other out would make Woody and Bo start spinning in their graves.
But pretend for a second those laws were relaxed and the Buckeyes and Wolverines each had a need so pressing that the programs at least kicked around some ideas. As part of our ongoing look this week at "The Game," a couple ESPN.com beat writers took a shot to see just what they could get from each other that might spur on a championship run for the current roster. Thanks to the Freedom of Information Act, here's a look at how a (fictional) deal might have gone down.
From:
OSU_GM
To:
UM_PersonnelDept
Subject:
Don't tell anybody
Mr. Rothstein:
We probably shouldn't even be talking, and if word gets out that we even considered making a deal, we might need to consider looking for new jobs. But since the rules against trades in college football magically vanished and we were hired for some reason to become general managers for Ohio State and Michigan, respectively, I think we at least owe it to ourselves to pursue all options. As I'm sure you're aware, the Buckeyes were hit pretty hard by graduation in the front seven after knocking off the Wolverines to cap a perfect season last fall (in case you forgot about the celebration in the 'Shoe). And recently the program has seen a group of linebackers that was already thin lose a couple more bodies that could have offered some help off the bench this fall. Additionally, while the future looks pretty bright at tackle for
Taylor Decker
or
Chase Farris
, right now there is one spot without much experience that tends to stand out when there are four seniors starting elsewhere on the line. So, I don't know what position is troubling you most as training camp sneaks up on college football, but if there's a potential swap or two that might help us both out, I am all ears. But you didn't hear that from me.
Sincerely,
Austin Ward
Interim Ohio State personnel director
---
[+] Enlarge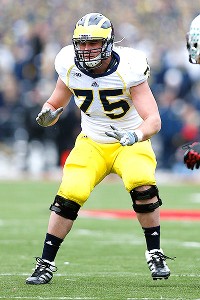 Joe Robbins/Getty ImagesThe Buckeyes wanted Michael Schofield for experience at tackle, but Michigan's demands in return were too rich for OSU's blood.
From:
UM_PersonnelDept
To:
OSU_GM
Subject:
Too late
Mr. Ward:
Unfortunately for you, I'm mouthy. And I've already started rumors you are trying to trade
Braxton Miller
for the remnants of Rich Rodriguez's offense. Apologies in advance. Not going to lie, looking over my roster I have concerns at wide receiver, running back and I could use some experience on the interior of the offensive line. Also, while there's some depth at cornerback, wouldn't mind grabbing one or two from you. Oh, and since you're interested in giving up Miller, that would solidify some of the depth issues there. I see you're fishing for a tackle. Sorry,
Taylor Lewan
is not available. While I like
Michael Schofield
a lot, he is more available at the right price. So too are some of the linebackers. What interests you on the Michigan squad? I'm willing to listen for anyone except for Lewan and quarterback
Devin Gardner
.
Sincerely,
Michael Rothstein
Fake Michigan personnel director
---
From:
OSU_GM
To:
UM_PersonnelDept
Subject:
Re: BRAXTON
Hey bud, these talks just about ended instantly with any mention of the franchise quarterback being available. Newsflash -- Miller won't be on the market heading into his senior season either, so get used to trying to defend him. At any rate, Schofield would be an intriguing option for the Buckeyes because he could provide another veteran presence with ample experience in the Big Ten, potentially giving Decker or Farris another year to develop physically before moving into the starting lineup in 2014. After getting a glimpse at what
Desmond Morgan
could do last fall when he made 11 tackles (in a losing effort) against Ohio State, he might look good in Scarlet and Gray, especially if the spring gave him flexibility to play in the middle. I probably don't need to mention that
Bradley Roby
is untouchable in the secondary, but there is no shortage of talent alongside him in the backend. Might want to take a look at the stable of running backs the Buckeyes have in the fold as well -- but feel free to skip over
Carlos Hyde
.
AW
---
From:
UM_PersonnelDept
To:
OSU_GM
Subject:
No subject
July, 16, 2013
Jul 16
10:00
AM ET
COLUMBUS, Ohio -- Training camp hasn't even started yet. After that grueling month, there's still almost an entire season to be played before "The Game" that matters most.
But it's never too early to set the table for the feud between Ohio State and Michigan, and at BuckeyeNation and WolverineNation, we're doing it all week.
We looked back on Monday at some
heroes
and
villains
on both sides of the rivalry. Today we're looking ahead at the strengths and weaknesses that could decide the latest edition in the storied series, which is just more than four short months away.
STRENGTHS
Ground and pound: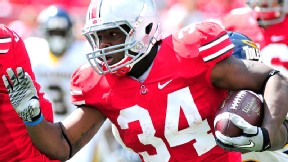 David Dermer/Diamond Images/Getty ImagesOhio State running back Carlos Hyde is poised for a big senior season.
The Ohio State rushing attack was potent enough a year ago, but it's only added more experience and weapons to the mix now. By November, it might be almost impossible to slow down the Buckeyes on the ground as they incorporate the new pieces to the attack and potentially get more support from the passing game.
Braxton Miller
is obviously a threat to score from anywhere on the field, and if
Carlos Hyde
makes the kind of improvement he's targeted in terms of making defenders miss at the second level, that one-two combination will continue to rank among the best in the country, particularly with four seniors back on the offensive line.
But it might be the added dimension of a healthy
Jordan Hall
or a true freshman such as
Dontre Wilson
or
Jalin Marshall
at the hybrid, Pivot position that gives opponents even more fits. Or maybe it's a backfield that can be loaded up with as many as three talented rushers, rolling out
Rod Smith
or
Bri'onte Dunn
in a diamond formation with Hyde and Miller. Either way, the Buckeyes have the personnel to give Michigan a workout in the front seven.
Air patrol:
The expectations are growing for Michigan's passing attack now that
Devin Gardner
has the position all to himself, and he'll have plenty of time to develop and find a rhythm before meeting up with the Buckeyes. But there might be no stiffer test in the country than the one Ohio State can present a quarterback thanks to its overflowing talent and veteran savvy in the secondary. Cornerback
Bradley Roby
and safeties
Christian Bryant
and
C.J. Barnett
would make life difficult on their own, but the Buckeyes can complement that with another senior safety in reserve in
Corey "Pittsburgh"' Brown
, a junior cornerback looking to make a name for himself in
Doran Grant
and a class of incoming defensive backs that represented perhaps the best signing day haul in the nation.
The Buckeyes plan to get as many of those guys involved as possible this season, which could make the secondary even more fearsome by the time Gardner gets a crack at them.
WEAKNESSES
Middle ground:
The fresh faces are almost everywhere in the front seven, but heading to training camp, there's not all that much uncertainty about who will be filling which shoes left behind by the defenders who helped the Buckeyes go unbeaten last fall.
Noah Spence
and
Adolphus Washington
are poised for breakouts at end and
Curtis Grant
and
Joshua Perry
appear ready to lend a hand next to
Ryan Shazier
at linebacker, but there are two critical spots on the inside of the line that bear monitoring as Ohio State prepares to stop opposing rushing attacks.
Michael Bennett
is close to a lock for one role, but there could be a heated competition for reps next to him to complete the rotation.
Tommy Schutt
battled injuries throughout spring practice, but he has the ability to be a future star.
Joel Hale
is a grinder and respected leader, and the junior could be an intriguing option as well. And if big
Chris Carter
can manage his weight, his massive frame clearly could fill up some rushing lanes.
By November, the Buckeyes figure to have long ago answered those questions up front and should have also built up plenty of experience. But that will be at the top of the priority list as Ohio State chases a Big Ten title -- and keeps an eye on its rival.
Kicking it:
More often than not, the Buckeyes had the edge over opponents in the third phase. But considering how much value Urban Meyer places on special teams and how much production he expects, Ohio State wasn't all that close to giving him what he wanted a year ago. Kicker
Drew Basil
wasn't used all that much, aside from the season-ending win over Michigan, but among his 11 attempts last season were a pair of missed field goals from less than 39 yards that didn't exactly inspire confidence. The Buckeyes will be breaking in a new punter as well, and winning the field position battle is as important under Meyer as it has always been under previous regimes at Ohio State -- putting pressure on some young contributors to make plays in kickoff and punt coverage.
Philly Brown
took a couple punts back for touchdowns last year and the "Freak Show" punt block unit made itself a nuisance a few times, but Meyer and newly-promoted special teams coordinator Kerry Coombs keep the bar pretty high in that area of the game. And in tightly contested rivalries, it can make all the difference.
June, 5, 2013
Jun 5
9:00
AM ET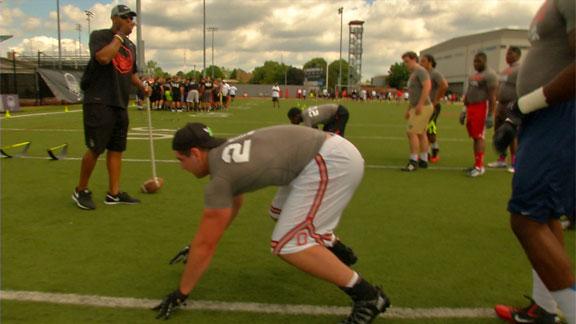 COLUMBUS, Ohio -- Ohio State's defensive line should need no introduction over the next few seasons.
From
Noah Spence
to
Adolphus Washington
to
Michael Bennett
to
Joel Hale
to
Steve Miller
to
J.T. Moore
, the names stick out and are full of potential.
Throw in
Chris Carter
and
Tommy Schutt
with newcomers
Joey Bosa
,
Tyquan Lewis
,
Michael Hill
,
Donovan Munger
,
Billy Price
and
Tracy Sprinkle
and the future looks bright.
So why would defensive end
Dylan Thompson
(Lombard, Ill./Montini Catholic) throw his name in the mix and join the 2014 pledges as future Buckeyes?
To continue reading this article you must be an Insider
May, 3, 2013
May 3
11:00
AM ET
With spring practice in the books and Ohio State heading into its offseason conditioning program, BuckeyeNation is looking at the players who boosted their stock with the program during spring workouts. Last week it was the offense, and now we'll look at a handful of defenders who will be in line for heavy workloads this fall.
No. 1: Adolphus Washington
Who: Early in camp, the practice-field highlights of fellow sophomore defensive end Noah Spence overshadowed Washington. Even midway through camp, Buckeyes coach Urban Meyer wasn't quite seeing the consistent dominance he was hoping for from a well-built pass-rusher with so much potential. But down the stretch Washington consistently put everything together, stamping himself as a potential worthy heir to John Simon and a developing force with whom the Big Ten will have to contend for at least the next season. With his strength and a frame that tips the scales at nearly 300 pounds, Washington already has seen time on both the inside and the outside of the line. The sack and forced fumble from the edge last year against Michigan provided some evidence that position suits him best, though, and with Washington figuring out how to play with that urgency more regularly, he's clearly got some momentum at that spot moving forward.
Spring progress: Washington essentially showed up on campus last year physically ready for the game at this level, and he's only going to get stronger as he spends more time in Ohio State's rigorous offseason conditioning program. So that's not an area that will force position coach Mike Vrabel to worry much. Instead he can emphasize fine-tuning technical issues with Washington and motivating him to tap further into his vast potential. The Buckeyes might not have seen instant results, but by the 15th and final workout of camp there might not have been another player on the roster who had done more to win over the coaching staff.

Jockeying for position: With speed that is almost frightening given his stature, Washington is more than capable of getting to the quarterback off the edge while providing plenty of support against the run, thanks to his 292 pounds. That package will continue to give the Buckeyes flexibility, as he can easily transition from tackle to end, and vice versa. At this point, Washington appears best suited to playing outside, particularly with Michael Bennett, Joel Hale, Chris Carter and Tommy Schutt available to fill out the rotation on the interior. But depending on the situation and the formation, Washington's set of skills could be put to use in a variety of ways.

He said it: "Adolphus Washington has really raised his level of play, he's a legitimate player, he's a starter at Ohio State. You saw him today just have his way with our offensive line at times, and he could be a very good player." -- Meyer, after the spring game

Closing number: The sacks were easier to come by with quarterback Braxton Miller in a black, non-contact jersey, and his offensive line was also missing a couple starters. But regardless of the degree of difficulty or who was blocking, racking up four sacks in the spring game while making it look routine to get in the backfield offered some public evidence of how destructive Washington could become for the Buckeyes -- validating Meyer's claim a few days before the exhibition that the sophomore's stock was worth buying.
March, 5, 2013
Mar 5
9:27
PM ET
COLUMBUS, Ohio -- Urban Meyer was only ready to truly evaluate one thing.
The Ohio State coach couldn't lead a full-contact practice on the first day of spring camp, so there was only so much he could really find out physically about his second Buckeyes team.
But mentally Meyer was able to get a read on where the Buckeyes were when they reported to the Woody Hayes Athletic Center on Tuesday, and those reviews were positive as the work toward providing an encore to a perfect season started on the practice field.
"It was fine, I wasn't really concerned about attitudes, I knew we would have good attitudes," Meyer said. "What I'm concerned with is just the development of some players and after Day One I can't give you a whole lot, other than we went out in shorts and did have a good attitude. Guys like
Tyvis Powell
and Pittsburgh Brown and some other guys had good days, thought we threw and caught pretty well.
"It's the first day in shorts. We've got to expect them to [have a good attitude]."
The camp opener did provide a few notable developments aside from the way the Buckeyes approached the workout mentally, starting with these four players/positions.
February, 21, 2013
Feb 21
9:00
AM ET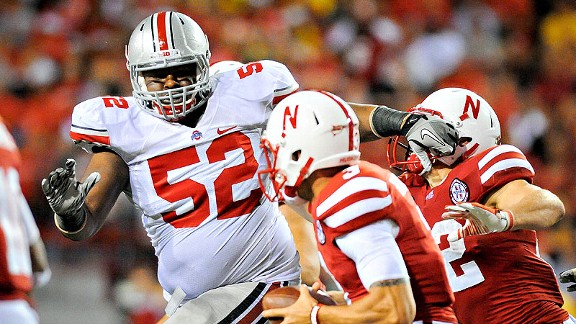 Eric Francis/Getty ImagesOhio State will have to find a way to replace Johnathan Hankins.
With national signing day in the books, the next big date on the Ohio State calendar as it continues working toward an encore for an undefeated season in 2013 is spring practice. Before those workouts begin, BuckeyeNation will take a look at each position to see where the roster is at -- and where it's going.
DEFENSIVE TACKLES
Who's back: The void in the middle of the defensive line is substantial, but that doesn't mean it's likely to become a black hole for Ohio State as it transitions to life without Johnathan Hankins and Garrett Goebel. Losing a talent like Hankins early to the NFL draft was a major blow to the defense even if it was expected, and Goebel's senior season was quietly productive and steady even if it wasn't flashy as the combination of the two big guys plugged gaps and often made rushing up the middle a fruitless proposition for opponents. But there are talented guys in reserve up front, even if there doesn't appear to be all that much depth heading into spring practice. Michael Bennett and his versatile set of skills will be put to use on the interior, and junior Joel Hale and sophomore Tommy Schutt both have the ability to handle the first-team load after filling in off the bench a year ago. Those three guys will be the focal point, charged with picking up where Hankins and Goebel left off.

New face: The Buckeyes have two recent signees already on campus and ready to go to work in the spring, though both are listed as defensive ends and don't appear to have the size needed to battle at the interior spots. But either way, Tracy Sprinkle (6-foot-2, 241 pounds) and Tyquan Lewis (6-foot-3, 223) could potentially allow line coach Mike Vrabel to tinker with his rotation a bit, particularly with somebody like inside-outside guy Adolphus Washington who is capable of playing multiple positions. Natural tackles Michael Hill, Joey Bosa, Billy Price and Donovan Munger will bulk up the group in August.
December, 26, 2012
12/26/12
9:00
AM ET
COLUMBUS, Ohio -- Heading into the new year and offseason workouts, BuckeyeNation will look at some holes left by the departing Ohio State veterans and potential candidates to fill them, continuing today in the trenches.
[+] Enlarge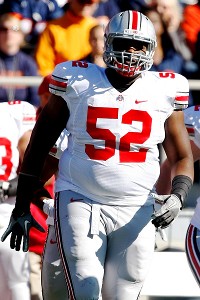 AP Photo/Scott BoehmJohnathan Hankins will be tough to replace for OSU.
DEFENSIVE TACKLE
Who: The Buckeyes might have held out some slim hope that Johnathan Hankins would return for another year and a chance to compete for a championship, but with his stock already so high, that always was going to be a bonus and not an expectation heading into Urban Meyer's second season with the program. Hankins didn't post the gaudiest numbers during his junior campaign, but his ability to impact the game went well beyond statistics as he occupied multiple blockers, ate up space in the middle of the defensive line and swallowed up any running backs that happened to venture his way as he solidified his NFL stock while the Buckeyes went undefeated.

By the numbers: While for the most part the work Hankins did to anchor the defensive line was hard to quantify in the box score, the junior still finished fifth on the team with 55 tackles. There wasn't much flashy about his approach and he didn't finish many plays in the backfield with just 4 tackles for a loss, but it was a rare sight to see Hankins lose an individual matchup and he simply had to be accounted for by the opposing offensive line on every snap.
December, 10, 2012
12/10/12
3:29
PM ET
I believed Johnathan Hankins when he said last summer that he wanted to help Ohio State win a championship.

But some NFL draft decisions are made for you. And when you're a virtual lock in the top 15 of the draft, you make the jump, no questions asked.
Hankins surprised no one Monday in announcing he'll forgo his senior season and enter the 2013 NFL draft. The Ohio State junior defensive tackle boosted his stock this season, eating up space and ball-carriers in the middle of the Buckeyes' defensive line. Many NFL draft prognosticators, including our own Mel Kiper Jr. and Todd McShay, have Hankins as the first Big Ten player off the board in April.
Hankins won't help Ohio State try to win a national title in 2013, but he undoubtedly made the right call.
"I will always be grateful for the family I have gained here at Ohio State," Hankins said in a prepared statement. "I want to thank coach [Urban] Meyer, coach [Mike] Vrabel and strength coach [Mickey] Marotti for bringing the best out of me as a football player and person, and for their constant support. I also want to thank coach [Jim] Tressel and coach [Jim] Heacock for recruiting me and giving me an opportunity to be a part of this great school and great program."
Hankins added that he intends to finish his degree at Ohio State, which is great to hear. He started every game the past two seasons and finishes his career with 138 tackles (58 solo, 80 assists), including 16.5 tackles for loss and five sacks.
Although Ohio State expected Hankins to leave, his departure underscores some potential depth issues the team will have up front in 2013. Defensive end John Simon, the Big Ten Defensive Player of the Year, moves on along with nose tackle Garrett Goebel and defensive end Nathan Williams.
The good news is Urban Meyer has recruited very well at defensive line, securing blue chippers Noah Spence and Adolphus Washington in his first class (both played this fall). Linemen like Michael Bennett, Steve Miller, Tommy Schutt and Joel Hale all should see increased roles in 2013. Ohio State also is bringing in several standout D-line recruits like ESPN 300 selections Joey Bosa and Michael Hill.
Ohio State has a lot of young talent along the defensive line, but the Buckeyes need those players to grow up in a hurry if they want to take another step forward on defense.
August, 12, 2012
8/12/12
4:59
PM ET
Notes and quotes from Ohio State coach Urban Meyer's press conference on Sunday afternoon during the program's annual Media Day.
STONE TURNED:
The depth at tight end might not qualify as a surplus, but it certainly allowed for some flexibility.
[+] Enlarge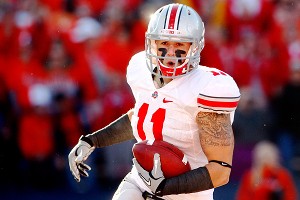 Jerry Lai/US PRESSWIRE"You don't want to go out there and look sloppy and lose a bunch of games and have a lost season," Ohio State senior Jake Stoneburner said.
And with perhaps a more pressing need at wide receiver, Ohio State is planning to lean on the options in reserve and sending its projected started at tight end elsewhere to lend a set of hands.
The Buckeyes had hinted at a different role for senior
Jake Stoneburner
during the first week of camp as he lined up all over the field and turned in some big plays deep down the field. And while he'll still line up at times in his more familiar position, Stoneburner is officially listed at a new one.
"He meets with the receivers," Meyer said. "He'll practice (tight end) at times, because we'll use him as a surface tight end, but we have two very good tight ends in
[Jeff] Heuerman
and
Nick Vannett
, so he's going to be our [Aaron] Hernandez-type guy, the guy that can do some things."
30 for 30: Youngstown Boys -Clarett in Trouble