May, 3, 2013
May 3
11:00
AM ET
With spring practice in the books and Ohio State heading into its offseason conditioning program, BuckeyeNation is looking at the players who boosted their stock with the program during spring workouts. Last week it was the offense, and now we'll look at a handful of defenders who will be in line for heavy workloads this fall.
No. 1: Adolphus Washington
Who: Early in camp, the practice-field highlights of fellow sophomore defensive end Noah Spence overshadowed Washington. Even midway through camp, Buckeyes coach Urban Meyer wasn't quite seeing the consistent dominance he was hoping for from a well-built pass-rusher with so much potential. But down the stretch Washington consistently put everything together, stamping himself as a potential worthy heir to John Simon and a developing force with whom the Big Ten will have to contend for at least the next season. With his strength and a frame that tips the scales at nearly 300 pounds, Washington already has seen time on both the inside and the outside of the line. The sack and forced fumble from the edge last year against Michigan provided some evidence that position suits him best, though, and with Washington figuring out how to play with that urgency more regularly, he's clearly got some momentum at that spot moving forward.
Spring progress: Washington essentially showed up on campus last year physically ready for the game at this level, and he's only going to get stronger as he spends more time in Ohio State's rigorous offseason conditioning program. So that's not an area that will force position coach Mike Vrabel to worry much. Instead he can emphasize fine-tuning technical issues with Washington and motivating him to tap further into his vast potential. The Buckeyes might not have seen instant results, but by the 15th and final workout of camp there might not have been another player on the roster who had done more to win over the coaching staff.
Jockeying for position: With speed that is almost frightening given his stature, Washington is more than capable of getting to the quarterback off the edge while providing plenty of support against the run, thanks to his 292 pounds. That package will continue to give the Buckeyes flexibility, as he can easily transition from tackle to end, and vice versa. At this point, Washington appears best suited to playing outside, particularly with Michael Bennett, Joel Hale, Chris Carter and Tommy Schutt available to fill out the rotation on the interior. But depending on the situation and the formation, Washington's set of skills could be put to use in a variety of ways.
He said it: "Adolphus Washington has really raised his level of play, he's a legitimate player, he's a starter at Ohio State. You saw him today just have his way with our offensive line at times, and he could be a very good player." -- Meyer, after the spring game
Closing number: The sacks were easier to come by with quarterback Braxton Miller in a black, non-contact jersey, and his offensive line was also missing a couple starters. But regardless of the degree of difficulty or who was blocking, racking up four sacks in the spring game while making it look routine to get in the backfield offered some public evidence of how destructive Washington could become for the Buckeyes -- validating Meyer's claim a few days before the exhibition that the sophomore's stock was worth buying.
March, 5, 2013
Mar 5
9:27
PM ET
COLUMBUS, Ohio -- Urban Meyer was only ready to truly evaluate one thing.
The Ohio State coach couldn't lead a full-contact practice on the first day of spring camp, so there was only so much he could really find out physically about his second Buckeyes team.
But mentally Meyer was able to get a read on where the Buckeyes were when they reported to the Woody Hayes Athletic Center on Tuesday, and those reviews were positive as the work toward providing an encore to a perfect season started on the practice field.
"It was fine, I wasn't really concerned about attitudes, I knew we would have good attitudes," Meyer said. "What I'm concerned with is just the development of some players and after Day One I can't give you a whole lot, other than we went out in shorts and did have a good attitude. Guys like
Tyvis Powell
and Pittsburgh Brown and some other guys had good days, thought we threw and caught pretty well.
"It's the first day in shorts. We've got to expect them to [have a good attitude]."
The camp opener did provide a few notable developments aside from the way the Buckeyes approached the workout mentally, starting with these four players/positions.
February, 21, 2013
Feb 21
9:00
AM ET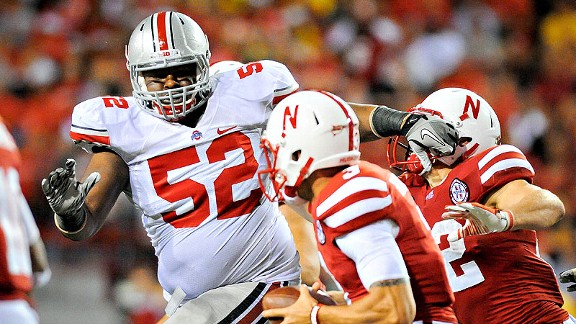 Eric Francis/Getty ImagesOhio State will have to find a way to replace Johnathan Hankins.
With national signing day in the books, the next big date on the Ohio State calendar as it continues working toward an encore for an undefeated season in 2013 is spring practice. Before those workouts begin, BuckeyeNation will take a look at each position to see where the roster is at -- and where it's going.
DEFENSIVE TACKLES
Who's back: The void in the middle of the defensive line is substantial, but that doesn't mean it's likely to become a black hole for Ohio State as it transitions to life without Johnathan Hankins and Garrett Goebel. Losing a talent like Hankins early to the NFL draft was a major blow to the defense even if it was expected, and Goebel's senior season was quietly productive and steady even if it wasn't flashy as the combination of the two big guys plugged gaps and often made rushing up the middle a fruitless proposition for opponents. But there are talented guys in reserve up front, even if there doesn't appear to be all that much depth heading into spring practice. Michael Bennett and his versatile set of skills will be put to use on the interior, and junior Joel Hale and sophomore Tommy Schutt both have the ability to handle the first-team load after filling in off the bench a year ago. Those three guys will be the focal point, charged with picking up where Hankins and Goebel left off.
New face: The Buckeyes have two recent signees already on campus and ready to go to work in the spring, though both are listed as defensive ends and don't appear to have the size needed to battle at the interior spots. But either way, Tracy Sprinkle (6-foot-2, 241 pounds) and Tyquan Lewis (6-foot-3, 223) could potentially allow line coach Mike Vrabel to tinker with his rotation a bit, particularly with somebody like inside-outside guy Adolphus Washington who is capable of playing multiple positions. Natural tackles Michael Hill, Joey Bosa, Billy Price and Donovan Munger will bulk up the group in August.
December, 26, 2012
12/26/12
9:00
AM ET
COLUMBUS, Ohio -- Heading into the new year and offseason workouts, BuckeyeNation will look at some holes left by the departing Ohio State veterans and potential candidates to fill them, continuing today in the trenches.
[+] Enlarge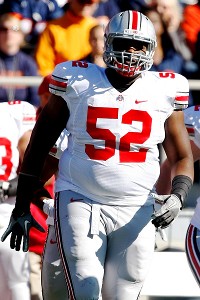 AP Photo/Scott BoehmJohnathan Hankins will be tough to replace for OSU.
DEFENSIVE TACKLE
Who: The Buckeyes might have held out some slim hope that Johnathan Hankins would return for another year and a chance to compete for a championship, but with his stock already so high, that always was going to be a bonus and not an expectation heading into Urban Meyer's second season with the program. Hankins didn't post the gaudiest numbers during his junior campaign, but his ability to impact the game went well beyond statistics as he occupied multiple blockers, ate up space in the middle of the defensive line and swallowed up any running backs that happened to venture his way as he solidified his NFL stock while the Buckeyes went undefeated.
By the numbers: While for the most part the work Hankins did to anchor the defensive line was hard to quantify in the box score, the junior still finished fifth on the team with 55 tackles. There wasn't much flashy about his approach and he didn't finish many plays in the backfield with just 4 tackles for a loss, but it was a rare sight to see Hankins lose an individual matchup and he simply had to be accounted for by the opposing offensive line on every snap.
December, 10, 2012
12/10/12
3:29
PM ET
I believed Johnathan Hankins when he said last summer that he wanted to help Ohio State win a championship.

But some NFL draft decisions are made for you. And when you're a virtual lock in the top 15 of the draft, you make the jump, no questions asked.
Hankins surprised no one Monday in announcing he'll forgo his senior season and enter the 2013 NFL draft. The Ohio State junior defensive tackle boosted his stock this season, eating up space and ball-carriers in the middle of the Buckeyes' defensive line. Many NFL draft prognosticators, including our own Mel Kiper Jr. and Todd McShay, have Hankins as the first Big Ten player off the board in April.
Hankins won't help Ohio State try to win a national title in 2013, but he undoubtedly made the right call.
"I will always be grateful for the family I have gained here at Ohio State," Hankins said in a prepared statement. "I want to thank coach [Urban] Meyer, coach [Mike] Vrabel and strength coach [Mickey] Marotti for bringing the best out of me as a football player and person, and for their constant support. I also want to thank coach [Jim] Tressel and coach [Jim] Heacock for recruiting me and giving me an opportunity to be a part of this great school and great program."
Hankins added that he intends to finish his degree at Ohio State, which is great to hear. He started every game the past two seasons and finishes his career with 138 tackles (58 solo, 80 assists), including 16.5 tackles for loss and five sacks.
Although Ohio State expected Hankins to leave, his departure underscores some potential depth issues the team will have up front in 2013. Defensive end John Simon, the Big Ten Defensive Player of the Year, moves on along with nose tackle Garrett Goebel and defensive end Nathan Williams.
The good news is Urban Meyer has recruited very well at defensive line, securing blue chippers Noah Spence and Adolphus Washington in his first class (both played this fall). Linemen like Michael Bennett, Steve Miller, Tommy Schutt and Joel Hale all should see increased roles in 2013. Ohio State also is bringing in several standout D-line recruits like ESPN 300 selections Joey Bosa and Michael Hill.
Ohio State has a lot of young talent along the defensive line, but the Buckeyes need those players to grow up in a hurry if they want to take another step forward on defense.
August, 12, 2012
8/12/12
4:59
PM ET
Notes and quotes from Ohio State coach Urban Meyer's press conference on Sunday afternoon during the program's annual Media Day.
STONE TURNED:
The depth at tight end might not qualify as a surplus, but it certainly allowed for some flexibility.
[+] Enlarge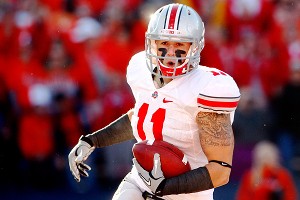 Jerry Lai/US PRESSWIRE"You don't want to go out there and look sloppy and lose a bunch of games and have a lost season," Ohio State senior Jake Stoneburner said.
And with perhaps a more pressing need at wide receiver, Ohio State is planning to lean on the options in reserve and sending its projected started at tight end elsewhere to lend a set of hands.
The Buckeyes had hinted at a different role for senior
Jake Stoneburner
during the first week of camp as he lined up all over the field and turned in some big plays deep down the field. And while he'll still line up at times in his more familiar position, Stoneburner is officially listed at a new one.
"He meets with the receivers," Meyer said. "He'll practice (tight end) at times, because we'll use him as a surface tight end, but we have two very good tight ends in
[Jeff] Heuerman
and
Nick Vannett
, so he's going to be our [Aaron] Hernandez-type guy, the guy that can do some things."