Ohio State Buckeyes:

Jim Tressel
November, 8, 2013
Nov 8
4:00
PM ET
A few questions and answers before Week 11 in the Big Ten. Don't forget to follow us
on Twitter
, the best place to track the latest news on Saturdays.
Ready? Break.

Darin from Lyme, N.H., writes:
The Buckeyes don't need to worry about making the national title game if they win out. If you look at the BCS historically, only one out of 15 years has an undefeated team from a major conference not made the game (Auburn 2004). The odds are extremely long that we will end up with more than two undefeated teams.
Adam Rittenberg:
Darin, you make a good point. The BCS usually works itself out to where undefeated teams from major conferences aren't on the outside looking in. Oregon's loss to Stanford on Thursday night certainly helps Ohio State, as the Ducks once again won't be going to the national title game. Baylor's big victory against Oklahoma helps the Bears' chances, but I still don't think Baylor runs the table. Ohio State won't jump Florida State or Alabama if both teams win out, and FSU's path to the title game certainly looks easier than that of Alabama, which still has LSU, Auburn and most likely South Carolina or Missouri in the SEC title game. The Buckeyes simply need to keep winning, ideally in impressive fashion, and hope teams like Wisconsin and Michigan State also continue to win. Ohio State already has beaten Wisconsin and would benefit from facing an 11-1 MSU team in the Big Ten championship game.
---

Bob from Forest, Va., writes:
I realize you don't know much about the Rutgers program.
Regarding coaching salaries
you said "fairly or unfairly" the fact that RU is paying the football coach 800-900K per year leaves the perception that RU doesn't belong in a league like the Big Ten. Do you recall what they paid Coach Flood's predecessor? Also I always thought it was on-field performance that determined whether or not a team belonged. Outside of Ohio State, is there really a single B1G team RU can't compete with? We've held our own vs the Big Ten if you take out Penn State pre-B1G with a .500 record. What I don't get are the jabs from you. Is it an ESPN thing or are you just writing what you think your readers want to hear?
Adam Rittenberg:
Bob, you're absolutely right that on-field performance, and not coach salary, determines whether a team like Rutgers will sink or swim in the Big Ten. It always comes down to winning, and Rutgers has an excellent opportunity to prove itself in a loaded East Division with Ohio State, Michigan, Penn State and Michigan State. You say Rutgers has held its own with the Big Ten outside of Penn State. Who else has Rutgers played? Rutgers hasn't played a Big Ten team since 2006 (Illinois) and has never faced seven current Big Ten teams (Indiana, Iowa, Michigan, Minnesota, Ohio State, Purdue and Wisconsin). Your argument is therefore irrelevant.
I realize Rutgers paid more for Greg Schiano, and that Flood is a young coach who doesn't demand a huge salary. But like I wrote, the perception looks like Rutgers is small time when every other Big Ten coach is making at least $1.2 million. Placed in the larger context of what major conference coaches make, it looks pretty low. Purdue faced the same perception when it paid coach Danny Hope less than $1 million. That's just the way it is. But you're right that Rutgers can improve its perception by beating teams coached by guys making four times as much as Flood does.
---

Anthony from New York writes:
Why didn't you include Michigan in your list of BCS at-large candidates? We know from 2011 that a two-loss Michigan team will be attractive to BCS bowls if ranked in the top 14. As you've said, Michigan is better off not making the B1G title game if it wants an at-large bid. It is perfectly plausible to see Michigan beat Nebraska, Iowa, and Northwestern (though none are easy games). Add in an upset of unbeaten Ohio and you've got a top-14 Michigan team coming off four straight wins. Wouldn't they be a very attractive team?
Adam Rittenberg:
Anthony, as I specified in the top of
the post
, I'm not including any unranked teams in the conversation for at-large berths at this point. If and when Michigan re-enters the BCS standings, it will appear as a candidate. But even then, how attractive would Michigan be? The Wolverines would have to look a lot better in their final four games than they have in their first eight. You and your fellow Michigan fans won't agree, but it would be a real shame if a Michigan State team that went 11-1 in the regular season and lost in the Big Ten title game to Ohio State missed out on a BCS berth in favor of a team like Michigan, which the Spartans embarrassed last week. I also wonder whether Michigan would get into the top 14 of the final BCS standings and be eligible for selection. An Ohio State win certainly would help, but it would depend on what other teams do elsewhere. Let's see how things play out, but I don't see a top-15 team in Ann Arbor this year.
---
Pat from East Lansing, Mich., writes:
You both always pretty much have the same predictions week to week. Can we get creative?
Adam Rittenberg:
We have to pick the teams we think will win, Pat, and sometimes they'll all be the same. I've differed from Brian in one game in each of the past two weeks and lost both times, as Nebraska's Hail Mary got me last week. One chatter Thursday suggested we incorporate score prediction into the race, which isn't a bad idea. We might look to do something with that next year. I think you'll see a few more disagreements down the stretch, but we're not going to be contrarians here, especially with an expensive dinner in Indianapolis on the line.
---
Charley from New York writes:
Is it a journalist's job to lobby for millionaires to paid even more money? I must admit my jaw dropped
when I read from you
: "Both Wilson and Kill earn less than coaches from Colorado State, Navy, South Florida and Central Florida. That seems a bit troubling for teams in a loaded league like the Big Ten." Troubling? I notice you haven't been much of an advocate for paying the kids who actually generate the millions of dollars colleges earn from football, but you have always been an advocate for higher head and assistant coaches' salaries. Is this your way of trying to brown-nose your sources or do you really believe that educational institutions should devote more and more of their budgets to football coaches' salaries?
Adam Rittenberg:
Charley, do I believe college football coaches make ridiculous salaries for university employees? Yes. But they also bring in a ton of money, and the market is dictating what they're making. We can have a discussion on the larger issue of coach salaries if you want, but the pay structures are what they are in major conferences. People look at why the Big Ten is struggling right now. It's hard to completely dismiss the fact that SEC head coaches are making much more on average (SEC assistants are, too). As I wrote last month,
money isn't the problem in the Big Ten
, even though the league sponsors more sports than the SEC. From a perception standpoint, not necessarily reality, it doesn't look like Minnesota and Indiana are that invested in their programs when you look at the league they're in and the market rates for college coaches.
---

Chris from Knoxville, Tenn., writes:
I know most people, myself a Michigan fan, included, favor Ohio State over Michigan later this month. But so many people are calling it to be a blowout. I disagree -- even in 2011 a downtrodden Ohio State kept that game close, and I expect this year's game to also be close, especially since it's at the Big House. Teams tend to preform better in rivalry games. Who do you think is right, the many people mentioned or my pick of a close game?
Adam Rittenberg:
It's way too soon to call for a blowout in The Game. It's still three weeks away, we don't know the injury situations for both teams and we don't know how the teams will be playing entering that one. I don't expect Michigan to magically become a top-10 team by Nov. 30, but the Wolverines could remedy some of their issues before Ohio State comes to town. You're absolutely right that teams perform better in rivalry games. Michigan likely is out of the Big Ten title mix, so beating Ohio State is really the only major goal left for Brady Hoke's crew. More important, as you mention, Michigan plays much better at home under Hoke, never losing a game in his two-plus seasons. I'm not sure of my prediction for The Game, but I doubt I'll pick Ohio State to win by more than 10 points. Michigan will give its best effort on that day.
---

Grant from Cincinnati writes:
Is it just me, or is Luke Fickell's stock much higher than it should be? His track record as a recruiter and positions coach is well documented, and he seems to be a high quality, character guy. However, in his only season as head coach, he went 6-7. It's not as though the cupboard was bare for him, as that year was sandwiched between a Sugar Bowl victory and an undefeated season. Also, his defense has underachieved for much of this season, though it seems to be getting back on track a bit. Now he's interviewing for a head coaching gig and you're mentioning that you expected him to hold out for a major conference head coaching position. In short, Fickell seems like a good guy, but why the love fest?
Adam Rittenberg:
Some fair points here, Grant. Fickell's stock certainly seemed higher before he became a head coach -- albeit under very difficult circumstances -- or a defensive play-caller (Jim Heacock handled those duties until last season). I don't think you can judge him too much for the struggles in 2011, as the program was rocked by Jim Tressel's resignation and had a tough situation at quarterback because of Terrelle Pryor's departure. Fickell handled himself well overall, although the on-field product left much to be desired. There have been some valid criticisms of him as a defensive coordinator, as Ohio State hasn't been a salty as it used to be on that side of the ball. But I think Fickell could thrive as a head coach because of his personality and recruiting ability. He might be a better CEO type than a coordinator, and I think fans and players would rally around him. It needs to be the right situation, unlike the one in 2011.
---

Nick from East Lansing, Mich., writes:
How likely is it that MSU has to look for a new coach in the offseason? It would be hard to turn down if Texas came calling.
Adam Rittenberg:
Sure, Texas certainly has its perks, but I highly doubt Mark Dantonio is going anywhere. He's in a great situation at Michigan State, works for a great athletic director (Mark Hollis) who he loves, and has roots in the Midwest as an Ohio native. Dantonio definitely is
due a raise
at Michigan State, although it's more important to him to pay his assistants, which the school has been doing. At this stage in his career, I don't think Dantonio wants to deal with all the excess stuff at a place like Texas. You never say never, but I'd be very surprised if he's not back at MSU in 2014.
---

Matt from Michigan writes:
I am a little confused after reading the
"rooting interests" article
. Why would Michigan want Minnesota to lose? If Michigan State loses to Minnesota and either Northwestern or Nebraska and if (big IF) Michigan were to win out and finish 6-2 along with MSU finishing 6-2, it would be MSU winning the tie breaker. However, wouldn't Michigan still have a chance to represent the Legends in a three-way (or even four-way) tie at 6-2? Looking at the schedule, I think it is possible to have MSU, Michigan, Nebraska and Minnesota ALL finish at 6-2. Not saying likely, but that would make for a compelling last weekend!
Adam Rittenberg:
Indeed it would, Matt. My rationale for the Minnesota loss would be to knock the Gophers out of the race, but if the tiebreaker is Michigan's best chance to win the division, which it may well be, it would make sense for Minnesota to win out. The key obviously is for Michigan State to start losing games, beginning next week against Nebraska. If Michigan State loses out -- highly unlikely -- and Michigan wins out, the Wolverines would go to Indy.
October, 3, 2013
Oct 3
11:30
AM ET
EVANSTON, Ill. -- Northwestern's rise from national doormat to national darling to consistent winner is impossible to deny, even for farsighted skeptics who still discuss the program as if it were 1983, not 2013.
A team once best known for owning college football's longest losing streak can point to Big Ten titles in 1995, 1996 and 2000, five consecutive bowl appearances, and, finally, a bowl victory this past Jan. 1. But there's a scarlet and gray asterisk next to Northwestern's name. Of all the hurdles -- real or perceived -- the Wildcats have cleared since 1995, one opponent consistently trips them up and leaves them lying flat on their faces.
Ohio State hasn't merely dominated the all-time series against Northwestern, holding a 59-14-1 edge, including wins in the past four meetings and 28 of the past 29. Most of the matchups haven't even been competitive, beginning with the first, a 58-0 Buckeyes win a century ago.
Since a 60-0 win in 1973 at Ohio Stadium, the Buckeyes own 13 victories against Northwestern by 40 points or more and 21 victories by 20 points or more. Single-digit losses to Ohio State are almost as uncommon as wins for Northwestern. Even the Wildcats' championship seasons in 1995, 1996 and 2000 occurred without Ohio State on the schedule.
The dark days are over at Northwestern. No reasonable person could dispute that. But Ohio State remains a dark cloud hovering around the program. Saturday night, the fourth-ranked Buckeyes storm into Ryan Field for the most-anticipated regular-season Northwestern game in recent memory. The forecast, by the way, calls for showers.
[+] Enlarge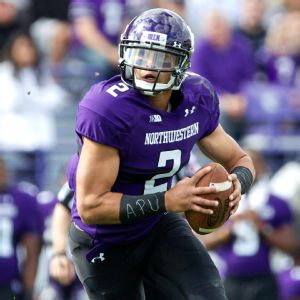 John Gress/Getty ImagesKain Colter and the Wildcats hope to end Ohio State's dominance with a win Saturday night.
Will Northwestern's big-stage appearance be a washout, or will the purple reign?
"It's going to be a big measuring stick for us, to see where we're at," Northwestern quarterback
Kain Colter
said Monday.
Nine years earlier, Noah Herron sat in the same room as Colter, discussing Northwestern's upcoming home game against an Ohio State team ranked No. 7 nationally. Herron, the Wildcats' running back at the time, and several of his teammates made comments that were true then and are true to this day but that still created a stir in Buckeye Country. Wide receiver Mark Philmore described the Buckeyes as "kids just like you out there."
"It was along the lines of, 'They're just Ohio State. They're the same guys that we are, playing for their school. They're no different than us,'" Herron recalled in a phone interview with ESPN.com this week. "It became poster-board stuff for their locker room, which is not what it was intended to be, but it was supposed to look at it from our approach. We're not playing their tradition, we're playing them. We're playing the current roster for 2004, not Archie Griffin and all these other great names that they've had."
Brett Basanez, the Wildcats' quarterback at the time, had a similar feeling. Despite playing with a separated throwing shoulder suffered the previous week, Basanez passed for 278 yards and two touchdowns and added 53 rushing yards, including a 21-yard dash to set up Herron's eventual winning TD.
Basanez had watched Ohio State's game against NC State and saw similarities between NC State's offense and Northwestern's.
"You're not playing Eddie George," Basanez said. "You're playing normal guys. Just play your game and win. We knew if we came out and played, we could score with them, we could score more than them. And that came to fruition as the game started."
Herron might have violated Big Ten etiquette by not paying homage to the Buckeyes. Ohio State came to Ryan Field eager to put Northwestern in its place.
Instead, the Wildcats won 33-27 in overtime. Herron scored the winning touchdown in what
one Northwestern fan website
calls the "33 game" -- Herron wore No. 33, scored the team's 33rd point on his 33rd carry and helped snap a 33-year losing streak to the Buckeyes.
"We weren't intimidated by them from the very beginning," Herron said. "Offense, defense, special teams, everybody played with that same kind of swagger, that, 'Hey, we're playing this team right now, nobody else.' Sometimes you catch a little heat for saying some things, but nevertheless they're true and they prove to be true. They're college kids just like us.
"Just because they're Ohio State, they don't get a free pass."
The current Northwestern players had nothing inflammatory to say this week about Ohio State. Colter praised the Buckeyes' coaches and said Ohio State has "athletes all over the board."
But the Wildcats also aren't in awe of Ohio State, which might have been a problem for Northwestern teams of the past.
"If you grow up watching college football, you hear about tradition, you hear about the successes that programs have had," Herron said. "You can be enamored by it. You can even be intimidated by it."
Herron acknowledges that, from top to bottom, Ohio State had more talent than Northwestern in 2004 and still does today. Wildcats coach Pat Fitzgerald agrees, saying Monday, "I think there's a talent gap between anybody in the top five and everybody else, including us. ... But we're pretty darn talented."
The talent gap has narrowed for Northwestern, as recruiting is on the rise under Fitzgerald. The are-you-kidding-me losses that used to plague Northwestern, particularly in nonleague play, have gone away. The Wildcats actually can stay ranked for more than a week.
But there are steps to legitimizing a program, and beating the Big Ten's most talented and visible program is one Northwestern eventually has to take, especially if it intends to return to the Rose Bowl.
Saturday night's opportunity, Basanez said, is more about Northwestern's future than its past.
"If you're judging your football program in the Big Ten, especially with [Buckeyes coach] Urban Meyer, with the tradition that [Jim] Tressel and other guys have had there, yeah, that's a measuring stick," he said. "It's very important to beat Ohio State because they're a Big Ten foe, but it's just as important to beat Michigan or Iowa. Everyone just thinks of Ohio State, but you beat them, arguably right now you're the best in the Big Ten."
Herron, who played five NFL seasons with four teams, calls the touchdown run in overtime against Ohio State his best moment on a football field. Personal achievement played a small role, as the win resonated for a team and a school still trying to escape its putrid past on the gridiron. The Ohio State win turned out to be the high point for the 2004 Wildcats, who went 6-6 and missed a bowl, thanks to a 1-3 mark in nonleague play.
The program since has been elevated. So have the stakes Saturday night.
"It is a measuring stick because it's the main stage, and it's seemingly been a team that Northwestern has had a hard time beating," Herron said. "Two ranked teams, game of the week, 'GameDay' is going to be there.
"What more can you ask for, not only for that team but for the program?"
August, 21, 2013
Aug 21
12:00
PM ET
My dog tried to play with a skunk this week. I think we're all getting stir crazy waiting for the football season.
July, 15, 2013
Jul 15
9:30
AM ET
The rivalry never sleeps, even in the middle of summer as the final days tick away until camp opens in August.
But just in case a little offseason kick was needed to get the juices flowing for the next edition of "The Game," BuckeyeNation and WolverineNation are teaming up for a week of content looking at some moments from the past and forecasting what will happen a few short months into the future.
Today, we peek back into series history and identify some of the top heroes and villains from the blood feud. Here are Ohio State's villains for the Wolverines:
1. Jim Tressel, coach:
From the moment he was introduced and grabbed a microphone to address the Ohio State faithful, Tressel's mission was clear -- get the program back on top in The Game. The Buckeyes backed up their new coach with a road upset in 2001, and the next decade was completely dominated by The Vest, who posted a 9-1 record before scandal ended his run on the sideline. Even his exit might have twisted the knife in the Wolverines since it helped Ohio State land Urban Meyer, who knocked off Michigan in his first Game to finish an unbeaten season in 2012.
2. Troy Smith, quarterback:
At the height of that dominant run under Tressel, it was the prolific signal-caller inflicting the majority of the damage on the Wolverines. Smith became just the second Ohio State quarterback to beat Michigan three times, with the last couple coming in unforgettable fashion. There was the late comeback in 2005 keyed that included 386 passing yards from Smith, and another virtuoso performance in the epic showdown in 2006 that individually clinched a Heisman and sent the Buckeyes to the national title game.
[+] Enlarge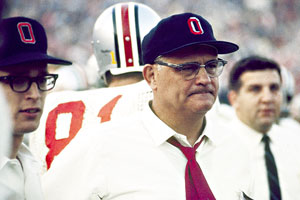 George Long/Getty ImagesIt was during Woody Hayes' 27 years as Ohio State head coach that the blood feud with Michigan truly took shape.
3. Woody Hayes, coach:
The rivalry became firmly entrenched among the most passionate, competitive series in the country when Hayes was at the top of his coaching game and matching wits -- and trading barbs -- with Bo Schembechler. Tressel's gaudy record might have diminished some of hatred for Hayes, however slightly, but his 16 wins in The Game, an infamous decision to go for a 2-point conversion "because he couldn't go for 3" and his place in Ohio State history will always get some Michigan blood boiling.
4. Mike Doss, safety:
Working on a 14-year drought in Ann Arbor and trying to live up to the goal Tressel established when he took over, Doss was instrumental in snapping the skid and setting the tone under Ohio State's new coach in 2001. A pair of interceptions helped set up scoring drives, and an unranked group of Buckeyes snatched a 26-20 win over the No. 11 Wolverines to start building the momentum that would last for pretty much the entire decade.
5. David Boston, wide receiver:
After coming up short in 1997 and hearing all about it from Charles Woodson, Boston exacted some revenge a year later with a massive individual performance as the Buckeyes knocked off the Wolverines 31-16 for one of John Cooper's two wins in the series. Boston was already an enemy for his brash comments before his final season with the Buckeyes, but he could be easily dismissed without ever winning a game. He changed that with 10 catches for 217 yards and two touchdowns, finally backing up his mouth and getting the best of Michigan where it counted -- on the field.
Bonus pick -- Bob Ferguson, fullback:
The message apparently hadn't been delivered emphatically enough, despite Ferguson already having scored three times. He would finish the game with 151 yards. The fourth touchdown by the All-American rusher, though, set the table for the Buckeyes to rub a 50-20 win and a national championship in Michigan's face in 1961 by going for a 2-point conversion with the outcome well in hand.
June, 4, 2013
Jun 4
5:00
PM ET
COLUMBUS, Ohio -- If a visit to the school president was needed to impress a recruit, Gordon Gee was there.
Endless support, boundless enthusiasm for athletics? No problem.
Fundraising skills, entertaining personality and trademark fashion? Sure, the Ohio State president had that as well.
[+] Enlarge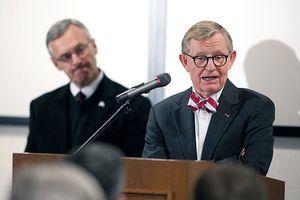 Greg Bartram/US PresswireOhio State president Gordon Gee, like former football coach Jim Tressel, is out. But Ohio State's athletic department isn't likely to feel much of an impact.
He also had a penchant for stirring up some trouble with his mouth, and ultimately that helped nudge him into the retirement he announced on Tuesday that will take effect July 1. But even for all those positives that earned him rave reviews from coaches and endeared him to some players before they were even enrolled, it's safe to assume the Buckeyes and their athletic department will be just fine without him calling the shots.
The leadership is already in place when it comes to the most visible parts of the university. And while that's not to diminish Ohio State's reputation as an academic institution, football and men's basketball will always generate more attention and keep alumni engaged better than anything else on campus. And when it comes to those two sports and the boss those coaches report to, it's hard at this point to envision a change in president shaking the foundations already firmly in place.
Gene Smith has faced his share of criticism as athletic director, but particularly with the NCAA sanctions and scandal from the end of Jim Tressel's tenure in his rearview mirror, it's difficult to imagine his job as anything less than secure.
And the résumés of Urban Meyer and Thad Matta speak for themselves.
That stability in leadership alone should keep the athletic department from having any difficulty navigating the water while the waves rock in the president's office, but that's certainly not the only reason the Buckeyes are likely to continue with business as usual on the field and the hardwood.
The money is pouring in for the Big Ten, and Ohio State isn't suddenly going to turn its back on one of the proudest, largest athletic departments in the nation. Regardless of how skilled Gee was at raising funds, donors aren't likely to slow down their giving when the high-profile teams are winning at such an elite level, particularly if a segment of that population was starting to tire of the stream of apologies that Gee had to issue after offending rival coaches or entire religious denominations.
And perhaps most important, the entire saga with Tressel, and even Gee's jokes about his job status then, helped establish a basic principle for the school that is more applicable now than ever. Nobody is bigger than Ohio State, and it is more than willing to move on and more than capable of finding somebody else to continue its traditions.
May, 21, 2013
May 21
9:30
AM ET
Under Jim Tressel, it was hard not to trip over a Tarblooder.
Ohio State's lineup was loaded with Glenville products under the former Buckeyes coach as he tried to keep a budding pipeline strong. During his stay, Tressel managed to get 16 Tarblooders to sign national letters of intent.
He had his hits with players such
Troy Smith
,
Ted Ginn Jr.
and
Donte Whitner
. He had his misses with
Jonathan Newsome
, Shawntell Rowell and Freddie Lenix.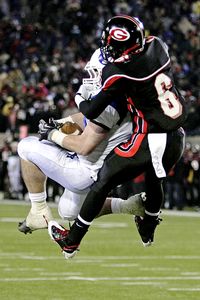 AP Photo/Tony DejakTed Ginn Sr.'s Cleveland Glenville program has churned out a slew of FBS prospects, many of whom have become Buckeyes.
But the one thing that remained strong was the connection Tressel and the Buckeyes had with the Tarblooders program.
When Urban Meyer took over, the two-time national champion made sure that direct line to Columbus stayed strong.
While
Cardale Jones
and De'Van Bogard technically weren't initially recruited by Meyer, they did sign with the recruiting class of 2012 so they became his.
The Class of 2013 saw
Christopher Worley
sign with Ohio State, while 2014 already has
Marcelys Jones
as a commitment.
Quick math shows 20 Glenville athletes either signed or committed to the Buckeyes since 2002 and four under Meyer.
If there was any doubt as to the importance of Glenville under Meyer, he has squashed that notion early.
"Let's put it this way," Glenville coach Ted Ginn Sr. said. "If he needed blood, that blood would come from Glenville.
"The business is the business. If you're working at Ford Motor Co. on eight-cylinder motors, you can't have anything different because the motor won't work. Why change the blueprint if the style works?"
That's exactly what Meyer thinks, and he might not be done as
Marshon Lattimore
and
Erick Smith
have already been offered. Both juniors could be budding stars at the next level.
The Glenville mystique
What makes Glenville so important to college coaches is more than just the name. It's almost hard to keep up with how many athletes Ginn has sent on to the next level. What's not hard to see is why they've reached the college ranks.
"They're stacked from the first guy to the last guy with talent," St. Ignatius safety
Dameon Willis Jr
. said. "Every guy on that team has talent. Everyone comes in different shapes and sizes, but they all bring great skill and talent to the table.
"That's what makes them appealing. You really have to prep and beat them with fundamentals. You might not be as athletic, but you have to stick with it as much as you can."
Worley says the Tarblooders, with sophomores like
Matthew Draper
and
Milen Golden
, are ready to take the next step.
"We have young guys coming up as well," Worley said. "It's like a machine. Coach Meyer is the type of coach and recruiter that if you show skill, he'll go after you. The Glenville kids fit right into the Ohio State scheme."
What Meyer means
It's not just Glenville that attracts Meyer. Meyer attracts Glenville, too.
When Meyer took the job, he made it a point to seek out the school. That went a long way with the Tarblooders.
"That means everything," Ginn said. "Most of the kids from this area grow up with the dream of going to Ohio State.
"It means a lot, but the kids know what Ohio State means to them. For him to want them and for the kids to know what that means is important. Urban Meyer and Jim Tressel are different only in the fact they have different names.
"When you talk about how are they different, I don't see a difference in either one of them. They're the head coach at Ohio State, and you have to have a certain mindset to be there. When you're the right fit for the school, it works."
To continue reading this article you must be an Insider
November, 17, 2012
11/17/12
9:37
PM ET
MADISON, Wis. -- Wisconsin running back
Montee Ball
's highlight tape of touchdowns might as well be a full-length feature. He entered Saturday with 77, one shy of the FBS all-time record.
Unfortunately for Ball, Ohio State linebacker
Ryan Shazier
watched most of the movie in the week leading up to Saturday's game.
"He scores plenty of touchdowns," Shazier said. "I watched film on him, and I saw when he gets around the [1- or 2-yard line], he likes to jump. So once he jumped, I jumped, and I punched the ball out."
Shazier's forced fumble against Ball late in the fourth quarter -- just the second lost fumble in Ball's record-setting career -- ended up not meaning much. Wisconsin scored on its next possession to tie the game before Ohio State went on to
win 21-14
in overtime.
But Shazier's play epitomized Ohio State's victory, one fueled by defense with a sprinkle of special teams, thanks to Corey "Philly" Brown.
Braxton Miller
won't be on "SportsCenter" tonight, but Shazier should be. So should defensive end
John Simon
, who tied a career high with four sacks. So should cornerback
Bradley Roby
, who had to cover two players after a teammate blew an assignment and batted down a sure-fire touchdown catch by
Derek Watt
.
The silver bullets stood tall at Camp Randall Stadium, helping Ohio State secure a Leaders Division title, maintain a perfect 11-0 record and set up a chance for perfection in The Game next week against Michigan.
"Our offense kind of struggled a little bit, but at the same time, it's a team sport, so the defense, we needed to go out and do our thing," said Roby, who wore a Leaders Division championship T-shirt. "Defense wins championships. We thrive on that."
October, 15, 2012
10/15/12
1:30
PM ET
Growing up in Naples, Fla.,
Carlos Hyde
didn't need a tutorial on Urban Meyer's offense.
He knew plenty about Meyer and the spread from Meyer's time as Florida's coach. Hyde also knew he wanted no part of it, even though he said Florida offered him a scholarship to play in Gainesville.
"When I saw this offense, it was little running backs," Hyde told ESPN.com. "Little scat backs running around, Percy Harvin-type dudes, Jeff Demps-type people. I wasn't sure I'd be able to fit in."
[+] Enlarge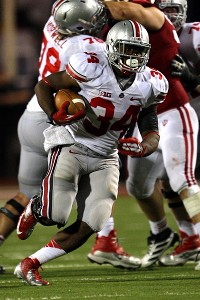 Pat Lovell/US PresswireCarlos Hyde has made the most of his opportunities this season.
At 6-foot and 232 pounds, Hyde can be described as a lot of things. Little isn't one of them. He's a power back in the truest sense, so he chose to go where power backs go: Ohio State.
There was only one problem: Buckeyes coach Jim Tressel, who had featured power backs like Chris Wells and Maurice Clarett in his offense, resigned in the spring after Hyde's freshman season. Although Ohio State kept a similar offense in 2011, the school changed coaches and brought in Meyer.
"I was excited," Hyde said. "I knew Coach Meyer, his track record. He's won big games. He's won some national championships. I knew when he was coming here, I was like, 'I'm going to have a huge chance to get to play in the national championship before I leave college.'"
But his excitement was tempered by the same anxiety about whether he could fit into the spread as a bigger back.
"I never played in a spread offense, so I really didn't have a feel," Hyde said. "I wasn't sure. I never really saw a big back in the spread."
October, 4, 2012
10/04/12
11:40
AM ET
Former Ohio State coach Jim Tressel paid the heaviest price in the tattoos-for-memorabilia scandal, but the school's compliance department took a beating as well.

The details that emerged about Ohio State's compliance structure -- or lack thereof -- didn't paint the athletic department in a good light. Ohio State in February approved a new university compliance office, and the school appears to be taking the right steps to prevent similar violations from happening again.
As
The Toledo Blade
first reported this week, Ohio State sent the NCAA a 805-page report that, among other things, details new policies in place that increase athlete education about violations, prevent memorabilia sales and track car ownership (a major issue with former quarterback Terrelle Pryor). Ohio State is directly addressing the issues that surfaced in the scandal.
Check out the
full report
.
From The Blade:
An athletics compliance staff bolstered from five workers to a dozen is leaving little to chance. According to the report reviewed by The Blade, the school nearly tripled its number of rules education sessions, charged a former NCAA investigator with monitoring its highest-profile players, and reached out to 2,000 area businesses -- then employs exhaustive measures to verify the lessons take hold.

Among the safeguards include random audits to ensure current players have not sold or exchanged gear or awards, and license-plate software that allows school officials to determine car ownership.
One of the most publicized elements of the old compliance structure was the lack of a staff member in the Woody Hayes Athletic Center, Ohio State's football headquarters. Ohio State added former Tennessee compliance director Brad Bertani to its staff to deal specifically with football. Bertani has his office in the WHAC and travels with the football team.
Ohio State is also focused on ensuring no school-issued memorabilia is sold while athletes are still playing.
Players used to be able to purchase and take home gear and apparel like bowl-game jerseys or the alternate Nike helmets worn against Michigan in 2009 and 2010. Now, the uniforms will be kept in a secure container at the football facility until the player leaves the school.

As for awards like Big Ten championship rings or the gold pants trinket the Buckeyes receive for beating Michigan, players can still take those home. But they must be able to produce the goods in "random audits." Athletes sign a form acknowledging the school can make them "prove that I have not sold these items."
These are encouraging steps for a department that justifiably took a beating after the scandal. While time will tell how effective these measures will be, Ohio State deserves credit for directly addressing some major problems.
August, 9, 2012
8/09/12
3:49
PM ET
If it ain't broke, don't fix it, especially when it comes to recruiting for Ohio State.
The thinking was that coach Urban Meyer would bring more of a national feel to his recruiting classes.
Through 1˝ recruiting classes the numbers are actually quite similar to classes in the past under Jim Tressel.
To continue reading this article you must be an Insider
July, 22, 2012
7/22/12
4:41
PM ET
By
RecruitingNation
| ESPN.com
One of the tangential figures in the downfall of Jim Tressel and NCAA sanctions died this weekend.
Jeannette, Pa., businessman Ted Sarniak III, died on Friday at a Pittsburgh-area hospital, according to the funeral home handling the arrangements. He was 68.
Read
more from the Associated Press
.
30 for 30 Youngstown Boys -Clarett's First Game