Ohio State Buckeyes:

Jim Phillips
May, 14, 2014
5/14/14
12:00
PM ET
Busy time for a Wednesday in May. Keep up
here
with Adam Rittenberg's reports from the spring meeting of Big Ten athletic directors.
February, 1, 2013
2/01/13
9:00
AM ET
As we've written for the past several days, Big Ten athletic directors have a whole host of decisions to make over the next few months, including
how many league games
they should play,
how to align the divisions
,
the next bowl lineup
and even
what to call the divisions
.

"We've got some heavy lifting to do here for the next few months," Purdue athletic director Morgan Burke said.
But what if all that huffing and puffing turns out to be a Sisyphean task? There's one thing that could send conference leaders scrambling back to the drawing board: more expansion.
The decisions the athletic directors will make for the 2014 season and beyond will be based on the new 14-team format with Maryland and Rutgers joining. Many people suspect the Big Ten is not done adding members and could soon grow to 16 or even to 20 members. Ohio State president E. Gordon Gee recently informed us that conference
expansion talks are "ongoing."
The athletic directors are well aware of the possibility that more teams could be coming at just about any time.
"Based on the last three years I've been in this business, you'd be crazy not to think about it," Michigan athletic director Dave Brandon said. "But it's hard to model anything because you don't know what to model. The minute you get yourself convinced that you're going to go from 14 to 16, for all you know you're going to 18, and a lot of people think the ultimate landing place is 20. Who knows?"
For now, all the decisions they make will be based on a 14-team model only.
"You make your decision based on today," Iowa's Gary Barta said. "And today, we have that many teams. We can't worry about something that's not established yet. I don't know if and when there will be more teams. Right now, we're going to make decisions based on the additions of Rutgers and Maryland, and we're going to make them with the information we have, consistent with our principles."
"It's hard to predict the future," added Northwestern's Jim Phillips. "No one would have predicted we'd be at this place we're at right now. I don't think you can get polarized by the what-ifs or the potential of what might be and lose sight of where you're at."
The league's ADs will do their best to come up with the best framework for a 14-team league. If future expansion arrives in time for the 2014 season or shortly after it, at least the conference has gained lots of recent experience in how to deal with it.
"When you get into the discussion of things like 10 [conference games], you say, 'Wow, if we had a couple more teams, it would be easier,'" Ohio State athletic director Gene Smith said. "That's a natural. But it's not something that motivates you to say, 'We've got to position this in case we have another team, or two more teams.' We don't do that."
"What I've liked about our league is, when we added Nebraska, we felt like we needed to settle and watch the landscape. We thought the East Coast was important, and we got two good pickups relative to that principal. So I think we deal with what we have now, sit, monitor the landscape, and if something emerges down the road, we're positioned to be able to absorb."
January, 25, 2013
1/25/13
9:00
AM ET
The Big Ten's bowl lineup will change in 2014, and the changes likely won't be limited to games and dates.
The entire bowl business could soon have a dramatically different look.
Several conference commissioners, including the Big Ten's Jim Delany, publicly discussed the
need to change the bowl business model
earlier this month during the week of the national title game. Declining bowl attendance is a concern, as are issues such as ticket distribution and the selection of teams. The Big Ten's athletic directors will discuss the future of the bowls when they meet next month at league headquarters in Park Ridge, Ill. -- they'll tackle not just the who, what, where and when, but the how and the why.
[+] Enlarge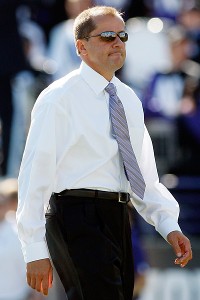 Jerry Lai/USA TODAY SportsNorthwestern's Jim Phillips and other Big Ten athletic directors anticipate changes to the bowl business model and selection process, possibly as soon as 2014.
"There are going to be some changes," Iowa athletic director Gary Barta told ESPN.com. "What I worry about is the watering-down of college football. College football's been on a meteoric rise since the creation of the BCS, both in stadium attendance and TV ratings. I think we're starting to see that saturation, and that's what I worry about going forward in the next 10 or 20 years. As we go into introducing the 2014 playoff, it is a chance for us to re-look at all of our bowls."
Several Big Ten athletic directors we contacted talked about having a more "national" bowl lineup beginning in 2014. They might as well have substituted the word "flexible."
Right now, the Big Ten's bowl lineup contains heavy doses of SEC, Big 12, Florida, Texas and Jan. 1. The selection order is fairly rigid. As a result, we've seen teams go to the same bowl in consecutive seasons (i.e. Nebraska at the Capital One in 2012 and 2013) or to the same state for a number of years. Wisconsin played in six consecutive bowls in Florida from 2004-2009, including back-to-back appearances in both the Capital One and Champs Sports Bowls.
The repetition problem exists even outside conference bowl tie-ins. Ohio State went to Arizona four times in a five-year stretch, three times for Fiesta Bowls (one of which was the national championship) and once for the BCS title game.
"I used the term bowl fatigue," Ohio State AD Gene Smith told ESPN.com. "When you go back to the same place multiple times … the novelty is lost."
The key to preventing bowl fatigue, several ADs say, is eliminating the rigidity of selections.
"We're going to try to get toward more looking at how do you put together a slate where you get good matchups, but at the same time avoid repeats … the bowls don't want that either," Purdue's Morgan Burke said. "I don't know that we can unteach what people have learned over the years -- 'We have the next pick, and the next pick.' Maybe you don't do that this round. Maybe we say, 'You're going to get a Big Ten team, and it will be part of a selection process.'"
Delany has mentioned the possibility of collaborating with other leagues on bowl tie-ins, essentially sharing the spots depending on the year and the attractiveness of the matchup.
"This is about the fans and the fans' experience and us really listening to what they're saying," Northwestern athletic director Jim Phillips said. "It's been documented that repeat institutions and repeat bowls and repeat matchups is not a recipe for success. People want fresh and new and exciting matchups. Any way we can do that with those bowl tie-ins, I would be in complete favor of that."
The Big Ten
hosted officials from 10-12 bowls last fall
and will discuss possible tie-ins with the athletic directors throughout the spring. It's likely the Big Ten adds at least one new bowl on the East Coast -- the New Era Pinstripe Bowl at New York's Yankee Stadium certainly is in the mix -- and possibly another in California, where it currently makes only one postseason appearance (Rose Bowl).
Another huge component is ticket distribution. Many
Big Ten schools struggled to sell their ticket allotments
from the bowls this past year, as fans could spend much less for tickets -- often better seats -- in the secondary market.
"What we have to do is work with the bowls to take that impact off of the institutions but work closely together on a sales strategy," Smith said. "Let's forget about the institution being responsible for X, and the bowl being responsible for X and the local organizing committee being responsible for X. Look at your aggregator sales plan, then come up with a cooperative strategy to make sure we're selling the bowl out. We've just got to think differently than we have in the past, and think about pricing, and [tiers] of pricing and the venues and things of that nature."
The ADs are mindful of the upcoming playoff. Although they'll be tackling several important items in the coming months, the Big Ten's bowl lineup and the bowl system as a whole will merit close attention.
"The landscape is shifting with the 2014 playoff introduction," Barta said. "I want to make sure we keep the bowls relevant."
Did Ohio State Cheap Out On Championship Rings?
BIG TEN SCOREBOARD
Thursday, 9/3
Friday, 9/4
Saturday, 9/5
Sunday, 9/6
Monday, 9/7