May, 16, 2013
May 16
4:00
PM ET
The
Big Ten released its 2014 league schedule
earlier Thursday, completing what its architect Mark Rudner called a "long, arduous process" of crafting a slate with two new teams, two new divisions and a second open week.
ESPN.com caught up with Rudner, the Big Ten's senior associate commissioner for television administration, to discuss how the 2014 schedule came together.
It's important to note the Big Ten compiled the 2014 slate based upon principles green-lighted by its athletic directors.
They are:
Nonconference games that had been previously contracted were protected. For example, Northwestern visits Notre Dame on Nov. 15, 2014, so the Big Ten made sure not to schedule the Wildcats on that day. Also, Penn State and Rutgers had a previously scheduled non-league game for Sept. 13, 2014, which became a conference game with Rutgers joining the Big Ten. The date wasn't changed.
No more than two consecutive road games
Each team must play two home games and two road games in each half of the season
It's not as if athletic directors ask the league not to schedule multiple rivalry games on the road every year.
"Once you do that," Rudner said, "you're at risk of never having a schedule."
There has been some reaction to Michigan facing in-state rival Michigan State in road games in consecutive seasons (2013, 2014) and Purdue visiting Indiana for the Bucket game the same two years. The Wolverines
never have played the Spartans in East Lansing in back-to-back years
and haven't hosted MSU in consecutive years since 1967-68.
Although it'll be new for Michigan, such back-to-backs are fairly common when a scheduling model changes. Between 2010-11, there were 13 instances of back-to-back matchups, including rivalry games like Iowa-Minnesota (both games in Minneapolis) and Penn State-Ohio State (both games in Columbus) and other good matchups like Wisconsin-Michigan State (both games in East Lansing).
"It's unavoidable," Rudner said. "It happened five times in 2008-2009. So it's not foreign, it's not ideal, but it's unavoidable. When you're introducing new institutions and you dole out home and road games, it just happens."
Big Ten commissioner
Jim Delany has said "parity-based scheduling,"
where teams will face one another more often in crossovers based on historical success,will begin in 2016, will begin once the league goes to a nine-game conference schedule. Rudner said the league asked the ADs if they wanted to start the nine-game schedules in 2014 but they couldn't because of so many signed contracts for non-conference games. If they had, the 2014 would have incorporated parity scheduling.
The 2014 slate ultimately features none of it, as the traditional powers in each division -- Ohio State, Michigan and Penn State in the East, and Nebraska, Wisconsin and Iowa in the West -- don't play at all.
"I don't think it's going to hurt us," Rudner said. "Brand is strong enough. There are enough games that are strong that'll drive television interest. Short of a full round-robin, which nobody in our conference wanted to do, you're going to have these sort of issues."
A few other schedule notes:
Rudner and his staff didn't have a directive to schedule mostly division games in November, but it worked out that way as most teams will play exclusively in their division or play only one crossover in the season's decisive month. "Ideally, that's what we would like to do," Rudner said. "It makes a lot of sense to play division games late in the season, toward a championship."
The Big Ten doesn't look at long-term trends of how often teams open league play on the road when crafting schedules. Athletic directors haven't asked it to a be a principle of building schedules. "It's never been important to them," Rudner said. "What they want to avoid is long road trips and making sure there's balance, home and away, in each half of the season. The rest of it, they can live with. Not everybody plays the same kind of schedule, but they do it based on those principles. They look at it and say, 'That's fair. Let's do it.'" Penn State, by the way, will open league play on the road for the fifth straight year and for the ninth time in the past 11 seasons.
That new members Maryland and Rutgers host traditional powers Ohio State and Michigan on the same day (Oct. 4) was pure coincidence, Rudner said.
The 2015 Big Ten schedule, which should be released by the end of the month, will feature the same matchups at the opposite locations. The league has to maneuver around some previously scheduled non-league games before finalizing the slate.
February, 12, 2013
Feb 12
10:30
AM ET
The sting from the
collapse of the short-lived Big Ten/Pac-12 scheduling alliance
isn't totally gone for Big Ten commissioner Jim Delany, but his desire to form partnerships with other conferences hasn't wavered.

Delany told ESPN.com on Monday that the Big Ten continues to explore possible affiliations with other leagues, both for bowl games and non-league scheduling. The Big Ten will be
increasing its conference schedules to nine or 10 games
, reducing the number of nonconference games by one or two per season.
"We would like to discuss [partnerships]," Delany said. "We were disappointed that the [Pac-12] collaboration didn't work. Whether we're at nine or 10, there will be fewer nonconference games, but we hope the fewer are better improved in quality. We would be very energized to sit down with others who were interested in also upgrading their schedules to see how we could do that."
Delany points out that different Big Ten programs have different goals, whether it's competing for national championships or making bowl games on a regular basis. But the message from the league office to its members is to push themselves more in non-league scheduling.
"What we've got to do is upgrade," Delany said. "It doesn't make any sense to be playing people from different divisions with fewer scholarships [FCS]. It doesn't make sense for everyone to be playing Southern Cal and Texas, but there's comparability there that we could seek out. We're trying to find out ways that we can create fair schedules, good schedules, healthy schedules for our teams, our players, our coaches and our fans."
Creating healthier bowl matchups also is an objective for the Big Ten. One idea gaining steam is to increase the flexibility of the selection process by sharing tie-ins with other conferences.
The Big Ten continues to have conversations with other leagues and bowl games as it prepares for its next lineup -- beginning in 2014 -- one built around " keeping things fresh for the fans and for the players and for the bowls," Delany said.
"If you have someone who goes to the same bowl three years in a row, that's problematic," Ohio State athletic director Gene Smith said. "Even two years in a row is problematic. So how do we change that model?"
The Big Ten has valued its alliances with the Rose Bowl in football and with the
ACC in basketball
. Other leagues
like the Big 12
also are motivated to form similar partnerships.
"The problem with partnerships beyond two or three or four is everybody has different objectives," Delany said. "Simple partnerships are easier than multilateral partnerships, but we'll explore both."
January, 25, 2013
Jan 25
9:00
AM ET
The Big Ten's bowl lineup will change in 2014, and the changes likely won't be limited to games and dates.
The entire bowl business could soon have a dramatically different look.
Several conference commissioners, including the Big Ten's Jim Delany, publicly discussed the
need to change the bowl business model
earlier this month during the week of the national title game. Declining bowl attendance is a concern, as are issues such as ticket distribution and the selection of teams. The Big Ten's athletic directors will discuss the future of the bowls when they meet next month at league headquarters in Park Ridge, Ill. -- they'll tackle not just the who, what, where and when, but the how and the why.
[+] Enlarge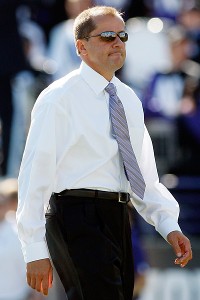 Jerry Lai/USA TODAY SportsNorthwestern's Jim Phillips and other Big Ten athletic directors anticipate changes to the bowl business model and selection process, possibly as soon as 2014.
"There are going to be some changes," Iowa athletic director Gary Barta told ESPN.com. "What I worry about is the watering-down of college football. College football's been on a meteoric rise since the creation of the BCS, both in stadium attendance and TV ratings. I think we're starting to see that saturation, and that's what I worry about going forward in the next 10 or 20 years. As we go into introducing the 2014 playoff, it is a chance for us to re-look at all of our bowls."
Several Big Ten athletic directors we contacted talked about having a more "national" bowl lineup beginning in 2014. They might as well have substituted the word "flexible."
Right now, the Big Ten's bowl lineup contains heavy doses of SEC, Big 12, Florida, Texas and Jan. 1. The selection order is fairly rigid. As a result, we've seen teams go to the same bowl in consecutive seasons (i.e. Nebraska at the Capital One in 2012 and 2013) or to the same state for a number of years. Wisconsin played in six consecutive bowls in Florida from 2004-2009, including back-to-back appearances in both the Capital One and Champs Sports Bowls.
The repetition problem exists even outside conference bowl tie-ins. Ohio State went to Arizona four times in a five-year stretch, three times for Fiesta Bowls (one of which was the national championship) and once for the BCS title game.
"I used the term bowl fatigue," Ohio State AD Gene Smith told ESPN.com. "When you go back to the same place multiple times … the novelty is lost."
The key to preventing bowl fatigue, several ADs say, is eliminating the rigidity of selections.
"We're going to try to get toward more looking at how do you put together a slate where you get good matchups, but at the same time avoid repeats … the bowls don't want that either," Purdue's Morgan Burke said. "I don't know that we can unteach what people have learned over the years -- 'We have the next pick, and the next pick.' Maybe you don't do that this round. Maybe we say, 'You're going to get a Big Ten team, and it will be part of a selection process.'"
Delany has mentioned the possibility of collaborating with other leagues on bowl tie-ins, essentially sharing the spots depending on the year and the attractiveness of the matchup.
"This is about the fans and the fans' experience and us really listening to what they're saying," Northwestern athletic director Jim Phillips said. "It's been documented that repeat institutions and repeat bowls and repeat matchups is not a recipe for success. People want fresh and new and exciting matchups. Any way we can do that with those bowl tie-ins, I would be in complete favor of that."
The Big Ten
hosted officials from 10-12 bowls last fall
and will discuss possible tie-ins with the athletic directors throughout the spring. It's likely the Big Ten adds at least one new bowl on the East Coast -- the New Era Pinstripe Bowl at New York's Yankee Stadium certainly is in the mix -- and possibly another in California, where it currently makes only one postseason appearance (Rose Bowl).
Another huge component is ticket distribution. Many
Big Ten schools struggled to sell their ticket allotments
from the bowls this past year, as fans could spend much less for tickets -- often better seats -- in the secondary market.
"What we have to do is work with the bowls to take that impact off of the institutions but work closely together on a sales strategy," Smith said. "Let's forget about the institution being responsible for X, and the bowl being responsible for X and the local organizing committee being responsible for X. Look at your aggregator sales plan, then come up with a cooperative strategy to make sure we're selling the bowl out. We've just got to think differently than we have in the past, and think about pricing, and [tiers] of pricing and the venues and things of that nature."
The ADs are mindful of the upcoming playoff. Although they'll be tackling several important items in the coming months, the Big Ten's bowl lineup and the bowl system as a whole will merit close attention.
"The landscape is shifting with the 2014 playoff introduction," Barta said. "I want to make sure we keep the bowls relevant."
December, 7, 2012
12/07/12
10:00
AM ET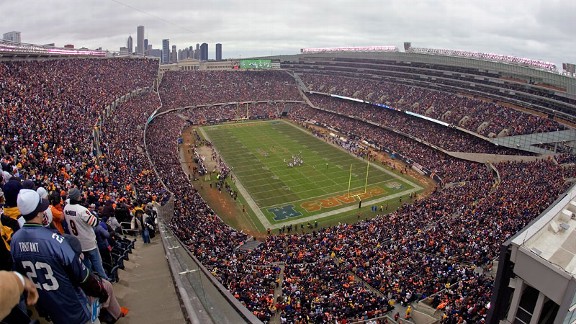 AP Photo/Scott BoehmChicago, a mecca for Big Ten alums of all stripes, is a worthy spot for the league's title game.
Indianapolis has almost everything a league like the Big Ten could want for its signature sporting event.
It boasts first-rate facilities for the game itself and for surrounding events like Big Ten Fan Fest. It boasts an excellent concentration of downtown hotels and restaurants. Indiana Sports Corporation has an unmatched track record of staging major sporting events, including the Super Bowl and the Final Four. The Big Ten picked Indianapolis to host its football championship game for these reasons and others. And from an event production standpoint, Indy has delivered.
But Indianapolis has two drawbacks.
1. There aren't overwhelming numbers of Big Ten fans who live there.
2. It isn't a true destination city.
In other words, Indianapolis isn't Chicago.
Some might say I'm picking on Indy after last Saturday's Big Ten championship game, which drew a crowd of only 41,260 to Lucas Oil Stadium, which can seat more than 67,000 for football games. Few anticipated a great crowd after a season in which the Big Ten had two of its best teams -- Ohio State and Penn State -- facing NCAA sanctions and barred from the title game or bowls. The fact that the title-game participants, Nebraska and Wisconsin, weren't in the national title race didn't help matters, either. Add in that Wisconsin finished third in the Leaders division with a 7-5 regular-season record, and the Big Ten title game had as much buzz as bingo night (yes, I know some of you love bingo).
July, 26, 2012
7/26/12
4:00
PM ET
CHICAGO -- Don't expect to see a nine-game Big Ten schedule any time soon.

Commissioner Jim Delany said at Big Ten media days Thursday that league schools are "of a unanimous mind to stay at eight games" in the conference schedule.

The dissolution of the Pac-12/Big Ten alliance forced the league to re-examine its scheduling philosophy. One idea that was heavily discussed this week was whether to increase the number of conference games to nine, the same number the Pac-12 and Big 12 play and that the ACC will soon play. Of the other power leagues, only the SEC has decided to stick with eight conference games.

The Big Ten voted to go to nine games last summer before abandoning the plan when the Pac-12/Big Ten agreement developed. But many coaches were not in favor of playing nine games, and some athletic directors did not like the idea of having an imbalanced number of home and away league games.

Delany said playing just eight league games will give the Big Ten more opportunities to prove itself on a national basis, which he said will be helpful under the playoff system to be implemented in 2014. Strength of schedule is expected to be a key component that a selection committee will consider when choosing the four teams for the playoff.

"That committee will have to look with the eye test at conferences," Delany said. "But it will also have to look at competitive results between conferences. We think going forward that this is the best way to prepare for the new postseason model."

Delany said that the Big Ten schools serious about competing for national championships will soon have "enhanced schedules," meaning tougher nonconference games. Those schools, he said, will "not only demonstrate strength by winning Big Ten championships but also demonstrate strength relative to other conferences."

The commissioner said the Big Ten might work with other conferences to help scheduling, though he said that would likely not rise to the collaborative level that was planned with the Big Ten.