Ohio State Buckeyes:

Greg Mattison
November, 29, 2013
Nov 29
1:30
PM ET
Hope you're stuffed from Thanksgiving. Be sure to follow us
on Twitter
for the final Saturday of the regular season.
To the inbox ...
Pat from Iowa writes:
Who would you consider the biggest surprise team this year for good or for worse? Northwestern's down spiral, Minnesota's amazing year, or perhaps a great Iowa rebound year? Thoughts?
[+] Enlarge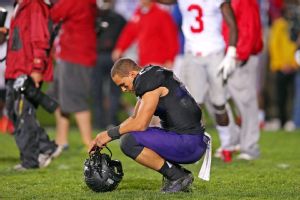 Jonathan Daniel/Getty ImagesSince the loss to Ohio State it has been all downhill for Northwestern.
Adam Rittenberg:
Northwestern's downturn definitely is the biggest surprise, especially considering where the Wildcats were on Oct. 5 (4-0, leading Ohio State in the fourth quarter, College GameDay on campus). I attended that game and also last week's home finale, where the stands were mostly empty and the team had been decimated by injuries and poor play. Northwestern returned its core from a 10-win team and won't make a bowl -- big surprise. Minnesota, while deserving a lot of credit, likely will win only two more regular-season games than it did last year. And Iowa couldn't have been much worse after the 2012 season, although the Hawkeyes have been a nice story.
---
Mike from Colorado Springs, Colo., writes:
I appreciate your dissatisfaction with
Ameer Abdullah
not being a finalist for the Doak Walker Award. I think he is way underrated because of the season Nebraska is having. With all the injuries on offense, he has been the one guy they can count on. If you look at the stats he also has much fewer carries than
Andre Williams
and
Ka'Deem Carey
and they are Heisman candidates. Not to discredit what Williams has done because it is really special, but if Abdullah gets the carries he does I think the stats are pretty similar. Is Abdullah a Heisman candidate if Nebraska is more in the national picture? These other guys are and Arizona and Boston College are lower on the totem pole than Nebraska. What is hindering him from the national spotlight?
Adam Rittenberg:
I thought Nebraska's relatively early exit from the national spotlight (the UCLA game) hurt Abdullah's national exposure a bit, but Arizona and Boston College aren't exactly challenging for league championships, either. So it's a bit puzzling. Abdullah's lack of touchdowns might play a role, and several of his signature plays -- like the fourth-down conversion against Northwestern before the Hail Mary -- haven't resulted in touchdowns. He has been the model of consistency and should be getting more attention, but it hasn't happened. Disappointing for sure.
---
Kyle from Dover, Del., writes:
Adam, yes or no, does
Jabrill Peppers
stay committed to Michigan despite the absolutely terrible season we have had?Also, do you think
Shane Morris
will be ready to lead the Wolverines entering the 2014 season? God bless, go blue, happy holidays.
Adam Rittenberg:
Same to you, Kyle. I fully expect Peppers to Go Blue come national signing day. Coach
Brady Hoke isn't going anywhere
, and neither is defensive coordinator Greg Mattison. Hoke's future never was in doubt at Michigan, but Peppers obviously got concerned about the coach keeping his job in 2014. Those concerns should go away. Peppers really seems all in for Michigan, and while recruits can always change their minds at the last minute, I wouldn't worry. As for Morris, I still think
Devin Gardner
is the Michigan quarterback in 2014. Gardner isn't the problem with that unit.
---
[+] Enlarge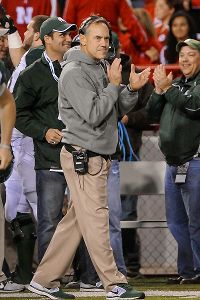 Eric Francis/Getty ImagesMark Dantonio has made his feelings known about where his team belongs in the postseason.
JB from Scottsdale, Ariz., writes:
Hey Adam,I know it sucks to be a MSU fan because of their bad luck getting into a BCS bowl, but all of this campaigning by Coach D is a joke. We can talk about this all we want, but the reality is if they lose the Big Ten championship game they can say hello to Orlando and the Capital One Bowl. Wisconsin should only have one loss on the season, and will be riding a seven-game winning streak. Also, the perception of a larger fan base means more money, they would go to the Orange Bowl. Most experts have Wisconsin in the Orange Bowl, and I can't see that changing. Even if MSU loses against OSU, but stays in the Top 14, Wisconsin would still be higher.
Adam Rittenberg:
JB, you might be right, and Wisconsin might get an at-large berth ahead of Michigan State. But I think if the Spartans lose to Ohio State and stay in the top 14, they'll likely go ahead of Wisconsin. Maybe it's just a hunch, but Wisconsin has been to three consecutive Rose Bowls, while Michigan State hasn't been to BCS bowl during the BCS era and last went to a BCS-level bowl during the 1987 season (Rose). If the Spartans play Ohio State to the wire and lose, athletic director Mark Hollis and campaigning coach Mark Dantonio would have some good selling points. Your last point is really irrelevant as we constantly see teams ranked lower in the final BCS standings receive at-large berths. So if Michigan State remains in the top 14 -- remember, that was the issue in 2011, which no one mentions -- I think the Spartans could get an at-large spot ahead of Wisconsin.
---
Zach from Dallas writes:
Adam, I'm going to ask you an impossible question to answer. If you had to pick one current Big Ten Player to build a defense around, who would it be?
Ryan Shazier
and
Chris Borland
are fantastic linebackers who put up big numbers.
Darqueze Dennard
is probably the best DB in the nation and cuts off half the field.
Max Bullough
is an extension of the coach on the field and can control a game by himself.
Adam Rittenberg:
Zach, it is an extremely difficult question with no absolute right or wrong answer. There are so many great options in this league. But I've gone record before that Borland would be my starting point for putting together a defense. He's not only one of the smartest players I've ever covered, but he's the consummate playmaker, always around the ball and causing problems for the opponent. He has universal respect from opposing coaches and Gary Andersen, despite being with him for only one year, is calling him the best he has ever coached. So you can't go wrong here, but give me Borland.
---
Charles from Knoxville, Tenn., writes:
Adam, if Auburn manages to do the unthinkable and beat Alabama this weekend, that should be enough to solidify OSU into a national title game slot. My question is do you think the B1G front office would put pressure on MSU to allow OSU a pass in the title game, to ensure OSU's shot at a national title?
Adam Rittenberg:
Charles, while the Big Ten would love to see Ohio State reach the BCS title game, the thought it would tell another of its teams to tank in the championship game is absurd. Not only would it be highly unethical and unfair to Michigan State, but the Big Ten wouldn't want its showcase event -- the title game -- tarnished in any way. Plus, why would Michigan State listen? The Spartans are well aware of what happens to title game losers in the BCS picture, as they often miss the big bowls entirely. I also wouldn't be so certain Ohio State is safe if Auburn beats Alabama, as there would be significant pressure to have an SEC team in the title game.
---
Enrique from Grand Rapids, Mich., writes:
Adam, please fix your Big Ten picks overall records! There are 48 non-conference games and 48 conference games to pick during the regular season (96 total). Right now you are both 74-14 for a total of 88 picks. With six games left to pick that would put you at only 94. You guys got off track a few weeks ago. You'll want to double check, but I think you're both at 76-14. And if you'd like a question for your mailbag: The disparity between the Leaders is greater than that of the Legends this year. With the alignment shift next year, which division do you think will have greater disparity between the best and worst?
Adam Rittenberg:
Enrique, thanks to you and others for pointing out the error in our picks records. They've both been updated to 76-14. Math never was my strong suit, and I clearly didn't give Brian or I enough credit here. The general feeling is that the Big Ten East will be much stronger than the West, and that could happen if programs like Michigan State continue to surge. Wisconsin looks like the premier program in the West. It will be interesting to see if Nebraska, Iowa, Northwestern and Minnesota can rise up to match the Badgers in the coming years. But if Michigan and Penn State make some progress this offseason, it's easy to envision the East being stronger, perhaps much stronger.
October, 30, 2013
Oct 30
12:00
PM ET
The head of state has called for me by name. But I don't have time for him. It's going to be a glorious day. I feel my luck could change.
September, 18, 2013
Sep 18
12:00
PM ET
I, for one, welcome our new insect overlords.
September, 11, 2013
Sep 11
12:00
PM ET
September, 8, 2013
Sep 8
10:00
AM ET
Lessons learned from Week 2 in the Big Ten:
1. Ohio State has company at the top:
The widely-accepted thought going into the season was that the Big Ten would be Ohio State and everybody else. Well, after two weeks, it's fair to say the Buckeyes have company from the team they dare not name: Michigan. The Wolverines have looked mighty impressive in their first two games, especially in Saturday's 41-30 win over Notre Dame.
[+] Enlarge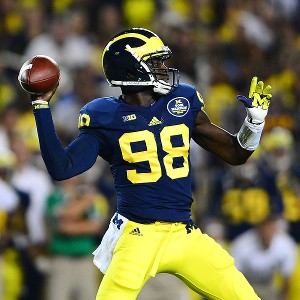 Andrew Weber/USA TODAY SportsDevin Gardner wore No. 98 to honor Michigan great Tom Harmon, then played great against Notre Dame.
Devin Gardner
has made Michigan's offense truly balanced, and he is as dynamic a playmaker as Ohio State's
Braxton Miller
. Greg Mattison's defense gave up some yards and points to Notre Dame but is always going to be solid, more so if
Jake Ryan
returns this year.
Ohio State was also very good in a 42-7 win over San Diego State, especially considering Miller got hurt early on and was replaced more than adequately by
Kenny Guiton
. The Buckeyes have yet to play good competition or reach their peak with their full lineup available. Their ceiling might remain higher than the Wolverines', but Ohio State still has to go to the Big House, where Brady Hoke has never lost as a head coach. Having both of these teams reach superpower status this year ultimately will be good for the league. It's early, but it looks like we're on our way toward that, though those two teams are not the only ones to consider in the conference race. Speaking of which ...
2. Northwestern is a legitimate contender:
Ohio State and Michigan are the Big Ten's top two teams, but Northwestern isn't far behind. Pat Fitzgerald's team needed some offense from its defense to survive a tough opener at Cal last week. The offense needed no such help Saturday as top quarterback
Kain Colter
returned to the field and, along with quarterback
Trevor Siemian
, wide receiver
Tony Jones
and others, shredded Syracuse's defense to the tune of 48 points and 581 total yards. Colter and Siemian combined to go 30-of-37 passing for 375 yards with four touchdowns, no interceptions and 91 rush yards.
Northwestern hasn't even been at full strength yet -- star running back/return man
Venric Mark
continues to nurse an injury -- and still looks like a superior team to the 2012 version, which won 10 games. Although the defense remains vulnerable to the big play, it also generates takeaways, continuing a theme from last season. The tough part of the non-league slate is over, as Northwestern has only Western Michigan and Maine left before two weeks to prepare for an Oct. 5 showdown with Ohio State, which should be the most-anticipated game of Fitzgerald's tenure. Northwestern's league schedule isn't easy, but it should be in the thick of the Legends Division race when November rolls around.
3. Song remains the same for Michigan State, Indiana:
What good is it being outstanding on one side of the ball if the other side can't hold its own weight? Michigan State and Indiana have changed a lot of names in an effort to shore up their crummy offense and defense, respectively, but the more things change, the more they stay the same.
The Spartans' quarterback picture is becoming an absurd theater; Mark Dantonio gave
Connor Cook
his first career start and
Tyler O'Connor
his first collegiate action but had to go back to incumbent starter
Andrew Maxwell
to start the second half against USF after both struggled. The three quarterbacks combined to go just 12-of-24 for 94 yards and did nothing to clear up the picture, while the offense managed only one score against a Bulls team that gave up 53 to McNeese State a week earlier. Thank goodness for the MSU defense, but it can't carry everything on its back all season again.
It's the opposite story at Indiana, which supposedly practiced all offseason to prepare for the Navy option but then looked as if it had never seen such a thing before in a dispiriting 41-35 loss. The Hoosiers have added some talented freshmen to the defensive mix, but they couldn't prevent the Midshipmen from rolling up 444 rushing yards. Indiana can still throw it and score with anybody and has put up 108 points in two games, but
Kevin Wilson
's team isn't going bowling unless the defense becomes competent. If only the Spartans and Hoosiers could combine into an all-star team, we'd really have something.
4. Mystery lingers around Wisconsin, Nebraska and Minnesota:
We're still waiting to learn something about the Badgers, Huskers and Gophers, who are a combined 6-0 but have yet to face a true test (sorry, Wyoming).
Wisconsin has posted back-to-back shutouts to open a season for the first time since 1958, and the run game looks as strong as ever with
James White
,
Melvin Gordon
and even
Corey Clement
, each of whom has rushed for more than 100 yards in the first two games. But few teams have faced weaker competition (Massachusetts, Tennessee Tech).
Nebraska's defense performed much better in Week 2, as cornerbacks
Stanley Jean-Baptiste
and
Ciante Evans
both had pick-sixes. But the Huskers' performance came against a Southern Miss team that now has lost 14 straight.
Minnesota continues to find creative ways to score, adding touchdowns on both defense and special teams in an easy win at New Mexico State. Then again, who have the Gophers faced? Fortunately, we'll find out a lot more next week as Wisconsin travels to Arizona State and Nebraska hosts UCLA. The wait will be a little longer for Minnesota, which hosts high-powered San Jose State in Week 4.
5. Illini are cellar-dwellers no more:
Illinois has held pretty steady at or near the bottom of our Big Ten power rankings for about a year. But while the Illini are still far from league contenders, they no longer can be viewed as the conference's worst team after Saturday's stunning 45-17 win over Cincinnati improved their record to 2-0. The Bill Cubit-directed offense looks legit, and quarterback
Nathan Scheelhaase
is playing as well as he has in his career.
The Big Ten's No. 12 team now has to be Purdue, which lost to that same Cincinnati squad, 42-7, in the opener and needed a pair of late defensive stops to hold off Indiana State 20-14. Yes, the same Indiana State team that Indiana destroyed 73-35 in the Hoosiers' opener. The Boilermakers once again were plagued by communication issues and an ineffective offense that got outgained by nine yards by an FCS opponent. Darrell Hazell's team figures to be a heavy underdog in its next six games, beginning with Notre Dame this weekend.
Iowa also still has a lot to prove after struggling to put away Missouri State at home until the fourth quarter. At least the Hawkeyes finally snapped their seven-game losing streak, though beating an FBS team would be nice.
August, 28, 2013
Aug 28
4:15
PM ET
You're used to seeing my mailbag run on Thursdays, but we're going to try and mix it up this season and go a day earlier. As always, send your questions
here
or via
Twitter
. Next week: actual football to talk about. Today, the last of our preview-type questions.
---
Ryan from Parts Unknown writes:
Which teams, according to their schedules, do you believe will get off to the hottest start in the Big Ten?
Brian Bennett:
Well, if you read
my piece from Monday
, you'll see that I don't think there are many marquee out-of-league games. So the possibility is there for a lot of teams to get off to nice starts in September. When you factor in the early Big Ten games, here is how I would rank the teams with the best chance for a really good start:
1. Nebraska: If the Huskers can beat UCLA in Week 3 at home, they really ought to be 7-0 heading into November. Their October Big Ten slate is Illinois at home, followed by Purdue and Minnesota on the road.

2. Michigan State: Even if you factor in a loss at Notre Dame on Sept. 21, the Spartans have a great chance of being 7-1 heading into their Nov. 2 showdown vs. Michigan. The toughest road challenge besides the Irish is an Oct. 5 game at Iowa.

3. Penn State: Three of the four nonconference games carry at least medium degrees of difficulty, but the Nittany Lions don't play a true road game until Oct. 5 at Indiana, to whom they've never lost.
---
Andy from Lincoln writes:
Which B1G team, has the biggest chance of blowing their season early?
Brian Bennett:
Andy, did you and Ryan coordinate questions? Well, this is the flip side of the coin. Here are my top three teams whose seasons could get wrecked early by the schedule:
1. Purdue: A 1-7 start is a grim, but real, possibility, with Cincinnati, Notre Dame, Wisconsin, Northern Illinois, Nebraska, Michigan State and Ohio State all on the docket in the first eight games.

2.Wisconsin: The Badgers schedule is not terribly taxing overall, but the first six games could make or break it. They travel to Arizona State in Week 3, play at Ohio State in Week 5 and face a dangerous Northwestern team on Oct. 12. A couple early setbacks could put Wisconsin out of division contention before mid-October.

3. Indiana: Hopes are high for a bowl game this year for the Hoosiers, and they have eight home dates. But if IU stumbles early on in a stretch that includes potentially tricky games against Navy, Bowling Green and Missouri, they could already be behind the eight ball as they start Big Ten play vs. Penn State and then play on the road at Michigan State and Michigan. Still a young team in several areas, Indiana might not be able to recover from some early punches in the nose.
---
Ted W. from Chicago writes:
Hey, if you're going to talk about weakness in Big Ten nonconference schedules, you gotta mention that Vandy canceled two games this year against Big Ten opponents.
Brian Bennett:
Ted, if you're going to use Vanderbilt -- a team that is not ranked in the top 30 of either major poll and is likely no better than the seventh- or eighth-best team in the SEC -- as an example of a team that would increase the difficulty of Big Ten schedules, then you're making my point for me.
---
Steve from Columbus, Ohio, writes:
Hypothetically speaking, how likely is it that a 12- or 13-0 Ohio State team gets more credit from the pollsters because they went 12-0 last year? Will that be the way pollsters will/should/could look at Ohio State toward the end of the season as a a 24-0 or 25-0 team as opposed to merely a 12- or 13-0 team?
Brian Bennett:
That's a good point, Steve. Though pollsters are supposed to only consider the current season's results, they are human and can't help but be informed by past knowledge. A potential two-season run of being unbeaten would enhance Ohio State's image and bolster the Buckeyes' claim despite their weak nonconference schedule. And don't underestimate the Urban Meyer factor. Because of his track record, voters will not look at Ohio State as some puffed-up paper tiger, and who wouldn't want to see him face an SEC team for the title? Regardless, an undefeated Ohio State is getting into the BCS title game no questions asked unless we have a rare, weird year of more than two undefeated power conference champs.
---
David from Clarkston, Mich., writes:
While I agree with most of your
top 25 players list
, I think there is one glaring omission. I noticed you didn't include
Jake Ryan
. While I suspect this was because of his injury, all the news out of Wolverine camp has him being ready for the start of the Big Ten season. With that probability shouldn't he make the list?
Brian Bennett:
David, Ryan would have been a top-10 player had he been healthy to start the year. While the news on his rehab is encouraging and we hope to see him return as soon as possible, there certainly is no guarantee that he will be back by early October or that he will come back 100 percent. We've seen quick ACL recoveries before, but that's not the norm. We decided to be cautious with our ranking and did not include Ryan since we have no idea how much he'll contribute this season.
---
Dustin from Minneapolis writes:
I keep reading predictions for Wisconsin's season using a new coach as a negative. I see it as an upgrade, especially given most core things will be the same. major change is the 3-4, which seems to fit the personnel better. Transitions can over headaches, but thus far it has appeared seamless. If anything it has seemed to recharge the troops. Either way our troubles are OL depth, WR step-ups and secondary. Homer maybe, but I really feel people are sleeping on the talent we have coming back and overstating some issues.
Brian Bennett:
I don't view the transition as being much of a negative, although the Badgers players have now had a bunch of different coaches in the past couple of years. I'm more concerned with the areas you mentioned, particularly the receiving corps and the secondary. And while Wisconsin has plenty of talent, let's not forget this team lost six games a year ago. I still predicted a 9-3 record for Gary Andersen's first season, which I would view as a success.
---
Eric from Los Angeles writes:
Hey Brian, love the blog. My question is, why is Michigan getting the benefit of the doubt on all of their holes (where they have had to replace almost their entire offensive and defensive line, their secondary leader, and their best linebacker at least for the first few months of the season) when teams like Northwestern and Michigan State don't? I understand you said teams 2-7 are close ... but on a neutral field, I would take Northwestern, Nebraska, Wisconsin, Michigan State all over the Wolverines.
Brian Bennett:
It's a fair question. Michigan does have some holes. But I like the talent and the coaching track record. While the Wolverines must replace three offensive line starters, the new guys were in most cases big-time recruits, and having
Taylor Lewan
as an anchor is an awfully nice start. I simply trust Greg Mattison and Brady Hoke at this point to put together a very good defense, and I love the potential of
Devin Gardner
in that offense. Michigan, in my view, has far fewer holes to fill than Nebraska, which is replacing almost all of its defense, or Michigan State, which still has major concerns at quarterback, running back, receiver, tight end and offensive line. Maybe we're overrating Michigan a tad, but I did pick Nebraska to win the Legends Division.
---
Kurt from Arlington Heights, Ill., writes:
Hawkeye fan here: After reading the blog the last few weeks, it looks like the press expects Iowa to win 5-6 games. Since we know Iowa plays their best when "nobody believes in us," how surprised are you going to be when Iowa is playing in the conference championship undefeated?
Brian Bennett:
Kirk Ferentz has definitely surprised us before, but few people believed in Iowa as a serious contender last year, and they lived down to those expectations. Look, if everything goes right, the Hawkeyes could easily get back to a bowl game and knock some people off in the Legends race. I just don't think there's enough overall talent on hand for Iowa to become a serious division contender. But I've been wrong before. Predictions won't be worth much starting this weekend.
---
Josh from Not a football stadium writes:
Brian, as we are all obsessed with all things Big Ten - can you have your ESPN people create us an official Big Ten fantasy football system? I reckon you and Adam need to stop keeping this wonderful game all to yourselves.
Brian Bennett:
Josh, it already exists. Go to ESPN.com's
College Football Challenge
, start a league and limit your player pool to Big Ten players only.
Voila
. Then all you need is a few friends to get it going. As someone who's a fantasy nerd in baseball and basketball but refuses to play in an NFL league, I have my issues with fantasy football. But when you could do it using college teams and your favorite conference, what's not to love?
August, 28, 2013
Aug 28
12:00
PM ET
June, 4, 2013
Jun 4
2:20
PM ET
COLUMBUS, Ohio -- Outside linebacker
Jamal Davis II
(Canton, Ohio/McKinley) has a favorite.
Well, sort of.
The 6-foot-2, 205-pound Davis is a big fan of Michigan -- he grew up emulating a certain Heisman Trophy winner -- so the Wolverines are his favorite along with Ohio State.
To continue reading this article you must be an Insider
May, 20, 2013
May 20
9:00
AM ET
Ohio State already had started paying more competitive salaries for assistant coaches before Urban Meyer arrived in November 2011.
But when Meyer and athletic director Gene Smith sat down to discuss staff pay, Smith soon realized he needed to do more.
"I think Michigan had stepped up with their coordinators," Smith recalled last week during Big Ten spring meetings in Chicago. "So we were already going to that before Urban Meyer came, but we bumped it up a little more. Any time there's change, you have that opportunity."
[+] Enlarge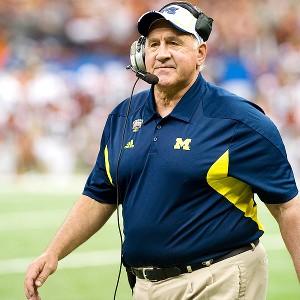 Lon Horwedel/Icon SMIMichigan DC Greg Mattison ranks as the highest-paid assistant coach in the Big Ten for the 2013 season.
"Everyone's always focused on head coaches' salaries," Smith continued. "That's always the thing. But really when you look at the changes, it's really been assistants' salaries across the country -- not just in the SEC, but the Big 12, Pac-12, all across the country."
The Big Ten is part of the change, too, as the league is allocating more money toward football assistants than ever before. The Detroit Free Press has an
excellent look at Big Ten assistants' salaries
, complete with a
database
that includes 10 of the 12 current members (Northwestern doesn't submit salaries as a private institution, and Penn State doesn't have to because of state laws).
The Free Press found that eight of the 10 schools are paying more for assistants in 2013 than they did in 2012 (only Indiana and Illinois are not). There are some significant total increases, such as Wisconsin (up $558,000), Nebraska (up $518,500), Purdue ($400,000) and Minnesota ($355,000). Staff pay had been an issue at Wisconsin, which lost six assistant coaches following the 2012 Rose Bowl, and at Purdue, which paid less for its staff during the Danny Hope era than any Big Ten school.
The total trend among the 10 schools is an increase of $1,720,852.24 for 2013.
Ohio State and Michigan remain No. 1 and No. 2 in Big Ten staff salary, as the Buckeyes allocate $3.416 million and the Wolverines allocate $2.805 million. Nebraska and Wisconsin make the biggest moves in the league for 2013, as the Huskers rise from sixth to third and the Badgers rise from seventh to fourth.
Illinois, which replaced five assistants from the 2012 team, including co-offensive coordinators Chris Beatty and Billy Gonzales, dropped from third in staff pay ($2.314 million) to eighth ($2.065 million).
The database shows that nearly every Big Ten assistant with "coordinator" in his title -- whether he's the sole coordinator or a co-coordinator -- will earn north of $300,000 for 2013. Only 18 assistants listed will make less than $200,000 in 2013 -- 15 work for Minnesota, Illinois, Purdue and Indiana.
Some notes:
Although Wisconsin paid former offensive coordinator Paul Chryst good coin, the school has increased its commitment for Gary Andersen's staff, not only with the coordinators but with some coveted position coaches like running backs coach Thomas Hammock ($300,000).

All of Nebraska's assistants are earning $200,000 or more for 2013, but there's a huge drop-off between Beck and the next highest-paid assistant (defensive coordinator John Papuchis at $310,000).

Michigan State has a similar drop off between Narduzzi and co-offensive coordinators Dave Warner ($270,000) and Jim Bollman ($260,000). Warner will be the primary offensive play-caller and has been on Mark Dantonio's staff since 2006, while Bollman is a newcomer.

Although Michigan is paying top dollar for its coordinators, the school gets its assistants for a relative bargain. Receivers coach/recruiting coordinator Jeff Hecklinski will earn $225,000 in 2013, while the others all will earn $205,000. Ohio State, meanwhile, pays all but one of its assistants $286,000 or more.

The Big Ten's three lowest-paid assistants all are in their first years: Illinois wide receivers coach Mike Bellamy ($125,000) and Purdue linebackers coach Marcus Freeman and running backs coach Jafar Williams (both at $120,000).

Although schools like Illinois, Wisconsin and Iowa ($325,000) pay their coordinators the exact same amount, others have slight differences in salary. Purdue's Shoop makes $5,000 more than defensive coordinator Greg Hudson. Minnesota defensive coordinator Tracy Claeys ($340,000) makes $5,000 more than offensive coordinator Matt Limegrover. Wonder if that leads to any underlying jealousy?

Most Big Ten schools have assistant salaries in round numbers, but there are some interesting totals from Indiana, which pays co-offensive coordinators Seth Littrell and Kevin Johns $255,500.04 and new recruiting coordinator/assistant defensive line coach James Patton $173,740.08. Never know when that change can come in handy.
The Big Ten still lacks some of the OMG totals seen in the SEC -- LSU is
paying new offensive coordinator Cam Cameron $3.4 million
in the next three years -- but the overall trend puts the league more on par with what we're seeing nationally.
December, 12, 2012
12/12/12
9:00
AM ET
Head coaches are like quarterbacks. They get too much credit and too much blame.

Assistant coaches are like nose tackles. They don't get nearly enough credit despite playing vital roles.

Today, we'll change it up and give some recognition to Big Ten assistant coaches who did exemplary jobs with their position groups or, in some cases, units in 2012. Each of these coaches fostered improvement this season. Some took units in bad shape and made them better. Others took units in decent shape and made them very good. Some entered the season with skeptics and quieted them.

We came up with 13 assistants who deserve recognition. Yes, we realize we're leaving out some quality folks, but we had to cap it somewhere and wanted to spread the love around to the different teams.
November, 25, 2012
11/25/12
10:00
AM ET
Five lessons from the week that was in Big Ten football.
1. The Ineligibles overachieved under great coaches:
We won't see Ohio State or Penn State until next fall, but both teams went out on positive notes to end seasons in which they overachieved. Aside from die-hard Buckeyes believers, who expected Ohio State to go 12-0 and record just the sixth unbeaten, untied season in team history? Even fewer people expected Penn State to go 8-4 after a tumultuous offseason that featured the exodus of running back
Silas Redd
and other key players. And when the Lions started 0-2, most folks wrote them off. But Bill O'Brien and his team never lost faith and surged through most of the Big Ten season. It was fitting that kicker
Sam Ficken
, whose struggles at Virginia led to Penn State's loss, had the game-winning field goal Saturday as the Lions beat Wisconsin in overtime. O'Brien exceeded all expectations in his first season as a head coach, recording the most wins ever by a first-year Lions boss. Will he be Big Ten Coach of the Year? The only other worthy candidate is Urban Meyer, who took a seven-loss Buckeyes team with significant depth issues and transformed it into one of the nation's best.
[+] Enlarge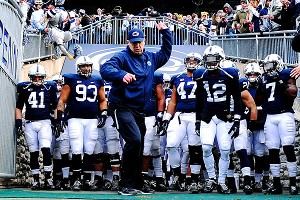 Evan Habeeb/US PresswireBill O'Brien faced tough questions from prospective recruits, but the Penn State coach and his staff kept a top-25 recruiting class together.
2. Michigan isn't really back:
Sure, the Wolverines have dug themselves out from the Rich Rodriguez-created crater, and they had a charmed season end in a Sugar Bowl title last season. But in terms of beating really good teams, the ones that signify Michigan once again has a place among the nation's elite, Brady Hoke's crew is still looking for a breakthrough. Michigan won a respectable eight games, but its four losses in the regular season -- Alabama, Notre Dame, Nebraska and Ohio State -- came against the best four teams it played. The Wolverines were extremely fortunate to beat a good Northwestern team and a mediocre Michigan State squad on their home field. While it was nice to end the losing streak against Ohio State last season, Michigan beat the worst Buckeyes team we've seen in more than a decade. The offense still seems hamstrung in some ways by the
Denard Robinson
era, though the emergence of
Devin Gardner
is promising for the future. There are signs Michigan is close, and the renaissance on defense under Hoke and Greg Mattison can't be denied. But it'll take a bit longer for Michigan to truly claim it is back, although a Jan. 1 bowl victory against an SEC foe would help.
3. Rex Burkhead still can make an impact:
This hasn't been the season the Nebraska senior running back envisioned, but he can still play a major role in how it turns out for Big Red. Burkhead returned to the field in the second half Friday against Iowa after Nebraska's offense stumbled and fell behind 7-3. In his first appearance since Oct. 20, Burkhead racked up 69 yards and Nebraska's only touchdown on 16 carries. He might not be 100 percent, but he showed the skills that make him beloved in the Cornhusker State, particularly on a grinding 9-yard run to pick up a first down after Nebraska was pinned inside its own 1-yard line early in the fourth quarter. Nebraska had hoped to get through the Iowa game without Burkhead, but when the team needed him, he delivered. He likely will play a bigger role this week against Wisconsin in the Big Ten title game. Burkhead had 86 rush yards against the Badgers in the Big Ten opener, the only full game he has played this season. He could be the boost Nebraska needs to win its first league title since 1999 and possibly win the Rose Bowl, too.
4. Danny Hope's players didn't quit on him:
Many Purdue fans have seen enough of fourth-year coach Danny Hope, but Hope has plenty of allies in his locker room. The Boilers easily could have quit after dropping their first five Big Ten games -- four blowouts (three at home) plus the heartbreaker at Ohio State. Some teams projected to do much more would have gone in the tank. But Purdue rallied behind Hope and gutsy quarterback
Robert Marve
, who played despite a torn anterior cruciate ligament, and won its final three games to secure a bowl berth. The product rarely looked pretty, and even Saturday's Bucket game against Indiana featured some bang-your-head-against-the-wall moments. But Purdue's players never stopped fighting and will head somewhere warm for the holidays. Whether Hope joins them remains to be seen, but he deserves some credit for keeping the team afloat during such a difficult stretch.
5. Bowl practices will be crucial for Big Ten teams:
We don't know the bowl matchups yet, but they will be daunting for the Big Ten, which will be without two of its best teams (Ohio State and Penn State) in the postseason. For the league to avoid another bad bowl performance, several teams must take significant steps during bowl practices. Michigan State has the defense and the running back (
Le'Veon Bell
) to win its bowl game, but it needs quarterback
Andrew Maxwell
and a young receiving corps to develop. Coach Mark Dantonio hinted this week that his offense needed an update to keep up with the times. Maybe that can start next month in earnest. Minnesota has to get healthy and re-establish its offensive identity behind true freshman quarterback
Philip Nelson
, who will benefit from the 15 practices. Wisconsin also will have a chance to iron out its offensive issues, while a young Northwestern team that made major strides this fall must make another before facing what should be a heavily favored SEC foe in Florida. Michigan also gets some extra time to figure out its vision on offense with Gardner and Robinson.
August, 7, 2012
8/07/12
2:30
PM ET
The "Inside the Game" position preview series continues with the crux of any defense -- and long a position with a lot of lineage at both Michigan and Ohio State: Linebackers.
BuckeyeNation's Austin Ward and WolverineNation's Michael Rothstein take a look at the men in the middle of both defenses.


Michigan
Rothstein:
Michigan's linebackers can rejoice. For the first time since any of them has been a Wolverine, they will play in essentially the same defensive scheme with the same defensive coordinator for the second season in a row.
And if you think that doesn't make a difference, you're kidding yourself. Even defensive coordinator Greg Mattison said as much, that having the players learning the same system for the second year allows for a faster refresher course along with more advanced teaching. And for the linebackers more than any other defensive position group, this is critical.
Michigan has the bulk of its main playmakers at the position back, including fifth-year senior
Kenny Demens
in the middle along with sophomores
Desmond Morgan
and
Jake Ryan
on the outside.
Demens is Michigan's leading returning tackler with 94 last season, including three sacks. Morgan, as a freshman, was fifth in tackles with 63. At linebacker, that kind of production is expected.
That starting group, though, will be pushed. Junior Cam Gordon is fighting with Ryan for time, as is senior
Brandin Hawthorne
behind Morgan. Also involved are a gaggle of talented freshmen, including James Ross III, Royce Jenkins-Stone,
Kaleb Ringer
and
Joe Bolden
, who enrolled last spring and could see a lot of time his freshman season.
Still, though, it is a young group with a lot of room to grow and likely won't see its true potential for another season or two.
Ohio State
Ward:
There may not be a linebacker with the name recognition of the Ohio State legends that have come before them.
By its own admission, the current group of Buckeyes didn't live up to the expectations established by those predecessors.
But even without a Hawk or Laurinaitis this fall, the middle of the defense should be much improved even if there isn't any established star on the roster during training camp.
Perhaps by the time the Buckeyes take on their rivals at the end of the season, though, sophomores
Ryan Shazier
and
Curtis Grant
could make themselves a lot more familiar to folks around the Big Ten. Shazier in particular began building some buzz for himself during a three-game tackling barrage when he was inserted into the starting lineup due to injury last season and responded with 30 takedowns.
Now Shazier appears to have a more permanent spot in the rotation, and along with Grant and senior
Etienne Sabino
they should give defensive coordinator and linebackers coach Luke Fickell a solid foundation to start with. While there isn't much experience in reserve to work with right now, the Buckeyes loaded up with five talented signees in February who will ultimately be charged with restoring the program's proud defensive tradition.
There probably won't be as much pressure to do it right away with arguably the best line in the nation in front and a skilled, veteran secondary behind them. But they should be able to get things back on track either way.
Dr. Lou's Picks