Ohio State Buckeyes:

Gary Barta
January, 30, 2014
Jan 30
9:00
AM ET
As the coach hiring season nears an end, we're examining the Big Ten coaching landscape and some recent trends. We wrap up the series today with a look at the importance of coaching continuity in the Big Ten going forward.
It's no coincidence that a historic downturn in Big Ten football has coincided with a historic stretch of instability among the league's coaches.
[+] Enlarge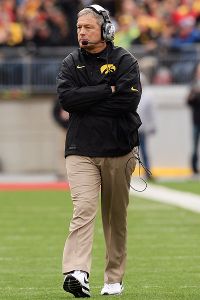 Jamie Sabau/Getty ImagesIowa's Kirk Ferentz has been at his post eight years longer than any other Big Ten coach.
Think back to 2005, a season that ended with two BCS bowl wins and teams ranked No. 3 (Penn State) and No. 4 (Ohio State) in the final polls. Seven of the league's 11 coaches had been at their schools for six or more seasons. Ohio State's Jim Tressel, three years removed from a national title, logged his fifth season in Columbus. Three coaches -- Penn State's Joe Paterno, Wisconsin's Barry Alvarez and Michigan's Lloyd Carr -- all had held their jobs for more than a decade (in Paterno's case, four decades).
The Big Ten coaches that year had combined for four national championships, five Rose Bowl titles and seven BCS bowl victories.
Since 2005, the Big Ten has gone through 17 coaching changes (not counting Nebraska's after the 2007 season). Seven teams have made multiple changes, including Penn State, which introduced new coaches earlier this month and in January 2011 after not doing so since February 1966. Last season, Indiana's Kevin Wilson was the longest-tenured coach in the Leaders division. He was hired in December 2010.
As the Big Ten
invests more in its coaches
, it also must ensure it has the right leaders in place for the long haul.
"If you believe strongly in the person you have," Iowa athletic director Gary Barta told ESPN.com, "continuity is invaluable."
Few programs value continuity more than Iowa, which has had two coaches (Kirk Ferentz and Hayden Fry) since the 1978 season. Ferentz, who just completed his 15th year at the school, has been at his post eight years longer than any other Big Ten coach. He's one of only four FBS coaches to start before the 2000 season (Virginia Tech's Frank Beamer, Oklahoma's Bob Stoops and Troy's Larry Blakeney are the others).
Iowa awarded Ferentz with contract extensions both in 2009 and 2010, the latter a
whopping 10-year deal with a salary of $3,675,000
. The Big Ten hasn't set the pace nationally in coach compensation, but Iowa's pledge to Ferentz, often the subject of NFL rumors, jumps out. Ferentz's salary is frequently debated and scrutinized, especially when Iowa struggles like it did in 2012, but Barta's loyalty to him hasn't wavered. Iowa rebounded to win eight games last season.
"Because of that commitment, we made our statement," Barta said. "We're going to fight through this with the person in whom we have great confidence and trust. There's no guarantees in life, but because of Kirk's past performance, because of his long-standing approach at Iowa and his proven success, it was a risk I was willing to take. Knock on wood, so far it has worked out terrific."
Barta sees a similar approach from Big Ten schools like Michigan State, which won Big Ten and Rose Bowl titles in Mark Dantonio's seventh season as coach.
Dantonio in 2011 received a contract
designed to keep him a "Spartan for life," and his newest deal is expected to more than double his salary from $1.9 million in 2013.
"Continuity breeds success," Michigan State athletic director Mark Hollis said, "and that's the hardest part sometimes on the institutional side, to keep that commitment, keep that contract whether it's an assistant or a head coach. … It requires a high level of confidence and a high level of trust."
"

The day of playing musical chairs with coaches, of making change just for change's sake, is over because any changes you make are going to be expensive and important. You've got to get them right.

"

Michigan athletic director Dave Brandon
There have been similar long-term commitments at other Big Ten schools. Northwestern
awarded coach Pat Fitzgerald a 10-year contract in 2011
. When Indiana hired Wilson, it gave him a seven-year contract, longer than the initial deals new coaches typically receive. Athletic director Fred Glass links Indiana's lack of continuity -- the school has had five coaches since 1996 -- with its on-field struggles (only one bowl appearance since 1993) and knows the school needs a more patient approach.
"Stability is an important thing in our league," said Ohio State athletic director Gene Smith, who applauded recent moves like MSU retaining Dantonio and Penn State hiring James Franklin. "The best example I'll use is men's basketball where we're having tremendous success, in large part, because of the stability we have in a number of our programs. I think we need to get that in football."
While Big Ten football has struggled in recent years, the league is surging on the hardwood, in large part because of veteran coaches like Michigan State's Tom Izzo (19th year), Wisconsin's Bo Ryan (13th year) and Ohio State's Thad Matta (10th year). Six of the league's 12 basketball coaches have been in their jobs for at least five seasons.
Continuity doesn't guarantee success, but it often correlates. Barta has tried to create "an environment of longevity and long-term commitment" at Iowa, while also recognizing the pressure to win and, in some cases, the need to part ways with a coach.
"The day of playing musical chairs with coaches," Michigan athletic director Dave Brandon said, "of making change just for change's sake, is over because any changes you make are going to be expensive and important. You've got to get them right."
After several years of transition, the Big Ten hopes it has the right men at the top -- and the ability to keep them there.
February, 1, 2013
2/01/13
9:00
AM ET
As we've written for the past several days, Big Ten athletic directors have a whole host of decisions to make over the next few months, including
how many league games
they should play,
how to align the divisions
,
the next bowl lineup
and even
what to call the divisions
.

"We've got some heavy lifting to do here for the next few months," Purdue athletic director Morgan Burke said.
But what if all that huffing and puffing turns out to be a Sisyphean task? There's one thing that could send conference leaders scrambling back to the drawing board: more expansion.
The decisions the athletic directors will make for the 2014 season and beyond will be based on the new 14-team format with Maryland and Rutgers joining. Many people suspect the Big Ten is not done adding members and could soon grow to 16 or even to 20 members. Ohio State president E. Gordon Gee recently informed us that conference
expansion talks are "ongoing."
The athletic directors are well aware of the possibility that more teams could be coming at just about any time.
"Based on the last three years I've been in this business, you'd be crazy not to think about it," Michigan athletic director Dave Brandon said. "But it's hard to model anything because you don't know what to model. The minute you get yourself convinced that you're going to go from 14 to 16, for all you know you're going to 18, and a lot of people think the ultimate landing place is 20. Who knows?"
For now, all the decisions they make will be based on a 14-team model only.
"You make your decision based on today," Iowa's Gary Barta said. "And today, we have that many teams. We can't worry about something that's not established yet. I don't know if and when there will be more teams. Right now, we're going to make decisions based on the additions of Rutgers and Maryland, and we're going to make them with the information we have, consistent with our principles."
"It's hard to predict the future," added Northwestern's Jim Phillips. "No one would have predicted we'd be at this place we're at right now. I don't think you can get polarized by the what-ifs or the potential of what might be and lose sight of where you're at."
The league's ADs will do their best to come up with the best framework for a 14-team league. If future expansion arrives in time for the 2014 season or shortly after it, at least the conference has gained lots of recent experience in how to deal with it.
"When you get into the discussion of things like 10 [conference games], you say, 'Wow, if we had a couple more teams, it would be easier,'" Ohio State athletic director Gene Smith said. "That's a natural. But it's not something that motivates you to say, 'We've got to position this in case we have another team, or two more teams.' We don't do that."
"What I've liked about our league is, when we added Nebraska, we felt like we needed to settle and watch the landscape. We thought the East Coast was important, and we got two good pickups relative to that principal. So I think we deal with what we have now, sit, monitor the landscape, and if something emerges down the road, we're positioned to be able to absorb."
January, 25, 2013
1/25/13
9:00
AM ET
The Big Ten's bowl lineup will change in 2014, and the changes likely won't be limited to games and dates.
The entire bowl business could soon have a dramatically different look.
Several conference commissioners, including the Big Ten's Jim Delany, publicly discussed the
need to change the bowl business model
earlier this month during the week of the national title game. Declining bowl attendance is a concern, as are issues such as ticket distribution and the selection of teams. The Big Ten's athletic directors will discuss the future of the bowls when they meet next month at league headquarters in Park Ridge, Ill. -- they'll tackle not just the who, what, where and when, but the how and the why.
[+] Enlarge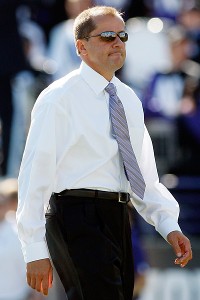 Jerry Lai/USA TODAY SportsNorthwestern's Jim Phillips and other Big Ten athletic directors anticipate changes to the bowl business model and selection process, possibly as soon as 2014.
"There are going to be some changes," Iowa athletic director Gary Barta told ESPN.com. "What I worry about is the watering-down of college football. College football's been on a meteoric rise since the creation of the BCS, both in stadium attendance and TV ratings. I think we're starting to see that saturation, and that's what I worry about going forward in the next 10 or 20 years. As we go into introducing the 2014 playoff, it is a chance for us to re-look at all of our bowls."
Several Big Ten athletic directors we contacted talked about having a more "national" bowl lineup beginning in 2014. They might as well have substituted the word "flexible."
Right now, the Big Ten's bowl lineup contains heavy doses of SEC, Big 12, Florida, Texas and Jan. 1. The selection order is fairly rigid. As a result, we've seen teams go to the same bowl in consecutive seasons (i.e. Nebraska at the Capital One in 2012 and 2013) or to the same state for a number of years. Wisconsin played in six consecutive bowls in Florida from 2004-2009, including back-to-back appearances in both the Capital One and Champs Sports Bowls.
The repetition problem exists even outside conference bowl tie-ins. Ohio State went to Arizona four times in a five-year stretch, three times for Fiesta Bowls (one of which was the national championship) and once for the BCS title game.
"I used the term bowl fatigue," Ohio State AD Gene Smith told ESPN.com. "When you go back to the same place multiple times … the novelty is lost."
The key to preventing bowl fatigue, several ADs say, is eliminating the rigidity of selections.
"We're going to try to get toward more looking at how do you put together a slate where you get good matchups, but at the same time avoid repeats … the bowls don't want that either," Purdue's Morgan Burke said. "I don't know that we can unteach what people have learned over the years -- 'We have the next pick, and the next pick.' Maybe you don't do that this round. Maybe we say, 'You're going to get a Big Ten team, and it will be part of a selection process.'"
Delany has mentioned the possibility of collaborating with other leagues on bowl tie-ins, essentially sharing the spots depending on the year and the attractiveness of the matchup.
"This is about the fans and the fans' experience and us really listening to what they're saying," Northwestern athletic director Jim Phillips said. "It's been documented that repeat institutions and repeat bowls and repeat matchups is not a recipe for success. People want fresh and new and exciting matchups. Any way we can do that with those bowl tie-ins, I would be in complete favor of that."
The Big Ten
hosted officials from 10-12 bowls last fall
and will discuss possible tie-ins with the athletic directors throughout the spring. It's likely the Big Ten adds at least one new bowl on the East Coast -- the New Era Pinstripe Bowl at New York's Yankee Stadium certainly is in the mix -- and possibly another in California, where it currently makes only one postseason appearance (Rose Bowl).
Another huge component is ticket distribution. Many
Big Ten schools struggled to sell their ticket allotments
from the bowls this past year, as fans could spend much less for tickets -- often better seats -- in the secondary market.
"What we have to do is work with the bowls to take that impact off of the institutions but work closely together on a sales strategy," Smith said. "Let's forget about the institution being responsible for X, and the bowl being responsible for X and the local organizing committee being responsible for X. Look at your aggregator sales plan, then come up with a cooperative strategy to make sure we're selling the bowl out. We've just got to think differently than we have in the past, and think about pricing, and [tiers] of pricing and the venues and things of that nature."
The ADs are mindful of the upcoming playoff. Although they'll be tackling several important items in the coming months, the Big Ten's bowl lineup and the bowl system as a whole will merit close attention.
"The landscape is shifting with the 2014 playoff introduction," Barta said. "I want to make sure we keep the bowls relevant."
Scene and Heard: Top 10 Predictions
BIG TEN SCOREBOARD
Thursday, 8/28
Saturday, 8/30