Ohio State Buckeyes:

Ed Warriner
July, 2, 2014
7/02/14
5:00
PM ET
You know it, you love it, you can't live without it. It's Wednesday mailbag time.
@GeoffreyMarshal via Twitter writes:
What do
Wednesday's commitments
say, if anything, about B1G recruiting? Is B1G recruiting too top-heavy?

Brian Bennett:
Ohio State's additions of a pair of top 20 players in linebacker
Justin Hilliard
and defensive end
Jashon Cornell
is huge news for the Buckeyes, but not all that surprising. Urban Meyer and his staff have killed it on the recruiting front since they arrived in Columbus. We also know that James Franklin is going bonkers at Penn State, with ESPN's No. 4 nationally ranked class right now. And don't forget about Brady Hoke. While Michigan hasn't wrapped up as many commitments this summer as it has in years past, the Wolverines are still sitting on a top 25 class with room to improve.
But did we learn anything? Those three schools have long been at the forefront of recruiting in the Big Ten. If anything, the aggressive tactics of Meyer and Franklin might pull the rest of the league forward, because they risk getting left behind if not.
Then again, look at the last three Big Ten champions: Michigan State and Wisconsin (twice -- one impacted, of course, by Ohio State's probation). Neither of those programs usually finds itself among the elite in the recruiting rankings but instead both do a great job of scouting and developing talent. So just collecting star prospects guarantees nothing, though it is a nice place to start.
---

@hicksoldier via Twitter writes:
What in your opinion is the reason that MSU keeps missing out on top recruits, especially on defense? And what can they change?
Brian Bennett:
It's a stretch to say the Spartans keep missing out. Remember
Malik McDowell
, a top defensive tackle recruit Michigan State landed earlier this year after much drama? But I see your point. Michigan State made Cornell's final top five, but he ended up choosing Columbus. One would think, given Mark Dantonio's success in developing players -- especially on defense -- coupled with the team's rise toward the national elite would help the Spartans land a few more studs. But a school like Ohio State is always going to have some advantages in recruiting. The good news is Dantonio's staff does a tremendous job figuring out which players will fit the team's system and then polishing them into stars. And if Michigan State can continue to win big on the field and churn out pros, higher-caliber recruits should look toward East Lansing.
---
Glenn from Siesta Key, Fla., writes:
Brian, why is it that during this offseason you constantly are mentioning the PSU OL as a weakness and question mark, while it seems OSU is pretty much in the same boat? Yet, all you talk about is how OSU will win its division and could be a playoff contender. Won't
Braxton Miller
have the same challenge as
Christian Hackenberg
if his OL doesn't show up?
Brian Bennett:
For starters, I haven't said Ohio State will win the East Division. I'm not ready to predict that yet. You make a decent point, as both the Buckeyes and the Nittany Lions likely will be replacing four starters on the offensive line. I have written that the offensive line is a question mark for Ohio State. But the two teams also are coming from different starting points. Ohio State's offensive line was the best in the league the past two years, and the recruiting at that position has been solid. Ed Warriner is one of the best position coaches in the nation.
Penn State's offensive line wasn't as dominant last year as the Buckeyes', and depth is a concern given the scholarship limitations. But I do really like Herb Hand and think he very well could have a Warriner-like impact for the Nittany Lions. We'll see. If Ohio State's line doesn't come together quickly, the Buckeyes could have problems early on against Virginia Tech.
---

Chris from Princeton, N.J., writes:
I know you guys don't see Rutgers as a bowl team this year but let's say they do manage to get six wins. Where do you see those potential wins coming from?
Brian Bennett:
It's not out of the realm of possibility that Rutgers makes a bowl, but the Scarlet Knights will have to win all of their toss-up games for it to become likely, given the schedule. They figure to be heavy underdogs against Michigan and Wisconsin at home and versus Ohio State, Nebraska and Michigan State on the road. Going across the country for the opener against Washington State in Seattle looks very difficult as well.
That leaves very little margin for error. You can pencil in wins over Howard and Tulane at home. Beating Navy in Annapolis, while not an easy task, is doable and probably crucial. Conference games against Indiana at home and Maryland on the road could go either way. The Big Ten opener against Penn State should be played in front of a raucous atmosphere, and the Lions were often vulnerable on the road last season. So Rutgers is basically going to have to sweep all of its 50-50 games or pull off a big upset anywhere. Good luck with all that.
---

Craig from Braintree, Mass., writes:
Brian, do you recall the days of Marion Barber and Laurence Maroney? Could the mix of guys the Gophers have produce two 1,000-yard rushers?
Brian Bennett:
I sure do, Craig. Those two guys were loads of fun to watch. I'm not sure which is harder to believe, in retrospect, about the 2004 Gophers: that they finished only 7-5 with that pair in the backfield, or that they beat Alabama in a bowl game. But going back to your question, Minnesota has an awful lot of talent at running back this season.
David Cobb
somewhat quietly ran for 1,202 yards last season, 12th most in school history.
Donnell Kirkwood
came close to 1,000 yards in 2012, and
Rodrick Williams Jr
. is a 247-pound beast who's almost impossible to bring down on first contact. Add in redshirt freshman
Berkley Edwards
, who might be more talented than all of the, and quarterback
Mitch Leidner
, who's got great wheels as well. And that's not even considering top 2014 recruit
Jeff Jones
, who might not be academically eligible.
Can two Gophers get to 1,000 yards? Minnesota almost certainly will be a rush-first team again this year. The hope is that the passing game improves enough so the offense isn't rush-first, rush-second and rush-third as well. I'm not sure there will be enough carries for two players to get to 1,000 yards, and the offense has to stay on the field longer to provide more opportunities. There may not be a Maroney or a Barber in this group, but it still should be fun to watch.
June, 9, 2014
6/09/14
4:30
PM ET
Mondays stink. Except when it's mailbag time. Which it is right now. Go.

Mitchell C. from Parts Unknown writes:
How confident should Ohio State be coming into the third year with Urban Meyer and five new starters on defense and six new starters on offense? And will new RB
Ezekiel Elliott
be like
Carlos Hyde
and live up to the (production) he left behind?
Brian Bennett:
Those are good questions, and they are why I find the 2014 Buckeyes to be one of the most fascinating teams in the Big Ten and the nation. A lot of people assume that Ohio State won't drop off at all from the first two seasons under Meyer, but the team is dealing with a lot of turnover and counting on numerous young players to step forward. Yet there is serious reason for optimism. For one, those young players are incredibly talented and athletic, which can help make up for a lot of mistakes. The coaching staff is also a proven commodity. For example, while the offensive line replaces four starters, position coach Ed Warriner faced similar questions two years ago and quickly turned that unit into the best offensive line in the Big Ten for two years running. Elliott might not match Hyde's numbers, both because Hyde put up huge stats and because Ohio State is likely to spread the ball out a bit more than it did in 2013. But he's another prime example of the immense potential on hand.
With all that talent and coaching, the Buckeyes should feel optimistic about 2014. Unless
Braxton Miller
gets hurt. Then all bets are off.
---
Christopher from Middleton, Wis., writes:
I was reading your take on the
Athlon Big Ten predictions
, and I have to tell you that your take on Wisconsin's QB situation is a bit off the mark but is similar to what I am reading from other Big Ten predictors.
Joel Stave
is playing his third year. In 2012, his QB rating was 148.3, and his stats were comparable to
Devin Gardner
. In 2013, Stave was fourth in the Big Ten in QB rating at 138.1. Statistically, he was ranked sixth in the B1G because Wisconsin ran the ball (so well). With the above in mind how can QB be a major concern? Keep in mind that Wisconsin has basically its entire offensive line back and should be deeper and healthier,
Melvin Gordon
and
Corey Clement
should challenge if not beat the rushing record set by James White and Gordon. The issue at Wisconsin is not that the QB position is weak but that it has lots of competition. Stave does have his weaknesses and I hope he overcomes them or is beat out by
Tanner McEvoy
, but the QB position should not be a concern.
[+] Enlarge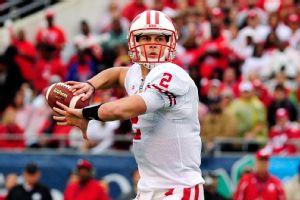 David Manning/USA TODAY SportsWisconsin QB Joel Stave will serve as the backup to Tanner McEvoy as the Badgers open Big Ten play.
Brian Bennett:
One thing we can agree on about Stave is his experience should help him. Last year was his first as a full-season starter after he got knocked out early in 2012 because of an injury. And when Stave is on, he shows good arm strength and decision-making. Unfortunately, what we saw from Stave on the field last year didn't always line up with some of the stats you mentioned. Several times he misfired on completely wide-open receivers down the field as defenses keyed on that running game. (What would
Jared Abbrederis
' numbers have looked like had Stave hit him in stride all those times he had gotten behind defenders?).
Stave played poorly in the upset loss to Penn State to end the year and against South Carolina, causing Gary Andersen to say the team needed better play from its quarterback position. There's a reason the Badgers opened up the quarterback competition this spring despite having a veteran starter. And Stave's shoulder injury is worrisome.
Maybe Stave gets healthy and builds upon his experience. Or maybe McEvoy steps in and plays well. But you're talking about one guy who has yet to put it all together and another who has never done it at this level. That's why there are legitimate reasons for concern at the quarterback spot in Madison, before we even get to the pressing issue of who is going to catch the ball for Wisconsin. That's a big reason why I'm a little surprised by all the rosy preseason projections for the Badgers.
---
DJ from Minneapolis writes:
I have to slightly disagree with you about Minnesota not seeing a benefit to an early signing period. As Brady Hoke mentioned, they might have to start allowing earlier or summer visits which would be a big boon to Minnesota. It would show all of the recruits in the South that it isn't actually minus-40 degrees 365 days a year here like a lot of people make it out to be.

Brian Bennett:
DJ, I think you might be conflating two different issues here. As I mentioned in
my early signing day
piece, schools that are farther away from major talent bases (i.e., Minnesota, Nebraska, Iowa, etc.) wouldn't see as much benefit with an early signing period without the corresponding move of allowing for earlier official visits. (Adam did a great job of exploring that issue in
this post
). Right now, prospects can't take official visits (i.e., have their trips paid for by the school) until the start of their senior year in high school. It's difficult and expensive for many prospects, especially ones who live in the South and in other far-flung locales, to visit northern schools like Minnesota on their own dime. They can often take unofficial trips to schools closer to their hometown with far less hassle, however.
That's why, if there's an early signing period -- especially one in the summer before a prospect's senior year as the ACC has proposed -- kids could be inking their national letters of intent before ever getting on a plane to Minneapolis. The Gophers would stand to gain if prospects could receive a paid trip to their campus in the spring and summer, when it's a great time to be in the Twin Cities. Those earlier visits, then, loom as even more important for a school like Minnesota than an early signing period would be.
---
Spencer from Lincoln, Neb., writes:
On your
piece about impact freshmen
, I noticed you left off
Tanner Farmer
. My question is: Why? The kid is a beast of a specimen. Athletic. Big. He is your typical Midwest hard-working player. He even benches 500 pounds! Name another one of your impact freshmen you chose that can do that.
Brian Bennett:
Spencer, I am very intrigued by Farmer and think he can end up being a cult hero to Nebraska fans. We didn't have time or space in that post to mention every promising freshman in the league, though, and it's much tougher for a first-year player out of high school to make a big impact on the offensive line than it is for just about any other position, save perhaps defensive tackle. Farmer could be an exception. We shall see.
---

Joel L. from Tuscola, Ill., writes:
In regards to Tim Beckman's job status: I think from the perspective of a huge Illinois fan the situation is actually going to be very difficult for Mike Thomas. I will say before I start here if we win 4 games or less I think Thomas' hands are tied and he will have to let Beckman go because the attendance will be dismal and it will probably affect season ticket sales the next year. If I had to guess, we will most likely end up with five wins this season. That will cause a major predicament for Thomas because Beckman's recruiting class next year is actually going to be very solid, especially with offensive talent that Bill Cubit (who is the mastermind of the offense) will be able to use immediately. That is where the problem will lay for Thomas, because Beckman really could turn this around in year 4, but Illinois fans are ruthless and if we do not make a bowl game this year people will go absolutely nuts if he is retained.
Brian Bennett:
Some good points here, Joel, and I agree that five wins is kind of the fulcrum for Beckman in 2014. If that happens, I think a lot will depend on how that 5-7 season went down. Were the Illini highly competitive in their Big Ten games, especially against the best the league has to offer? Did young players show obvious development and improvement? Were fans responding in a positive way? You're right that Beckman could have his best and most experienced roster in 2015, and Thomas might be able to bank on that. However, three years without a bowl and a potential devastating hit to attendance and season-ticket sales might be too much to overcome.
---
Pat from Iowa City writes:
Is it safe to say that
AIRBHG
is gone for good?
Brian Bennett:
Oh, Pat, how dare you tempt the curse! You might have just woken that evil spirit from its peaceful slumber in that great cornfield in the sky. We apologize in advance to
Mark Weisman
,
Jordan Canzeri
,
Damon Bullock
, et al. Pay no heed to Pat's question, AIRBHG. We
kneel and offer you this bushel of corn
as a humble token of our appreciation for your recent mercy.
June, 3, 2014
6/03/14
12:00
PM ET
May, 28, 2014
5/28/14
5:00
PM ET
Only one mailbag from me this week because of the holiday. Let's make it a good one (instead of the usual, wholly adequate ones):

Brian L. via Twitter writes:
Do you think MSU would be where they are today, including Mark Dantonio, if Mouse Trap and Little Giants had failed three years ago?
Brian Bennett:
It's an interesting question. For sure, the 2010 season represented a breakthrough for Dantonio and the Spartans as they won 11 games and captured a share of their first Big Ten title in 20 years. While both those trick plays -- Mouse Trap vs. Northwestern and Little Giants against Notre Dame -- proved crucial to the outcome, it's possible Michigan State could have won without them, but we'll never know for sure. The key question, I guess, is if the Spartans had lost both those games, would they have continued on their upward climb? The Little Giants play in particular and that 11-win season really began to put the program back on the national radar, showed a different side of Dantonio to the public and probably contributed toward the team's momentum. So it's all part of the stew, so to speak. But I also think Dantonio and his staff had been building toward great things with their recruiting and coaching stability, so it might have happened regardless.
---
Ron from Michigan writes:
Brian, I would say
Michigan's most indispensable defensive player
has to be cornerback
Blake Countess
. He's great in coverage and had a lot of interceptions last season which contributed to helping the offense as well. Did you at least put him in the mix for consideration?
Brian Bennett:
He was definitely considered. But the fact is that Countess is now at nickelback, which is an important position (and, of course, a terrible band) but not necessarily the most important on the field. If
Jabrill Peppers
is the real deal, Michigan will be fine at corner. Maybe we're expecting too much of Peppers early on, but that's why Countess wasn't listed among the two most indispensable.
---

Clint C. via Twitter writes:
Can the Hawkeyes finally get over the hump and finish in the top two this year in the Big Ten?
Brian Bennett:
I assume by top two you mean winning the West Division. And Iowa has a great chance to do just that. Not only do they miss Michigan State, Ohio State, Penn State and Michigan from the East, they get Wisconsin and Nebraska at home the final two weeks. You simply can't ask for a better schedule, and Kirk Ferentz's team has enough experience and talent that it could be favored in every single game this season.
---

Luke B. via Twitter writes:
What is IU's realistic ceiling for this season?
Brian Bennett:
Unlike Iowa, the schedule does Indiana few favors in 2014. Consecutive nonconference road games against Bowling Green -- a potential favorite in the MAC -- and reigning SEC East Division champ Missouri will not be easy, and the Hoosiers also have road games at Ohio State, Iowa and Michigan. Still, this program has been improving under Kevin Wilson the past few years and wasn't far off from making a bowl game last season. Getting to the postseason should be the ultimate goal this year, and I think seven wins is probably the ceiling if the defense can become even moderately respectable.
---
Connor M. via Twitter writes:
After losing 4/5 of their O-line and 3/4 of their DBs, can the Buckeyes' skill position players and defensive front seven hold it down until those groups come along?
Brian Bennett:
That's really the key question for Ohio State's season. The losses in the secondary, except for
Bradley Roby
, don't sting that much since the pass defense was atrocious at the end of last season, anyway. There is talent to work with back there, and I think
the new approach by Chris Ash
should help the Buckeyes be more aggressive and better use their speed in pass coverage. I still have some questions about the linebackers. The defensive line should be one of the best in the country, provided that it
weathers the storm
from the loss of
Noah Spence
for two games and
Jamal Marcus
, who is transferring.
The offensive line will need to find the right mix, but Ed Warriner is one of the best in the business of figuring that stuff out. Ohio State might not have the best offensive line in the Big Ten in 2014, but I expect it to remain very good with perhaps some early growing pains. The Buckeyes are loaded with speed at the offensive skill positions, but remember they lost their top rusher (
Carlos Hyde
) and top receiver (
Corey Brown
) and that there aren't many proven players in that wideout corps.
Urban Meyer's team is young but ridiculously talented in a lot of key spots, which is why I think Ohio State is the most intriguing team in the Big Ten this season. Playing Navy, Virginia Tech and Cincinnati in three of the first four games is no cakewalk and will be a much bigger challenge than the Buckeyes experienced the past two seasons in the nonconference slate. The best news for Meyer's team is that
Braxton Miller
is back, and he can erase a lot of mistakes early on while all the parts come together.
---
Joe H. Florida writes:
Brian, I have been to both Minneanoplace and the Big Guava (Tampa). You need to get out more if
you think Tampa can't compare to the Twin Cities
.
Brian Bennett:
To each his own, Joe. But I've been to Tampa more than a dozen times in my life, and other than the great weather and proximity to the beaches, I've found it to be a very dull city without much of a central hub. Minneapolis has much more to do downtown (and you can even walk indoors when it's cold). Fans would complain about the weather in the Twin Cities, but I think they would find plenty of fun activities if Minneapolis were to host the College Football Playoff title game.
January, 4, 2014
1/04/14
3:07
AM ET
MIAMI -- Ohio State offensive line coach Ed Warinner huddled with his position group in a corner of the team's locker room following a 40-35 loss to Clemson in Friday's Discover Orange Bowl.
Warinner's voice started to crack as he told the players what they'd meant to him and what they'd accomplished. Warinner wrapped it up by saying, "You all are champions in my heart."
Unfortunately for the Buckeyes, they'll have to settle for those kinds of fond memories from their supporters. They've won 24 games the past two seasons, but it's the "And-2" that will haunt them. As in, 24-2.
Those two losses came at the worst possible times, first in the Big Ten championship game against Michigan State with a BCS title-game berth at stake, and then on the wrong end of a wild South Florida shootout. A program that went 12-0 the past two regular seasons managed to end up feeling disappointed at the end an otherwise magical run.
[+] Enlarge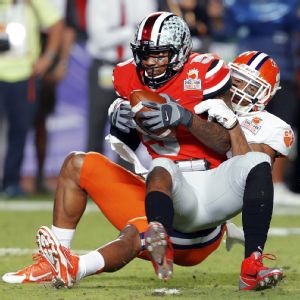 AP Photo/Lynne SladkyBraxton Miller was on his back as much as he was on his feet at times, but his gutty performance almost got Ohio State a win Friday.
"It's bittersweet," linebacker
Ryan Shazier
said. "We had a great year, and the year before was great. But at the end of day, the last two seasons we haven't won anything."
It's not hard to pinpoint why Ohio State fell short of earning a championship: a defense that literally limped to the finish line and a still-too-inconsistent passing game.
All of the pregame fears about Clemson's passing attack shredding the Buckeyes proved valid as the Tigers tandem of
Tajh Boyd
and
Sammy Watkins
abused a makeshift secondary. With star cornerback
Bradley Roby
sidelined by a knee injury and two players starting at their defensive backfield positions for the first time, Ohio State surrendered 378 passing yards and five touchdowns through the air, while Watkins set Orange Bowl records with 16 catches for 227 yards.
Even when they applied solid coverage, the Buckeyes' corners and safeties found themselves almost helpless against the best receivers they'd faced in three years. At one point,
Armani Reeves
was called for pass interference and tipped the ball out of the hands of the 6-foot-5
Martavis Bryant
in the end zone. Bryant still caught the ball for a touchdown.
"I can't get any closer than that," Reeves said. "That's what happens when you play great players."
Then again, Ohio State's defense made a lot of people look great down the stretch this season, giving up averages of 38.3 points and 539 total yards (Clemson piled up 576) in its final three games. If there's any optimism to be found there, it's that six players who were either freshman or sophomores started on defense Friday, and the future for guys such as
Joey Bosa
,
Jamal Marcus
and
Vonn Bell
looks bright.
Despite the defensive problems, the Buckeyes still had plenty of chances to win the game. They somehow led at halftime even after yielding 362 yards in the first two quarters. They were up 29-20 and were getting the ball back late in the third quarter when
Philly Brown
muffed a punt return to give the Tigers new life. That would be the first of four second-half turnovers that would ultimately doom Ohio State, the next three coughed up by quarterback
Braxton Miller
.
No one could fault Miller's effort. He accounted for four touchdowns while absorbing a severe beating most of the night. He injured his shoulder early in the game. He lay on the turf for a few minutes after taking a late hit on a touchdown pass to
Carlos Hyde
. Miller said he probably had a cracked rib to go along with his throbbing shoulder.
"That's probably one of the toughest games I've played in, as far as being hit-wise and being banged up," Miller said. "Probably the toughest one all year."
Ohio State coach Urban Meyer rightly called Miller "a warrior" for his performance. But Miller also turned the ball over twice in the final 3 minutes, 12 seconds and didn't see linebacker
Stephone Anthony
slide underneath a post route on the game-sealing interception near midfield. Miller was non-committal after the game about whether he'd go to the NFL or return to Columbus. Friday's game made it clear he still has a lot to work on in college as a quarterback, though he might want to save his body from more punishment with a nearly brand-new offensive line next season.
Miller had come through at the end of big games so many times before in his career that it was shocking to see him not do so against Michigan State and Clemson. Same goes for Meyer. Ohio State had made a habit out of choking out opponents in the fourth quarter in his tenure, and before Friday he was 4-0 in BCS games.
"That's what we train for," center
Corey Linsley
said. "We train to finish. It's definitely disappointing, because that was our M.O."
Ohio State was not far away from its championship goals this season. Another play or two against Michigan State, and maybe the Buckeyes are in Pasadena, Calif., right now getting ready to play Florida State, an admittedly frightening prospect given the tattered state of their defense. Friday's game went back and forth and could have ended differently if not for the untimely turnovers.
But a team's record tells the story. Ohio State won its first 12 games again this season. Then came the "And-2."
"Those were championship games," cornerback
Doran Grant
said. "And we didn't win 'em. Plain and simple."
April, 5, 2013
4/05/13
11:30
AM ET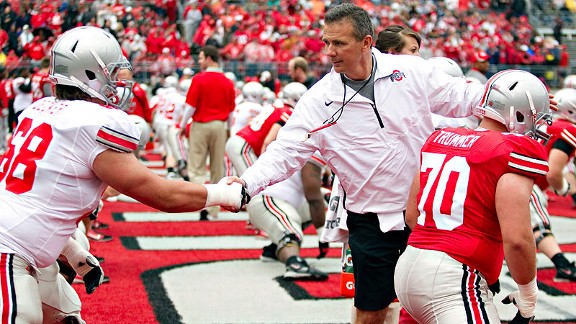 Greg Bartram/US PresswireTaylor Decker (68) was making strides last spring but was held off by senior Reid Fragel.
COLUMBUS, Ohio -- Ed Warinner barely even needed a second to flash back through nearly three decades in the profession.
If the Ohio State offensive line coach had ever coached four returning starters, all of them seniors, he wouldn't have had much trouble remembering that unit.
And now that he finally does have one brimming with experience and talent, it's apparently just as easy for Warinner to climb out of bed these days now that the chance to work with it has arrived. All those veterans also might come in handy for him when he reports to work looking for one more guy to join them as they try to fill the hole at right tackle.
"Makes it easy to get up at 5:30 in the morning to come in here, I can tell you that," Warinner said.
April, 3, 2013
4/03/13
11:00
AM ET
COLUMBUS, Ohio -- Several factors usually get mentioned first as reasons for Ohio State's 12-0 season in 2012.
Braxton Miller
's heroics.
Carlos Hyde
's emergence. The play of the defense down the stretch, led by
John Simon
and
Ryan Shazier
.
But one factor probably doesn't get mentioned enough: the performance of the team's offensive line. A major question mark going into last season, the line shaped up as one of the best in the Big Ten last year under the tutelage of Ed Warriner. And with most of the group back and some better depth, the unit provides a strong reason to believe in the Buckeyes again in 2013.
[+] Enlarge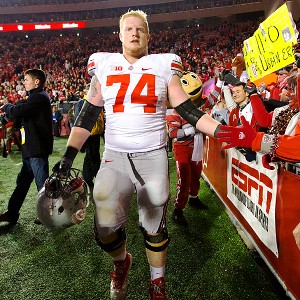 Jeff Hanisch/USA TODAY SportsLeft tackle Jack Mewhort, an all-Big Ten-level talent in 2012, could be the Buckeyes' next great leader.
Warriner turned in one of the better coaching jobs in the league last year, rounding into shape a crew that was previously undistinguished and underwhelming. He turned
Reid Fragel
, a former tight end, into a standout right tackle who should get drafted later this month.
Corey Linsley
went from playing guard to one of the conference's top centers, while
Jack Mewhort
developed into a top-flight left tackle. One of the indelible images of the Buckeyes' season was the line pushing around Michigan State's terrific defense to grind out the victory in East Lansing.
About the only thing Warriner had to worry about last season was health, as there was no experience and precious little depth behind the starters. He doesn't have the same worries this spring.
"It's a nice feeling to know you probably have a backup tackle and a backup guard," he told ESPN.com.
Four starters are back, so the real battle this spring is to replace Fragel at that right-tackle spot. Right now, sophomores
Chase Farris
and
Taylor Decker
are splitting a lot of first-team reps there, with
Darryl Baldwin
also in the mix.
"Those two guys have a lot of ability," Warriner said. "The more comfortable they get and the more confidence they get, one of them could take off -- or maybe both will and we'll play by committee. But they have high-level talent and all the traits of really good linemen."
Head coach Urban Meyer said Tuesday that redshirt freshman
Pat Elflein
has been one of the surprises of the spring, and he could add depth at guard or tackle. Warriner also said
Jacoby Boren
is making strides at center. While the team suffered a setback when reserve
Antonio Underwood
tore his anterior cruciate ligament late last week, the Buckeyes should still be able to rotate more guys on the offensive line this fall.
"If the next man in can play a certain amount but the level doesn't drop off enough to hurt our team, we might do that just to keep the unit fresh and hopefully be smart throughout the season," Warriner said.
But Ohio State will want its veterans on the field as much as possible. Mewhort, whom ESPN.com voted as a first-team All-Big Ten performer, has been hailed as one of the team's best leaders and anointed by Meyer as a possible replacement for Simon in that regard.
"He's what you want in terms of an attitude, of work ethic, of being a competitor," Warriner said. "When you're a first-year starter at a new position with a new coaching staff, sometimes you just worry about your own business, and that was him to some degree last year. But now, he's taking kind of a bigger role with his leadership on offense and even the team as a whole."
Warriner said guards
Andrew Norwell
, a first All-Big Ten team honoree by the media last season, and
Marcus Hall
have made maybe the biggest improvements of anyone on the line this offseason. Along with Linsley, whom Warriner said has "elite-level strength," the Buckeyes have the potential to field four all-conference type linemen.
"We think we possibly could, if they play up to their ability level," he said. "The good thing about the group is, they don't really care about that. If we won the Big Ten and none of them made all-conference, they wouldn't care a bit. That's the kind of unselfish players they are."
Warriner said he has challenged the group to help lead a top-five national offensive attack this season. Ohio State led the Big Ten in scoring last year (37.2 points per game) and finished second in rushing yards per game (242.3). The offensive line led the way, though players like Miller and Hall sure helped.
"We know the quality of our skill guys can erase some things and create some big plays," Warriner said. "If you block it for six, you might get 16. At some places, if you block it for six, that's what they'll get -- six yards."
Everything works in concert. But don't forget the Buckeyes' offensive line when talking about reasons for the team's success.
Did Ohio State Cheap Out On Championship Rings?
BIG TEN SCOREBOARD
Thursday, 9/3
Friday, 9/4
Saturday, 9/5
Sunday, 9/6
Monday, 9/7