Ohio State Buckeyes:

Earle Bruce
December, 3, 2013
12/03/13
2:00
PM ET
The
All-Big Ten teams and individual awards
are out, and the league hands out its four major awards -- Offensive Player of the Year, Defensive Player of the Year, Coach of the Year and Freshman of the Year -- later Tuesday. As always, we're handing out our endorsements for each award in advance of the announcement. We'll agree on some and differ on others.
Let's turn our attention now to the league's top coach:
[+] Enlarge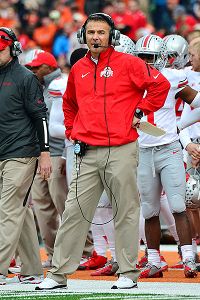 Icon SMIOther Big Ten coaches have exceeded expectations, but Urban Meyer should be rewarded for meeting sky-high ones.
Brian Bennett endorses Ohio State's Urban Meyer
If Meyer doesn't win the award this year, then we need to change the name of the honor to "Coach Who Most Exceeded Expectations." Or "Coach of the Year, Non-Ohio State Division." It's ridiculous that voters for these awards often overlook sustained excellence only to pick someone whose team did better than some worthless preseason predictions. All Meyer has done is go 12-0 for the second straight season. The Buckeyes also withstood some adversity, including the suspension of
Carlos Hyde
,
Braxton Miller
's knee injury and safety
Christian Bryant
's season-ending knee injury. Plus, Ohio State had an enormous target on its back all season long. Mark Dantonio did excellent work at Michigan State, especially in staying patient with the offense under withering early criticism. But the 2012 season now looks like the aberration for a Spartans program that has 11 wins in three of the past four years. The Minnesota story is also tremendous, and if this were a vote for coaching staffs, I might give it to the Gophers. But Meyer shouldn't be punished for having sky-high expectations. He should be rewarded for meeting them.
Adam Rittenberg endorses Meyer
Brian pretty much writes it all here as to why Meyer should be the choice. I've had a problem with this award for some time and the fact an Ohio State coach hasn't won it since Earle Bruce in 1979. If Meyer doesn't win after guiding Ohio State to a second consecutive undefeated regular season and a team-record 24 straight wins, just get rid of the thing entirely. Dantonio, Kill and Iowa's Kirk Ferentz all did excellent jobs improving their teams in 2013, but Meyer maintained a standard of excellence in a sport where even the most talented and experienced teams usually stumble at least once in a season. The offense has become even better in Year 2, and the defense held up for the most part despite returning just one starter in the front seven. Enough with the sympathy coach votes. Give it to the guy who has come into the league and dominated right away. Otherwise, the award lacks any credibility.
More endorsements:
February, 12, 2013
2/12/13
1:00
PM ET
The legend of Woody Hayes needs no further embellishment at this point. Stories about the iconic Ohio State coach and his approach to the game and life abound.

But there might not be another story quite like the one Urban Meyer recently shared about Hayes.
The current Buckeyes coach attended the Ohio coaches convention over the weekend, and CoachingSearch.com's Chris Vannini
transcribed this tale
that Meyer spun for the crowd.
"So I guess Ohio State had lost the bowl game, so Earle Bruce brings in Woody Hayes. I had been there just a week and I'm thinking, 'Holy, this is Coach Hayes.' I'm sitting in the back. Coach Hayes was not healthy at the time, but stands up and starts laying into the coaching staff about toughness. That we have no toughness in the program. That's why we lost the game. On and on and screaming, this old guy pounding the table. He says, 'We have no toughness, and the reason is because you're not tough. No one on this staff is tough enough, and that's a problem.'

"He reaches down and grabs this box, slides the top and there was something in the box moving around. He reaches in and he pulls out this turtle. He reaches down, this turtle's snapping and he says, 'I'm going to show you toughness.' He unzips his pants and takes out whatever he takes out. The turtle reaches up and snaps at him. You see the veins and the sweat [on Hayes]. He screams at the coaches, 'That's toughness! That's eff'n toughness!' He reaches down, pokes the turtle right in the eye and it falls off. He wipes the sweat off his forehead and says, 'That's the problem. We don't have anybody in this room tough enough to do that right there.

"[One assistant] raises his hand and says, 'Coach, I'd do this. Just promise not to poke me in the eye.'"
Click on the link above for video proof of Meyer telling the story. It's around the 3:00 mark.
We don't have much to add to this except: Wow.
November, 28, 2012
11/28/12
1:00
PM ET
Former Ohio State coach Jim Tressel was a victim of his own success when it came to winning Big Ten Coach of the Year honors.
Tressel never claimed the award despite dominating the league during most of his Buckeyes tenure. If Tressel had a down year midway through his run at Ohio State, only to get the team back to a league title or a BCS bowl the following year, he would have had a better chance.
In many ways, the Big Ten Coach of the Year award is about what happened the previous season or the previous offseason rather than the actual season for which the honor is presented. Recent history also shows first-year coaches who bolster programs have a good chance for the award.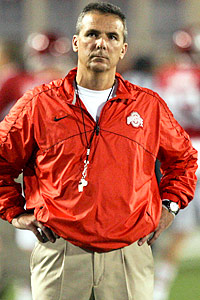 Pat Lovell/US PresswireUrban Meyer led the Buckeyes to a rare 12-0 season in his first season at Ohio State.
And that's why Ohio State coach Urban Meyer might never win it.
Penn State's
Bill O'Brien on Tuesday swept the Big Ten Coach of the Year honors
-- the Hayes-Schembechler award (voted by the coaches) and the Dave McClain award (voted by the media). O'Brien guided Penn State to an 8-4 record in his first season.
He beat out another first-year Big Ten coach, Meyer, who went 12-0 in his first season in Columbus, including a road win against O'Brien's Lions. Buckeye fans were hopeful Meyer would be the first Ohio State boss to win Big Ten Coach of the Year honors since Meyer's mentor Earle Bruce got it in 1979.
O'Brien's selection stems primarily from the way he kept Penn State afloat after a turbulent summer that brought severe NCAA sanctions on the program, followed by the departures of several key players, including star running back
Silas Redd
. After an 0-2 start that had many writing off Penn State for the foreseeable future, O'Brien guided Penn State to wins in eight of its final 10 games (6-2 in Big Ten play).
Although Penn State actually won more games in the previous season -- the Lions' nine wins later were vacated -- O'Brien's work under such unusual circumstances made him a deserving candidate.
But it begs the question: Will Meyer ever win the award?
Unless Ohio State takes a surprising step backward during his tenure, probably not.
Let's look at the recent winners of the McClain Award.
Brady Hoke, Michigan, 2011
Backstory: Michigan went 7-6 in 2010 under coach Rich Rodriguez, who was fired following the Gator Bowl after a historically poor three-year run. Hoke came in from San Diego State and guided Michigan to an 11-1 record and a Sugar Bowl championship.
Mark Dantonio, Michigan State, 2010
Backstory: Michigan State tumbled to a 6-7 finish in 2009 and had a highly publicized off-field issue that decimated its roster for the Alamo Bowl. Dantonio guided the Spartans to an 11-1 regular-season mark in 2010.
Kirk Ferentz, Iowa, 2009
Backstory: Iowa improved from 9-4 in 2008 to 11-2 in 2009 and won an Orange Bowl championship. The 2009 season truly showed the Hawkeyes had escaped a down stretch from 2005-07.
Joe Paterno, Penn State, 2008
Backstory: Penn State went from 9-4 the previous season to an 11-1 regular-season mark, a Big Ten title and a spot in the Rose Bowl (all wins later were vacated). The Lions were in the national title talk for much of the 2008 campaign.
Ron Zook, Illinois, 2007
Backstory: Illinois went from 2-10 in 2006 (4-19 in Zook's first two seasons) to a Rose Bowl berth in 2007. The Illini knocked off then-No. 1 Ohio State in Columbus.
Bret Bielema, Wisconsin 2006
Backstory: Bielema was in his first year as a head coach and led Wisconsin to an 11-1 record in the regular season (12-1 following a bowl victory).
Joe Paterno, Penn State, 2005
Backstory: The Lions had endured losing seasons in three of the previous four years, and calls for Paterno's retirement had increased. He then shocked everyone by guiding Penn State to a Big Ten championship and an Orange Bowl title (both later vacated).
See the pattern here?
The award either goes to first-year coaches or coaches who have bolstered a team's win total from the previous season.
Meyer did both at Ohio State, which went from 6-7 in 2011 to 12-0 this season. But O'Brien ultimately was judged to have overcome more challenges at Penn State.
Tressel's best chance for the award came in 2002, when Ohio State went from 7-5 in his first season to a 13-0 regular-season mark (and an eventual national title). But Iowa's Kirk Ferentz instead earned Big Ten Coach of the Year honors for guiding Iowa to a share of the Big Ten title a year after going 7-5.
Ferentz topping Tressel in 2002 reminds me a lot of O'Brien topping Meyer this season.
Given the trajectory of Ohio State's program under Meyer and the standard set by the 2012 team, it seems unlikely the Buckeyes will take a big step backward -- so Meyer can then bring them forward and win the award -- any time soon.
Meyer has won two national titles and several top coaching honors, including the Eddie Robinson National Coach of the Year award in 2004. But don't be surprised if like Tressel, he'll go through his Ohio State career without ever being named Big Ten Coach of the Year.
October, 4, 2012
10/04/12
9:00
AM ET
COLUMBUS, Ohio -- A look at the hot topics and pressing concerns as Ohio State prepares to welcome Nebraska for another top-25 clash in the Big Ten at Ohio Stadium on Saturday (TV: ABC, 8 p.m.).
B1G battle:
The Buckeyes made their case as the class of the conference by going on the road and beating their closest challenger in the polls. But that win will have a short shelf life if they don't back it up against the Huskers, who simply stepped up to replace Michigan State as the next team in line in the rankings after coming from behind to hold off Wisconsin last week. Ohio State obviously can't appear in the conference title game, but if it can get through its two-week stretch to open league play by knocking off consecutive contenders for that crown, it will have firmly established itself at the top of the food chain.


Familiar foe:
Bo Pelini might not be in the mood for nostalgia, but there is no shortage of history for the Nebraska coach both with the opponent and the coach on the other sideline. Pelini is an Ohio State alum, for one, and his time on campus briefly overlapped with Urban Meyer when the latter was working as a graduate assistant for Earle Bruce -- the coach who recruited the former to play for the program. Meyer has also matched wits with the fellow Ohio native, having schemed against Pelini's defense at LSU when both were coaching in the SEC.
Did Ohio State Cheap Out On Championship Rings?
BIG TEN SCOREBOARD
Thursday, 9/3
Friday, 9/4
Saturday, 9/5
Sunday, 9/6
Monday, 9/7