Ohio State Buckeyes:

Deshaun Thomas
March, 24, 2013
3/24/13
5:20
PM ET
DAYTON, Ohio -- With less than 5 seconds left in a tied game, perhaps the best pure scorer in the country came off a pair of screens that did exactly what they were designed to do: get him open.
Deshaun Thomas
called for the ball -- screamed for it, waved his hands high above the 6-foot-7 inch frame that had made him essentially unguardable for the first 39 minutes and 55 seconds of his team's second-round NCAA tournament thriller -- but the pass never came.
Instead, a 6-foot-2 point guard -- who spent most of the second half turning the ball over and missing key free throws, who was being guarded by the opposing team's tallest player, who hadn't attempted a 3-pointer all afternoon and averages just 29.3 percent from beyond the arc this season -- looked him off.
To say
Aaron Craft
faced pressure in the final seconds of
Ohio State's 78-75 win over Iowa State
Sunday is to state the incredibly obvious, but that pressure wouldn't have come solely from Buckeyes fans, who would have surely blamed him for a heartbreaking second-round upset loss. Craft would have had one unhappy teammate, too.
March, 13, 2013
3/13/13
9:57
AM ET
By
Dave Telep
| ESPN Insider
Recruiting is a tricky deal to figure out sometimes.
There's Duke, which knew it had to replace seniors
Mason Plumlee
and
Ryan Kelly
with a stud frontcourt player in this recruiting class. But conversely, did the thought of potentially having to replace sophomore
Shane Larkin
even enter Jim Larranaga's mind at the beginning of the season? I know Larkin is not likely going anywhere, but still, the point is that it can be hard to know exactly what you're going to need to replace in recruiting.
To that point, Tom Crean knew
Victor Oladipo
was good, but no one saw this type of year coming from the now projected lottery pick.
Once the afterglow of this season wears off, many
Wooden Award finalists
will need replacing -- and that's not an easy task. So while not every player on this list will turn pro, the point of this top 10 is to rate how well each team prepared for the contingency going forward in recruiting.
Top 10 Recruiting Replacements for Wooden Award Finalists
February, 24, 2013
2/24/13
9:24
PM ET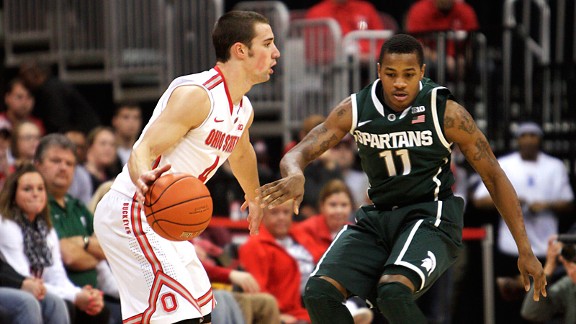 AP Photo/Jay LaPreteThe 21 points Aaron Craft scored against the Spartans was a collegiate career high for the guard.
COLUMBUS, Ohio -- The rosy-cheeked aggression is nothing new.
The difference was where
Aaron Craft
was channeling that famous energy.
The Ohio State junior has built his reputation largely on the strength of his relentless, pesky approach on defense. Michigan State can once again attest that nothing has changed on that end of the floor. But in something of a surprise to the No. 4 Spartans, Craft went after the rim and the lane the same way he normally would a ball-handler. He made himself just as much of a nuisance offensively in a
68-60 win
at Value City Arena that offered a reminder that No. 18 Ohio State shouldn't be written off quite yet.
"It was great to see the ball going in for him and him attacking the rim," Buckeyes coach Thad Matta said. "I thought he was tremendous today. It definitely helps our basketball team when he's doing that, because you know what you're going to get on the other end.
"I mean, he's the best defender in college basketball, there's no question about it."
There were some lingering doubts about how much scoring Craft could supply to complement the consistent defense, but he was certainly the most productive offensive player on the court on Sunday afternoon in one of Ohio State's last chances to make a statement and build momentum before the postseason.
The Spartans had no answer for the dual-threat Craft, who made it look routine to get to the basket off the dribble. He rarely took a wrong step on the pick-and-roll, either finishing on his own or setting up teammates for one of his six assists. He won one-on-one matchups to get easy finishes, dropped in contested attempts in traffic, and was almost perfect from the free-throw line on the way to a game-high 21 points.
As recently as a week ago Ohio State was reeling from a blowout loss at Wisconsin and
Deshaun Thomas
, the Big Ten's leading scorer, was struggling with his shot. The Buckeyes couldn't have needed Craft to be at his best offensively more than this game. Considering that his previous career high had come against Albany in the season opener, Craft might never have been better with the ball in his hands than he was against the Spartans.
"Give Craft credit, he tore us apart in the second half," Spartans coach Tom Izzo said. "It was Aaron Craft, he beat us every way he could beat us.
"Aaron Craft was more aggressive than I've ever seen him as a scorer, and give him credit for that. … I couldn't plan for something I've never seen before."
The Buckeyes would obviously be more formidable if Craft had that part of his game more regularly; although his defense has already helped keep an inconsistent team, that relies heavily on Thomas, afloat.
Craft still gave Ohio State everything it has come to expect from him. He was credited with only one steal, but he helped fluster
Keith Appling
as Michigan State's leading scorer hit just one of his six shots and finished with three points. Craft was a fixture on the floor as he threw his body around for loose balls -- notably securing a crucial possession late in the game in a scrum under the Ohio State basket. He pushed all the right buttons on the floor, knowing just when to push the tempo or slow it down to let his teammates regroup.
But he apparently realized that the Buckeyes needed him to add something extra to allow Ohio State to hang around in the Big Ten race a little longer.
"The biggest thing that we get from a game like this is a win against a great opponent," Craft said. "This is big for this basketball team, the way we've picked ourselves up from a week ago [at Wisconsin] when we weren't ready to go. Hopefully we can continue to build off this.
"If it takes [me scoring] -- I don't care who is scoring, who is putting the ball in the bucket as long as we come out with more points."
Collectively, that was the Buckeyes. And they're clearly a more dangerous team when Craft is pacing the individuals.
February, 24, 2013
2/24/13
9:23
PM ET
COLUMBUS, Ohio -- Quick thoughts following Ohio State's second-half surge on the way to a
critical Big Ten victory
over Michigan State on Sunday afternoon at Value City Arena.
Overview:
Flawed as it may be and as painful as it can look for Ohio State at times, it proved it can still handle its business against one of the best teams in the country.
The Buckeyes continued to take questionable shots, were sometimes overmatched in the post and suffered through occasional lapses on both ends of the floor.
But when they put everything together, even if just for a half, they're capable of big runs on offense, stretches of dominant defense and big wins like the 68-60 decision it picked up against No. 4 Michigan State.


The Buckeyes had to deal with a slow start from the Big Ten's leading scorer as
Deshaun Thomas
struggled to find his rhythm and chipped in just two points in the first half. They also had to overcome a physical disadvantage in the post, with
Adreian Payne
making life difficult with 10 first-half rebounds and the Spartans scoring often and easily in the paint.
But the issues that have popped up throughout the season and hampered them in the first half started disappearing down the stretch for the Buckeyes.
Aaron Craft
helped shoulder some of the scoring load until Thomas got rolling. As the Ohio State defense on the perimeter got tighter, the Spartans found it more difficult to assert themselves inside.
And after looking like they might slide out of the Big Ten race for good, the Buckeyes climbed right back into the picture with one of their biggest victories of the year.
Turning point:
Lenzelle Smith
couldn't get settled into his sweet spot for more than a half. But once he finally got a look from the place he shot jumpers during pregame while his teammates were still in the locker room, the junior guard buried it and energized a home crowd that had been quiet for much of the afternoon.
The 3-pointer from the right corner with 13:55 left in the game also put the Buckeyes back on top. It helped erase a deficit that had been as high as nine points in the second half and ignited a 15-3 run that knocked the Spartans on their heels and handed them a second consecutive Big Ten loss.
Key player:
The focus will always be on his defense, but when the team needed a lift on offense Craft reminded everybody that he can be a nuisance there as well.
The Spartans had a tough time keeping the junior guard in front and out of the lane, and Craft routinely exploited them with one of his most aggressive offensive performances of the season. At times this year Craft has been able to get to the rim but was unable to finish. That wasn't an issue against Michigan State as he routinely capitalized from close range on the way to a game-high 21 points.
Key stat:
The Spartans gave Craft two extra chances to set a new career high, and he took advantage with a pair of free throws with less than a second left and the outcome decided. The point guard had only scored 20 points in a game previously against Albany, which certainly doesn't have the reputation the Spartans brought with them to Value City Arena. Craft's ability to add balance to the offense was critical and tipped the scales for the Buckeyes in a game where Thomas didn't have his best stuff.
Miscellaneous:
Thomas became the 25th player in Ohio State history to score 1,000 points and pull down 500 rebounds, joining the list with his third board midway through the first half on Sunday. ... The Buckeyes have won 10 conference games for the past eight seasons, extending the longest streak the program has ever put together. ... The Spartans came into the game with a 4-3 record against teams currently ranked in the Top 25. ... The previous three meetings between the programs had all been decided by four points or fewer. ... Izzo dropped to 21-12 against the Buckeyes.
Next up:
Halfway though a brutal gauntlet of games in the Big Ten, the Spartans are in a hole after dropping a home date to Indiana earlier in the week. Michigan State has some time to recover, but things don't get any easier when they return to the court on Sunday on the road at rival Michigan, with Wisconsin closing out the four-game stretch against ranked opponents on March 7.
The sprint to the end of the regular season doesn't look nearly as difficult overall for the Buckeyes, despite a challenging trip to Indiana looming on March 5. Ohio State sandwiches that game with a trip to Northwestern on Thursday and a home date with Illinois before the Big Ten tournament starts.
October, 31, 2012
10/31/12
12:44
PM ET
COLUMBUS, Ohio -- Quick hitters from Ohio State's exhibition win Tuesday night over Walsh at Value City Arena:
For starters:
Thad Matta did plenty of tinkering with the rotation, and he didn't even stick with the same first unit for both halves of the exhibition against Walsh.
But the Buckeyes coach had to send out a starting five, and the group included one mild surprise:
LaQuinton Ross
got the nod over
Sam Thompson
. The sophomore forward was solid on both ends of the floor and finished with 13 points and 5 rebounds in 21 minutes of action, while Thompson was effective as well, with 11 points and 4 assists -- and he wound up with more playing time.
To continue reading this article you must be an Insider
October, 11, 2012
10/11/12
5:52
PM ET
COLUMBUS, Ohio -- Quick-hitters with the Ohio State basketball team, which hosted its media day on Thursday ahead of the first practice of the preseason.
Back on point:
Aaron Craft hadn't taken two weeks off since he was in middle school, and if it had been solely up to him, that streak would still be alive.
[+] Enlarge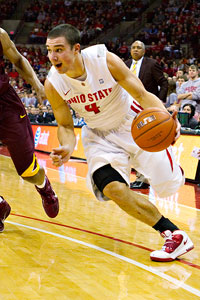 Greg Bartram/US PresswireThe Bucks are hoping a healthier Aaron Craft can deliver more offense this season.
But surgery on his nagging ankle injury in June and the cast that was subsequently slapped on it kept the tireless Ohio State point guard off his feet and forced him to actually take a bit off time to rest his body over the summer. And while Craft recognized the value of that recovery time and admitted he came back rejuvenated, he still doesn't seem eager to take another vacation moving forward.
"I couldn't do anything because I was in a cast, so that was very interesting and challenging for me, watching these guys work out and shoot and play," Craft said. "That was probably the toughest thing. Getting back, it was good for my entire body to take time off. I wouldn't have done that on my own.
"I felt reenergized and ready to go when I got back, and ultimately it was probably the best thing for me."
The relentless junior has never been accused of running low on energy, and a fresher, healthier version of Craft could make life even more difficult for opponents battling the lockdown defender on the offensive end.
The Buckeyes are likely counting on him to provide a bit more scoring when they have the ball as well as they try to replace the production of Jared Sullinger and William Buford, and it certainly won't hurt if Craft doesn't have to spend much time this season limping from the pain that used to shoot through his ankle.
"The rest probably helped him," coach Thad Matta said. "He's a guy that doesn't like to take days off, when he's in here he's going 100 miles an hour. From that perspective, it's probably good.
"I haven't noticed [a change in his approach], what I have noticed is he doesn't trip on his foot and then limp for the next minute. He seems to be perfectly fine."
Old hands:
The Buckeyes aren't exactly loaded with seniors.
But they've got one more of those upperclassmen than they do freshmen with only one of the latter on the roster, which might actually qualify Ohio State as a veteran outfit. And that could make for a much smoother experience when the Buckeyes hit the practice court as a full unit on Friday.
"It's very valuable," junior Deshaun Thomas said. "We all know what coach Matta wants out of us in practice, and we've got one freshmen, so the other guys should already know what he wants and what it takes to win.
"Coach Matta preaches toughness. Once you're out there in a drill and you show him you're doing it right, he'll cut the drill short. Everybody on this team should know what he wants and give it their all. We don't have to help a lot of freshmen pick it up and understand what to do, so everybody should know what's expected tomorrow."
High five:
Matta didn't tip his hand on a starting lineup, preferring instead to let practice play out and then go from there.
But it's no secret how he'll figure out that group when the time comes.
"I told them the other day, I'm going to start the five best defenders," Matta said. "I think from the standpoint of trying to get those guys to understand where I'm coming from, with what we have, I think we'll have great depth this year.
"There's a lot of quality out there, and I'm excited to see these guys compete in four-day increments as we're getting ready to practice."
Did Ohio State Cheap Out On Championship Rings?
BIG TEN SCOREBOARD
Thursday, 9/3
Friday, 9/4
Saturday, 9/5
Sunday, 9/6
Monday, 9/7