Ohio State Buckeyes:

Bret Bielema
November, 6, 2013
Nov 6
4:00
PM ET
USA Today has come out with its
annual database of college coaching salaries
. Not surprisingly, Alabama's Nick Saban tops the chart with a salary of $5,545,852 for 2012.
[+] Enlarge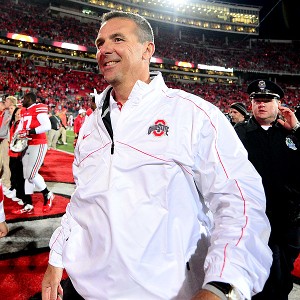 Andrew Weber/US PresswireOhio State's Urban Meyer is the highest-paid coach in the Big Ten.
Those questioning Bret Bielema's move from Wisconsin to Arkansas might change their opinion after seeing Bielema's 2013 salary with the Hogs ($5,158,863), which ranks third behind Saban and Texas' Mack Brown. Then again, Bielema's compensation also i
ncludes a $1.9 million buyout that had to be paid to Wisconsin
.
Where do the Big Ten coaches stack up?
Ohio State's Urban Meyer is first in the Big Ten and sixth nationally with a salary of $4,608,000, two spots ahead of Michigan's Brady Hoke ($4,154,000). Meyer and Hoke both are eligible for $550,000 bonuses in 2013.
Iowa's Kirk Ferentz follows Hoke and ranks ninth nationally in salary ($3,985,000). Ferentz also has an insane maximum bonus of $1,750,000. The conversation about his value for a program hovering around .500 isn't going to go away.
Penn State's Bill O'Brien ($3,282,779) and Nebraska's Bo Pelini ($2,975,000) also appear among the top 20 coaches in 2013 salary. The SEC has three of the nation's four highest-paid assistants, four of the top seven and eight of the top 20. The Big Ten and Big 12 are tied for the second-most in the top 20 with five each.
But there's a sizable dropoff after Pelini as Northwestern's Pat Fitzgerald comes in next at 41st nationally ($2,221,153). Michigan State's Mark Dantonio undoubtedly is the best value in the league at $1,959,744, behind first-year coaches Darrell Hazell of Purdue ($2,160,833) and Gary Andersen of Wisconsin ($2,120,823).
Purdue had been criticized for underpaying for coaches, but Hazell's deal, which includes a maximum bonus of $1,095,000, is certainly competitive nationally.
Illinois coach Tim Beckman comes in 60th nationally in salary ($1,700,000), while Indiana's Kevin Wilson ($1,291,220) and Minnesota's Jerry Kill ($1,200,000) round out the list. Both Wilson and Kill earn less than coaches from Colorado State, Navy, South Florida and Central Florida. That seems a bit troubling for teams in a loaded league like the Big Ten.
Although the Big Ten is somewhat competitive with the SEC at the top in paying coaches, the
overall numbers aren't close
.
Maryland coach Randy Edsall, whose team joins the Big Ten in 2014, ranks right behind Andersen in salary at 48th overall ($2,025,440). Rutgers coach Kyle Flood is earning just $860,000, trailing the coaches from Air Force, Memphis, Wyoming and others. Fairly or unfairly, that won't help the perception that Rutgers doesn't belong in a league like the Big Ten.
What are your thoughts on the coaching salaries around the Big Ten and nationally?
September, 26, 2013
Sep 26
12:00
PM ET
Welcome back, Ron Swanson.
September, 25, 2013
Sep 25
2:05
PM ET
It's mostly a light week in Big Ten football, and Wisconsin and Ohio State will kick off Saturday night with no other competition from league games.
That's perfect. You should watch as this matchup takes center stage. Savor it. This is the rarest of rivalries, one that is simultaneously waxing and waning before our eyes.
Though it's the Big Ten opener for Ohio State and we haven't yet reached October, this game might just decide the Leaders Division race. That should come as no surprise, as these two teams have played several high-stakes showdowns in recent years.


"All my years that I've been here," Wisconsin senior running back
James White
said, "this has been a great game. It has always come down to the wire."
The past three meetings have produced instant classics. The Badgers knocked off then-No. 1 Ohio State 31-18 at home in 2010. In 2011, Braxton Miller's 40-yard touchdown pass to
Devin Smith
with 20 seconds left lifted the Buckeyes to a 33-29 win at the Horseshoe. Last season, Ohio State won 21-14 in overtime at Camp Randall Stadium.
While Ohio State has won five of the last six against Wisconsin, the Badgers have won or shared the last three Big Ten titles. They've also represented the Leaders Division in the first two Big Ten championship games, including last year when Ohio State was ineligible.
That both compete in the same division while Penn State remains on probation has added meaning to this game, which wasn't always so competitive. The Buckeyes lead the all-time series 55-18-5 and beat Wisconsin every year between 1960 and 1980. The Badgers won twice (with one tie) between 1988 and 2000.
"I was here a long time ago, and it was not a rivalry," said Ohio State coach Urban Meyer, who was a Buckeyes assistant from 1986-87. "You have to give credit to Wisconsin. I think it all started with coach [Barry] Alvarez, and then the following coaches have done a great job. They are one of, if not the best, programs in the Big Ten right now, and because of that, it's become a very good rivalry."
[+] Enlarge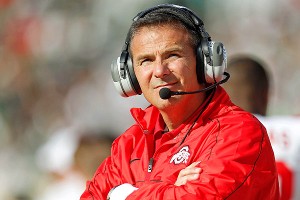 Gregory Shamus/Getty ImagesCoach Urban Meyer and the Buckeyes take on Wisconsin on Saturday in a battle of Top 25 teams.
The rivalry intensified when Meyer arrived and then-Wisconsin coach Bret Bielema made some disparaging comments about the new Ohio State boss. While both later insisted publicly they had patched up any potential rift, there was little doubt both badly wanted to beat the other last November. After Bielema left for Arkansas, ex-Ohio State president E. Gordon Gee was
caught on tape calling Bielema "a thug."
The wife of Buckeyes assistant coach Mike Vrabel took
a shot at Bielema and his wife on Twitter
on Saturday after Arkansas lost to Rutgers -- ironically winning some favor with Wisconsin fans in the process.
The intrigue between the teams' head coaches cooled considerably when the Badgers hired Gary Andersen, who served as Meyer's defensive coordinator at Utah. When the Cleveland Plain Dealer's Doug Lesmerises asked Meyer this week if he missed Bielema, Meyer chuckled and said, "I'm good with Gary."
"Not to get too much into things, but obviously Coach Andersen and Coach Meyer have a relationship in the past," Wisconsin defensive tackle
Beau Allen
said. "There's a mutual respect between Coach Andersen and that staff over there."
Allen laughed.
"That may be something that might be a little different this year, without getting too detailed or specific."
Friendship between coaches is not the only reason this rivalry may have already peaked. After this season, Ohio State and Wisconsin will play in separate divisions as the Big Ten expands and splits into East and West branches. The two teams are not scheduled to meet in 2014, 2015 or 2017, though they could still face each other in the conference title game.
That's particularly a shame for the Badgers, because as their historic rivalry with Minnesota has become one-sided and Iowa went missing off the schedule for a few years, Ohio State has loomed as potentially their biggest game.
"You enjoy going up against great teams like Ohio State," Wisconsin running back
Melvin Gordon
said. "I mean, it's Ohio State. So it's kind of disappointing, but I'm sure if things go how we want, we'll probably see them again."
Things are a little different from the Buckeyes' perspective. Wisconsin has become a rival because of division alignment and the Badgers' contention for Big Ten titles. But Ohio State doesn't view this game as the one it must win.
"When it comes to rivalries, no," Buckeyes receiver
Evan Spencer
said. "I mean, just because The Team Up North, it's hard to place words on that one. Wisconsin is a big game, don't get me wrong. It's one of the biggest ones we have on the schedule."
The schedule brings few guaranteed rematches between these two teams. So make sure to watch Saturday's game. Savor it.
"We like playing these guys," Allen said. "We've had great games, and that's why you play college football. You want to play great teams, you want to play great games, and you want to play great players. That's what we've had between the two of us."
September, 18, 2013
Sep 18
12:00
PM ET
I, for one, welcome our new insect overlords.
August, 20, 2013
Aug 20
12:34
PM ET
Game week is rapidly approaching ...
December, 12, 2012
12/12/12
9:00
AM ET
Head coaches are like quarterbacks. They get too much credit and too much blame.

Assistant coaches are like nose tackles. They don't get nearly enough credit despite playing vital roles.

Today, we'll change it up and give some recognition to Big Ten assistant coaches who did exemplary jobs with their position groups or, in some cases, units in 2012. Each of these coaches fostered improvement this season. Some took units in bad shape and made them better. Others took units in decent shape and made them very good. Some entered the season with skeptics and quieted them.

We came up with 13 assistants who deserve recognition. Yes, we realize we're leaving out some quality folks, but we had to cap it somewhere and wanted to spread the love around to the different teams.
November, 28, 2012
11/28/12
1:00
PM ET
Former Ohio State coach Jim Tressel was a victim of his own success when it came to winning Big Ten Coach of the Year honors.
Tressel never claimed the award despite dominating the league during most of his Buckeyes tenure. If Tressel had a down year midway through his run at Ohio State, only to get the team back to a league title or a BCS bowl the following year, he would have had a better chance.
In many ways, the Big Ten Coach of the Year award is about what happened the previous season or the previous offseason rather than the actual season for which the honor is presented. Recent history also shows first-year coaches who bolster programs have a good chance for the award.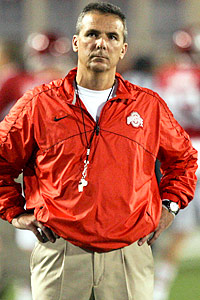 Pat Lovell/US PresswireUrban Meyer led the Buckeyes to a rare 12-0 season in his first season at Ohio State.
And that's why Ohio State coach Urban Meyer might never win it.
Penn State's
Bill O'Brien on Tuesday swept the Big Ten Coach of the Year honors
-- the Hayes-Schembechler award (voted by the coaches) and the Dave McClain award (voted by the media). O'Brien guided Penn State to an 8-4 record in his first season.
He beat out another first-year Big Ten coach, Meyer, who went 12-0 in his first season in Columbus, including a road win against O'Brien's Lions. Buckeye fans were hopeful Meyer would be the first Ohio State boss to win Big Ten Coach of the Year honors since Meyer's mentor Earle Bruce got it in 1979.
O'Brien's selection stems primarily from the way he kept Penn State afloat after a turbulent summer that brought severe NCAA sanctions on the program, followed by the departures of several key players, including star running back
Silas Redd
. After an 0-2 start that had many writing off Penn State for the foreseeable future, O'Brien guided Penn State to wins in eight of its final 10 games (6-2 in Big Ten play).
Although Penn State actually won more games in the previous season -- the Lions' nine wins later were vacated -- O'Brien's work under such unusual circumstances made him a deserving candidate.
But it begs the question: Will Meyer ever win the award?
Unless Ohio State takes a surprising step backward during his tenure, probably not.
Let's look at the recent winners of the McClain Award.
Brady Hoke, Michigan, 2011
Backstory: Michigan went 7-6 in 2010 under coach Rich Rodriguez, who was fired following the Gator Bowl after a historically poor three-year run. Hoke came in from San Diego State and guided Michigan to an 11-1 record and a Sugar Bowl championship.
Mark Dantonio, Michigan State, 2010
Backstory: Michigan State tumbled to a 6-7 finish in 2009 and had a highly publicized off-field issue that decimated its roster for the Alamo Bowl. Dantonio guided the Spartans to an 11-1 regular-season mark in 2010.
Kirk Ferentz, Iowa, 2009
Backstory: Iowa improved from 9-4 in 2008 to 11-2 in 2009 and won an Orange Bowl championship. The 2009 season truly showed the Hawkeyes had escaped a down stretch from 2005-07.
Joe Paterno, Penn State, 2008
Backstory: Penn State went from 9-4 the previous season to an 11-1 regular-season mark, a Big Ten title and a spot in the Rose Bowl (all wins later were vacated). The Lions were in the national title talk for much of the 2008 campaign.
Ron Zook, Illinois, 2007
Backstory: Illinois went from 2-10 in 2006 (4-19 in Zook's first two seasons) to a Rose Bowl berth in 2007. The Illini knocked off then-No. 1 Ohio State in Columbus.
Bret Bielema, Wisconsin 2006
Backstory: Bielema was in his first year as a head coach and led Wisconsin to an 11-1 record in the regular season (12-1 following a bowl victory).
Joe Paterno, Penn State, 2005
Backstory: The Lions had endured losing seasons in three of the previous four years, and calls for Paterno's retirement had increased. He then shocked everyone by guiding Penn State to a Big Ten championship and an Orange Bowl title (both later vacated).
See the pattern here?
The award either goes to first-year coaches or coaches who have bolstered a team's win total from the previous season.
Meyer did both at Ohio State, which went from 6-7 in 2011 to 12-0 this season. But O'Brien ultimately was judged to have overcome more challenges at Penn State.
Tressel's best chance for the award came in 2002, when Ohio State went from 7-5 in his first season to a 13-0 regular-season mark (and an eventual national title). But Iowa's Kirk Ferentz instead earned Big Ten Coach of the Year honors for guiding Iowa to a share of the Big Ten title a year after going 7-5.
Ferentz topping Tressel in 2002 reminds me a lot of O'Brien topping Meyer this season.
Given the trajectory of Ohio State's program under Meyer and the standard set by the 2012 team, it seems unlikely the Buckeyes will take a big step backward -- so Meyer can then bring them forward and win the award -- any time soon.
Meyer has won two national titles and several top coaching honors, including the Eddie Robinson National Coach of the Year award in 2004. But don't be surprised if like Tressel, he'll go through his Ohio State career without ever being named Big Ten Coach of the Year.
November, 15, 2012
11/15/12
10:15
AM ET
Ten items to track around the Big Ten entering Week 12:
1. Ballin' for history:
Thirteen years after Ron Dayne broke the NCAA career rushing record, another Wisconsin running back is on the doorstep of a major milestone. Badgers senior
Montee Ball
, who, unlike Dayne, spent a year and a half as a reserve, needs one more touchdown Saturday against Ohio State to tie the NCAA career mark of 78 held by former Miami (Ohio) star Travis Prentice. Ball has scored 13 touchdowns in his past six games and is averaging 179.1 yards and three touchdowns in his past nine November games. A big performance against the unbeaten Buckeyes will once again put Ball on the radar for top national honors. Ball's next rushing touchdown will mark his 72nd, moving him past Dayne for the Big Ten career record.
2. Holding serve in the Legends:
Nebraska and Michigan are tied atop the Legends Division at 5-1, and on paper, they should stay that way after Week 12. Both teams are favored to take care of Minnesota and Iowa, respectively, on senior day in Lincoln and Ann Arbor. Nebraska's magic number (wins and Michigan losses) to punch its ticket to Indianapolis is 2. A Huskers loss and a Michigan win puts the Wolverines in control of their own fate in the division. One senior day subplot is whether face-of-the-program stars like Nebraska running back
Rex Burkhead
and Michigan quarterback
Denard Robinson
will play after missing time with injuries. Burkhead (knee) returned to practice this week and seems closer to a return, while Robinson (elbow) remains day-to-day.
[+] Enlarge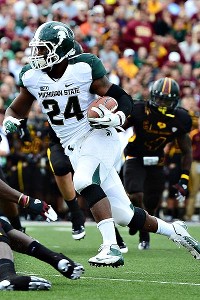 Andrew Weber/US PresswireLe'Veon Bell and the Spartans plan to finish strong against Northwestern on Saturday.
3. Finishing school:
Northwestern and Michigan State easily could be playing for a Legends Division title Saturday. Instead, both teams' inability to finish against the likes of Nebraska and Michigan has left them looking for a full 60-minute performance. Michigan State's four Big Ten losses have come by a combined 10 points. Northwestern held double-digit second-half leads in all three of its Big Ten losses. Something's gotta give Saturday as the teams meet at Spartan Stadium. "Their problem, just like ours, has been closing out games," Spartans linebacker
Chris Norman
told ESPN.com this week. "... It's going to come down to who can finish the best. Saturday is going to be interesting."
4. Hope and a prayer:
There's growing talk that Purdue will make a head-coaching change after the regular season no matter what happens in the final two games. But can fourth-year boss Danny Hope save himself with a three-game win streak to become bowl-eligible? It's reason enough to tune in for an otherwise off-the-radar game between Purdue and slumping Illinois on Saturday. A loss to the Illini would prevent Purdue from getting bowl-eligible and likely seal Hope's fate, while a Purdue win adds intrigue to next week's Bucket game against Indiana. The Boilers' offense got on track last week behind quarterback
Robert Marve
and running back
Ralph Bolden
, while defensive tackle
Kawann Short
had his best game of the season at Iowa.
5. Rivalry renewed:
Saturday's game at Camp Randall Stadium won't decide which Leaders Division team goes to the Big Ten title game, as Wisconsin already punched its ticket last week. But Ohio State can lock up the Leaders Division championship -- the only title it can win this season -- while Wisconsin can legitimize its trip to Indy by handing Urban Meyer's Buckeyes their first loss of the season. Looking ahead, the Ohio State-Wisconsin game likely will be the signature contest in the division for years to come. Illinois is a mess, Purdue has backslid this season, Indiana is still building and Penn State still has three more years of postseason bans. "I hate Wisconsin just as much as Michigan," Ohio State wide receiver
Corey Brown
said this week. While Meyer and Wisconsin coach Bret Bielema say their post-signing day spat is a thing of a past, it could bubble up Saturday depending on how the game goes.
6. Taking a pass:
The Big Ten might not be flush with elite quarterbacks and high-powered offenses this season, but a few of its teams can sling the ball a bit, and two of them meet at Beaver Stadium. Indiana and Penn State are the Big Ten's top two pass offenses, ranking 26th and 40th nationally, respectively. They'll share the field Saturday as they try to rebound from different types of losses. Indiana quarterback
Cameron Coffman
struggled with his accuracy (25-for-46) in last week's loss to Wisconsin and looks for a sharper afternoon. Penn State quarterback
Matt McGloin
wasn't a happy guy after the Nebraska loss and will try to take it out on IU. The game features two of the Big Ten's top receivers in Penn State's
Allen Robinson
and Indiana's
Cody Latimer
.
7. Hawkeye hex:
Iowa has been in a funk for much of the season and particularly in the past month, dropping four consecutive Big Ten contests. Perhaps a date with Michigan can put the Hawkeyes back on track. See, Iowa has won three straight against Michigan for the first time in team history and five of its past eight against the Wolverines. Michigan's seniors are anxious to finally get over the hump against Iowa, one of two Big Ten teams (Penn State the other) they have yet to beat. But maybe it works the other way and Iowa finally shows a spark on offense and stiffens its defense. If not, the Hawkeyes won't be going bowling for the first time since the 2006 season, and it'll be a very long winter for Kirk Ferentz. "It doesn't hurt, obviously," Ferentz said of his team's Michigan win streak, "but it doesn't guarantee us anything."
8. Backs of different sizes:
Michigan State's
Le'Veon Bell
is the biggest featured running back in the Big Ten, checking in at 6-2 and 244 pounds. Northwestern's
Venric Mark
is the smallest, checking in at 5-8 and 175 pounds. But both have been extremely effective this season with the ball in their hands. Bell leads the Big Ten in rushing yards (1,249), while Mark ranks third in rushing yards (1,181) and first in all-purpose yards (1,917). Each has been the MVP of his respective offense, and it'll be interesting to see them on the same field at Spartan Stadium. Both Michigan State and Northwestern defend the run well, too, both ranking in the top 25 nationally.
9. Illini look for a spark:
Illinois ranks last in the Big Ten in scoring, rushing and total offense, and lingers near the bottom of the FBS in all the significant categories. The Illini need some sort of boost on offense or a 2-10 season is a virtual certainty. Head coach Tim Beckman, whose background is defense but who had a high-powered offense at Toledo the past few years,
took a more active role with the offense
this week in an effort to get things going. Beckman also noted that co-offensive coordinators Chris Beatty and Billy Gonzales call plays on different downs. Hmmm. Starting cornerback
Terry Hawthorne
took more reps with the wide receivers this week and could see an increased role against Purdue. Illinois aims to win on senior day for the first time since 2007.
10. Bowl picture taking shape:
We learned a little more about the Big Ten bowl contingent last week as Minnesota became bowl-eligible, Purdue took a big step toward the postseason and both Iowa and Indiana took a step toward a winter at home. There should be some more answers in Week 12. Michigan State aims for its sixth win to go bowling for the sixth consecutive season under coach Mark Dantonio. Purdue must keep its bowl hopes alive at Illinois, while both Iowa and Indiana must win on the road to avoid loss No. 7. It won't be easy for the Hawkeyes or Hoosiers. Indiana never has won at Beaver Stadium in 15 previous meetings with Penn State. Iowa never has won consecutive games at Michigan Stadium.
October, 22, 2012
10/22/12
2:22
PM ET
Take that and rewind it back.
Team of the week:
Penn State. Plenty of candidates this week, as Michigan ended Michigan State's four-game winning streak in the rivalry, Nebraska got a much-needed road victory and Wisconsin kept chopping in the Axe series. But no team was as impressive as the Nittany Lions, who went on the road in a hostile atmosphere and simply dismantled Iowa from start to finish in a 38-14 win. That was as complete a performance as you're going to see in this league, and as Adam wrote on Saturday, Bill O'Brien's team is no longer
just a nice little story
.
[+] Enlarge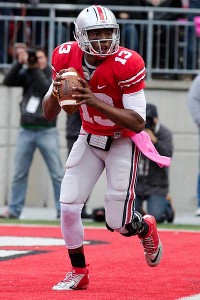 Greg Bartram/US PresswireBackup quarterback Kenny Guiton led the Buckeyes to an overtime win against Purdue on Saturday.
Game of the week:
Lots of good ones, including Michigan's nailbiter over Michigan State, Nebraska's comeback over Northwestern and even Indiana's loss at Navy. But for pure drama, it's hard to beat the Ohio State-Purdue game and how it ended. To review: the Buckeyes trailed by eight points and took possession at their 39-yard line with less than a minute to go.
Braxton Miller
was in the hospital and backup
Kenny Guiton
was at quarterback. Somehow, Ohio State made it work, driving for a touchdown and then the tying two-point conversion on a beautifully designed play. There seemed to be little doubt who would win in overtime after that, though Urban Meyer seemed stunned after the 29-22 decision. "I'm still trying to figure this bad boy out," he said. "We won, right?"
Biggest play:
The first play of that Ohio State tying drive was a 39-yard completion from Guiton to
Devin Smith
that made everything else possible. It was a slow-developing play that the Buckeyes were a little hesitant to call because it demands such good protection by the O-line. Maybe too good, as Purdue coach Danny Hope complained that his defense "probably would have [gotten to Guiton] if we didn't have quite so many hooks and so many hands on our jerseys." Regardless, it was still a play that will go down in Ohio State lore.
October, 4, 2012
10/04/12
10:15
AM ET
Ten items to track on the first October Saturday of Big Ten football:
1. Miller Time, T-Magic on display:
Ohio State's
Braxton Miller
and Nebraska's
Taylor Martinez
might not be traditional Big Ten quarterbacks, but they're the faces of the quarterback position in the league these days. Both are dynamic dual threats who have made significant strides from the 2011 season. Miller aims to continue his Heisman Trophy campaign Saturday night against a Nebraska defense that struggled to contain him last year before he left the game with an ankle injury. Martinez led the biggest comeback in Huskers history last year against Ohio State and has accounted for eight touchdowns (6 pass, 2 rush) in his past three games.
2. Boiling point:
Purdue coach Danny Hope says he already knows a lot about his team after three non-league wins and a 3-point road loss at Notre Dame. The rest of us aren't quite as sure about what the Boilers will be this season. The good news: Everyone will find out in the next three weeks, as Purdue opens Big Ten play with its defining stretch of the season. Before hosting Wisconsin and visiting Ohio State, Purdue hosts Michigan on Saturday in its most anticipated game since perhaps Wisconsin in 2004. The Boilers average 51 points per game on their home field, where they open league play against the Wolverines for the first time since 1970.
3. Oktoberfest:
Northwestern coach Pat Fitzgerald made October a major point of emphasis as far back as the summer, mindful of his team's struggles in the season's middle month. The Wildcats have done well in September (20-9) and November (13-8) under Fitzgerald, but they've had their difficulties in October (10-15), including a 1-4 mark in 2011. Northwestern is 5-0 for the third time in five seasons and takes a national ranking to Happy Valley, where it faces a streaking Penn State squad. It's a good chance for Northwestern to change its October fortunes against its most challenging opponent to date.
4. Seeking mojo in Mad City:
Austin Powers
would steer clear of the Illinois-Wisconsin game Saturday. Both teams are looking for their mojo after the first five weeks. Illinois tries to find it in a very tough place (Camp Randall Stadium) after being embarrassed on its home field in back-to-back weeks. Asked this week about boosting team morale, first-year coach Tim Beckman said, "That's what we're dealing with each and every day." Wisconsin appeared to make strides last week against Nebraska before collapsing down the stretch. Coach Bret Bielema is encouraged with his team's progress amid transition, but Wisconsin can't start Big Ten play at 0-2. Wide receiver
Jared Abbrederis
called the Illinois game a must-win for Wisconsin.
5. MSU offense looks for green flag:
After puttering around the track in the first five games, Michigan State's offense heads to the Crossroads of America (Indiana) hoping to finally shift into fifth gear. Coach
Mark Dantonio shuffled the depth chart a bit
this week, as freshman wide receiver
Aaron Burbridge
will start and other young players like freshman receiver
Macgarrett Kings Jr.
should see increased time. Michigan State can't neglect the run game, though, as it boasts a 15-1 record when
Le'Veon Bell
scores at least one rush touchdown. Indiana surrendered 704 yards to Northwestern last week (394 rushing). Saturday is the time for Michigan State to finally put it all together on offense.
[+] Enlarge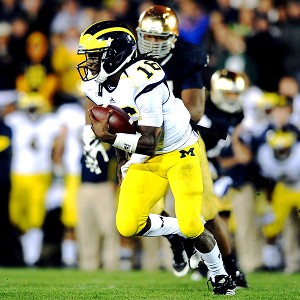 Chris Williams/Icon SMIDenard Robinson and Michigan look to break out of their away-from-home scoring malaise at Purdue.
6. Michigan wants better road show:
The last time we saw Michigan,
Denard Robinson
was turning over the ball and the Wolverines weren't crossing the goal line at Notre Dame. Michigan's 13-6 setback in South Bend continued a troubling trend for the Wolverines offense, which has
averaged just 20.9 points away from Ann Arbor
(as opposed to 40.1 points at home) in the past two seasons. With future road tests against Nebraska and Ohio State, it's important for the Wolverines to get on track Saturday at Purdue. The Boilers defense has been solid most of the season but surrendered 41 points and 534 yards last week against Marshall.
7. Whiteout in Happy Valley:
Sparked by their team's three-game win streak,
Penn State students are planning a whiteout
at Beaver Stadium for Saturday's game against Northwestern. The Lions aim for their first home win against a ranked opponent since the 2008 season, and several players
called the contest a must-win
. Senior quarterback
Matt McGloin
has owned Northwestern in his career (417 pass yards, 6 TDs, 0 INTs in two games), and McGloin is a much better quarterback in Bill O'Brien's offense. After an ominous start, Penn State can enter an off week with a ton of momentum with a victory.
8. Bo heads home:
While his team
aims for a signature road win in the Big Ten
, Nebraska coach Bo Pelini makes a homecoming of sorts Saturday at Ohio Stadium. Pelini played safety for the Buckeyes from 1987 to '90 and hails from Youngstown, Ohio. Not surprisingly, the Huskers' boss
downplayed his Ohio State roots
this week, saying he's "at a different time in my life, a different place" and "has a job to do." It's wise for Pelini to keep himself out of the spotlight as much as possible, but he'll likely experience some emotion when Nebraska takes the field at The Shoe. And a victory against his alma mater will mean a little extra.
9. Two Hoosiers take aim:
Indiana coach
Kevin Wilson
doesn't see much separating quarterbacks
Cameron Coffman
and
Nate Sudfeld
, and he'll likely use both against Michigan State. Coffman has started the past two games, while Sudfeld has finished them, providing a spark down the stretch.
Wilson likes the competition
and plays down the other C-word (controversy), but the picture could clear up Saturday as the two quarterbacks face by far the best defense they've seen this season. Whoever better commands the IU offense -- and gets the ball to talented receivers
Kofi Hughes
and
Cody Latimer
-- will take a step closer to locking up the top job.
10. Badgers' 2-minute drill:
Joel Stave
is Wisconsin's starting quarterback, and he looked the part last week against Nebraska in his first career road start. But in crunch time, after Stave got a bit shaken up, the Badgers followed their plan and went with veteran
Danny O'Brien
under center rather than Stave. O'Brien moved Wisconsin to midfield but botched the call on a fourth-and-1 play, leading to a fumble that clinched the victory for the Huskers. It'll be interesting how the Badgers proceed should a two-minute situation come up against Illinois.
Will they turn to O'Brien or give Stave a shot
? Stay tuned.
August, 3, 2012
8/03/12
9:00
AM ET
Our position-by-position preseason rankings roll on as we get to the linebackers. This is one of the strongest overall position groups in the league, full of returning stars and pro prospects.
Here are the top 10 individual linebackers leading into 2012, based heavily on last year's performance with some consideration given to potential.
1. Gerald Hodges, Penn State, senior:
A first-team All-Big Ten performer a year ago, Hodges is a leading contender for Big Ten defensive player of the year honors this season. A big hitter with speed, he had 106 tackles, 4.5 sacks and 10 tackles for loss in a breakthrough junior campaign. New coordinator Ted Roof could set Hodges loose on more blitzes this season.
2. Chris Borland, Wisconsin, junior:
Borland switched to middle linebacker last year, and Bret Bielema said he could be the best middle linebacker he's ever coached. Borland isn't very tall (at a listed 5-foot-11) but makes up for it with all-around athleticism and instincts. He finished with 143 tackles last season.
[+] Enlarge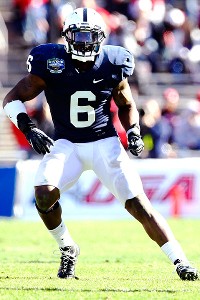 Kevin Jairaj/US PresswireA new coordinator could help Penn State's Gerald Hodges put up even bigger numbers as a senior.
3. Jonathan Brown, Illinois, junior:
Brown made a name for himself last year as sophomore, erupting for 19.5 tackles for loss and six sacks. He gets to quarterbacks in a major hurry, and they are not happy to see him.
4. Max Bullough, Michigan State, junior:
The captain of the Spartans' outstanding defense from his middle linebacker spot, Bullough has a keen understanding of the game that comes from growing up in a football family. He's also an impressive athlete at 6-foot-3 and 252 pounds. His tackle numbers last year (89) weren't huge, but he's got a ton of talent around him.
5. Denicos Allen, Michigan State, junior:
Allen is one of those talented guys around Bullough. The Spartans love to use his speed on linebacker blitzes, and for good reason. He had 11 tackles and 18.5 tackles for loss last season while flying in from the edge.
6. Mike Taylor, Wisconsin, senior:
It shows you how good and deep the Big Ten linebacker corps is that Taylor ranks only sixth after racking up a whopping 150 tackles last year. He's always around the ball and has strong tackling skills. It's hard to find a more reliable combo than him and Borland.
7. James Morris, Iowa, junior:
He led Iowa with 110 tackles a year ago, though there's a strong feeling that he and the Hawkeyes should have made more plays on defense last season. Morris has started since midway through his freshman season and should continue to improve. Iowa will need its linebackers to make plays behind a young defensive line.
8. Michael Mauti, Penn State, senior:
We love Mauti's playmaking ability and sense for the game, and we love the leadership he's shown through the Nittany Lions' crisis. We just hate the fact that he hasn't been able to stay healthy during his career. Here's hoping for some luck in that department in his final go-round, and if so, he has a chance to be among the very best linebackers in the conference.
9. Kenny Demens, Michigan, senior:
Demens was named the Wolverines' top linebacker last season after recording 94 tackles and three sacks. He should be a leader of a veteran group that might provide the strength of Michigan's defense in 2012.
10. Will Compton, Nebraska, senior:
Last week at Big Ten media days, Bo Pelini called Compton the unquestioned leader of the Cornhuskers' defense. He'll also look to become the team's top playmaking linebacker in the absence of Lavonte David. He had 82 tackles a year ago, including excellent performances in key victories over Michigan State and Penn State.
July, 10, 2012
7/10/12
3:25
PM ET
Our week-long series on college football coaches continues with a look at the best jobs in the country.
What makes a job great? Tradition, administrative/fan support, facilities, recruiting location, championship expectations, recent track record, college town and brand name all play key parts. Most Big Ten schools can be viewed as destination jobs for certain coaches, but only a select few are destination jobs for most coaches around the country.

In ranking the Big Ten's coaching jobs, I placed the most emphasis on the following four factors: tradition, facilities, recruiting location and recent track record. As a reminder, this isn't a ranking of Big Ten coaches, but of the jobs they occupy.
Here's the rundown ...
1. Ohio State:
There's a reason Ohio State can go through a year like 2011 and then hire a coach like Urban Meyer. Most programs would have been in big trouble. From winning tradition to tremendous facilities to a location in the Big Ten's most fertile recruiting state, Ohio State has it all. It is one of the sport's best brands.
Strength Vs. Strength For Big Ten Title