May, 10, 2013
May 10
11:52
AM ET
Inspired by
Florida's "#ComePlayWRFortheJoker" campaign
, our recruiting writers looked at other ways schools can sell themselves on the trail. Here's a look at recruiting pitches for the Big Ten:

Illinois Illini
What they're selling:
A chance to rebuild a program from the ground up, beginning with four-star quarterback
Aaron Bailey
, who signed in 2013.
What they're missing:
Just about all of the top prospects from their own state.

Indiana Hoosiers
What they're selling:
Indiana coach Kevin Wilson
embraces the idea of a college spring break
and is ready to head to Cancun with some of his players.
What they're missing:
Wilson looks like he might hold the group up in Mexico, however, as he still needs the assistance of a flotation device. Points that it is in the shape of a turtle, though.

Iowa Hawkeyes
What they're selling:
Iowa boasts one of the few staffs that can say they will be there all four years of a recruit's career and has the history to back it up. Kirk Ferentz is the longest tenured coach in the Big Ten and it's not even close.
What they're missing
: Out-of-state prospects tend to think Iowa is all cornfields, leaving the staff to battle that misconception countless times throughout the recruiting cycle.

Michigan Wolverines
What they're selling:
Michigan coach Brady Hoke looks like an outlaw patrolling the sideline on Saturdays without a headset.
What they're missing:
The player who graces the NCAA Football 2014 cover Denard Robinson. "Shoelace" was one of the Wolverines' best recruiting tools.

Michigan State Spartans
What they're selling:
Michigan State coach Mark Dantonio is the
man behind Little Giants
, one of the greatest trick plays of the last few decades.
What they're missing:
A trip to a Rose Bowl under Dantonio would put Michigan State over the top when it comes to recruiting. There is already a significant difference in the caliber of player the Spartans are now getting compared to just a few seasons ago.

Minnesota Gophers
What they're selling:
The Gophers boast the biggest locker room in college football.
What they're missing:
They have not had a winning season since 2008.

Nebraska Cornhuskers
What they're selling:
Bo Pelini whipped out
"The Bernie" in the Huskers' Harlem Shake video
. Harlem Shake equals instant credibility with recruits.
What they're missing:
A lack of a strong base of in-state talent makes it tough to recruit at Nebraska, and a Harlem Shake video can overcome only so much.

Northwestern Wildcats
What they're selling:
The new facilities are right near Lake Michigan, which, as assistant Bob Heffner is telling recruits, is a great spot for fishing.
What they're missing:
Not too many high schoolers in New Jersey have taken up fishing as a hobby. At least not yet.

Ohio State Buckeyes
What they're selling:
Urban Meyer is bringing SEC speed to the Big Ten.
What they're missing:
Has anyone actually clocked Meyer in the 40-yard dash? How fast is he really?

Penn State Nittany Lions
What they're selling:
Beaver Stadium fits more than 106,000 on Saturdays, making it the second largest stadium in the country. Inside is also one of the country's most passionate fan bases, and ESPN analyst Kirk Herbstreit once listed Penn State's student section as "simply the loudest, most supportive student section in college football."
What they're missing:
A full slate of scholarships and a chance to play for a Big Ten title the next few years.

Purdue Boilermakers
What they're selling:
Few programs have the history Purdue does at quarterback, and former Boilermakers Drew Brees, Kyle Orton and Curtis Painter are all on NFL rosters. The Boilermakers just signed ESPN 300 QB
Danny Etling
, too.
What they're missing:
Brees, Orton and Painter.

Wisconsin Badgers
What they're selling:
The Badgers have been to three straight Rose Bowls.
What they're missing:
The coach who took them there.
December, 12, 2012
12/12/12
9:00
AM ET
Head coaches are like quarterbacks. They get too much credit and too much blame.

Assistant coaches are like nose tackles. They don't get nearly enough credit despite playing vital roles.

Today, we'll change it up and give some recognition to Big Ten assistant coaches who did exemplary jobs with their position groups or, in some cases, units in 2012. Each of these coaches fostered improvement this season. Some took units in bad shape and made them better. Others took units in decent shape and made them very good. Some entered the season with skeptics and quieted them.

We came up with 13 assistants who deserve recognition. Yes, we realize we're leaving out some quality folks, but we had to cap it somewhere and wanted to spread the love around to the different teams.
November, 14, 2012
11/14/12
9:00
AM ET
We take a look inside the Big Ten trends, with no insider trading needed.
October, 30, 2012
10/30/12
9:00
AM ET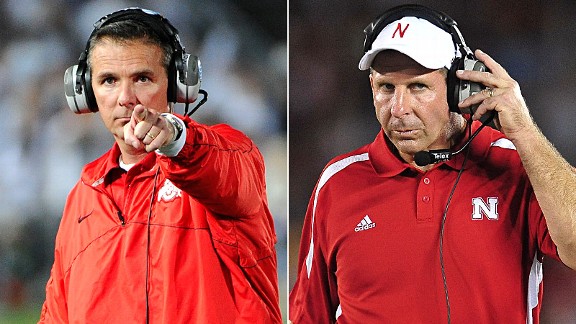 US PresswireWill it be Urban Meyer's squad or Bo Pelini's Huskers to go without a loss in November?
Big Ten bloggers Adam Rittenberg and Brian Bennett will occasionally give their takes on a burning question facing the league. We'll both have strong opinions, but not necessarily the same view. We'll let you decide which blogger is right.
Two teams control the race for division titles: Ohio State, which can win the Leaders crown (and finish 12-0) by winning its final three, and Nebraska, which will go to the Big Ten championship game if it sweeps its four November games. So
today's Take Two topic
is: Which team is more likely to win out?
Take 1: Brian Bennett

Predicting anything in this league is risky business, as my picks record will attest. There's a ton of parity, to put it kindly, and just about anybody (outside of Illinois) can beat anybody. Nebraska ought to be favored in its final four games, and the Huskers match up well with their remaining opponents' styles of play. However, Nebraska has taken too many rollercoaster rides from week to week, and even half to half, to put your complete trust in Bo Pelini's team down the stretch.
On the other hand, I came away from State College convinced that Ohio State will run the table. I really thought the Buckeyes would lose at Penn State, with
Braxton Miller
banged up and a thin linebacking corps going against the red-hot Nittany Lions' offense. That was one of the best and loudest atmospheres I've ever seen. Yet Ohio State won by double digits. Urban Meyer's team has sometimes needed magic to pull out victories, but it just looks like a team of destiny, and it has one of the great closers we've seen in a while in Miller. The Buckeyes should have no trouble at all this week at home against the Illini and then get a much-needed bye week to rest and heal. That should also allow linebacker
Etienne Sabino
to rejoin the lineup, which is huge. The final two games, at Wisconsin and versus Michigan, won't be easy. But the Badgers' now uncertain quarterback situation works heavily in Ohio State's favor, and the Wolverines will need to play a lot better on offense to come into the Horseshoe and win. With 12-0 on the line and no postseason to play for, the Buckeyes will play The Game like it's Armageddon. The way their season is going, I wouldn't bank on anyone beating them.
Take 2: Adam Rittenberg

This is all about matchups, and while I agree Ohio State has a fairly favorable path the rest of the way, the Buckeyes still have to win in Madison, where they've struggled, and beat a Michigan team that moved the ball well against them last year. No one would be shocked if Meyer's squad emerges at 12-0, but it's not a done deal. Nebraska also has some challenges the rest of the way, but when you really look at the matchups, as well as what the Huskers have done lately, you have to like Big Red's chances of finishing the regular season at 10-2. That's why Nebraska is my pick for a perfect November.
The Husker offense has survived most of the season without its best player (running back
Rex Burkhead
) and seen improvement from virtually every position.
Taylor Martinez
had a rough night in Columbus, but the Nebraska quarterback has made considerable improvement this season. The numbers don't lie: Martinez is a better quarterback this season. He also has more weapons around him than any other Big Ten signal caller: from speedy I-back
Ameer Abdullah
to big-play receiver
Kenny Bell
to a host of other pass-catchers. But the biggest reason why I think Nebraska runs the table is a defense that has elevated its play the last two weeks against spread-offense teams, the Huskers' downfall in recent years. Pelini-coached defenses rarely struggle with pro-style offenses, and look what Nebraska has left: Michigan State, Penn State, Minnesota and Iowa. Of those four, only Minnesota features true spread elements offensively. Nebraska is getting much better play from its linebackers than it did earlier this season, and defensive backs like
Ciante Evans
are stepping up, too. I understand Nebraska is a risky pick because of the fumbles and the penalties and the inconsistency the past two seasons, but the Huskers have matured in recent weeks and should be able to get through their remaining scheduled unscathed.
October, 15, 2012
10/15/12
1:00
PM ET
The regular season is halfway over. Where did the time go? It's getting late early in the Big Ten race for some teams, which makes this a big week. Here's a quick preview of the Week 8 storylines:
Michigan State (4-3, 1-2 Big Ten) at No. 23 Michigan (4-2, 2-0), 3:30 p.m., Big Ten Network: Where's the threat? Or maybe we should say, are the Spartans still a legitimate threat to Michigan's Big Ten ambitions? This game has lost a lot of luster thanks to Michigan State's stumbles, but there's still plenty on the line. The Wolverines need to break a four-game losing streak in this rivalry, while MSU would be in danger of a losing season with a defeat here and Wisconsin, Nebraska and Northwestern up next. All eyes will be on Denard Robinson and a Spartans defense that has shut him down the last two years.
Penn State (4-2, 2-0) at Iowa (4-2, 2-0), 8 p.m., BTN: Raise your hand if you had these two teams atop their respective divisions midway through October. They're both doing it with defense, as Penn State is No. 2 and Iowa No. 3 in the Big Ten in points allowed, and some surprising contributors on offense (Mark Weisman for the Hawkeyes, a surging Matt McGloin and Allen Robinson for the Nittany Lions). Expect a slugfest, but hopefully one with more points than last year's 13-3 Penn State win.
Nebraska (4-2, 1-1) at Northwestern (6-1, 2-1), 3:30 p.m., ABC/ESPN2: The Cornhuskers will have had two weeks to try and figure out their defensive problems against spread teams and on the road. They will need to have answers versus a Wildcats team that beat them in Lincoln last season. Kain Colter had a great game at Nebraska last year and is the kind of mobile quarterback that has given Bo Pelini's defense fits. The loser of this one could find themselves two games back in the Legends standings.
Minnesota (4-2, 0-2) at Wisconsin (5-2, 2-1), Noon, ESPNU: It's Axe season. But can the Gophers accrue better dividends in this ancient rivalry? Wisconsin has won eight straight in the series, including the last two by a combined 47 points. The Badgers' offense also looked rejuvenated on Saturday against Purdue, which could mean this is bad timing for Minnesota. Questions about the status of head coach Jerry Kill and quarterback MarQueis Gray could linger this week for the Gophers.
Purdue (3-3, 0-2) at No. 8 Ohio State (7-0, 3-0), Noon, ABC/ESPN2: At what point do we really start to worry about the Buckeyes' defense? Probably not this week against a Purdue team that is a mess on both sides of the ball right now. The Boilermakers did beat Ohio State last year in West Lafayette, but their own defense has major issues after surrendering an average of 41 points and 385 rushing yards in their first two Big Ten contests. And now comes Braxton Miller and Co., who have scored 115 points the past two weeks. The Boilers are staring down the barrel of an 0-3 conference start, while the Buckeyes look to get to 8-0 before a showdown at Penn State.
Indiana (2-4, 0-3) at Navy (3-3), 3:30 p.m., CBS College Sports: The Hoosiers are doing a lot of things well -- especially on offense -- and have been right in every game. Yet all they have to show for it is a four-game losing streak. Maybe stepping out of conference will help, especially against a not-so-classic Midshipmen squad. Defending the option on the road presents its challenges, but Navy was shut out at home by San Jose State a few weeks ago.
Bye: Illinois
October, 7, 2012
10/07/12
2:50
AM ET
COLUMBUS, Ohio -- When Urban Meyer met his new team, he talked about goals without restraint.
It's the kind of confident approach a coach can take when he already owns two national championships. At Ohio State, Meyer told his players, anything was possible.
"He told us when he first got here, 'It will happen. We can score 100 points,'" Buckeyes offensive lineman
Jack Mewhort
said. "He loves it. He's crazy. He would score 100 every game if he could."
Ohio State didn't score 100 on Saturday night. It settled for 63 despite enduring a first quarter Meyer accurately described as a "train wreck" -- zero first downs, 13 plays, 17 total yards.
The Buckeyes' first act was a dud against No. 21 Nebraska. And then they treated a record crowd of 106,102 at Ohio State to a show they won't soon forget. Sparked by do-it-all quarterback
Braxton Miller
and a surging offensive line, Ohio State scored its first offensive touchdown with 10:49 left in the first half and didn't stop for five more possessions.
Six consecutive touchdowns turned into a
63-38 win
, keeping Ohio State perfect under Meyer and leaving no doubt as to who is the Big Ten's top team in 2012. Even with the outcome long sealed, Meyer kept his starters in the game in the end for a final touchdown with 48 seconds left.
"It's cool," Mewhort said. "He's always hungry for more."
The Big Ten will do all it can to market its championship game Dec. 1 in Indianapolis. But it'll be like Bert Parks singing "There she is, Miss America" about the first- and second-runners-up in the pageant. Ohio State is by far the prettiest girl in a league filled with teams that shouldn't see the light of day.
The title game might be the Big Ten's big showcase, but it won't feature the league's main event, which will be watching from home because of NCAA sanctions. Although the division races should provide plenty of entertainment, if you're interested purely in quality and the story lines that go along with it, watch Ohio State chase a perfect season and, who knows, maybe an AP national championship. Watch Miller push for the Heisman Trophy. Watch the Buckeyes offense take aim on Meyer's stated goal of triple digits in points.
"We're just getting better and better," said Buckeyes cornerback
Bradley Roby
, who got the scoring started with 41-yard interception return, the first of his two picks on the night. "We're young, we're talented, and I can't see us losing a game this year. We're taking it one game at a time, but seriously, we're really trying to take it to everybody we play.
"I feel like this is going to be a good year, and next year will be even crazier."
[+] Enlarge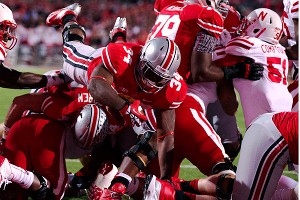 Greg Bartram/US PresswireCarlos Hyde bulls through the Nebraska defense for one of his four touchdowns.
Ah, next year. Ohio State will have no bowl ban, another full offseason under Meyer and more Meyer recruits in key roles. Are the Buckeyes on the national championship radar? Time will tell, but look where they are six games into Meyer's tenure.
Ohio State eviscerated a Nebraska team led by a head coach (Bo Pelini) respected for designing and developing defenses. The Buckeyes racked up 56 points, 481 yards and 19 first downs in the final three quarters Saturday night. They completed just seven passes to only four receivers, led by a sophomore tight end (
Jeff Heuerman
) who made one catch in 2011. They generated 326 rush yards and five touchdowns from two players -- Miller and running back
Carlos Hyde
, filling in for injured starter
Jordan Hall
-- plus a 33-yard scoring run from
Rod Smith
.
Keep in mind, this isn't a Buckeyes team stocked with proven weapons. Ohio State finished 107th nationally in total yards in 2011.
But does anyone want to face Ohio State's offense after what it did to Nebraska?
After some early speed bumps, Ohio State's offense is progressing ahead of schedule.
"You're playing a tight end [
Reid Fragel
] at right tackle," Meyer said, "playing a bunch of guys who haven't played a lot of football, and, being as honest as I can, they weren't very good. They didn't look the way we wanted them to look in January. ... They're the ones that have really developed. I mean, like really developed. Even early in the season, I didn't feel it.
"I'm starting to feel us change the line of scrimmage."
Although the spread offense is often described as a finesse system, Meyer always has talked about being a power team first. The past two weeks, Ohio State has turned the corner.
The big numbers didn't come against Michigan State, but the line's performance set the table for Saturday night's show.
"The O-line," Miller said, "they stepped it up real big."
Miller did his part, too. The sophomore broke his own team single-game quarterback rushing record with 186 yards despite finishing the first quarter with minus-9. He sparked the unit with a 72-yard dash on Ohio State's first play of the second quarter and continued to fill up his Heisman highlight reel.
With four 100-yard rushing performances in the first six games, Miller ranks second in the Big Ten in rush yards (763) and third in rushing average (127.2 ypg).
"We have a quarterback, obviously, that's kind of ridiculous running the ball," Meyer said.
Hyde wasn't too shabby, either, using his frame to bulldoze the Huskers, particularly near the goal line. He recorded Ohio State's first four-touchdown rushing performance since Eddie George had four against Iowa in 1995.
When Meyer arrived, Hyde envisioned big things for the offense.
"When he was at Florida, those guys would put up crazy numbers," Hyde said. "I know if we could get going like how they were getting going down there, we can do the same."
After the game, Meyer was cautious to get carried away, noting, "We're not there. We have a long way to go." But the talk of an undefeated season will escalate, as Ohio State continues its path through a weak league. The Heisman talk around Miller will escalate. The talk of next year and what the Buckeyes can do also will escalate.
The spotlight will shift to Indianapolis on Dec. 1. Until then, it'll be on the Scarlet and Gray.
October, 6, 2012
10/06/12
11:57
PM ET
Think the Big Ten is nothing but defense and plodders? Then you should have seen the track meet that No. 12 Ohio State and No. 21 Nebraska put on in Columbus, Ohio.


The Huskers looked ready to run early while building a 17-7 lead. But they ended up with cleat marks on their backs as the Buckeyes sprinted to a breathtaking
63-38 victory
. NCAA sanctions might be the only way to prevent Ohio State from winning the Big Ten this year. Another superstar performance by
Braxton Miller
and another shaky Nebraska performance on the road -- especially on defense -- made the difference.
Here's how it went down:
It was over when:
Corey "Philly" Brown
returned a Nebraska punt 76 yards for a touchdown with 5:50 left in the third quarter. That put Ohio State up 49-31, and the Huskers never got any closer. Ohio State scored on special teams and on defense, as
Bradley Roby
had a 41-yard pick-six in the first quarter.
Game ball goes to:
Ohio State quarterback Miller. Who else? The clear Big Ten MVP through six weeks, Miller was fantastic once again after a slow first quarter. He set a Buckeyes record for rushing yards by a quarterback with 185 yards on just 16 carries. He also threw for 127 yards and accounted for two touchdowns.
Carlos Hyde
also deserves recognition after rushing for 138 yards and four touchdowns.
Stat of the game:
From early in the second quarter until Brown's punt return, Ohio State scored touchdowns on all six times it gained possession. The Buckeyes outscored Nebraska 42-17 during those two quarters.
Best call:
Facing fourth-and-2 from the Nebraska 31 in the final minute of the first half, Ohio State coach Urban Meyer decided to go for it. And why not, when you have the best player on the field? Miller pulled off a beautiful quarterback counter run and sprinted all the way to the end zone for a 35-24 Buckeyes advantage.
What Nebraska learned:
Some big home wins had Huskers fans hoping their team had turned the corner and were ready to win a conference championship this season. But old problems like playing defense on the road and hanging onto the ball reared their ugly heads yet again. In Nebraska's three biggest conference road games since joining the Big Ten (Michigan and Wisconsin last year, Ohio State on Saturday) it has been gashed for a combined 156 points, an unfathomable number for a program Bo Pelini supposedly has built on defense. And while
Taylor Martinez
made some huge plays for his team, the quarterback threw three interceptions, lost a fumble and reverted to some bad form at times. The Huskers simply can't be taken seriously as a Big Ten power until they plug the leaks on defense, eliminate turnovers and beat a league titan on the road.
What Ohio State learned:
The Urban renewal looks ahead of schedule. Ohio State is clearly the best team in the Big Ten right now, and the scary part is, the Buckeyes are getting better. At 6-0 with a force of nature like Miller, Meyer's club should be ranked in the top 10 this week with a chance to climb higher. The Buckeyes likely will be 8-0 before heading to Penn State on Oct. 27. If their offense is as powerful as it looked against Nebraska, they're a real threat to run the table.
October, 6, 2012
10/06/12
6:00
PM ET
COLUMBUS, Ohio -- Nebraska visits Ohio State searching for its first signature road win as a member of the Big Ten. Ohio State wants to keep its perfect record alive in a year when the regular season is all that matters.


Saturday night's game between the 21st-ranked Huskers (4-1, 1-0 Big Ten) and 12th-ranked Buckeyes (5-0, 1-0) might come as close to a Big Ten showcase opportunity as we'll get in 2012. Both teams come off of hard-fought wins to open league play, as Nebraska rallied to beat Wisconsin in Lincoln, while Ohio State held off Michigan State at Spartan Stadium.
As I noticed on my flight from Chicago late last night -- and into this morning, flight from hell, I tell ya -- there will be a lot of red in the building tonight. Not surprisingly, Nebraska fans have traveled in large numbers, and Ohio State is encouraging its fans to wear scarlet for homecoming. The Shoe will resemble an inferno, one Nebraska quarterback
Taylor Martinez
must handle after struggling in his recent games away from Lincoln. Martinez was masterful last year against Ohio State, leading the largest comeback in Nebraska history, as the Huskers erased a 27-6 deficit and won 34-27. Most of the comeback took place after Ohio State quarterback
Braxton Miller
suffered an ankle injury and didn't return. Miller had some success against the Huskers last year, and he's obviously a lot better in 2012. So is Martinez, who led last week's comeback against the Badgers.
Ohio State will be without top running back
Jordan Hall
(knee), as
Carlos Hyde
will get the start. Safety
C.J. Barnett
(ankle) should return after missing the past two games. Nebraska enters the game healthy for the most part.
Tonight is a significant moment for Bo Pelini and the Huskers program, which hopes to turn a corner in its new league. A win would validate Nebraska as the Big Ten's top team and give the Huskers confidence for tough division road games against Northwestern, Michigan State and Iowa. After embarrassing losses at both Wisconsin and Michigan last year, the Huskers can show they can beat a good team in a very tough setting. It would be extra special for Pelini, who played at Ohio State and grew up in Youngstown, Ohio.
The weather should be nice tonight: temperatures in the high 40s, cloudy but no rain and calm winds.
Should be a great one. Follow us
on Twitter
and check the blog for updates throughout the night.
October, 4, 2012
10/04/12
10:15
AM ET
Ten items to track on the first October Saturday of Big Ten football:
1. Miller Time, T-Magic on display:
Ohio State's
Braxton Miller
and Nebraska's
Taylor Martinez
might not be traditional Big Ten quarterbacks, but they're the faces of the quarterback position in the league these days. Both are dynamic dual threats who have made significant strides from the 2011 season. Miller aims to continue his Heisman Trophy campaign Saturday night against a Nebraska defense that struggled to contain him last year before he left the game with an ankle injury. Martinez led the biggest comeback in Huskers history last year against Ohio State and has accounted for eight touchdowns (6 pass, 2 rush) in his past three games.
2. Boiling point:
Purdue coach Danny Hope says he already knows a lot about his team after three non-league wins and a 3-point road loss at Notre Dame. The rest of us aren't quite as sure about what the Boilers will be this season. The good news: Everyone will find out in the next three weeks, as Purdue opens Big Ten play with its defining stretch of the season. Before hosting Wisconsin and visiting Ohio State, Purdue hosts Michigan on Saturday in its most anticipated game since perhaps Wisconsin in 2004. The Boilers average 51 points per game on their home field, where they open league play against the Wolverines for the first time since 1970.
3. Oktoberfest:
Northwestern coach Pat Fitzgerald made October a major point of emphasis as far back as the summer, mindful of his team's struggles in the season's middle month. The Wildcats have done well in September (20-9) and November (13-8) under Fitzgerald, but they've had their difficulties in October (10-15), including a 1-4 mark in 2011. Northwestern is 5-0 for the third time in five seasons and takes a national ranking to Happy Valley, where it faces a streaking Penn State squad. It's a good chance for Northwestern to change its October fortunes against its most challenging opponent to date.
4. Seeking mojo in Mad City:
Austin Powers
would steer clear of the Illinois-Wisconsin game Saturday. Both teams are looking for their mojo after the first five weeks. Illinois tries to find it in a very tough place (Camp Randall Stadium) after being embarrassed on its home field in back-to-back weeks. Asked this week about boosting team morale, first-year coach Tim Beckman said, "That's what we're dealing with each and every day." Wisconsin appeared to make strides last week against Nebraska before collapsing down the stretch. Coach Bret Bielema is encouraged with his team's progress amid transition, but Wisconsin can't start Big Ten play at 0-2. Wide receiver
Jared Abbrederis
called the Illinois game a must-win for Wisconsin.
5. MSU offense looks for green flag:
After puttering around the track in the first five games, Michigan State's offense heads to the Crossroads of America (Indiana) hoping to finally shift into fifth gear. Coach
Mark Dantonio shuffled the depth chart a bit
this week, as freshman wide receiver
Aaron Burbridge
will start and other young players like freshman receiver
Macgarrett Kings Jr.
should see increased time. Michigan State can't neglect the run game, though, as it boasts a 15-1 record when
Le'Veon Bell
scores at least one rush touchdown. Indiana surrendered 704 yards to Northwestern last week (394 rushing). Saturday is the time for Michigan State to finally put it all together on offense.
[+] Enlarge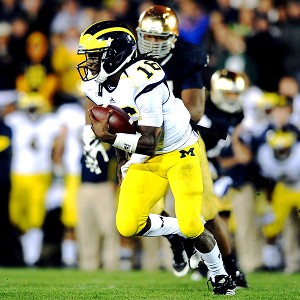 Chris Williams/Icon SMIDenard Robinson and Michigan look to break out of their away-from-home scoring malaise at Purdue.
6. Michigan wants better road show:
The last time we saw Michigan,
Denard Robinson
was turning over the ball and the Wolverines weren't crossing the goal line at Notre Dame. Michigan's 13-6 setback in South Bend continued a troubling trend for the Wolverines offense, which has
averaged just 20.9 points away from Ann Arbor
(as opposed to 40.1 points at home) in the past two seasons. With future road tests against Nebraska and Ohio State, it's important for the Wolverines to get on track Saturday at Purdue. The Boilers defense has been solid most of the season but surrendered 41 points and 534 yards last week against Marshall.
7. Whiteout in Happy Valley:
Sparked by their team's three-game win streak,
Penn State students are planning a whiteout
at Beaver Stadium for Saturday's game against Northwestern. The Lions aim for their first home win against a ranked opponent since the 2008 season, and several players
called the contest a must-win
. Senior quarterback
Matt McGloin
has owned Northwestern in his career (417 pass yards, 6 TDs, 0 INTs in two games), and McGloin is a much better quarterback in Bill O'Brien's offense. After an ominous start, Penn State can enter an off week with a ton of momentum with a victory.
8. Bo heads home:
While his team
aims for a signature road win in the Big Ten
, Nebraska coach Bo Pelini makes a homecoming of sorts Saturday at Ohio Stadium. Pelini played safety for the Buckeyes from 1987 to '90 and hails from Youngstown, Ohio. Not surprisingly, the Huskers' boss
downplayed his Ohio State roots
this week, saying he's "at a different time in my life, a different place" and "has a job to do." It's wise for Pelini to keep himself out of the spotlight as much as possible, but he'll likely experience some emotion when Nebraska takes the field at The Shoe. And a victory against his alma mater will mean a little extra.
9. Two Hoosiers take aim:
Indiana coach
Kevin Wilson
doesn't see much separating quarterbacks
Cameron Coffman
and
Nate Sudfeld
, and he'll likely use both against Michigan State. Coffman has started the past two games, while Sudfeld has finished them, providing a spark down the stretch.
Wilson likes the competition
and plays down the other C-word (controversy), but the picture could clear up Saturday as the two quarterbacks face by far the best defense they've seen this season. Whoever better commands the IU offense -- and gets the ball to talented receivers
Kofi Hughes
and
Cody Latimer
-- will take a step closer to locking up the top job.
10. Badgers' 2-minute drill:
Joel Stave
is Wisconsin's starting quarterback, and he looked the part last week against Nebraska in his first career road start. But in crunch time, after Stave got a bit shaken up, the Badgers followed their plan and went with veteran
Danny O'Brien
under center rather than Stave. O'Brien moved Wisconsin to midfield but botched the call on a fourth-and-1 play, leading to a fumble that clinched the victory for the Huskers. It'll be interesting how the Badgers proceed should a two-minute situation come up against Illinois.
Will they turn to O'Brien or give Stave a shot
? Stay tuned.
October, 4, 2012
10/04/12
9:00
AM ET
COLUMBUS, Ohio -- A look at the hot topics and pressing concerns as Ohio State prepares to welcome Nebraska for another top-25 clash in the Big Ten at Ohio Stadium on Saturday (TV: ABC, 8 p.m.).
B1G battle:
The Buckeyes made their case as the class of the conference by going on the road and beating their closest challenger in the polls. But that win will have a short shelf life if they don't back it up against the Huskers, who simply stepped up to replace Michigan State as the next team in line in the rankings after coming from behind to hold off Wisconsin last week. Ohio State obviously can't appear in the conference title game, but if it can get through its two-week stretch to open league play by knocking off consecutive contenders for that crown, it will have firmly established itself at the top of the food chain.


Familiar foe:
Bo Pelini might not be in the mood for nostalgia, but there is no shortage of history for the Nebraska coach both with the opponent and the coach on the other sideline. Pelini is an Ohio State alum, for one, and his time on campus briefly overlapped with Urban Meyer when the latter was working as a graduate assistant for Earle Bruce -- the coach who recruited the former to play for the program. Meyer has also matched wits with the fellow Ohio native, having schemed against Pelini's defense at LSU when both were coaching in the SEC.
To continue reading this article you must be an Insider
September, 17, 2012
9/17/12
1:00
PM ET
There are only 14 weeks in the college football regular season. This is one of them.
That's about the nicest thing I can say about this week's slate of Big Ten games, which makes me yawn every time I scroll through it. But that's not to say there aren't any interesting contests on tap. Here's a quick preview of what's coming on Saturday in order of most to least interest (all times ET):
No. 18 Michigan (2-1) at No. 11 Notre Dame (3-0)
, 7:30 p.m., NBC: No doubt this is the headliner of the week, a game that has taken on even more prestige given the strong start this season by the Irish. Can the Wolverines do what Purdue and Michigan State couldn't and topple the Golden Domers? They do have
Denard Robinson
, who has caused more nightmares in South Bend than the bogeyman. With the game under the lights at Notre Dame Stadium, this should be a whole heap of fun.
Syracuse (1-2) at Minnesota (3-0)
, 8 p.m., Big Ten Network: A game that didn't seem all that interesting in the preseason now looks like maybe the second-best option for Week 4. The Gophers look to get to 4-0 but will have to do so without the injured
MarQueis Gray
. The Orange are 1-2 but played Northwestern close and hung with USC, and they rank third in the nation in passing yards behind
Ryan Nassib
. This will be a real test for Minnesota.
Temple (1-1) at Penn State (1-2)
, 3:30 p.m., ABC: The Nittany Lions finally got a win last week against Navy and need that mojo this week to avoid losing to Temple for the first time since 1941. The Owls didn't inspire a lot of confidence in losing to Maryland last week, but they nearly pulled off the upset of Penn State last year in Philly.
Louisiana Tech (2-0) at Illinois (2-1)
, 8 p.m., BTN: It says something when this is the fourth best game of the week, but I actually think this could be a good one. The Bulldogs are better than you think, having won eight games last year and playing TCU close in their bowl. Their opener against Texas A&M got postponed by weather, but they've averaged 56 points and nearly 290 rushing yards in wins over Rice and Houston. If the Illini are still banged up and not at their best, they could lose here.
UTEP (1-2) at Wisconsin (2-1)
, Noon, ESPN2: Fun fact: UTEP is ranked 106th in scoring offense. Wisconsin is ranked 113th. OK, that's not much fun if you're a Badgers fan. But the point is, Wisconsin has played so poorly that no game is safe at this point. The Miners gave Oklahoma a minor scare in Week 1.
South Dakota (1-1) at Northwestern (3-0)
, 3:30 p.m., BTN: After playing three straight BCS AQ teams, the Wildcats get a bit of a break here and should improve to 4-0. South Dakota did win at Minnesota two years ago, but the Coyotes lost to Maine in their season opener.
Central Michigan (1-1) at Iowa (2-1)
, Noon, BTN: Yes, we've reached the real snoozer portion of the schedule. The Chippewas got drilled at home by Michigan State two weeks ago. Iowa found a little bit of an offensive rhythm against Northern Iowa and should not have much trouble if it can keep that up.
UAB (0-2) at No. 16 Ohio State (3-0)
, Noon, BTN: This is little more than a tune-up for the Buckeyes before their showdown at Michigan State on Sept. 29. The Blazers have been outscored 88-35 in their first two games, losses to Troy and South Carolina. Have fun,
Braxton Miller
.
Eastern Michigan (0-3) at No. 21 Michigan State (2-1)
, 3:30 p.m., BTN: The Spartans will also just be tuning up before that Ohio State game, not to mention relieving some frustration from the Notre Dame loss. Eastern Michigan was last seen losing 54-16 to Purdue and ranks nationally in rush defense. Good luck stopping
Le'Veon Bell
this week, fellas.
Idaho State at No. 25 Nebraska (2-1)
, 3:30 p.m., BTN: Just about the only storylines for this one are Bo Pelini's health and
Rex Burkhead
's availability. The FCS Vandals lost to Air Force in the opener but then rebounded to beat Black Hills State, which is apparently a real team. Conference season can't get here soon enough.
Byes: Indiana, Purdue
August, 27, 2012
8/27/12
11:00
AM ET
»
Power Rankings
:
ACC
|
Big 12
|
Big East
|
Big Ten
|
Pac-10
|
SEC
|
Non-AQ
Game week is here, and not a moment too soon.

Preseason camps have wrapped up around the Big Ten, and teams are now locking in for their openers this coming weekend. The power rankings will appear each Monday throughout the season, and we're getting things kicked off today.
There aren't many changes from our last version, although some offseason news has affected the rundown. The top five teams certainly have separated themselves in our eyes, while there's not much separating the next five on the list.
Here we go ...
1. Michigan State:
We understand why Michigan is the highest-rated Big Ten team in the polls, but Michigan State gets the top spot in our power rankings because of its defense. A top-10 unit in 2011 could easily become a top-five unit this season, as the Spartans are strong at just about every position. While the concerns at quarterback and receiver are warranted, the offense will be effective enough with the run as
Le'Veon Bell
and a more seasoned line return.
2. Michigan:
The Wolverines endured some injuries and off-field issues this summer and in camp, but they still enter the season with justifiably high hopes. Senior quarterback
Denard Robinson
has matured during his career and could make a serious push for national awards this fall. Michigan must shore up its lines and hope some young players grow up in a hurry. A relentless schedule is the biggest challenge for Brady Hoke's squad.
3. Wisconsin:
The offense might not be as electric as it was the past two seasons and the defense has some question marks (secondary, pass rush), but Wisconsin knows how to win and boasts enough to claim another Big Ten title.
Montee Ball
is extremely motivated after a rough summer, and while
Danny O'Brien
isn't Russell Wilson, he gives the offense some stability. A favorable schedule with both Michigan State and Ohio State at home helps the Badgers.
4. Ohio State:
It's a close call for the No. 4 spot, but the Buckeyes get the edge based on a defense with the potential to be one of the nation's best.
John Simon
anchors arguably the league's top defensive line, and almost everyone returns in the secondary. While there will be growing pains on offense, the unit can't possibly be worse than last year's, and
Braxton Miller
has a chance to make significant strides this season.
5. Nebraska:
Fifteen starters return to a Huskers team that should be much more comfortable with the Big Ten in Year 2. But questions remain surrounding quarterback
Taylor Martinez
, replacing star power on defense and getting over the hump on the road. A signature road victory would go a long way for Bo Pelini's program, which returns 15 starters and has a great chance to climb this list and challenge for the Legends division.
6. Purdue:
Danny Hope repeatedly called this his best Boilers team during the offseason, and we can see why. Purdue boasts a formidable defensive front and two bona-fide stars on defense in tackle
Kawann Short
and cornerback
Ricardo Allen
. The Boilers also return most of their key weapons on offense. What we still need to see is a team that can avoid the major mistakes and mental lapses that have plagued Purdue throughout Hope's tenure. A challenging start to Big Ten play will tell a lot about the Boilers.
7. Penn State:
The Lions will ride emotion and a stout defensive front seven this fall, and they could go further than most think after a brutal offseason. Still, it's hard to figure out how Penn State will score points, and the turmoil is bound to catch up with Bill O'Brien's crew at some point. If O'Brien bolsters an offense featuring mostly unproven personnel, Penn State could make a strong push. The schedule is favorable as the Lions get both Ohio State and Wisconsin at Beaver Stadium.
8. Iowa:
Youth will be served this fall in Iowa City as the Hawkeyes turn to unproven players at several spots, namely defensive line and running back. The good news is that Iowa boasts a veteran in senior quarterback
James Vandenberg
, who could thrive under new coordinator Greg Davis. Iowa must ride Vandenberg's right arm and a talented back seven on defense headlined by cornerback
Micah Hyde
and linebacker
James Morris
. Iowa also should benefit from its schedule.
9. Illinois:
The Illini and Penn State are nearly mirror images, as both teams have first-year coaches, talented defensive front sevens and question marks on offense. Defense could carry Illinois a long way this fall, as end
Michael Buchanan
and linebacker
Jonathan Brown
anchor the unit. A new offensive scheme could spark third-year starting quarterback
Nathan Scheelhaase
, although he'll need unproven weapons to emerge. Illinois could be a sleeper team this fall, although its Big Ten road schedule is flat-out brutal (Wisconsin, Michigan, Ohio State, Northwestern).
10. Northwestern:
After a drop in wins the past three seasons, can Northwestern get things turned around? The Wildcats once again should be strong on offense as
Kain Colter
takes over at quarterback, although there are some questions up front. The defense can't be much worse than it was in 2011, and while there will be more youth throughout the unit, there also should be more talent. Northwestern must capitalize on the first chunk of the schedule, which features several toss-up games but isn't overly taxing.
11. Minnesota:
The Gophers will be an improved team in Year 2 under Jerry Kill. The problem is they play in a loaded division and face a tricky schedule with no gimme games. Quarterback
MarQueis Gray
has a chance to do big things as a senior, although his supporting cast remains a mystery.
Troy Stoudermire
's return should spark the defense, which played better down the stretch in 2011. Like Northwestern, Minnesota needs to get off to a good start and build confidence.
12. Indiana:
The Hoosiers won't go 1-11 again, and they could be dangerous on the offensive side as sophomore quarterback
Tre Roberson
matures and the passing game becomes a bigger part of the plan. Question marks remain throughout the defense, and Indiana hopes an influx of junior-college players helps the situation immediately. Indiana will be older and better than it was in 2011, and the Hoosiers should be more competitive in Big Ten games. But until they prove otherwise, they're at the bottom.
August, 3, 2012
8/03/12
9:00
AM ET
Our position-by-position preseason rankings roll on as we get to the linebackers. This is one of the strongest overall position groups in the league, full of returning stars and pro prospects.
Here are the top 10 individual linebackers leading into 2012, based heavily on last year's performance with some consideration given to potential.
1. Gerald Hodges, Penn State, senior:
A first-team All-Big Ten performer a year ago, Hodges is a leading contender for Big Ten defensive player of the year honors this season. A big hitter with speed, he had 106 tackles, 4.5 sacks and 10 tackles for loss in a breakthrough junior campaign. New coordinator Ted Roof could set Hodges loose on more blitzes this season.
2. Chris Borland, Wisconsin, junior:
Borland switched to middle linebacker last year, and Bret Bielema said he could be the best middle linebacker he's ever coached. Borland isn't very tall (at a listed 5-foot-11) but makes up for it with all-around athleticism and instincts. He finished with 143 tackles last season.
[+] Enlarge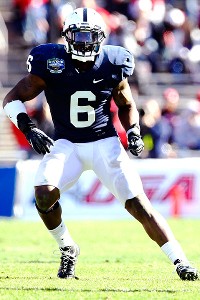 Kevin Jairaj/US PresswireA new coordinator could help Penn State's Gerald Hodges put up even bigger numbers as a senior.
3. Jonathan Brown, Illinois, junior:
Brown made a name for himself last year as sophomore, erupting for 19.5 tackles for loss and six sacks. He gets to quarterbacks in a major hurry, and they are not happy to see him.
4. Max Bullough, Michigan State, junior:
The captain of the Spartans' outstanding defense from his middle linebacker spot, Bullough has a keen understanding of the game that comes from growing up in a football family. He's also an impressive athlete at 6-foot-3 and 252 pounds. His tackle numbers last year (89) weren't huge, but he's got a ton of talent around him.
5. Denicos Allen, Michigan State, junior:
Allen is one of those talented guys around Bullough. The Spartans love to use his speed on linebacker blitzes, and for good reason. He had 11 tackles and 18.5 tackles for loss last season while flying in from the edge.
6. Mike Taylor, Wisconsin, senior:
It shows you how good and deep the Big Ten linebacker corps is that Taylor ranks only sixth after racking up a whopping 150 tackles last year. He's always around the ball and has strong tackling skills. It's hard to find a more reliable combo than him and Borland.
7. James Morris, Iowa, junior:
He led Iowa with 110 tackles a year ago, though there's a strong feeling that he and the Hawkeyes should have made more plays on defense last season. Morris has started since midway through his freshman season and should continue to improve. Iowa will need its linebackers to make plays behind a young defensive line.
8. Michael Mauti, Penn State, senior:
We love Mauti's playmaking ability and sense for the game, and we love the leadership he's shown through the Nittany Lions' crisis. We just hate the fact that he hasn't been able to stay healthy during his career. Here's hoping for some luck in that department in his final go-round, and if so, he has a chance to be among the very best linebackers in the conference.
9. Kenny Demens, Michigan, senior:
Demens was named the Wolverines' top linebacker last season after recording 94 tackles and three sacks. He should be a leader of a veteran group that might provide the strength of Michigan's defense in 2012.
10. Will Compton, Nebraska, senior:
Last week at Big Ten media days, Bo Pelini called Compton the unquestioned leader of the Cornhuskers' defense. He'll also look to become the team's top playmaking linebacker in the absence of Lavonte David. He had 82 tackles a year ago, including excellent performances in key victories over Michigan State and Penn State.