Ohio State Buckeyes:

Alex Smith
November, 27, 2013
11/27/13
8:00
AM ET
COLUMBUS, Ohio -- The improvements were already obvious, but Urban Meyer had stopped just short of giving the highest praise he could to his quarterback.
Braxton Miller
had spent hours in the offseason working on his footwork. Based on the dramatic increase in his completion percentage, that time has clearly paid off for the Ohio State junior. An extra year with the playbook has provided much more familiarity with the scheme and where to deliver the football, and missteps have been fewer and further between with his reads in the passing game. And while he might never be the most vocal leader, there's been little to question about his impact in the huddle and on the field for the highest-scoring offense in the Big Ten and a team that hasn't lost a game in two years.
[+] Enlarge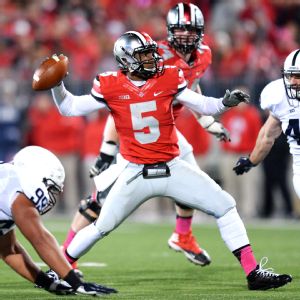 Jamie Sabau/Getty ImagesBraxton Miller's development and improved mechanics as a passer have grown this season.
But for all the statistical proof that was mounting to validate that Ohio State's plan for building Miller into a truly successful quarterback had worked, Meyer was still waiting for something more to make it official. He saw what he was waiting for last week as the Buckeyes cruised against Indiana, finally allowing Meyer to pay the ultimate compliment to the most important player on the field.
"I don't know that he played one of his best games, but he made a throw on third-and-17 -- it was his best play at quarterback since we've been here," Meyer said. "That is his best, and he knows it, I know it, [offensive coordinator] Tom Herman knows it. So his best play as a quarterback, I'm not saying the athlete that jumps around and lands on his head, those are just gifted, very gifted young men. But his best play at college football quarterback was third-and-17 on the right hash in snowy conditions where he completed a bender to
Jeff Heuerman
with pressure bearing down on him.
"He didn't panic out of the pocket. He stepped up, delivered the ball, and that's worth going back to watch. It was a fantastic play."
Miller has no shortage of those on his personal highlight reel, including some truly jaw-dropping passes into tight windows, clutch throws with the game on the line and certainly plenty of attempts that have turned into touchdowns.
And while Meyer has certainly pointed out some of those previous plays as part of the steps forward Miller has taken in his third season as a starter, many of them have come in much more ideal situations.
He still needs proper footwork and arm angles when the blocking is perfect, and he still must break down the defense and know the playbook to make the right decision with the football even when he has plenty of time to do it. But making the leap to meet Meyer's standard at the position requires using those fundamentals and that knowledge to deliver under pressure when not everything is set up perfectly for him.
And he's seen Miller do exactly that now, which puts him in an exclusive club.
"Josh Harris is a great quarterback we had at Bowling Green, we had the moment where he became a quarterback," Meyer said. "Alex Smith had a couple moments where it was like, 'We've got one.' Then same with Chris Leak and Tim Tebow and this guy. He's had a couple moments, but this is the best play I think he's had as a quarterback.
"That was his moment."
Miller had been building to it for a while now. All he needed was one more play to finally reach Meyer's loftiest standard.
May, 3, 2013
5/03/13
10:00
AM ET
It's time to dip into the BuckeyeNation recruiting mailbag and answer some of your questions.
We'll try to give everyone a chance to get their questions answered.
We encourage you to send your questions by Twitter at @bbournival, by e-mail at brad.bournival.espn@gmail.com or by posting a question in the Horseshoe Pit forum.
@JKing4483: Demarre Kitt, Raekwon McMillan, Da'Shawn Hand, Jabrill Peppers. How are the Ohio State Buckeyes looking there?
October, 22, 2012
10/22/12
2:21
PM ET
Ohio State coach Urban Meyer made it clear Monday: he's not going to change
Braxton Miller
.
"You let him be him," Meyer said.
It could result in more moments like the one late in the third quarter Saturday against Purdue, when Miller writhed in pain on the turf after being slammed on his neck. While no one hopes it results in another trip to the hospital, the quarterback's style of play as a runner keeps the ambulance team on alert.
Miller has taken fans' breath away with his dynamic running skills in Meyer's spread offense this season. He also has had Buckeye Nation holding its breath a few times.
It's hard to have one without the other, especially as Ohio State tries to develop more reliable offensive weapons around its best player. Meyer noted Monday that if other offensive players step up, Miller will have to do less, thereby reducing his injury risk. Interestingly enough, Ohio State got several out-of-nowhere contributions -- notably from wide receiver
Chris Fields
-- after Miller left Ohio Stadium in an ambulance.
[+] Enlarge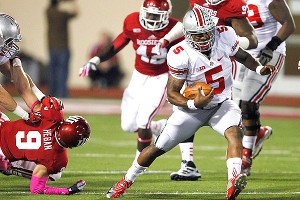 AP Photo/Sam RicheWhile Ohio State coach Urban Meyer is concerned with Braxton Miller taking heavy hits, he said he won't change the QB's aggressive running style.
Fortunately,
Miller is OK
. Meyer said the sophomore quarterback has a "very, very sore neck," and had a whiplash-like feeling at the time. But after all the tests came back negative, Miller will return to the practice field Tuesday. He's expected to start Saturday night against Penn State.
"We are trying to balance it," Meyer said. "We don't go crazy with him running the ball. At some point, though, you have to try to move the ball a little bit. We're very cognizant of that."
Meyer is still "very concerned" about Miller taking big shots, as the quarterback has in games against Michigan State, Nebraska and Purdue to name a few. Asked if the trend is symptomatic for quarterbacks in his offense, Meyer noted that former Florida star Tim Tebow took some shots, while Chris Leak, Alex Smith and Josh Harris did a better job of staying out of harm's way.
"He doesn't go down very easily, and he's a competitive guy," Meyer said of Miller. "The good thing is, he usually bounces right back up. This one was a tough one. … He just is a dynamic athlete. He's more difficult to bring down."
The Ohio State coaches can tell Miller to keep his well-being in mind -- to run out of bounds after getting a first down, maybe even to slide once in a while. They can limit him to 12-15 carries rather than 18-20. But it's not in Miller's nature to go down easily. Miller's natural ability to break tackles and find running room when none seems to be available also leads to fewer safe plays.
Asked if Miller's injury issues will have any impact on his play calling against Penn State, offensive coordinator Tom Herman said, "None. We've got to win the game. ... That won't factor into any of our decisions."
This is Ohio State's reality in 2012 as it tries to build scoring threats around Miller. For long stretches, he has been the Buckeyes' offense.
If that's the case going forward, there will be more breathtaking runs -- and more breath-holding hits. Bring your oxygen.
October, 9, 2012
10/09/12
3:13
PM ET
COLUMBUS, Ohio -- Quick hitters from Ohio State coach Urban Meyer's weekly appearance on the Big Ten teleconference on Tuesday.
[+] Enlarge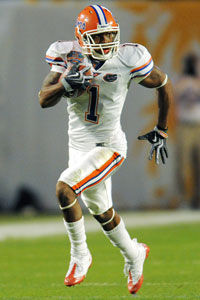 James Lang/US PresswireUrban Meyer said that Braxton Miller's running ability reminds him of Percy Harvin's.
On the run:
The comparisons have already been made to previous quarterbacks in his system.
Now Urban Meyer is expanding the pool of athletes to other positions when he breaks down
Braxton Miller
.
Even before the season the Ohio State coach wouldn't hesitate to give Miller some physical edges against a couple of his old signal-callers such as Utah's Alex Smith or Florida's Tim Tebow. But after his dynamic start as a rushing threat through six games, Meyer is now putting him in the same company as former star Percy Harvin, a game-changing, multipurpose weapon the Gators used all over the field.
"I think [Miller] is one of the top-five runners in America, maybe even higher," Meyer said. "I haven't studied the country, but Percy Harvin and Braxton Miller are the two best runners I've ever had.
"So, when it's time to go make a play and win the game, I think it's rather obvious that you give the ball to Percy Harvin or Braxton Miller."
Miller ran it 16 times in last week's win over Nebraska, producing a career-high 186 yards and a touchdown as he moved up to No. 11 in the nation in rushing at the midway point of the season.
The Buckeyes would like to complement that ability to rack up yards carrying the ball with a few more through the air, particularly after he completed just 7 of his 14 attempts against the Huskers. Both of those numbers were the lowest he's posted all season as a passer, though the easy success Ohio State was having running the ball certainly skewed the data -- and Meyer hasn't lost any confidence in Miller as a thrower either.
Did Ohio State Cheap Out On Championship Rings?
BIG TEN SCOREBOARD
Thursday, 9/3
Friday, 9/4
Saturday, 9/5
Sunday, 9/6
Monday, 9/7