Ohio State Buckeyes:

Zach Maynard
September, 15, 2012
9/15/12
4:32
PM ET
The Horseshoe is a difficult venue for any team to play in, even a team that didn't have a true home game last season, like Cal. And the Golden Bears learned that lesson as well as anyone as they dropped a close game to Ohio State
35-28
in Columbus.


The win moved No. 12 Ohio State to 3-0, with all three wins having come at home. And with one more nonconference game (also at home) before the Buckeyes start Big Ten play, they are setting themselves up to have quite the home win streak going.
It was over when
: Cal quarterback
Zach Maynard
threw an interception with a minute remaining in the game. The senior threw his only interception of the game on a first-and-10 even though his target downfield was faced with triple coverage. With the overthrow, Ohio State returned the ball, then took a knee for the win on its ensuing possession.
Game ball goes to
:
Christian Bryant
. The junior defensive back returned Maynard's interception for 38 yards and extinguished any kind of comeback Cal was plotting.
Stat of the game
: Ohio State recorded six sacks by six different players.
The defense wasn't suffocating by any means. It allowed 520 yards of Cal offense and was a big part of Ohio State's 11 penalties. But Buckeyes kept Maynard aware and rushed the QB well. Because of the blitzes and sacks, Maynard finished the day with minus-46 rushing yards.
What we learned about Ohio State
: The Buckeyes can beat good teams even when quarterback
Braxton Miller
is hot and cold.
We seemed to see the best and worst out of the sophomore signal-caller against Cal. On one possession in the fourth quarter, he led Ohio State down the field, rushing for 17 yards and completing four of his five passes for 43 yards. The drive ended in a touchdown, and Miller accounted for the two-point conversion. On the ensuing possession, he threw an interception. He finished the day with a completion rate a little better than 50 percent, but the Buckeyes got the win and they'll move on to the next one.
What we learned about Cal
: The Bears can stay with top teams in the country when they have a balanced attack on offense. Against the Buckeyes, they put 224 yards on the ground and 288 in the air. Because of that, Ohio State had to play them honestly, and Cal kept it close until the end (though, normally, playing catch up). In an earlier loss to Nevada, Cal rushed for a little more than 100 yards and relied too much on the air attack. The Bears are best when they're multidimensional. That's the team we saw against Ohio State.
September, 12, 2012
9/12/12
1:15
PM ET
If you go by what should happen, California is shortly going to be 1-3. The Bears are a substantial underdog at No. 12 Ohio State on Saturday, and they will be a substantial underdog at No. 2 USC on Sept. 22.
A month ago, what was supposed to happen was a 2-2 start. The Bears were expected to open renovated Memorial Stadium with wins against Nevada and Southern Utah before taking on the role of underdog. The dispiriting loss to Nevada in the opener means they are below expectations.
That's never good, but it's particularly worrisome for coach Jeff Tedford, who is trying to regain the faith of a disaffected fan base that surely is aware of the uptick that occurred across the conference last weekend. Three teams, Arizona, UCLA and Oregon State, beat ranked teams and are, at present, exceeding expectations. The same also could be said of Arizona State. Teams that are ahead of expectations make the Bears' present standing more notable. And not in a positive way.
[+] Enlarge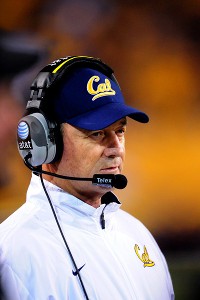 Mark J. Rebilas/US PresswireCal and head coach Jeff Tedford face daunting challenges in the next two games.
Yet momentum swings wildly in college football. Teams that are up topple over. Teams that are down seemingly rally from nowhere. While it doesn't seem as though standing opposite the Buckeyes and uber-coach Urban Meyer in front of 100,000 fans in the Horseshoe is a likely place to turn a frown upside down, you never know.
Tedford, for one, isn't embracing the idea of being the scrappy underdog.
"We're not going to play to that," he said. "We're going there to win a football game. ... We understand the level of competition, but that's not something we're backing down from."
The Bears' history under Tedford crossing time zones in road nonconference games isn't good. In 2006, Cal, ranked ninth in the preseason, was humiliated 35-18 at Tennessee (it was 35-0 late in the third quarter). In 2008, No. 23 Cal fell behind early to a middling Maryland team and lost 35-27.
The problem in both cases was horrid starts, sometimes attributed -- lamely -- to playing in Eastern Standard Time. The good news this go-around, Tedford pointed out, is the Bears have been practicing at 8 a.m. in Berkeley. So what amounts to a 9 a.m. PT kickoff in Columbus shouldn't feel so odd. The Bears' bodies will be used to morning football. Further, Cal will arrive on Thursday, thereby giving itself an extra day to get acclimated to the time change.
Of course, the Bears have started terribly in PT the past two games. They were outscored by Nevada and Southern Utah 17-0 combined in the first quarter. Falling behind in the Horseshoe with a young team is not advisable.
Ohio State stacks up in a predictable way. It runs the ball well (275 yards rushing per game) and stops the run well (51 yards per game). It's banged up at running back, but quarterback
Braxton Miller
is the Buckeyes' most dangerous running threat, both on designed option plays and as a scrambler.
Still, Cal's athletic front seven should like its chances. Last year, the Buckeyes' offensive line was woeful. It gave up 3.54 sacks per game -- 118th in the nation -- despite Miller's mobility and despite throwing just 245 passes. And that line welcomed back just two starters this season.
So, yeah, the idea is to force Miller to throw and get after him. He's completed just 51 percent of his passes last season. He's presently fourth in the nation in rushing with 151 yards per game, and 44th in passing efficiency. His legs are far more dangerous than his arm, though he seems much improved as a passer.
Easier said than done. The Bears' struggles against Nevada's pistol offense bode well for Miller and the Buckeyes' spread-option looks.
On the other side of the ball, Cal quarterback
Zach Maynard
also will need to throw -- a lot and well -- for the Bears to have a chance. They will again be without their best offensive lineman, tackle
Matt Summers-Gavin
, and the Buckeyes boast a stout front seven. Don't count on the Bears hitting the century mark running the ball.
Maynard will need his half-brother, receiver
Keenan Allen
, to make an All-American statement. And he will need his true freshman receiver combo of
Chris Harper
and
Bryce Treggs
to grow up quickly and not be wide-eyed by the atmosophere.
"I think our guys are ready for that test," Tedford said.
The Pac-12 went 3-0 last weekend at home versus the Big Ten, defying expectations. It resonated nationally in terms of perception. Cal now represents the conference as a road underdog. A victory would mean a lot for the conference, but it would mean a great deal more for Tedford.
It could right a listing ship and restore faith. It could transform a season.
Did Ohio State Cheap Out On Championship Rings?
BIG TEN SCOREBOARD
Thursday, 9/3
Friday, 9/4
Saturday, 9/5
Sunday, 9/6
Monday, 9/7