Ohio State Buckeyes:

William Gholston
February, 3, 2014
2/03/14
2:30
PM ET
National signing day is less than 48 hours away, and Big Ten fan bases are preparing to officially welcome the 2014 class. My interest in recruiting has increased during the years, but I likely will never reach the mania of many fans.
[+] Enlarge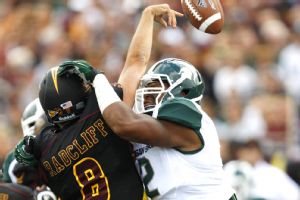 Zuma Press/Icon SMIWilliam Gholston played three seasons for Michigan State, recording 142 tackles and 10 sacks.
The reason: There have been so many examples of supposed top recruits who go bust, and under-the-radar guys who become stars, especially in a largely developmental league like the Big Ten. Recruiting evaluation is an inexact science.
As we prepare for the faxes to roll in, especially from the Big Ten prospects in the
ESPN 300
, it's always interesting to take a look back at how the top Big Ten recruits from four years ago performed. There wasn't an ESPN 300 back in 2010, just an
ESPN 150
, which included 15 Big Ten players. Some became stars, some never got started and others haven't closed the book on their college careers.
Let's take a closer look (positions listed according to ESPN recruiting profiles):
Top 50
No. 12: Demar Dorsey, S, Michigan -- Although Dorsey signed with Michigan, he was denied admission to the school. He had a checkered past but reportedly was given no specific reason for the denial. Dorsey appeared headed to Louisville but never made it and played for Grand Rapids Community College in 2011. He planned to transfer to Hawaii in 2012 but never played for the Warriors.
No. 42: William Gholston, DE, Michigan State -- Gholston played three seasons for the Spartans, recording 142 tackles, including 30 for loss and 10 sacks. He started 24 games and stood out in bowl wins against Georgia and TCU. After a big performance in the 2012 Outback Bowl, Gholston appeared on several preseason watch lists but underachieved at times during the 2012 campaign. He skipped his final season and was a fourth-round pick in the 2013 NFL draft.
Nos. 51-100
[+] Enlarge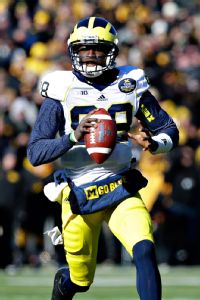 AP Photo/Charlie NeibergallThe reviews have been mixed for Devin Gardner, who passed for 2,960 yards and 21 touchdowns in 2013.
Nos. 101-150
More misses than hits in the group, although several players still could finish their college careers as stars.
November, 15, 2013
11/15/13
4:00
PM ET
Hanging out in SEC country this weekend, but the Big Ten is always on the brain.
Let's check the inbox ...

Greyson from Lansing, Mich., writes:
Hey Adam, I believe those fans who are calling for Brady Hoke's head need to simmer down a little bit. If they look back, Lloyd Carr lost four games in each of his first two seasons, and that was without having to go through a complete overhaul of the offensive system. The Sugar Bowl gave a false sense of accomplishment, but Michigan has an excellent defensive coordinator, and five players on USA Today's All-USA High School Football Team. It is ugly growing pains with the offensive line this year, but with all the youth there, as well as who is coming in, I think if Michigan fans can sit on their hands for another year or two, they will be extremely happy they did.
Adam Rittenberg:
Some really good points here, Greyson, especially about the Sugar Bowl inflating the expectations for Hoke. The hard thing to reconcile is the exceptional recruiting and the mediocre results, although many of those players need more time to develop. The other difficult thing for Michigan fans is seeing a team that doesn't reflect the values Hoke preaches about, especially toughness along the line of scrimmage. Michigan should always be able to run the ball, but Hoke's teams have had a hard time doing so the past two seasons, and especially in recent weeks. It will be interesting to see how the season ends, but I don't think a coaching change makes much sense now.
---
Lance from Greensboro, N.C., writes:
Adam, as a B1G fan I'm actually pulling for 'Bama and FSU to win out. Why? Because I think it would be better for the B1G to have Ohio State beat Stanford in the Rose Bowl while Wisconsin and Michigan State beat good SEC teams in Florida than to have the Buckeyes serve as the next sacrificial lamb for the Tide. I know some think FSU can give 'Bama a game -- but they are no better analysts than those who thought ND would last year. I live in ACC country and the ACC is atrocious this year. What do you think?
Adam Rittenberg:
Lance, if your assumption is Alabama would smash Ohio State, then the scenario you outline is certainly better for the Big Ten. A Rose Bowl win, one of few for the Big Ten in recent years, would help perception, and so would a strong overall bowl record. I think Michigan State and Wisconsin could hold their own against good, but not great, SEC teams in the Capital One and Outback Bowls. And this scenario would prevent Big Ten teams from moving up a spot, creating potential mismatches.
---
Grant from San Francisco writes:
Hi, Adam. I feel like the
Taylor Lewan
suspension (or lack thereof) got glossed over last week. In 2011, when William Gholston was suspended, it was all we heard about in the days before, during, and after the ruling. What was the difference exactly between the two actions (there was a face mask twist, a punch to the head and extracurriculars in both cases) that led them to
not
suspend Lewan? And if there is not a true difference, what does this say about the priorities of the B1G brass? When Hoke called Lewan's actions "unacceptable," I at least expected
some
punitive measures from either Michigan or the B1G. I guess I just must not understand the definition of the word "unacceptable."
Adam Rittenberg:
Grant, my apologies for not addressing this earlier. The difference with William Gholston is a punch was thrown and caught on camera. If you recall,
the Big Ten referenced the punch
and not the face mask twist in its ruling on Gholston. Does that mean the league condones what
Taylor Lewan
did? You could argue it considers face mask twisting part of the game, while a punch clearly crosses the line. I'm not saying it's right, and I thought a partial-game suspension would have been warranted for Lewan. But his display wasn't as blatant as Gholston's, regardless of the circumstances.
---
Chris from Madison, Wis., writes:
Very hypothetical situation here, but if Ohio State wins out and makes the national championship game, Michigan State loses to OSU in the B1G championship game and Wisconsin wins out, MSU is 11-2, UW is 10-2* and both are in the top 14 of the BCS. Assuming the Rose Bowl wants the 100th Granddaddy of them All to be a B1G/Pac-12 battle, which team do you see getting the at-large spot?
Adam Rittenberg:
Chris, it's pretty unlikely both teams would be in the top 14. But if so, I think the Rose Bowl would go with Michigan State. The Spartans haven't been to Pasadena since after the 1987 season, while Wisconsin has been each of the past three years. Michigan State would be a more appealing choice even if it lost its last game.
---

Derek from Eden Prairie, Minn., writes:
Hi, Adam. I have not been overly optimistic about the Gophers bowl chances. I have been a loyal fan all my life and know the realities. So my question is a BIG "what-if." What if the Gophers win the legends and lose to OSU. Are they in contention for an at-large BCS bid? Again. it's just a what if, from a daydreamer in an off week.
Adam Rittenberg:
Derek, that's probably a pipe dream, as Minnesota still doesn't appear in the BCS standings. The Gophers would have to rise into the top 14 after beating Wisconsin and Michigan State and then stay there after a loss to Ohio State just to remain eligible for at-large selection. That's not happening this year, but Minnesota still should go somewhere nice for its bowl.
---

Fatback from Newark, Ohio, writes:
Just trying to figure out how
Carlos Hyde
isn't getting any love for any awards. He has 701 yards with 7.3 yards a carry in only five games. Yes he has played in six games but had just five carries in the game against FAMU. He is on pace to have 1,122 yards and he will become the first Urban Myer back to gain 1,000 yards. Is the reason he is getting no love due to the fact that he missed the first 3 games?
Adam Rittenberg:
The suspension definitely hurts Hyde when it comes to national awards consideration. Other backs simply have better numbers, and while anyone who has watched Hyde respects his game, it's hard to give him the edge when others have played in more games. It's more about what the other backs are doing throughout the entire season than what Hyde hasn't done. He'll certainly be in the mix for All-Big Ten honors.
---

Mike from Ossian, Iowa, writes:
All right, Rittenberg, you coward. So what's the scoop? The week that I send you a question about how you can justify ranking Minnesota ahead of Iowa even though Iowa has the head-to-head victory over the Gophers and four losses to teams with a combined three losses, you don't have a mailbag? Huh? No answer? I think I know why. It's because you know I'm right. You know that you can't defend your ranking. You know that Iowa should be first, but you were just looking at records. Shame on you, Rittenberg. Shame on you. Boom. Lawyered.
Adam Rittenberg:
Boom, lawyered? What does that even mean? The mailbag has been there every week, pal. The power rankings always have been how a team is playing right now, not how a team was playing in late September. I've made that clear since the power rankings started on this blog. Iowa has dropped three of its last five games; Minnesota is on a four-game win streak with a victory against Nebraska. You can't use head-to-head results as the sole mechanism for determining power rankings. If Iowa wins its final two games, then there will be a debate about which team should be ranked higher. But Minnesota is the hotter team right now.
January, 8, 2013
1/08/13
10:08
AM ET
Alabama and Notre Dame put a bow on the 2012 college football season Monday night. Most of the Big Ten would just as soon douse it with gasoline and light a match.
But before a largely forgettable 2012 Big Ten season goes up in flames, let's take one final look at the power rankings following the bowls. Ohio State not surprisingly remains on top, and the bottom three teams stay the same as well. There's a bit of shuffling among the seven bowl teams after varying performances. As has been the case most of the season, very little separates Nos. 2-6.
Here's a look at the
pre-bowl power rankings
.
Let's get to it ...
1. Ohio State (12-0; previously: 1):
The Buckeyes will occupy this spot until they lose a game, which might be a while under coach Urban Meyer. After recording just the sixth unbeaten, untied season in team history, Ohio State sets its sights on even bigger goals as it emerges from NCAA sanctions. The Buckeyes showed major strides on offense behind sophomore quarterback
Braxton Miller
and improved on both lines as the season went on. Meyer exceeded most expectations in Year 1, but they'll be much higher in 2013.
2. Northwestern (10-3; previously: 5):
Pat Fitzgerald's team moves up three spots after claiming its first bowl victory in 64 years. There was surprisingly little drama as Northwestern capitalized on Mississippi State's errors and won the TaxSlayer.com Gator Bowl by two touchdowns. The Wildcats recorded just the third 10-win season in team history and easily could have won another game or two despite a young roster. Things are headed in the right direction in Evanston.
3. Michigan (8-5; previously: 2):
The Wolverines were one defensive stop away from recording the most impressive win in the Big Ten's bowl season and in the Brady Hoke era. They paced a very talented South Carolina team in the Outback Bowl and received big performances from wideout
Jeremy Gallon
, running back
Denard Robinson
and quarterback
Devin Gardner
. Unfortunately for Michigan, an elite pass defense couldn't get it done in the end. Four of Michigan's five losses came against top-10 teams, but an 8-5 record isn't what Hoke or his players had in mind this fall.
4. Penn State (8-4; previously: 3):
Penn State and Michigan are similar in that both teams have "good" losses on their résumés (Michigan a few more than Penn State). Both teams rallied to beat Northwestern at home, while Penn State has another quality win against Wisconsin. The Lions and Wolverines didn't play one another, and we'll never know how Penn State would have fared against a team like South Carolina. Michigan gets the slight edge here, but Penn State had a terrific season behind a dramatically improved offense and a defense led by senior stars
Michael Mauti
,
Jordan Hill
and
Gerald Hodges
.
5. Nebraska (10-4; previously: 4):
The Huskers beat the three teams ahead of them in the rankings, but the power rankings place more weight on recent results, and Nebraska finished the season with a thud. Bo Pelini's team surrendered 105 points in its last two games -- losses to Wisconsin in the Big Ten championship game and to Georgia in the Capital One Bowl. Nebraska showed it could move the ball and score against anyone, despite being turnover-prone. But the defense was abysmal in the four losses and raises serious concerns for Pelini's program going forward.
6. Wisconsin (8-6; previously: 6):
The Barry Alvarez-led Badgers showed they could hang with Stanford, but they couldn't take advantage of the unique opportunity to play in the Rose Bowl Presented by Vizio despite finishing third in the Leaders Division. The inconsistent offensive execution that plagued Wisconsin throughout the season surfaced once again against a tough and talented Stanford defense. Wisconsin just didn't have enough firepower to get over the hump, which was really the story of its season.
7. Michigan State (7-6; previously: 7):
A come-from-behind win against TCU in the Buffalo Wild Wings Bowl takes the sting off of a season that didn't go according to plan for Michigan State. The Spartans leaned on their defense and received just enough offense from backup quarterback
Connor Cook
and Co. to get past a young Horned Frogs team in Tempe, Ariz. Michigan State posted its second straight bowl win under coach Mark Dantonio and said goodbye to three juniors -- running back
Le'Veon Bell
, tight end
Dion Sims
and defensive end
William Gholston
-- in the days following the game.
8. Minnesota (6-7; previously: 9):
Minnesota appeared poised to give the Big Ten a surprising 1-0 start to the bowl season. The Gophers made strides on offense between the end of the regular season and the Meineke Car Care Bowl of Texas, as young quarterback
Philip Nelson
and the offensive line looked a lot better against Texas Tech. But Minnesota still doesn't know how to finish and suffered breakdowns down the stretch in a tough loss to the Red Raiders. The team still doubled its win total in Jerry Kill's second season and could make some noise in a tough Legends Division next fall.
9. Purdue (6-7; previously: 8):
The Boilermakers and Minnesota swap places after Minnesota performed much better in its bowl game than Purdue did. A mismatch on paper turned into a total whitewash on the field as Oklahoma State, which had no business being in the Heart of Dallas Bowl, outclassed Purdue from the get-go. Purdue's once-promising season ended with a thud as a veteran-laden Boilers team that kept pace with both Notre Dame and Ohio State struggled mightily against most of the good-to-great teams it faced this season.
10. Indiana (4-8; previously: 10):
After going 1-11 in Kevin Wilson's first year, Indiana could only get better, and took some important steps this season. The Hoosiers showed they can score points on just about every defense in the Big Ten, and their group of skill players is among the league's best. IU's defense still isn't at a Big Ten level, and improving the talent and depth on that side of the ball is the chief challenge for Wilson and his staff entering the 2013 season.
11. Iowa (4-8; previously: 11):
A bowl appearance looked like a guarantee before the season as the schedule set up favorably for eight or more wins. But the offense took a giant step backward, and injuries hurt the unit throughout the season. Iowa's defense kept it in quite a few games but also let down against better offenses like Northwestern and Michigan. The Hawkeyes will look for more cohesion on offense and more playmakers to emerge. The Legends Division seems to be getting only tougher.
12. Illinois (2-10; previously: 12):
No team and no coach wants to turn the page on 2012 more than Illinois and Tim Beckman. Almost nothing went right in Beckman's first season, as the offense stalled and the defense struggled against spread offenses. The Illini dropped all eight of their Big Ten contests and lost by fewer than 14 points just once. Perhaps new offensive coordinator Bill Cubit can get the offense on track. The defense, meanwhile, must fill holes up front and in the secondary. At least Illinois gets a fresh start in 2013.
October, 29, 2012
10/29/12
9:00
AM ET
There's no more debate. Quarterback
Braxton Miller
and the
Ohio State Buckeyes
made sure everyone knows they're the best team in the Big Ten.
The so-called Ineligi-bowl on Saturday night in State College paired the top two teams in the most recent power rankings. Penn State came in brimming with confidence following five straight wins, but it missed several big opportunities early in the game. Ohio State took over behind Miller and a surprisingly good defense, showing that it remains the class of the Big Ten.
Nebraska moves up to the No. 2 spot after keeping Michigan out of the end zone, while Michigan, Wisconsin, Penn State and Iowa all drop. Wisconsin looks very shaky without top quarterback
Joel Stave
, and Iowa is a mess after being outclassed for the second straight week. Aside from Wisconsin's and Iowa's drops, and Minnesota's and Indiana's rises, there's not a ton of movement. Purdue and Illinois remain at the bottom of the barrel.
As a reminder, the power rankings are a snapshot of a team's current state -- how it is performing in real time. Injuries are considered.
Here's the rundown ...
1. Ohio State (9-0, 5-0 Big Ten, last week: 1):
The Buckeyes have the Big Ten's best player in Miller and the league's best team, period. They racked up 234 rush yards and three touchdowns against a stout Penn State defense and controlled the line of scrimmage on both sides of the ball. Ohio State's defense had one of its best efforts, keeping Penn State out of the end zone for more than three quarters. Urban Meyer's squad had looked shaky the previous two weeks, but it cranked things up in the second and third quarters and never looked back. A perfect season seems much more realistic with three games to play.
2. Nebraska (6-2, 3-1, last week: 5):
Three weeks after being crushed by Ohio State in Columbus, Nebraska has new life and control of the Legends Division. The Huskers have regained their swagger on defense and capitalized on a
Denard Robinson
-less Michigan team in the second half Saturday night, allowing just 52 yards. Nebraska has survived almost two full Big Ten games without top running back
Rex Burkhead
, who should be back this week at Michigan State. Bo Pelini challenged his team to win out after Ohio State, and the players have responded. Another test awaits this week against the Spartans.
3. Penn State (5-3, 3-1, last week: 2):
Bill O'Brien's team had been efficient and opportunistic in its first three Big Ten games. The Lions were neither against Ohio State, failing to build a bigger first-half lead and making too many mistakes in the middle part of the game. Penn State had too many penalties, not enough third-down conversions, not enough in the run game and not enough third-down stops against Ohio State. The Lions took a big step up in class but couldn't match the Buckeyes despite an electric atmosphere in State College. They aim to get back in the win column this week at Purdue.
4. Michigan (5-3, 3-1, last week: 3):
No Robinson equaled big, big problems for Michigan against Nebraska. Backup quarterback
Russell Bellomy
struggled mightily, and Michigan could have a tough time in the coming weeks if No. 16 doesn't return to the field. The defense still performed well against Nebraska, at least until the fourth quarter, but Michigan is too invested in Robinson on offense and has very few answers without him. The Jug Game becomes a lot more interesting as Michigan visits a Minnesota team coming off of its best performance in Big Ten play.
5. Northwestern (7-2, 3-2, last week: 6):
After three very shaky weeks on offense, Northwestern finally established its identity behind junior quarterback
Kain Colter
and the option game. Iowa had no answers for Colter and the Wildcats' ground attack, as Northwestern piled up 349 rush yards, averaging 7.1 yards per attempt. Northwestern's defense once again allowed some yards but limited points and big plays, making Iowa work for every point it scored. Pat Fitzgerald's team got through October, a month when it typically struggles, at 2-2, and enters November with some momentum.
6. Michigan State (5-4, 2-3, last week: 7):
There's new life in Sparta as Michigan State's beleaguered offense showed up just in time and helped the Spartans rally past Wisconsin in Madison. Pat Narduzzi's defense has been elite for most of the season but cranked things up a notch at Camp Randall Stadium, limiting Wisconsin to 10 first downs and 19 net rushing yards, and racking up five sacks and 12 tackles for loss. Defensive end
William Gholston
finally had a breakout game, and linebacker
Max Bullough
and others were fabulous. The Spartans now return home to play the spoiler role as they host Legends Division front-runner Nebraska.
7. Wisconsin (6-3, 3-2, last week: 4):
The Badgers lost their first home game since 2009 and also their top quarterback, Stave, to injury. All the mojo generated from three consecutive impressive wins is gone, as Wisconsin's offense reverted to its early September form under backup
Danny O'Brien
. Wisconsin still has the inside track to represent the Leaders Division in Indianapolis, but Indiana is now in the running, too, and the Badgers must get things together offensively during a much-needed open week before heading to Bloomington.
8. Minnesota (5-3, 1-3, last week: 10):
The future is now, and his name is
Philip Nelson
. Minnesota's freshman quarterback dazzled before the home faithful Saturday against Purdue, firing three first-half touchdown passes and finishing with 246 pass yards, 37 rush yards and no interceptions. With Nelson at the controls, Minnesota scored more points (44) against Purdue than it had in its first three Big Ten contests (39). An improved defense shut down Purdue until garbage time and received a nice lift from cornerback
Michael Carter
. Minnesota looks to make a major statement and regain the Little Brown Jug this week against Michigan.
9. Indiana (3-5, 1-3, last week: 11):
Kevin Wilson and his team finally celebrated a Big Ten win Saturday, and several more could be coming in the next few weeks. Indiana -- yes, Indiana -- controls its own fate in the Leaders Division and has two huge home games coming up against Iowa and then Wisconsin, the only other team that can represent the Leaders in Indianapolis. The Hoosiers made fewer mistakes than Illinois, received a nice lift from their defense at times and seemed to identify their top quarterback in freshman
Nate Sudfeld
. IU has been in every game this season and could be tough to beat down the stretch.
10. Iowa (4-4, 2-2, last week: 8):
The frustration is mounting in Hawkeye Country as Iowa received a thorough beating for the second straight week. The Hawkeyes lost by only 11 at Northwestern, but they never stopped the Wildcats' rushing attack and couldn't attack a shorthanded secondary down the field. The offense piled up 336 yards but couldn't translate them into nearly enough points. A bigger concern is a defense that has surrendered 937 yards the past two weeks. If Iowa can't rebound this week against Indiana, it could be staring at a bowl-less season.
11. Purdue (3-5, 0-4, last week: 11):
The Boilers' season is on life support, and
Danny Hope's tenure as head coach could be, too
. Billed by Hope as his best team, Purdue hasn't shown up for three of its first four Big Ten contests. The Boilers' defense, featuring several future NFL players, let Minnesota's Nelson have his way with them Saturday at TCF Bank Stadium.
Caleb TerBush
clearly isn't the answer at quarterback, but it has taken too long for Hope to figure that out. Purdue has replaced Michigan State as the Big Ten's biggest disappointment, and it'll be tough for the Boilers to get bowl-eligible with four games to play.
12. Illinois (2-6, 0-4, last week: 12):
Illinois had more first downs (23-14) and total yards (372-292) than Indiana, and held the ball for more than 33 minutes Saturday. But a flurry of mistakes -- penalties, turnovers, sacks, you name it -- allowed Indiana to score 24 of the game's final 27 points.
Nathan Scheelhaase
did some good things and
Donovonn Young
(124 rush yards) provided a boost in the ground game, but Illinois makes far too many errors to win games right now. It only gets tougher for Tim Beckman's crew as it heads to Columbus.
August, 29, 2012
8/29/12
9:00
AM ET
The Big Ten doesn't announce an official preseason all-conference team. But that doesn't mean we can't.
Here are our picks for the 2012 preseason All-Big Ten team:

Offense
QB:
Denard Robinson
, Michigan
RB:
Montee Ball
, Wisconsin
RB:
Rex Burkhead
, Nebraska
RB:
Le'Veon Bell
, Michigan State
WR:
Jared Abbrederis
, Wisconsin
TE:
C.J. Fiedorowicz
, Iowa
OT:
Taylor Lewan
, Michigan
OT: Ricky Wagner, Wisconsin
OG:
Spencer Long
, Nebraska
OG:
Chris McDonald
, Michigan State
C:
Travis Frederick
, Wisconsin
Defense
DE:
John Simon
, Ohio State
DE:
William Gholston
, Michigan State
DT:
Kawann Short
, Purdue
DT:
Johnathan Hankins
, Ohio State
LB:
Gerald Hodges
, Penn State
LB:
Chris Borland
, Wisconsin
LB:
Jonathan Brown
, Illinois
CB:
Johnny Adams
, Michigan State
CB:
Ricardo Allen
, Purdue
S:
Isaiah Lewis
, Michigan State
S:
Jordan Kovacs
, Michigan
Specialists
K/P:
Brett Maher
, Nebraska
KR:
Raheem Mostert
, Purdue
PR: Abbrederis
Thoughts:
The first thing that likely jumps out at you is that we have three running backs and just one receiver on our first-team offense. No, we haven't forgotten the rules of football. It's just that we continue to feel the wide receiver crop is weak this season, and no great candidates for the second spot leap out at us. Perhaps
Keenan Davis
of Iowa or one of Northwestern's many receivers will have a great season, but no one has proved anything on a consistent basis. We'd rather have Bell -- who we believe is primed for a huge year -- on the team than any of the receiver candidates. Plus, isn't running the ball what Big Ten football is all about? ... Some of the toughest omissions came at linebacker, where Michigan State's duo of
Denicos Allen
and
Max Bullough
and Wisconsin's
Mike Taylor
were among those left out. At least we know we'd have an outstanding second-team unit at that position. ... Fiedorowicz is a bit of a projection pick, but we love the way he finished last season and how he fits into Greg Davis' new scheme. You certainly could make a strong case for Wisconsin's
Jacob Pedersen
or Ohio State's
Jake Stoneburner
there as well. ... Some of these players won't live up to expectations, and others will explode on the scene this fall. But for now, we'd feel pretty good about throwing this team on the field.
Did Ohio State Cheap Out On Championship Rings?
BIG TEN SCOREBOARD
Thursday, 9/3
Friday, 9/4
Saturday, 9/5
Sunday, 9/6
Monday, 9/7