Ohio State Buckeyes:

Tyrone Williams
October, 1, 2012
10/01/12
5:12
PM ET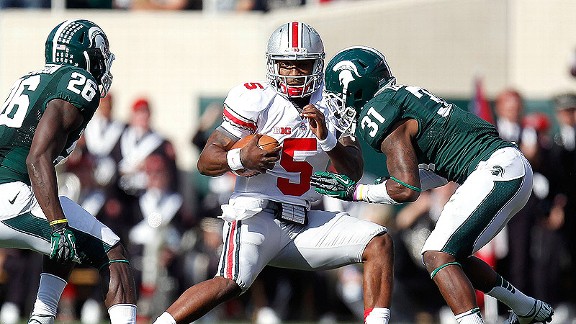 Gregory Shamus/Getty ImagesAfter logging 23 carries and taking several shots from Michigan State defenders on Saturday, Urban Meyer is looking to reduce the wear and tear on sophomore QB Braxton Miller in practice this week.
COLUMBUS, Ohio -- The critical number wasn't how many times
Braxton Miller
got hit.
The Ohio State quarterback was bound to be sore after again being called on so often to rush the ball, and some abuse comes with the territory after 23 attempts.
But there were a few more shots the sophomore could have avoided in the road win on Saturday over Michigan State, and that's the tally Urban Meyer had in mind as the Buckeyes try to keep the centerpiece of their offense healthy ahead of another top-25 test this week against Nebraska.
"Eight times," Meyer said during his Monday press conference. "We went through that, eight times he shouldn't have got hit. He's scrambling around, throw the ball away, find the receiver or give the ball.
"We're going to go try to win a game, and Braxton is our quarterback and our best player, best guy with the ball in his hands. [Health] is always going to be a concern any time you have a quarterback involved. But he's a gifted guy and he's got to help us win."
August, 17, 2012
8/17/12
6:04
PM ET
COLUMBUS, Ohio -- Movers and shakers as identified by the offensive members of the Ohio State coaching staff that met with the media after practice on Friday morning.
RUNNING BACKS
Stan Drayton won't have his projected starter heading into the season opener in just more than two weeks, but the next guy on the list for the running backs coach has embraced the opportunity and established himself as a viable option in place of
Jordan Hall
.
That's a far cry from how Drayton viewed
Carlos Hyde
previously, and a positive development for the Buckeyes in the backfield.
"Night and day. I didn't coach Carlos last year, I coached those wide receivers, and with kind of side vision, I thought he was a little lazy as a football player, quite honestly. The one thing that he's improved on is his approach to the game and his passion, energy level is through the roof right now. He has really escalated his value to this football team."Carlos Hyde is the one who has really stepped his game up. I mean, he really has. He's answered the ball, he's trying to become a leader of that group with Jordan out, and he's really brought a physical component to his game right now that we all enjoy. He's really set the bar for these younger backs." -- Drayton
TIGHT ENDS
Getting productive blocking from the tight ends in the running game wasn't much of a concern coming into training camp.
Position coach Tim Hinton expected to get that from sophomore
Jeff Heuerman
, who certainly has the size necessary to open some holes at 6-foot-6, 247 pounds.
But that big frame can also come in handy as a target in the passing game, and that's perhaps been the most notable development in Heuerman's repertoire so far in August.
"One thing with Jeff is he's a very good point-of-attack blocker. He's really, really good at point-of-attack blocking, but what he's doing a lot better now is in the pass game. He understands the concepts better, he knows how to work off man routes, he knows how to work off zone routes better and he really is doing a much, much better job of understanding the pass game. His point-of-attack blocking he brings to the table very, very well, and we still have to do a better job in the perimeter of blocking in a little bit, but boy, he's gotten better." -- Hinton
WIDE RECEIVERS
The physical tools are rare.
New Ohio State assistant Zach Smith noticed that right away in
Tyrone Williams
.
But they weren't translating on the field to anything more than average play at wide receiver, a position where the Buckeyes could certainly use the talent and athleticism Williams could potentially provide.
The sophomore isn't a finished product yet, and if Smith had been willing to name his likely starters for the opener on Sept. 1, Williams almost certainly wouldn't have been included.
But just within the last week, he's apparently started making a push to be included in the rotation in some capacity.
"I will tell you this much, Tyrone Williams this spring was about as average a player as you could have. Not because of talent level, but just because of how he practiced. He was a guy that really was raw, very raw, but I was talking to our strength coach, coach Mick, and the last five practices that kid is a completely different player than I've seen. He has really, really impressed everyone. The head coach, me, the staff -- now he's still got a way to go, but he's a kid that's kind of drinking the Kool-Aid right now. He's bought in and he is doing things he did not do the first six months we were here, and it's very encouraging.

"He's not there yet, but he's coming. There's not many physically gifted receivers that I've ever seen at any program or level that is as gifted as that kid, now. I mean, talk about a guy that has ability, he has it." -- Smith
Easiest Path To The 2015 College Football Playoff
BIG TEN SCOREBOARD
Thursday, 9/3
Friday, 9/4
Saturday, 9/5
Sunday, 9/6
Monday, 9/7