Ohio State Buckeyes:

troy smith
February, 20, 2014
2/20/14
10:00
AM ET
COLUMBUS, Ohio -- There's no escaping the history for
Braxton Miller
.
It was there sitting on a table just off the court at Value City Arena on Wednesday night, another Tribune Silver Football with his name on it to honor the Big Ten's best player.
[+] Enlarge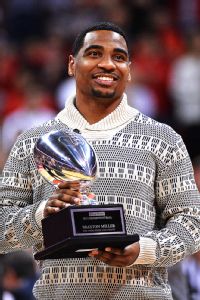 Jamie Sabau/Getty Images Braxton Miller holds the Silver Football awarded to the Big Ten's most valuable player.
It was echoed over the speakers during a presentation at midcourt as the Ohio State quarterback was identified as only the fourth two-time winner of the prestigious award, just before he and everybody else were reminded he could become the first to claim it three times.
Even when he's not showing up to collect some hardware, Miller only has to walk through the hallways of the practice facility on campus to see where he now ranks among the all-time greats to have suited up for the Buckeyes.
Miller doesn't need the reminders, though, and it's what he has yet to accomplish that at least played some part in his decision to return for one more season with the program.
"I walked past a board the other day and my name is right under Troy Smith," Miller said. "I texted him, 'Hey man, check this out. I'm right behind you, man.' He said, 'That's a good look. Keep it up.'
"I've just got to keep putting in work. … I mean, he's got the big thing. He went to the [national championship game]. He's got the Heisman. I'm working towards that, too."
Those two entries are about the only items missing from Miller's résumé, and while trophies might not have been the top priority on his list of pros and cons, they are clearly motivating him now that his mind has been made up about his future.
Miller stressed the importance of getting a degree and referenced how much he still has to learn about the mental side of the game as key factors for him. While he declined to specify what grade he received as part of his feedback from the draft advisory board, he called it "one of the best evaluations you can get."
After struggling down the stretch as a passer as the Buckeyes fell out of national-title contention with a loss to Michigan State in the Big Ten championship game and then dropped the Discover Orange Bowl to Clemson, his professional stock certainly seemed to take a hit. But Miller indicated that he was leaning toward returning all along, and there doesn't appear to be any shortage of benefits in doing so.
"There wasn't a big thought about [leaving]," Miller said. "I always knew I was eventually going to make that decision and I was going to come back. … I just sat down with the coaches, observed everything, made sure that I was making the right decision. I went over everything, and it wasn't too hard of a decision.
"Coming back, you want to accomplish things that you didn't accomplish in your first three years and I feel like I left some little things out on the field and there's a lot of achievements I can still go do. I can achieve all of my goals, there's a lot of things that I think about and that's why I wanted to come back. I sat down with my coach and my dad and we made the right decision."
Aside from the chance to rewrite the record books individually, Miller now has a chance to fine-tune his mechanics, improve his grasp of concepts on both sides of the ball and potentially build himself into a high-round draft pick.
For the Buckeyes, the rewards are every bit as obvious. They've got a two-time conference player of the year, a multipurpose athlete who has twice finished in the top 10 in Heisman voting and a senior with three years of starting experience returning to lead their high-octane offense as they reload for another shot at a Big Ten title -- or more.
And everybody involved is aware of the kind of legacy they can create together.
"I trusted in the people, including myself and coach [Urban] Meyer and his parents, people that were advising him and the outlets where he was getting his information from, they all kind of pointed in the same direction," offensive coordinator Tom Herman said. "That was to make sure that he does come back and continue improving on the trajectory that he's been improving on.
"He's got a chance, obviously, when he leaves here to set dang near every school record imaginable, every Big Ten record imaginable and win a championship or two. And then, hopefully, he'll be a first-round draft pick."
Those potential accomplishments are no secret to Miller, and he's definitely not shying away from them. If anything, after clutching another Silver Football, the way he's embracing history appears to be a key part of the reason he's still sticking around.
December, 7, 2013
12/07/13
11:00
AM ET
INDIANAPOLIS -- Ohio State quarterback
Braxton Miller
began the season as a top Heisman Trophy candidate. He could end it the same way.
[+] Enlarge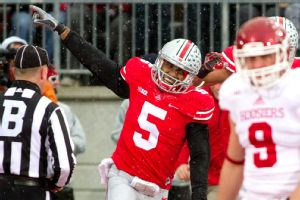 Jason Mowry/Icon SMIBraxton Miller probably can't win the Heisman Trophy, but he can earn an invitation to New York if he has a big game against Michigan State.
Miller likely can't win the Heisman on Saturday night against Michigan State in the Big Ten championship -- Florida State's
Jameis Winston
appears to be a lock -- but he could earn an invitation to New York for the trophy presentation. Who will join Winston in the Big Apple? Candidates such as Alabama's
AJ McCarron
, Fresno State's
Derek Carr
and Northern Illinois'
Jordan Lynch
all have had their teams lose critical games in recent days.
Miller hasn't lost a game in two seasons, and he collected his second consecutive Big Ten Offensive Player of the Year award on Tuesday. Although a knee injury and some shaky play took him off of the Heisman radar in September, Miller has been brilliant for most of Big Ten play, leading the league with 295 yards of offense per game. He has four runs of 40 yards or longer and has completed 65.7 percent of his passes, ahead of Troy Smith's team record of 65.3 percent set during his Heisman Trophy-winning season in 2006.
Although Ohio State always garners some of the spotlight, the Buckeyes haven't played an opponent this good, or been on a stage this big. If Miller performs well, he will get noticed.
"He'll be as prepared as he's ever been," Buckeyes coach Urban Meyer said this week. "He's been in some big stages, maybe not a championship game or a BCS bowl game yet. I just would anticipate he'll handle it great because usually the brighter the lights, the better he plays."
Michigan State's top-ranked defense will do what it can to subdue Miller and prevent him from having a Heisman moment at Lucas Oil Stadium. But the Spartans are wary of how dangerous Miller can be.
"I see a magician, a guy with a sixth sense, a guy that can take a bad play and make it a very good play, a guy that can create," Michigan State coach Mark Dantonio said. "You can know what Ohio State is doing, be right on top of it, do what you do to stop it that particular time, but he can create and make it a good play."
Someone needs to sit alongside Winston in Times Square. Miller's opportunity to do so comes Saturday night.
July, 25, 2013
7/25/13
1:20
PM ET
CHICAGO -- For a day, maybe two, something like the Silver Football trophy can stay with
Braxton Miller
.
But that's as long as the Ohio State quarterback will allow any hardware for his various individual accomplishments to sit around his place before shipping them off to his parents.
Rather than dwell on what he's already done and the possibility of getting wrapped up in his own glory with things like the shiny ball that he was given last season as the Big Ten's best player, Miller is intent on keeping his focus on the future -- and maybe a much more recognizable statue.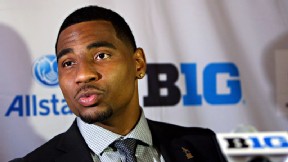 Jerry Lai/USA TODAY SportsBraxton Miller can't help but be aware of being a candidate for major awards, but he says he's keeping his focus on improving.
"I see [Heisman Trophy polls], I hear it, but I really don't pay too much attention to it," Miller said Thursday at Big Ten media days. "If you pay too much attention to it, you lose focus about what's important for your team and yourself.
"I see it on ESPN sometimes. I'll hear it and I'm like, 'Wow.' But I just have to get better to achieve that goal."
Miller didn't actually mention the Heisman by name, but a year after finishing fifth in the voting, even acknowledging the race for the most famous award in college football marks a noted change from a year ago.
The team remains the top priority for the junior, and his humility is still mentioned by his teammates and his coach as often as his dynamic athleticism. But Miller has clearly set his sights on claiming an award that has turned a handful of Buckeyes into legends already, and he's certainly aware of what that would mean for his own legacy.
"It was just a blessing to be there, to be in the same type of talk as Archie [Griffin] and Eddie [George] and Troy [Smith]," Miller said. "It's unbelievable where I was, where I was in high school, where I am now.
"I'm just blessed to be where I'm at now and to get better."
And for all the attention, awards and gaudy statistics he piled up as a sophomore, there is still undoubtedly room for that improvement Miller is chasing.
Almost from the moment Ohio State clinched an undefeated record in Miller's first full season as the starter, he has been working to clean up footwork that has been spotty in the past, trying to develop his communication skills in an effort to become a better leader, and working to improve his knowledge of Urban Meyer's spread offense going into his second season leading it.
The benefits are most likely to show up in the passing game for the Buckeyes, an area where Miller has been effective at times in the past but wasn't anywhere near as dangerous as Meyer would like. And until the evidence starts showing on the field in a meaningful setting, Miller is right back where he was for most of last season in Meyer's eyes -- not yet a Heisman candidate with an endorsement from his coach.
"At the time I was asked about Braxton Miller, he wasn't playing like a Heisman Trophy winner," Meyer said Thursday. "I love Braxton, and if it was all about like and feel-good and all that, I would have said, 'Yeah, give him the Heisman.'
"If I had to do it again, I would probably kind of stay away from that answer, but I just get asked things and I'm honest. If it's time, this year I will say Braxton Miller is a Heisman candidate. At this time, I can't say that."
That won't stop the rest of the country from putting him on the short list of favorites going into the season, and the crush of attention on the face of Ohio State's program isn't likely to slow down anytime soon.
How Miller handles the spotlight will be crucial for the Buckeyes, given just how large a role he plays in the spread attack. And if things go according to plan, his parents might need to clear out a new space in the trophy case.
"There's a lot of Little League stuff in there," Miller said. "Growing up with basketball, there's AAU, middle school, high school, now college [trophies]. There's a lot of stuff.
"Lot of room for more."
July, 19, 2013
7/19/13
10:00
AM ET
COLUMBUS, Ohio -- There were looks back, forward and even into a
fictional fantasy land
where rivals could trade players.
To wrap up a week of "The Game," though, the focus is once again on the past. BuckeyeNation is taking a look at five of the most memorable moments in the storied history between Ohio State and Michigan. They will have a chance to provide yet another chapter on Nov. 30 with what figures to be plenty on the line.
Of course, that's hardly an exception for the Buckeyes and Wolverines. And there's no shortage of evidence even on an abbreviated list to prove that point.
2002: Ohio State 14, Michigan 9
Jim Tressel turned the tide a year earlier, famously setting the tone for his successful tenure by backing up his claims that Ohio State fans would be proud of their team in his first meeting with Michigan in 2001 with an upset victory. But it was his narrow victory the next year with freshman Maurice Clarett supplying one of only two touchdowns in the game that propelled the Buckeyes to the national championship game against Miami -- ultimately bringing a crystal football back to campus to rub a little extra salt in Michigan's wounds.
1975: Ohio State 21, Michigan 14
The memories still come back easily to Cornelius Greene, but even if there were some details now of the 80-yard, 11-play drive to tie the game during a fourth-quarter comeback, he'd surely get plenty of help from the Ohio State fans who sweated out a heated meeting with then-unbeaten Michigan. The multipurpose quarterback didn't do all the work in clawing back to edge the Wolverines, though, and Ray Griffin's late interception and return to the 3-yard line helped set up the go-ahead score and clinch a Big Ten title.
1972: Ohio State 14, Michigan 11
In another low-scoring slugfest, an Ohio State defense that bent for most of the game refused to break near the end zone, and some clutch defensive stands tipped the scales for Woody Hayes, clinching a share of the Big Ten title and keeping Michigan out of the Rose Bowl. The Buckeyes were outgained by more than 150 yards by the Wolverines, but when what appeared to be a fourth-quarter touchdown for Harry Banks was ruled short of the goal line, and a run of rattling off at least a piece of six consecutive conference championships began.
[+] Enlarge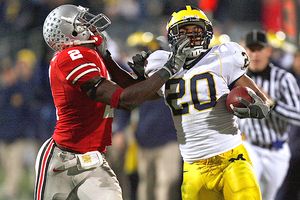 Gregory Shamus/Getty ImagesMichigan's Mike Hart and Ohio State's Malcolm Jenkins battle in the 2006 showdown, when Ohio State and Michigan were unbeaten and ranked No. 1 and No. 2 in the country.
2006: Ohio State 42, Michigan 39
In one of the most anticipated meetings ever in the series and among the most hyped college football games ever, the Buckeyes rode an incredible performance from Troy Smith into another bid for a national title -- and the Ohio State quarterback locked up a Heisman Trophy in the process. The No. 1-vs-No. 2 matchup lived up to its competitive billing, with both offenses supplying fireworks and the hated rivals trading punches until the closing minutes. But it was Smith who supplied the knockout, throwing four touchdowns to set off a raucous celebration at Ohio Stadium.
2012: Ohio State 26, Michigan 21
Maybe everything that came before the final game of the regular season wouldn't have been for naught, but with a perfect record on the line and no chance of competing for the national title because of NCAA sanctions, there was certainly more than bragging rights on the line last November. Urban Meyer's appreciation for the feud with the Wolverines only heightened the stakes in his first shot leading the Buckeyes in the rivalry, and he launched another massive celebration at The Shoe with a victory that locked up an undefeated campaign and gave the program plenty to feel good about even while having to watch the postseason from home.
July, 15, 2013
7/15/13
9:30
AM ET
The rivalry never sleeps, even in the middle of summer as the final days tick away until camp opens in August.
But just in case a little offseason kick was needed to get the juices flowing for the next edition of "The Game," BuckeyeNation and WolverineNation are teaming up for a week of content looking at some moments from the past and forecasting what will happen a few short months into the future.
Today, we peek back into series history and identify some of the top heroes and villains from the blood feud. Here are Ohio State's villains for the Wolverines:
1. Jim Tressel, coach:
From the moment he was introduced and grabbed a microphone to address the Ohio State faithful, Tressel's mission was clear -- get the program back on top in The Game. The Buckeyes backed up their new coach with a road upset in 2001, and the next decade was completely dominated by The Vest, who posted a 9-1 record before scandal ended his run on the sideline. Even his exit might have twisted the knife in the Wolverines since it helped Ohio State land Urban Meyer, who knocked off Michigan in his first Game to finish an unbeaten season in 2012.
2. Troy Smith, quarterback:
At the height of that dominant run under Tressel, it was the prolific signal-caller inflicting the majority of the damage on the Wolverines. Smith became just the second Ohio State quarterback to beat Michigan three times, with the last couple coming in unforgettable fashion. There was the late comeback in 2005 keyed that included 386 passing yards from Smith, and another virtuoso performance in the epic showdown in 2006 that individually clinched a Heisman and sent the Buckeyes to the national title game.
[+] Enlarge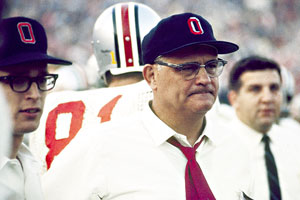 George Long/Getty ImagesIt was during Woody Hayes' 27 years as Ohio State head coach that the blood feud with Michigan truly took shape.
3. Woody Hayes, coach:
The rivalry became firmly entrenched among the most passionate, competitive series in the country when Hayes was at the top of his coaching game and matching wits -- and trading barbs -- with Bo Schembechler. Tressel's gaudy record might have diminished some of hatred for Hayes, however slightly, but his 16 wins in The Game, an infamous decision to go for a 2-point conversion "because he couldn't go for 3" and his place in Ohio State history will always get some Michigan blood boiling.
4. Mike Doss, safety:
Working on a 14-year drought in Ann Arbor and trying to live up to the goal Tressel established when he took over, Doss was instrumental in snapping the skid and setting the tone under Ohio State's new coach in 2001. A pair of interceptions helped set up scoring drives, and an unranked group of Buckeyes snatched a 26-20 win over the No. 11 Wolverines to start building the momentum that would last for pretty much the entire decade.
5. David Boston, wide receiver:
After coming up short in 1997 and hearing all about it from Charles Woodson, Boston exacted some revenge a year later with a massive individual performance as the Buckeyes knocked off the Wolverines 31-16 for one of John Cooper's two wins in the series. Boston was already an enemy for his brash comments before his final season with the Buckeyes, but he could be easily dismissed without ever winning a game. He changed that with 10 catches for 217 yards and two touchdowns, finally backing up his mouth and getting the best of Michigan where it counted -- on the field.
Bonus pick -- Bob Ferguson, fullback:
The message apparently hadn't been delivered emphatically enough, despite Ferguson already having scored three times. He would finish the game with 151 yards. The fourth touchdown by the All-American rusher, though, set the table for the Buckeyes to rub a 50-20 win and a national championship in Michigan's face in 1961 by going for a 2-point conversion with the outcome well in hand.
June, 15, 2013
6/15/13
4:07
PM ET
It could be hard for Ohio State to make a bigger impression the next time big offensive tackle
Drew Richmond
(Memphis, Tenn./Memphis University School) visits the Buckeyes.
May, 21, 2013
5/21/13
9:30
AM ET
Under Jim Tressel, it was hard not to trip over a Tarblooder.
Ohio State's lineup was loaded with Glenville products under the former Buckeyes coach as he tried to keep a budding pipeline strong. During his stay, Tressel managed to get 16 Tarblooders to sign national letters of intent.
He had his hits with players such
Troy Smith
,
Ted Ginn Jr.
and
Donte Whitner
. He had his misses with
Jonathan Newsome
, Shawntell Rowell and Freddie Lenix.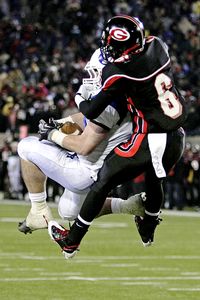 AP Photo/Tony DejakTed Ginn Sr.'s Cleveland Glenville program has churned out a slew of FBS prospects, many of whom have become Buckeyes.
But the one thing that remained strong was the connection Tressel and the Buckeyes had with the Tarblooders program.
When Urban Meyer took over, the two-time national champion made sure that direct line to Columbus stayed strong.
While
Cardale Jones
and De'Van Bogard technically weren't initially recruited by Meyer, they did sign with the recruiting class of 2012 so they became his.
The Class of 2013 saw
Christopher Worley
sign with Ohio State, while 2014 already has
Marcelys Jones
as a commitment.
Quick math shows 20 Glenville athletes either signed or committed to the Buckeyes since 2002 and four under Meyer.
If there was any doubt as to the importance of Glenville under Meyer, he has squashed that notion early.
"Let's put it this way," Glenville coach Ted Ginn Sr. said. "If he needed blood, that blood would come from Glenville.
"The business is the business. If you're working at Ford Motor Co. on eight-cylinder motors, you can't have anything different because the motor won't work. Why change the blueprint if the style works?"
That's exactly what Meyer thinks, and he might not be done as
Marshon Lattimore
and
Erick Smith
have already been offered. Both juniors could be budding stars at the next level.
The Glenville mystique
What makes Glenville so important to college coaches is more than just the name. It's almost hard to keep up with how many athletes Ginn has sent on to the next level. What's not hard to see is why they've reached the college ranks.
"They're stacked from the first guy to the last guy with talent," St. Ignatius safety
Dameon Willis Jr
. said. "Every guy on that team has talent. Everyone comes in different shapes and sizes, but they all bring great skill and talent to the table.
"That's what makes them appealing. You really have to prep and beat them with fundamentals. You might not be as athletic, but you have to stick with it as much as you can."
Worley says the Tarblooders, with sophomores like
Matthew Draper
and
Milen Golden
, are ready to take the next step.
"We have young guys coming up as well," Worley said. "It's like a machine. Coach Meyer is the type of coach and recruiter that if you show skill, he'll go after you. The Glenville kids fit right into the Ohio State scheme."
What Meyer means
It's not just Glenville that attracts Meyer. Meyer attracts Glenville, too.
When Meyer took the job, he made it a point to seek out the school. That went a long way with the Tarblooders.
"That means everything," Ginn said. "Most of the kids from this area grow up with the dream of going to Ohio State.
"It means a lot, but the kids know what Ohio State means to them. For him to want them and for the kids to know what that means is important. Urban Meyer and Jim Tressel are different only in the fact they have different names.
"When you talk about how are they different, I don't see a difference in either one of them. They're the head coach at Ohio State, and you have to have a certain mindset to be there. When you're the right fit for the school, it works."
To continue reading this article you must be an Insider
April, 19, 2013
4/19/13
10:00
AM ET
On a hot summer afternoon during two-a-days last August, Cleveland Glenville coach Ted Ginn Sr. walked over to anyone listening and presented them with the next big thing.
Three weeks later as an unheard of junior ready to embark on the season opener against Lakewood (Ohio) St. Edward,
Marshon Lattimore
was once again introduced as the star-in-waiting by assistant coach Tony Overton, who made it a point that every media member talked to him.
Fast forward eight months later and Lattimore isn't just another Tarblooders star, he's the top-ranked player in the state of Ohio and an ESPN 150 selection.
To continue reading this article you must be an Insider
March, 8, 2013
3/08/13
1:45
PM ET
COLUMBUS, Ohio -- The deep balls carried easily down the field.
The passes to the sideline arrived crisply, and pretty much everything over the middle was on the money.
[+] Enlarge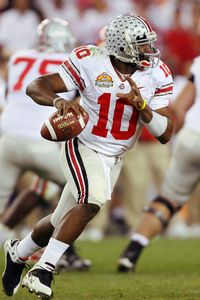 Jason Parkhurst/US PresswireFormer Heisman Trophy winning quarterback Troy Smith returned to Ohio State to help out with the Buckeyes' Pro Day.
None of the 36 scouts at Ohio State on Friday morning were there to watch
Troy Smith
work, but six years after going through his own Pro Day, the former Heisman Trophy winner still put on a show for them anyway.
"That wasn't for me, though," a sweating Smith said as he walked off the field at the Woody Hayes Athletic Center. "That was for
Jake Stoneburner
, that was for those guys. Anything the Buckeyes need in general around here, I'm at their leisure. Any which way we're going to work, I'm going to help.
"You know, over the years I've learned [a writer's talent] is media stuff. I can roll out of bed and throw spirals, what can I say?"
Those tight spirals helped Stoneburner, who said he dropped his 40-yard dash time to 4.52 seconds and then followed it up with an impressive pass-catching performance with his new mentor playing quarterback for him.
The hybrid wide receiver/tight end was been working closely with Smith to prepare for his pro auditions ahead of next month's draft, and the two certainly made each other look good during the positional drills late in the morning. It might not help Smith get back to the NFL after getting released by the
Pittsburgh Steelers
last summer, but the outing could boost Stoneburner's stock and help him get there for the first time.
"I can see why he won the Heisman, I see why he was a captain -- he motivated me better than anyone I've ever seen," Stoneburner said. "Having him out there certainly made me look better, and I think he was happier for me than I was for myself.
"I mean, that guy is incredible. I was running as fast as I can 40 yards down the field, didn't have to take one single less stride. He hit me right in stride. I absolutely believe he could be in the NFL, and I think he believes it, too. For the scouts here today, I'm sure he made an impression. He looked flawless out there."
On the other end, Stoneburner didn't look too shabby, either.
January, 22, 2013
1/22/13
10:00
AM ET
If
Christopher Worley
signs with Ohio State in two weeks and junior pledge
Marcelys Jones
does the same on Feb. 5, 2014, they'll become the 19th and 20th players from Cleveland Glenville to do so since 2002.
It's a talented pipeline that really began to gush with quarterback
Troy Smith
. It includes a few misses, but many hits as
Ted Ginn
Jr. and
Donte Whitner
will represent the city and Ohio State in Super Bowl XLVII on Feb. 3 as members of the
San Francisco 49ers
.
Smith, of course, was the 2006 Heisman Trophy winner. Here's a look at the 18 Glenville Tarblooders who have signed with the Buckeyes since 2002:
To continue reading this article you must be an Insider
January, 17, 2013
1/17/13
9:00
AM ET
Ohio State hardly needs motivation thanks to the chip on its shoulder already firmly in place after sitting out the postseason with a perfect record. But just in case any players required any extra fuel heading into workouts or wanted a little help putting together some goals, BuckeyeNation is here to lend a hand with some records that could be in reach with another productive offseason.
[+] Enlarge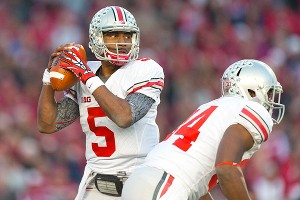 Jeff Hanisch/US PresswireBraxton Miller could become Ohio State's leading career passer by the time he leaves Columbus.
CAREER QUARTERBACK RECORDS
Who owns it: The various names are already well established in Ohio State history -- from Art Schlichter to Troy Smith, Bobby Hoying to Joe Germaine. But their respective career passing records could wind up under assault from a quarterback who's currently better known for his legs than his arm. A few of them might take two more seasons for Braxton Miller to chase down, but even if he simply maintains his current pace and doesn't take another step forward throwing the ball as he did as a sophomore, hallowed marks such as passing yardage, touchdowns and total yardage could go down as well as a pile of others that require steady contributions over a long period of time.
Who wants it: Miller's passing statistics after getting thrown into the lineup as a true freshman didn't turn many heads, but they did give him a head start and sent him on his way to potentially leading the Ohio State attack for four seasons. That's a significant boost in a bid to set career passing marks, even if that's not Miller's motivation. If he merely duplicated his dynamic sophomore campaign twice more, Miller would finish his career with more than 7,000 passing yards, 500 completions and 58 touchdowns -- enough to clinch the last two categories and a legitimate threat to the first even without boosting his numbers in Urban Meyer's spread offense.
Relevant number: The conversation for quarterbacks invariably comes back around to a much more simple category, and Miller is well on his way to piling up enough victories to make his case as one of the school's most decorated signal-callers. Even after getting tossed into the mix before he was truly ready as a freshman and then missing out on two more chances to win games due to NCAA sanctions as a sophomore, Miller officially has 16 victories through two seasons. He would need 20 wins over the next two seasons to tie Schlichter's 36 from 1978-81, and Miller could potentially have 29 games to match or surpass it taking possible postseason games into consideration.
August, 23, 2012
8/23/12
10:00
AM ET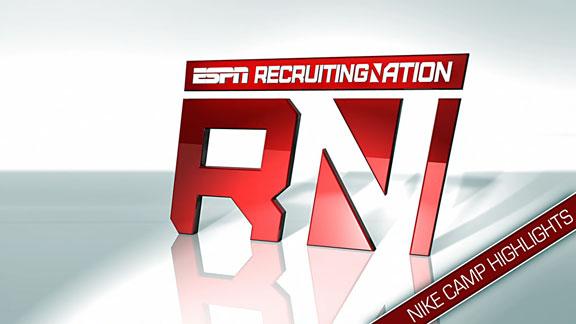 Taylor Decker
was a Notre Dame commit, then came to the Buckeyes when offensive line coach Ed Warinner accepted a position under Urban Meyer.
Orlando Brown Jr.
(Duluth, Ga./Peachtree Ridge) made a trip up to Columbus to meet with Warinner in the summer.
While he missed the opportunity to rub elbows with the co-offensive coordinator and offensive line coach, Brown said he hoped to make a trip back to Ohio.
To continue reading this article you must be an Insider
Did Ohio State Cheap Out On Championship Rings?
BIG TEN SCOREBOARD
Thursday, 9/3
Friday, 9/4
Saturday, 9/5
Sunday, 9/6
Monday, 9/7