Ohio State Buckeyes:

Tim Tebow
November, 27, 2013
11/27/13
8:00
AM ET
COLUMBUS, Ohio -- The improvements were already obvious, but Urban Meyer had stopped just short of giving the highest praise he could to his quarterback.
Braxton Miller
had spent hours in the offseason working on his footwork. Based on the dramatic increase in his completion percentage, that time has clearly paid off for the Ohio State junior. An extra year with the playbook has provided much more familiarity with the scheme and where to deliver the football, and missteps have been fewer and further between with his reads in the passing game. And while he might never be the most vocal leader, there's been little to question about his impact in the huddle and on the field for the highest-scoring offense in the Big Ten and a team that hasn't lost a game in two years.
[+] Enlarge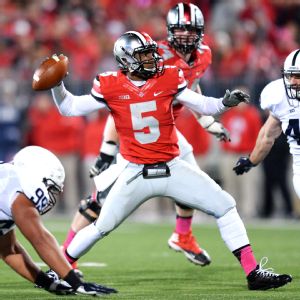 Jamie Sabau/Getty ImagesBraxton Miller's development and improved mechanics as a passer have grown this season.
But for all the statistical proof that was mounting to validate that Ohio State's plan for building Miller into a truly successful quarterback had worked, Meyer was still waiting for something more to make it official. He saw what he was waiting for last week as the Buckeyes cruised against Indiana, finally allowing Meyer to pay the ultimate compliment to the most important player on the field.
"I don't know that he played one of his best games, but he made a throw on third-and-17 -- it was his best play at quarterback since we've been here," Meyer said. "That is his best, and he knows it, I know it, [offensive coordinator] Tom Herman knows it. So his best play as a quarterback, I'm not saying the athlete that jumps around and lands on his head, those are just gifted, very gifted young men. But his best play at college football quarterback was third-and-17 on the right hash in snowy conditions where he completed a bender to
Jeff Heuerman
with pressure bearing down on him.
"He didn't panic out of the pocket. He stepped up, delivered the ball, and that's worth going back to watch. It was a fantastic play."
Miller has no shortage of those on his personal highlight reel, including some truly jaw-dropping passes into tight windows, clutch throws with the game on the line and certainly plenty of attempts that have turned into touchdowns.
And while Meyer has certainly pointed out some of those previous plays as part of the steps forward Miller has taken in his third season as a starter, many of them have come in much more ideal situations.
He still needs proper footwork and arm angles when the blocking is perfect, and he still must break down the defense and know the playbook to make the right decision with the football even when he has plenty of time to do it. But making the leap to meet Meyer's standard at the position requires using those fundamentals and that knowledge to deliver under pressure when not everything is set up perfectly for him.
And he's seen Miller do exactly that now, which puts him in an exclusive club.
"Josh Harris is a great quarterback we had at Bowling Green, we had the moment where he became a quarterback," Meyer said. "Alex Smith had a couple moments where it was like, 'We've got one.' Then same with Chris Leak and Tim Tebow and this guy. He's had a couple moments, but this is the best play I think he's had as a quarterback.
"That was his moment."
Miller had been building to it for a while now. All he needed was one more play to finally reach Meyer's loftiest standard.
October, 22, 2013
10/22/13
9:00
AM ET
Carlos Hyde had the wrong idea about Urban Meyer's offense when Meyer came to Ohio State.
Like many others, Hyde couldn't get past the S-word -- spread. He envisioned five-wide formations, a hastened pace and a system tailored to track stars, not bruising ball-carriers north of 220 pounds like himself.
[+] Enlarge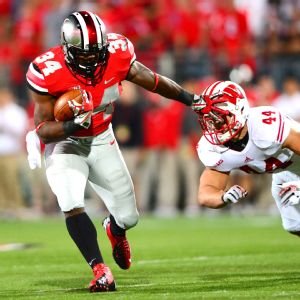 Andrew Weber/USA TODAY SportsOSU might run the spread offense, but Carlos Hyde learned quickly that the Buckeyes are a power running team. Now the rest of the Big Ten knows too.
"I didn't really know if they ran power in the spread," Hyde told ESPN.com. "I thought it would be all like outside plays."
Hyde soon found out that he would have a home in Meyer's offense, as long as he earned the right to carry the ball. The scheme didn't simply tolerate his talents; it celebrated them.
Ohio State's offense isn't Oregon's or Baylor's or Arizona's or Auburn's. Aesthetically, the Buckeyes might be a spread team. But at their core, they're all about power.
"People see me back there and they see our offensive line back there, and they're like, 'These are some big dudes, they've got a big running back,'" Hyde said. "This is not really a spread. It's more like a power team."
Need evidence? Study the second halves of Ohio State's past two wins against Northwestern and Iowa. After some sloppiness in the first 30 minutes of both contests, Ohio State methodically chipped away at the Wildcats and Hawkeyes. The Buckeyes racked up 142 rush yards and three touchdowns in the second half against Northwestern and 194 rush yards and two touchdowns in the second half against Iowa.
An offense with a knack for big plays -- Ohio State has 34 plays of 20 yards or longer this season -- had just one chunk play in each second half. Instead, the Buckeyes mounted long, sustained drives, swinging away with the Big Ten's best offensive line and a 235-pound hammer in Hyde. After running a meager 25 first-half plays against Iowa, Ohio State opened the second half with touchdown drives of 13, 11, 10 and 11 plays. Hyde's 1-yard scoring run early in the third quarter marked the first rushing touchdown Iowa had allowed all season. He tacked on a 19-yard scoring dash in the fourth quarter.
"Offensive linemen in general, after they look up at the scoreboard and see that you've won the game, the first question out of their mouths is how many yards did we rush for?" Buckeyes offensive line coach and co-offensive coordinator Ed Warinner said. "Then it's, how many sacks did we give up? And then, where do we eat?"
The Buckeyes are feasting on opposing defenses to the tune of 279.6 rush yards per game, ahead of last year's pace (242.3 ypg), which ranked 10th nationally. Their run focus has helped older players recruited by the previous coaching staff transition to the current regime.
From Woody Hayes to John Cooper to Jim Tressel, Ohio State's identity has been closely tied to the power run game. It remains that way under Meyer, despite his ties to the spread.
"That's Ohio State," Hyde said. "When Beanie Wells, Eddie George, Archie Griffin and all the great running backs who came through here, that's what Ohio State has been: traditional, a power I offense. That's basically what this spread offense still is, it's power.
"That's pretty cool that the tradition is still going."
The only prerequisites for a spread offense, according to Warinner, are at least three detached wide receivers and the shotgun formation. Other than that, the canvas is blank. Some teams will spread out five receivers and throw 80 passes per game; others will run the ball 60 times.
"A lot like the West Coast offense, there's many different versions," Meyer said. "I have our version of the spread offense, which is a very physical, power run offense. And it's always really been that way. At Utah, we had the bigger backs. At Florida, the biggest back we had was Tim [Tebow], and Tim became our power guy to offset and complement the speed that we had in the backfield. Here, our speed guy is really our quarterback [Braxton Miller] and some other skilled athletes, and we've got the big, power backs."
When Meyer coached Utah to an undefeated season in 2004, he leaned on two bigger backs in Marty Johnson and Quinton Ganther. The 6-3, 235-pound Tebow rushed for 2,478 yards and 49 touchdowns in his final three seasons as Florida's starting quarterback.
Despite his track record in the power run, Meyer never has produced a 1,000-yard rusher, a fact often used against him on the recruiting trail.
"You hear it, but you just have to be armed and ready to go," he said. "And then they see the yards per carry, they see the opportunities you get."
Hyde feels fully prepared for the NFL, not only as a runner but as a pass blocker. Warinner notes that Ohio State's top three run plays are often called on Sundays, and that Meyer's system has produced plenty of pro linemen.
Four of Meyer's linemen at Florida were selected the 2010 or 2011 NFL drafts, including first-rounders in the Pouncey brothers (Maurkice and Mike). Ohio State has had a surprisingly low number of linemen drafted the past five years but produced a seventh-rounder this past April in tackle Reid Fragel, a converted tight end. Warinner expects all four returning starters from last year's line to be drafted.
"We feel that our offense is as close to a pro spread as can be," Warinner said. "So when you watch people play on Sundays, how they run the ball and how they protect, those things have a lot of carryover to what we do. Most players at this level want to play at that level. Their learning curve is very small leaving Oho State with what we do.
"We sell that pretty hard in recruiting, and it's factual. Plus, it wins games."
Ohio State has won 19 straight, the nation's longest win streak. If the power surge continues, the Buckeyes could be playing for a crystal football Jan. 7 in Pasadena.
June, 28, 2013
6/28/13
10:50
AM ET
COLUMBUS, Ohio -- The final chapter hasn't been written yet for Ohio State's senior class, and a handful of Buckeyes have a chance to author something pretty memorable. This week, we'll be looking at five players with a chance to leave a legacy with the program with one more productive season, what kind of impact they might have this fall and how they might be viewed down the road.
Jack Mewhort
[+] Enlarge

Kirk Irwin/Getty ImagesLeft tackle Jack Mewhort will be asked to become a visible and vocal leader for the 2013 Buckeyes.

So far: The nasty, physical left tackle from Toledo isn't the only veteran lineman with a chance to leave the program on a high note, and the presence of three more senior starters up front is a major factor in the national-title buzz that is building for Ohio State. That group typically spreads around the credit and the attention, and Corey Linsley, Andrew Norwell and Marcus Hall each deserve praise for the work they've done with the Buckeyes. But individually, Mewhort has become the leader of not only his position group but potentially the entire team, developing into the type of driven leader so highly valued by Urban Meyer. The Ohio State coach hasn't been shy about backing Mewhort's candidacy as the heart and soul of the team, and he has taken it even further by mentioning him in the same category as former captains like Tim Tebow and John Simon. Like any blocker, there isn't much statistical evidence to measure Mewhort's impact by himself -- but he's certainly integral in maintaining a winning culture across the team.
Numbers to date: A second-team All-Big Ten pick as a junior, Mewhort anchored an offensive line that helped the Buckeyes rack up more than 242 rushing yards per game to rank No. 10 in the country on the ground. And while they only might have been scratching the surface of what they can do in Meyer's spread offense, the 37.1 points per game the Buckeyes averaged led the conference.
Record chasing: The record books might need a number of updates for scoring and yardage if all goes according to plan this fall, which starts with keeping Mewhort healthy and able to continue his streak of consecutive starts. That number sits at 25 heading into the season, and perhaps more impressively includes appearances at three different positions on the line.
What's next: The focus always will be on the players who touch the football, and the Buckeyes are pretty well stocked with guys capable of ringing up head-turning statistics. But Braxton Miller needs time to throw, Devin Smith and Philly Brown have to be able to complete their routes and Carlos Hyde and a deep backfield aren't going far without holes to run through, and that all starts with Mewhort and and the front five on offense. Meyer made sure last year to call attention to the job all of those guys did, but their contributions might still have been undervalued at times. Establishing Mewhort as one of the leading voices for the program, though, could change that and shine the spotlight a little brighter on the dirty work in the trenches.
Crystal ball: Probably more than any other position, reputations for linemen are often forged by team success as opposed to individual dominance. Mewhort will have some versatility working in his favor when his career is analyzed down the road, and obviously he already has been a part of an undefeated season. But if he's widely recognized as the torchbearer for a team that follows that up with a run to a national title, he'll at least have a framed jersey hanging in Meyer's office in the practice facility.
June, 25, 2013
6/25/13
10:30
AM ET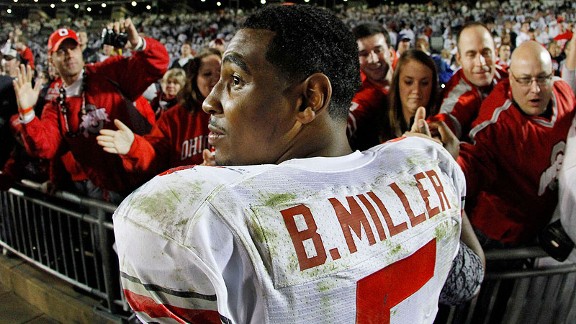 AP Photo/Gene J. PuskarBraxton Miller may not reach his full potential in '13, but he still could be the best player in the nation.
You saw last season what Ohio State quarterback
Braxton Miller
could do in an offense more suited to his skill set.
Remember
this
? And
this
? And
this
?
But it's what Miller didn't do that builds his case to be the nation's best quarterback in the 2013 season.
Take his scrambling skills, for example.
"Awful," Ohio State offensive coordinator Tom Herman said. "Just awful."
We'll come back later to how a quarterback who rushed for 1,271 yards and 13 touchdowns last season can be such an awful scrambler.
For now, let's move onto Miller's grasp of the Buckeyes' offense.
"We went 12-0 last year, he finished fifth in the Heisman [voting] and he couldn't draw you where all 11 guys were going to be," Herman said.
Scrambling and system knowledge are just two of the areas Miller will set out to improve in his junior season in Columbus. He led Ohio State to just the sixth unbeaten, untied season in team history, won Big Ten Offensive Player of the Year and Silver Football (league MVP) honors, recorded a team-record 3,310 yards of total offense and had 26 runs of 20 yards or longer.
But he hasn't come close to reaching his potential as a college player. And that, more than any other reason, is why you should believe in Braxton. Herman does.
"He hasn't fought me any step of the way," Herman said. "The kid, he wants to be the best in the country, so I need to give him as many tools as I can to allow that to happen."
Miller's evolution as a quarterback starts, somewhat surprisingly, with his feet. He has worked throughout the offseason to
be more consistent with his footwork on passes
, both in the pocket and on the run.
Herman also wants Miller to remember his feet while going through his reads.
"It's more pocket presence, pocket awareness, getting from read to read, resetting your feet," Herman said. "He's had really good footwork, he's always shown glimpses of it, but [he needs] to be much more consistent with it."
Miller completed just 58.3 percent of his passes in 2012, a number Herman wants to see between 67-70 percent this season. Herman admits he needs to do a better job calling high-percentage passes for Miller, who will have a deeper group of pass-catchers at his disposal, not to mention the Big Ten's best offensive line.
The coaches condensed the passing playbook this spring so Miller could get more comfortable with Ohio State's core routes.
"He did a very good job of figuring out where all the pieces of this puzzle are going to be," Herman said. "The thing with Braxton is you could probably quiz him right now in a sterile environment, and he'd tell you all the right answers. Last year, he couldn't even do that. Now it's getting out there with all the chaos and conflict, for him to be able to snap the answers right back to you."
Miller also is getting more comfortable as a leader. Although the introverted Buckeye differs from Tim Tebow, Urban Meyer's last Heisman-winning quarterback -- "We're maximizing as much vocalism as he's got," Herman said -- he has taken greater initiative this summer, calling teammates to gather for workouts and making every rep count.
"You have to see it from when he was a freshman to now," slotback
Jordan Hall
said. "It's just crazy how he grew over the years."
Part of that growth is learning when to scramble. Herman estimates that of Miller's 1,271 rushing yards in 2012, only about 200 came on scrambles. If Herman called a pass, Miller believed he had to throw one, even when the window wasn't there.
Herman would like to call fewer designed runs for Miller, and more passes that Miller could turn into big gains on the ground if the opportunities are there.
"You're the best athlete on the field, you've got the ball in your hands, you've got open space, go take off and run," Herman said. "We've done a better job as a staff of making him aware of why we want him to do that. It doesn't make him less of a quarterback because he scrambles."
Miller's offseason to-do list is long, but his ceiling as a college quarterback also is very high. He won't reach that ceiling during the 2013 season, according to Herman, but he still could hoist the Heisman in December and the crystal football in January.
"It will be really hard, because of some of the rudimentary and remedial things we still had to work on, for him to reach his full potential this season," Herman said. "But I think he can be the best in the country, which is scary to say that not at his best, he can still be the best in the country.
"That's a legitimate goal."
May, 3, 2013
5/03/13
10:00
AM ET
It's time to dip into the BuckeyeNation recruiting mailbag and answer some of your questions.
We'll try to give everyone a chance to get their questions answered.
We encourage you to send your questions by Twitter at @bbournival, by e-mail at brad.bournival.espn@gmail.com or by posting a question in the Horseshoe Pit forum.
@JKing4483: Demarre Kitt, Raekwon McMillan, Da'Shawn Hand, Jabrill Peppers. How are the Ohio State Buckeyes looking there?
October, 22, 2012
10/22/12
2:21
PM ET
Ohio State coach Urban Meyer made it clear Monday: he's not going to change
Braxton Miller
.
"You let him be him," Meyer said.
It could result in more moments like the one late in the third quarter Saturday against Purdue, when Miller writhed in pain on the turf after being slammed on his neck. While no one hopes it results in another trip to the hospital, the quarterback's style of play as a runner keeps the ambulance team on alert.
Miller has taken fans' breath away with his dynamic running skills in Meyer's spread offense this season. He also has had Buckeye Nation holding its breath a few times.
It's hard to have one without the other, especially as Ohio State tries to develop more reliable offensive weapons around its best player. Meyer noted Monday that if other offensive players step up, Miller will have to do less, thereby reducing his injury risk. Interestingly enough, Ohio State got several out-of-nowhere contributions -- notably from wide receiver
Chris Fields
-- after Miller left Ohio Stadium in an ambulance.
[+] Enlarge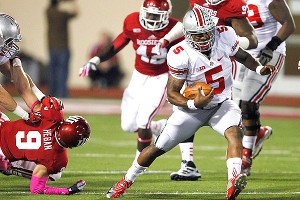 AP Photo/Sam RicheWhile Ohio State coach Urban Meyer is concerned with Braxton Miller taking heavy hits, he said he won't change the QB's aggressive running style.
Fortunately,
Miller is OK
. Meyer said the sophomore quarterback has a "very, very sore neck," and had a whiplash-like feeling at the time. But after all the tests came back negative, Miller will return to the practice field Tuesday. He's expected to start Saturday night against Penn State.
"We are trying to balance it," Meyer said. "We don't go crazy with him running the ball. At some point, though, you have to try to move the ball a little bit. We're very cognizant of that."
Meyer is still "very concerned" about Miller taking big shots, as the quarterback has in games against Michigan State, Nebraska and Purdue to name a few. Asked if the trend is symptomatic for quarterbacks in his offense, Meyer noted that former Florida star Tim Tebow took some shots, while Chris Leak, Alex Smith and Josh Harris did a better job of staying out of harm's way.
"He doesn't go down very easily, and he's a competitive guy," Meyer said of Miller. "The good thing is, he usually bounces right back up. This one was a tough one. … He just is a dynamic athlete. He's more difficult to bring down."
The Ohio State coaches can tell Miller to keep his well-being in mind -- to run out of bounds after getting a first down, maybe even to slide once in a while. They can limit him to 12-15 carries rather than 18-20. But it's not in Miller's nature to go down easily. Miller's natural ability to break tackles and find running room when none seems to be available also leads to fewer safe plays.
Asked if Miller's injury issues will have any impact on his play calling against Penn State, offensive coordinator Tom Herman said, "None. We've got to win the game. ... That won't factor into any of our decisions."
This is Ohio State's reality in 2012 as it tries to build scoring threats around Miller. For long stretches, he has been the Buckeyes' offense.
If that's the case going forward, there will be more breathtaking runs -- and more breath-holding hits. Bring your oxygen.
October, 9, 2012
10/09/12
3:13
PM ET
COLUMBUS, Ohio -- Quick hitters from Ohio State coach Urban Meyer's weekly appearance on the Big Ten teleconference on Tuesday.
[+] Enlarge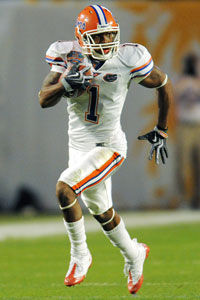 James Lang/US PresswireUrban Meyer said that Braxton Miller's running ability reminds him of Percy Harvin's.
On the run:
The comparisons have already been made to previous quarterbacks in his system.
Now Urban Meyer is expanding the pool of athletes to other positions when he breaks down
Braxton Miller
.
Even before the season the Ohio State coach wouldn't hesitate to give Miller some physical edges against a couple of his old signal-callers such as Utah's Alex Smith or Florida's Tim Tebow. But after his dynamic start as a rushing threat through six games, Meyer is now putting him in the same company as former star Percy Harvin, a game-changing, multipurpose weapon the Gators used all over the field.
"I think [Miller] is one of the top-five runners in America, maybe even higher," Meyer said. "I haven't studied the country, but Percy Harvin and Braxton Miller are the two best runners I've ever had.
"So, when it's time to go make a play and win the game, I think it's rather obvious that you give the ball to Percy Harvin or Braxton Miller."
Miller ran it 16 times in last week's win over Nebraska, producing a career-high 186 yards and a touchdown as he moved up to No. 11 in the nation in rushing at the midway point of the season.
The Buckeyes would like to complement that ability to rack up yards carrying the ball with a few more through the air, particularly after he completed just 7 of his 14 attempts against the Huskers. Both of those numbers were the lowest he's posted all season as a passer, though the easy success Ohio State was having running the ball certainly skewed the data -- and Meyer hasn't lost any confidence in Miller as a thrower either.
July, 27, 2012
7/27/12
2:10
PM ET
CHICAGO -- Quick hitters from the second and final morning of Big Ten Media Days, which featured roundtable interviews with Ohio State coach Urban Meyer, fullback
Zach Boren
, linebacker
Etienne Sabino
and defensive end
John Simon
.
-- BUMPS AND BRUISES:
The Buckeyes are set to report to camp reasonably healthy. But the few nagging issues they have are literally all bunched in the center.
Jacoby Boren is recovering from shoulder surgery and could miss the first two or three weeks of practice, and freshmen
Pat Elflein
(cyst removal) and Joey O'Conner (knee scope) will likely both be on the shelf for a few days as well. And while Meyer indicated all three would be fine, the combination of those three issues together on the offense line ahead of what is expected to be a physical camp is far from ideal.
"That's three freshmen that could play center," Meyer said. "They'll be fine, but that's more wear and tear on the other players, so that's really bothering me getting ready for camp.
"(Boren) we're hoping the second, third week of training camp. He'll be able to snap, throughout seven-on-seven, great kid, tough guy, and we're going to get him involved as soon as we can."
Did Ohio State Cheap Out On Championship Rings?
BIG TEN SCOREBOARD
Thursday, 9/3
Friday, 9/4
Saturday, 9/5
Sunday, 9/6
Monday, 9/7