Ohio State Buckeyes:

Thad Matta
January, 30, 2014
1/30/14
9:00
AM ET
As the coach hiring season nears an end, we're examining the Big Ten coaching landscape and some recent trends. We wrap up the series today with a look at the importance of coaching continuity in the Big Ten going forward.
It's no coincidence that a historic downturn in Big Ten football has coincided with a historic stretch of instability among the league's coaches.
[+] Enlarge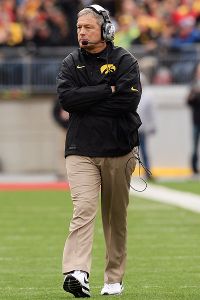 Jamie Sabau/Getty ImagesIowa's Kirk Ferentz has been at his post eight years longer than any other Big Ten coach.
Think back to 2005, a season that ended with two BCS bowl wins and teams ranked No. 3 (Penn State) and No. 4 (Ohio State) in the final polls. Seven of the league's 11 coaches had been at their schools for six or more seasons. Ohio State's Jim Tressel, three years removed from a national title, logged his fifth season in Columbus. Three coaches -- Penn State's Joe Paterno, Wisconsin's Barry Alvarez and Michigan's Lloyd Carr -- all had held their jobs for more than a decade (in Paterno's case, four decades).
The Big Ten coaches that year had combined for four national championships, five Rose Bowl titles and seven BCS bowl victories.
Since 2005, the Big Ten has gone through 17 coaching changes (not counting Nebraska's after the 2007 season). Seven teams have made multiple changes, including Penn State, which introduced new coaches earlier this month and in January 2011 after not doing so since February 1966. Last season, Indiana's Kevin Wilson was the longest-tenured coach in the Leaders division. He was hired in December 2010.
As the Big Ten
invests more in its coaches
, it also must ensure it has the right leaders in place for the long haul.
"If you believe strongly in the person you have," Iowa athletic director Gary Barta told ESPN.com, "continuity is invaluable."
Few programs value continuity more than Iowa, which has had two coaches (Kirk Ferentz and Hayden Fry) since the 1978 season. Ferentz, who just completed his 15th year at the school, has been at his post eight years longer than any other Big Ten coach. He's one of only four FBS coaches to start before the 2000 season (Virginia Tech's Frank Beamer, Oklahoma's Bob Stoops and Troy's Larry Blakeney are the others).
Iowa awarded Ferentz with contract extensions both in 2009 and 2010, the latter a
whopping 10-year deal with a salary of $3,675,000
. The Big Ten hasn't set the pace nationally in coach compensation, but Iowa's pledge to Ferentz, often the subject of NFL rumors, jumps out. Ferentz's salary is frequently debated and scrutinized, especially when Iowa struggles like it did in 2012, but Barta's loyalty to him hasn't wavered. Iowa rebounded to win eight games last season.
"Because of that commitment, we made our statement," Barta said. "We're going to fight through this with the person in whom we have great confidence and trust. There's no guarantees in life, but because of Kirk's past performance, because of his long-standing approach at Iowa and his proven success, it was a risk I was willing to take. Knock on wood, so far it has worked out terrific."
Barta sees a similar approach from Big Ten schools like Michigan State, which won Big Ten and Rose Bowl titles in Mark Dantonio's seventh season as coach.
Dantonio in 2011 received a contract
designed to keep him a "Spartan for life," and his newest deal is expected to more than double his salary from $1.9 million in 2013.
"Continuity breeds success," Michigan State athletic director Mark Hollis said, "and that's the hardest part sometimes on the institutional side, to keep that commitment, keep that contract whether it's an assistant or a head coach. … It requires a high level of confidence and a high level of trust."
"

The day of playing musical chairs with coaches, of making change just for change's sake, is over because any changes you make are going to be expensive and important. You've got to get them right.

"

Michigan athletic director Dave Brandon
There have been similar long-term commitments at other Big Ten schools. Northwestern
awarded coach Pat Fitzgerald a 10-year contract in 2011
. When Indiana hired Wilson, it gave him a seven-year contract, longer than the initial deals new coaches typically receive. Athletic director Fred Glass links Indiana's lack of continuity -- the school has had five coaches since 1996 -- with its on-field struggles (only one bowl appearance since 1993) and knows the school needs a more patient approach.
"Stability is an important thing in our league," said Ohio State athletic director Gene Smith, who applauded recent moves like MSU retaining Dantonio and Penn State hiring James Franklin. "The best example I'll use is men's basketball where we're having tremendous success, in large part, because of the stability we have in a number of our programs. I think we need to get that in football."
While Big Ten football has struggled in recent years, the league is surging on the hardwood, in large part because of veteran coaches like Michigan State's Tom Izzo (19th year), Wisconsin's Bo Ryan (13th year) and Ohio State's Thad Matta (10th year). Six of the league's 12 basketball coaches have been in their jobs for at least five seasons.
Continuity doesn't guarantee success, but it often correlates. Barta has tried to create "an environment of longevity and long-term commitment" at Iowa, while also recognizing the pressure to win and, in some cases, the need to part ways with a coach.
"The day of playing musical chairs with coaches," Michigan athletic director Dave Brandon said, "of making change just for change's sake, is over because any changes you make are going to be expensive and important. You've got to get them right."
After several years of transition, the Big Ten hopes it has the right men at the top -- and the ability to keep them there.
June, 4, 2013
6/04/13
5:00
PM ET
COLUMBUS, Ohio -- If a visit to the school president was needed to impress a recruit, Gordon Gee was there.
Endless support, boundless enthusiasm for athletics? No problem.
Fundraising skills, entertaining personality and trademark fashion? Sure, the Ohio State president had that as well.
[+] Enlarge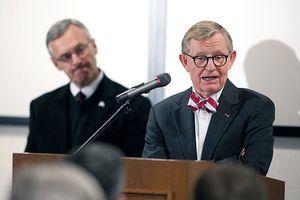 Greg Bartram/US PresswireOhio State president Gordon Gee, like former football coach Jim Tressel, is out. But Ohio State's athletic department isn't likely to feel much of an impact.
He also had a penchant for stirring up some trouble with his mouth, and ultimately that helped nudge him into the retirement he announced on Tuesday that will take effect July 1. But even for all those positives that earned him rave reviews from coaches and endeared him to some players before they were even enrolled, it's safe to assume the Buckeyes and their athletic department will be just fine without him calling the shots.
The leadership is already in place when it comes to the most visible parts of the university. And while that's not to diminish Ohio State's reputation as an academic institution, football and men's basketball will always generate more attention and keep alumni engaged better than anything else on campus. And when it comes to those two sports and the boss those coaches report to, it's hard at this point to envision a change in president shaking the foundations already firmly in place.
Gene Smith has faced his share of criticism as athletic director, but particularly with the NCAA sanctions and scandal from the end of Jim Tressel's tenure in his rearview mirror, it's difficult to imagine his job as anything less than secure.
And the résumés of Urban Meyer and Thad Matta speak for themselves.
That stability in leadership alone should keep the athletic department from having any difficulty navigating the water while the waves rock in the president's office, but that's certainly not the only reason the Buckeyes are likely to continue with business as usual on the field and the hardwood.
The money is pouring in for the Big Ten, and Ohio State isn't suddenly going to turn its back on one of the proudest, largest athletic departments in the nation. Regardless of how skilled Gee was at raising funds, donors aren't likely to slow down their giving when the high-profile teams are winning at such an elite level, particularly if a segment of that population was starting to tire of the stream of apologies that Gee had to issue after offending rival coaches or entire religious denominations.
And perhaps most important, the entire saga with Tressel, and even Gee's jokes about his job status then, helped establish a basic principle for the school that is more applicable now than ever. Nobody is bigger than Ohio State, and it is more than willing to move on and more than capable of finding somebody else to continue its traditions.
March, 24, 2013
3/24/13
5:20
PM ET
DAYTON, Ohio -- With less than 5 seconds left in a tied game, perhaps the best pure scorer in the country came off a pair of screens that did exactly what they were designed to do: get him open.
Deshaun Thomas
called for the ball -- screamed for it, waved his hands high above the 6-foot-7 inch frame that had made him essentially unguardable for the first 39 minutes and 55 seconds of his team's second-round NCAA tournament thriller -- but the pass never came.
Instead, a 6-foot-2 point guard -- who spent most of the second half turning the ball over and missing key free throws, who was being guarded by the opposing team's tallest player, who hadn't attempted a 3-pointer all afternoon and averages just 29.3 percent from beyond the arc this season -- looked him off.
To say
Aaron Craft
faced pressure in the final seconds of
Ohio State's 78-75 win over Iowa State
Sunday is to state the incredibly obvious, but that pressure wouldn't have come solely from Buckeyes fans, who would have surely blamed him for a heartbreaking second-round upset loss. Craft would have had one unhappy teammate, too.
March, 4, 2013
3/04/13
10:22
AM ET
By
BuckeyeNation
| ESPN.com
Ohio State coach Thad Matta talks about the strength of the Big Ten, preparing for Victor Oladipo and Indiana, court-storming and more.
Listen here

.
February, 24, 2013
2/24/13
9:24
PM ET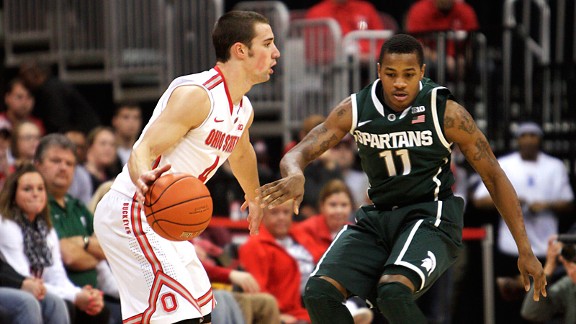 AP Photo/Jay LaPreteThe 21 points Aaron Craft scored against the Spartans was a collegiate career high for the guard.
COLUMBUS, Ohio -- The rosy-cheeked aggression is nothing new.
The difference was where
Aaron Craft
was channeling that famous energy.
The Ohio State junior has built his reputation largely on the strength of his relentless, pesky approach on defense. Michigan State can once again attest that nothing has changed on that end of the floor. But in something of a surprise to the No. 4 Spartans, Craft went after the rim and the lane the same way he normally would a ball-handler. He made himself just as much of a nuisance offensively in a
68-60 win
at Value City Arena that offered a reminder that No. 18 Ohio State shouldn't be written off quite yet.
"It was great to see the ball going in for him and him attacking the rim," Buckeyes coach Thad Matta said. "I thought he was tremendous today. It definitely helps our basketball team when he's doing that, because you know what you're going to get on the other end.
"I mean, he's the best defender in college basketball, there's no question about it."
There were some lingering doubts about how much scoring Craft could supply to complement the consistent defense, but he was certainly the most productive offensive player on the court on Sunday afternoon in one of Ohio State's last chances to make a statement and build momentum before the postseason.
The Spartans had no answer for the dual-threat Craft, who made it look routine to get to the basket off the dribble. He rarely took a wrong step on the pick-and-roll, either finishing on his own or setting up teammates for one of his six assists. He won one-on-one matchups to get easy finishes, dropped in contested attempts in traffic, and was almost perfect from the free-throw line on the way to a game-high 21 points.
As recently as a week ago Ohio State was reeling from a blowout loss at Wisconsin and
Deshaun Thomas
, the Big Ten's leading scorer, was struggling with his shot. The Buckeyes couldn't have needed Craft to be at his best offensively more than this game. Considering that his previous career high had come against Albany in the season opener, Craft might never have been better with the ball in his hands than he was against the Spartans.
"Give Craft credit, he tore us apart in the second half," Spartans coach Tom Izzo said. "It was Aaron Craft, he beat us every way he could beat us.
"Aaron Craft was more aggressive than I've ever seen him as a scorer, and give him credit for that. … I couldn't plan for something I've never seen before."
The Buckeyes would obviously be more formidable if Craft had that part of his game more regularly; although his defense has already helped keep an inconsistent team, that relies heavily on Thomas, afloat.
Craft still gave Ohio State everything it has come to expect from him. He was credited with only one steal, but he helped fluster
Keith Appling
as Michigan State's leading scorer hit just one of his six shots and finished with three points. Craft was a fixture on the floor as he threw his body around for loose balls -- notably securing a crucial possession late in the game in a scrum under the Ohio State basket. He pushed all the right buttons on the floor, knowing just when to push the tempo or slow it down to let his teammates regroup.
But he apparently realized that the Buckeyes needed him to add something extra to allow Ohio State to hang around in the Big Ten race a little longer.
"The biggest thing that we get from a game like this is a win against a great opponent," Craft said. "This is big for this basketball team, the way we've picked ourselves up from a week ago [at Wisconsin] when we weren't ready to go. Hopefully we can continue to build off this.
"If it takes [me scoring] -- I don't care who is scoring, who is putting the ball in the bucket as long as we come out with more points."
Collectively, that was the Buckeyes. And they're clearly a more dangerous team when Craft is pacing the individuals.
February, 11, 2013
2/11/13
10:47
PM ET
By
Dave Telep
| ESPN Insider
Ten games into every season, Garfield Heights (Ohio) coach Sonny Johnson cuts up tape and sends it out to colleges to help his underclassmen get recruited. Most of the time, Johnson is trimming up film on guards. This year, the response he received from the film on 6-foot-9 junior power forward
David Bell
was as strong as he's ever gotten.
"Nobody had seen the kid," Johnson said. "I made highlight tapes with 10 games to go in the season. When I sent them to Illinois, Iowa and all these schools, they were going crazy about him. When I sent it to Ohio State they came up right away."
Ohio State, which is building an
impressive junior class
, wasted no time with Bell. And in turn, Bell wasted little time with the Buckeyes, committing to Ohio State on Monday night.
November, 20, 2012
11/20/12
12:05
AM ET
By
Dave Telep
| ESPN Insider
The Ohio State Buckeyes have had a significant 48 hours of recruiting. Thad Matta's group accepted a commitment late Monday night from
ESPN 60
small forward
Jae'Sean Tate
(Pickerington, Ohio/Pickerington Central). Tate is ranked the No. 43 overall player in the junior class.

On Sunday, the Buckeyes had landed No. 27 overall junior
Keita Bates-Diop
(Bloomington, Ill./University). It's clear the Buckeyes are already on the verge of piecing together a strong 2014 recruiting class.
Tate had visited Columbus unofficially a number of times this fall. Over time, he'd developed a deep relationship with Matta, one that proved to be vital in allowing him to feel comfortable enough to pledge. Tate also considered Michigan and Iowa.
To continue reading this article you must be an Insider
October, 31, 2012
10/31/12
12:44
PM ET
COLUMBUS, Ohio -- Quick hitters from Ohio State's exhibition win Tuesday night over Walsh at Value City Arena:
For starters:
Thad Matta did plenty of tinkering with the rotation, and he didn't even stick with the same first unit for both halves of the exhibition against Walsh.
But the Buckeyes coach had to send out a starting five, and the group included one mild surprise:
LaQuinton Ross
got the nod over
Sam Thompson
. The sophomore forward was solid on both ends of the floor and finished with 13 points and 5 rebounds in 21 minutes of action, while Thompson was effective as well, with 11 points and 4 assists -- and he wound up with more playing time.
To continue reading this article you must be an Insider
October, 11, 2012
10/11/12
5:52
PM ET
COLUMBUS, Ohio -- Quick-hitters with the Ohio State basketball team, which hosted its media day on Thursday ahead of the first practice of the preseason.
Back on point:
Aaron Craft hadn't taken two weeks off since he was in middle school, and if it had been solely up to him, that streak would still be alive.
[+] Enlarge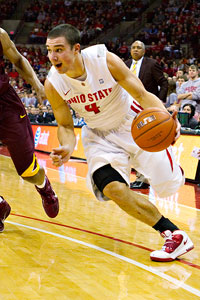 Greg Bartram/US PresswireThe Bucks are hoping a healthier Aaron Craft can deliver more offense this season.
But surgery on his nagging ankle injury in June and the cast that was subsequently slapped on it kept the tireless Ohio State point guard off his feet and forced him to actually take a bit off time to rest his body over the summer. And while Craft recognized the value of that recovery time and admitted he came back rejuvenated, he still doesn't seem eager to take another vacation moving forward.
"I couldn't do anything because I was in a cast, so that was very interesting and challenging for me, watching these guys work out and shoot and play," Craft said. "That was probably the toughest thing. Getting back, it was good for my entire body to take time off. I wouldn't have done that on my own.
"I felt reenergized and ready to go when I got back, and ultimately it was probably the best thing for me."
The relentless junior has never been accused of running low on energy, and a fresher, healthier version of Craft could make life even more difficult for opponents battling the lockdown defender on the offensive end.
The Buckeyes are likely counting on him to provide a bit more scoring when they have the ball as well as they try to replace the production of Jared Sullinger and William Buford, and it certainly won't hurt if Craft doesn't have to spend much time this season limping from the pain that used to shoot through his ankle.
"The rest probably helped him," coach Thad Matta said. "He's a guy that doesn't like to take days off, when he's in here he's going 100 miles an hour. From that perspective, it's probably good.
"I haven't noticed [a change in his approach], what I have noticed is he doesn't trip on his foot and then limp for the next minute. He seems to be perfectly fine."
Old hands:
The Buckeyes aren't exactly loaded with seniors.
But they've got one more of those upperclassmen than they do freshmen with only one of the latter on the roster, which might actually qualify Ohio State as a veteran outfit. And that could make for a much smoother experience when the Buckeyes hit the practice court as a full unit on Friday.
"It's very valuable," junior Deshaun Thomas said. "We all know what coach Matta wants out of us in practice, and we've got one freshmen, so the other guys should already know what he wants and what it takes to win.
"Coach Matta preaches toughness. Once you're out there in a drill and you show him you're doing it right, he'll cut the drill short. Everybody on this team should know what he wants and give it their all. We don't have to help a lot of freshmen pick it up and understand what to do, so everybody should know what's expected tomorrow."
High five:
Matta didn't tip his hand on a starting lineup, preferring instead to let practice play out and then go from there.
But it's no secret how he'll figure out that group when the time comes.
"I told them the other day, I'm going to start the five best defenders," Matta said. "I think from the standpoint of trying to get those guys to understand where I'm coming from, with what we have, I think we'll have great depth this year.
"There's a lot of quality out there, and I'm excited to see these guys compete in four-day increments as we're getting ready to practice."
August, 30, 2012
8/30/12
12:40
PM ET
COLUMBUS, Ohio -- There is no easing into the schedule for a team aiming for another appearance in the Final Four.
Ohio State will open the season with a neutral-site game against an opponent that went to the NCAA Tournament as well last year, and taking on Marquette right off the bat sets the tone for a slate featuring plenty of potential matchups of teams headed to the postseason.
The first against the Golden Eagles is set for Nov. 9 in the Carrier Classic in Charleston, S.C., and the dates were also confirmed for showdowns at Duke (Nov. 28), at home in a rematch against Kansas (Dec. 22) and every conference game with the school releasing the full schedule on Thursday morning.
"Our team has been hard at work since our appearance in the Final Four last March," Buckeyes coach Thad Matta said in a release. "I like the mix of veteran and underclassmen on our roster. They will be challenged throughout the year as we prepare for Big Ten competition.
"Our league will be extraordinary once again, and our team will be tested both in our non-conference and conference schedule."
When combined, the action inside and outside the Big Ten will include at least 14 games against 10 teams that went to the NCAA Tournament last season and five more opponents who appeared in the NIT.
The highlights of the schedule:
Nov. 9: Marquette in Charleston, S.C.
Nov. 28: at Duke
Dec. 22: Kansas
Jan. 2: Nebraska (conference opener)
Jan. 8: at Purdue
Jan. 13: Michigan
Jan. 19: at Michigan State
Jan. 29: Wisconsin
Feb. 5: at Michigan
Feb. 10: Indiana
Feb. 17: at Wisconsin
Feb. 24: Michigan State
March 5: at Indiana
July, 24, 2012
7/24/12
3:54
PM ET
Former Indiana coach Bob Knight is obviously known as, well, that: The legendary former Hoosiers coach with three national titles, a 1984 gold medal, 902 NCAA Division I basketball wins and, at the height of his powers -- before his eventual controversial dismissal from Indiana in 2000 -- a rigorous, discipline-based cult of personality the state of Indiana wholeheartedly embraced.
[+] Enlarge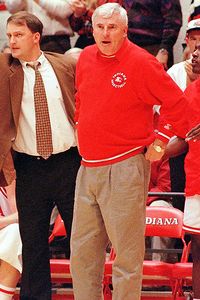 AP Photo/Garrett EwaldFormer coach Bob Knight has little or nothing to do with Indiana University these days.
Which is exactly why the last 12 years have been so thoroughly awkward. Knight moved on -- first to Texas Tech, then to the ESPN airwaves -- without ever seeming to care one iota for the basketball program he built or the university that housed it for the previous 30 years of his life. At first, a clean split was understandable. Lately, though, despite the repeated efforts of Indiana coach Tom Crean and athletic director Fred Glass --
including and up to an IU athletics Hall of Fame ceremony honoring the coach himself
-- the former coach has refused to budge.
In the meantime, Indiana fans eager to see Knight back in Assembly Hall, red sweater and all, have looked on in horror -- and by "horror" I mean "at least marginal annoyance" -- as Knight has strengthened his ties with a less well-known portion of his basketball past: His time at Ohio State.
The latest development? This weekend, OSU announced it had created a "lifetime achievement" category for OSU alums that go on to great achievement in their post-Columbus careers. Its first honoree?
None other than Knight
:
Easiest Path To The 2015 College Football Playoff
BIG TEN SCOREBOARD
Thursday, 9/3
Friday, 9/4
Saturday, 9/5
Sunday, 9/6
Monday, 9/7