Ohio State Buckeyes:

Terrelle Pryor
January, 29, 2014
Jan 29
10:30
AM ET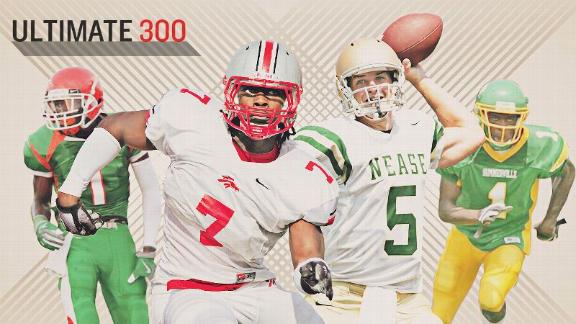 There have been plenty of memorable prospects and players to come through the Big Ten, but RecruitingNation's scouts have put together their
Ultimate ESPN 300
list of top recruits.
Here are the top five Big Ten recruits who made the list:
To continue reading this article you must be an Insider
November, 26, 2013
11/26/13
11:00
AM ET
Editor's note: New coaches inherit a blank slate and often, an empty house. But new coaches who take positions at schools rocked by scandal face special challenges. Here's a look at how Ohio State is rebounding from that situation.
Jim Tressel's tenure at Ohio State began to unravel when it was revealed some of his players received cash and tattoos in exchange for memorabilia. Things turned for the worse when Tressel didn't bring the infractions to light when the NCAA questioned the allegations.
Ohio State received a one-year bowl ban and had its scholarship total trimmed from 85 to 82 for three seasons. The Buckeyes also voluntarily vacated their 2010 Sugar Bowl season. This year is the last in which current coach Urban Meyer and Co. have to deal with those sanctions.
To continue reading this article you must be an Insider
June, 19, 2013
6/19/13
11:15
AM ET
Jordan Hall
watched most of Ohio State's 12-0 season from the sideline with mixed emotions.
"It was tough to watch and miss," Hall told ESPN.com. "I played in two and a half games or something. I was happy for my team, but I just wanted to be out there so bad."
[+] Enlarge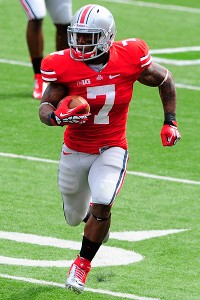 David Dermer/Diamond Images/Getty ImagesHealthy again, RB Jordan Hall is giving Ohio State options within its offense.
The running back figured to be out there a lot for Ohio State after the team completed spring practice last April. New head coach Urban Meyer singled out Hall as one of few bright spots for an offense he called a "clown show." But Hall's fortunes turned in late June, when
he cut his foot on a broken glass bottle
strewn in the front yard of his residence.
The "freak accident" set off a series of setbacks for Hall, the Buckeyes' likely starting running back before his injury. After undergoing surgery, missing preseason camp and the first two games, Hall returned in Week 3 against Cal but
suffered a partial tear of his PCL two weeks later
at Michigan State. He sat out the rest of the season and
received a medical hardship
. This spring, the coaches moved Hall to the slotback role where Percy Harvin had shined in Meyer's spread offense, and Hall had a strong start to the session before being slowed by a hamstring injury.
"I just want to get out there," Hall said. "I had to miss a lot of time."
Hall is back to full strength this summer and looks forward to going through a full preseason in the offense. The slotback role is similar to what Hall played in high school, when he teamed with former Ohio State quarterback Terrelle Pryor in Jeannette, Pa.
Hall also has slimmed down 10-12 pounds from his 2012 playing weight and checks in at 191 pounds, the lightest he has been since high school.
"I feel a lot better in and out of my cuts," said Hall, who had 653 rush yards, 197 receiving yards and 1,494 return yards in the 2010 and 2011 seasons. "Top-end and everything, it just feels better. I feel like I'm hitting a gear I never really hit before. I'm 100 percent healthy, so I feel like I'm ready to go."
Ohio State took no chances with Hall after the hamstring injury this spring, and Hall admits he wasn't completely ready when he returned to the field last season.
"I didn't really get to do the summer conditioning, none of the summer training, none of that," he said. "I was just lifting upper body, running on the underwater treadmill a little bit and then I practiced Tuesday, Wednesday and Thursday of the Cal week and then I played. I feel my leg just wasn't ready for competition, and that's what made me have my knee [injury]."
Hall looks forward to his first full preseason in the Meyer-led offense and recognizes the competition at his position will heat up.
Chris Fields
had a strong spring, and incoming freshmen Dontre Wilson and Jalin Marshall could fill the slotback role.
As a fifth-year senior who served as a co-captain before last season, Hall isn't concerned about re-proving himself to the coaches, especially Meyer.
"He's just always on me, [asking] if I'm catching, am I with the quarterbacks, am I doing my rehab," Hall said. "He's just making sure I'm ready to go. He has seen what I can do, and he says I can be a great player if I can stay healthy and do all the right things.
"Everyone's excited."
Hall's
Twitter page
contains the following words below his avatar: "This year I said it's all business." He has been through a lot Ohio State -- from
off-field issues
to moderate success to injuries -- and he wants to complete his comeback and be a part of another special season.
"I've just got tunnel vision," he said. "I'm not going to have any distractions. My only focus is football, really, and school. This is my last go-round, so I'm putting everything into it."
March, 14, 2013
3/14/13
10:05
AM ET
With apologies to Joe Bauserman and Todd Boeckman, there's a certain quarterback Ohio State wants these days.
For the most part, it started when
Troy Smith
took over for Justin Zwick as the signal-caller and has continued ever since.
To continue reading this article you must be an Insider
January, 28, 2013
1/28/13
9:00
AM ET
Everybody is chasing the elite recruits, and championships aren't usually won unless there's a pretty impressive constellation of four- and five-star athletes on a roster.
But those guys also aren't typically solely responsible for taking a program to the next level, and it can often come down to which coaching staffs properly identify and develop the players without as much buzz coming out of high school -- or the ones intent on proving those doubts wrong at the next level.
BuckeyeNation will look at five of those players on the Ohio State roster that will be key to making a title run, all of them capable of outplaying that three-star label.
[+] Enlarge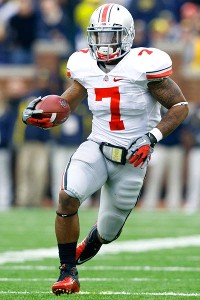 Rick Ostentoski/US PresswireJordan Hall wasn't an elite recruit, but he has already made his mark on Ohio State despite injury.
No. 5: Jordan Hall
Who: The senior running back was forced to redshirt due to a pair of injuries that limited him to just three games in a season that had once held a lot of promise for the projected starter in the backfield. He was productive in his two complete outings, rushing for 192 yards on 34 carries in nonconference wins over California and UAB, and with plenty of time to heal and the decision made to return, he'll once again have a shot at playing a significant role for the Buckeyes before leaving campus.

Then: There were some questions about his durability when he signed back in 2009 out of Jeannette (Pa.) High School, though his relative lack of size when he was listed at 5-foot-9, 180 pounds certainly had no impact on the fluke injury he suffered last summer when he cut his foot on a piece of glass and required surgery that kept him out of training camp and the first two games. The scouting report praised his ability to hit the hole decisively, make defenders miss and his hands -- and with a potential role as a hybrid weapon available for him in Urban Meyer's spread offense, that last trait could be critical.

They said it: "Hall may have played in the shadow of Terrelle Pryor last year but is a good player in his own right and a versatile running back prospect. ... Overall, Hall is a well-rounded back that will be highly sought after because of his versatility as a runner. Projects best in a zone-read type offense, similar to what he played in at high school, which will utilize his quickness and soft hands in space. Skills in the return game add to his upside." -- RecruitingNation in 2009

Now: Elected a captain even while battling through his freak injury a year ago, Hall's work ethic and experience will again provide veteran leadership and help set the tone for the Buckeyes. He isn't likely to take back the starting gig that Carlos Hyde flourished in down the stretch last season, with the bigger, more bruising rusher forming a dynamic one-two punch with quarterback Braxton Miller and piling up touchdowns in the red zone. But Meyer had plans for using both of them in the backfield with Miller before injuries scrapped them, and Hall can do some things as a receiver that will bring some variety to the offense and another element of danger for a unit already returning almost every starter from the Big Ten's most explosive offense.
January, 7, 2013
1/07/13
9:00
AM ET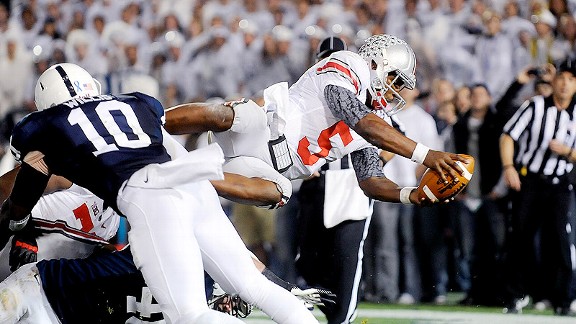 Abby Drey/Centre Daily Times/Getty ImagesBraxton Miller already has the title for single-season yards, but the real total compiled by Terrelle Pryor has been wiped out of the record books.
Ohio State hardly needs motivation thanks to the chip on its shoulder already firmly in place after sitting out the postseason with a perfect record. But just in case any players required any extra fuel heading into workouts or wanted a little help putting together some goals, BuckeyeNation is here to lend a hand with some records that could be in reach with another productive offseason.
TOTAL OFFENSE
Who owns it: Braxton Miller already has officially taken the crown after putting up 3,310 yards as a sophomore, sneaking past Bobby Hoying's single-season mark of 3,290 despite not getting the chance to play in the Big Ten title game or a bowl. The true bar Miller has to clear, though, no longer shows up in the record book for the Buckeyes -- and there's still some work to be done to surpass the 3,526 yards Terrelle Pryor rolled up in 2010 that have since been erased from existence.

Who wants it: Might be pretty obvious, but Miller will be chasing down this record and plenty more heading into his third season as the starting quarterback. Individual numbers and awards don't seem to matter much to the humble leader of the Ohio State offense, but he should be in line to post more video-game statistics as he continues to develop his game and get more comfortable in Urban Meyer's system.

Relevant number: Miller just barely topped 2,000 passing yards last season, and while that represented marked improvement for the Buckeyes through the air, Meyer is clearly expecting that total to go up next fall. Miller only would have needed to throw for 18 more yards per game to tie Pryor, a reasonable amount that could come fairly easily if improved mechanics and ability to read defenses bumps up his completion percentage a few more points from the 58.3 he turned in as a sophomore.

Offseason checklist: The Buckeyes clearly had no problem getting production out of Miller during the perfect season, and at times he looked like the only consistent threat on the field. But there have also been regular reminders from Meyer and the coaching staff that the multitalented star has only scratched the surface as a quarterback, with his footwork on top of the list of things to focus on during offseason throwing sessions, spring practice and training camp. Everything starts from the ground up with Miller, and while his happy feet make him electrifying as a rusher, they can throw off his delivery as a passer in the pocket and mask his arm strength, making them a top priority over the next few months.

Attainable goal: The record is officially already his, so there's not much question Miller is capable of reaching it. But with the possibility of two more games next season and an offense loaded with experienced playmakers around him, from an offensive line with four returning starters to two established targets at wide receiver and a full stable of running backs, Miller and the Buckeyes should have no problem piling up offense.
October, 4, 2012
10/04/12
11:40
AM ET
Former Ohio State coach Jim Tressel paid the heaviest price in the tattoos-for-memorabilia scandal, but the school's compliance department took a beating as well.

The details that emerged about Ohio State's compliance structure -- or lack thereof -- didn't paint the athletic department in a good light. Ohio State in February approved a new university compliance office, and the school appears to be taking the right steps to prevent similar violations from happening again.
As
The Toledo Blade
first reported this week, Ohio State sent the NCAA a 805-page report that, among other things, details new policies in place that increase athlete education about violations, prevent memorabilia sales and track car ownership (a major issue with former quarterback Terrelle Pryor). Ohio State is directly addressing the issues that surfaced in the scandal.
Check out the
full report
.
From The Blade:
An athletics compliance staff bolstered from five workers to a dozen is leaving little to chance. According to the report reviewed by The Blade, the school nearly tripled its number of rules education sessions, charged a former NCAA investigator with monitoring its highest-profile players, and reached out to 2,000 area businesses -- then employs exhaustive measures to verify the lessons take hold.

Among the safeguards include random audits to ensure current players have not sold or exchanged gear or awards, and license-plate software that allows school officials to determine car ownership.
One of the most publicized elements of the old compliance structure was the lack of a staff member in the Woody Hayes Athletic Center, Ohio State's football headquarters. Ohio State added former Tennessee compliance director Brad Bertani to its staff to deal specifically with football. Bertani has his office in the WHAC and travels with the football team.
Ohio State is also focused on ensuring no school-issued memorabilia is sold while athletes are still playing.
Players used to be able to purchase and take home gear and apparel like bowl-game jerseys or the alternate Nike helmets worn against Michigan in 2009 and 2010. Now, the uniforms will be kept in a secure container at the football facility until the player leaves the school.

As for awards like Big Ten championship rings or the gold pants trinket the Buckeyes receive for beating Michigan, players can still take those home. But they must be able to produce the goods in "random audits." Athletes sign a form acknowledging the school can make them "prove that I have not sold these items."
These are encouraging steps for a department that justifiably took a beating after the scandal. While time will tell how effective these measures will be, Ohio State deserves credit for directly addressing some major problems.
July, 22, 2012
7/22/12
4:41
PM ET
By
RecruitingNation
| ESPN.com
One of the tangential figures in the downfall of Jim Tressel and NCAA sanctions died this weekend.
Jeannette, Pa., businessman Ted Sarniak III, died on Friday at a Pittsburgh-area hospital, according to the funeral home handling the arrangements. He was 68.
Read
more from the Associated Press
.
June, 19, 2012
6/19/12
11:01
AM ET
Welcome to Across The Field, a regular feature on BuckeyeNation where we'll point you to noteworthy Buckeyes coverage here and elsewhere. Think something should be included? Send a pitch to espnkendrick@gmail.com.
Football
Braxton Miller, Ohio State Begin Spring Drills
BIG TEN SCOREBOARD
Saturday, 12/21
Monday, 12/23
Tuesday, 12/24
Thursday, 12/26
Friday, 12/27
Saturday, 12/28
Monday, 12/30
Tuesday, 12/31
Wednesday, 1/1
Thursday, 1/2
Friday, 1/3
Saturday, 1/4
Sunday, 1/5
Monday, 1/6